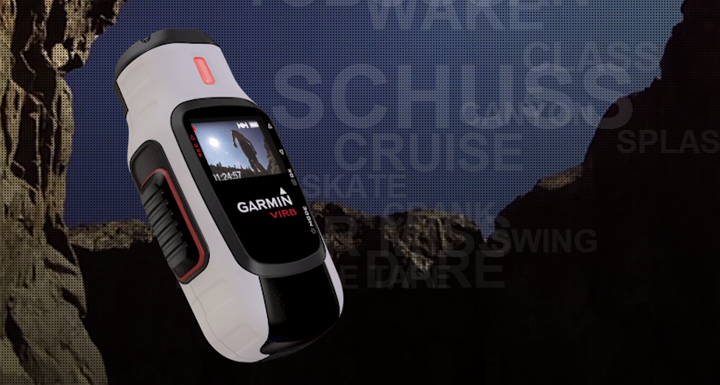 My Full In-Depth Review of the VIRB and VIRB Elite has been published! Check it out here!
On Tuesday Garmin announced their entry into the sports action camera market – a market currently dominated by GoPro, with a slew of other companies behind it (such as Contour and many others). The introduction of the Garmin VIRB (that's the name of the camera) serves to further diversify Garmin's products, but more importantly, solidify relationships with existing products and investments.
Perhaps the single feature of most interest to folks here (and really, the only reason I'm interested in it) is the inclusion of an ANT+ sensor in the unit. This allows the unit to pair with your existing heart rate, speed, cadence and temperature sensors (Tempe) to then overlay that information onto the video later in post-processing.
Over the past few years we've seen a pretty significant rise of race videos – especially in the cycling segment – that have included such data. But the reality is getting such data onto your video is actually a bit of a pain in the butt (well, a 'bit' is being polite). It required merging files, using 3rd party software, and praying to the synchronization gods it all worked. For those that did it frequently, they generally got good results. But that left the other 99% of the population endlessly asking on YouTube "How'd you do that?".
Now, before we go further into my thoughts I give you one initial thought: I typically try and avoid doing full posts on new products unless said product is in my hands. I do this primarily because I give marketing folks about as much leeway as the calipers holding the brakes next to my wheels – and I find that companies typically leave out tiny details that make the difference between an awesome product and a sucky product. Thus, the reason I'm writing about it is simply that I've been flooded with requests about my thoughts on it.
At present, I don't have a unit in my hands. I'm working with Garmin to get one in my hands shortly for a review, but it's not here today. That said, I did trade e-mails regarding a number of questions I had and have a bit better understanding of some of the details that I think do matter.
The Basics: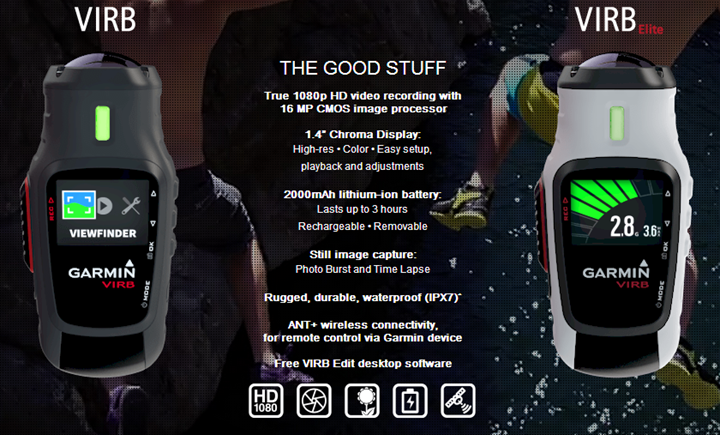 Looking at the device from a spec-standpoint, the device packs some solid functionality:
– 1080p@30fps, 960p@48fps, 720p@30/60fps, 848×480@120fps
– Units are waterproof to 3ft (1m) for 30 minutes (IPX7), a 50m deep dive case offered next year
– A small display for viewing the live feed on the top
– A huge number of mounts (chest, wrist, auto, tripod, head, helmet, bike, base, adjustable arm, etc…)
– 3 hours of battery life (removable/rechargeable battery)
– Photo Bursting and Timelapse capabilities
– ANT+ connectivity
– Elite Only: WiFi (bgn), Barometric Altimeter
The aspects that intrigue me the most are the waterproofing (submergible), ANT+ connectivity and barometric altimeter, plus the small screen on top. I'm impressed with the shear quantity of mounts as well – mounts can do and drive purchasing decisions of action cameras.
Looking at image quality is something that specs typically won't tell the full story (and the story on video specs is mixed, it doesn't have as good resolution at higher framerates). You can have great sensor specs on paper, but terrible execution can result in bad video. One area that surprised me is actually the promo video that was put together. In my opinion, this video did nothing to help the cause.
Coming from the world of extremely well executed GoPro promotional videos that make you want to go right outside and surfboard with the worlds hottest looking athletes (despite never having been on a surfboard, skateboard, or any sort of board), this made me want to close the video and move onto cat videos. Second, the video shots shown with the unit didn't seem to scream "awesome quality". This is likely because instead of using inspiring clips from kick-ass places, they used ones from someone's backyard. It's all about marketing (a lesson Contour has learned the hard way) – and in this round, Garmin seemed to lose my interest.
ANT+ Overlay: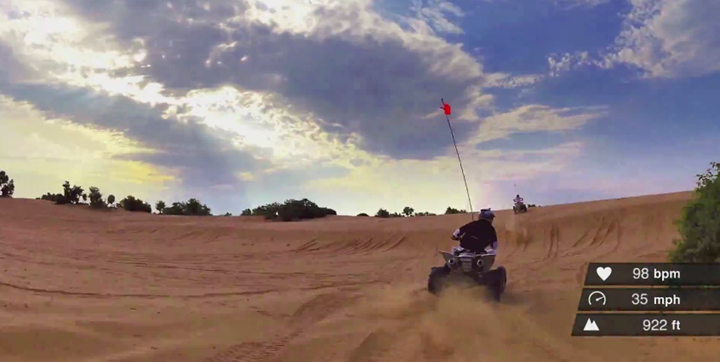 Thankfully, I'm more of a tech person than a marketing person. So while they lose my interest in the promo video, it's the ANT+ piece that really interests me. As noted above, lots of folks are using data overlays today with heart rate and related information – but none of it is smooth.
The VIRB works by pairing directly to your ANT+ sensors (they can still pair concurrently to your other fitness units). It then records this data in a separate and synchronized file for later consolidation and overlay. It's not actually overlaying the data in real-time onto the video (that's actually a good thing).
Out of the gate they'll allow you to include these ANT+ (and internal) metrics: Speed, Distance, Elevation, G-force, Heart Rate, Temperature.
Here's where these metrics come from:
Speed: Internal GPS
Distance: Internal GPS
Elevation: Barometric Altimeter on Elite
G-Force: Internal accelerometer
Heart Rate: ANT+ Heart Rate Strap
Temperature: ANT+ Tempe temperature pod
Now, you'll note the lack of power meter support. I asked about that and they said it's coming in an update, but didn't specify a timeframe for such update. Hopefully that'll happen soon – as I'd expect that would drive a lot of cycling criterion folks to pickup the unit.
The unit records all the data streams and then allows you to select which data streams you'd like to place on the video afterwards using the software. I'd like to see just about any ANT+ metric added though as an option. In short: If I can add the data field on the Garmin Edge 810, I want to be able to overlay that here. Given it's done in software post-processing (using the VIRB Edit software), it could easily record the data in the FIT file anyway, so it's really a matter of giving you the option to add it.
Recording File Details: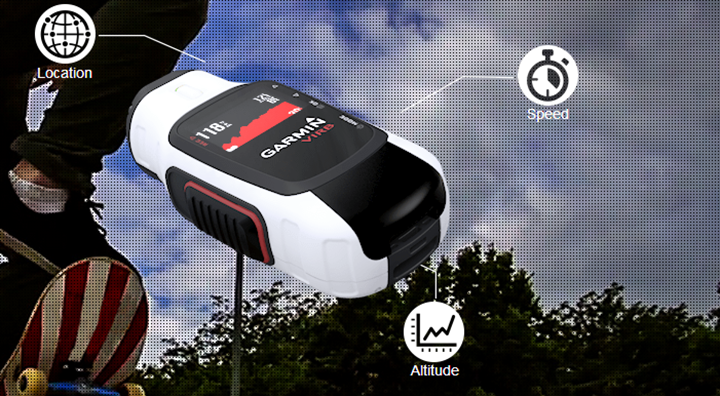 Given you've now got video mixed with GPS and sensor data, the next question is how that data is recorded from a file standpoint. While some might think it be advantageous to have a single file with all data in it, in reality that breaks many 3rd party applications. So it's better to have synchronized files that pair up together to form the full picture. Which, is what the VIRB does.
The unit records a .FIT file for the entire duration the camera is turned on. Then, it also records a .GPX (GPS) file and a corresponding .MP4 (video) for each recording. The strength to this is that these three files are industry standard and any 3rd party app can easily consume them.
I talked with the Kinomap folks yesterday, they make software that allows you to re-ride outdoor rides indoors on a trainer using videos such as these. I covered Kinomap in the apps section of my KICKR review. The Kinomap folks are pretty excited about this because it adds another name-brand option that does the synchronization automatically. Today, the Contour GPS also does this, though without any ANT+ data.
Garmin Fitness Device Integration: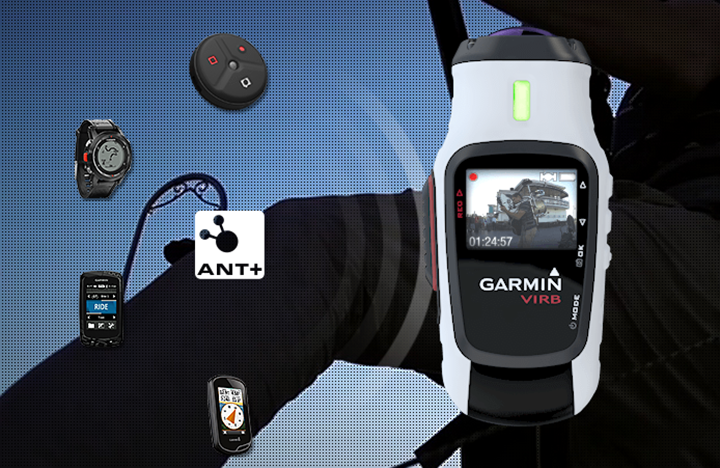 The VIRB allows you to control the camera and setup sensors from some of your Garmin devices. Initially that'll be the Garmin Edge 810 and the Garmin Fenix (hiking/outdoor watch). Both will receive firmware updates to add the capability. Further, Garmin states that "we will look at other products" once they get beyond initial product launch (as far as other fitness products to allow control from).
The Edge 810 makes complete sense, given the cycling dominance. But, I'm not fully clear on the thinking with the Fenix – given that's an outdoor watch focused more towards hikers and ultra runners – neither of which have a dominant YouTube space carved out for action camera footage. That said, I'm always happy to see integration.
But I'd like to see it be across the board on any new products Garmin launches down the road (i.e. running or cycling), as I think that'd drive adoption. I'd also like to see it added to at least the Edge 510. I don't suspect it's realistic to add it to the Edge 500/800 (though I'd love to see it), given those products won't really see any further feature enhancements given the 510/810 additions this past January.
The control of the camera uses the standard ANT+ Remote Control device profile, which does mean that any 3rd party ANT+ device or application (i.e. phone app) could take advantage of it and control it. This is pretty cool. Now, don't confuse however ANT+ control of the unit with some of the cell phone connectivity I talk about below. ANT+ wouldn't be a good option for streaming video, as it's more geared towards low-power solutions.
Cell Phone Connectivity: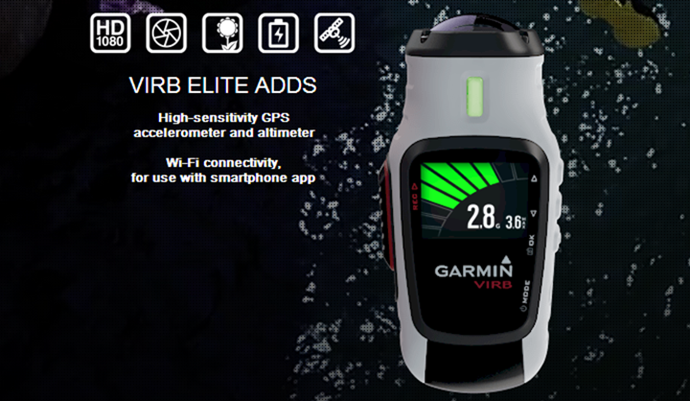 The VIRB Elite includes WiFi, which in turn allows connectivity to cell phones. This is similar to what GoPro has done with WiFi in recent years. Note that it doesn't leverage Bluetooth. This is both good and bad. Bluetooth tends to be less finicky than WiFi for creating networks between devices and cell phones. In my experience with the GoPro units, the WiFi networks you setup are great when they work, but often can act like a toddler. However the reason for using WiFi over Bluetooth is simply range – WiFi goes farther…a lot farther.
The WiFi connectivity today is focused on control of the device from your phone or computer – including a preview, but doesn't appear to include any stream recording or sharing yet (like GoPro has recently added). I suspect in time we'll see this feature set improve a bit.
Photo Gallery From Eurobike:
New Section!
While here at Eurobike today (Aug 28th), I had the chance to spend some hands-on time with the unit.  Below is a full gallery from that.
Product Comparison Table:
I've thrown together a quick look at how the VIRB stacks up against the GoPro variants (there are three GoPro options that have some both insignificant and significant differences).
Note that you should click the 'expand table' to get the full table expanded out below it.
Function/Feature

Garmin VIRB (Normal)
Garmin VIRB (Elite)

GoPro Hero3 White

GoPro Hero3 Silver

GoPro Hero3 Black

Copyright DC Rainmaker - Updated April 13th, 2015 @ 1:42 pmNew Window
Price
$99
$299
$199
$299
$399
Availability
Global
Global
Global
Discontinued
Discontinued
WiFi Builtin
No
Yes
Yes
Yes
Yes
Bluetooth to Phone
No
No
No
No
No
Recording Light
Yes
Yes
Yes
Yes
Yes
GPS builtin
No
Yes
No
No
No
Altimeter builtin
No
Yes - Barometric
No
No
No
Water Resistant
IPX7 (1 meter for 30 mins), separate 50m dive case available
IPX7 (1 meter for 30 mins), separate 50m dive case available
60m with included case
60m with included case
60m with included case
Accellerometer
No
Yes
No
No
No
Video Preview Screen
Builtin
Builtin
Accessory
Accessory
Accessory
Recharges via
Mini-USB
Mini-USB
Mini-USB
Mini-USB
Mini-USB
Removable battery
Yes / 2000 mAh
Yes / 2000 mAh
Yes / 1050 mAh
Yes / 1050 mAh
Yes / 1050 mAh
Recording Time
3 hours
3 hours
2.5 hours
2 hours
1.5 hours
Secondary attached battery
No
No
Accessory
Accessory
Accessory
Storage Card Type
MicroSD Card
Micro-SD
MicroSD Card
MicroSD Card
MicroSD Card
Maximum Card Size
64 GB
64 GB
64 GB
64 GB
64 GB
Records 360* Video
No
No
No
No
No
4K
No
No
No
No
12/12.5/15 fps
2.7K
No
No
No
No
24/25/30 fps
1440p
No
No
No
No
24/25/30/48 fps
1080p
30 fps
30 fps
25/30 fps
24/25/30 fps
24/25/30/48/50/60 fps
960p
30/60 fps
30/60 fps
25/30 fps
25/30/48 fps
48/100 fps
720p
30/60 fps
30/60 fps
25/30/50/60 fps
25/30/50/60 fps
50/60/100/120 fps
WVGA
60/120 fps
60/120 fps
60 fps
120 fps
240 fps
Automatic Image Rotation
No
No
No
No
No
Looping Recordings
Yes
Yes
Yes
Yes
Yes
Timelapse Mode (constructs timelapse video)
Yes
Yes
No (requires desktop software)
No (requires desktop software)
No (requires desktop software)
Internal Microphone
Yes
Yes
Yes
Yes
Yes
Megapixels
Up to 16 MP (4664*3496)
Up to 16 MP (4664*3496)
5 MP
11 MP
12 MP
Timelapse Mode (photos on interval)
2,5,10,30,60s
2,5,10,30,60s
0.5,1,2,5,10,30,60s
0.5,1,2,5,10,30,60s
0.5,1,2,5,10,30,60s
Burst Mode
Up to 6 photos/second
Up to 6 photos/second
Up to 3 photos/second
Up to 10 photos/second
Up to 30 photos/second
Continuous Shooting Mode
No
No
No
No
Yes
Concurrent w/video mode
No
Yes
No
No
Yes
Records 360* Photo
No
No
No
No
No
Skiing Mode
Yes
Yes
No
No
No
Control from sport computer
Yes
Yes
No
No
No
ANT+ Connectivity
Yes (Remotes only)
Yes
No
No
No
ANT+ Profile Types
Only Remote Control
Heart Rate, Speed, Cadence, Temperature, Power
N/A
N/A
N/A
Overlays sport data on recording
Yes, via included PC apps
Yes, via included desktop apps
No
No
No
App platforms available
N/A - No WiFi
IOS/ANDROID/WINDOWS PHONE
iOS/Android/Windows Phone
iOS/Android/Windows Phone
iOS/Android/Windows Phone
Use as remote control
No
Yes
Yes
Yes
Yes
Stream live video preview
No
Yes
Yes
Yes
Yes
Record video from camera
No
No
Yes
Yes
Yes
Multi-camera live control/preview
No
No
No
No
No
App for computer
VIRB Edit
VIRB Edit
GoPro Studio
GoPro Studio
GoPro Studio
Remote control button/key
Yes - January 2014
Yes - January 2014
Yes
Yes
Yes
Diving case
Yes, up to 50m
Yes, up to 50m
Included
Included
Included
Head Strap
Yes
Yes
Yes
Yes
Yes
Helmet Strap
Yes
Yes
Yes
Yes
Yes
Handlebar/Seatpost
Yes
Yes
Yes
Yes
Yes
Tripod
Yes
Yes
Yes
Yes
Yes
Suction Cup
Yes
Yes
Yes
Yes
Yes
Chest Harness
Yes
Yes
Yes
Yes
Yes
Wrist Strap/Housing
Yes
Yes
Yes
Yes
Yes
Roll Bar
Yes
Yes
Yes
Yes
Yes
Surfboard
Yes
Yes
Yes
Yes
Yes
Curved Adhesive
Yes
Yes
Yes
Yes
Yes
Flat Adhesive
Yes
Yes
Yes
Yes
Yes
Adjustable Mounting Arms
Yes
Yes
Yes
Yes
Yes
USB Connector Type
Mini-USB
Mini-USB
Mini-USB
Mini-USB
Mini-USB
Micro-HDMI
Yes
Yes
Yes
Yes
Yes
Composite Video
Adapter Available
Adapter Available
Adapter Available
Adapter Available
Adapter Available
Audio 3.5mm Stereo Mic
Adapter available
Adapter available
Adapter available
Adapter available
Adapter available
Amazon Link
Link
Link
Link
Link
Link
Clever Training Link (Save 10% with DCR10LFW)
Link
Link
N/A
N/A
Review Link
Link
Link
The tables are dynamically updated, so as new information becomes available it'll update automatically.
Final (and Next) Thoughts: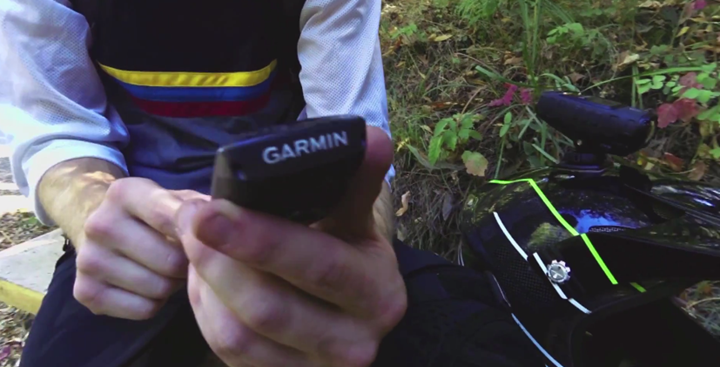 I'm looking forward to getting a unit in my hands here in the near future to start to see how things look in real-life. I'm optimistic that the ANT+ connectivity component will be a bit of a game changer in this market – especially for sports folks and even more so for cycling. Meaning that I don't suspect it'll make a difference for skateboarding videos, but I do think it'll be a key differentiator for other sports that leverage ANT+ data.
The remote control profile being fully ANT+ standard could also open up the unit to other devices (i.e. CycleOps Joule GPS or O-Synce Navi2Coach or others) triggering the camera, which would be pretty cool. It would also open up Garmin to a bit of competition if 3rd party units got updates and cycling staples such as the Edge 500 or Edge 800 didn't.
The one final area that will be interesting to watch is pricing. The two variants are priced at $299 (regular) and $399 (Elite).  The $399 price point is basically $200 more than the base GoPro HERO3, thus I'm not sure how well that's going to play out given the GoPro's these days include WiFi (the core upsell of the VIRB Elite).  On the flip side, none of the GoPro's include ANT+ nor the ability to be controlled by sports units.
I'm looking forward to having a full review put together after I've had time to use the units and figure out all the quirks. As a frequent user of all generations of GoPro units (as well as some Contour units), I'm pretty familiar with the segment. It'll be interesting to see how the Garmin units stack up.
Thanks for reading!
—-
Wanna help support the blog? Or just want a sweet deal?

I've partnered with Clever Training to offer all DC Rainmaker readers exclusive benefits on all products purchased. You can read more about the 
benefits of this partnership here
. You can pickup the Virb's through Clever Training using the link below. By doing so, you not only support the site (and all the work I do here) – but you also get to enjoy the significant partnership benefits that are just for DC Rainmaker readers. And, since this item is more than $75, you get free US shipping as well.
Garmin Virb (Simply change drop-down for Virb Elite)
Additionally, you can also use Amazon to purchase the unit (all colors shown after clicking through to the left) or accessories (though, no discount). Or, anything else you pickup on Amazon helps support the site as well (socks, laundry detergent, cowbells). If you're outside the US, I've got links to all of the major individual country Amazon stores on the sidebar towards the top.
Thanks for reading! And as always, feel free to post comments or questions in the comments section below, I'll be happy to try and answer them as quickly as possible. And lastly, if you felt this review was useful – I always appreciate feedback in the comments below. Thanks!