My plan was simple: Go for a short openwater swim.
Since I rarely get openwater swims in while at home in Paris, I planned to make the most of my beach time in Tampa.  I had a few different openwater swim tracking devices with me, but the primary one I was testing was the Polar V800.
Of course, the V800 doesn't actually track openwater (or indoor) swims.  But since I know that many of you will still be curious how it works anyway, I figured I'd do a 15-30 minute swim along the beach for demonstration purposes as part of my in-depth review.
It was to be the last item of the day before heading off to run some errands.  While I had a typical 'swimmers' swimsuit in my bag, I was too lazy to go change into it.  And since I didn't much care about the pace for this swim, I skipped it and just kept on more beach-appropriate apparel.  So I grabbed my swim goggles, swim cap, three watches, and a small camera and headed on out.  I waded out until the water was roughly waist deep – perhaps 25-35 yards off-shore at most.  It's pretty shallow in these parts.  From there I snapped a couple of quick product pics: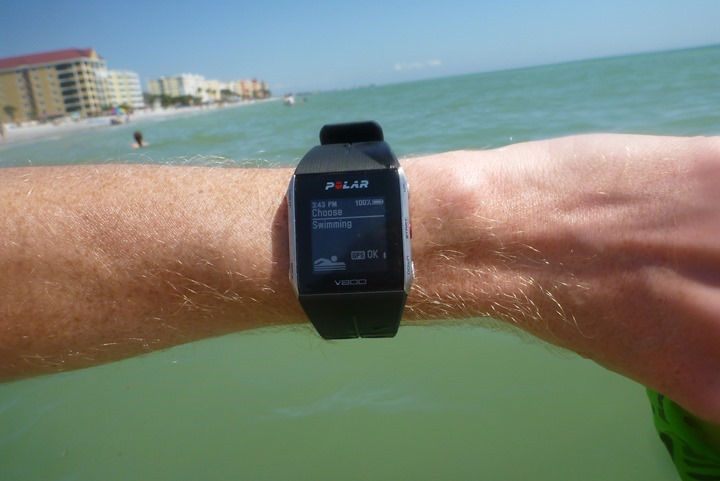 I then put away my camera and prepared to start the swim.  I decided to go just a touch bit deeper into the murky water so I wouldn't be scrapping the bottom with my stroke. Roughly chest-deep was plenty.
It was as I walked forward that I stepped in what felt like soft seaweed.  I instantly thought it was strange to have such seaweed when all I had seen and felt until this point was super-fine grained sand.
My thought was immediately interrupted however by a jabbing pain into my foot.
At first, I figured that perhaps I was bitten by a crab or the like.  But this seemed to hurt a lot more than a crab would.  Then, about 10-15 seconds from the initial pain, the entire foot started throbbing.  Also sorta odd for a simple crab bite.
I then pulled up my foot to take a look, and noticed some sort of mark, kinda like if someone jabbed you with a pencil.  I deduced that it wasn't a shark bite.  But otherwise it didn't really make sense to me.
I figured the pain would go away in another minute or so, and I'd be good to continue.  Except, it didn't.
The Girl had been watching from shore as she was going to walk along the beach roughly with me as I swam.  She was getting a bit concerned at why I was apparently hobbling around.
I went ahead and walked on up to shore to get a better look at things with the foot.  At this point my foot was on fire, and I just kinda wanted to sit down somewhere.  So we went up to our beach chairs – where I curiously watched the blood stream out of my foot and turn the sand red.
While sitting there the pain continued to increase and slowly seep up my leg.  Further, I was getting a little bit lightheaded.  I decided I'd go rinse things off inside and I'd be all good.
Instead, I made it about 15 yards before collapsing to the ground just in front of the showers.  Swim bag and all right where I fell.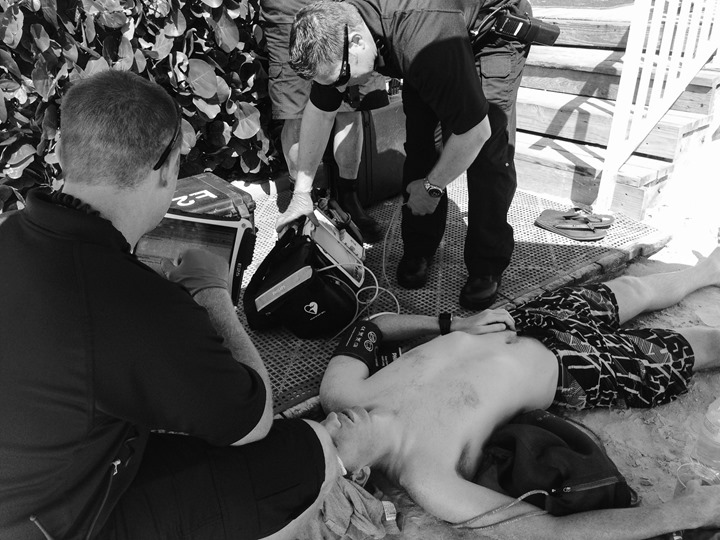 At this point things got pretty fuzzy.  I don't believe I lost consciousness entirely – but everything was like a whiteout and totally blurry.  Within what felt like a couple of seconds a small crowd had gathered as I lie mostly unresponsive facing the sky. I was alternating between being shaking with being cold and sweating hot.  Not to mention wanting to both throw-up and not-throw-up.  That of course is in addition to the radiating pain from my foot and up my leg.
Said crowd had all sorts of suggestions:  They suggested that perhaps I was drunk (I'd only had water).  Perhaps I had heat stroke (I was under an umbrella for only about 90 minutes).  Perhaps I needed food (the hotel buffet had served me well, along with recent cookies).  Perhaps I was stung by a jellyfish (ok, somewhat viable).  They again suggested I was drunk (at this point, I wish).  I wasn't really able to explain well that those were all non-accurate spectator suggestions.
I think all that came out was roughly mmmmmahsdfndfdmmsdf.  Roughly.
Thankfully, with The Girl nearby, she was able to explain the brief dip in the water and the random foot bite situation.  The hotel thus immediately called 911, they were apparently not in favor of random people collapsed on their beach step below the tiki bar.
Within what felt like only a couple minutes there were both firefighters and ambulance staff on hand.  They soon had me hooked up to all sorts of stuff.  Their primary concern was my trouble breathing, along with extremely low blood pressure.  My primary concern was the random peanut gallery participant who was insistent a round of hotel meat tenderizer to my foot was my solution.  Along with another that suggested peeing on it was the way to go.
Thankfully, the firefighters had other plans – which involved needles, oxygen, and really damn hot water.  Actually, not thankfully on that hot water piece.  The first bucket given to them by the hotel was scalding hot.  Soon they were able to taper it down a bit though.  Apply that to the foot helped to slow the movement of the pain up my leg.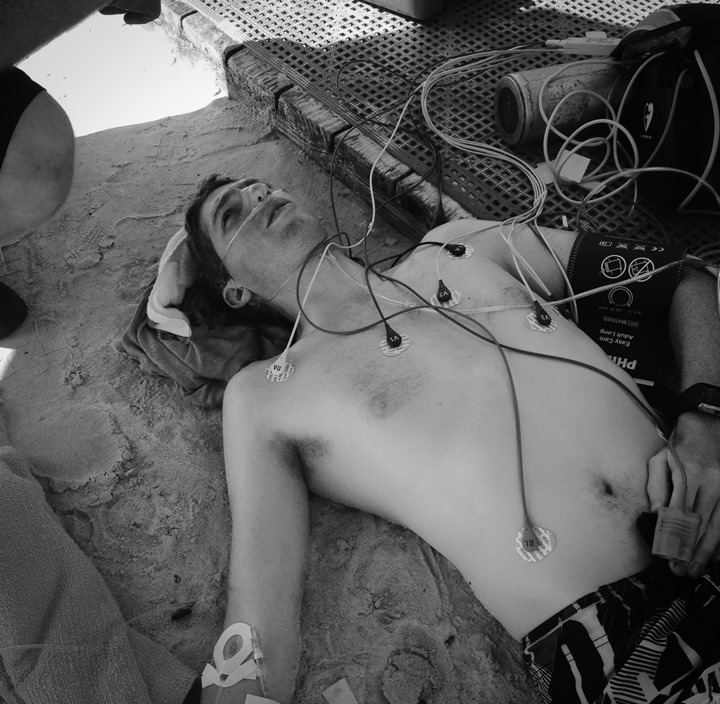 The hot water acts as a way to break down the toxins injected from the barb of a sting ray.  While pee might have technically been a valid suggestion elsewhere, the real reason to use urine is the heat (warmth).  It has nothing to do with the content of urine.  I learned during the ambulance ride that for unhappy sea animal bites you'll use hot water to neutralize the toxin, versus for land animals you'll use cold water.  This is because the toxins break up in opposite climates to what they normally live in. Here's more on the fun, if you're bored. Tip: I don't recommend doing a Google Image search for 'Stingray barbs'.  You'll likely lose your lunch.
Oh, and yes, as noted above, I was then sent to the hospital via ambulance.  And no, the ride was definitely not free.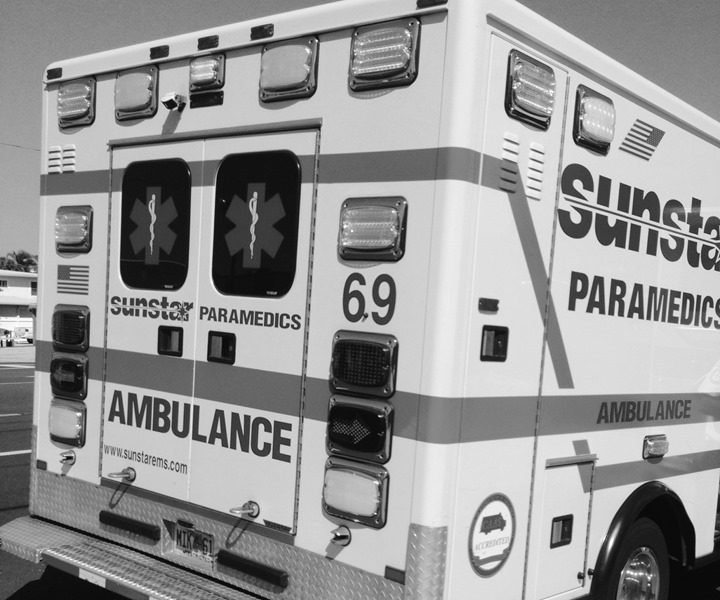 They had pretty much got me awake and stabilized at this point, but the foot still hurt like a @#$@#.  One Twitter follower noted the below:
@dcrainmakerblog My wife tells me that stingray sting was more painful then childbirth. Hope you are okay….

— Eric Rosenthal (@eric_erosenthal) April 26, 2014
I don't know what giving birth feels like, but hopefully for The Girl's sake the above is true (far down the road).
The reason for the hospital was primarily to see if the stingray barb was still in my foot.  To do that, there was an x-ray machine involved.  They also spent more time slowly dissipating the pain via more extremely hot water.  Note, I was still sitting around in my bathing suit this entire time.  And, since I had collapsed onto the sand, I brought lots of that with me onto the stretcher and subsequently into the room.  I was like my own private beach party in ER room #6 at the hospital.  A party that towards the end did include some funny responses from my personal peanut gallery (you):
@dcrainmakerblog that stingray is goin around telling all his other buddies "I have fulfilled the prophecy"… … Get well bud!

— Alasdair Conway (@guyinthebunker) April 25, 2014
About 4 hours or so after I began this whole mess, things were feeling pretty good again.  The x-ray's had come back negative for barb leftovers, but they noted they can't be 100% certain the machine would see everything.  I was still a bit sore, as if you had a nasty splinter, but otherwise feeling fine.  They also gave me an antibiotic, because the risk of infection from the Gulf water.
From there we got a taxi-ride back to the hotel.  Ironically, the very first thing the taxi driver said as we stepped into the car and gave him our destination was (jokingly): "You didn't get hit by a stingray, did ya?"
Uhh…check.
He was blown away that I actually did.  The next thing he noted was: "You didn't do the stingray shuffle?"
Uhh….No.
As with every other person that we met that day during our predicament (including every hospital, firefighter, and EMT members).  Everyone asked.
I'd like to point out it wasn't really on the brochure.  The hotel upon check-in didn't exactly say: "Here's your hot DoubleTree chocolate chip cookies, your room is on the 5th floor and, oh by the way, don't forget to do the stingray shuffle!"
Nonetheless, noted for future use.
Thankfully, the entire experience (while very painful) is fairly short.  Though, the bill…not so much: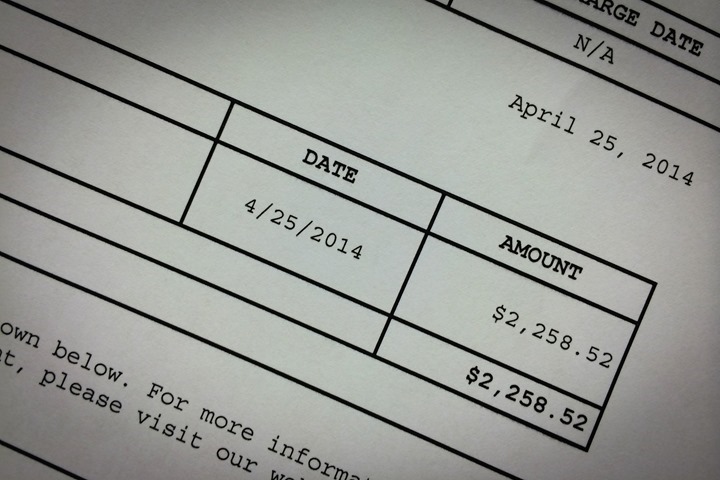 I was up the next morning though, albeit still a bit sore in the foot, but out in the water – knocking out that planned openwater swim.  Gotta get back on the stingray saddle eventually, right?
(Side note: The Girl and I have an agreed upon bilateral policy to take pictures for potential later use in such situations.  I did make them black and white however, since with color they looked pretty sketchy as you can very clearly see I'm blue in the face.)