While last week was a bit of a short vacation post-Boston, it's still been quite a busy last 7 days.  Here's what I've been up to for the past week:
1) A week in Florida
While we were down in Florida for five days, I did plenty more things than just get stung by a stingray.  For example, I rented a bike and headed out for a ride: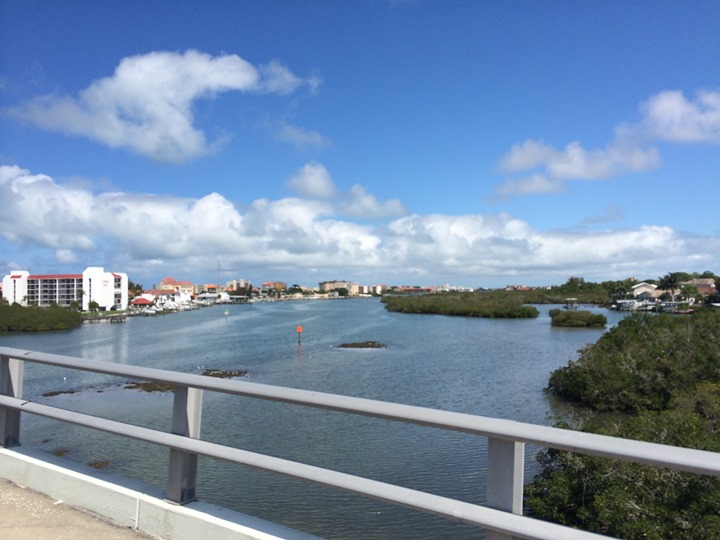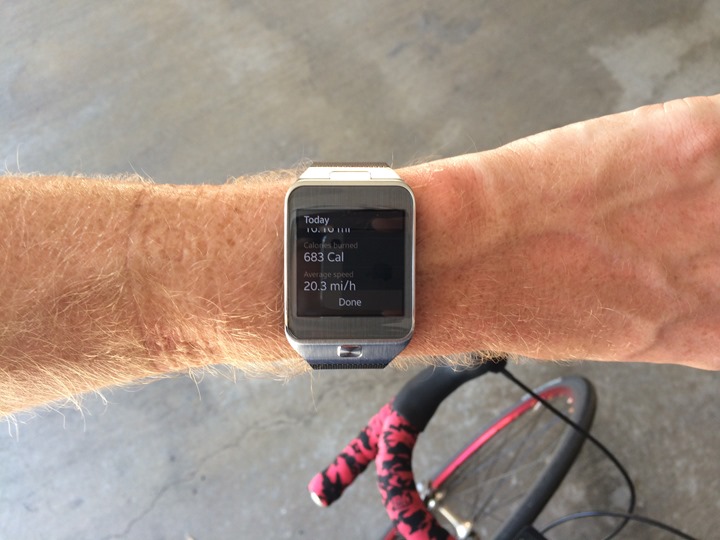 Yes, the handlebar tape is only the beginning of the ever-so-stylish bike that I adorned.
Of course there are plenty of American establishments that we enjoy visiting.  You know, like IHOP: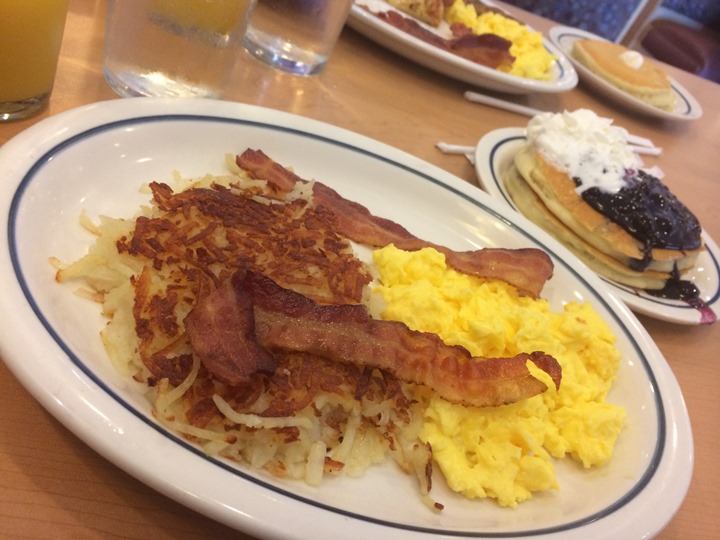 How is it that there are a million KFC's and McDonald's in Paris, but no IHOP?  Can't I make a trade?  I'll give you back 20 KFC's for just one little IHOP.  Please?
And of course, there was just relaxing on the beach too: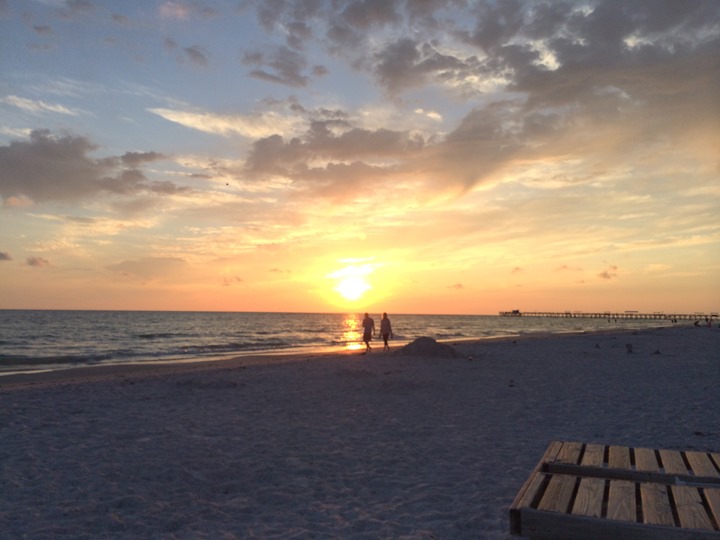 I wrapped things up Saturday morning with getting in an openwater swim, this time stingray shuffle and all: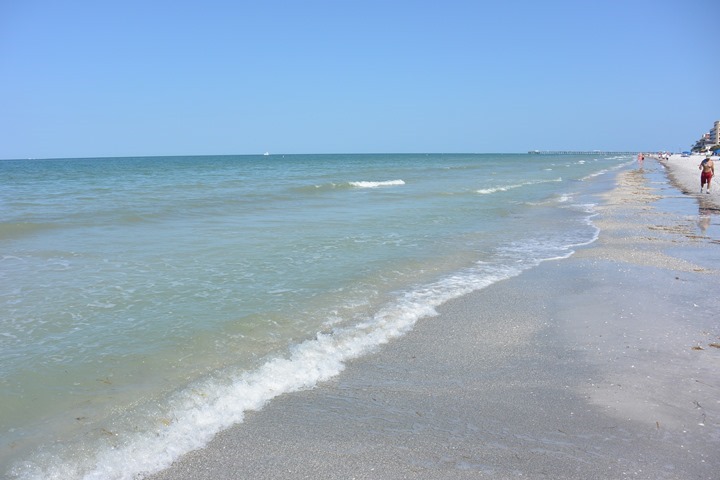 As with before, The Girl dutifully walked alongside as I swam.  A nice quick session to get some data for later.
2) Bumbled back across the Atlantic
With Florida and IHOP trips complete, it was time to head back to reality and back to work.  So first a flight up to Washington DC where I connected onwards straight to Paris.  Below, heading up the Atlantic coast of Canada, just about to fly back from Newfoundland.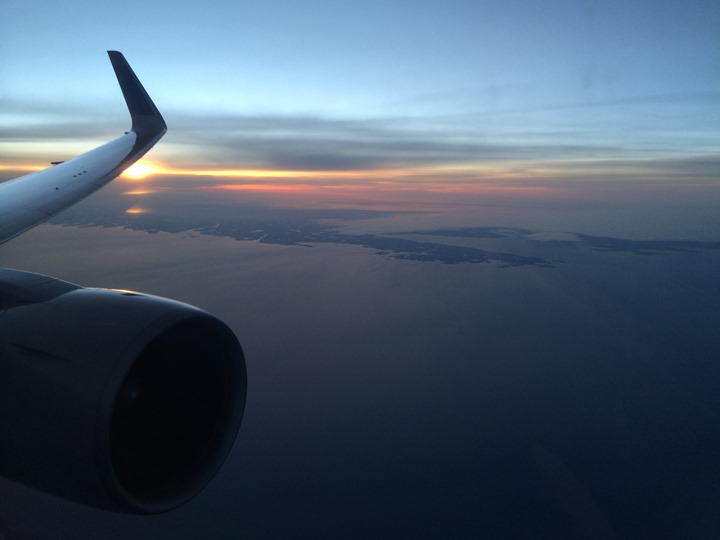 As is usually the case on most of our US trips, we were bringing back lots of stuff.  Much of it for the CupCakery this time, though of the three boxes below half the contents are mine (sorta unusual).  We get many non-food products for the shop there that are hard to find in France. For example, cake stands for display/rental, decorations for various seasons, and random other accessories we use.  Most of these items are dirt cheap in the US, especially at places like HomeGoods and Marshalls (for example, the cupcake Ferris wheel contraption on the home page).
Astoundingly, all three boxes ended up looking really darn nice post-flight.  Usually things are rough.  We use boxes from Staples because we don't then have to buy/pack extra bags.  United gives me three boxes at 70 pounds each, and 62 linear inches…so we use every last inch of that. Works out great.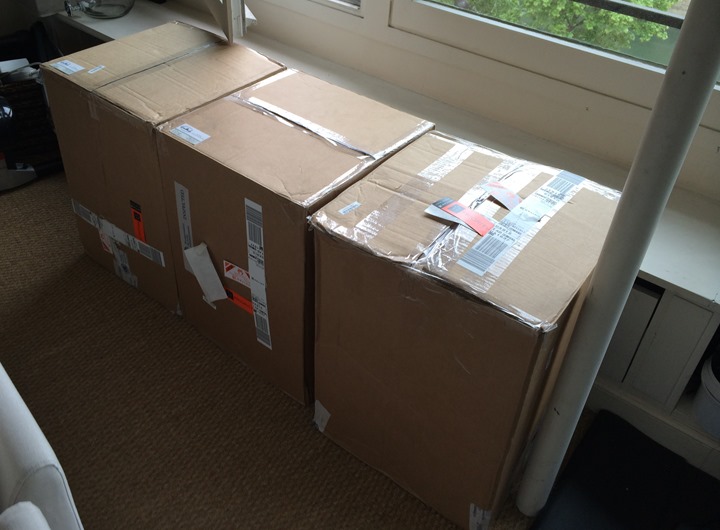 3) Had a very quick test ride with the Polar V650
The previous Friday as we were leaving for the Boston Marathon I got a text from the Cupcakery gals that a box had arrived.  The picture showed a freshly arrived and hand-delivered Polar V650.  Unfortunately, we had just boarded the plane and I wouldn't have a chance to poke at it until my return from the US over a week later.
So Sunday after getting back home I got the unit all unpackaged and went for a short 30 minute ride.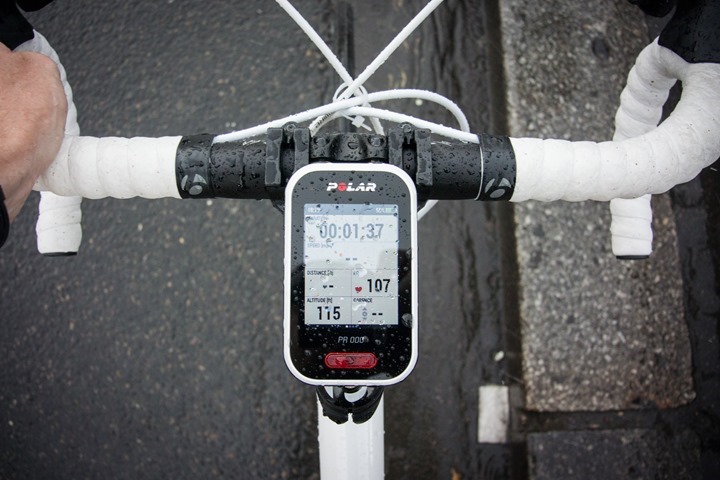 It's still a beta unit (as evidenced by the PR 000 on the front), and the quality of the software reflects it.  That said, I was impressed by a few features, such as the color quality of the screen, clarity of the text (sharpness/contrast), and the responsiveness of the unit.
The touchscreen had no problems with the random rain squall that started about 30 seconds after I stepped out my front door (seriously?!?).  And the screens and settings are easily configurable, and the sounds easily heard even at half-volume on busy city streets.  One random feature I stumbled into was the ability to set a pin-code upon turning on, sorta like a phone lock.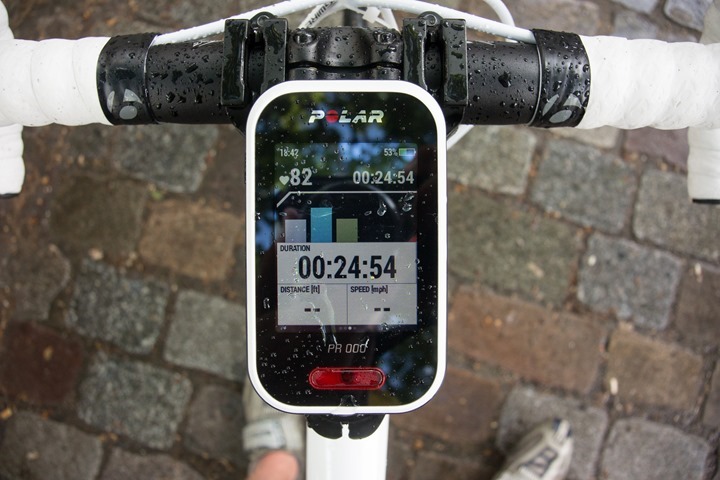 As for the timing of a review there, I expect it won't be until late May or June.  Once they have a final unit in my hands with final software, then a few weeks later.
I also had installed the Redshift Aero system on my road bike.  In theory, I would have remembered to actually utilize said system to slide the seat back for road riding.  Nonetheless, in installing both the aerobars (not used on this ride) as well as the seatpost, I'm quite happy with the quality and stability.  It's more solid feeling than I expected, completely in-line with standard aero bars.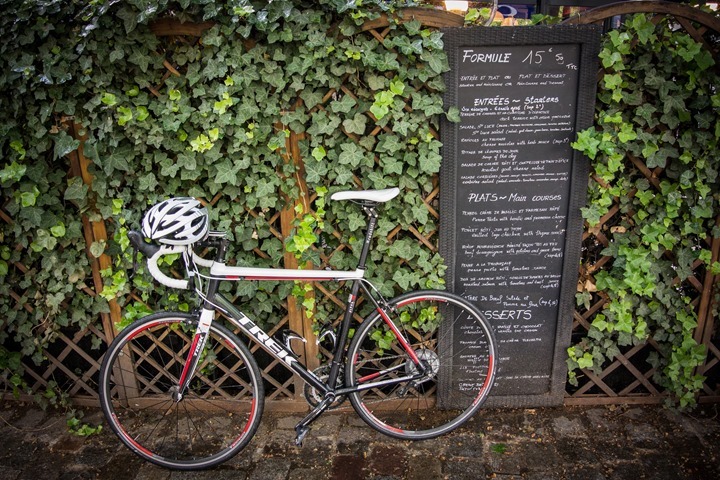 More on that though in the future.
4) Bounced over the channel
After spending less than 12 hours at home (basically just the daylight hours of Sunday), I hopped on a flight and crossed the channel.  I find this much faster than swimming the channel.  Plus, no pesky s-named animals to deal with.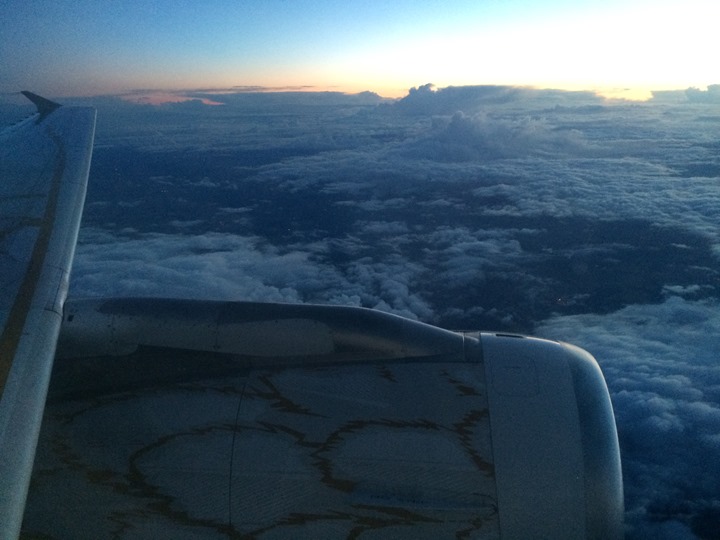 Btw, the above airplane is one of a handful that British Airways painted for the 2012 Olympics.  It looks like a giant bird with a gazillion golden feathers (better pic there).  For whatever reason it's seemingly always my plane back and forth between London and Paris.  Personally…I think it's kinda ugly and was bummed that they couldn't come up with something that actually screamed "London Olympics" rather than golden pigeon.  Just my two cents.
From here I'd drive 2 hours from London Heathrow to Cardiff, Wales – ultimately getting in just two minutes after midnight.  Typically I'd prefer to fly directly to Cardiff, but there's only a single flight per day from Paris and on Sundays it's at noon.  Semi nearby Bristol has some options (one flight), which I've taken in the past, but the timing wasn't great on Sunday either.  So, driving got me half my day back at home.
5) Running with the Wahoo TICKR around Cardiff, Wales
My workout for Tuesday was 10x800m repeats.  I even tweeted out to see if anyone wanted to join me, but nothing.  I'm sensing a pattern there.  I also tweeted out a week ago to see if anyone wanted to join me on a 23-miler (run).  Crickets.
No worries, I headed on out by myself.  Last time I was here I had a set of 800m repeats to do as well, and that time I wandered first through the park along the the river and then did loops next to the stadium late at night under the lights.
This time though with a bit more daylight I headed back along the river and instead did loops around some giant fields: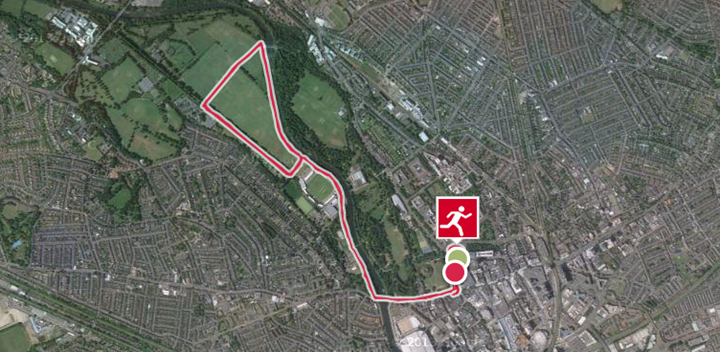 The weather was quite nice for Cardiff.  On average it seems to rain about every 4-5 hours here.  Yes, hours.  This was in between rain spots, thankfully.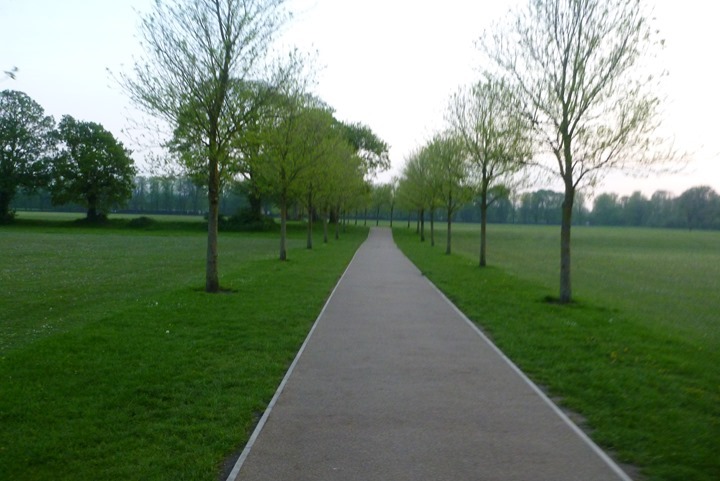 I've been using the Wahoo TICKR RUN the last few workouts.  It was announced back in January, and hits 'shelves' later this week.  The unit features dual ANT+/BLE connectivity, but also does a form of running dynamics like the Garmin HRM-RUN with the Garmin FR620 & Fenix2.  But unlike those, it can also track pace indoors with just the HR strap (I haven't tried that piece yet).
I didn't think to take a photo of my chest, but I did take a photo of the app: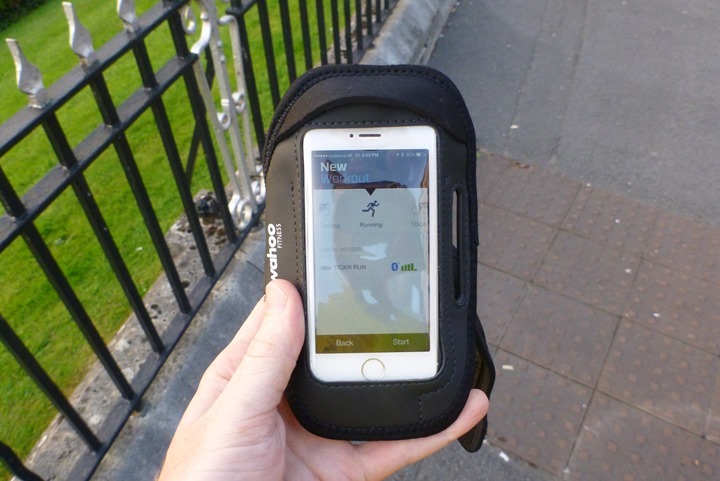 Afterwards you'll get running dynamics information, seen below:
I saw no issues with HR spikes either – which is good.  I'm working on a review of it, though I'm trying to see if the timing will work out to do both the TICKR RUN and TICKR X (that's still forthcoming).
As for my workout, they were good, though I was a few seconds off pace on most of the sets.  A bit tired, which I suspect is to be expected given the schedule over the last few days.  Ironically, the pavement seemed to remind me of it: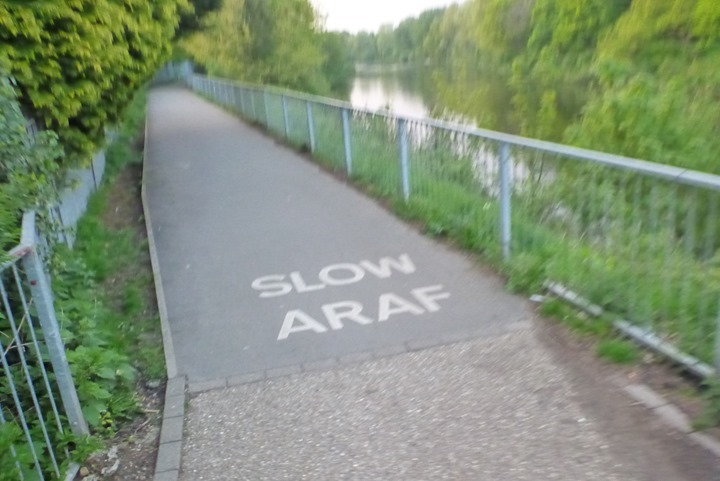 In case you're wondering, the 'ARAF' is Welsh.  Welsh is listed on virtually everything here next to English (since I'm in Wales).  When people speak Welsh I can't really figure out where the words start or end.  And apparently they follow Wheel of Fortune rules, and charge for vowels – since the vast majority of words seem to lack them.
As for the below – I once again point out that not all my trips are glamorous with fancy hotels.  This is a standard Hilton, and this is the view from my room.
More importantly however, is the seagull.  This seagull is apparently quite upset about something in life.  He (or she) squawks all day and night long.  I don't know when it sleeps.  Because instead it just sits outside my window and squawks…even at four in the morning.  Astoundingly loud.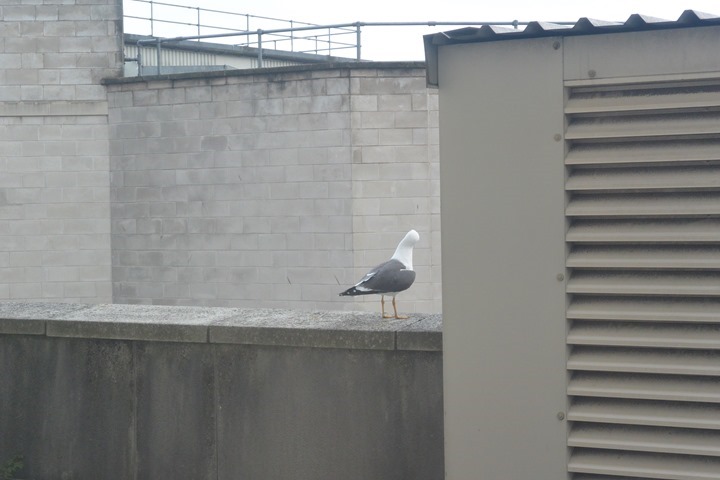 Regrettably, there is no way to open my window and provide any incentive for the seagull to leave.  And when I tap on the window, he simply cocks his head both ways and looks at me sideways.  Perhaps it's payback for this incident with one of his cousins years ago.
No worries Mr. Seagull, I'll leave the view to you today.  Back to Paris I head.
Thanks for reading!