We left off with yesterday's '5 Random Things I Did This Past Weekend' post where I outlined the lead-up into watching The Girl run her first Boston Marathon.  Today, we'll tackle the whole shindig!
Off to the school buses: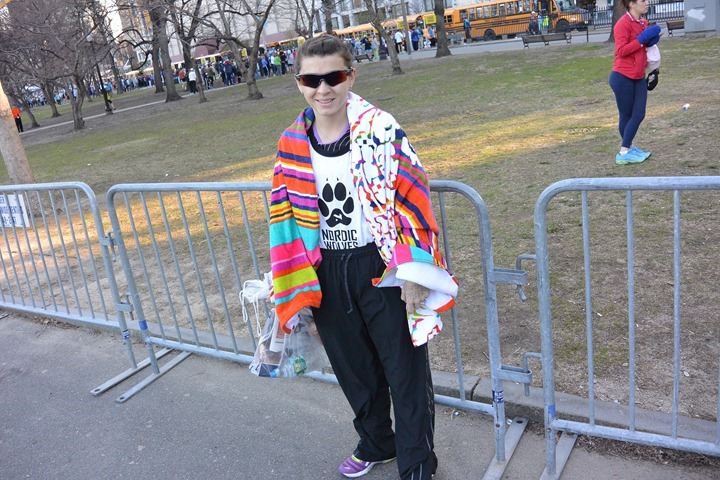 In many ways, this morning sorta felt like dropping off a kid at the school bus for the first day of school.  Except, the kid got a bad deal on the one-way bus ride and had to run home.
And, most kids wouldn't have been dressed as 'fashionably' as The Girl was.  With stringent rules on what you could take (or not take), everyone was sporting all assortment of leftovers to the starting line.  In this case, we picked up a super colorful beach towel off the clearance rack, and then combined it with some old random track pants she found in my closet.  Then added an XXL shirt from an event last year that wouldn't have fit anyone.
After waving goodbye, she headed over to the mass exodus of busses – loading 30-40 busses at a time.  Each athlete had a rough 15-30 minute bus timeframe that they were supposed to board in, but in reality, it was pretty flexible.  The lines seemed pretty short, though, the time between each bus wave was about 20-25 minutes.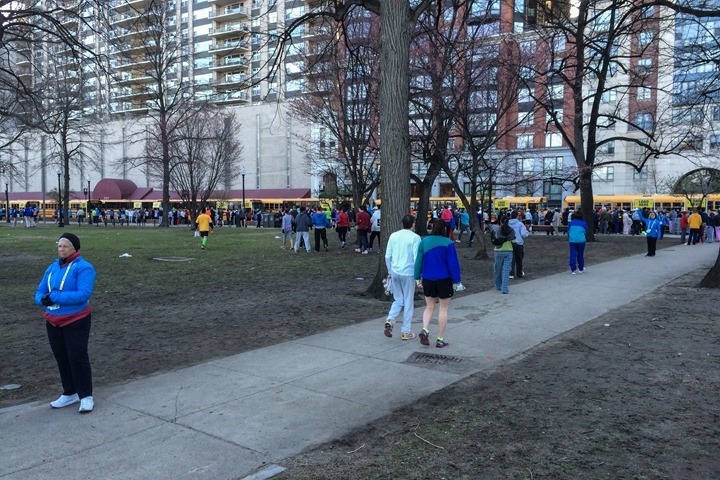 While walking back to the hotel a mere one block away I was trying to figure out how to get a photo of all the busses heading out (they did so in waves).  It was then that I noticed a 6-story parking garage half a block away.  I hung out there for what seemed like an eternity waiting for her busses to pull away.  She's down there though, somewhere in one of those busses.  Note how it snakes all the way up and well out of sight (actually expanding to two lanes).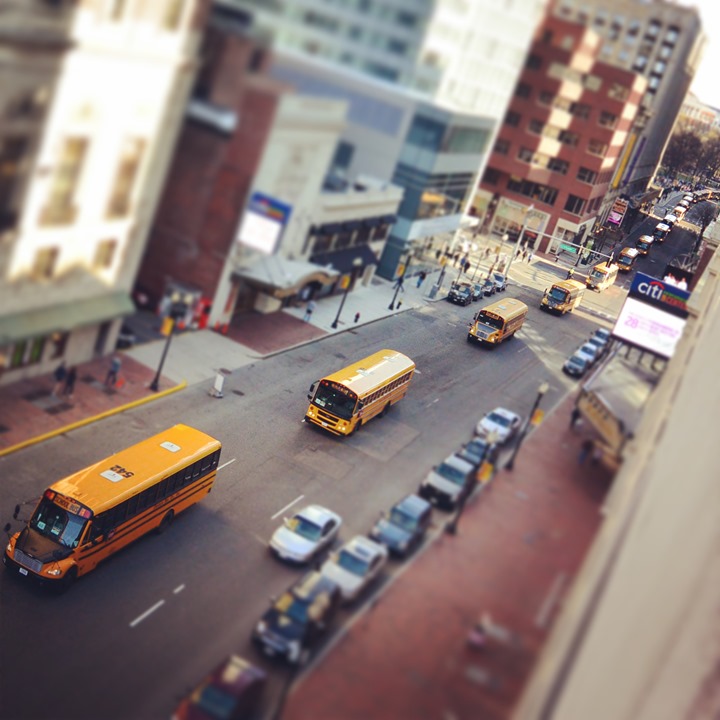 With her dropped off I headed back to the hotel to warm-up and plot my adventure for the day.
A (very long, very hilly) bike ride to watch:
I had spent a bit of time the night before trying to figure things out.  While public transit seemed like a doable option for later in the race, it didn't appear to efficiently get me 'early' in the course.  Nor did it seem like a good option for trying to see someone moving relatively quickly at multiple points along the course.
Next, I considered using a car.  While we had a rental, I was pretty concerned that traffic would be a mess.  Especially with fairly fuzzy security plans in place this year that might make that much more difficult than years past.
Which, is an important point to note: All of the guidance of years past was kinda thrown out the window with potential new restrictions.  While in the end the restrictions were quite minimal, it definitely wasn't portrayed that way – so I wanted something minimalistic to spectate from.
Ultimately, that seemed to funnel me towards a bike.  Anyone who' spectated running races knows the bike is the best way to see a race, hands down.  However…I didn't bring a bike with me.
Nope…instead, I grabbed one of these: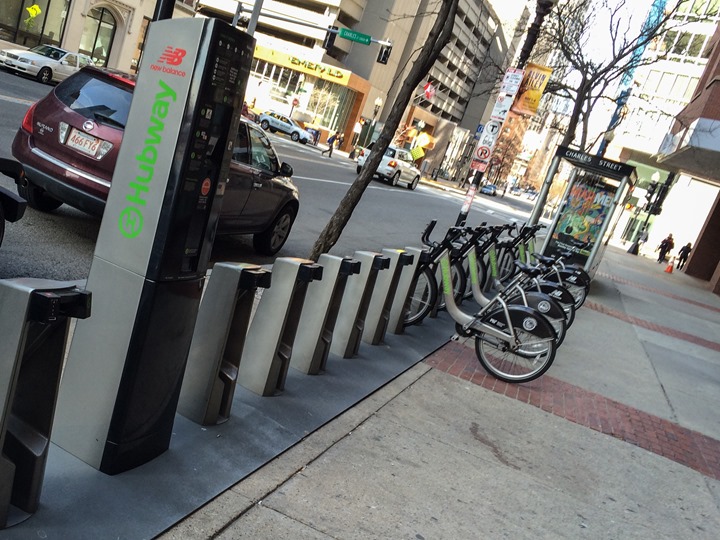 Virtually across the street from our hotel was Boston's bike share program, which was super-easy for out of town folks to rent from.
So, I grabbed a bike and headed on out….fully aware that I was going to rack up some solid overage charges (the first 30 minutes are free…the next number of hours…not so much).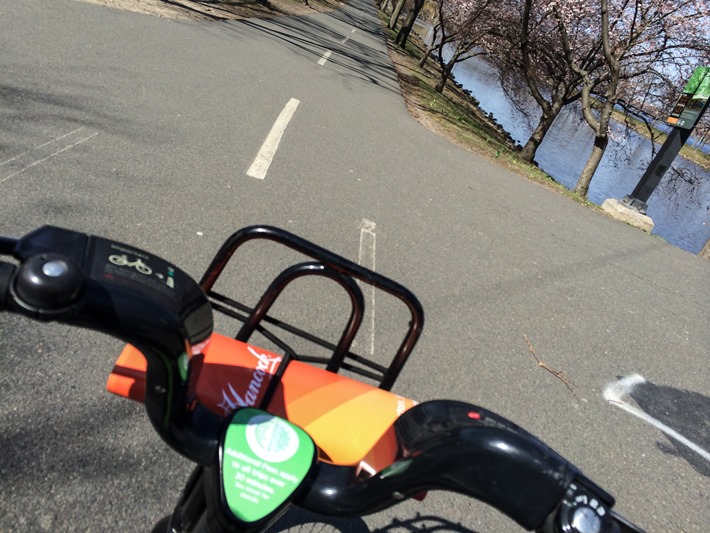 I headed out in what was probably the least direct route possible.  But, it was one I could maintain pretty good speed on.  I simply followed the Charles River path, on the same section I ran 23 miles the day before.
While it wasn't the most direct, it allowed me to fairly easily maintain about 15-16MPH on a flat surface that skimmed around some initial hills (like doing Heartbreak Hill in reverse).  It also enabled me to skim endless busy intersections in the city.
Ultimately it'd take me about an hour to get to my first spectating point around mile 15-16.
The top pros go by: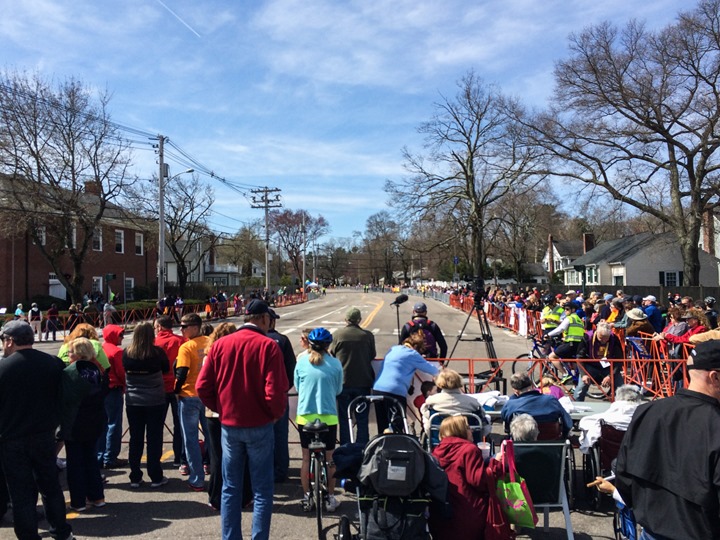 I arrived at my first point on the course (above) before any pros went by.  Given I couldn't hear any helicopters, I actually got back on my bike and pedaled about 3-4 miles to advance one mile on the course.  In this area of the course a few golf courses and railroad tracks didn't make for the most efficient routing.
Once I joined the course I was watching the pro women go by.  I had missed the leaders, but got to see plenty of pro women followers – so that mostly worked out.
As the choppers starting hovering in you soon got the men's lead vehicles.  Lots of them, kinda like some of the official vehicles when watching the Tour de France.
One vehicle though you won't see in France was this police SUV.  While hard to see in the photo, if you look carefully you'll see it has at least 9 cameras on it, one on every corner of the roof rack and in between each corner.  Plus another system in the middle, what looks like a bunch of mics setup for omnidirectional recording.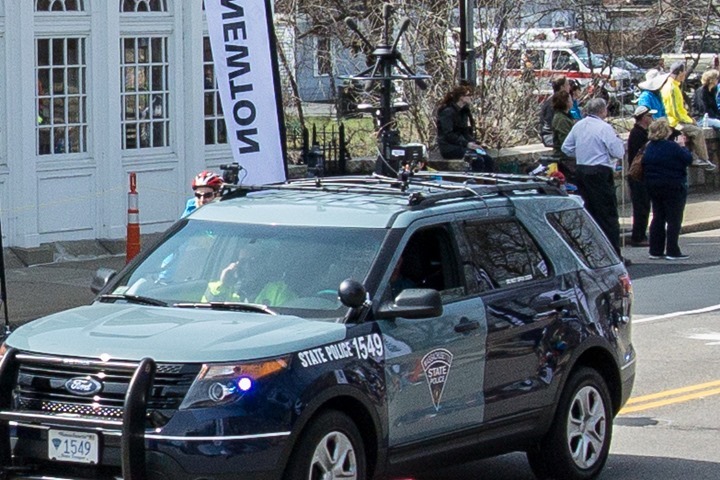 A few seconds after it went by, so did eventual race winner Meb: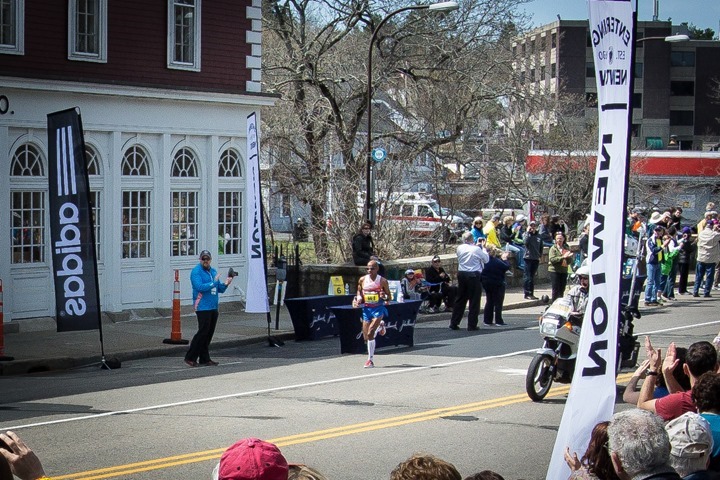 And then following him through the pickup station was the main men's chase pack: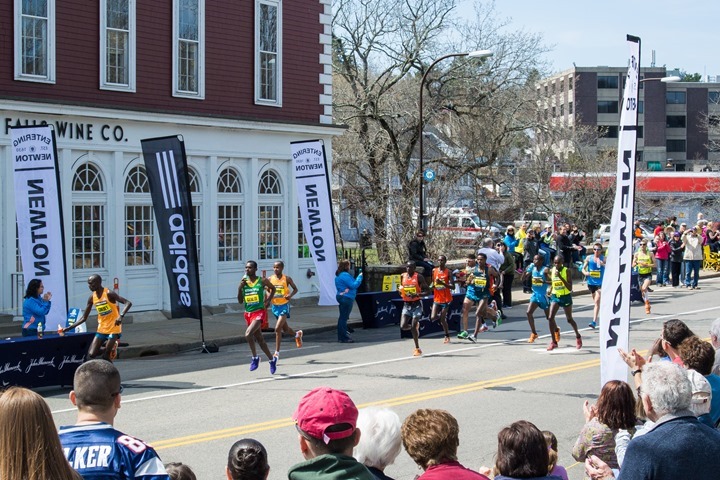 And eventually a bit later, popular American runner Ryan Hall: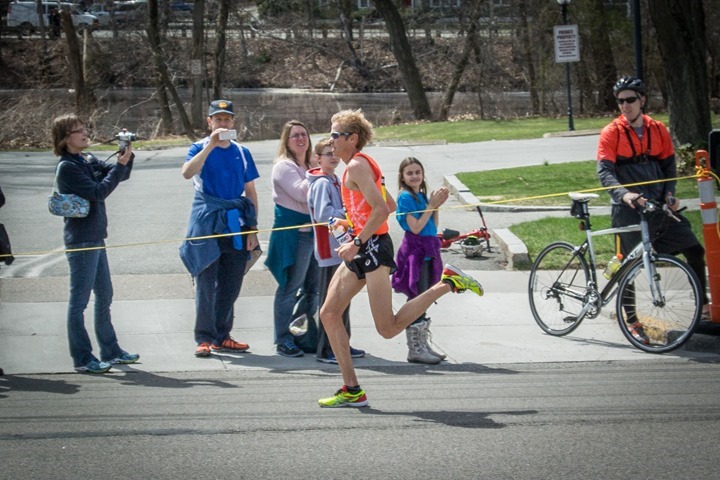 Once they passed, I pretty much immediately left the scene and headed back to pedaling to try and make it another 3-4 miles 'up-course'.
The Girl goes by: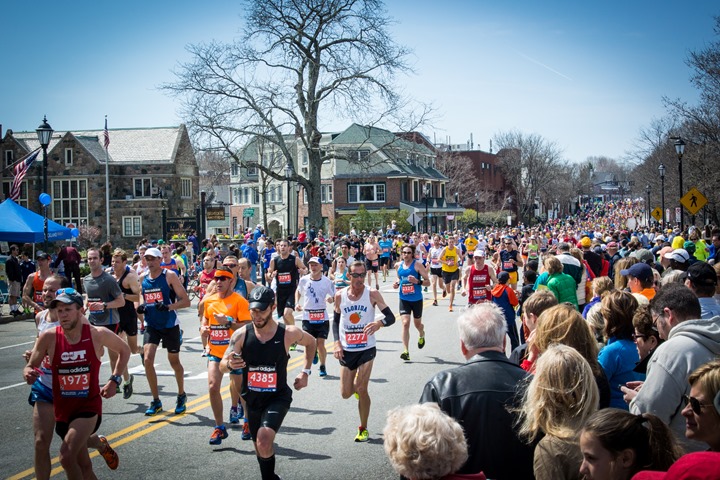 Of course, like before, 3-4 miles up-course was really at least double that in cycling.  There simply isn't that many easily parallel-able streets on the runners-left side of the course in between miles 13 and 19.  There also isn't much flat ground:
No worries though, I eventually finished climbing the Alps of Boston and found a spot to see her – roughly near the 13-mile marker.  Just after it actually.
I had been tracking The Girl using a combination of text messages from the race, and then her Garmin FR620 with live tracking enabled.  She had stashed away her cell phone in a Spibelt to transmit her location.   That worked fairly well until about the 10K marker, and then dropped off due to some sort of loss of cellular service issue (said the Garmin Connect page).
So I was in the blind until it randomly resumed again just before the 13-mile marker.  I was a bit concerned I had missed her, but thankfully with the blue dot back on and updating every 30-60 seconds I was able to pretty easily know exactly when she'd come by.  Below, one of the times I saw her:
She briefly stopped to chat and give me the lowdown on her race experience thus far (which, she had refocused to a bit more of a festive run than a PR run).  Details did include throwing up five times since the start of the race- nerves? And some seriously impressive blisters, they should have been awarded their own medals at the finish.  I decided against telling her that puking was like free speed.  Nonetheless, she soldiered on, smiling and taking in the experience.
While at the half-marathon marker, I had to smile at the gentleman across the street giving out water bottles from a massive stash of his own…in a suit.  Neat to see the community get involved…even in a suit: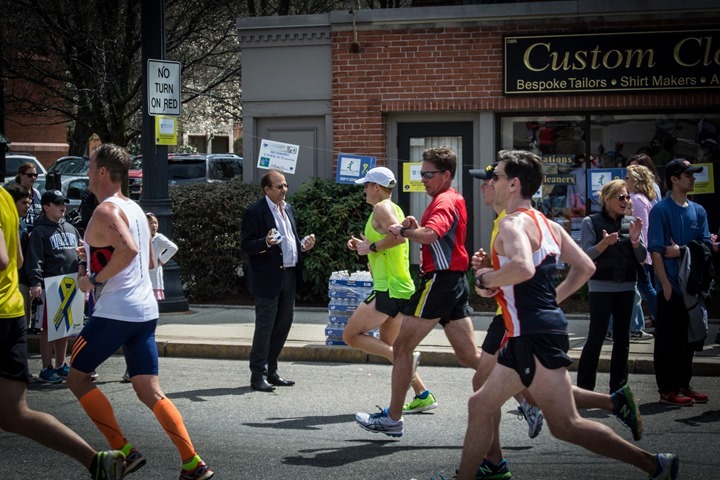 I also saw a number of members of Team Hoyt go by over the course of the race, always impressive: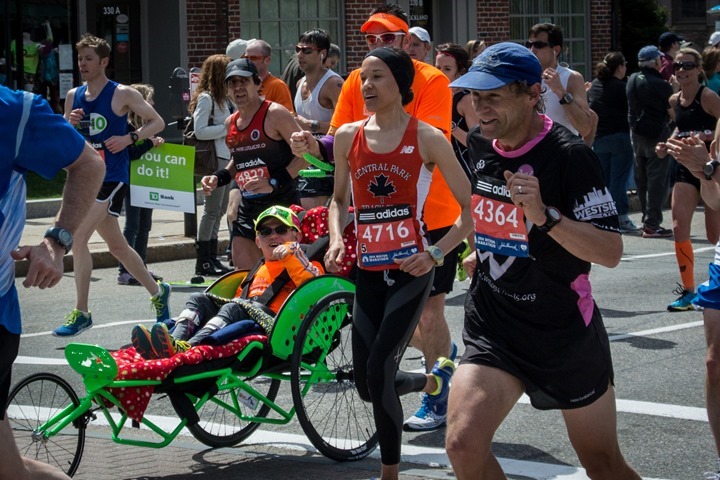 I also got comfortable with the fact that nobody was going to steal my little bike.  Unlike the Paris Velib bikes I'm familiar with, this one doesn't have a lock built into it.  So, while I kept an eye on it, I eventually realized that said bike wasn't exactly the Ferrari of road bikes to re-appropriate.  Thus I'd just leave it a few yards away – close enough I could run someone down if need be, but still out of the way.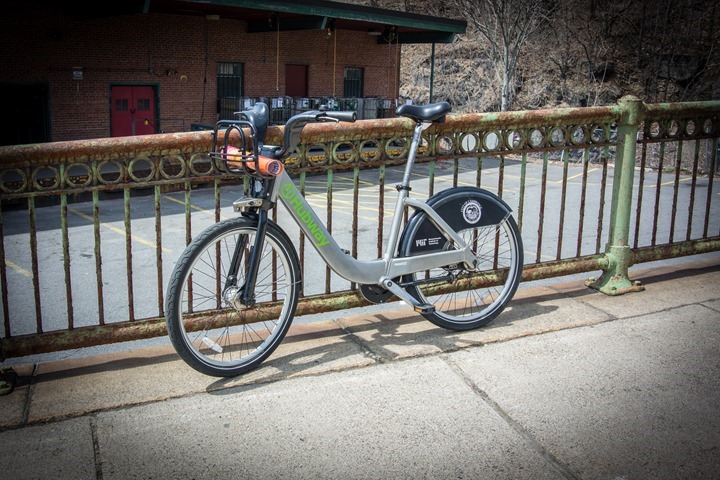 After seeing The Girl go by at 13, I quickly jumped back on the bike – set on seeing her around heart break hill in 7 or so miles.  While that sounds like an easy feat, it was almost 15 miles of rather hard and hilly cycling to get to that point.
The Race to the Finish: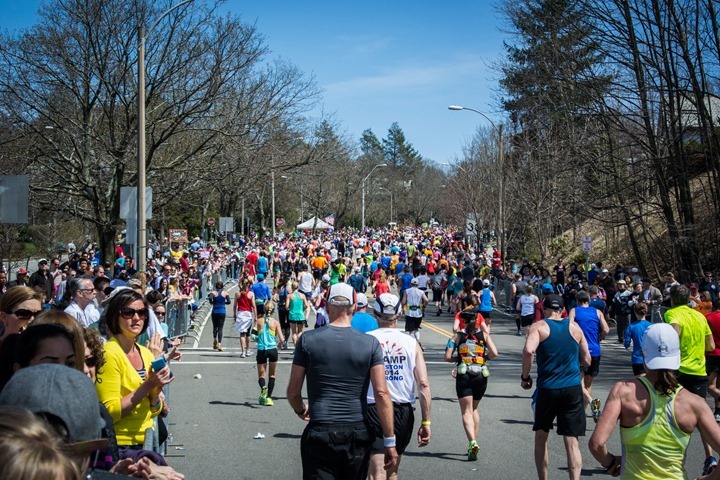 Luckily, I managed to beat her by a mere 20 seconds to this position to see her on the final climb up and over Heartbreak Hill.  I was pretty astounded.
I also got further updates from the girl on all the long-time friends she had stopped along the route to chat with and take selfies; I'm questioning if she had a few beers with the college kids around miles 22-23.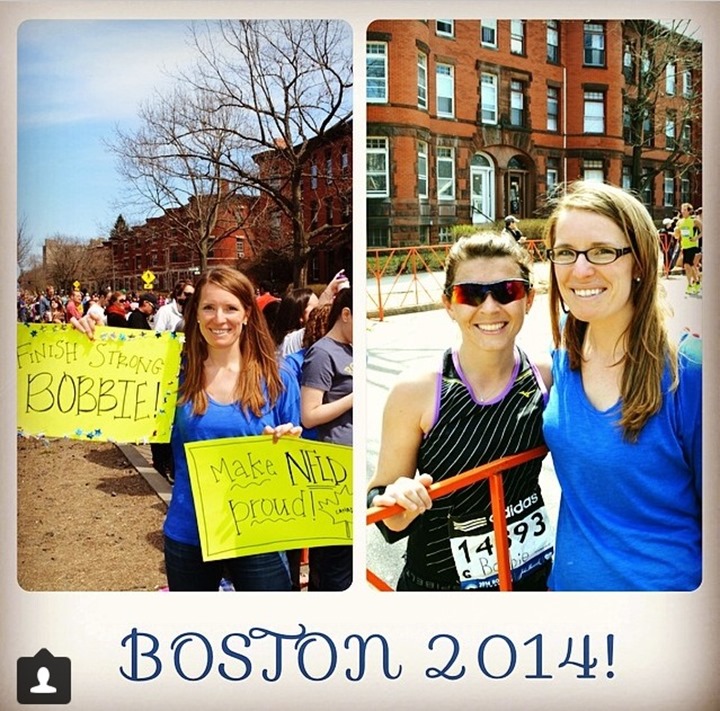 She was turning things into the massive running party that Boston is so well known for.  Not that I'd ever do anything like that….
Now, once you hit Heartbreak hill, from a spectating on a bike standpoint, it's silly easy.  There's an access road that runs right next to the course the entire way to (almost) the finish.  And best of all, it's virtually all downhill or slightly flat.
So during this section I saw her every half a mile or so: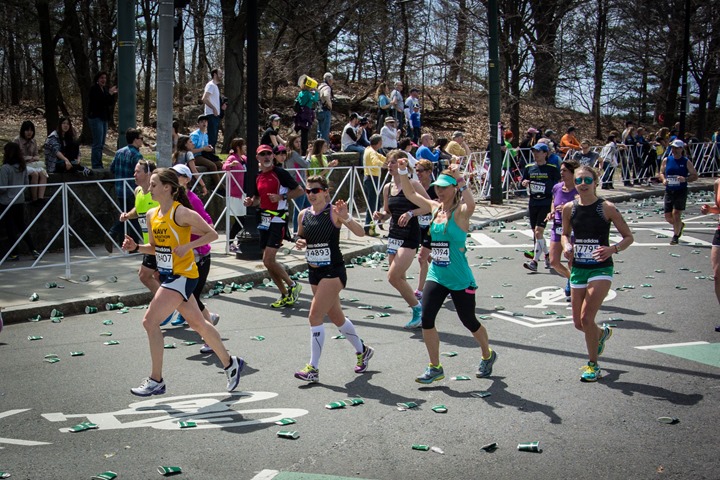 And again;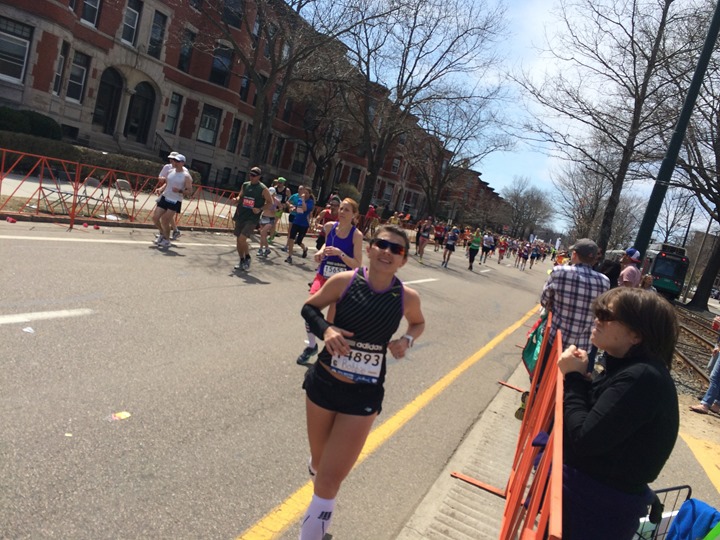 It was sorta like shooting fish in a barrel – kinda too easy!
Of course, eventually, things got tricky.  At around the 25.2 mile marker the access road goes away and you're back to finding round-about ways.  And with the massive crowds, it became nearly impossible to do so efficiently.  Especially as said runner decided she wanted to see how quickly she could run the last mile.
Below, I just missed her as she turned up the street to the the final push to the finish.  No worries though, I know she was enjoying it (sorta like the lady below).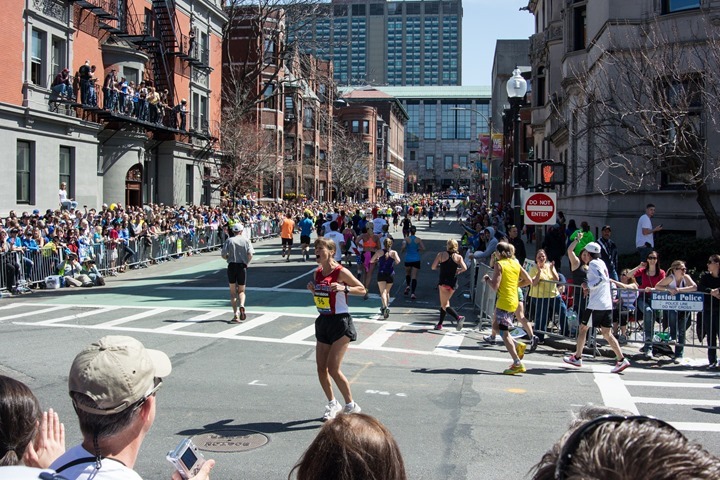 After she crossed the finish line I got the final text from the race (within seconds, impressive), and then went about my journey to find a place to offload my little cycling friend.  Ironically, about the only place with spots was right back where I started that morning.  All in, some 39.23 miles.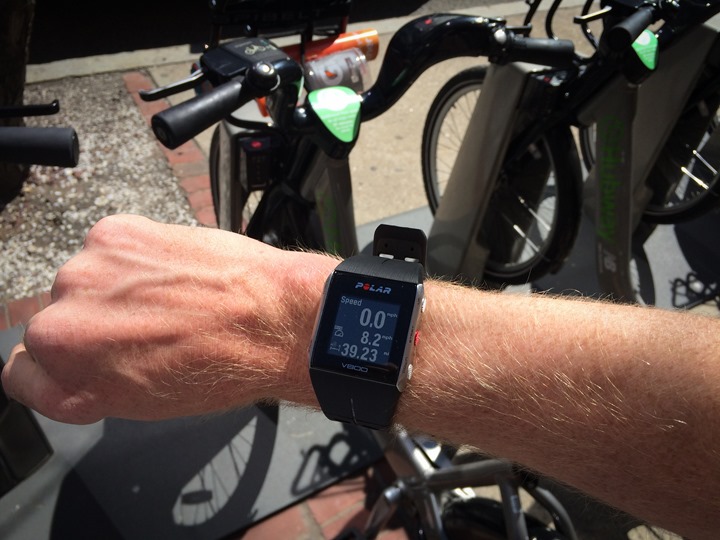 While I don't quite have handy the ability to download this workout, the barometric altimeter clocked the ride in at over 5,000 feet of elevation gain.  Or about 125ft per mile, which, given how often I was climbing up and down…that could be the case.  Either way, by the then – I was totally inline with The Girl's feeling's by the end of the long and hot day: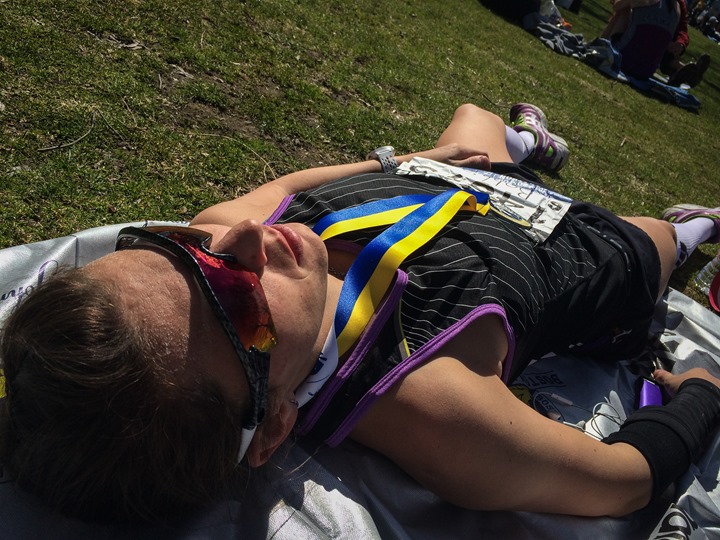 And finally – most importantly – The Girl and her finisher's medal: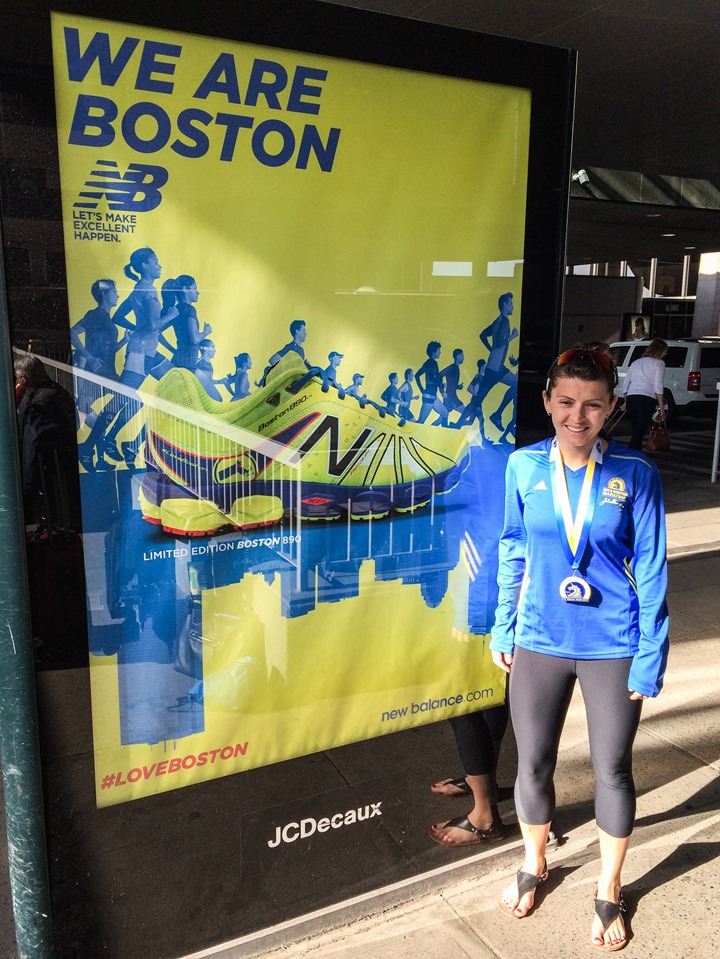 With that – we both want to say a big thanks to all the DCR readers that cheered along for her (either in person or virtually), as well as anyone else who said hello over the course of the weekend.  We both appreciate it!
And of course I'm super proud of her for sticking with it (super positive and with a smile), despite all the things the course threw at her today.  She's just pure awesome!
Now…to enjoy a few days relaxing at the beach.  Well, I'll be relaxing anyway.  She'll probably just be hobbling…