Here's a look at the last 48 hours or so as I've been bumbling to and around Boston!
1) Flew to NYC, drive to Connecticut, and then onto Boston
The theory was a rather relaxing day of a flight from Paris to Newark, and then the 90-100 minute drive up to visit my 97-year old grandfather in Connecticut for a short bit before continuing on the remaining 2hrs to Boston.
Except…that didn't quite work out.  Our United flight was cancelled a short bit after we boarded, and so we played the frantic call to reservations game to end up on an Air France flight 4 hours later to JFK instead.  The view from the top of the tail: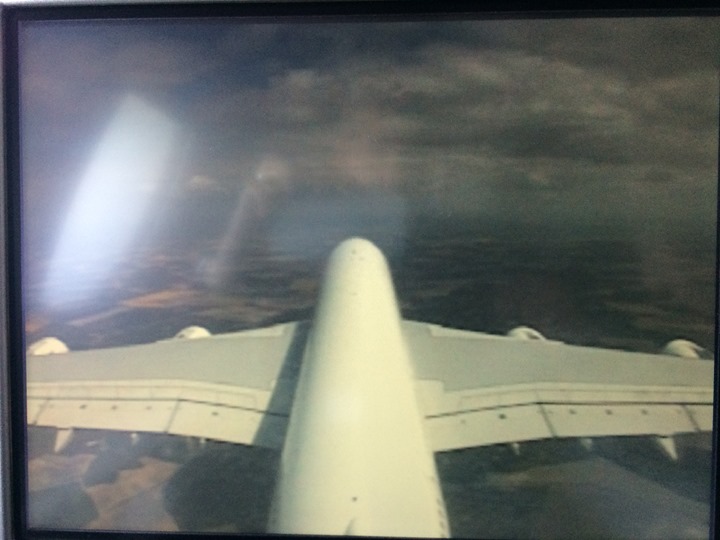 Don't worry, I wasn't up there – rather, just the camera as part of the entertainment system.
From there we landed at JFK and spent more time getting to the gate than it took to fly to to NYC.  Unfortunately, due to the early evening arrival we skipped our previously planned lunch stop at Katz Deli and continued on north.
We stopped by Papa's house for a short check-in before continuing on another 2 hours up to Boston, ultimately getting in around 10PM or so.  Finally…sleep!
2) Checked out the Boston Marathon Expo with The Girl
Obviously, the reason we were in Boston was for The Girl to run her first Boston Marathon.  And of course, a key part of that experience is the massive Boston Marathon Expo, where you pickup your packet and wander around and see the entire running industry in a single place.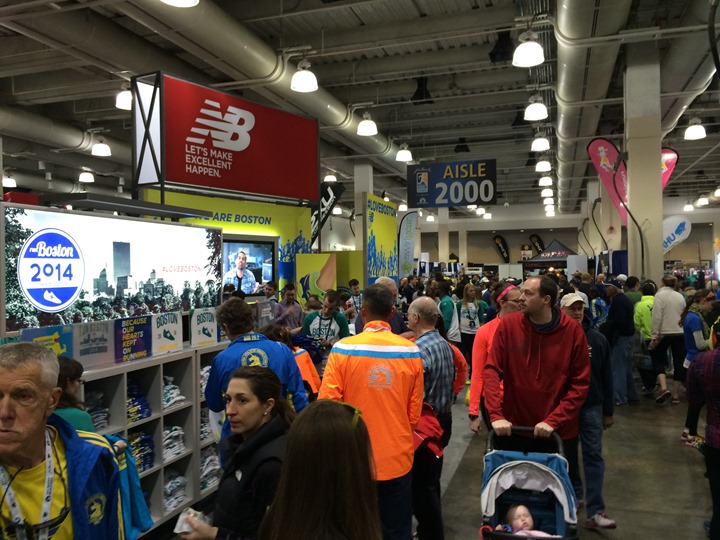 All of the major sports tech companies were there – Garmin, Polar, TomTom, Magellan, Timex, though – I don't believe I saw Suunto.  Plus lots of smaller but still popular ones like Mio and Withings.
Garmin was giving out FR620 Boston Marathon themed straps, so The Girl picked one up for her unit.  They should also work on the FR220 as well.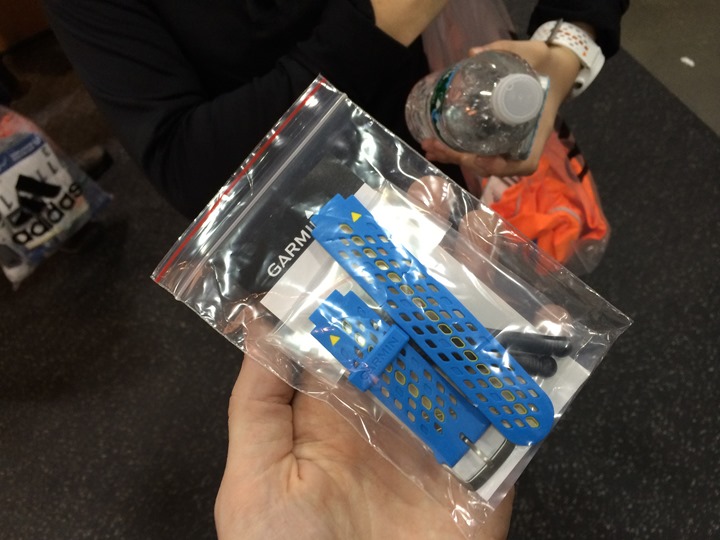 Personally, I thought the best giveaway was the Pork people.  They were handing out massive hunks of freshly cooked up pork.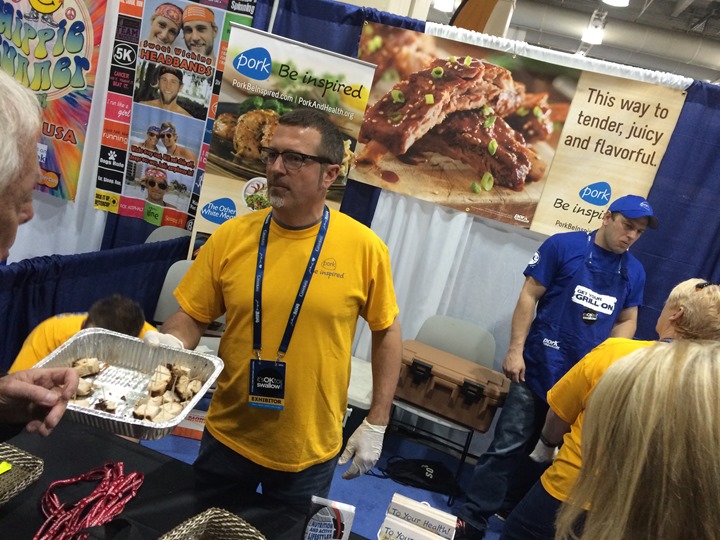 They cleaned up on the beef folks across the aisle, who had…well…sketchy and greasy looking beef sticks.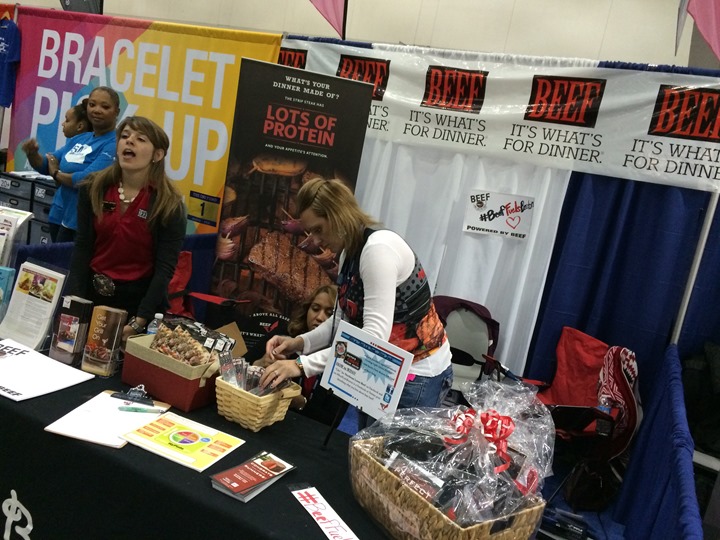 When we saw the Celebrity Cruises booth, we had hoped that they too might have some sort of giveaway.  You know, like a free instant cruise to all who passed by.  Instead, they just had a giant beach chair.  Which, was surprisingly hard to get out of.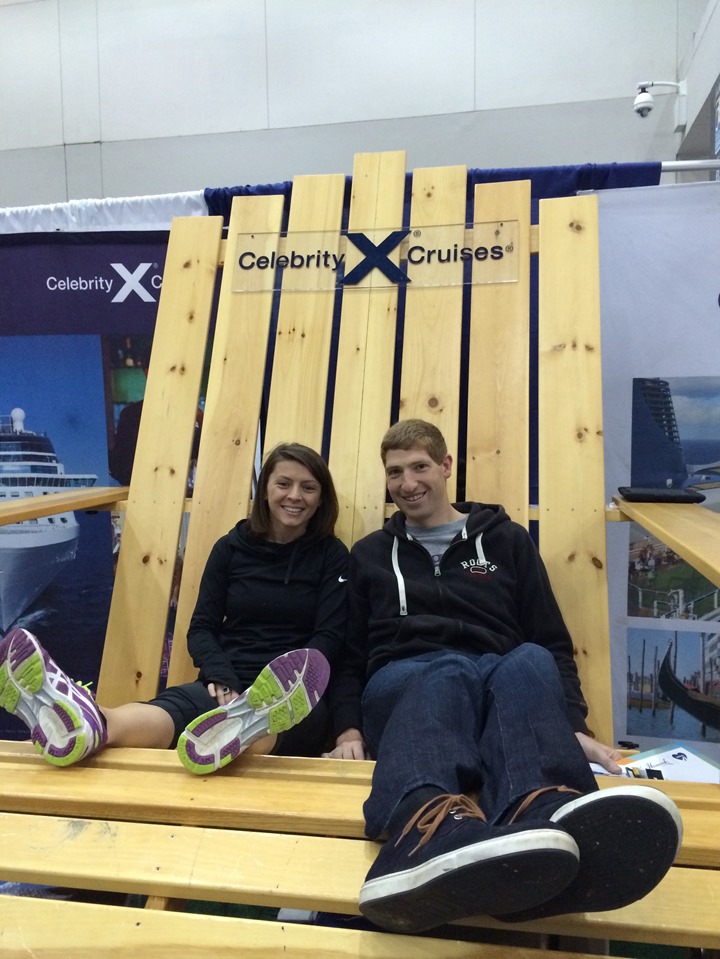 On the flip side, Macy's did have a 'wheel', and The Girl managed to win a $10 gift certificate. Score!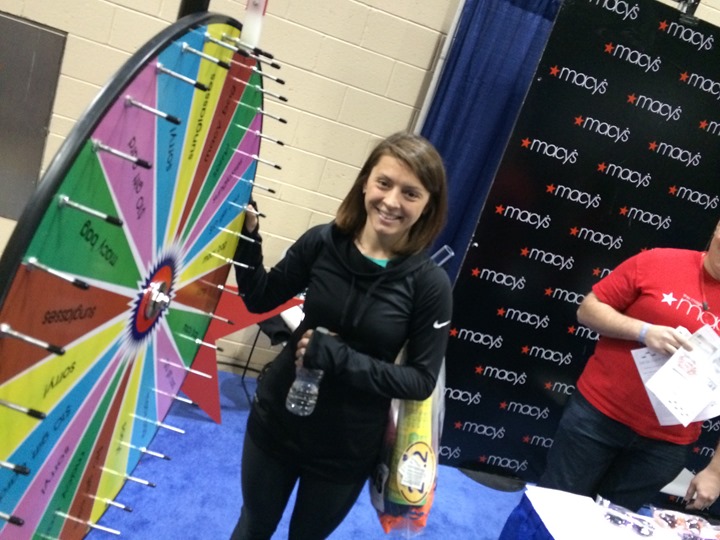 Of course, there was lots of shopping involved too.  Both at the official Boston Marathon store, as well as plenty of other booths.  All much cheaper for runner stuff than in France.  With that, we headed on out.
3) Watched the B.A.A. Invitational Mile
By pure luck we stumbled out of the convention center and the short distance down the street towards the finish line where they were just announcing the athlete names for the BAA Mile, which is, as the name implies – a one-mile race.
The course is setup as a three-loop route around a single city block, roughly starting and ending at the Boston Marathon finish line.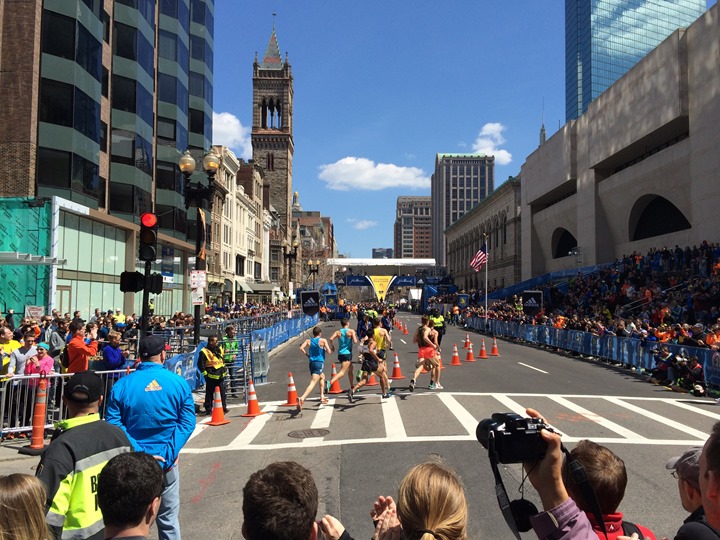 With the giant screen they had setup, it was super-easy to watch the full race unfold…all four minutes of it.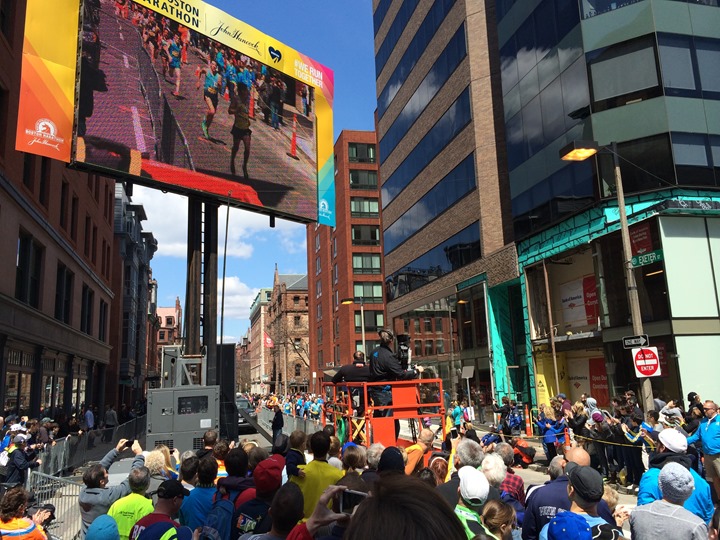 For the first lap, things 'seemed' fairly slow (hint, it's not), but once onto the second lap and into the final lap is when things really kick up.  You can see them heading down towards the finish line here on the final lap.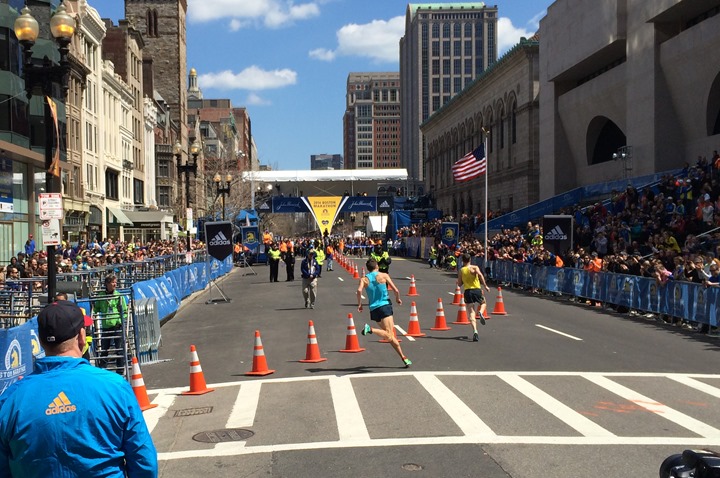 About 5-10 minute after the men went, it was time for the women: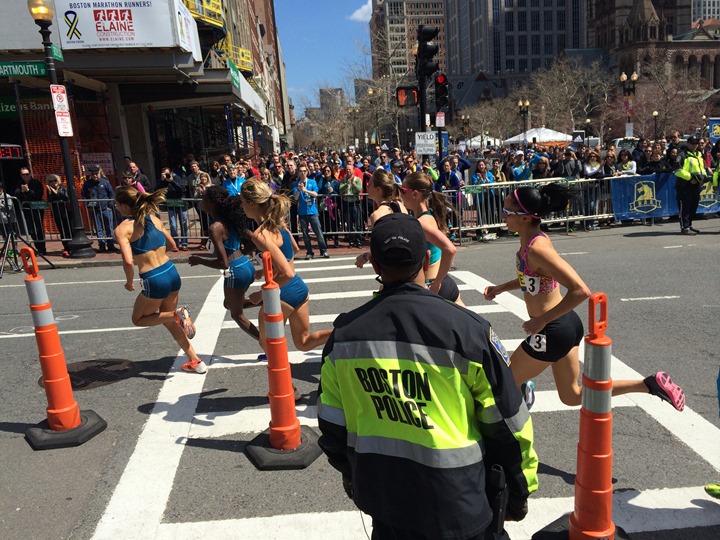 Just like the men, things 'felt' slow for the first lap, but once kicked into high gear it's astounding how fast they're moving.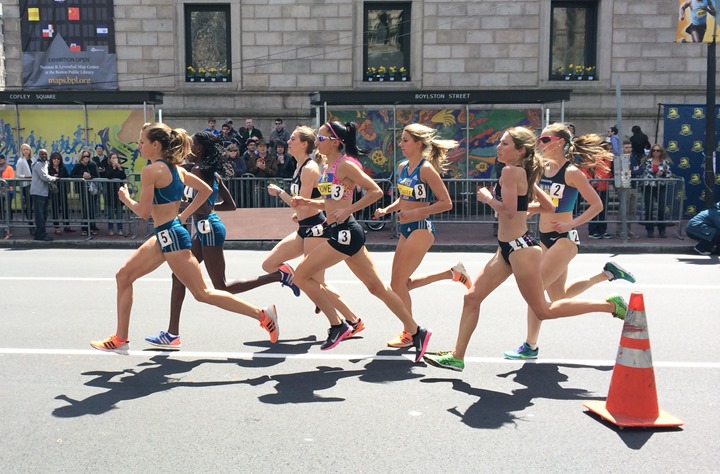 The men finished in 4:11, and the women in 4:44.  If you're around in future years, definitely block a tiny bit of time in the day to see it – well worth it!
4) Went for a 23-mile long run
While The Girl was enjoying the day before the race in relaxing style, I meanwhile still had a long run.  My longest training run to date, pegged at 2hrs and 45mins.
I started off around 10AM from the Boston Commons, weaving my way through what seemed like an RV park's worth of TV trucks in a staging area.  There were about double what you see here.  They just didn't fit into my frame.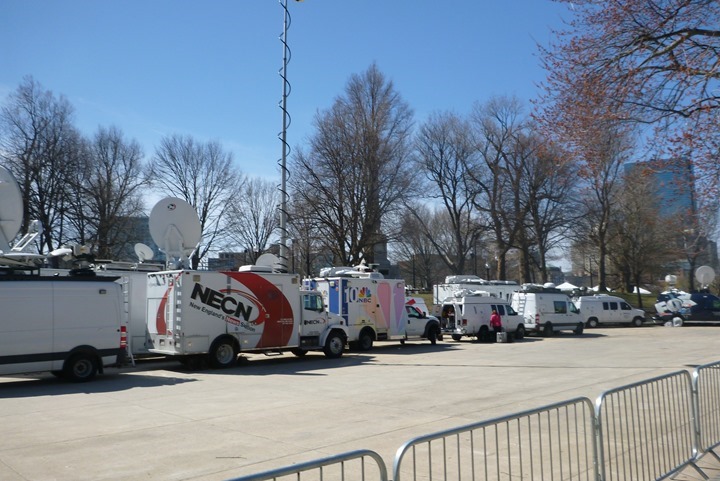 From there I looped down to the Science Museum along the Charles River.  The trail on both sides of the river would be my 'home' for the next little while.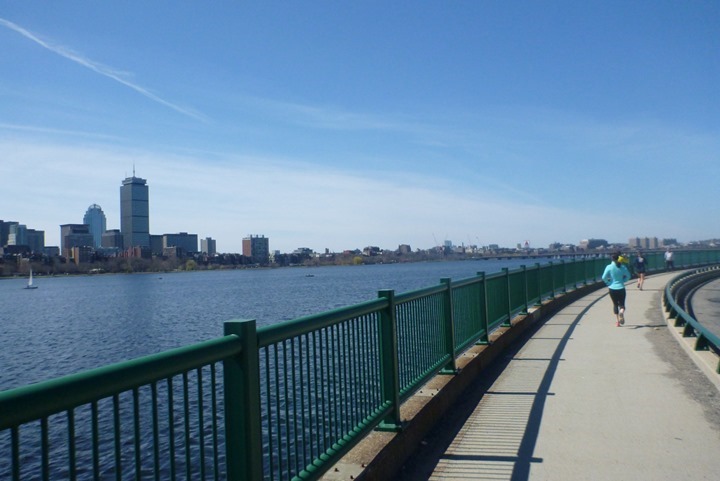 While near the city, it was packed with marathon runners out doing various short (well, I'd hope they were short) runs.  It was fairly easy to pick them out from all the 2014 BAA gear they wore.
During my run, I only saw 2-3 other runners out clearly on a long run, with some sort of hydration on their body.  Those that did look up definitely shared a knowing glance of "Well, it's gotta be someone's long run today…".
Eventually I took a detour up to a pond for a 2 mile loop around it.  While doing so they were having a bit of an Easter Egg hunt around the pond.  Every once in a while I'd see an egg on the fence, or up hanging in a tree.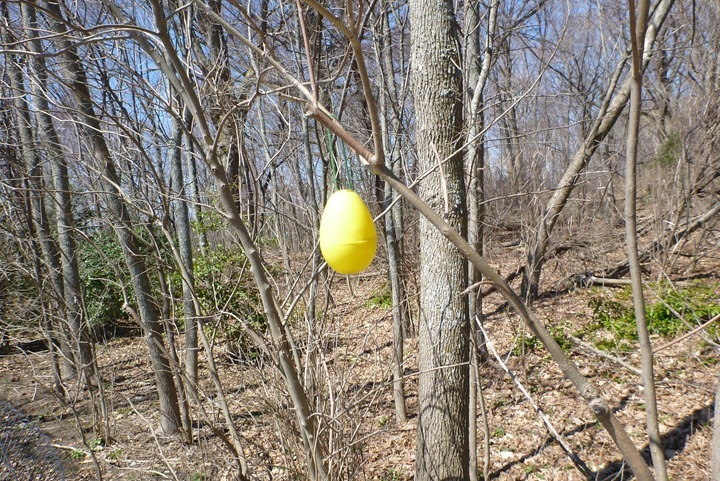 Given how few kids there were, I have a feeling that some of those eggs might be there a while.  Still, neat.
Overall my run was incredibly consistent in both pace and HR.  Here, my heart rate:

It was set as a Z2 run, and I easily kept it in that for the entire run.  My pace fluctuated between 6:50 and 7:10/mile, with a few miles being slightly slower if I had to zig-zig burning time for an intersection or the like.  And here's my total route: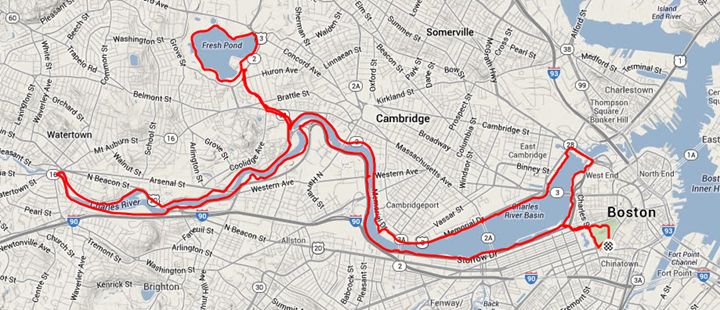 All in, as seen below – 23.2 miles in 2:45.  Quite happy with that given the Z2 heart rate zone.  Plus, I was feeling quite strong.  Had someone told me to just finish running another three miles, I would have simply shrugged and knocked it out at the same pace.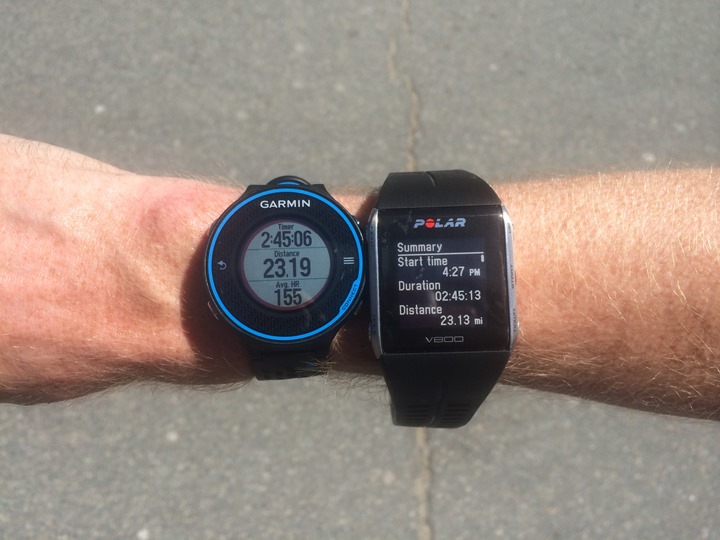 5) Cycled a short bit after the run
Finally, after my run while walking back to the room I noticed the door for the fitness center, which happened to be on the same floor.
My legs were feeling a bit tired already, so I knew that if I didn't do a short bit of spinning they'd hurt quite a bit more later on.  I've long since known that doing a short and easy 10-30 minute ride after a long run makes an incredible difference in recovery.  In the past I'd often just go out and pedal around on my mountain bike.
After poking into the fitness center I found it virtually empty and jumped on an exercise bike: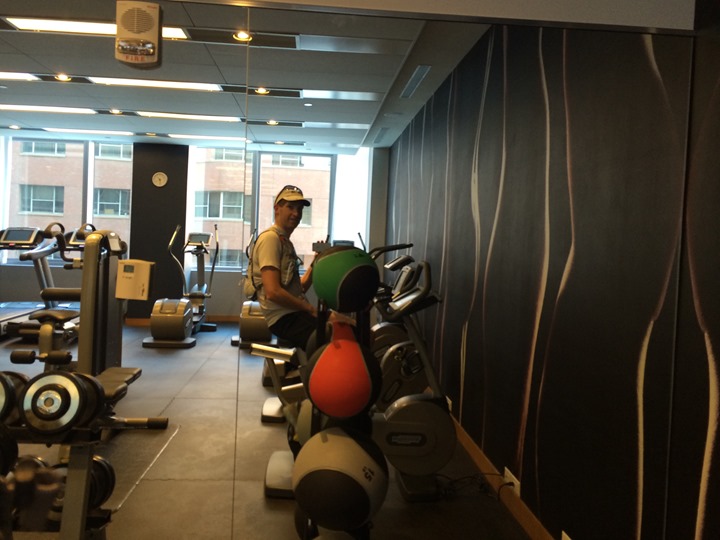 Now, don't be confused.  This isn't a workout.  You shouldn't be breaking a sweat – if you are, you're doing it wrong.
To prove that, notice the wattage below – 34w.  Yes, thirty-four watts.  Zero resistance, just easy spinning of the legs.
It makes a massive difference.  Even just the short bit I did on the exercise bike and things already felt better, and now sitting here some 8 hours later, and things feel fairly good.  Tomorrow, I'll be suckering The Girl up onto the bike for a short 10-15 minute ride post-marathon.  It'll make all the difference in the world come Tuesday morning.
—
With that, I've gotta prepare for my big day of course spectating tomorrow.  It's gonna be epic!  For those that want to check out my previous Boston Marathon Race Report (when I ran it), check out this post! Massive numbers of photos.
Good luck to all running tomorrow!