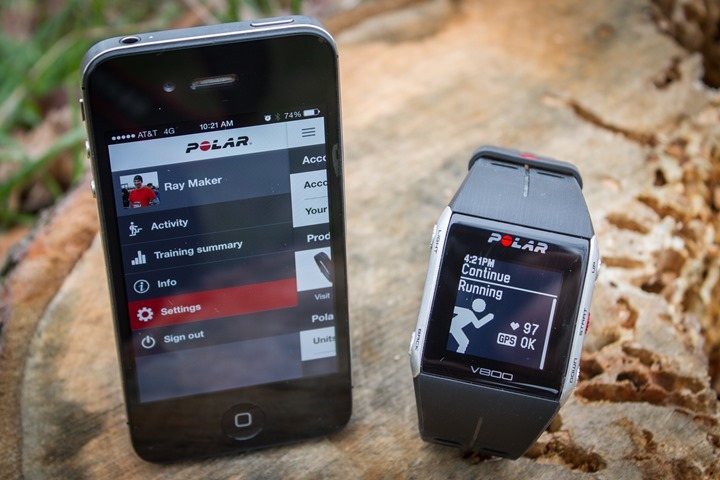 (Please note that my full in-depth review is now published and available based on the final unit and functionality.  Read it all here!)
Today, Polar fully announced their new V800 GPS integrated triathlon watch.  The watch covers all three sports – swim, bike and run – and does so with newfound Bluetooth Smart connectivity for sensors and phones alike.  Further, it includes a built-in activity monitor for the remainder of your day when you're not working out (like a FitBit/Fuelband, or Polar's recent Loop device).
I've been using the V800 for a few weeks now, putting it through its paces in all sorts of weather from cold to…well…colder.  While the device is still months away from release, and many of the features are not yet enabled in my beta unit, I'm going to run through what the plans look like and the features that'll be included.  I'll be noting areas where things are 'paper plans' versus 'already in the unit'.  Note that I've had a ton of discussions with Polar over the last few weeks about the device, covering a lot of ground – so I'm trying to include as much of that as possible in areas where the functionality isn't yet enabled in my test device.
First though, just as a quick note, Polar sent over the V800 for me to poke at.  At the end of my poking, I'll send it back to them – just like everything else from all companies I receive – and then I'll go out and get my own device through normal retail channels.  Just the way I roll.  You can support the blog through various partners listed on the sidebar and at the bottom.
Let's get on with it!
Oh…wait – one final thing:  This isn't a review.  Yes, for real.  These are my standard In-Depth Reviews.  This post is just a first/early look at the unit, well before everything is done.  Come back later this spring for the full review.  Ok, let's go!
In The Box & Size Comparison: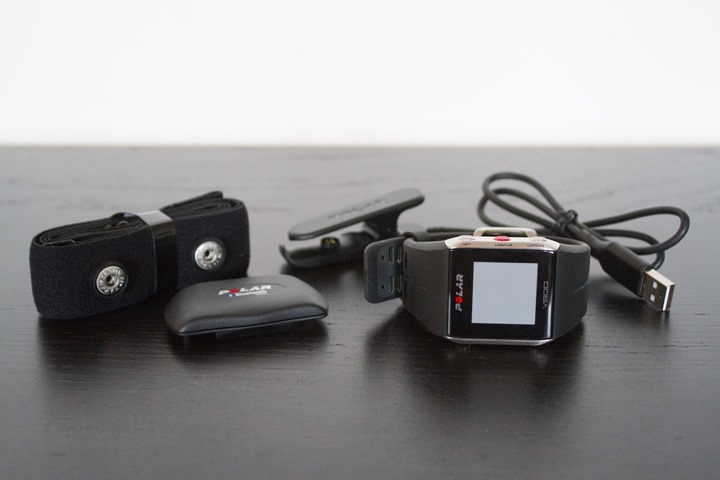 Polar would like me to point out that the box isn't final.  Nor are it's contents.  Though, I will assume that the V800 box will ultimately actually include the V800.  Which, would be sorta important.  Mine also included a small note to me, sorta like a love letter, except without the lipstick kiss.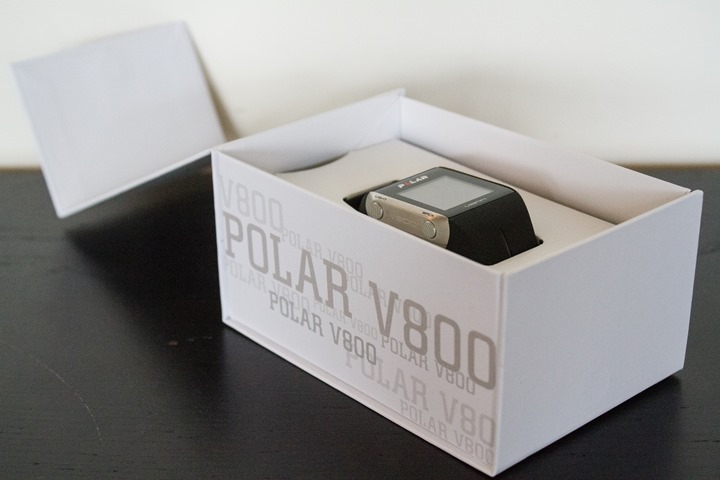 Inside the box you'll find a bunch of components, the three I'm going focus on are the three things you'll likely find.  First is the watch itself: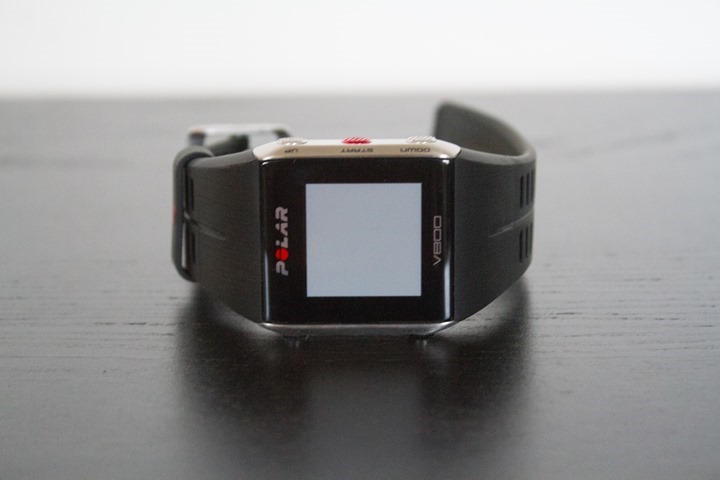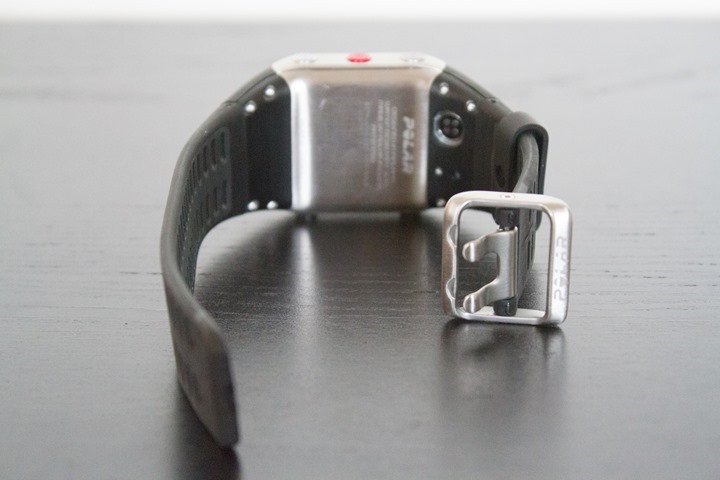 Then, we've got the USB charger.  The charging clip looks somewhat like the Timex Global Trainer and the Polar Loop charging clips shacked up and had offspring.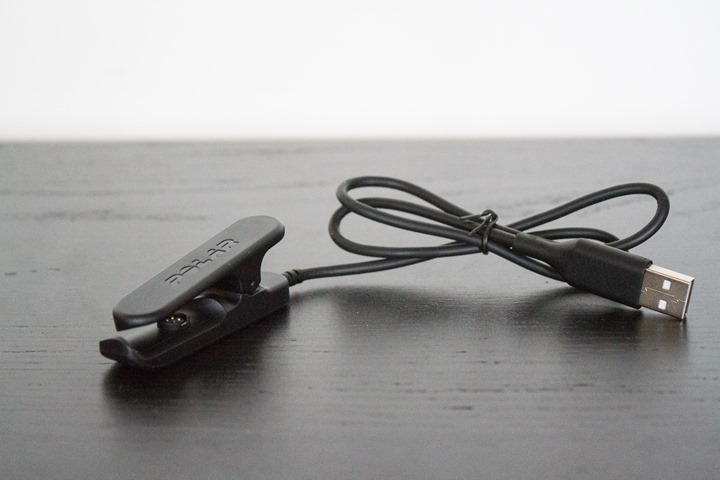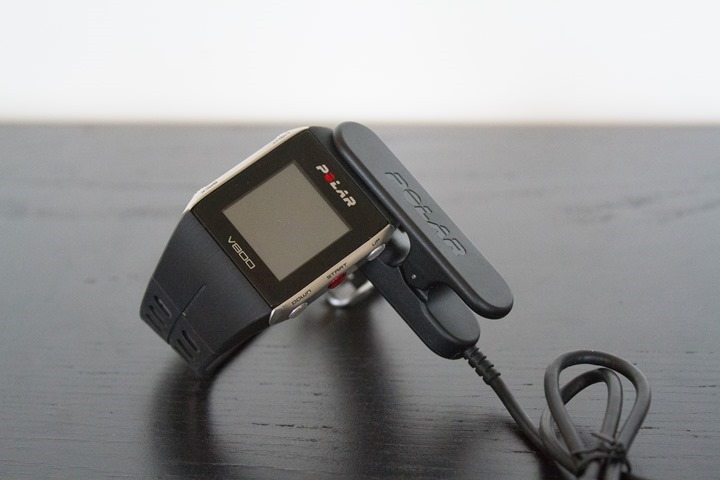 Finally, there's the Polar H7 Heart Rate Strap.  Note that whether or not you get this will depend on which bundle you buy (with or without the HR strap).  If you already have the Polar H7, then no need to buy the bundle with one.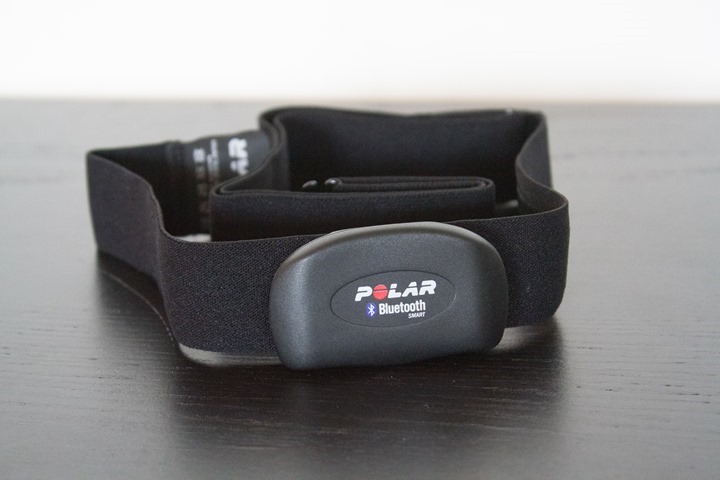 What is notable however, is that the H7 is unique in that it will transmit over two frequencies: Bluetooth Smart, and 5kHz. The second frequency is used if you want to receive heart rate (HR) data while underwater.  If not, then any Bluetooth Smart strap on the market will do.
With things unpacked, let's take a quick look at how it looks size-wise against a range of current on-market triathlon and upper-end running devices: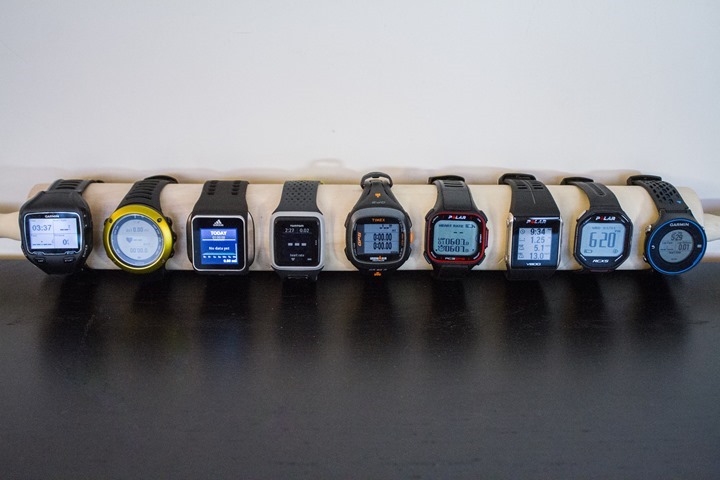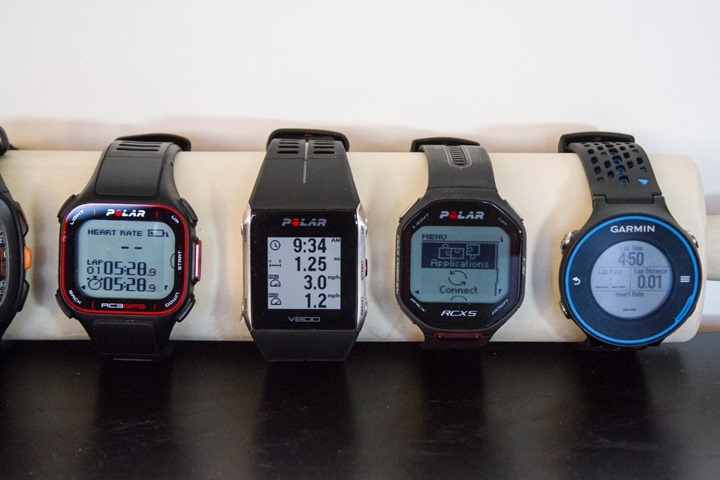 As you can see, it fits in pretty well.  It's a bit smaller width-wise than the FR910XT, though about the same thickness.  It's obviously much thicker than the FR220/FR620, but, it also does a heck of a lot more.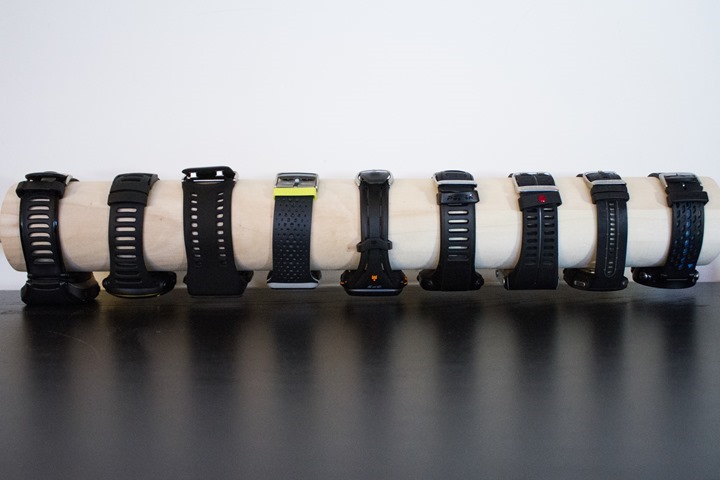 Finally, for those coming from past Polar units, here's how things shake up against the Polar RCX5 (the last full featured triathlon-focused unit Polar made), and the more recent Polar RC3 (first GPS-integrated running focused unit Polar made):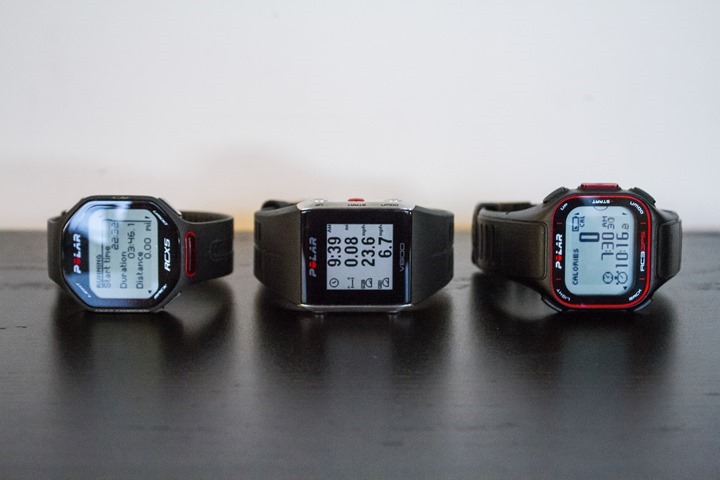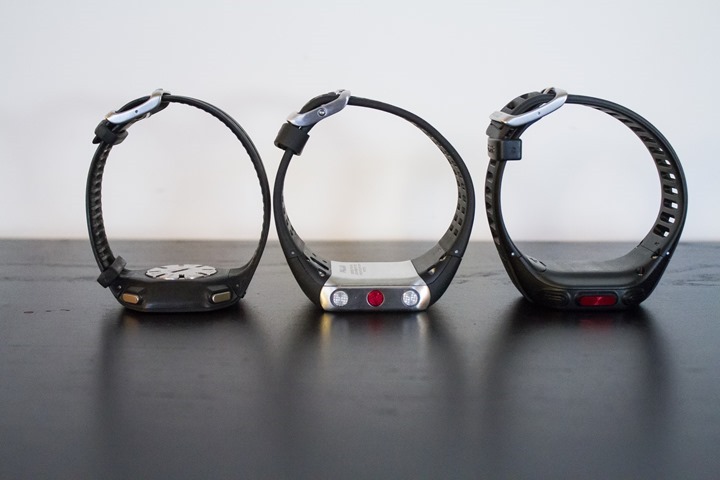 Let's head outside and take it for a run.
Running: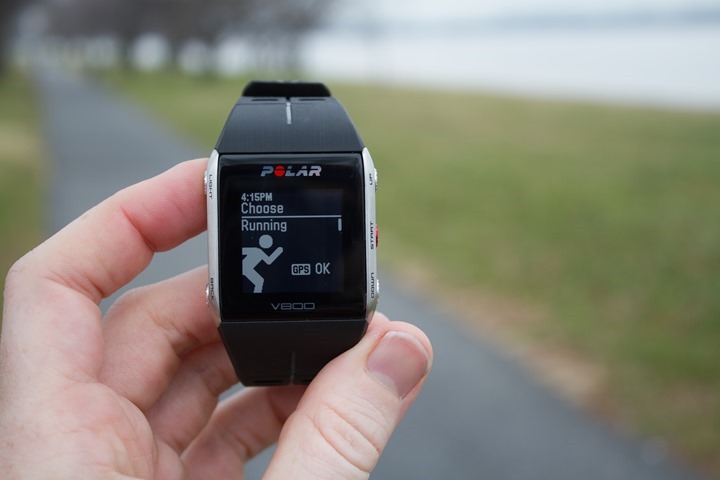 If there's one thing I've done, it's a lot of running with the V800.  And you know what's my favorite part?  Just how fast the satellites pickup.  Like most new units on the market, the V800 includes satellite pre-caching, which means that it caches up to 3 days of satellite location information for quick reception.
Below, is a short video showing me turning on the unit for the first time some three thousand miles away from the last place I turned it on:
Now, here's another video, this time showing me turning it on a day after I last turned it on:
Blazingly quick.  Really sweet.
At this point, the watch will show that it's connected to your Bluetooth Smart HR strap, and show your heart rate value on the 'waiting' screen.  You'll also see the GPS percentage if it's still looking for them.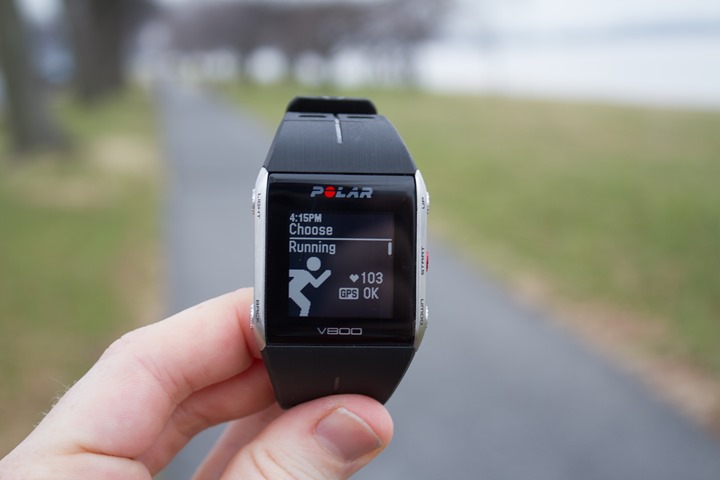 Once it's done all that, you'll go ahead and tap the side red button to begin the workout: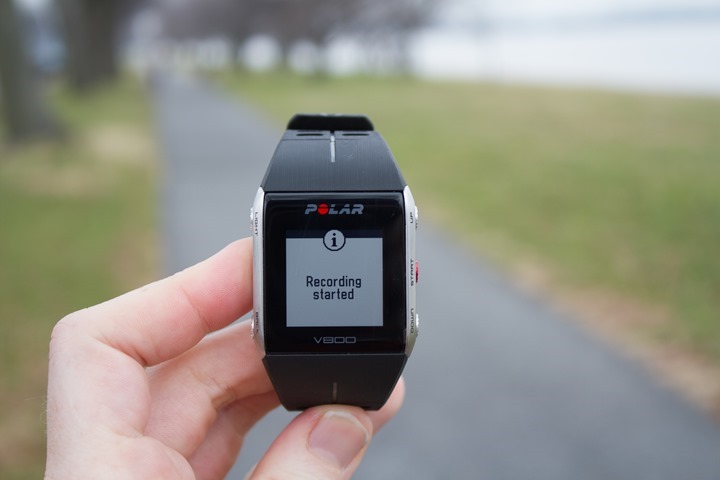 Once you've tapped that button, the unit is recording and actively displaying pace/distance/heart rate, and any other metrics you've configured.  By default, it has a number of pre-configured screens.  Here's a quick look at them: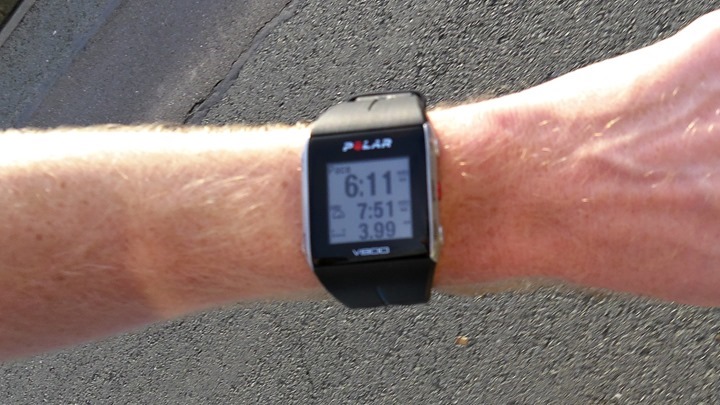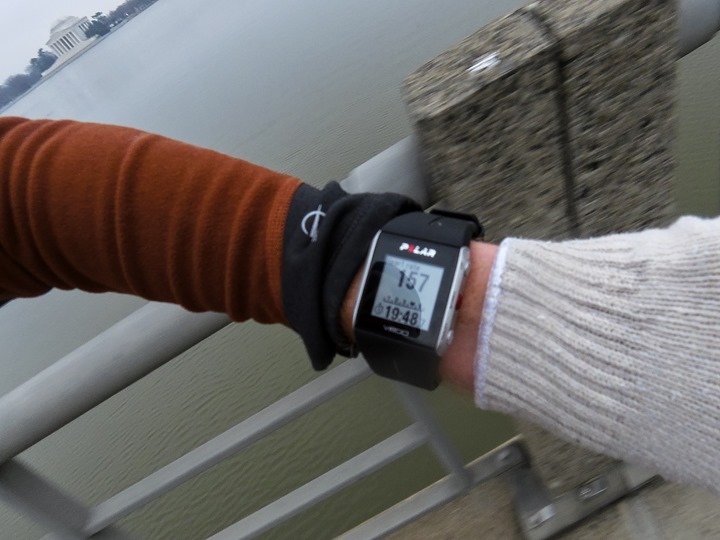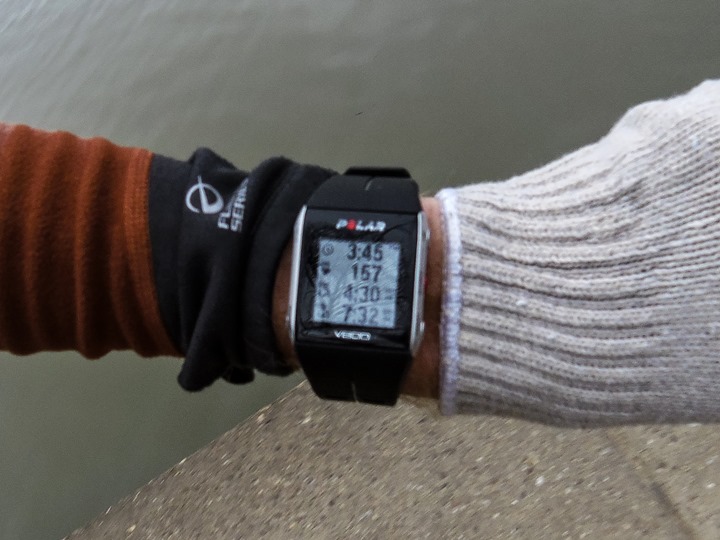 When it comes to laps, you have two options.  First is to manually press the lap button (lower right) to trigger a lap.  The second is to use automatic laps based on a preset distance (such as 1-Mile or 1-KM).  Or, you can do both together: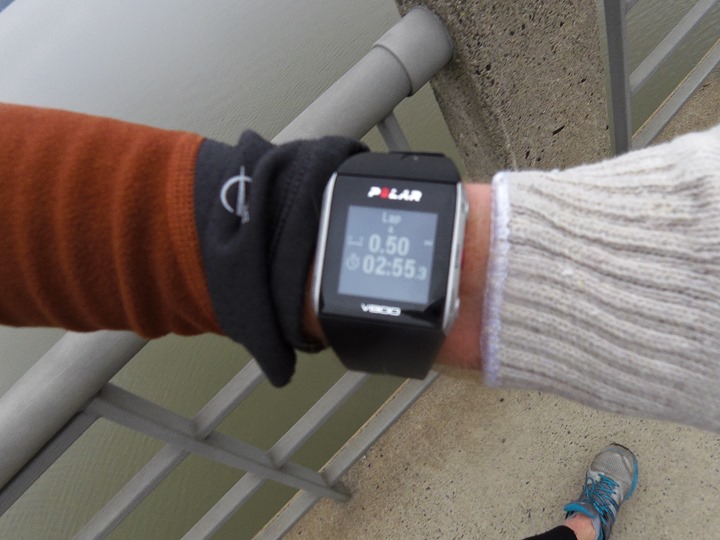 The V800 does support having automatic laps at the same time as manual laps.  Think of them as two separate sound-tracks (and actually, they are audibly separate, as you'll get notifications for both).
The screens are fully customizable, though, that wasn't enabled yet on my device, so I just stuck with what was given to me.  The customization though will occur via the Polar Flow site, allowing you to add stats like Lap Time, Distance, or any number of other metrics to your screens.
From a running functionality, the unit includes a feature called 'Race Pace', which allows you to race against a known time/distance target.  This looks and sounds similar to Garmin's Virtual Partner feature.  It does not however allow you to race against a past historical activity (such as last week's activity).
Looking at more general instant pace, I found the unit quite smooth.  Below, a short video clip from a run:
The unit also includes 'Tap gestures', which allow you to tap the screen of the watch to retrieve information such as recovery status or take/set laps.  Further, you can also leverage Polar's Heart Touch feature, which will enable you to customize the unit to perform a given event when you touch the watch to the HR strap (your chest).
When it comes time to pause or save your workout, you'll do so by tapping the left 'back' button, which pauses it.  If you hold that down for three seconds, it'll save the workout: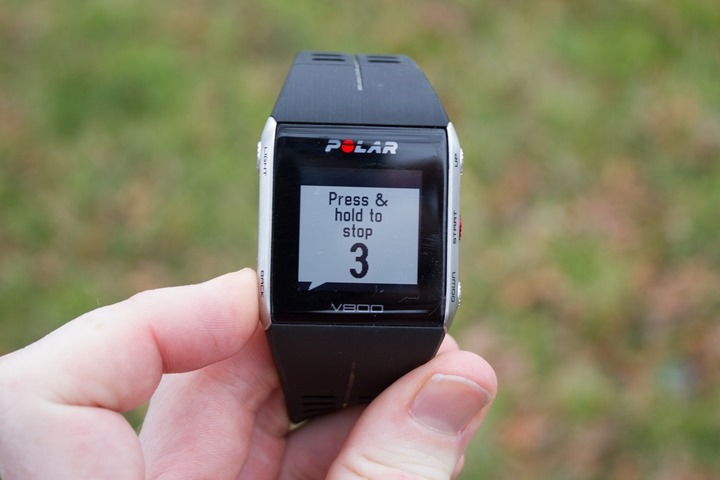 Once saved, you'll get a long screen of summary information that you can scroll through: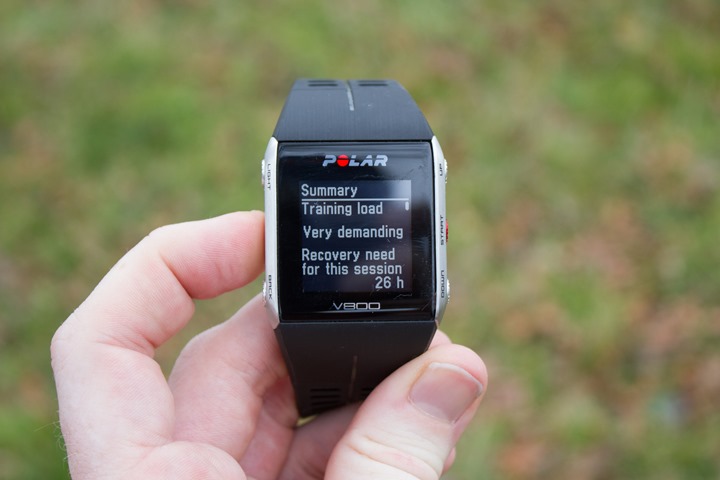 If your phone is within range, it'll upload that data automatically via Bluetooth Smart and the Polar Flow app, to the Polar Flow site (with WiFi/Cell service).  The mobile app is however capable of doing offline data analysis as well.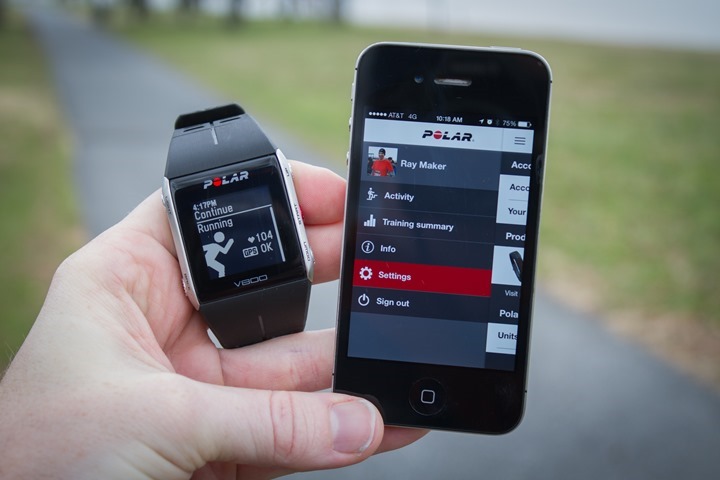 Below, you can see an example of  a workout uploaded to the Polar Flow app from the V800: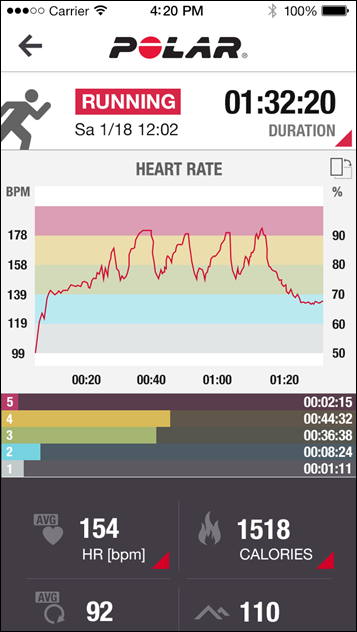 At present, the Polar Flow app isn't quite enabled for connectivity to the V800, so I couldn't upload any demonstration workouts myself to show you how it works.  However, you can see my Polar Loop review, which covers much of the Polar Flow app in far more detail.  Most of the app will remain the same for key aspects such as activity monitoring.
From an accuracy standpoint, thus far, things have been nearly spot on with the FR620 and FR220 I've had on some recent runs: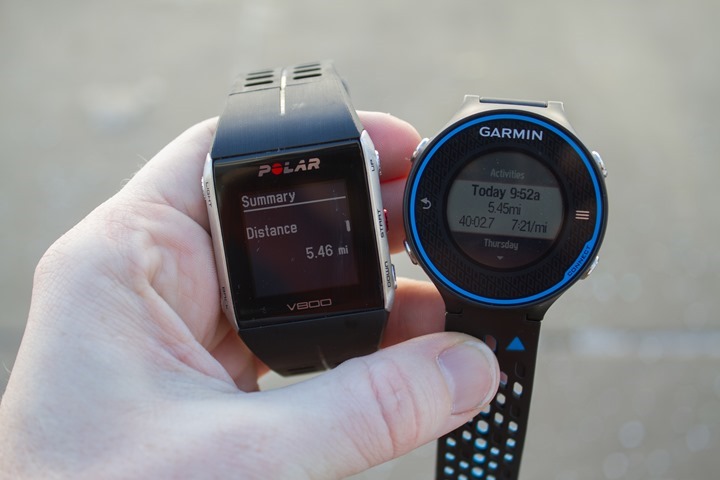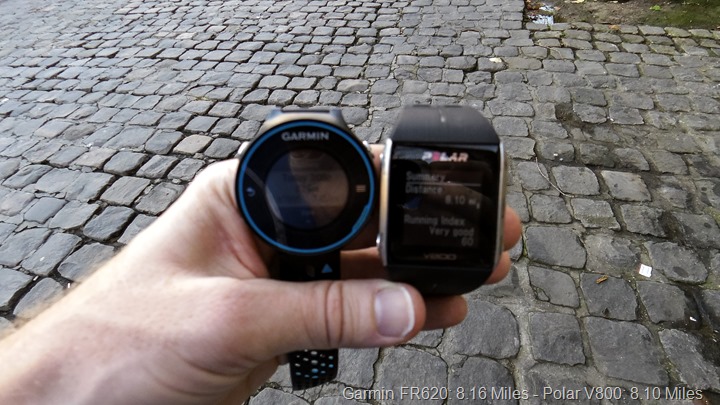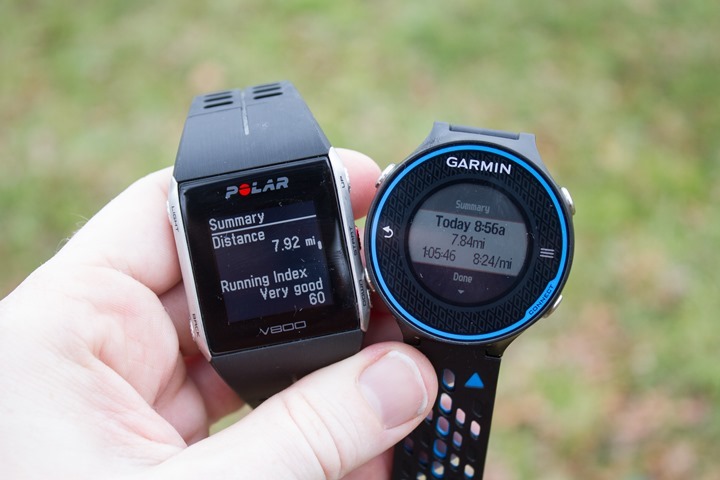 Navigation and Routing Capabilities:
The V800 includes some nice navigation and routing capabilities.  I'll start with the most basic, and then build on that into the more advanced features.  First, it includes a 'Back to start' function.  This function gives you 'as the crow flies' directions back to the starting point of your activity: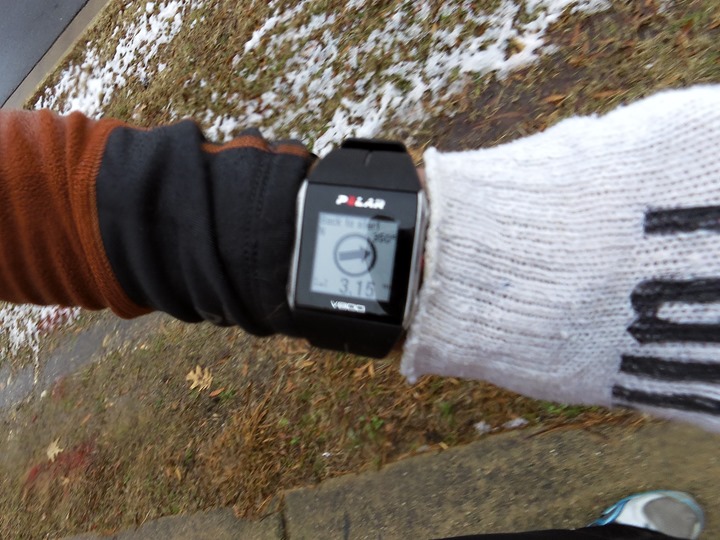 This is useful in city environments where you just want to get back, and don't particularly care if it's back the same way you got there.  The V800 can also go back to an alternate saved location point (such as your house, etc…).
This is different however from 'Track Back' style functionality, which tracks back on the exact same route you came.  That functionality tends to be used in trails/mountains where you must follow the same track back (due to rivers, etc…).
The V800 further includes 'Route Guidance' capabilities, which enable the unit to follow pre-planned routes, as well as previously recorded routes.   It can also follow shared routes from Polar Flow.  At launch in April, it'll just follow exiting routes, or shared routes – down the road, they'll allow you to create your own routes.   In this mode, the unit uses it's magnetic compass to provide guidance breadcrumb style along the route.  You can see an example of how the user interface will look in this mode, below: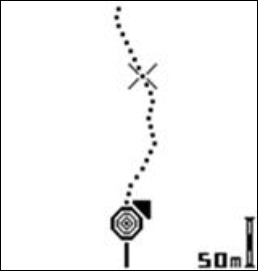 It will be most interesting to see how others in the space react to these changes.  From a competition standpoint, Suunto has all of these functions in the Ambit 1/Ambit 2 (plus a whole lot more).  Meanwhile, Garmin decided against adding these functions in their higher end FR620 that were previously available in earlier generations of their units.
Cycling: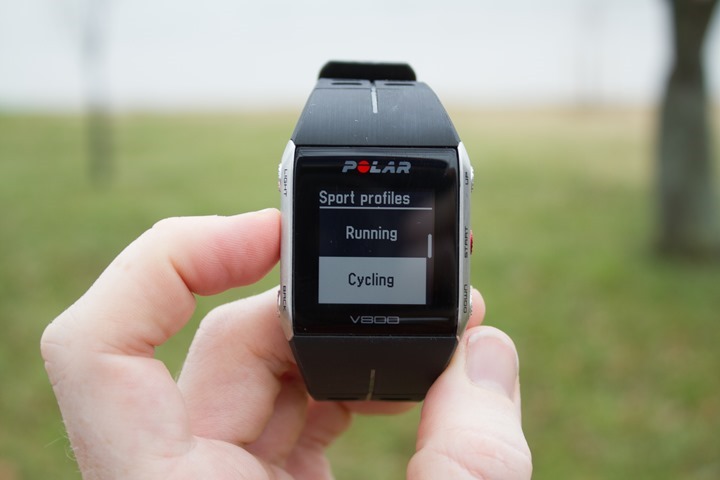 It's been many years since Polar has released a useful cycling product.  No, the RC3 doesn't count (sorry, it's a running watch, not a cycling-specific computer).  But that appears to have changed with the V800.  This will be Polar's first new unit to support Bluetooth Smart accessories such as cadence sensors and power meters.  And in doing so, it'll also be the first watch on the market to support Bluetooth Smart power meters.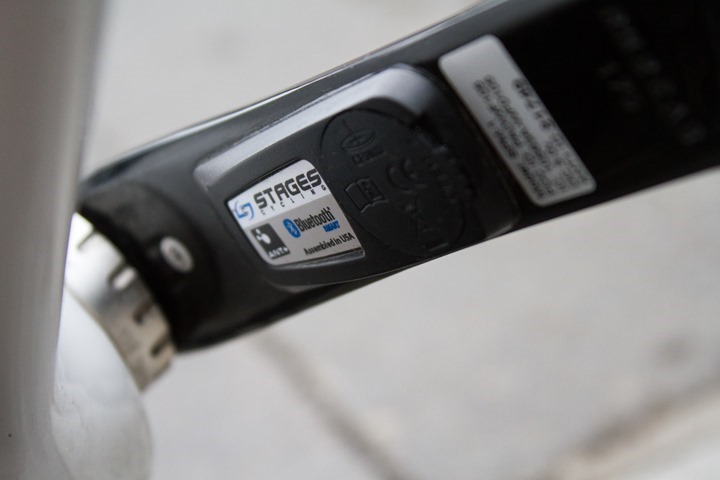 All of the features available to you in the running mode are also available to you in the cycling mode (minus the running footpod of course).  They key difference is that in cycling mode you'll switch over to 'speed' versus 'pace', which means using MPH or KPH such as 20MPH or 15MPH.  Also, you'll get data from the aforementioned sensors.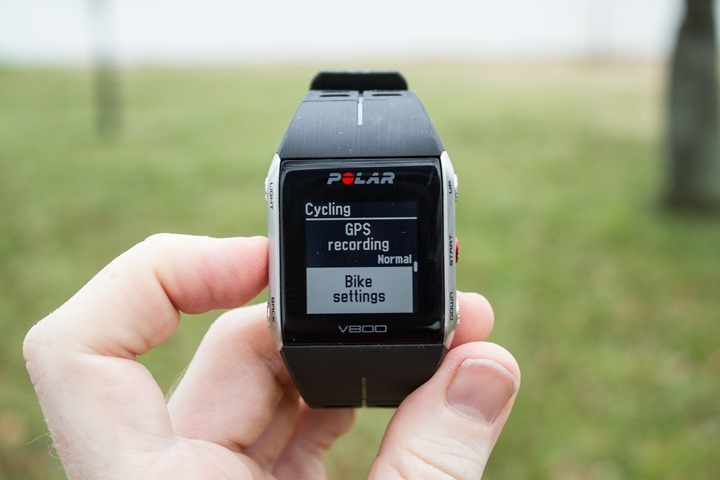 Polar will be coming out with both a Bluetooth Smart speed-only sensor and a Bluetooth Smart cadence-only sensor.  At present, they don't have a Bluetooth Smart speed/cadence combo sensor in the lineup.  But, they will allow you to pair to other Bluetooth Smart Speed/Cadence combo sensors from other companies (such as the Wahoo BlueSC).
In some ways, this is the same pattern we saw with the Bluetooth Smart stride sensor, where Polar simply changed the protocol stack on it, but left it in the same ugly casing.  Hopefully sometime between now and April someone in Finland realizes that people don't want to buy two sensors both using zipties that were originally designed in 1998.  It's time to move to quick-release rubber bands and combo sensors like the rest of the industry did a few years ago.
Ultimately though, it doesn't matter too much, since you can just buy 3rd party units anyway.
Next, we've got power meter support.  Polar will support Bluetooth Smart power meters starting in June 2014, with an update that will be made available then.
That timing corresponds with Polar's planned availability of their Polar/Look Keo power pedals being available in a Bluetooth Smart variant.  Though, you don't need the Keo Power system in order to get power information.  Once the update is made available, Polar will support any Bluetooth Smart capable power.  Today, that's the widely available Stages Power meter, as well as the just-started-shipping PowerTap G3's with Bluetooth Smart caps.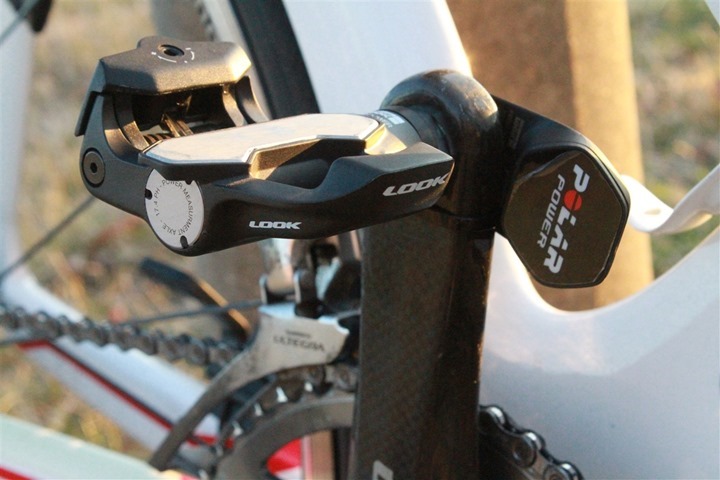 Now, I've argued that I'd like to see Polar bring that firmware update timeline closer to April.  Ultimately, I don't see any overlap between potential customers of Stages power meter ($699), and Polar's power meter ($2,500US).  I think it actually offers Polar much more if they move that timeline up and 'secure' the Bluetooth Smart watch/head unit market before a competitor comes out and does it for them.  But, that's just my two cents.
Lastly, and most applicable to cyclists, is that the V800 includes a barometric altimeter.  This altimeter is automatically calibrated via GPS, though, it can be calibrated manually with a known elevation.  This is useful as it provides what is typically more accurate elevation data than GPS-based altimeters found in most running watches (such as the Polar RC3).
Swimming: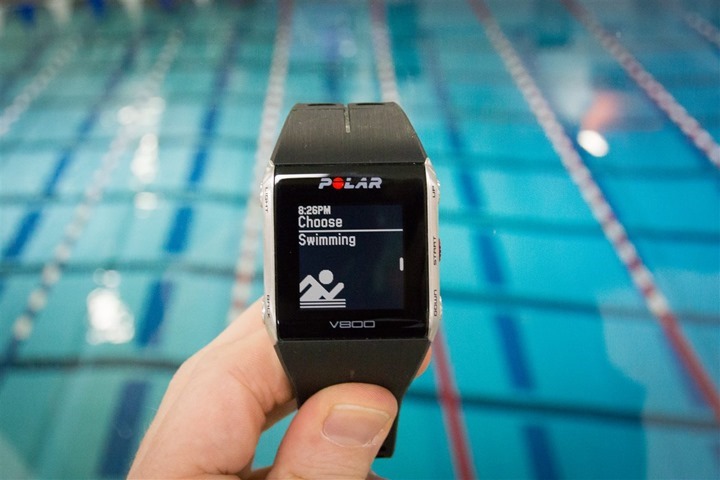 [Update – March 2014: At this point the wording I'm seeing now from Polar seems to indicate that the V800 will not launch with swim tracking capabilities (i.e. distance/pace), but rather, only HR tracking – like past Polar products.  Instead, this will come later in the year.]
The Polar V800 will include the capability to track swimming both indoors (in a pool), as well as outdoors (openwater).  Additionally, like some past Polar units, it will include the capability to track your heart rate underwater while worn with a compatible Polar heart rate strap (the H7 is one such strap).
While indoors, the unit will track laps like all other indoor-swimming focused watches on the market, and use internal accelerometers to determine distance, pace (speed) and stroke related metrics.  This is based on knowing the length of the pool (you enter that), and then it will detect turns (either flip or open turn) at the end of each segment.  When in an outdoor pool, you'll still want to use the indoor swim mode.  It will use the internal accelerometers to determine distance, pace (speed) and stroke related metrics.
When outdoors, the unit will use GPS to track your swim.  This will be in conjunction with accelerometer based information to provide for stroke information outdoors. [Update Feb 1st: Polar seems to be slightly changing their tune here a bit, saying that outdoor swimming metrics won't be available at launch, but potentially down the road.  Adding this note inline, though I had noted it in the 'update' section a week or two ago.]
Finally, the unit can connect to Polar's H7 strap for underwater metrics.  The H7 is required (or, past T31 coded straps with 5kHz transmission) because it transmits a secondary signal that will penetrate underwater.  A standard Bluetooth Smart strap cannot penetrate through the water, and thus, will not work (for example, the Polar H6 won't work, neither will any other HR strap from any other vendor).
Please note that as of this writing, the V800 beta build does not yet include swimming functionality, thus, I have been unable to try it either indoors or outdoors from a lap/openwater swim perspective.  I have however taken it swimming and into water repeatedly, where it has a waterproof rating of 30 meters (~90ft) deep.
[Update – July 8, 2015: Today Polar added Open Water Swimming features (distance & stroke) to the V800; and these metrics are now also available in the Swimming profile for indoor swimming]
Triathlon, Multisport, and other sports: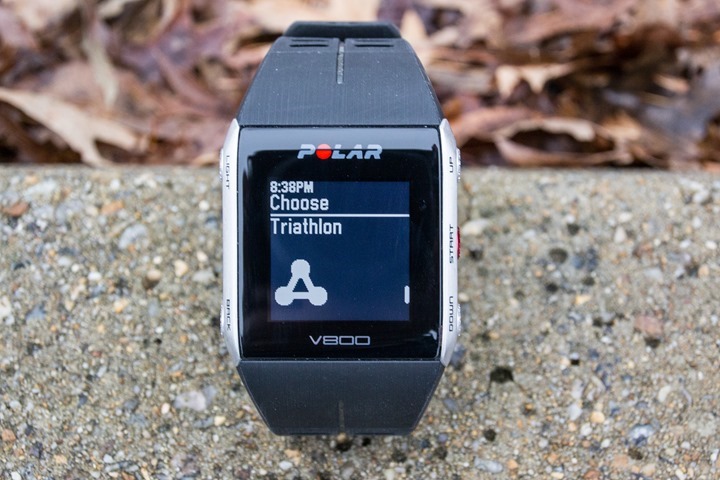 The V800 includes a triathlon 'multisport mode'.  This specific term is used when a watch can be seamlessly switched between the multiple legs of a triathlon (or other multiple sport event), without requiring you reset and/or restart the activity.  This means you can seamlessly transition from Swim to Bike to Run, and the unit will show the appropriate sport information and displays for each leg of the event.
The unit includes two variations.  The first is an automatic Swim/Bike/Run option, and the second is a 'Free Multisport' mode, allowing you customization of the sport segments.  After you've completed the segments, the unit will record the event in its entirety, with each of the segments containing separate information that's visible to Polar Flow (the online Polar website for the V800).  You'll also have transition times recorded as well.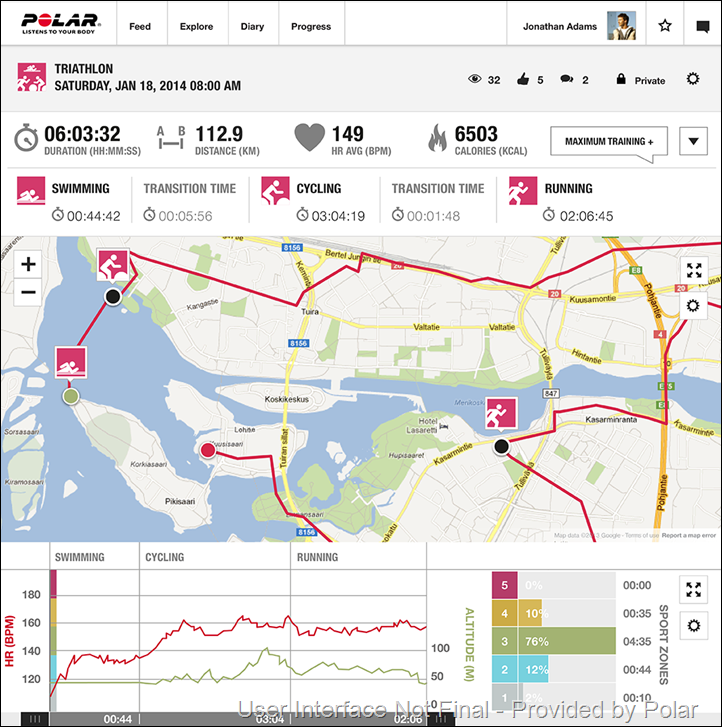 Further, like past Polar products, you can configure the unit to use numerous sport profiles from their online catalog.  These are pulled from the Flow web service, but are predefined by Polar and cannot be added or changed (such as the name or function).  These profiles can however be further customized with display fields of your choosing, and configuration such as how different metrics are displayed (i.e. pace vs speed, kilometers vs statute, HR%Max vs HR BPM, etc…).
The only downside to the multisport mode is that the V800 won't have any quick-release kit or ability to quickly attach it/detach it to a bike.  It will support a standard Polar bike mount, but that requires you to get it setup on the bike, which isn't something you'll want to do during transition.
Activity Monitor/Tracker Feature: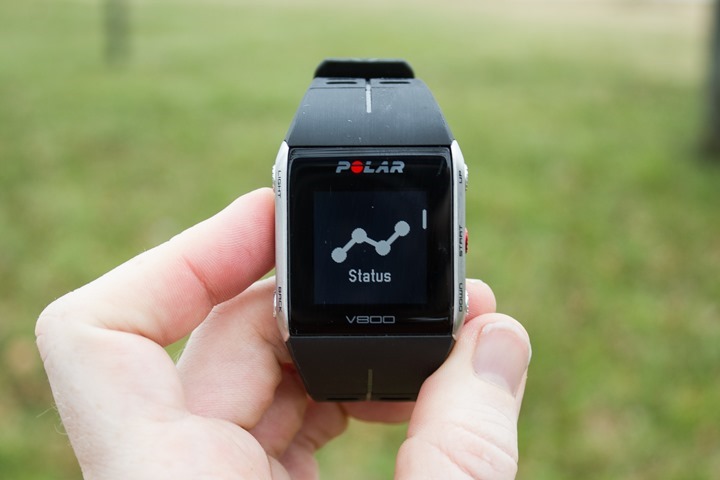 In addition to traditional sport tracking modes (like running and cycling), the V800 also includes the ability to monitor your activity throughout the day, including your sleep.  This puts it in the same category as devices like the FitBit, Nike Fuelband, Polar Loop and the just announced Garmin Vivofit.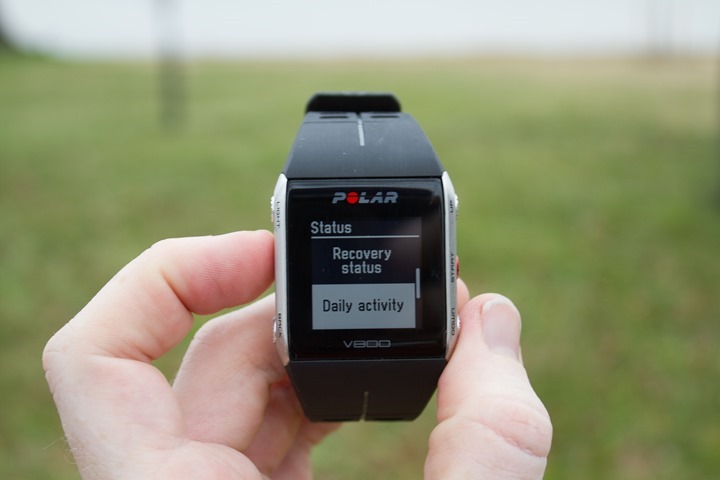 The V800's goal in tracking your activity outside of sport is to be able to give you a holistic view of your daily output expenditure – 24×7.  From this, it can more accurately give you calorie recommendations, as well as recovery recommendations.  These are consolidated into the activity tracker dashboard view on the unit, which shows you a composite of your day – from workouts to walking around to sleep: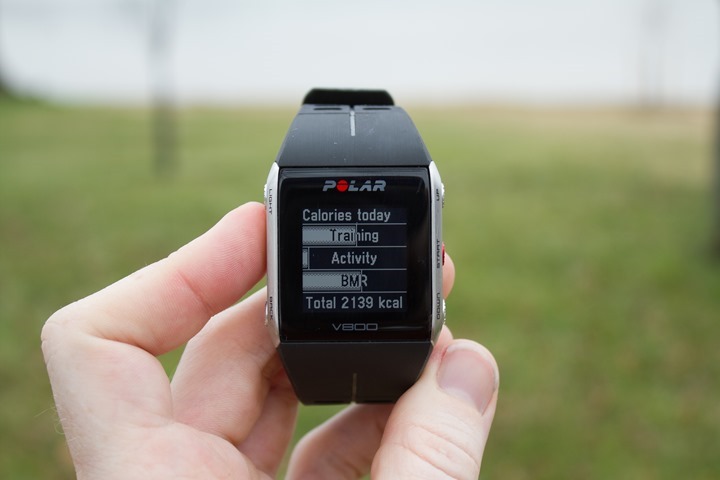 Sleep is automatically calculated without the need for pushing any buttons when you fall asleep.  Note that sleep is actually measured separately from rest.  'Rest' is defined as inactivity within a single day, whereas 'Sleep' can span a day (since you might fall asleep at 10PM and wakeup at 8AM).  Both are tracked using the internal accelerometers, similar to how the Polar Loop works.
The V800 will track steps and distance and report that to the Polar Flow phone app.  Which in turn, uploads it to the Polar Flow site.  At present, the watch doesn't actually show you steps or distance, though it does show you calories for the day.  I've argued however that having an activity monitor that doesn't show you the activity on the device…is sorta pointless.  Hopefully they'll adopt my viewpoint between now and April.
The calories for the day include your baseline (staying alive) calorie requirements + workout calories burned + walking around activity + adjustments for altitude (yes, really).
Next, that information can be fed into their Training Load and Recovery calculations, which estimate how hard your effort was and how much time it might take to recover from it.  This includes adjustments from resting and activity monitor information as well.  This then shows up in two places.  The first is on the unit itself: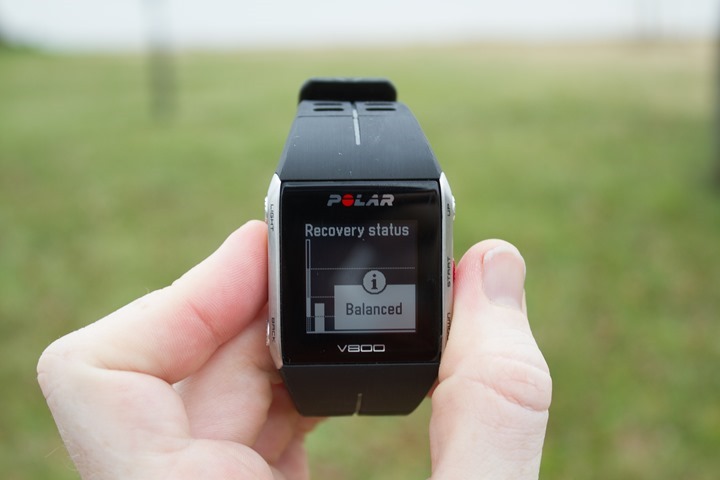 And the second is within the app & associated site. While the activity monitor piece is actually active currently in my unit, my ability to get the data out is not yet active.  Thus I can see the bar going across the screen as I wander around, but I can't actually tell you how many steps that is.  So, accuracy comparisons will have to wait for down the road in the full in-depth review.
Smart Coaching Features: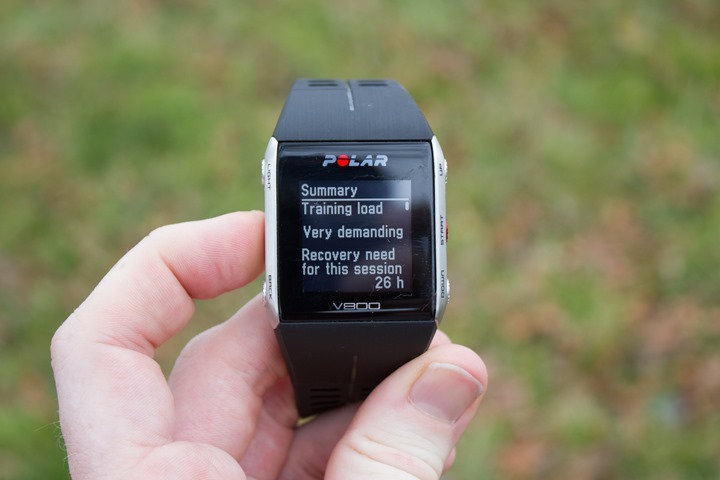 The V800 includes a slew of new features aimed at bridging the gap between simply providing data, and providing coaching instruction.  Polar calls these "Smart Coaching" features, and there's a bunch of them, some new, and some more vintage.
On the new side, we've got these three:
Training Load and Recovery: This is designed to provide a holistic picture of training load and recovery.  This is similar to other load/recovery systems that you see within other platforms such as Training Peaks and TSS (Training Stress Score).

Running Index (RI): This provides a 'score' for each of your runs, which accounts for both aerobic fitness and running economy based on heart rate and speed.  In addition, the RI value is compensated by barometric altimeter data as well.

Jump Test: This test requires the Polar Stride Sensor, but enables you to "assess leg muscular strength and power output", along with "neuromuscular fatigue"
The above three, join the following other features on the V800:
Training Benefit: After each workout, this details out the effect of that workout, as seen on the unit in the summary information.

Smart Calories: This is uses Polar's OwnCal system, which while outside will compensate for the impact of altitude (for example, training at 5,000ft)

Fitness Test: This is sorta like a VO2Max test, basically trying to determine how fit you are and then from there it can start to measure gains in fitness.

Orthostatic Test: In this test the unit uses your HR data with HRV (RR) to determine fatigue levels and recovery from workouts.
Looking at the earlier mentioned Training Load piece, Polar divides each workout up into one of five categories with a corresponding recommended recovery time:
Extreme: >49 hours
Very High: 25-48 hours
High: 13-24 Hours
Moderate: 7-12 hours
Light: 0-6 hours
The workout data is then combined with historical data to determine your recovery times.  The unit will use the previous 14 weeks of training history to help determine these recovery times.  In addition, it'll account for other activity from that day.  For example, if you spent the first 4 hours of the day at the mall walking around like a madman doing last minute Christmas shopping, and then you ran 15 miles, it'll compensate for the fatigue from both.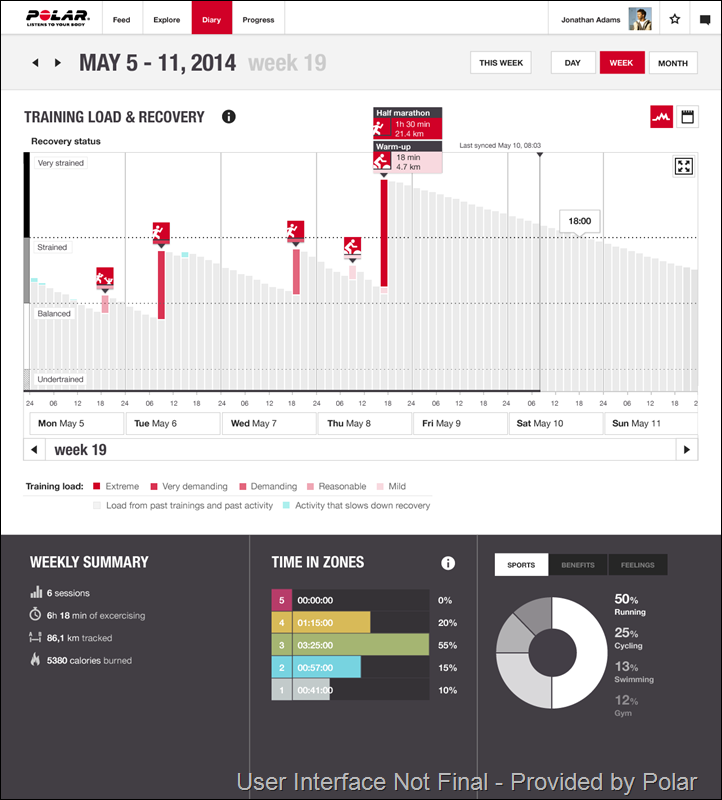 Below, you can see the Running Index scores plotted over time for some apparently rather fast runner.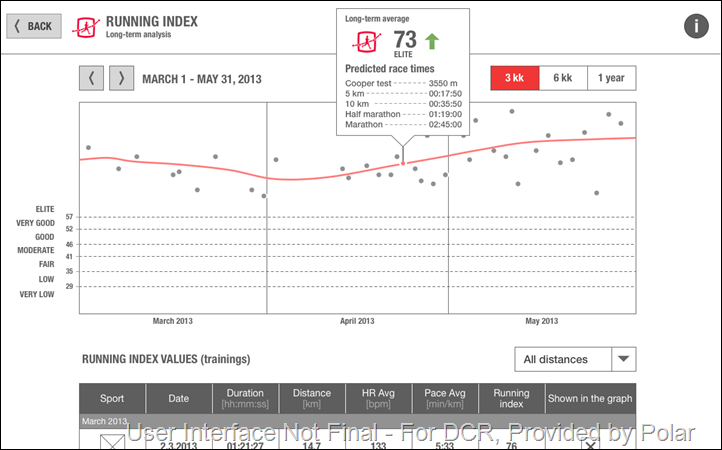 From a 'what's cool standpoint', I'd say the RI and Training Load pieces are the most relevant, and the biggest leaps forwards for Polar to be competitive with other platforms out there.  It'll be interesting to see how much of the calculation side they reveal longer-term on the Training Load piece, as most other platforms detail a bit more of the science behind the numbers.  Further, it'll be interesting to see how Polar's platform compares with existing systems out there.
Polar Flow – Online Analysis Site:
Once you've completed your workout the unit will automatically upload it via your phone (or PC) to the Polar Flow site.  This is Polar's new fitness-focused site going forward (away from PolarPersonalTrainer.com).  The site will enable everything from device customization online (and then push to the device) to workout creation and analysis.
In addition, Polar will make available tools to migrate data from Pro Trainer 5 – so those folks hanging out on the desktop software can make the leap.  As part of my final in-depth review I'll take a look at how the features match up.
For those using either the Polar Beat or Polar Loop today, much of this won't seem radically different.  What is different however are many smaller nuances of the display of the data to fit better with the features of the V800.
Below is an example of a cycling workout from the V800 uploaded to the Flow site.  You'll notice that in addition to the common maps and summary information, you've also got social information up top – such as likes and comments (these are controlled through privacy settings).  So it's somewhat Strava like.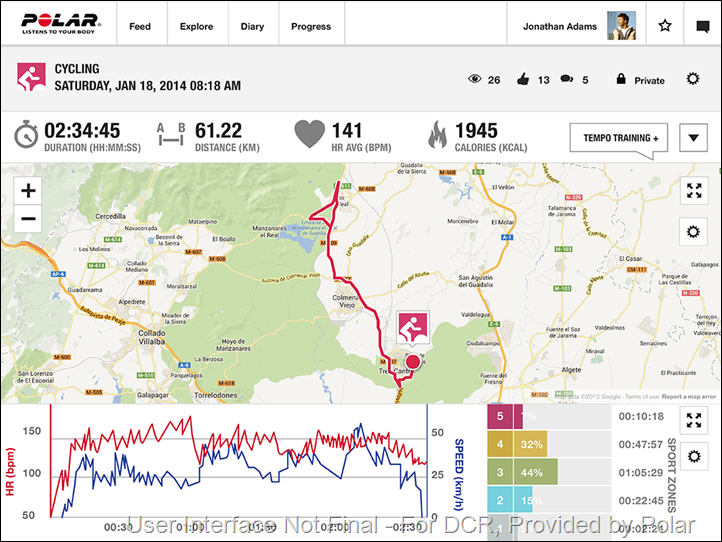 The site includes calendar and summary views of all your activities, so you can look at totals by different metrics over time (such as a weekly or monthly report).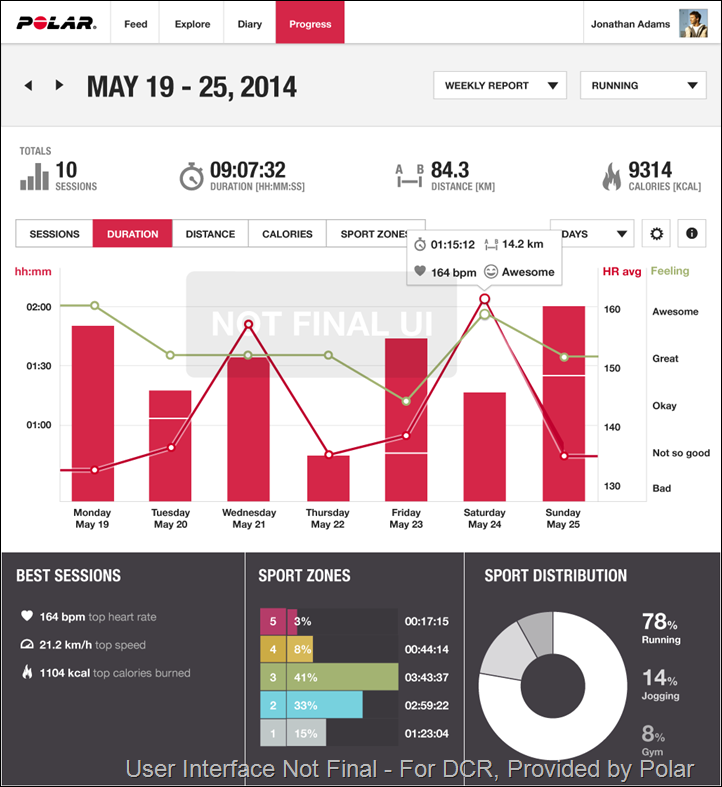 As you saw earlier, the site also  includes the new features related to Training Load and Running Index, and as well it will track the Fitness Test results, Orthostatic Tests, and Jump Tests.
Further, the site will enable you to compare completed activities against your past historical efforts (for example, the same course), as well as other people's efforts (friends, coaches, me…).  Though, this feature will not be available at launch.
Today, the Polar Flow site does some fairly cool stuff when you upload workouts from Polar Beat, for example, this workout I did yesterday that shows portions of the route along the way: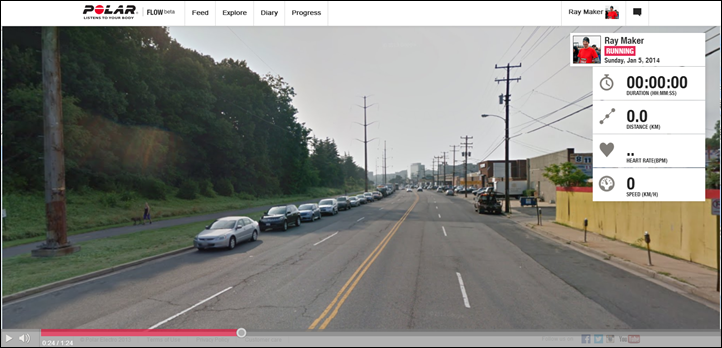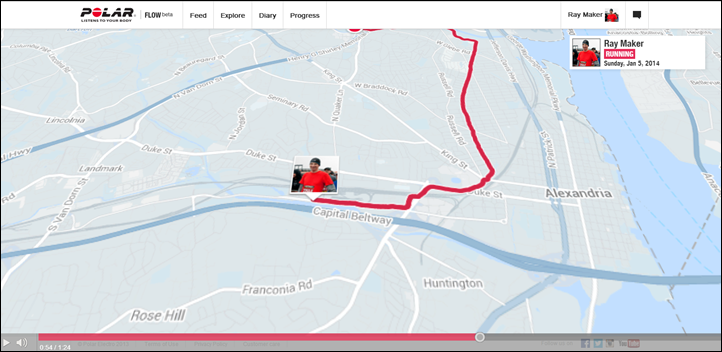 Here's a running workout at the high level as well: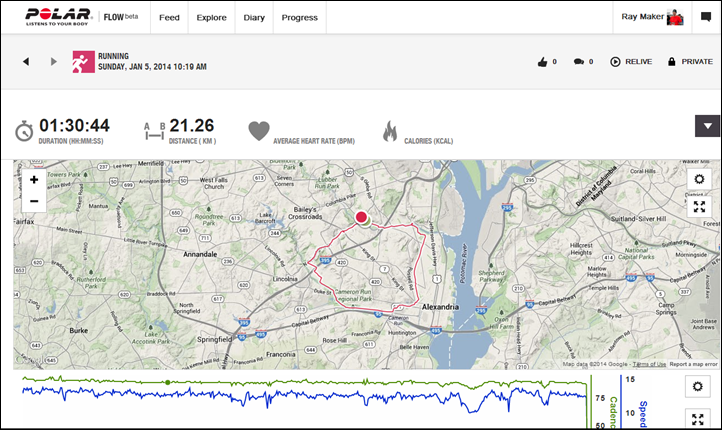 All this carries through to the V800.  Further, as noted earlier Polar is adding in the ability to create workouts on Flow and then transfer them to the device.  These workouts can have multiple steps and targets, as seen below.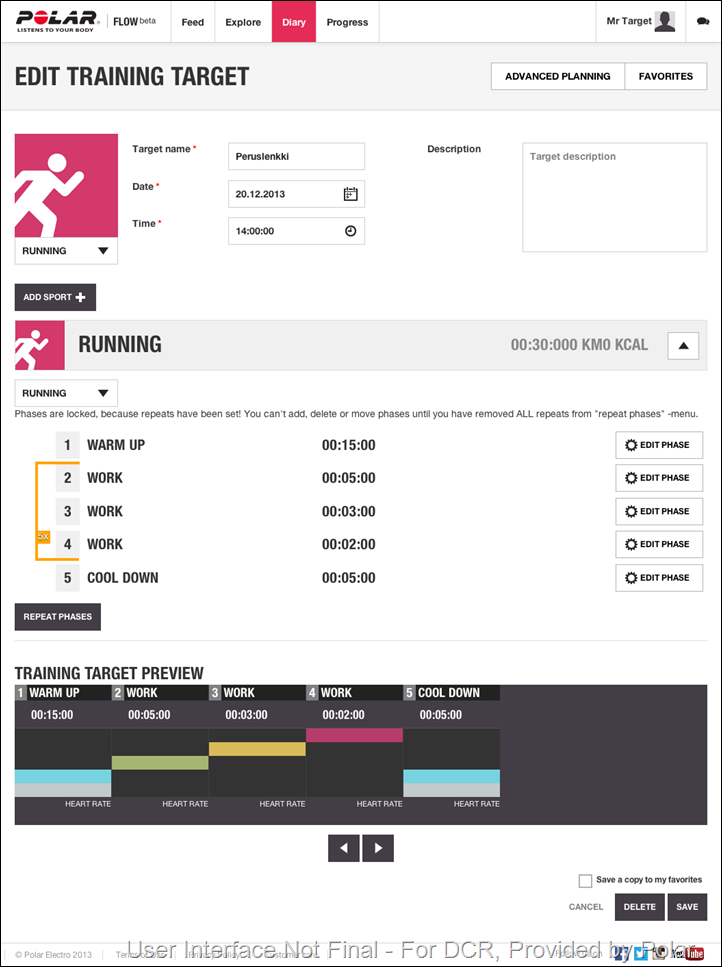 Of note above is the ability to 'Save a copy to my favorites'.  Within the V800, there's a concept known as 'Favorites', which are easily accessed from the main dashboard.  These are frequently accessed workouts that you may do often, and don't want to dig down into the watch a bit deeper to access:
As you can see, the site looks years better than the PolarPersonalTrainer.com site does/did, and is coming along nicely since it was introduced this past fall in conjunction with the Polar Loop activity monitor.
Obviously, given it's somewhat new there's still some gaps compared to other competitive platforms, but everything I'm seeing points to Polar having the right resources focused on bridging these gaps.  One area that hasn't yet been announced is whether or not the V800 will have a live tracking function (like the Garmin FR220/FR620), which would also likely be integrated into the Flow site and likely be made available across other devices/apps like the Polar Beat app.
The one area that remains outstanding however is open access to the data.  Polar had planned to have the Polar Flow site have an API in place by the end of the year, and I don't believe that's been implemented yet.  It will be critical for Polar that all workouts from the V800 (Swim/Bike/Run/Full Tri) are able to be exported to 3rd party services for other/further analysis.  This includes ensuring that those exported files includes all relevant data such as laps, sensor data and location data, at 1-second recording rates.
Coaching Platform:
In addition to an online site to track your workouts, Polar will also be introducing a new online site/service that coaches can log into and specify workouts for coached athletes.  This would allow a coach to prescribe a given custom workout to an athlete, and that workout would automatically appear within the scheduled workouts for the given athlete (from the athletes online dashboard).  Then, the workout would be available to transfer to the watch for the athlete to execute.
Once the workout is completed by the athlete and uploaded, the platform will allow a coach to view the athlete's completed workout automatically and make comments on the workout via the site (which will be visible to both parties).
This is notable because the major player in the space today – Training Peaks – doesn't actually have full device integration.  And on the device competition side, Garmin doesn't have any sort of coaching platform.  While some may see this as a new venture for Polar, that's actually not accurate.  In fact, Polar has long had various coaching platforms used primarily in the educational system (schools/universities/teams), with special coaching software and even school-focused variants of some of their popular heart rate monitors (which held slightly different model numbers).
At this point, Polar doesn't have a ton of information about the program.  In fact, the sum total of information they were able to give me was approximately one PowerPoint slide, of which, the first line was the title of the program, and the last line was the embargo date.  So, there's a lot to be unveiled here.
It'll be interesting to see how this shakes out.  On one hand, it's pretty cool sounding.  However, on the other, it's going to be challenging for Polar to make ground in this area since coaches will be highly reluctant to go to something only good on a single platform (Polar) for a single device (V800).  Individually coached athletes typically are on a wide variety of devices across a wide variety of price ranges, and most individual athletes won't simply go out and buy a new $400 watch + new accessories for it.
However, where Polar likely will have a better run of things will be for teams, such as entire track teams and other sporting teams.  In those areas where the organization provides the units and can ensure uniformity of devices, Polar will be able to deliver a very compelling offering that no other device maker can do today.
Product Comparison Charts:
I've added the V800 to the Product Comparison Tool, which means you can mix and match it against any other watch/unit that I've ever reviewed for feature comparisons.  While I've validated everything below with the Polar product team in Finland and in the US, do keep in mind that because it's still early in the release cycle things could change (either good or bad changes). For the sake of simplicity, I've just selected the Polar V800, Polar RCX5, Garmin FR910XT and Suunto Ambit 2s in the chart below.  However, you can easily make your own change with any device you want here at this link.
Function/Feature

Polar V800
Polar RCX5
Garmin Forerunner 910XT
Suunto Ambit2
Copyright DC Rainmaker - Updated April 9th, 2021 @ 10:20 am New Window
Price
$449
$220.00
$399
$319
Product Announcement Date
Jan 6th, 2014
Mar 21, 2011
OCT 4, 2011
APR 29, 2013
Actual Availability/Shipping Date
May 2014
June 2011
JAN-APR 2012
May 2013
GPS Recording Functionality
Yes
Separate GPS Pod
Yes
Yes
Data Transfer
USB, BLUETOOTH SMART
irDA Wireless
ANT+ Wireless
USB
Waterproofing
Yes - 30m
Yes - 30m
Yes - 50m
Yes - 100m
Battery Life (GPS)
Up to 50 hours
1 year (GPS separate)
20 Hours
50 hours
Recording Interval
1s
Adjustable
1s or Smart
Variable
Alerts
Vibrate/Sound/Visual
Sound/Visual
Vibrate/Sound/Visual
Sound/Visual
Backlight Greatness
Great
Good
Great
Great
Ability to download custom apps to unit/device
No
No
No
Yes
Acts as daily activity monitor (steps, etc...)
Yes
No
No
No

Music

Polar V800
Polar RCX5
Garmin Forerunner 910XT
Suunto Ambit2
Can control phone music
No
Has music storage and playback
No
Streaming Services
No

Payments

Polar V800
Polar RCX5
Garmin Forerunner 910XT
Suunto Ambit2
Contactless-NFC Payments
No

Connectivity

Polar V800
Polar RCX5
Garmin Forerunner 910XT
Suunto Ambit2
Bluetooth Smart to Phone Uploading
Yes
No
Via Wahoo Fitness Adapter
No
Phone Notifications to unit (i.e. texts/calls/etc...)
Yes
No
No
No
Live Tracking (streaming location to website)
No
No
No
No
Group tracking
No
Emergency/SOS Message Notification (from watch to contacts)
No
No
No
No
Built-in cellular chip (no phone required)
No
No
No
No

Cycling

Polar V800
Polar RCX5
Garmin Forerunner 910XT
Suunto Ambit2
Designed for cycling
Yes
Yes
Yes
Yes
Power Meter Capable
Yes
No
Yes
Yes
Power Meter Configuration/Calibration Options
Yes
N/A
Yes
Yes
Power Meter TSS/NP/IF
NP
N/A
Yes
No
Speed/Cadence Sensor Capable
Yes
Yes
Yes
Yes
Strava segments live on device
Yes
Crash detection
No

Running

Polar V800
Polar RCX5
Garmin Forerunner 910XT
Suunto Ambit2
Designed for running
Yes
Yes
Yes
Yes
Footpod Capable (For treadmills)
Yes
Yes
Yes
Yes (internal accelerometer)
Running Dynamics (vertical oscillation, ground contact time, etc...)
No
No
No
No
Running Power
With extra sensor
VO2Max Estimation
Yes
Yes
No
Yes
Race Predictor
Yes, via Race Pace
No
No
No
Recovery Advisor
Yes
Yes
No
Yes
Run/Walk Mode
Yes, via timers
No
Yes
No

Swimming

Polar V800
Polar RCX5
Garmin Forerunner 910XT
Suunto Ambit2
Designed for swimming
Yes
No
Yes
Yes
Openwater swimming mode
Yes
N/A
Yes
Yes
Lap/Indoor Distance Tracking
Yes
N/A
Yes
Yes
Record HR underwater
With Certain Polar Straps
Yes
No
No
Openwater Metrics (Stroke/etc.)
Yes
N/A
Yes
Yes
Indoor Metrics (Stroke/etc.)
Yes
N/A
Yes
Yes
Indoor Drill Mode
No
N/A
No
Yes
Indoor auto-pause feature
Yes
N/A
No
No
Change pool size
Yes
N/A
Yes
Yes
Indoor Min/Max Pool Lengths
20M/Y to 250 m/y
N/A
20m/22y to 100y/m
15m/y to 1,200m/y
Ability to customize data fields
Yes
N/A
Yes
Yes
Captures per length data - indoors
Yes
N/A
Yes
Yes
Indoor Alerts
N/A
N/A
Yes
No

Triathlon

Polar V800
Polar RCX5
Garmin Forerunner 910XT
Suunto Ambit2
Designed for triathlon
Yes
Yes
Yes
Yes
Multisport mode
Yes
No
Yes
Yes

Workouts

Polar V800
Polar RCX5
Garmin Forerunner 910XT
Suunto Ambit2
Create/Follow custom workouts
Yes
Yes
Yes
No
On-unit interval Feature
Yes
Yes
Yes
Barely
Training Calendar Functionality
Yes
No
Yes
No

Functions

Polar V800
Polar RCX5
Garmin Forerunner 910XT
Suunto Ambit2
Auto Start/Stop
Yes
Yes
Yes
Yes
Virtual Partner Feature
Yes
Yes
Yes
No
Virtual Racer Feature
No
No
Yes
No
Records PR's - Personal Records (diff than history)
No
No
No
No
Tidal Tables (Tide Information)
No
No
No
No
Weather Display (live data)
No
No
No
No

Navigate

Polar V800
Polar RCX5
Garmin Forerunner 910XT
Suunto Ambit2
Follow GPS Track (Courses/Waypoints)
Yes
No
Yes
Yes
Markers/Waypoint Direction
Yes
No
No
Yes
Routable/Visual Maps (like car GPS)
No
No
No
No
Back to start
Yes
No
Yes
Yes (added Aug 30, 2013)
Impromptu Round Trip Route Creation
No
No
No
No
Download courses/routes from phone to unit
Yes
No
No
No

Sensors

Polar V800
Polar RCX5
Garmin Forerunner 910XT
Suunto Ambit2
Altimeter Type
Barometric
None
Barometric
Barometric, GPS (FusedAlti)
Compass Type
Magnetic
None
GPS
Magnetic
Optical Heart Rate Sensor internally
No
Heart Rate Strap Compatible
Yes
Yes
Yes
Yes
ANT+ Heart Rate Strap Capable
No
No
Yes
Yes
ANT+ Speed/Cadence Capable
No
No
Yes
Yes
ANT+ Footpod Capable
No
No
Yes
Yes
ANT+ Power Meter Capable
No
No
Yes
Yes
ANT+ Lighting Control
No
ANT+ Bike Radar Integration
No
ANT+ Trainer Control (FE-C)
No
ANT+ Remote Control
no (but can control GoPro)
No
No
No
ANT+ eBike Compatibility
No
No
No
No
ANT+ Gear Shifting (i.e. SRAM ETAP)
No
Shimano Di2 Shifting
No
No
No
Bluetooth Smart HR Strap Capable
Yes
No
No
No
Bluetooth Smart Speed/Cadence Capable
Yes
No
No
No
Bluetooth Smart Footpod Capable
Yes
No
No
No
Bluetooth Smart Power Meter Capable
Yes
No
No
No
Temp Recording (internal sensor)
Yes
No
No
Yes
Temp Recording (external sensor)
No
No
No
No

Software

Polar V800
Polar RCX5
Garmin Forerunner 910XT
Suunto Ambit2
PC Application
Polar Flowsync - Windows/Mac
PPT/Websync
GTC/ANT Agent
Moveslink Agent
Web Application
Polar Flow
PPT.com
Garmin Connect
Movescount
Phone App
iOS/Android
Polar Beats
iOS/Android
Suunto Movescount
Ability to Export Settings
No
No
No
Yes (online)

Purchase

Polar V800
Polar RCX5
Garmin Forerunner 910XT
Suunto Ambit2
Amazon
Link
Link
Link
Link

DCRainmaker

Polar V800
Polar RCX5
Garmin Forerunner 910XT
Suunto Ambit2
Review Link
Link
Link
Link
Link
Again, remember you can easily make your own change with any device you want here at this link.
My Initial Thoughts: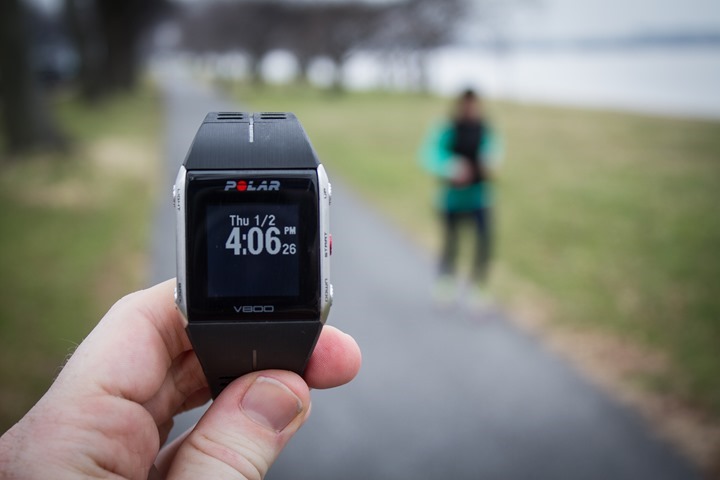 In general, I'm very impressed with what Polar has stated they plan to do with the watch.  I think it represents a significant jump forward for them as a company, and to a large degree, an acknowledgement of how far they've fallen behind in recent years.  But, the V800 joins the Polar Loop (and prior to that, Polar Beat) as recent products that really nailed the markets they are looking for.  For example, I think it's brilliant that they've included an activity monitor into the unit – helping bridge the gap between a typical watch and the FitBit's of the world.  It's also sweet that they'll likely become the first wrist unit to support Bluetooth Smart power meters.  Further, bringing in-house a coaching platform will also be a very interesting move to watch.
On the battery life side, they've made an interesting play at both the Garmin Fenix and Suunto Ambit, going with a low-frequency update mode to get 50hrs of GPS-on time for extended workouts.  Typically, the unit will get 13hrs of GPS time in 1-second recording mode.  I've argued to them that splitting the difference in a 'Ironman' style mode like Suunto added would be appealing for many folks who need just a few more hours to finish their iron-distance events (up to 17 hours).
Now, as I alluded to – everything is great on paper.  But, the unit I have today has pretty much just the core running functionality active/ready.  Thus, all the 'good stuff' that you want out of the unit won't come for some number of weeks or months, in later beta cycles (all before final release of course).  Thus, I can't know for certain how it'll turn out.  Though, Polar tends to have a very solid track record of doing what they say – and doing it in a generally bug-free manner (much better than most others).
Of course, there are some minor nits that I have with the unit that aren't beta-related.  But I think that Polar will listen to the feedback I've given them (both publicly here, but in more depth privately), and I suspect we'll see those things resolved by release.  They seem eager to listen to my suggestions and have conversations about them, so that's great to hear.
Overall though, I'm looking forward to seeing the final product come together.  The technical platform they have (with Bluetooth and the accelerometer), means that the sky is the limit for how they want to implement new features and functionality in software updates, so they're well positioned for the foreseeable future.
Frequently Asked Questions – V800 and related:
This is my attempt at reducing redundant questions based on common and/or expected questions.  I'll continue to add to this over time as I see repeats.  Thanks!
When will it be available?
Polar is stating April 2014 for availability, with the blue color variant coming a bit later.
Update 3/29/2014: Polar is saying units will start shipping in late April, with arrivals in early May.
How much is it?
$399/€399 without the HR strap, and $449/€449 with the HR strap.
I'm looking at places online to purchase it, and XYZ store says they'll have it in March!?!
They're lying to get your order.  Yes, really.
When will your in-depth review be posted?
It'll be posted once Polar delivers final hardware and/or software to me.  This is primarily to protect you against making purchasing decisions based on a beta product that could have bugs introduced later after my review (though, that's always a possibility).  Thus, about 1-2 weeks after the final hardware/software is released to me.  At this point, my understanding is the hardware is final, however of course, the software is far from final.
Can it be used for swim/bike/run and does it have multisport mode?
Yes, it can be used for all three sports and yes it has a multi-sport mode.  However, at this point in beta, the swimming is not yet active nor is sensor support beyond the HR sensor (i.e. cycling or running stride), thus I haven't been able to test those features.
How well does it work swimming, what metrics does it show?
At this point in the beta unit, swimming is not yet enabled.  Polar has not yet clarified exactly which metrics they'll show in swimming (either for indoor or outdoor swimming).
[Update – July 8, 2015: Today Polar added Open Water Swimming features (distance & stroke) to the V800; and these metrics are now also available in the Swimming profile for indoor swimming]
What file format does it export in?
The unit will provide standard Polar .HRM+.GPX files for running and cycling (last past Polar products).  Swimming file formatting is TBA.
Does it connect to Bluetooth Smart devices?
Yes. Upon release in April 2014 it'll connect to the following Bluetooth Smart device types:
– Bluetooth Smart Heart Rate Strap
– Bluetooth Smart Cycling Speed & Cadence Combo Sensor
– Bluetooth Smart Cycling Speed-Only Sensor
– Bluetooth Smart Cycling Cadence-Only Sensor
– Bluetooth Smart Running Footpod (Stride) Sensor
In June 2014, Polar will add support for:
– Bluetooth Smart Cycling Power Meter Sensor
Does it work with non-Bluetooth Smart, Bluetooth devices (i.e. Bluetooth legacy devices)?
No, it does not, only Bluetooth Smart.
Does it work with ANT+ devices?
No, it does not. It connects to Bluetooth Smart devices.  It will NOT connect to any ANT+ power meters.
Does it support existing Polar W.I.N.D. sensors?
No, it does not.  It does support the existing H7 however, with the 5kHz transmission for underwater reception of HR data.  However, that strap is not using W.I.N.D..
Does it support power meters?
Polar has stated they will enable Bluetooth Smart power meter support starting in June 2014.  This will be in conjunction with an update to the transmission technology for their Polar/Look Keo power system (today, that system uses POLAR W.I.N.D.).  They have confirmed that they will support the standard Bluetooth Smart power meter spec, which is currently used by Stages Power for their dual ANT+/Bluetooth Smart product, and in the last few weeks, by PowerTap for Bluetooth Smart-only PowerTap hub caps.
Can you please tell me some random sexy technical things that didn't fit?
Sure.  The unit is aluminum with a stainless steel shell with aluminum buttons.  The glass fiber edge is a reinforced thermoplastic case.  The black and white display uses Gorilla glass, and the display is 128×128 and can display 4 metrics in a single view.  The unit contains up to 99 hours of storage with concurrent GPS and HR data.  The GPS chipset is made by SiRFstar.  The V800 weighs 79g, and is 12.7mm thick.  It contains a 350 mAh Li-pol battery.  The barometric altimeter is capable of measuring altitude, descent/ascent, and incline.  It contains 13 languages, including Japanese and Simplified Chinese.  The airspeed velocity of an unladen swallow cannot be measured however.
C'mon, you must have something else geeky cool that didn't fit?
It's true, I do. For the real geeks in the crowd, the V800 will include Bluetooth Smart sensor relay/broadcasting.  This means that if you attach a HR strap to the V800, it will actually rebroadcast that transmission as another BLE HR strap.  This is useful for group-based sessions, and for folks who may have secondary apps/devices that want to connect to the same HR strap.
Can I use it as a day to day watch?
Yup, it'll last at least 28 days in that mode while doing continuous activity monitoring (GPS off).  You can change the watch face a bunch of different ways, as well as specify a single alarm and configure the 'starting' day of the week.
Does it do 'smart watch' style notifications (calls/text messages/etc…)?
In talking with Polar, they definitely see the potential for this (hardware is designed with it in mind), but at this point they haven't decided if (or when) this would be added to the V800.  But, they noted that should it be added, it'd be a simple firmware update.  Whether that's for free or paid would be TBD.
What is the battery life with GPS on?
The unit has two options.  First is battery life of 13 hours with 1-second recording, regardless of the sport.  The second mode, is a reduced recording rate with up to 50 hours of GPS-on time.  This is similar to what we've seen with the Garmin Fenix and Suunto Ambit.  I don't generally recommend the 50-hour recording timeframe unless you're doing activities that are slower-paced, like hiking.
Does it have Live Tracking capability like the Garmin FR220/620 and Garmin Edge 510/810?
Polar has stated "that's a possibility" but have not confirmed if and/or when it might be included in the product.
Do you think Garmin, Suunto or Timex will deliver new triathlon watches this season?
Historically speaking, Garmin is on target for a new triathlon watch this season (a successor to the FR910XT).  However, when exactly, and what features remain undisclosed.  Suunto has been doing spring releases (April) for their Ambit products the last two years, but again, whether they continue that tradition remains unknown.  Finally, Timex has been pretty quiet.  So while we certainly could see a new unit from them, I wouldn't bank on it.  There or course be other players in the market as well, either new to the scene entirely (i.e. Bia), or from other companies with past products in the space (i.e. Magellan). Time will tell…
Do you recommend waiting till April?
There's a lot of factors there, notably the fact that what will or won't be included for other watches hasn't been released.  I tend however to be of the camp to buy what's available now, and start training, rather than waiting.  Which doesn't mean to go out and buy a FR910XT instead of the V800, but rather, to make decisions based on your events and training schedule.  What if Polar slips to June?  Or if Garmin announces in April, but isn't available to June (like usual)?  How do those impact your season and races?  Finally, note that like any other high-demand product, initial capacity orders will fill up quickly.  Thus, if you wait till April to order (4 months from now), I highly doubt you'll get your unit anywhere near April.
Will Polar release a new cycling computer this year?
I don't know.  But, they've long stated they plan to release a Bluetooth Smart enabled cycling computer.  It would seem logical that would happen.  Traditionally speaking, most cycling companies don't make announcements in early January.  There's no reason to.  Nobody is buying cycling gear then, and it allows them to hold back details for competitive reasons until Feb/March when people start pondering going outside again.
Update: Yes, they announced the Polar V650 – read about it here.
Why haven't you answered my question below yet?
In general, it's likely because either I, or Polar, don't know the answer (or they wish to not yet disclose it).  Or, because I hadn't yet slept in days and decided to sleep for an hour or two.
Wait, when did you say your in-depth review will be released?  Why haven't you released your review yet?
My review will be released once they have final software/hardware (currently targeted for April 2014). I will update this very line item once I have final hardware/software.
—
With that, thanks for reading!
Found this post useful? Or just want a good deal? Here's how:
Hopefully you found this post useful. At the end of the day, I'm an athlete just like you looking for the most detail possible on a new purchase – so my review is written from the standpoint of how I used the device. The posts generally take a lot of hours to put together, so it's a fair bit of work (and labor of love). As you probably noticed by looking below, I also take time to answer all the questions posted in the comments – and there's quite a bit of detail in there as well.
I've partnered with Clever Training to offer all DC Rainmaker readers exclusive benefits on all products purchased. You can read more about the benefits of this partnership here. You can pickup the Polar V800 or accessories through Clever Training using the link below. By doing so, you not only support the site (and all the work I do here) – but you also get to enjoy the significant partnership benefits that are just for DC Rainmaker readers. And, since this item is more than $75, you get free US shipping as well.
Polar V800 Black Edition with or without HR strap (select drop-down to change)
Polar V800 Blue/Red Edition with or without HR strap (note June for blue/red)
Additionally, you can also use Amazon to purchase the V800 or accessories (though, no discount). Or, anything else you pickup on Amazon helps support the site as well (socks, laundry detergent, cowbells). If you're outside the US, I've got links to all of the major individual country Amazon stores on the sidebar towards the top.
Thanks for reading! And as always, feel free to post comments or questions in the comments section below, I'll be happy to try and answer them as quickly as possible.