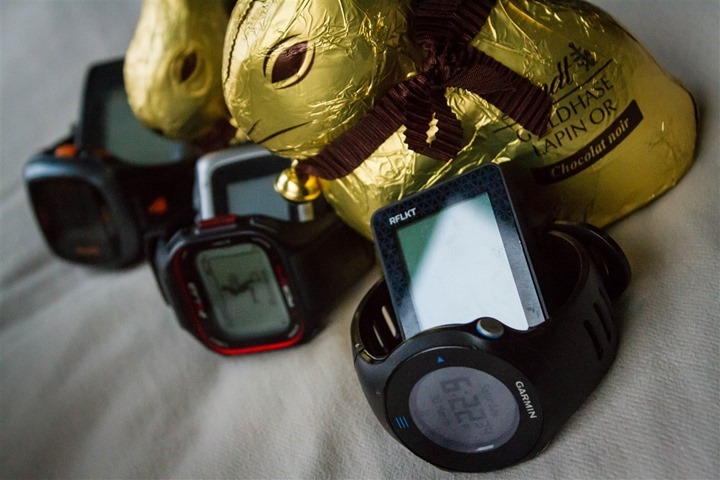 Today's Easter.  And even if you don't celebrate Easter, you can instead celebrate the chocolate bunny…or, as is apparently also the case here in France – the chocolate chicken (and, even an odd rash of Chocolate Nemo's I've seen too).
Failing your celebration of any of those things…then how about just celebrating a gadget giveaway?  Simple and good, right?
Last month y'all loved the 'you choose' aspect of the giveaway.  Meaning that I let you choose which gadget you want to win.  Yup, if you want that Wahoo RFLKT- it's yours!  If you want the Garmin FR610 – same thing.  Or the latest Timex, Polar and CycleOps creations.  Whatever fits your training best (up to $500US), I'm giving it to ya.  Technically, I suppose Clever Training is giving it to you.  (Btw, for those curious, last month's winner selected the FR910XT with heart rate strap.)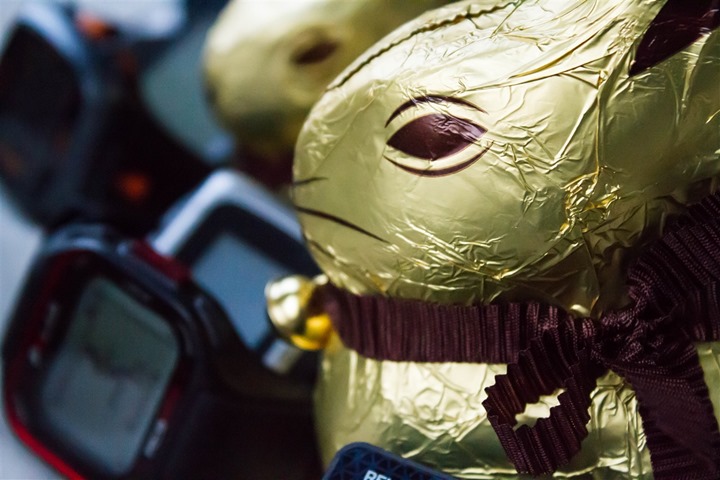 So I've got you covered on pretty much whatever you want.  Unless you want a chocolate bunny.  In which case, you can pretty much go to the grocery store tomorrow and pay about 50% less than I paid for it Saturday.  And perhaps your chocolate bunny won't look quite as menacing as my chocolat lapin looks.
To enter yourself in, simply leave a comment below with the following:
"Let me know which workout you'll be doing in an attempt to override any Easter-associated candy that may be consumed.  If for some completely unexplainable reason you aren't biting the head off of a chocolate bunny, feel free to just pick your Sunday workout (or nearest completed workout).  Extra points for listing the Easter candy that put you in this predicament."
Got it?
—
Entries will be accepted through Monday night, 11:59PM Eastern time (April 1st, 2013).  I'll be giving one device worth up to $500US from Clever Training.   Winner will be chosen at random and announced on roughly Tuesday or Wednesday (I may still be pre-occupied eating chocolate bunnies).  One entry per person.  The winner can decide on which device after they win.  Devices/gadgets/gizmos over $500, the winner can pay the difference.
This giveaway is sponsored by Clever Training, which I've got a great partnership with.  As you probably remember, by picking up sports technology gadgets from Clever Training you support the site.  And on top of that, all DC Rainmaker readers get an exclusive 10% off all products they sell (basically every sports tech company/gadget/device) using coupon code DCR10BTF (along with the link above).  But no bunnies.  And most of all, you support the site in a big way – so I appreciate it!
Note, if you're US Active Duty Military – you can submit your entry via e-mail instead [Entry now closed].  Note that this is ONLY for Active Duty military.  No bunny rabbits or chocolatiers allowed via this method.  Mmmkay?  Thanks all!