While we may have moved to Paris, it certainly doesn't seem like it yet.  In fact, since moving to Paris, I've spent more time outside of Paris than in Paris – go figure!
We had long since planned to come to a friends wedding back here in the States this past weekend, so we tied it into seeing family in both Connecticut and Rhode Island.  Then, we tied all that with a trip back to DC to take care of some final paperwork.
So, let's give the day by day photographic rundown:
Wednesday – 4th of July:
Wednesday was a very long day…very long.  We were up super early in Paris to deal with some final apartment moving in stuff, and then from there off to the airport for an early afternoon flight.  Some 8 hours later, we'd land in Newark, New Jersey (basically, NYC).  After which, we'd drive about two hours north towards Middlebury, Connecticut.
Finally, later on that evening while the sky stormed rain down from above, we got a surprise 1st anniversary birthday ice cream cake from many of the family members who attended our wedding last summer (our anniversary was July 2nd).  Irony not lost that it also rained on our wedding day.
The Girl wrote up a nice post about our 1st anniversary the other day, for those that want to see some of our wedding day pics (since I only ever posted one or two here last year as part of my wedding bike post).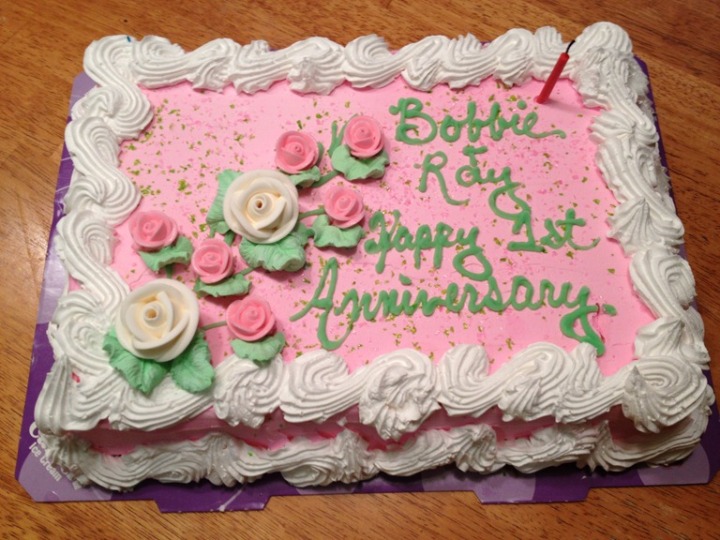 Thursday – 5th of July:
Despite the heat, The Girl and I went out for a nice run-thing.  Sorta a interval run of sorts.  Not super long, only about 45 minutes.
Before we left my Papa's house (he's in his mid 90's now), we got a few photos with him, and then I took the opportunity to take some photos of his photo wall.  Ever since being a little kid I always enjoyed the photo wall, or rather, photo walls.  It's actually an entire room with photos from all of his kids and grandkids – from all stages of life.  Here's just a small snippet of one third of one wall.
Can you spot the photo or two of me? (sorry for the reflections)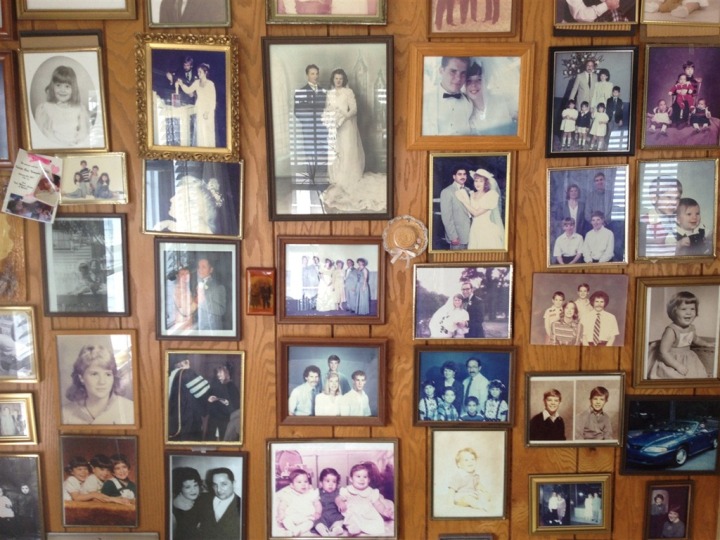 We then drove from Connecticut up to Rhode Island, which for the two towns we were going to/from, took about two hours.  Once in Rhode Island we'd be hanging out with my Dad's side of the family (my Mom's side is in Connecticut).  Every year since being born we've always made the pilgrimage back to the East coast to visit both CT and RI, and this would indeed be no different (even if only for a day).
Friday – 6th of July:
We were up early.  As in pre-6AM.  Which, to be fair, is a heck of a lot easier when your body believes it's noon.
But, we were going fishing!  Which, is way better than a 20 mile run in the heat.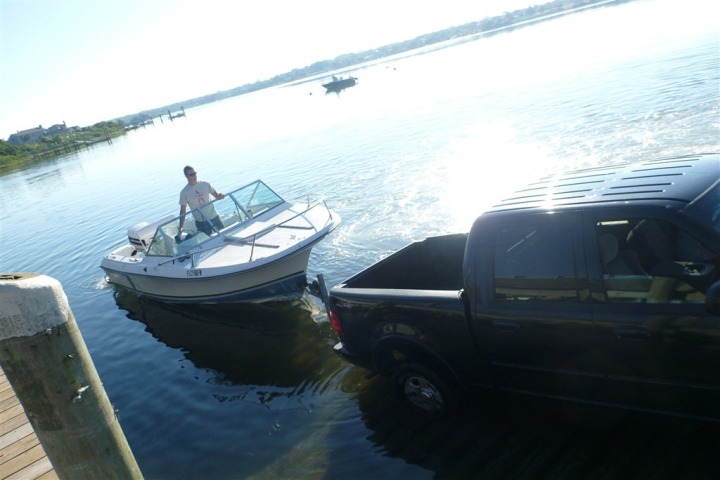 We were going out with my uncle, cousin and nephew, as well as my Dad, for what was a planned '3 hour cruise', but ended up being closer to 9 hours of fishing.  Fear not, we were well prepared with beef jerky.
Here's my Dad fishing.  That shirt below is from when we did the Seattle Century ride together last summer about this time.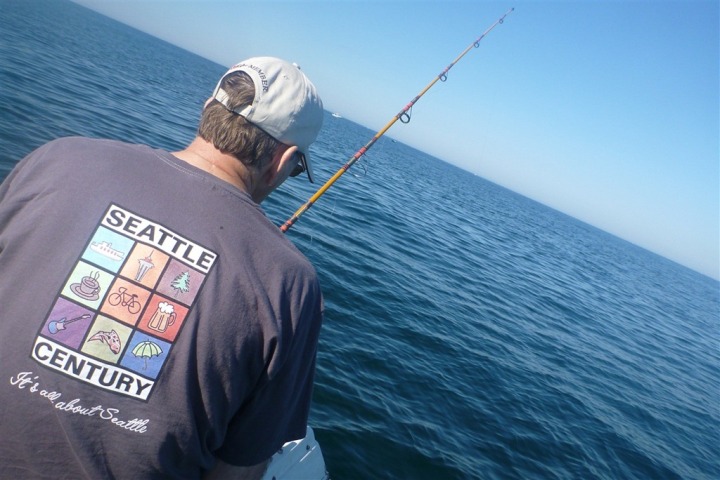 One cool item of note is that you can buy your fishing permits online with the state of Rhode Island, all via phone.  The other cool item of note is that I did indeed catch some keepers.  Well, except the lobster pot which I managed to hook – as well as the gill net.  Neither of those were keepers, just snaggers. But the fish, yes, keepers.
Ultimately, all the bounty of the sea would be brought back for a giant feast.  The lobster was picked up at the docks (incredibly cheap, $6 for 1lb lobsters, $8 for 1.25, and $10 for 1.5 pounders).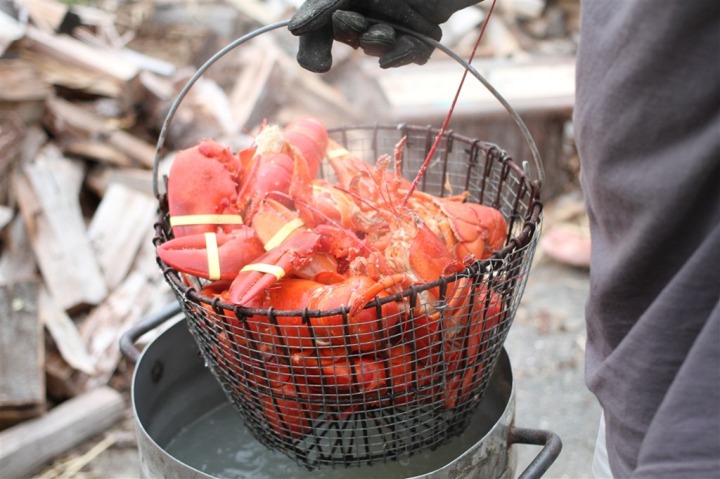 My aunt who's got a big food blog added a bunch of goodness to the table as well, rounding out the lobster and clam bake.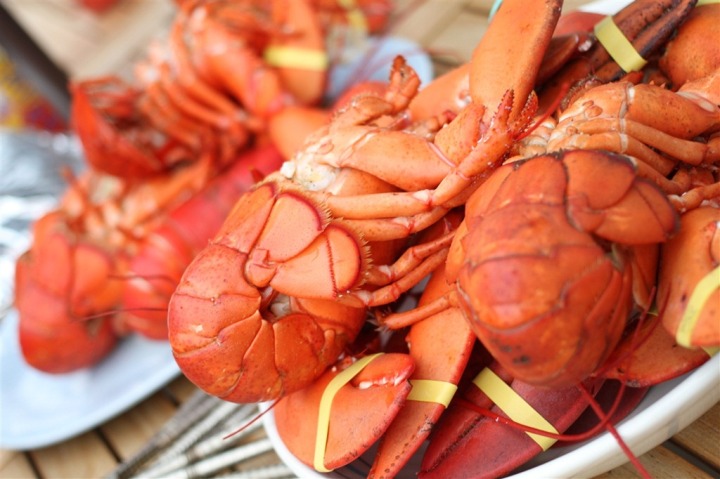 Following which, we enjoyed some driveway fireworks (what's a few days late between family?).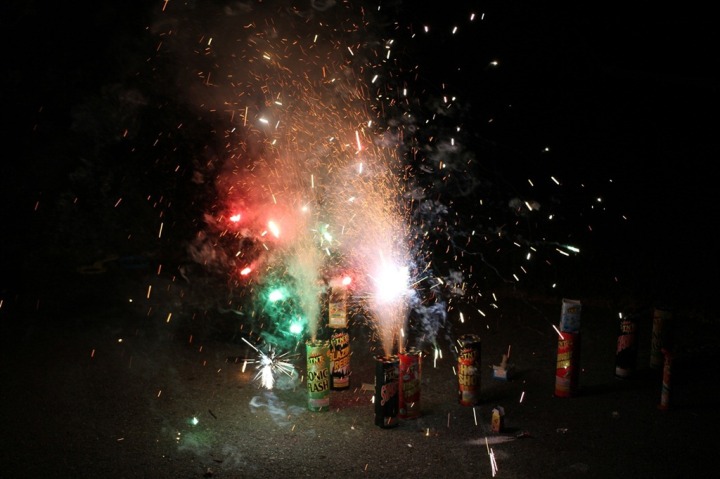 Oh, and here's my little niece.  You may remember her from the cute photo (end of that post) when she was getting my pulse after my Ironman 70.3 Providence race a few years back.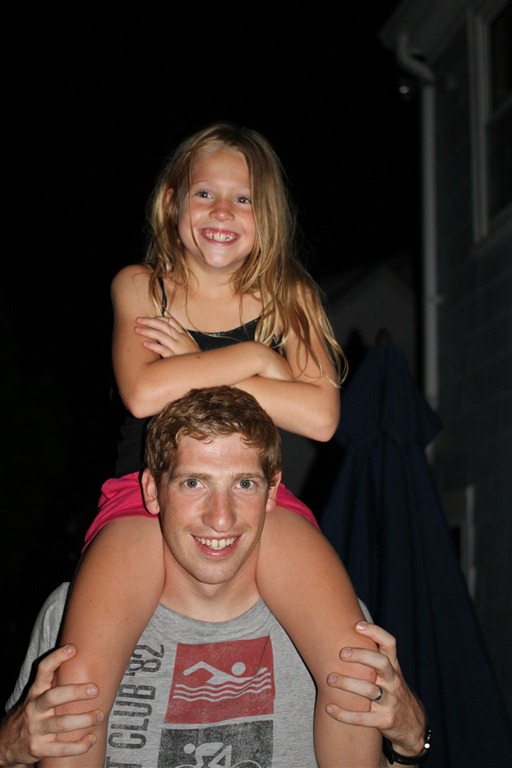 Saturday – 7th of July:
We got up a bit early and headed from Warwick, Rhode Island up to Boston via car, then hopped on board JetBlue for a quick flight straight to Richmond.  Upon arrival and getting our rental car, we noticed the dashboard informed us that the temperature was 104*F.  Those 'hot' 80*F days in Paris don't seem so bad now…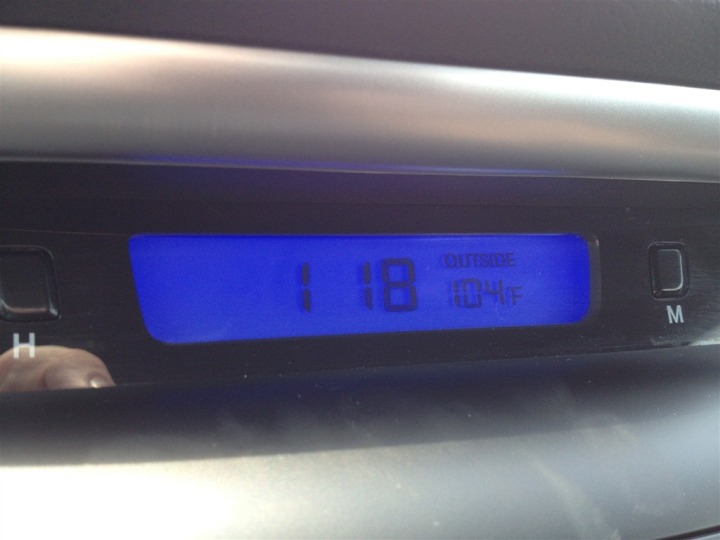 Later on that evening, we attended our friends wedding (Congrats!).  The ceremony was a short distance from a golf course, but thankfully, everything was indoors!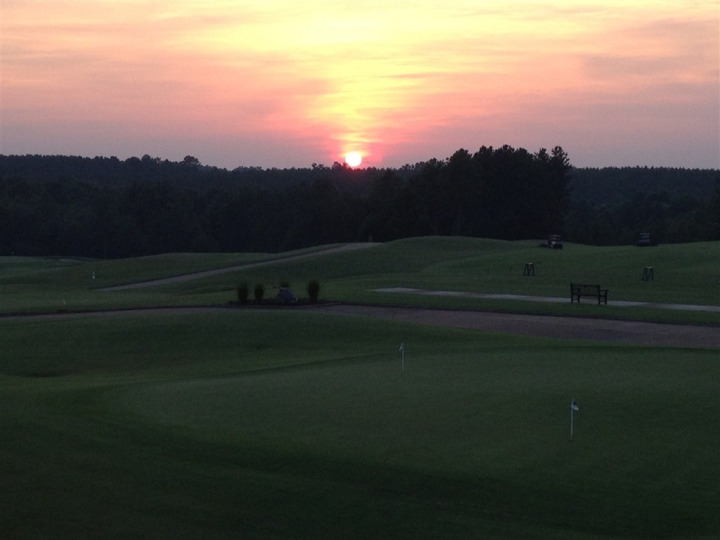 Sunday – 8th of July:
We zipped up to DC from Richmond late morning to meet up with a reader and newfound Vasa Swim Trainer owner.  He's newfound in that he picked up the demo unit I had that Vasa gave me on loan.  With our small apartment in France, it just wouldn't fit.  In this case, Vasa put the unit out for sale, and he noticed the ad.  A couple of quick e-mails later and he came and picked it up from our storage unit.  Good times!
Later in the day, we hit up Costco.  It turns out, finding peanut butter in Paris is rather difficult.  At least, cheap peanut butter in any reasonable quantities (reasonable = large).
Additionally, our apartment didn't have any fire alarms.  We're not sure if that's normal or not, but the Castorama (like Home Depot) had them and they were expensive.  So we got them at Costco much cheaper.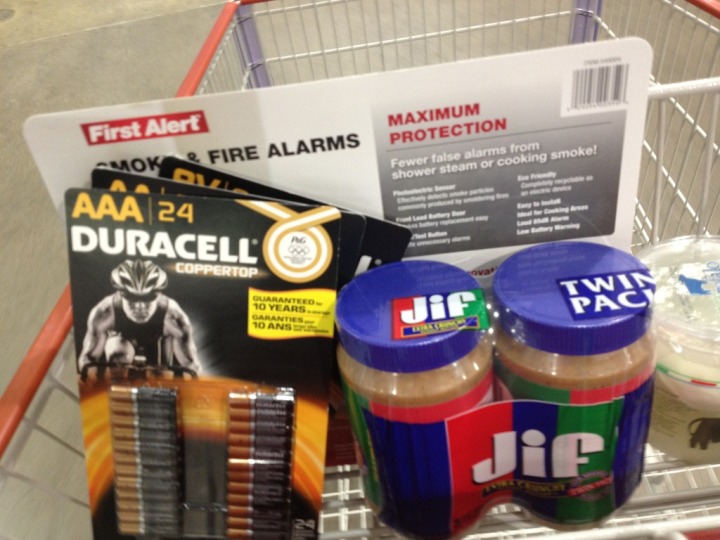 The fresh buffalo mozzarella you see?  That's not going to France…nope, just to my stomach while in DC.  In fact, we can get fresh buffalo mozzarella increda-cheap a block from our Paris apartment (1.09 per large ball for buffalo, .86 per large ball for non-buffalo).
Monday – 9th of July:
We spent the morning hanging out in the French Consulate.  And while I wouldn't say that was a huge success – at least one France thing was – our cargo ship finally arrived in France: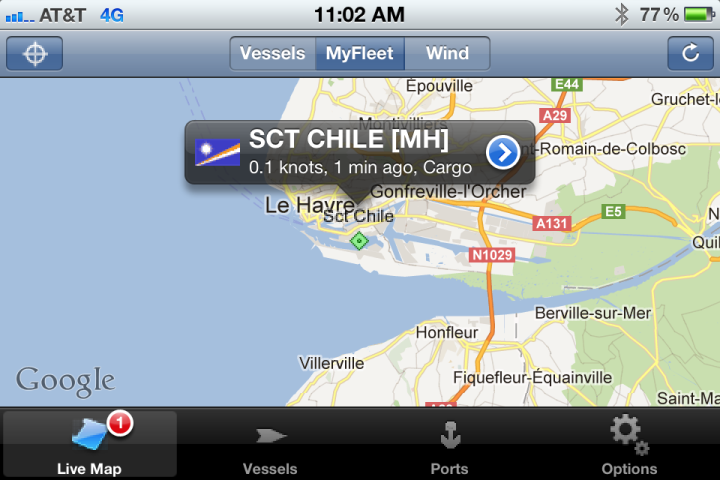 We've been tracking it as it slowly plodded across the Atlantic to Europe, and then, bounced around Europe like a confused pinball (yup, there's an iPhone app for that).  Finally, a gazillion stops later – it arrived in Le Havre, France.  A short distance from Paris.  Our stuff gets delivered on Thursday and Friday (we hope!).
Finally, since I promised a look at the new Joule GPS…I provide the below – quite literally, just a look at it.  I only had enough time to pick it up at UPS, and then take a quick Instagram photo of it.  I'm back in Paris on Wednesday and will be able to start playing with it.
And actually, it's not only just the new Joule GPS, but also the new Joule as well.  A twofer!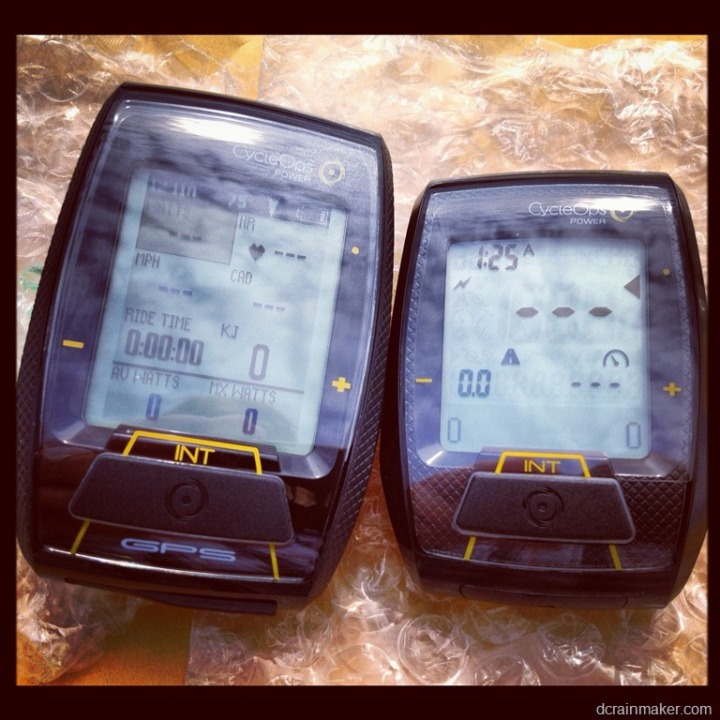 With that, thanks for reading all!