The boxes came a number of weeks ago, but it arrived the day before I headed out to Boise 70.3, so I didn't get a chance to assemble it.  Then it was back and forth across the country to Denver, then DC, then NYC and the the craziness of packing for the wedding set it.  But this evening I finally had the chance to put humpty dumpty together.
And if the trainer itself won't give you a workout…then putting it together certainly will!
When it first arrived a bit ago, it looked like this – a collection of pretty substantial boxes.  Not exactly lightweights here.  In my ways it reminded me quite a bit of the CompuTrainer in terms of heaviness, except these boxes were bigger and harder to move around.  An ironic comparison given the Vasa Swim Trainer is essentially the CompuTrainer of the swim world.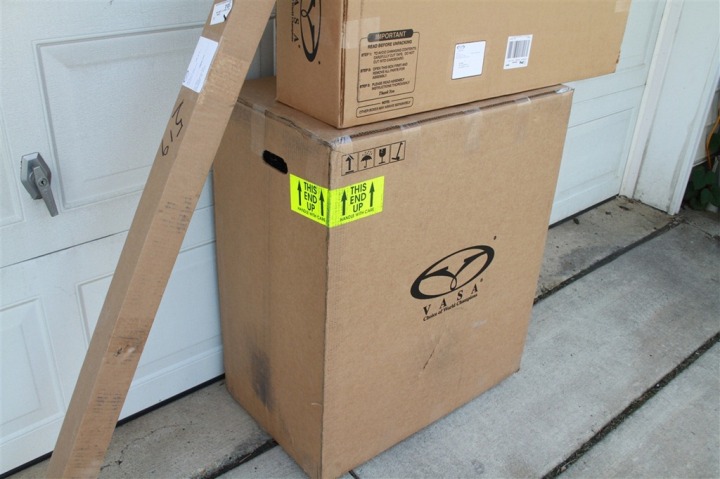 Fast forward to this evening and I was ready to begin setup.  Instead of doing photo by photo pieces, I'm going to go all out with a video of the whole shebang compressed down into just 60 seconds.  I took a few photos along the way, but the video is really the much better option.
Ready?  Good…hold on!  Here we go…
Vasa Swim Trainer assembly in 60 seconds
Next time I'm hiring someone to build it!
Now, upon finding the instructions after unpacking the boxes in a different order than desired it looks like I probably could have improved the flow a bit – but all in all it wasn't too complex.
Oh, and in case you're wondering where I stashed the camera – there was only one logical place…atop the giant pile of Gatorade boxes:
In order to give you a quick feel for the trainer, I put together one more little video which shows me using it (first half), as well as the power meter portion (second half).  I set the resistance level moderately high (as if going against a slight current), and got to work:
Vasa Swim Trainer Brief Overview Video
You noticed in the second half of the video I showed off the power meter console.  This will show both power output in watts, as well as your pace (i.e. 1:30/100m, or essentially 1-minute 30-seconds per 100 meters).
It'll also show you how far you've swam, as well as average wattage across the workout.  You can do quite a bit more with the display unit, but I just haven't had the chance yet to read the manual (I mean…uhh…figure it out myself).  Fear not, I've got a number of months to play with it before I put together my final In Depth review (the unit is on loan from Vasa to check out).  Plus, I suspect my coach will come up with some workouts as well.  And failing that, it came with a bunch of DVD's of workouts too: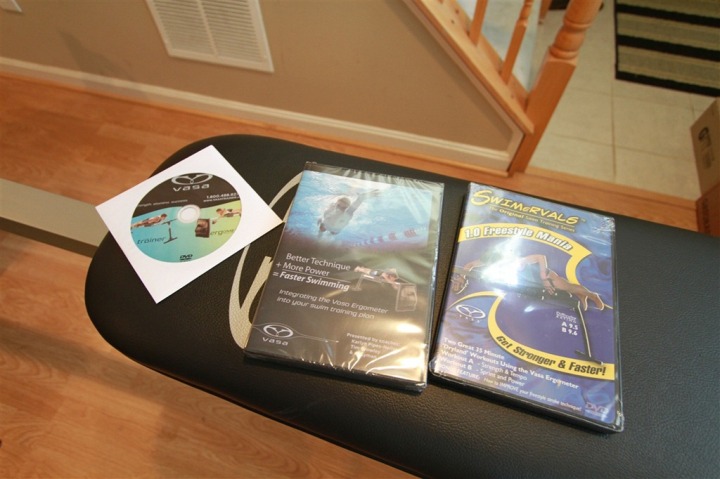 As is usually the case with the longer product review cycles, expect to see sprinkles of it here and there – I find that most folks enjoy seeing it in day to day use over time.
Today, this data shown in the trainer isn't recorded anywhere.  Though in talking with the owner of VASA, they're very open to the idea of integrating that in (Hint: If this is something that appeals to you, the comments is a good place for an appeal).  Going the ANT+ route would enable them to take advantage of any watch that understands power today (i.e. – everything from a Garmin FR310XT to an Edge 500 to a Joule to a Timex Global Trainer) – all of which wouldn't require any update at all.  This is in essence what the kayak paddle power meter folks are doing as well (those are on the way to me from New Zealand here later this summer to try out!).
In the meantime…I've just gotta figure out how I'm going to re-arrange parts of the training room to make this fit and still enable me to exit the house.  Eek!