This weekend was full of loops – be it ones I seemingly did everywhere trying to get errands done at breakneck pace in preparation for next weekend (wedding), or ones that I did while running and cycling.  I'll spare you all the errands and instead just focus on the running and cycling.
Because Saturday daytime ended up being full of errands I decided to run in the evening instead – just before dusk.  I started from Gravelly point, which is a few hundred yards north of Washington National/Regan Airport.  On summer evenings this place becomes pretty packed with folks sitting out on the grass enjoying the planes taking off.  It also happens to be located directly on the busiest running/cycling trail in the area – the Mt. Vernon Trail.
From there I ran northbound along the Potomac, opposite Lincoln and the monuments sitting on the DC side of the river: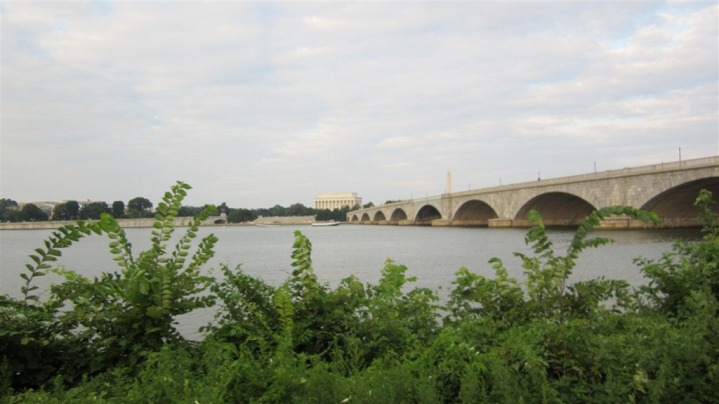 (Note that all photos are taken while running without stopping, so sometimes they end up being fuzzier than if I was out shooting on a tripod with a fancy DSLR camera)
This evening I was playing around with the CamelBak Flow Meter that I picked up back a while ago, attached to my CamelBak filled with water.  I'll talk more about my thoughts on that little gizmo in an upcoming post titled "Gadget or Gimmick".  In short, it keeps tracks of how much liquid you've drank, and how much is left:
I crossed over at Rosslyn, via the Key Bridge and plopped into Georgetown – which was full of folks dressed in fancier clothes, or on fancier methods of transportation.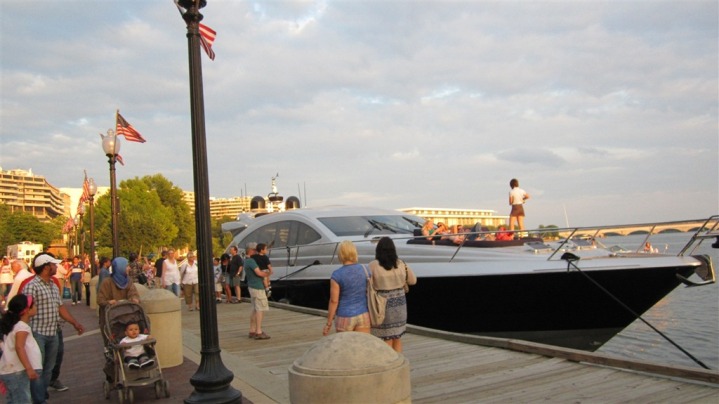 A short bit later I ran past the Kennedy Center, basking in the glow of sunset:
From there it was Lincoln, though from the back you'd never know it was swarming with tourists (typical from April till September):
After that I swung by the Obamas to see if they were home.  Regrettably they did not say 'Hello' to me, or the hundreds outside waving 'Hi'.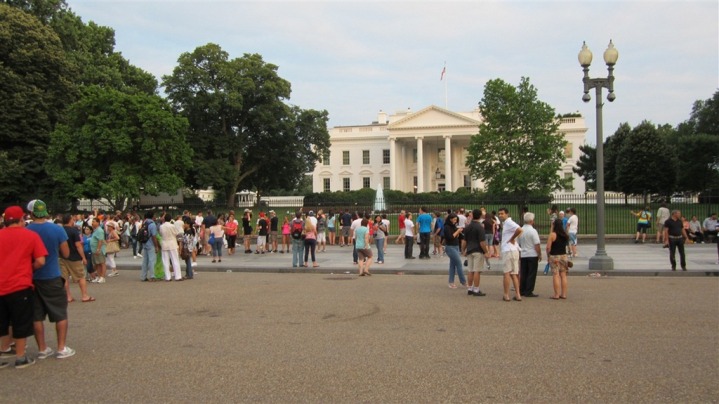 Continuing my trek I hit up the Washington Monument en route to the Capital.
Unfortunately, they were building the stage for the 4th of July celebrations next weekend, so the view was partially blocked.
For the rest of the run the light was getting a bit too low for my camera to take good pictures.  But I did swing back down to Lincoln (left side of DC on map), then over to FDR before running around the Tidal Basin, seeing final construction on the new MLK Memorial, and eventually past Jefferson before crossing the bridge again.  He's my favorite.  Though, I couldn't get a picture of him tonight.  Instead, I offer you my route: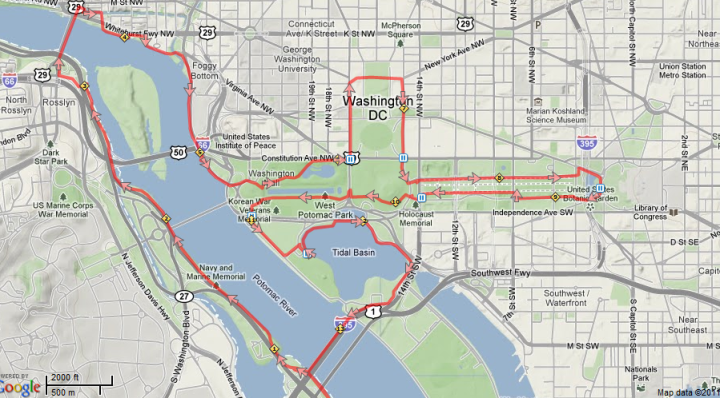 I often do variants of this route, since you get to see virtually all the major monuments…one of the most enjoyable aspects of living in the DC area.  Tonight's run was 14 miles and change including the cool down, but you can make variations of this much shorter (or longer) if need be.  And since it's a loop you can start at pretty much any point on/around DC – depending on where you're staying.
By time I got back to my car parked at Gravelly point it was fairly dark: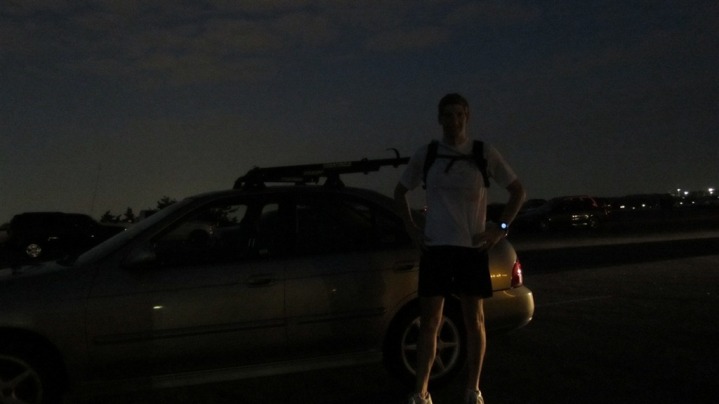 Interestingly, when I took another shot with the flash (and slightly moved the camera), you can make out the Capital Building in the background to the left (may have to click on picture to see).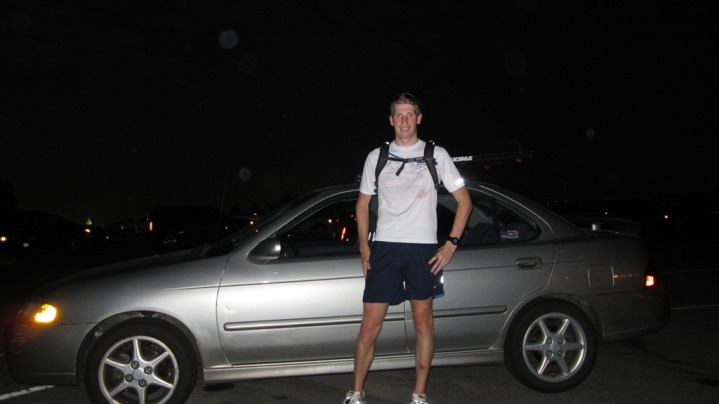 (P.S. – No, that's not blood, just some wet dirt I managed to get on my CamelBak that transferred to my shirt when I put it on.)
I had planned to write about Sunday's bike…but after doing the run post I realized I've already written a lot.  So I'll leave with you two simple pictures instead.
The first is me playing around with the Wahoo ANT+ iPhone/iPod Bike Case combined with the new aerobar mount.  My bars are setup a bit too slim for the mount kit to fit down in between them, but no worries – it still works.  More on this later this week.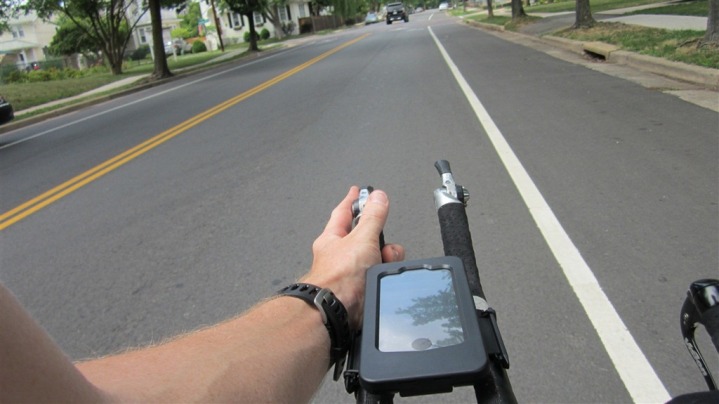 And the second picture of the Tour Mobile…as that's what my ride felt like on Sunday.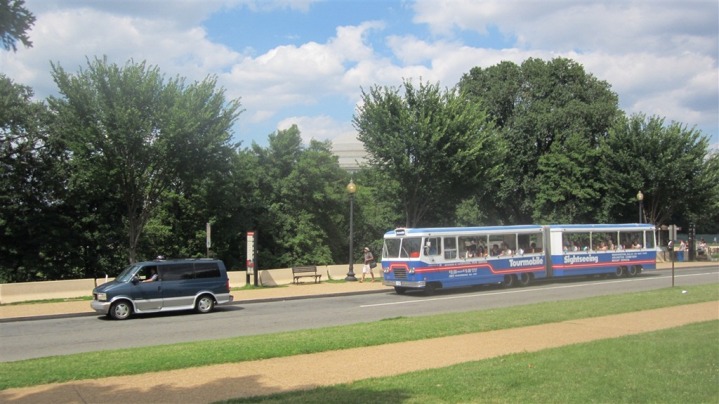 Hope everyone had a great weekend…and thanks for reading!