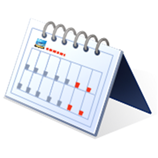 I've long since wondered what to do with all the random tidbits of things I collect each week – or the little thoughts that don't quite make for a full post.  But I finally came up with a solution: The Week in Review Post.  This takes the place of my Weekly Mailbag – which is over on Slowtwitch.  These are just quick snippets of things that I've found interesting.  Nice and easy weekend reading.  Plus, a recap of my Weekly Mailbag post a well.
So with that, let's get into the action!
Weekly Mailbag over at Slowtwitch.com:    
Look for a new post over on ST on Monday.  Topics will be updated later tonight…but I think I'm going to do a 'Best of Dan Empfield' mailbag, taking all his best e-mailed questions.  Should be kinda fun!
You can read all my past weekly mailbags at Slowtwitch here.  Or the pre-Slowtwitch days here.
Posts over on the Men's Health/Gatorade/Urbanathlon Blog:  
In addition to all my writings here, I also cover a bunch of topics over on the Men's Health Urbanathlon blog.  Here's the goods from the past week:
Monday: How to Take Aid Station Hydration While Running at Speed (includes sweet videos of The Girl)
Tuesday: An Introduction to GPS Running Watches
Wednesday: Behind the Scenes at CrushingtheCourse.com (by Ray and Sarah)
Friday: 266 Pounds of Gatorade
Note: Monday-Wednesday posts were catch-up posts…so everything from here on out should be on the correct days.
Posts this past week:  
Here's what made the page here on the main stage here on DCRainmaker.com:
Monday:  2011 DC Tri Race Report –3rd Overall!
Tuesday: New partnership with Men's Health, Urbanathlon & Gatorade
Wednesday: The Garmin ANT+ Footpod Calibration Tool
Friday Morning: Ballgames, Bags and Boxes
Friday Afternoon: Garmin FR610 Accuracy Firmware Fix Results
Stuff that I found interesting around the interwebs:  
The last few weeks have had just too much good stuff out there.  It was hard narrowing it all down, but I think I got the good stuff.  Remember, I end up sharing quite a bit more over on Twitter:
1) Running in an anti-gravity machine: Pretty cool post from Steve on what it's like to run in the Alter-G treadmill, which makes it similar to running on the moon.
2) The costs and financial impacts of an Ironman race on the local community.  If nothing else, take a look at some of the comments, a few of which do a great job of putting real numbers on the table. (via EverymanTri)
3) Why intimidating an off-duty police officer riding her bike with your car isn't the wisest thing to do.
4) New BlueTooth Low Energy Heart Rate Strap Released.  Following up on last week's next of BTLE spec finally be finalized, a new HR strap has been released.  The real question now becomes if the rumors of iPhone 5/New iPod having BT4.0 will come true. (via Engadget)
5) ITU Athletes go paragliding.  Apparently they didn't think they had enough adventure in their lives already…so they jumped off the side of a mountain.
6) Preview of the Ironman 70.3 Championship Course.  Now that the world championships have been moved from pancake Florida to the desert, we should see some pretty interesting racing this year.  Here's a great video of the course.
Ironman 70.3 World Championship Course in Las Vegas
7) Visually impaired triathlete sues USAT for sight discrimination.  Lots of opinions on this, many of which are thoroughly detailed out in this Slowtwitch thread.
8) Riding rollers rigged to a table connected to a blender.  I think the previous sentence summarizes it well.  That said, creating a bike blender and easy DIY instructions is on my to-do list for the summer.  I've seen many examples, most of which are made industrially.
Bike Blender via Rollers and Table
9) Swimsense adds more features to watches.  Included now is the ability to configure watch settings from the desktop client.  I continue to enjoy seeing more and more features added here…looking forward to each feature they add and those coming down the line.
10) A cool article on running show technology.  In particular, the ForceShow from XSens.  Looks like I need to do some poking and figure out how to get a demo pair to show y'all.
11) Really really really cool video from triathlete Tim Don.  Somehow I missed this on Simon Whitfield's blog back a few weeks ago (it's been a crazy June!), but definitely wanted to share this now.  One of the few very well made 'here's what my training really looks like' type videos.
48 Hours Training with Tim Don
Thanks for reading!