It seems appropriate that as this post publishes, I'll be on another airplane somewhere over the Atlantic, probably just north of Newfoundland.  But, this post isn't about tonight's flight, but rather a short domestic flight I took last weekend on a small regional jet.
Last Saturday morning The Girl and I had booked a short flight from Boston to Richmond, Virginia, for a wedding we were attending.  While I'm normally a United guy, the fastest way between these two cities was via JetBlue – and since time was of criticality on this specific day, we used them (plus, it was way cheaper!).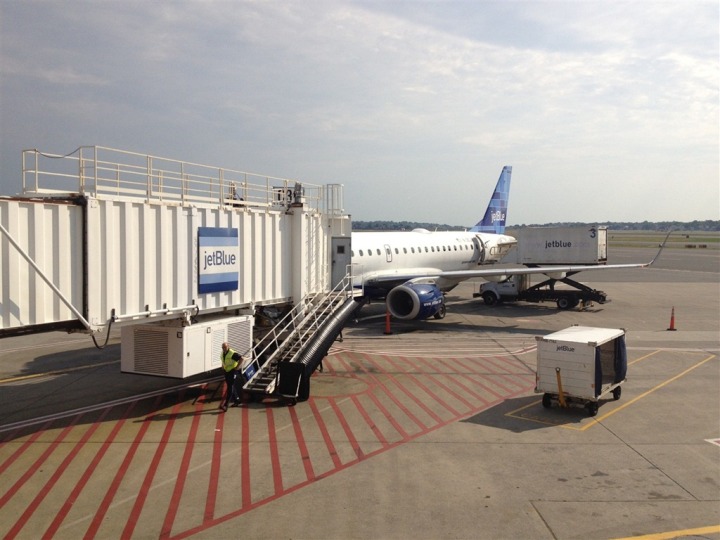 While I've never flown JetBlue before, I'm keenly aware of their use of DirectTV onboard, thus the ability to watch live TV during your flight.  But what I didn't think about ahead of time was that the Tour de France would be on that morning.  And more importantly – it would be on regular NBC, and not the more limited distribution of Universal (an NBC variant) that most days are broadcast on, which isn't otherwise on JetBlue planes.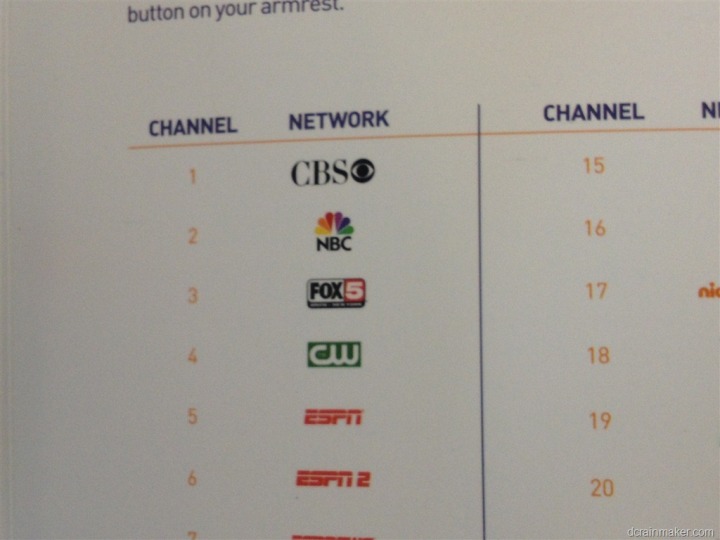 Therefore, we were pretty jazzed to find it onboard live (and free!) as we boarded the plane:
Of course, neither of us could find our small headphones (baggage/packing lately has been sorta chaotic with the move) , so we did have to shell out $2 for a pair of headphones from JetBlue.  No worries, I'd happily pay $2 to watch the Tour.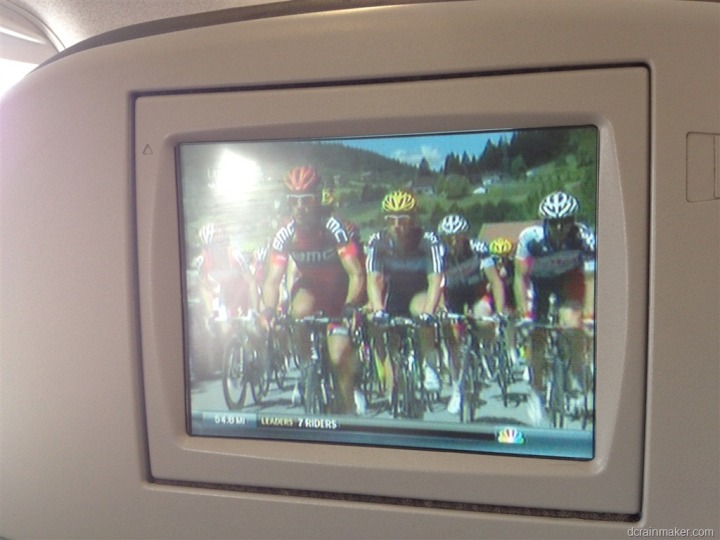 I've used DirectTV before on former Continental 737's, so I'm used to some of the little caveats where sometimes the plane rotates such that signal drops out.  But for the most part, for our short 90 or so minute flight, things worked well.  Phil and Bobke only occasionally disappeared.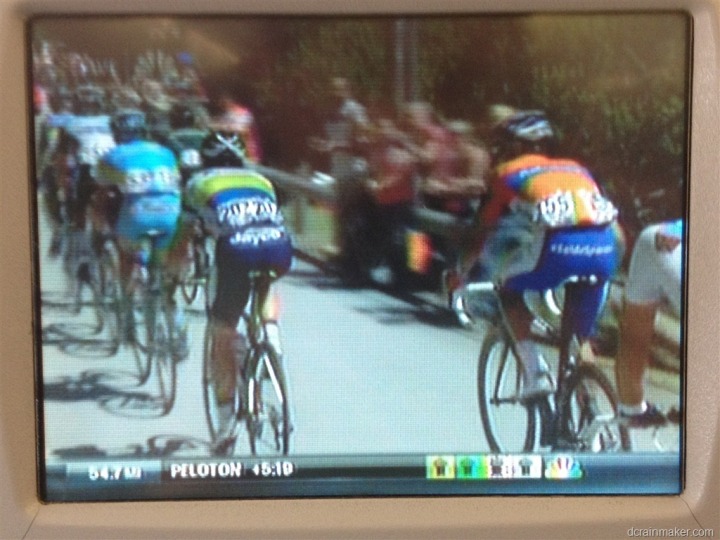 The only problem with having inflight Tour de France live, is that the flight eventually ends.  With about 15-20 miles left in the mountainous stage upon descent, we contemplated pleading to the captain to fly some circles for a while.  But I suspect the other passengers wouldn't have been onboard with that (especially since only one other person on the ENTIRE PLANE was watching the Tour).
But fear not, we had a backup plan for getting to watch the stage finish.  I pulled out the trusty NBC Tour Tracker app, and was able to get it working easily over 3G…live…from the baggage claim.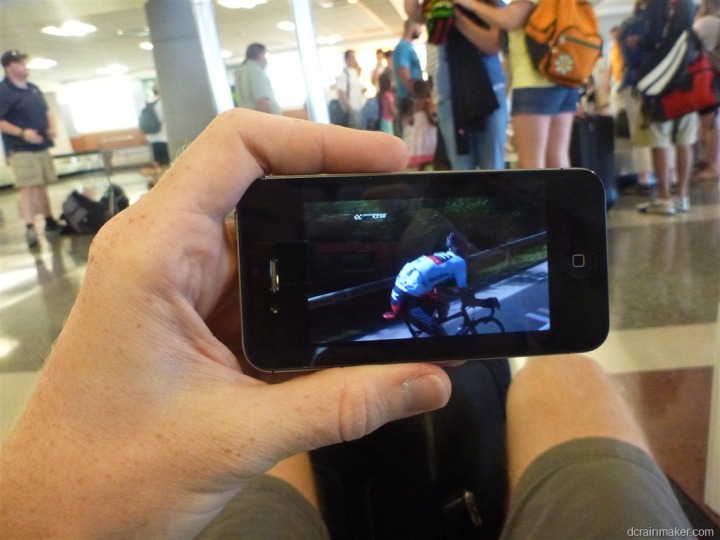 A few minute later the bag conveyer belts kicked into action, depositing our bags in front of us.  Since it was a small aircraft, it didn't take long for the area to clear out.  Obviously, with about 5 miles till the finish, we weren't going anywhere.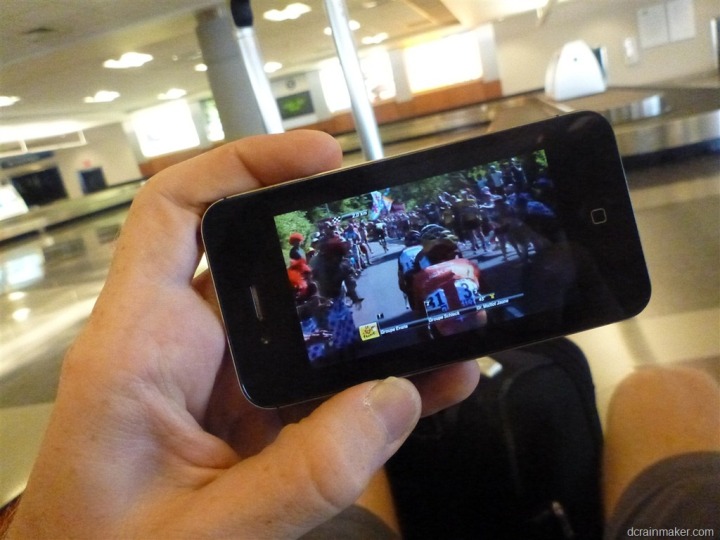 So we just stayed put, the lone people in a sea of emptiness, with tiny little speakers broadcasting the final few kilometers to those within a few meters of us.
And after an awesome battle for the finish – the stage wrapped up.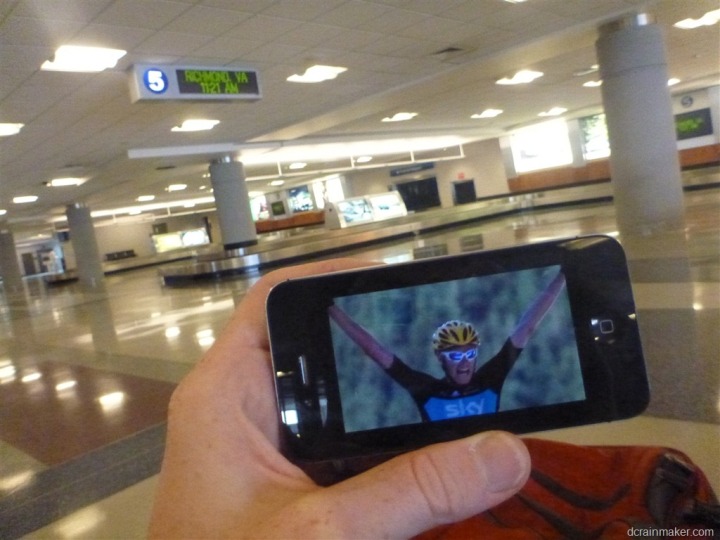 Well, at least it finished for the forward part of the well fractured peloton.  With the massive crashes of the day prior still reeling, the stage finishes dragged on for quite some time.
All in all though, a pretty sweet combination of technology!
Interestingly, the next day while driving from Richmond back to DC, we accidentally discovered we could pair our rental car to the phone via Bluetooth, and then in turn, use the app to stream the audio to the car speakers.  TdF coverage in surround sound…on Interstate 95 (don't worry, I wasn't watching the video)!
If only all airlines had the Tour de France on…every day…all year round.
Thanks for reading!