We left off yesterday in Liege, Belgium, where the prologue stage both started and ended.  Today, (err…Sunday), we moved…well…just a few yards down the road.  Stage 1 would also start in Liege, but would finish in a town just a few kilometers away.  Of course, that would be after the riders completed a nearly 200 kilometer (it's a lot of miles) loop around a giant swath of Belgium.  In all, the stage would again avoid France entirely.
A US reader (Bill) and his wife currently living in Germany offered to take us around for the day in their car.  I've long since followed Bill and his blog – for nearly 5 years now, so I was both excited to finally meet him in person, and also jazzed at the opportunity to spend the day with someone who's watched Tour's before, and knew how to navigate them.  Huge thanks and props out to him and his wife for totting us around all day!
The stage started at noon, so we got there around 10:30AM to check out the pre-race scene.  At this point, most of the team cars were loaded up – ready to roll and follow the peloton (or any breakaways).  Note the two GoPro's attached to the car below: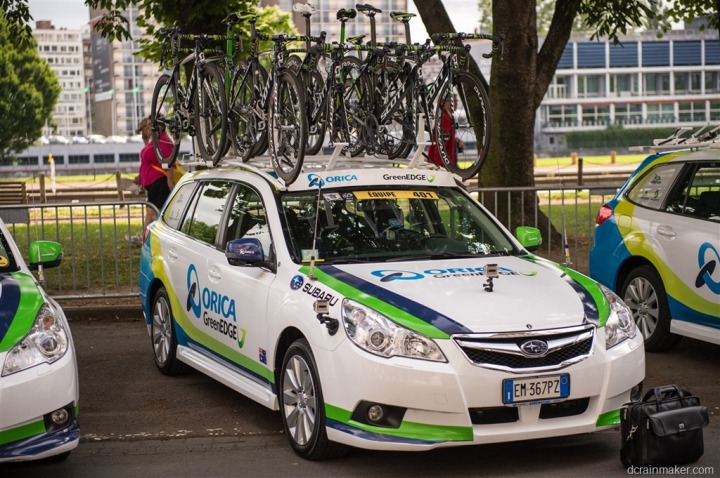 I thought it was interesting to check out the various sponsors that had logos on the different team vans and cars.  While the prices for a full team sponsorship (ala Garmin or Radioshack) are into the millions and well documented, what does it cost say, "Coast to Coast Cycling" (below) to get their name there?
For the most part, at this point in the morning, things certainly seemed fairly calm.  Given it was a fairly straightforward stage (terrain-wise, and the first full length/long stage of the Tour), it probably accounted for the rather relaxed attitude.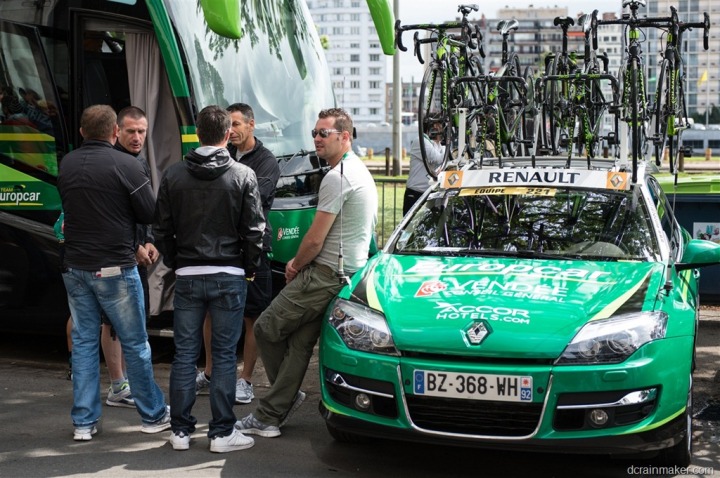 In most camps though, at least one bike mechanic was busy taking care of a handful of last minute items.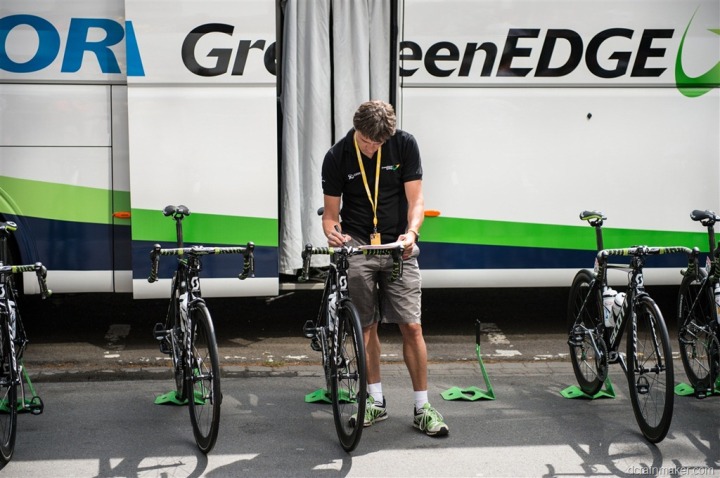 And finally, I wanted to show you this view to give you a small gist of just how much money some of the teams have.  Below, is about 75% of the Team Garmin vehicle allotment at the TdF.  There are two cars up around the corner that you can start to see.  Plus, I'm sure there's likely another buss and bike truck somewhere (probably at the team hotel).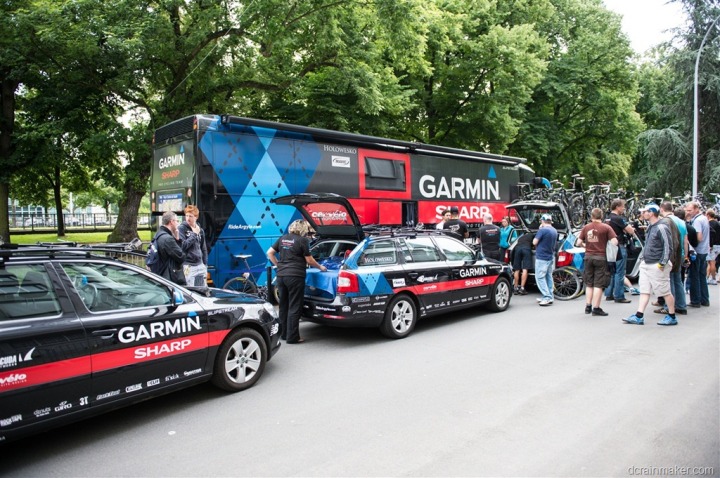 Compare that to some of the other teams, and it's no wonder why the big teams tend to come out on top.
Meanwhile, a few hundred meters away, the riders were checking in.  Each day prior to the stage, each and every rider (no matter their celebrity status) must sign-in.  They come up on stage and are announced to the waiting crowd as they sign themselves in.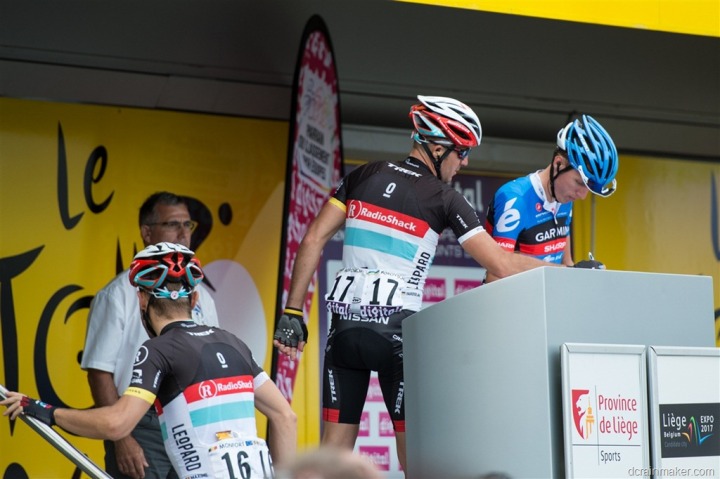 Speaking of crowds and related things, I was actually somewhat surprised at the reasonableness for official TdF items.  Having been to the Olympics, where a t-shirt somehow costs $50+, the items here were quite down to earth.  Far cheaper than that of Ironman branded post-race apparel.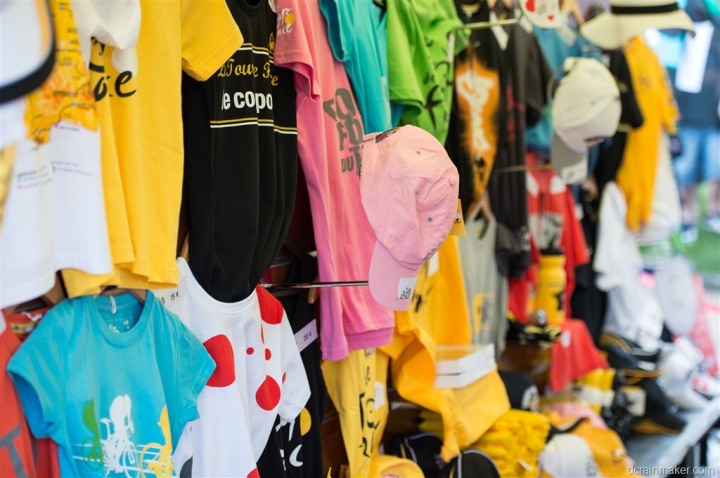 With the sign-ins out of the way – it was time to race.  Now, the idea of being at the start may sound exciting, but in reality – it's actually kinda anticlimactic.  The bikes simply start rolling, and that's it.  This isn't like a triathlon swim start where there's all sorts of crazy.  Here, it's like the first few miles of a group ride/run where people are still joking about and talking about last night.  Very rarely do any sort of attacks happen shortly after the start.

In the future, I'd still grab the pre-race photos, but then I'd get ahead of the crowds and go down-range some instead.
As we were leaving, which was no more than a few minutes after the stage started, the trucks were already rolling in to pack up all the TdF related stands/etc…  They waste no time!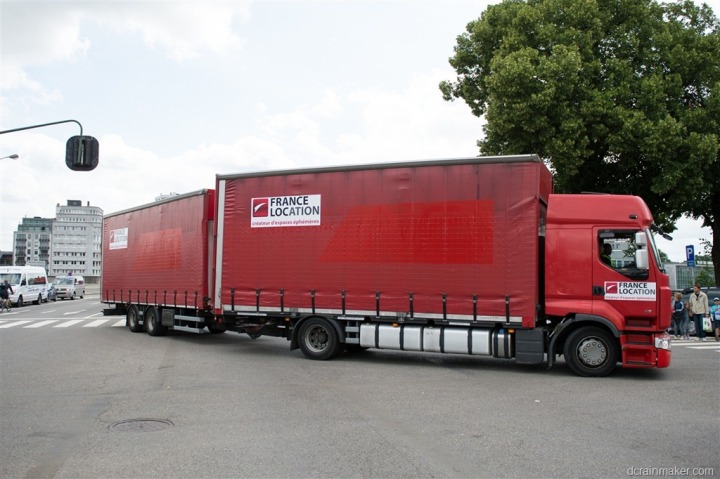 The challenge with watching the Tour is simply just how darn fast the guys move.  In order to get ahead of them using other roads (since their routes have long since been closed), you've got to be quick on your feet, and able to change direction at the last minute.  We aimed about 60-80 kilometers down the course, but had to re-adjust a bit to get further ahead of them.  Ultimately, using the standard NBC Tour Tracker app, along with just the default phone mapping application, turned out to be the ticket to staying ahead of the peloton.
We found our quiet little town and set up shop.  It had the picturesque European church, so it seemed to fit the bill.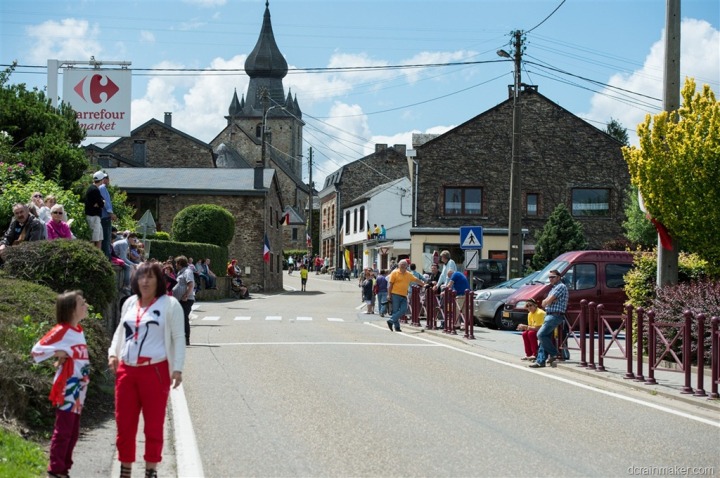 If you didn't have an app to follow exactly where the riders were, the next best thing is just listening and watching for the helicopters.  I captured four in this cropped frame below, but there were at least five of them up there – like a giant swarm.

Shortly after the buzzing, came the breakaway pack.  Ultimately, like most breakaways, these guys would get swallowed up.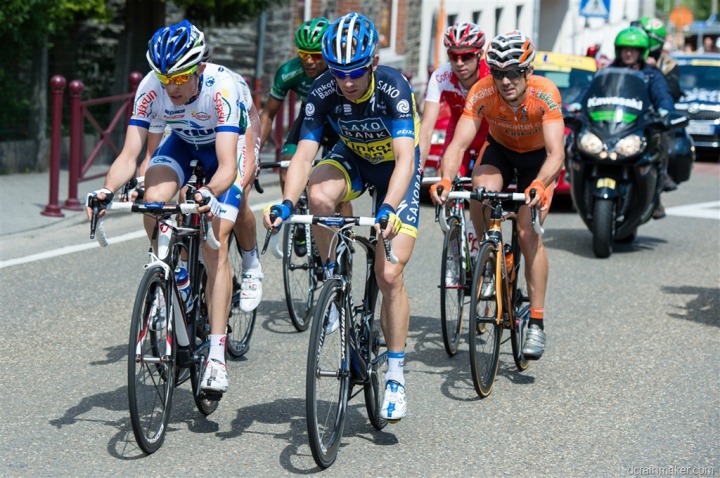 It's funny, despite only being six riders in the breakaway – they had enough support vehicles following them to outfit probably half the peloton.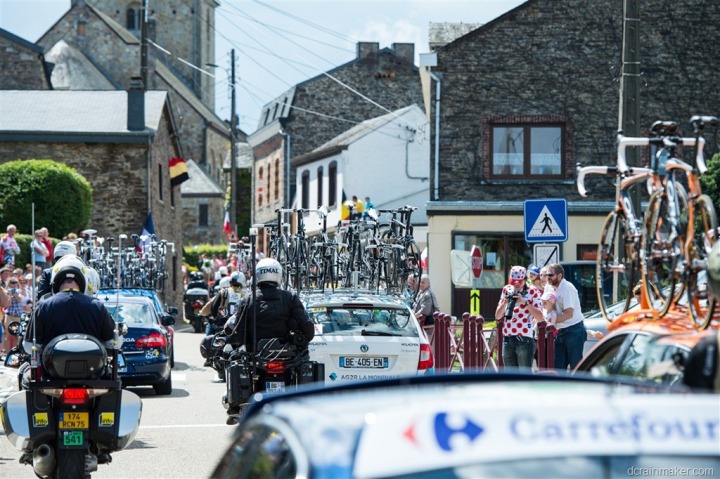 About 2-3 minutes later, came the main peloton.  In this stage, it was one large group. Sometimes it fractures, but I'm sure everyone was looking for an uneventful day as the first stage.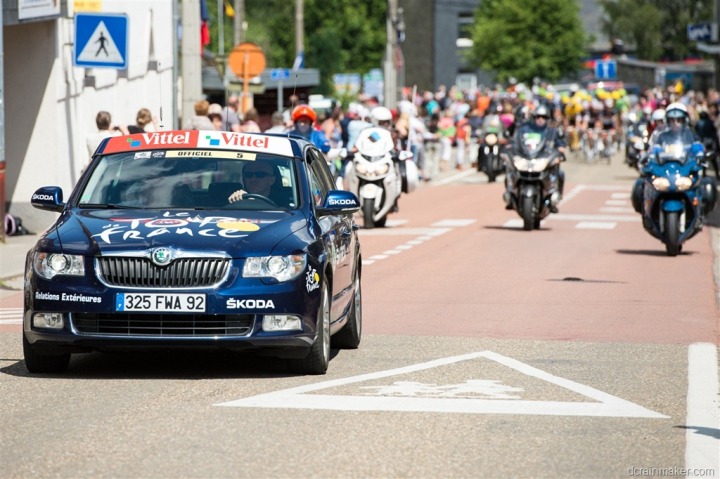 At the the point they passed us, the front of the peloton was led by Team RadioShack: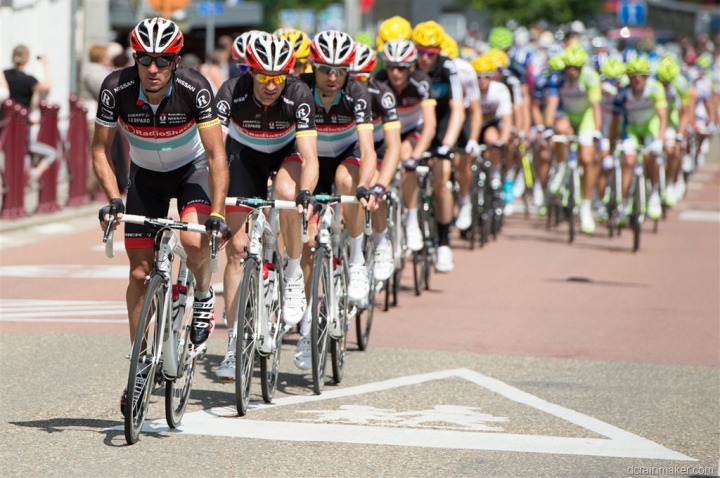 I liked the look of the last RadioShack rider.  Though, I feel his pain – I'd have no desire to have that many people bearing down on me either.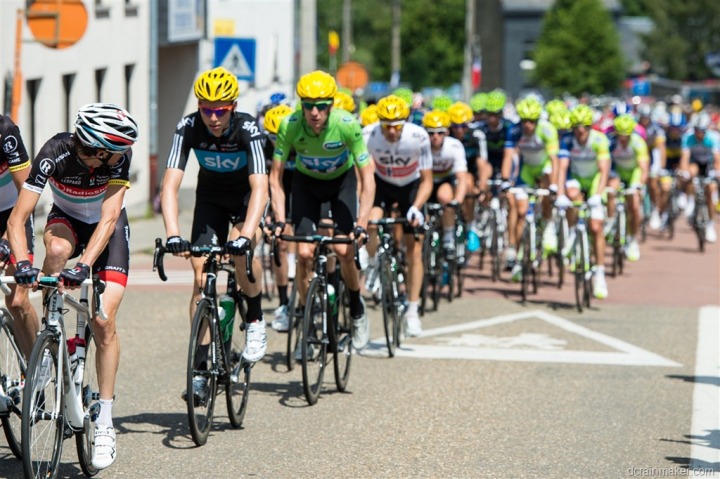 Now, the challenge with photographing the Tour is that the peloton flies by in a matter of seconds.  So really, your entire photographic result relies on your ability to be in the right place at the right time, and have a plan of action.  With this being my first stop of the day, I probably lacked both of those.
Thus, I ended up getting shots like the below – of a Team Liquigas rider firing off a snot rocket.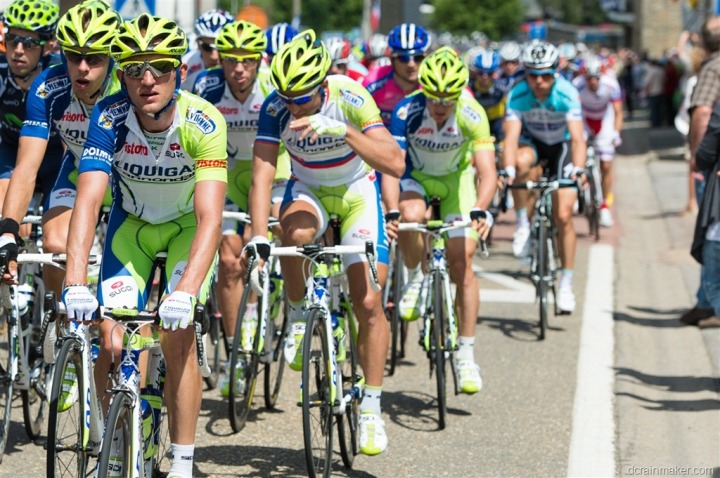 And then, the follow-up verification of leftover snot rocket contents.  Yup, they're just like us – always validate the leftover contents.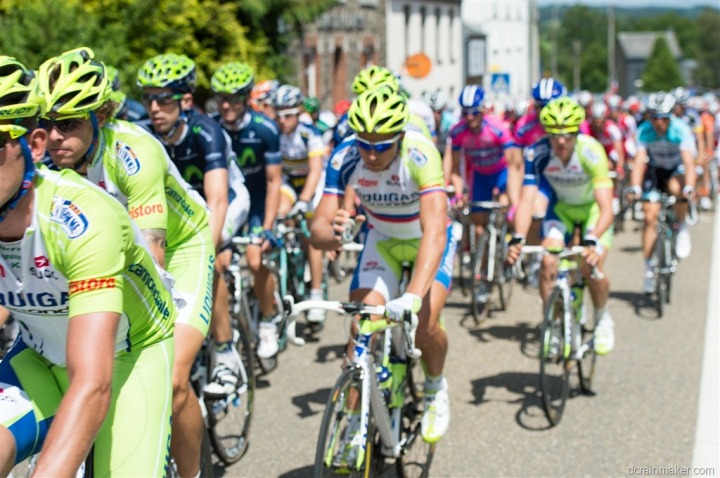 And just like that, a few seconds later – we're back to an endless stream of team cars.  I'm reasonably sure that if someone took a look at my photos, they'd think I was more of a car fan than a cycling fan, since my team car photos probably outnumber cyclist photos 2:1.
Of course, when you get 5+ minutes of team cars for every 30 seconds of cyclists, it's all you can do.
After our visit to the first little town, we jumped back in the car and cut the corner of the circle, up towards the western most edge of it.  Our goal being to just barely beat the leaders and peloton there, and then swing up to catch the finish.  The first part of that plan, we nailed no problem.
With a feed zone being just a bit prior to this spot, the riders were still wrapping up a late afternoon snack.
Thus, my shots of the breakaway group weren't terribly exciting.  Like the snot rockets – you can only do so much photographically with gel packets being consumed.
On the other hand, I was ready for the peloton.  We had wandered a bit away from the town center, using the phone maps satellite view to find a nice cow-filled field nearby, which would serve as my backdrop.
From there, after the breakaway group went by, I climbed up the side of a steep hill, and held onto the wooden fence pole holding up barbed wire fence.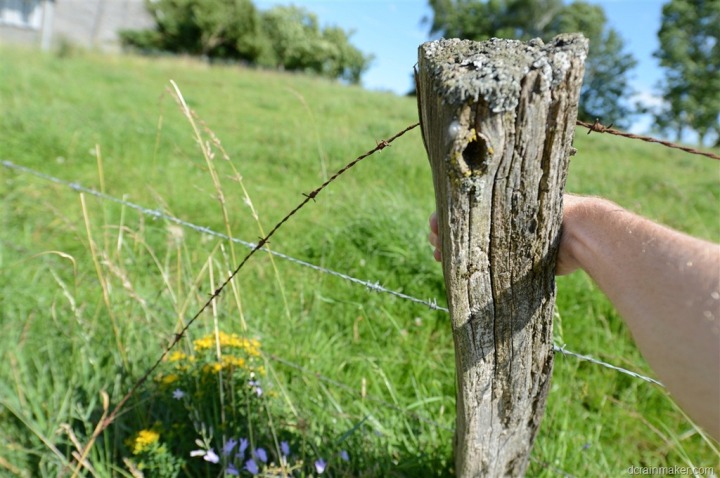 I was optimistic a cow wouldn't come along and decide to Ray-tip.  Really, both the hill and length are steeper rand longer than the photo shows.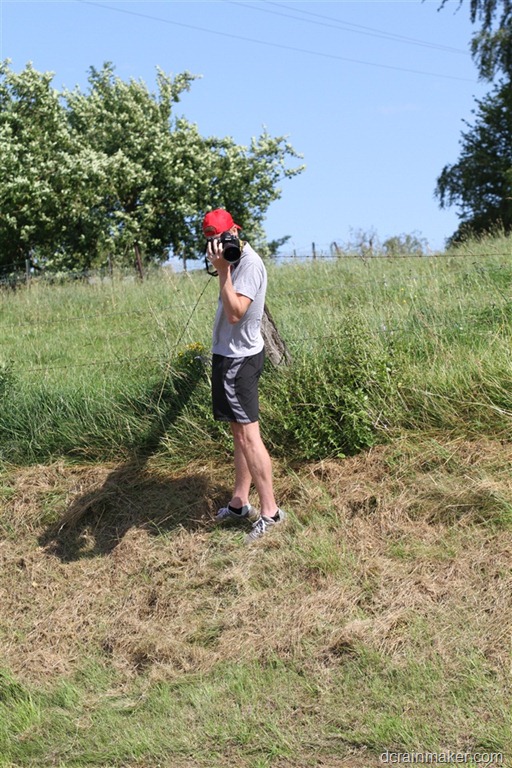 Thankfully, it worked out: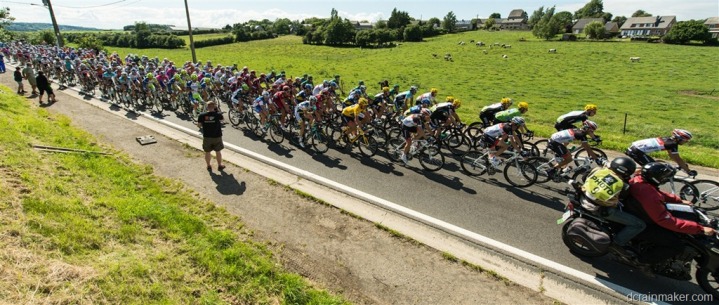 And, the next photo turned out pretty well also.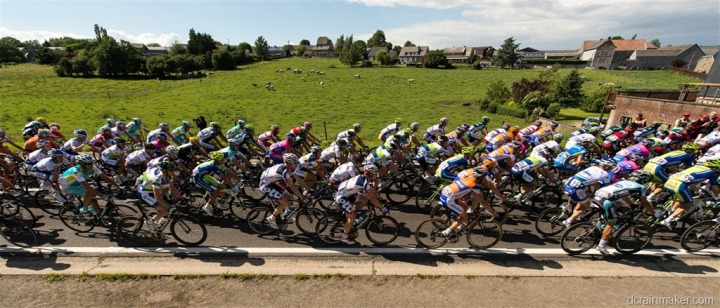 In my opinion, the key difference that those with credentialed media passes have is the ability to hop around the course via the route itself.  Meaning, we saw countless media outlets (many with readership less than around these parts) that were able to use the course route ahead of the riders (usually 15-20 minutes ahead) to get around.  This made it far quicker and easier for them to hop from spot to spot.  For us without said media access, we had to take some pretty big detours, minimizing how much time we had between shots.
Ultimately, with traffic and slow back roads, we never quite got to the finish line in time.  But that's alright – I was pretty happy with just getting the chance to wander around the course!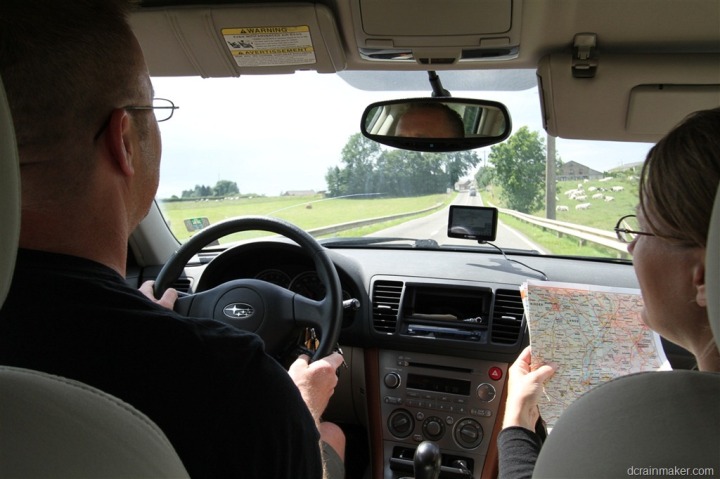 With that, we headed back to the Liege train station and caught our two hour high speed train back to Paris.  While I'd love to have hung out and watched the Tour for three weeks and taken photos daily, getting fully moved into our new place in Paris definitely takes precedence (one day we might even get hot water hooked up…).
As always – thanks for reading, and thanks for all the comments – I'm glad folks enjoyed the photos and a different look at things!