Since my triathlon season has largely transitioned to running for the rest of the year, I was able to mix things up a bit and enjoy doing a fun century ride with my Dad while I was out in Seattle for work this past week.  Here's the story of our 100 miles of Seattle – note that it's more of a 'Ride Report' than a 'Race Report' – since the goal wasn't to race anything, but rather just enjoy it.
I'm so used to the whole concept of a very exacting schedule when it comes to race days for triathlons and running races that the idea of simply swinging by a race start, grabbing a few quick items and heading out whenever you want is somewhat foreign to me.  But I think I like it!  No worrying about missing your start wave or having to fret about the moment the gun goes off and having a hundred of your closest friends swim over and through you.
We arrived around 5:30AM for a 6AM 'start'.  This enabled us to hit up the building that was converted into the race headquarters and pick up our race numbers and bike jerseys, and t-shirts.  Additionally there was also breakfast there.  As an interesting side note about the building, it was actually a former WWII aircraft hanger.  See, what is now Magnusson Park used to be a Navy Base where they did flight training.  In fact, the runways used to lead out straight over the Lake, consequently leading to a significant number of old WWII aircraft sitting just off shore underwater due to 'learning mistakes'.
Being the first time I've ever done a group ride, I mentally assumed we'd all be starting en mass at 6AM. Turns out not so.  The 6AM start time was the earliest suggested time in order to ensure upstream aide stations are open in time for you.  But otherwise you had a few hours to get on the road and get cooking.  This is even more logical when you consider that just half a mile away the route goes onto a typical bike path – so having 1,000+ riders all converge onto the path at once would only result in failure (though admittedly, probably some rather humorous photographic moments).
So at about 6:25AM, my Dad and I set on out for the start to our day:
The first 30ish miles of the route go along a very popular bike path in the Seattle Area – the Burke Gilman trail.  This trail meanders around Lake Washington and this time of the morning was otherwise only occupied by a few folks out doing their Saturday morning long runs and rides.
Despite starting almost near downtown Seattle, and going through the heart of the University of Washington – the trail was generally pretty quiet, especially in some of the farming areas.  Though give it a few more hours and it'll be hopping.
At around mile 30ish or so we stopped at our first aid station.  We had skipped the very first one around mile 15, simply because we had made good time on that first section and didn't need anything.
This was my first introduction to the whole concept of well-stocked aid stations.  Coming from the triathlon and running side – you've typically only got water/Gatorade and maybe a few gels.  On an Ironman run course you do get a bit more variety, but not really the time to enjoy it all.  This first aid station was well stocked with everything from freshly made peanut butter and jelly sandwiches to muffins and watermelon:
The course then left the bike path and started to head out towards some of the more rural areas that are nestled up against the Cascade mountains.  Despite being back on roads, there were really very few cars to worry about:
Some of you may be wondering what technology I used on the ride.  The group organizing the race had uploaded the route to a site (RideWithGPS), where I could then download the ride file to my Edge 800.  This enabled the Edge 800 to provide turn-by-turn directions for the route, though admittedly I never really needed it because the course was so mind-bogglingly well marked.  But it was nice to just get a glance of upcoming turns or elevation profiles.  For example, since elevation info was included I was able to see just how long a hill would last: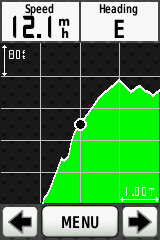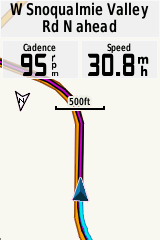 One thing that I was most concerned with was ensuring that we were going a pace that we were both comfortable with.  So I also wore the Garmin FR610, but paired it to my Dad's heart rate strap and cadence sensor.  This allowed me to keep an eye on things and pace both the flats and the hills appropriately by his effort.  His cadence was interesting because most folks tend to slow their cadence when their legs start to tire.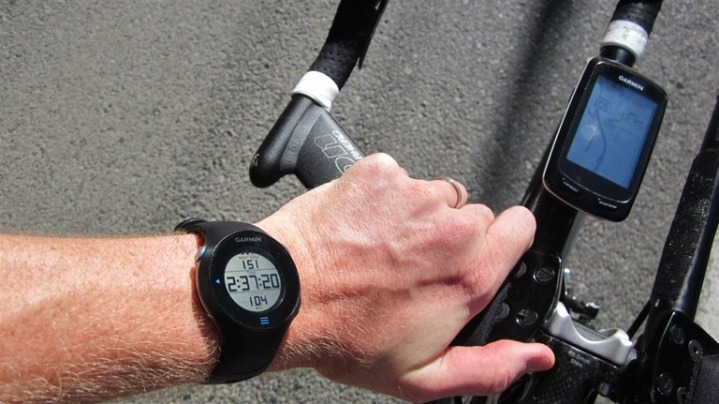 Every once in a while a loosely organized group would come along and we'd enjoy pace lining it for a bit.  Given this is somewhat of a major no-no in triathlon, I always forget just how much more efficient cycling can be (at least when implemented correctly).
Around mile 50 we hit perhaps the most important rest stop of them all: The one that served pie. I'll just let the pictures do the talking:
You'll notice the sign says the rest stop closes at 1PM.  As we were getting ready to leave at around 9:45AM, my dad made a very valid observation:
"You know, we could just sit here for another 3 hours and eat pie."
I really couldn't come up with a good reason why we shouldn't just do that.  Nonetheless, we carried on.
Part of the course includes an out and back section to Snoqualmie Falls.  This is what differentiates the 100-miler from the 85-miler.  Since we were going 100 miles, we of course included this detour.
It may be hard to understand just how big the falls are.  So for comparison, see the center of this picture below?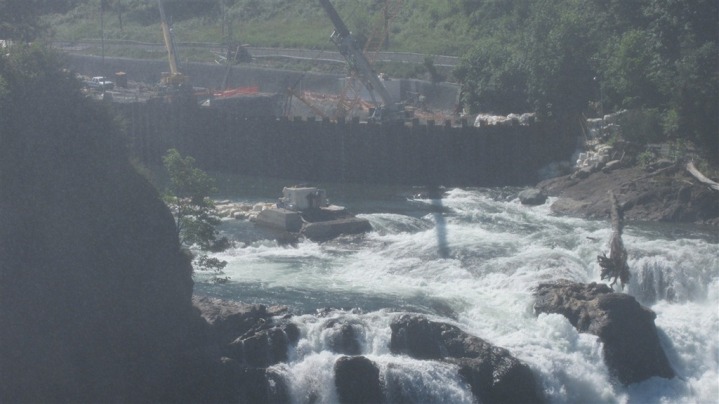 Here, let me zoom in a bit: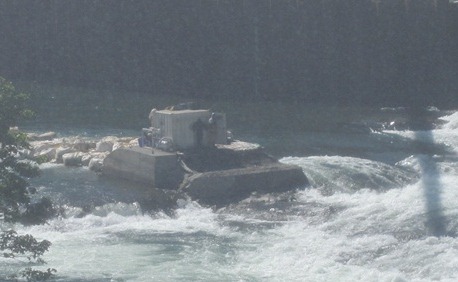 Now see? Yup, a few workers up there on that small rock outcropping.  Now go up three pictures to see just how small they look once zoomed out in comparison to the overall waterfall.
Yup, lots of water. Big drop.
Onwards we went!
Another aide station, below.  Remember – since we weren't racing for a best time, we were most definitely competing to enjoy everything each and almost every stop included.  It's entirely plausible the calories expended did not cover those taken in.  In fact, a group of competitive looking younger cyclists travelling in a pack made the comment at the pie stop: "I think we just ate 1,000 calories in pie…that's what I normally do after my training – not mid-way through!"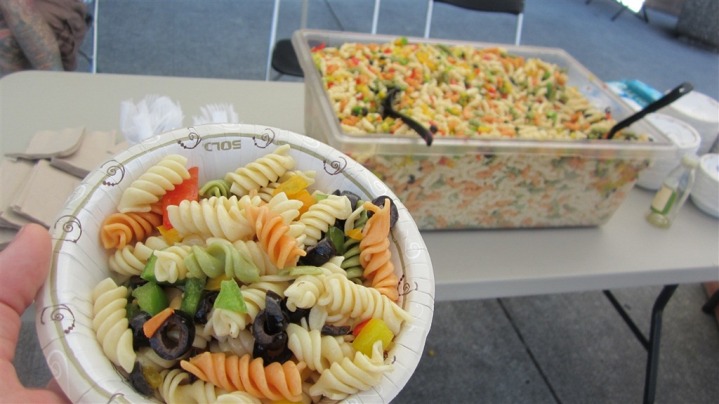 Oh, and Strawberry Shortcake at mile 87: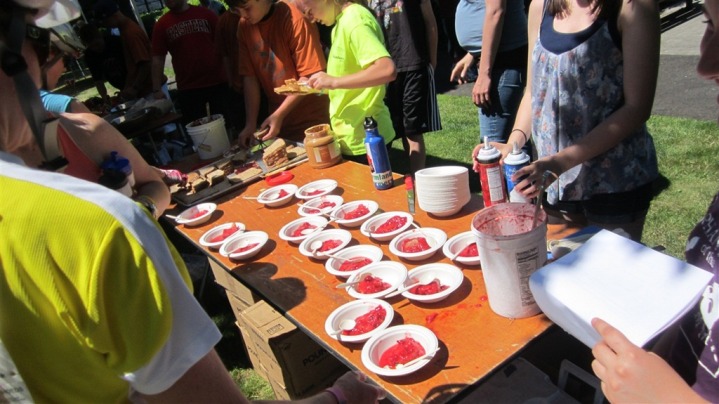 The volunteers were great.  Here at Mile 87 one of the younger guys had the job of cutting up watermelons.  He was being timed to try and beat the watermelon cutting record for the day of about 61 seconds from start until completion.  I don't think too many fingers were lost – though it was hard to tell given all the watermelon juice.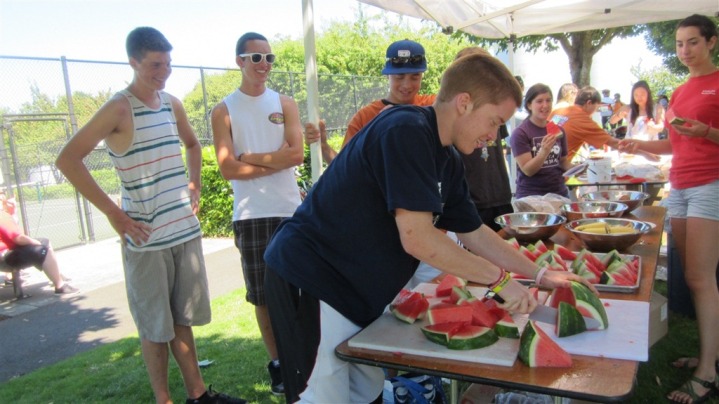 And finally, the last section back to the start – crossing the floating bridges over Lake Washington and then riding along the shoreline to the University of Washington: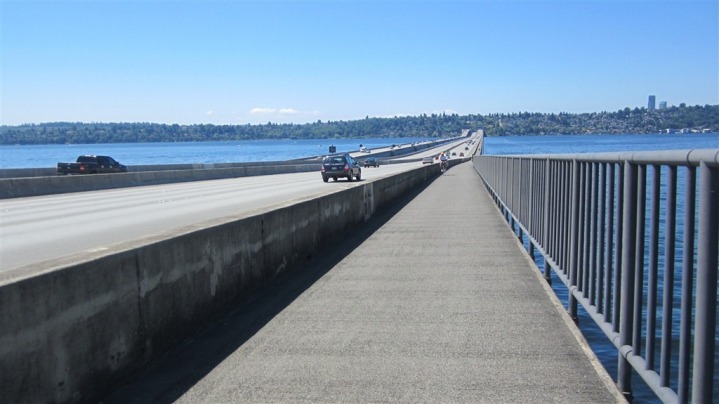 Mt. Rainer looming off in the distance…
And finally – we've got the finish park in sight!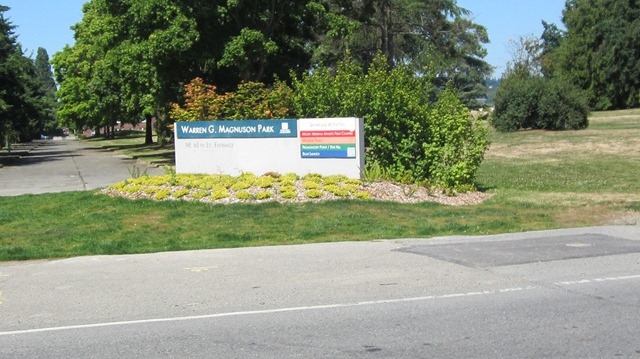 Mom was waiting at the finish to take a few pictures upon our arrival: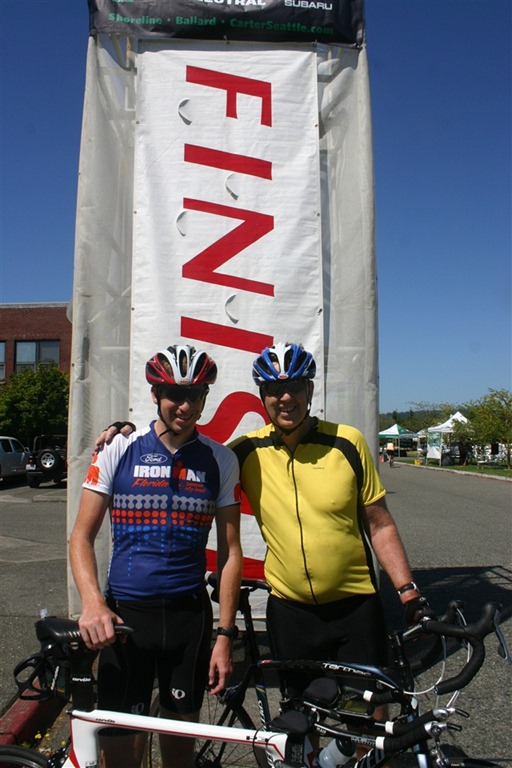 Good times!
The food afterwards was great – and they even had this crazy ice sculpture:
There ya go – can't beat a day riding around the beautiful Pacific Northwest for a 100 miles with your Dad!  After which, I did the only thing logical: Go home and eat more of my leftover birthday cake that my Mom made.  I then followed it up on Sunday with flying home to DC and eating the crazy birthday cake that The Girl made.  Good times, good cakes!