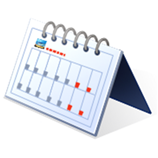 I've long since wondered what to do with all the random tidbits of things I collect each week – or the little thoughts that don't quite make for a full post.  But I finally came up with a solution: The Week in Review Post.  This takes the place of my Weekly Mailbag – which is over on Slowtwitch.  These are just quick snippets of things that I've found interesting.  Nice and easy Saturday reading.  Plus, a recap of my Weekly Mailbag post a well.
So with that, let's get into the action!
Weekly Mailbag Over at Slowtwitch.com:   
Back into the flow of things over to Slowtwitch this week with a good assortment of new topics, check it out.
1) How Auto Pause Works
2) ANT+ Enabled Phones
3) How the Tunebug Bluetooth Helmet Music System works
You can read all my past weekly mailbags at Slowtwitch here.  Or the pre-Slowtwitch days here.
Posts this past week:  
A wide variety of posts this week covering quite a range of stuff.  My personal favorite is probably the bike trainer post, complete with video – definitely check it out!  Here's what else landed on the page:
Monday: Swimming through the Registry
Tuesday: Going old school: Using a bike trainer from 1976
Wednesday: 15 Must-Read Posts For New (And Vintage) Triathletes
Thursday: Analyzing your swim technique in the pool with the GoPro HD
Friday: A brief update pictorial on Polar's upcoming pedal based power meter
Stuff that I found interesting around the interwebs:  
Here's a small smattering of links I found interesting this week:
1) Want to design a kit for Training Peaks and get a pile of free stuff?  Well, here's your chance.  Given my design skills are limited to MSPaint, it's pretty unlikely I'd win – so go at it!
2) Multisport World Expo in NY, MA and MD this month:  For you New Yorkers, you better get your act together and head on down today – Saturday.  For everyone else, you can plan a bit more.
3) New Garmin Training Center Release Candidate Released: If you swing with GTC, then you'll want to contemplate picking up this beta version with a slew of fixes for Garmin's desktop app.
4) The Chile Downhill Mountain Bike Video: While many of you will have seen this, for those of you who haven't, you can thank me either now or later.  Probably the most awesome cycling video I've ever seen.  Be sure to just sit back and watch the whole run.
5) Slowtwitch Wind Tunnel Article: This is simply cool – just go check it out.  Really, anytime you get to play with aircraft engines and pretty/expensive bikes it's cool.
6) Brim Brothers Update: The folks at Brim Brothers have posted another update around their cleat based power meters. (Leftover from last week)
7) GumPack Wearable Vitals Monitor Bracelet: This device crosses over more towards medical monitoring – but the potential is still pretty cool here.  Check it out.
8) Pro Cyclist Open Letter on the Race Radio Issue: An interesting post worth a read.  While the letter is a bit rough and some of the claims are a bit stretched, it's still interesting.  If you want a more entertaining view, as always, check out Fat Cyclist's take.
Random thoughts on Twitter (after all, tis the week of SXSW):
I've been doing the Twitter thing for about a year now, just long enough to have a few followers – but not long enough to be a historian about it yet.  I only mention this because back at the ANT+ Symposium I actually did a 45 minute session (aside from my main session) to various ANT+ companies that wanted to understand more about social media and how to use it.  I talked about a lot of ways it can be leveraged correctly, and a number of do's and don'ts.  I also included some basic media stuff like never publish important/valuable news on a Friday because it won't get attention (you'll notice I never publish a product review on a Friday), and how to time publishing to world wide audiences for best effect (that messy time zone thing).  I also talked a bit about engaging with Twitter and the like.
However, one thing that for some reason many sports related companies don't realize is how to effectively use Twitter to reach core audiences beyond their own immediate followers.  For example, yesterday I re-tweeted a story that was of interest to me.  The challenge was that the original poster didn't leave any room for a standard re-tweet once you add the "RT: Username" piece – which means that one has to decide how to re-tweak the message to fit (and leaves it up to my creative interpretation).  The point being – if you're in the business of trying to publicize information on Twitter, be sure you always leave enough characters leftover for a quick and instant retweet – if the point of the tweet is to gain attention.  If it's simply letting us know that your pizza was totally awesome, then feel free to use all 140 characters…and include that juicy picture!
Anyways, consider that my public service announcement for the month…
Have a great weekend all!