Just a quick note to let folks know I had a bit of time on my most recent 13 hour flight earlier this morning (this evening? this afternoon?  Honestly, I have no idea, it sorta crossed all three).  I took some of that time to catch-up on back comments for product review related posts (the rest was spent watching movies like 'The A-Team').
As many of you know, I do go back and semi-regularly answer questions on all of my product review posts.  I had gotten a bit behind on a few of the products lately, mostly just due to being busy (it happens!).  But, with the help of some quiet time over the Artic cap, I was able to catch-up on every single question asked – probably over a 100 in total!
Here's the reviews I updated:
Garmin Forerunner FR60
Garmin Forerunner 110
Garmin Forerunner 305
Garmin Forerunner 310XT
Garmin Forerunner 405
Garmin Edge 500
Garmin Edge 705
Garmin Edge 800
Timex Global Trainer
Phew!  Lots of them!  And remember, if you can't decide which one to get, or where to start – my recommendations post is the place to be.
Random Points of Interest
A few themes occurred a number of times in the questions, and thus, random items/trends of interest-
Edge 800-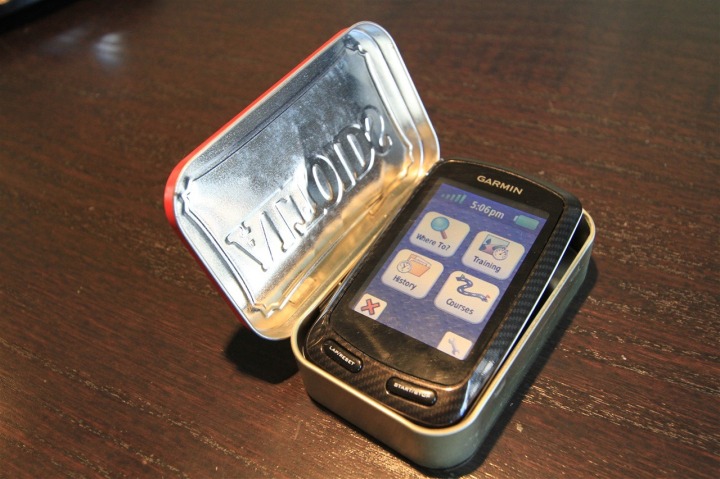 There were a fair number of questions around whether or not to wait for the Edge 800, or go with the Edge 705. 
For a bit of background, I've been using the Edge 800 demo unit that Garmin sent me since late August for every single bike workout – and it's been flawless.  That's not something I can say about past Edge units during testing.  I've been getting firmware updates from Garmin during this timeframe as well, to ensure I was on the latest firmware – and all of these went without a hitch (I'm now on the final release firmware).  I've also been impressed with the fit and finish (polish) details that they've been applying since my initial review.  Just lots of little items to cleanup the user interface.
As for the question, I honestly don't see any reason why one would buy an Edge 705 over an Edge 800 at this point – especially now that the Edge 800 is available in the retail channel.  Also, the Edge 705 is being discontinued and should be unavailable by shortly after the new year, so keep that in mind (though that doesn't affect support at all, just simply new units being sold).  And finally, in most cases, the Edge 705 and Edge 800 are about the same price…making it just that tiny bit more obvious which one to choose. 😉
Forerunner 210-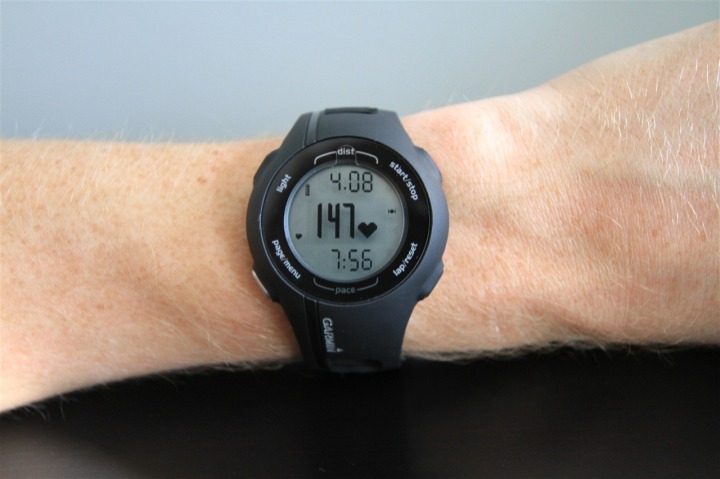 There's been a bit of question as to whether or not I'd be reviewing the Forerunner 210 and Forerunner 410.  As you may remember, the Forerunner 210 is essentially an updated Forerunner 110 with instant-pace and footpod support.  While the FR410 (touch bezel) is an updated FR405 with a re-engineered touch bezel.
The folks at Garmin drop-shipped me a FR210 demo unit on Tuesday and I've been using it since, including one good long hard interval run.  So far, I'm loving it.  Though I do wish it had lap-time as a field to display, but beyond that I love the fact that it supports instant pace and the footpod.  I'll be using that indoors here on some treadmill runs during some of my hotel stays.  Plus, as a normal day to day watch it's been working great.
On the FR410 side of things, I'm at the top of their list to get a demo unit – and will hopefully have one shortly.
In the case of both, expect full reviews at some point the relatively near future (maybe end of month at latest?).
That's it!
I promised ya it'd be short today…mostly because I'm exhausted.  But I should have a solid post tomorrow highlighting some interesting news related to the Garmin Vector Power Meter that came out of yesterday's investor earnings call.  Until then…