The Forerunner 255 is now a multisport triathlon watch. Sure, it's also a running watch, but it can now swim/bike/run with the best of them, including featuring Garmin's high-end multi-band/dual-frequency GPS chipset. This is the lowest priced watch we've seen on the market from any company to have this feature, while also becoming Garmin's lowest priced full multisport watch.
But to simply assume Garmin only added a few sport profiles would be a mistake. The company also pulled in all of the previous high-end training load and recovery features from what used to be on the Forerunner 945, while extending that further with even more tools like HRV status and a massively revamped daily suggested workouts feature that can now plot out an entire season's worth of workouts leading up to a specific race (or series of races). Oh, and it now has native running power (wrist based).
But the Forerunner 255 wasn't the only watch announced today. They also announced the new Forerunner 955 & 955 Solar, which matches the features previously found on the Fenix 7, while expanding out with new features launched in the Forerunner 955. I've got my full in-depth review here on that here.
As usual, this watch is a media loaner, and it'll go back to Garmin shortly. This review is not sponsored (nor does any company get to preview anything I review), and I don't take any advertiser money from any companies I review. And as regular readers know, if something is crap, I'm gonna tell it brutally like it is – no matter the brand (as Garmin saw just two weeks ago). Once this unit goes back, I'll go out and get my own for any future testing needs. If you found this review useful, you can use the links at the bottom, or consider becoming a DCR Supporter which makes the site ad-free, while also getting access to a mostly weekly video series behind the scenes of the DCR Cave. And of course, it makes you awesome.
What's New: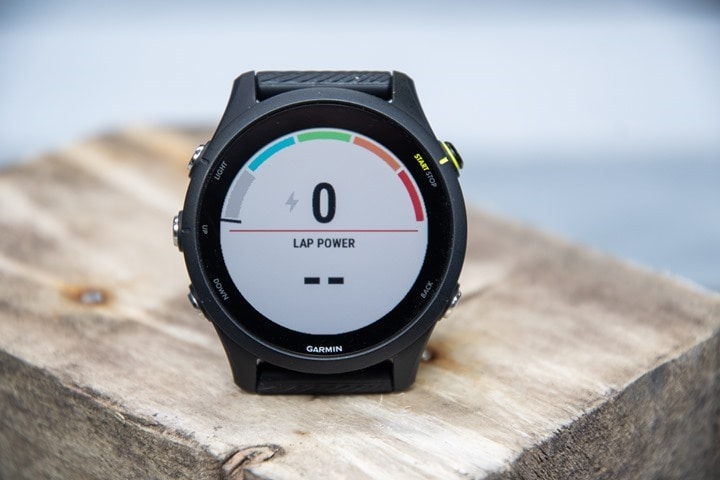 The Forerunner 255 series essentially becomes a Forerunner 745, but with most of the newness of a Forerunner 955. Which is to say, there's a boatload of new stuff here. Basically almost everything seen on the new Instinct 2 series a few months back, as well as piles of features launched on the Forerunner 945 LTE last summer and now newness launched at the same time on the Forerunner 955 series.
Nonetheless, here's an attempt to compile a list of everything that's new compared to its predecessor, the Forerunner 245:
– Two sizes now – 42mm and 46mm (price same for both)
– Two variants, non-music ($349) and music ($399)
– Added multi-band GPS support (dual-frequency support)
– Added barometric altimeter and compass
– Added full triathlon/multisport support & activity profiles
– Added cycling power meters support
– Added cycling VO2Max
– Added Sleep Stages & Sleep Score trends beyond 7 Days
– Added native running power (wrist based, and native data fields)
– Added Running-power specific training zones
– Added HRV status tracking (at night)
– Added Morning Report (summarizes HRV, Sleep, workout plans, etc…)
– Added Garmin Pay contactless payments
– Added New Race Calendar & Race Details/Countdown Widgets
– Added New Race prediction widget
– Added Acute Load metric
– Added Ability to Redirect Emergency Assistance to a Single Person
– Added Daily Health Snapshot
– Added 'Up Ahead' feature for distances to predefined markers like aide stations, climbs, etc…
– Added Race Predictor historical trendlines (to see if you're getting faster or slower)
– Added Automatic Run/Walk/Stand detection within a workout
– Added the ability to configure watch activity profiles and data fields from your phone
– Added Power Saver Feature (up to 62 days of battery life)
– Massively overhauled how Training status/load works (more details lower down)
– Changed Training Load Focus to be aware of your entire race calendar
– Daily suggested workouts can now be seen into the future, configuration of long-workout days, more settings, etc…
– Daily suggested workouts can now be tied to future calendar race events, automatically creating workouts for that distance/course
– Changed to Garmin Elevate V4 Optical HR sensor
– GPS Battery life increases from 24hrs in base GPS mode to 30hrs
– Daily Battery life increases from 7 days to 14 days
So what's new here that's not on something like the recently released Instinct 2 Series? Glad you asked, here's the main hit-list:
A) HRV Status
B) Acute Training Load
C) Morning Report
D) Native Running Power
E) Race Calendar & Race Event Widgets
F) Daily Suggested Workouts now accounting for races on calendar
There are lots of tiny things that tie into those (sub-features of those items) or menu/user interface tweaks that don't really apply to the Instinct display type (like colors), but that's the gist of it. In any case, for the Instinct 2 series watches, they also gain a subset of these features to make them sorta-parity to the Forerunner 255. Specifically they'll gain items A/B/D above. And again, Garmin says to look to the beta program very shortly for the Instinct 2 beta updates covering these features.
Now, while I'll add in a bunch of blah-blah-blah watch comparison photos for sizing shortly, I'm running on empty here. Mainly, because I ran out of Oreos a long time ago, and the DCR Cave was not properly stocked for this now 36-hour-long day. However, in the course of that, I did manage to get a couple of photos to help you understand the exact size using the only metric that counts: The International Oreo standard:
So with that, let's get cooking.
The Basics: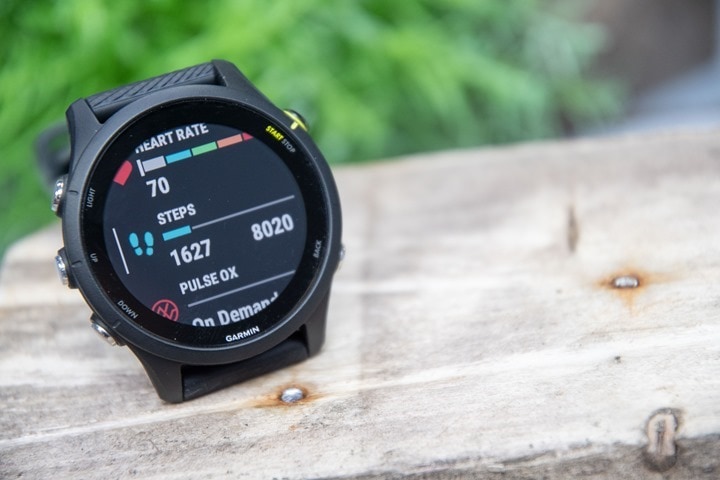 In this section I'm going to cover all of the watch basics. Things like usability, daily activity tracking, sleep tracking, health tracking, smartphone notifications/integration, and so on. All of this is the same no matter which version you get of the Forerunner 255. The only differences in this entire review are between the music and non-music versions, for which the FR255 Music has…well…music (and 3GB of storage space).
Starting with the hardware itself, the Forerunner 255 has five buttons like most Garmin fitness watches. Three on the left side and two on the right. In general, the upper right button is your confirmation button, and lower right is your back/escape button. The left buttons are for navigating in the menu. And you can long-hold any of the buttons to access different menu items: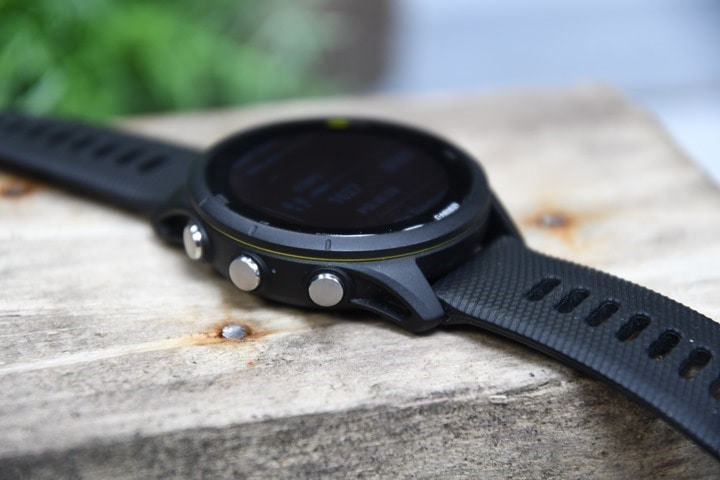 There is no touchscreen on the Forerunner 255 series, only the buttons. For touchscreen access you'd have to nudge over to the Venu 2 series (which is more general-fitness based), or up to the Forerunner 955/Fenix 7/Epix series (which is a bit more hardcore). Technically the Vivoactive 4 also has a touchscreen, but I wouldn't shift that way at this point.
In any event, starting with the watch face itself, this is fully customizable, like most Garmin watches. To start, this means there's a slate of stock watch faces on the watch by default, and you can customize the data elements displayed on any of them.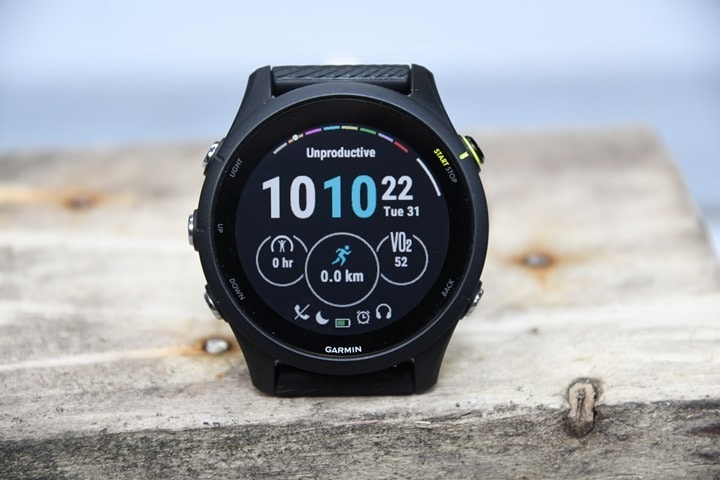 However, you can also download watch faces from the Connect IQ App Store (for free). There's hundreds, if not thousands, of them, and you can also create your own using photos of whatever you want. Your kids, gummy bears, a pair of running shoes, etc…
Once you're done staring longingly at your watch face, you can tap down to get into the widgets, or rather, the widget glances. Each of these show glanceable bits of information about a given data metric. For example, steps, sleep, weather, upcoming races, or training status. You can tap any of these to get more details.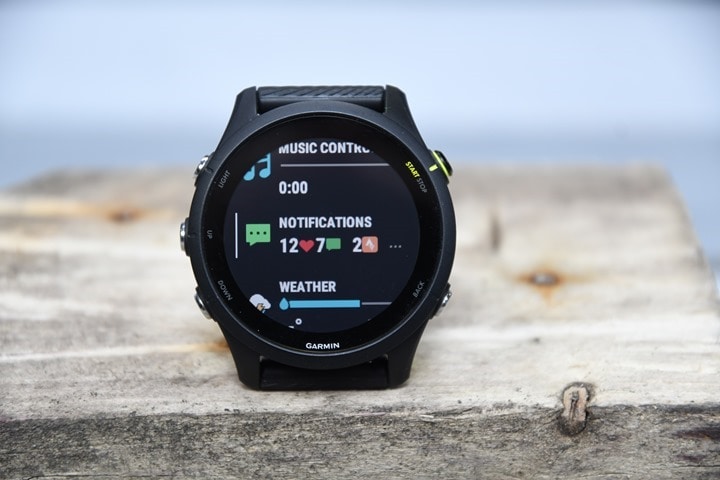 For example, if we tap the steps one, we'll see information on our steps throughout the day, as well as steps over the last week.
However, all of this information is also synced and displayed on the Garmin Connect Mobile app (as well as the website too). Every metric has far more detail about it there. For example, here's the steps widget, where you can look as far back as you darn well want: Weeks/Months/Years, and do all sorts of crazy analysis there.
But this is ultimately true for virtually every metric that Garmin tracks on the Forerunner 255 series. From sleep to heart rate to breathing rate, HRV, and more. As usual, the list of data that Garmin tracks can be overwhelming at times. The key thing is to focus on the data you want, and simply hide the bits you don't care about now. That data is still recorded in the background, and maybe later you'll decide to use it. For example, many people learned to use breathing rate as a potential indicator of COVID, so having the baseline data to reference back on is useful.
In any case, here's a giant gallery of all the widgets and some of the detailed bits when you click on them.
Of course, many of these metrics are derived from the optical heart rate sensor found on the bottom of the Forerunner 255. This sensor is powered on 24×7, constantly logging a slew of metrics beyond just your heart rate. Some of these metrics are directly captured (like blood oxygenation level), while others are indirectly calculated like breathing rate, HRV, or stress. The FR255 uses Garmin's latest Elevate V4 sensor, which is the same sensor found on pretty much every Garmin watch released in the last 12 months. The green light seen is for regular heart rate recordings, while the red light you'll see is for blood oxygen levels (which Garmin calls Pulse Ox):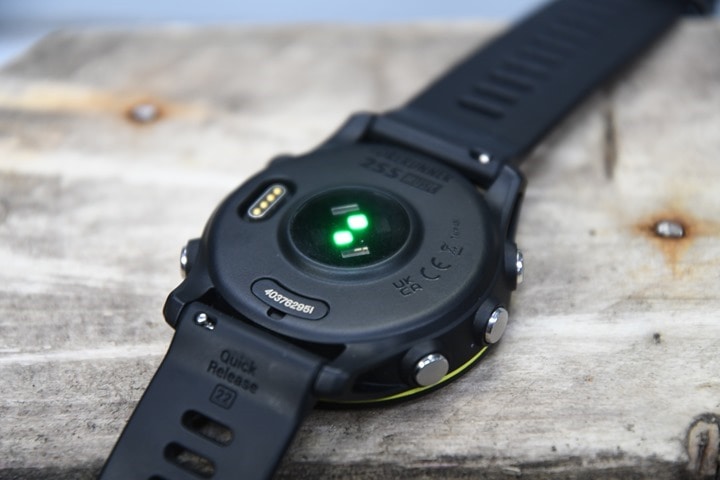 Like steps and other data, everything from the optical HR sensor can be seen in the widget, including your heart rate both historical and live (see gallery above). And you can look at trending for both daytime and sleep heart rate as well on the mobile app.
One of Garmin's most well-known calculated metrics is Body Battery. Body Battery is basically your energy level. You recharge it every night, and then decrease it during the day, or during periods of relaxation (like sitting on the couch watching TV). This can be used as a short-term day-by-day tool to figure out how ready/tired you might be that day.
I've found Body Battery pretty solid at matching how I feel. Do note that it'll take a few weeks to nail your exact body, but once it does, it's pretty good at it. Of course, just because you go to sleep doesn't mean you refill the tank every day. As you can see above, some nights I get good sleep, and other nights less so. Like trying to charge an electric car, if you unplug it too soon, the tank isn't full.
That said, the Forerunner 255 does lack Garmin's new Training Readiness score found on the new Forerunner 955. The main difference is that Body Battery isn't focused on the training side, but rather on just your general well-being. Whereas Training Readiness is focused on whether or not you should train, and how hard. In other words, Training Readiness takes more factors into account that are training specific (like a coach would), whereas Body Battery is more kinda like a generalist that doesn't care about sports.
The areas where Body Battery tends to struggle is exceptionally long/hard days, like traveling overnight on a redeye without sleep – or simply working through the night. In those cases, usually Body Battery gets down to the single-digit numbers and just kinda creeps to a stop. It knows you're screwed, you know you are screwed, and everyone just looks at each other and says 'It is what it is'.
Speaking of sleep, the Forerunner 255 will automatically track your sleep each night, recording that data both onto the watch, as well as to your account for more details. However, new to the Forerunner 255/955 is the 'Morning Report'. This screen is shown when you wake up each morning and gives you a bit of a summary of where your body is at (sleep & recovery-wise and training-wise), as well as upcoming bits like the weather. Here's some of the screens it shows:
The core difference between the Morning Report gallery on the FR255 vs FR955 is that the FR255 won't show Training Readiness scores, because it doesn't have that feature, whereas the FR955 will. Beyond that, it's identical.
You can customize what data you want in the morning report. By default, the morning report will stay on the screen until you dismiss it, just like Apple's similar concept – which, I very much appreciate (I hate how Suunto's similar concept disappears after just a minute or so).
The morning report is also the first place you'll see your HRV status information too. HRV is measured on the FR255/FR955 constantly through the night. Garmin takes constant readings, and then displays them in 5-minute increments within the HRV timeline graph shown. That chart also shows your max values for the night. It's 100% normal that there's this much fluctuation in it, as your values are often tied to different sleep phases.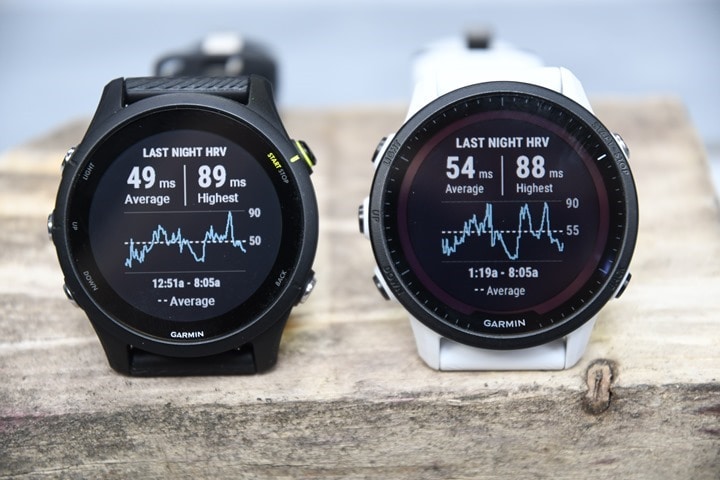 I dig into the HRV Status bits a bit later on in the Training Load section. But the key thing to note is that you'll need to sleep with the watch for 19 days before you get your first HRV Status message. You'll get the individual nightly data prior to that, but not the recommendations data.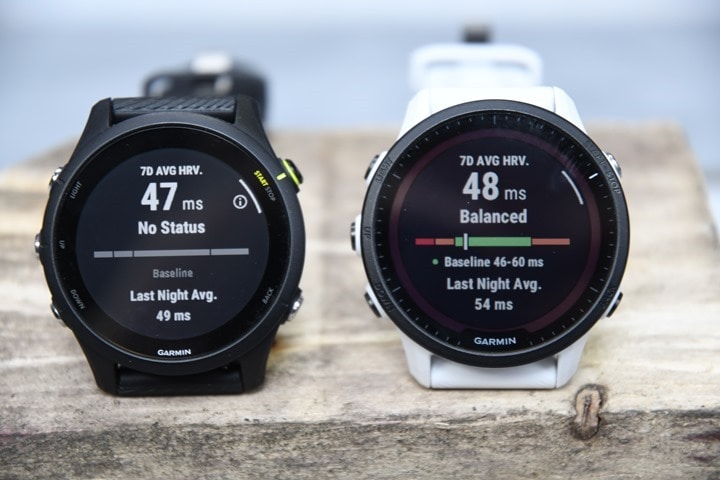 And, if you wanted to see the details about the sleep itself, that's visible within the morning report, as well as afterwards in the sleep widgets: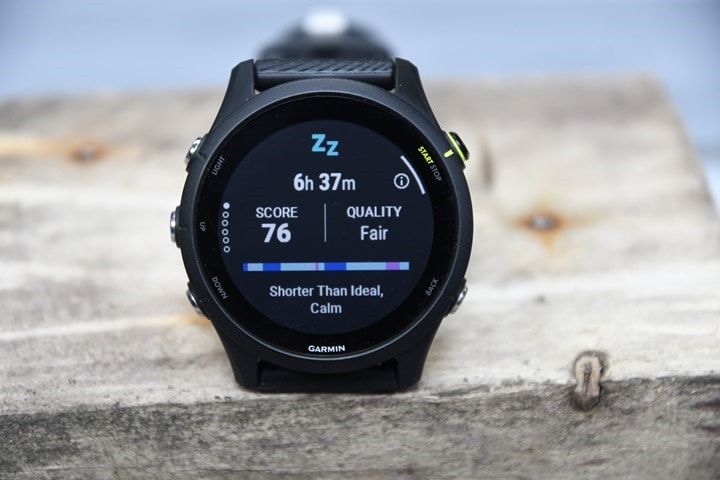 There's also tidbits that it'll give you on the impact of that sleep in terms of what it might mean for the day ahead. Sometimes life-things (like lack of focus), and sometimes training things.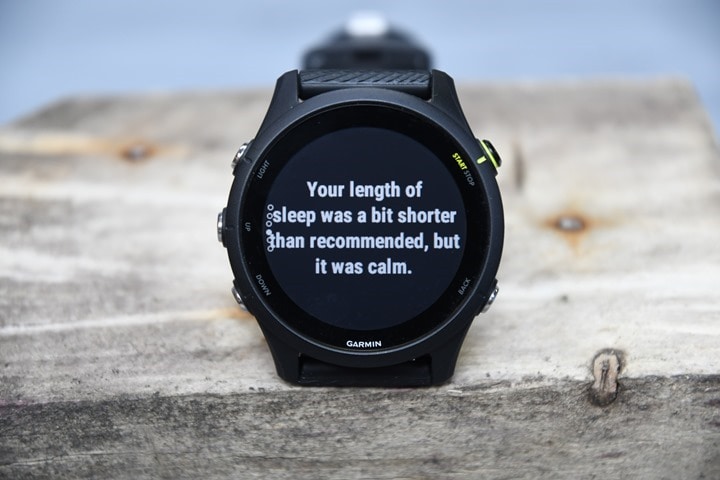 When I look at accuracy of the sleep data, there's two components to it: Sleep times, and Sleep phases (there's also HR & HRV too, but we'll set those aside for a quick second). For sleep times, these appear to be pretty much spot-on most times. I had one night where the FR255 missed me going to sleep by about two hours, but that was also the exact same night I updated the firmware at midnight before bed, which might have thrown it off its game. All other nights have been fine. It's this sleep-duration/times metric I focus on most.
Then there's sleep phases/stages. My challenge with this is that none of the wearables companies do a great job here, and realistically, validating those claims is super challenging. Even the best sleep-specific consumer-accessible evaluation devices only have about 80% accuracy on their best day. Thus, I'm not sure what value I'd bring by trying to compare one inaccurate thing to another inaccurate thing. I'd never compare workout heart rate metrics to a chest strap that was 80% accurate. That'd be silly. It's the same here. I've found in general, if you're getting enough hours of sleep, and that's uninterrupted sleep, then that's the main thing to focus on. And the watch can/does at least tell you that correctly.
Next, there's the blood oxygenation levels, which Garmin brands as PulseOx. You can configure this to be off, during sleep only, or 24×7. It has two basic purposes in a Garmin wearable, one is around sleep (as potentially an indicator of sleep-related issues), and two in high altitude environments as an indicator that something is about to go horribly wrong. Two totally different use cases (note: medical folks and such also monitor blood oxygen levels too for other reasons). For the first one – sleep – you can track your Pulse Ox readings each night. It's the red LED that'll light up on the back of the watch.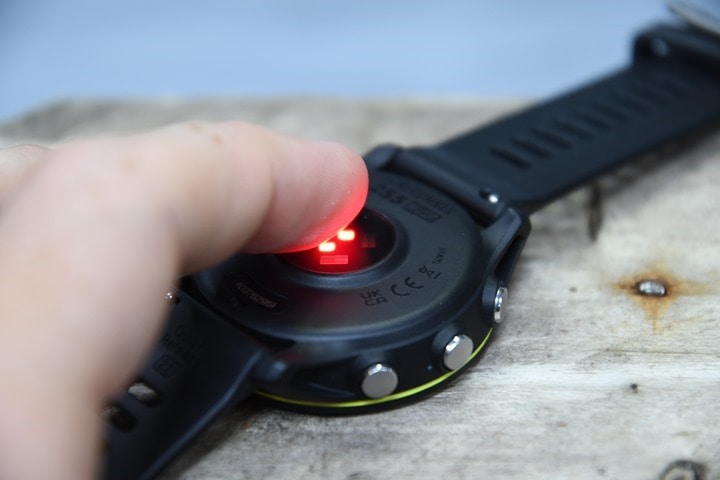 This will consume additional battery, lowering your overall battery a fair bit. Though, not as much as the 24×7 mode, which consumes a crapton of battery. I don't use either due to battery draw, but only utilize it in spot-checks with respect to Health Snapshot (more on that in a second). However, in terms of accuracy, I find that if you treat it the same way you'd do an actual blood oxygen test with an approved/medical-grade device, you'll get good results. Which is to say, sit still. And that's the exact same way the FDA certifies blood oxygen medical-grade devices: Sitting still. If you swing your arms around, you'll either not get good results, or Garmin these days won't even give a reading. They (and others) have gotten smarter with just giving you a warning that there's too much movement for a valid result.
Next up there's the newish Health Snapshot feature. This was first introduced on the Venu 2 Plus a year ago, and we've seen it on all Garmin watches since. This works as a one-off measurement of a slew of stats over a 2 minute period. During the 2-minute period it'll measure your heart rate, blood oxygen level, respiration rate, stress, and HRV (heart rate variability). The idea being you can consistently do this, ideally at the same time each day, and start to get a bit of a snapshot of how things are trending. All of these metrics are already tracked by Garmin more deeply in the app/platform, but this aims to put it on a single plate (so to speak). Once it completes the two-minute period, you'll get a summary of those stats. You can see these on Garmin Connect Mobile, as well as export it into a single PDF if you'd like as well.
As I noted a year ago, there still isn't any way to track these points over time though. So if you were very specific about doing these measurements the same way every day/week/month, you can't easily just compare all of these in a graph. Maybe if I keep asking for it, it'll happen.
Finally, sliding into home on a few non-health things, there's the smartphone notifications. This will show notifications from your phone on your watch, where you can read and/or dismiss them. You can't respond to them (at least not on iOS, due to Apple limitations).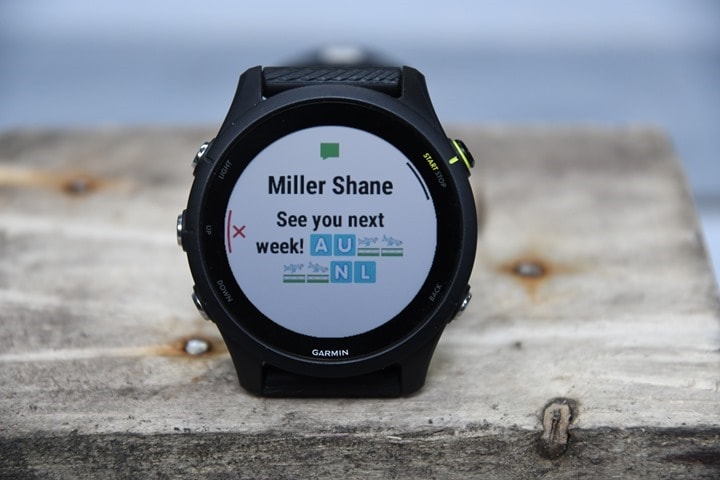 Garmin supports more emojis than in the past, though not quite everything comes through, such as the pregnant man below:
You can configure do-not-disturb times, or simply let it use your phone's times for this. You can also configure whether or not it'll notify you during a workout, if for example you want peace & quiet during your workouts.
Finally, while it probably won't matter to many people, do note that in general, virtually all of the functions that involve a smartphone require internet to function. Meaning that while the watch will happily collect data without internet, and do so for a very long time (days/weeks/etc…), it won't sync to the phone without internet. That's because the Garmin Connect smartphone app itself is merely showing data from the Garmin Connect online platform.
Sports Usage: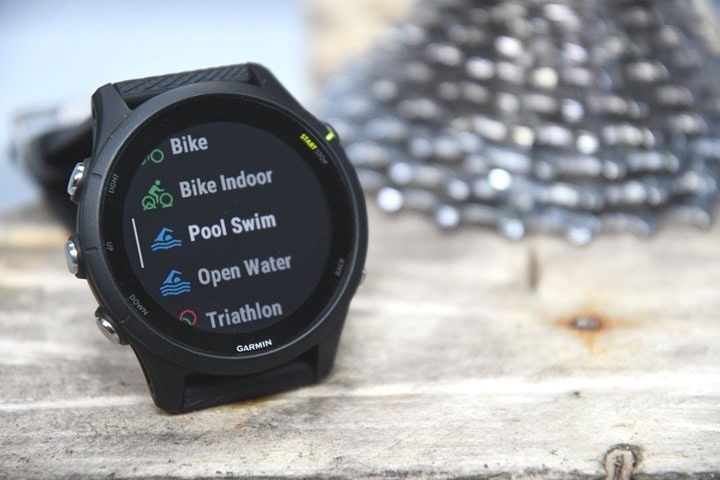 The Forerunner 255 marks the first time we've seen Garmin's mid-range Forerunners support a full multisport/triathlon event. Up until now, while Garmin has added sport modes like pool swimming individually, it never supported doing all three sports at once as a single event. Nor did Garmin's previous Forerunner 245 support power meters, which the FR255 now supports.
But, this isn't just about triathlon or multisport. After all, the majority of people won't use those sports. Instead, they'll use one of the dozens of other sport modes, or sport features – be it running, cycling, or something entirely different.
To start a sport/workout, you'll go ahead and tap on the upper right button, which shows the sport mode you've got selected, you can press down to access more sport modes: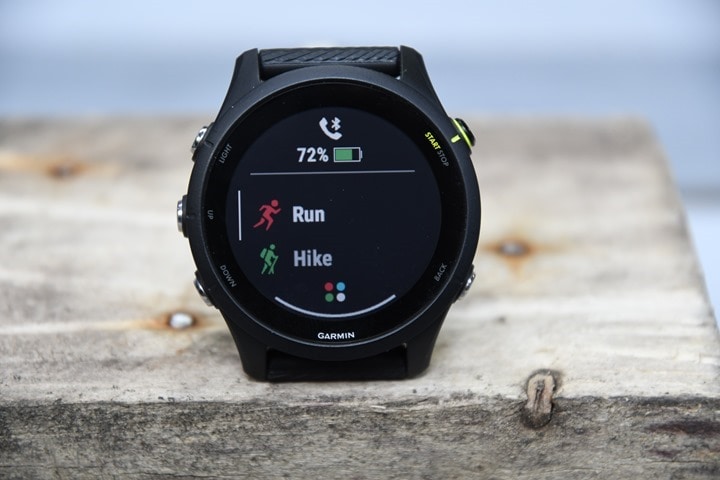 The sport modes available on the Forerunner 255 are listed below (some are technically not sports, but fall under sports modes in the Garmin world, like Health Snapshot):
Run, Track Run, Treadmill, Bike, Bike Indoor, Pool Swim, Open Water Swim, Triathlon, Multisport (custom), Ultra Run, Virtual Run, Indoor Track, Trail Run, eBike, MTB, eMTB, Health Snapshot, Hike, Ski, Snowboard, XC Classic Ski, SUP, Row, Row Indoor, Walk, Strength, Cardio, HIIT, Yoga, Pilate,s Elliptical, Stair Stepper, Clocks, Floor Climb, Other
Each of these sport profiles are customizable, be it things like the data pages and data fields, or the aspects like auto-lap or auto-pause, or even ancillary settings like Metronome (for running) or alert settings. Every sport has a slate of these that can be tweaked, and you've got two main ways you can tweak them. First, is on the watch itself, and second is on your smartphone (which is new to the Forerunner 255 and was introduced by Garmin earlier this year on other new watches).
On the phone, you'll go into the settings and you can choose a given activity type to change the data fields or settings for that activity type:
This also includes built-in sensors like the altimeter, barometer, and optical HR sensor, but you can't add external sensors here (like a power meter), those have to be done on the watch itself.
Overall it's pretty good. It's not perfect, but this is the first year we've seen Garmin introduce full configuration from the phone, and it's definitely appreciated. Of course, you can always tweak data fields or settings from the watch – which is handy out on the trail or such when you want to quickly add a new data field and don't have your phone handy.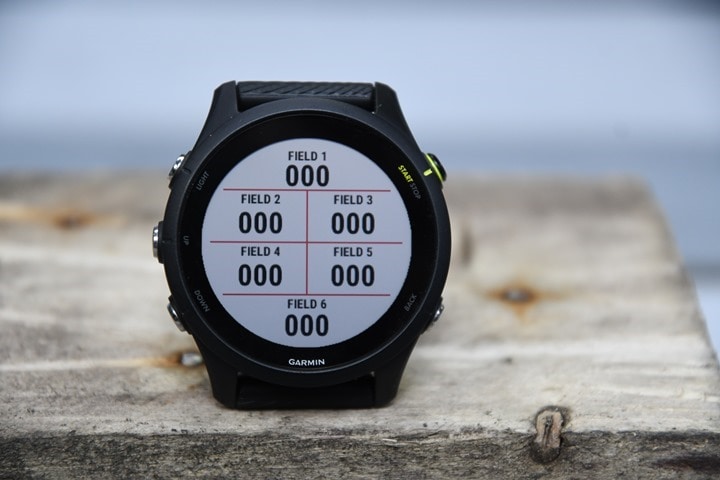 The Forerunner 255 series supports up to 6 custom data fields per data page, and has no practical limit of data pages you can customize/create. There are both custom data fields, but also numerous stock graphical pages like the heart rate or power gauges.
Ok, with all your settings sorted, it's time to get this party underway. I'll use a run as an example, but basically all the sport profiles work in essentially the same manner. If it's an outdoors sports utilizing GPS, you'll wait a couple of seconds for that (literally, like 1-2 seconds). And then whether it's indoor or outdoors, it'll validate/confirm lock of your heart rate via the internal HR sensors. And finally, if you've got any external sensors (e.g. power meters, external HR straps, etc…), it'll go off and find those too.
For today's workout I've got a structured workout loaded, which is driven by the Daily Suggested workouts. This big change in the FR255/955 is that these workouts are now driven by races you put on your calendar. Previously, the point of Daily Suggested Workouts was basically just to keep you fit. Now, it's building out an entire season's worth of workouts and training phases to arrive at your race, taper included. In any event, here's today's workout, which is based on my particular recent abilities and training load.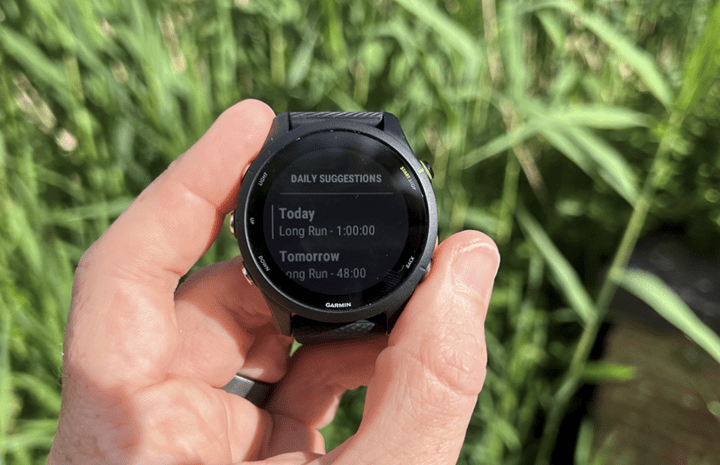 With that, off we go. You'll get all the data pages as you've configured them. Here's a tidy gallery of a pile of shots from my run:
One of the big new ones you'll notice in there is the running power data fields. Of course, running power isn't new to Garmin watches per se, but it always required a 3rd party Connect IQ app (such as Stryd or Garmin's own). But now, the apps aren't required anymore, you can do it fully natively, meaning that things like structured workouts are supported natively as are power zones. Upon launch of the Forerunner 255, this was via accessories, but as of December 2022, it's natively built-in without any accessories required.
Further, you can't feed Stryd data into this (or any other running power sensor). Garmin says they aren't opposed to that, and that they discussed having such an implementation (the same way it works on cycling), saying "we will likely get there sooner or later, but we just ran out of bandwidth and time on these products". And to be fair to Garmin, no other company supports spec standards as strongly as they do, and they've virtually always made good on their promises to bring things to standard (eventually), such as seen with radar sensors, cycling dynamics, running dynamics, and so on. Note, you can still use the existing Stryd Connect IQ apps though, just as before.
In my case – pre-native wrist power, I connected the RD-Pod to the watch. It costs about $70, and clips onto the back of your running shorts: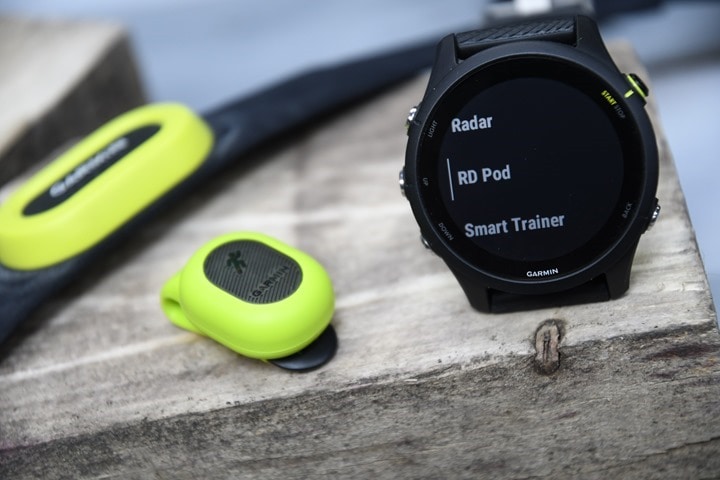 Then, I went in and added the running power fields. Note that it'll automatically record that data behind the scenes, even if you don't add the data fields. Nonetheless, here's the fields available:
– Power
– Power Gauge
– Avg. Power
– Lap Power
– Last Lap Power
– Max. Power
– Power Zone
As you can see, you'll have a lot of the core fields you'd expect, but not everything you'd get on the cycling side. There's disappointingly no 10-second or 30-second averaged power, nor things like normalized power. Granted, Garmin's running power tends to be a bit more smoothed, but I don't at all understand why there isn't simply parity here to the basic metrics on the cycling side (Wahoo does a really good job of providing parity here in the Wahoo RIVAL watch). As a random aside, Garmin's running power will actually work indoors, but won't account for treadmill incline.
In any event, while out running you'll see the power as you configured: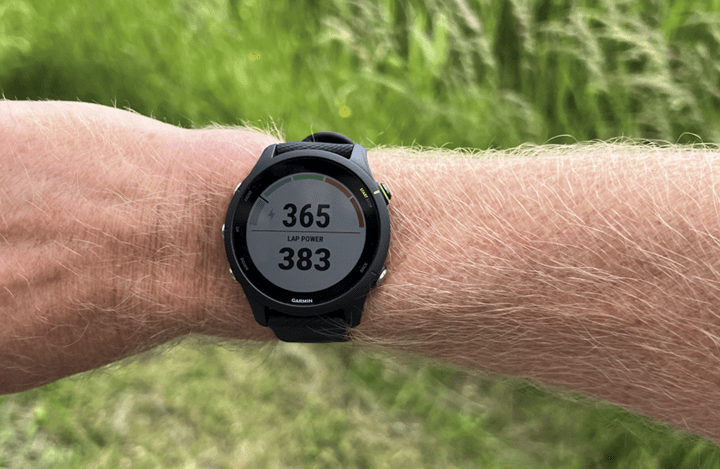 You can also do structured power workouts based on that too, and it'll execute against those.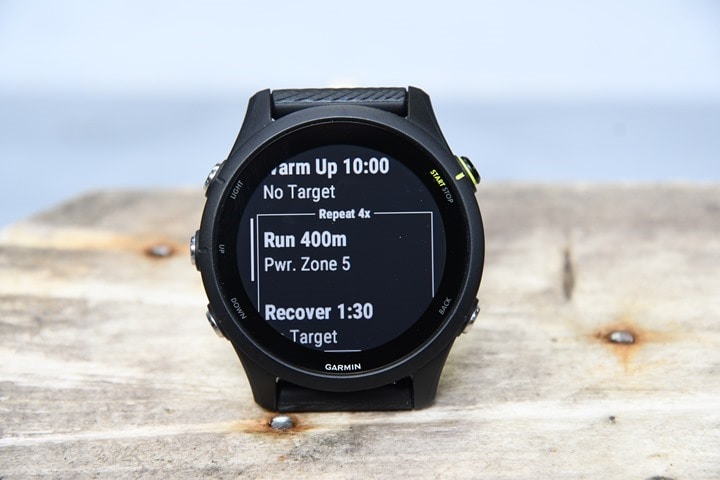 And further, you can define power zones specific-to running, and then set to have zones defined on either % of threshold or straight watts.
Once your workout is done, you'll get a slew of summary information (including running power). Starting with the watch itself, you'll get the revamped summary pages, including all the core metrics, with the ability to dive in deeper on any of them.
If you did an interval workout, you'll get automatic categorization of interval work time vs recovery time. You'll also get automatic listing of run/walk/idle time too in the charts section:
Switching focus areas briefly, the Forerunner 255 allows broadcasting of your heart rate data (from the optical HR sensor) on both ANT+ & Bluetooth Smart, so you can pair it up to something like a bike computer or any other app. Every app and device on the planet supports one of those two standards. You can enable this to automatically turn-on anytime you start a sport profile, or you can do a one-off enablement of it. Here you can see it connected up to Peloton: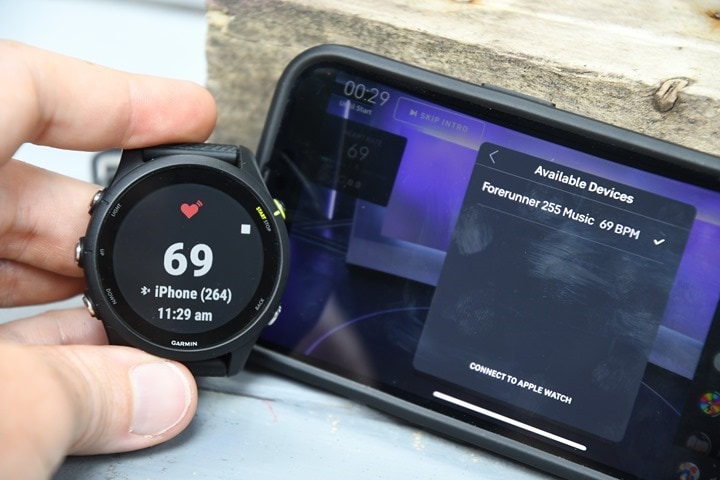 Inversely, the Forerunner 255 can connect to a slate of sensor types on both ANT+ & Bluetooth Smart, allowing you to save those sensor pairings. By far here the biggest ticket is having the FR255 being able to connect to power meters. Here's the full listing of sensors it supports:
eBike (ANT+), Extended Display (ANT+), External HR (ANT+ & Bluetooth Smart), Footpod (ANT+ & Bluetooth Smart), Headphones (Bluetooth), Cycling Lights (ANT+), Power (ANT+ & Bluetooth Smart), Cycling Radar (ANT+), RD Pod (ANT+), , Smart Trainer (ANT+), Speed/Cadence (ANT+ & Bluetooth Smart), Tempe (ANT+), VIRB (ANT+)
In case you're trying to figure out what's missing compared to the Forerunner 955, here's what's not on the FR255: No shifting (either ANT+ standard or Shimano proprietary), no Muscle O2 sensors, and no Garmin inReach connectivity. Otherwise it's all the same. As with all current Garmin devices, you can save multiple sensors of the same type and give them names as you see fit.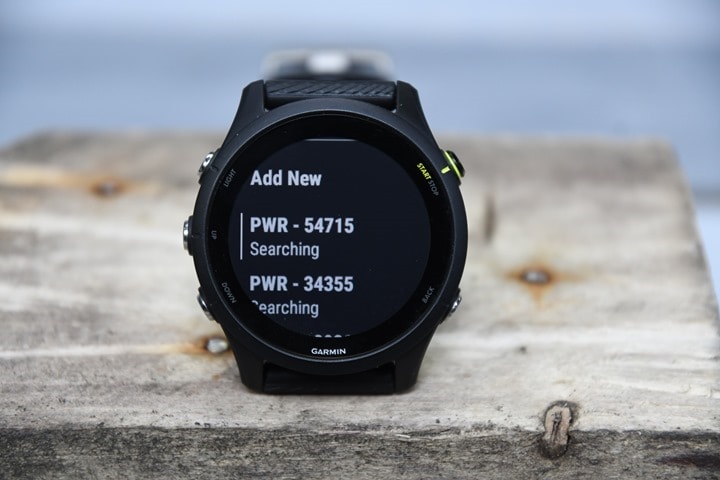 Finally, it's worthwhile talking about the new race calendar and race-day widgets. This allows you to create races on your calendar which show up in a small widget showing a count-down and race-day conditions. However, *FAR* more important than that is that it actually changes what your watch will recommend to you training-wise, specifically for running. If you put a marathon on there (e.g. for 3-4 months out), it'll immediately create an entire structured training plan of different training phases, including taper, for that event. Here's one of a few real-life events I created and added to my calendar: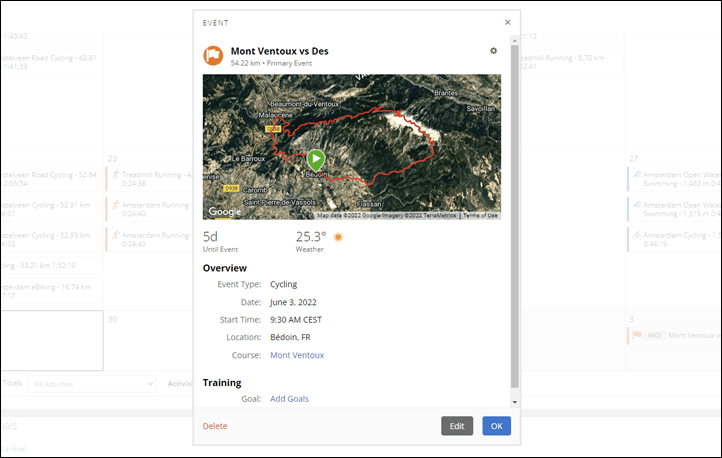 I also added a triathlon for later in June, but despite being a triathlon-focused watch, it doesn't really support that well. You can't define the different sport legs, and it won't even show up on the watch at all. Right now, it's basically just a run/cycling feature. So, I also added a running event in July, for the fun of it.
Note that you can search for events on Garmin Connect, which will pull in event data from Active.com, including even event logos. In my case, I added some faux-logos for my events, but they didn't show up on the watch anywhere.
In any case, there's two widgets, the first is the Race Calendar.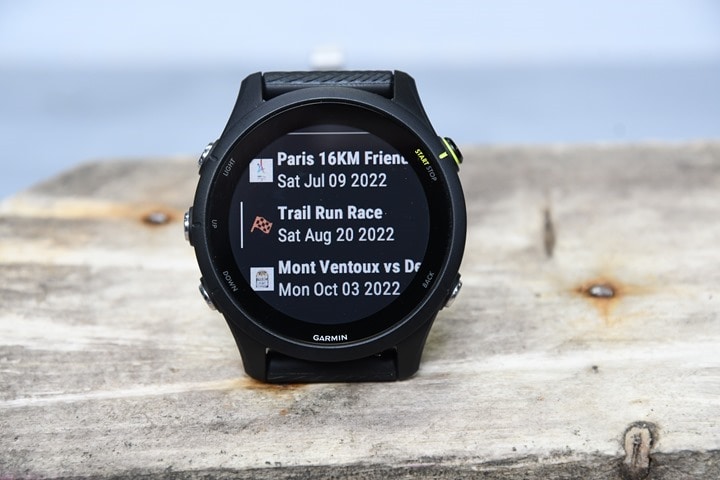 This shows your upcoming events, and the number of days till the event, and for running it'll also show a predicted finish time based on your VO2Max score, and show how that finish time has changed over the last month. The only challenge here is that assumes the VO2Max score is correct, and also doesn't account for forward gains (the time between now and the event). However, it will account for heat/humidity using the average weather for the day of the event. You can even add little logos on Garmin Connect.
However, what gets even more interesting here is that it automatically creates a running training plan for you, with daily workouts targeted towards that, and even creates the correct training cycles (e.g. build, taper, etc…). You can see this on the watch when you go to start a running workout, where it'll give you a daily suggested workout like before. Except now you can choose to look ahead at the week's workouts:
As well as you can then see which training phase you're in, as well as the upcoming phases to your event. All of this is based on the distances listed in your event profile, so it knows whether you're targeting a marathon or a 5K, and then uses all your current training information to correctly assign workouts that'll actually make you faster.
You can also choose which two days of the week are preferable for long workouts, as well as choose whether you want your workouts to target HR or pace (no power here yet).
And you can pause it here as well too. It can't be overstated how massive this is, not just for Garmin, but even across the industry. There's very few automated training companies that can do this, and do it in real-time. The closest would be TrainerRoad for cycling, and aspects of it as well from Xert for cycling too.
Of course, these are kinda limited right now for triathletes/cyclists as it's really targeted for runners initially. Garmin/Firstbeat already have some plumbing in place for cycling, so you'll see that here and there, but not to the extent yet as running is. But again, the real meat of this feature is how it drives automatic workout creation and training plans. Which, is a great segue into the next section.
Training Load & Recovery Metrics: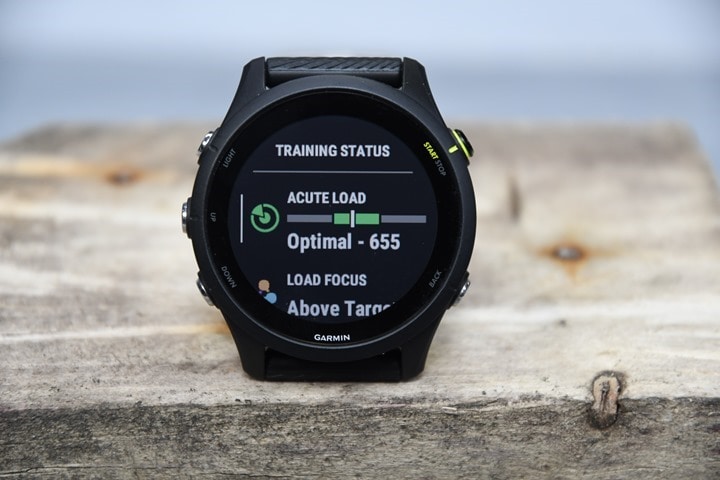 Along with all the new sport profiles, barometric altimeter and slate of expanded power things, the Forerunner 255 also received a huge update behind the scenes in terms of the way it handles your training load and recovery recommendations. The Forerunner 955 received this same revamp, however, the single biggest difference is that the Forerunner 955 (and soon Fenix 7 & Epix Series, along with FR945 LTE) also has Training Readiness, which consolidates much of this information into a single score to use as the basis for training. Still, the expansion on the FR255 is huge, so let's dig into it.
Garmin's significantly revamped how Training Status, Training Load, and a slew of metrics related to it work. At first glance, you'd likely just see the new Acute & HRV Status metrics and assume everything else was the same. But there's been fundamental shifts to those metrics that try to lessen the chance you're going to get an Unproductive message when you're simply in a hard training block.
First, though, we've got a couple of core concepts to explain briefly, and then in more depth in the rest of this section:
Training Status (Revamped): This is looking at your acute load, HRV status, load focus, and VO2Max trends. This one is less about should you train, and more about how you're training. Meaning, are you doing too much high intensity, or too much low intensity? That's what'll give you an Unproductive status. In other words, how would a coach look at your training log, ignoring most other life/feeling type metrics.
HRV Status (New): This is measuring your HRV values constantly while you sleep, and then comparing it against your 3-week baseline, up to a 90-day rolling window baseline. A single night of drinking doesn't tank this score, but three nights of partying won't keep you in the green.
Acute Load (Newish): This is looking at your last 7 days of load, except the load now burns off dynamically. Meaning, a hard training day 7 days ago is far less impactful to the score than a hard training day yesterday. Previously this was called 7-Day Load, now it's Acute Load.
Load Focus (Same): This shows which categories your training efforts have fallen into, over the last 4 weeks. These include Anaerobic, High Aerobic, and Low Aerobic. Basically, you need to have an even training diet to get faster. Simply running hard/all-out every day won't make you faster. It'll just get you injured and slower.
Recovery Time (Same): This calculates how much time you need till your next hard intensity workout. As is often misconstrued, this isn't till your next workout, just your next hard one. This is largely the same as before. Exceptionally good sleep can speed this up, and inversely, a high-stress day can slow this down.
There are many metrics here, arguably, too many. But setting aside the quantity of them, most of them do actually have a purpose, even if confusing. If I were stepping back and looking at which ones to focus on, it'd essentially just be the new Training Readiness status. But before we get there, we'll start with the foundational ones, and for that, the new HRV Status bits.
Up till now, Garmin used HRV data behind the scenes for countless metrics. But never really exposed that to you. We first saw them start to do so with the Health Snapshot feature a year ago, which allowed you to take one-off HRV values, but no easy way to trend them.
HRV Status works by trending your nightly HRV values against historical timeframes. It records your HRV values while you sleep, presenting you with a graph of the nighttime fluctuations and then the average/max values for the night, as well as 7-day trending values. Shown here at left the FR255 when it has no HRV status message yet (still in its three-week calibration window), and then shown at right the FR955 once it's cleared the window.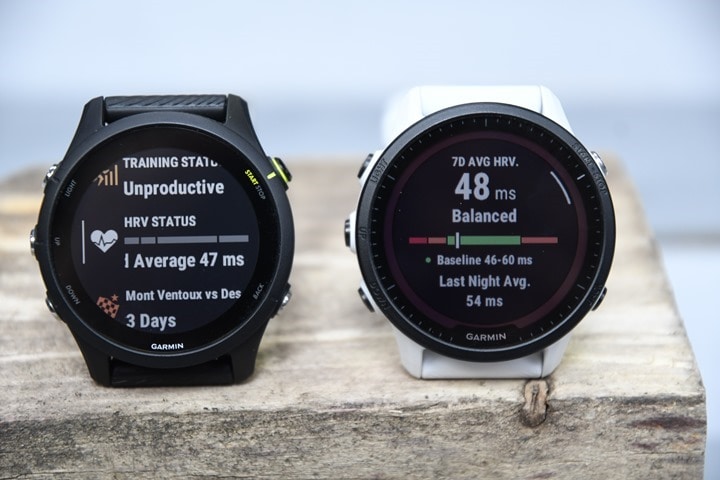 But this is just the data gathering bits. You'll need to do this for three weeks before you get your first true 'HRV Status' message. More specifically, it needs 12 days of baseline data first, then you need 4 out of the next 7 nights, before you get the first message. So basically, day 19 in a perfect scenario. Prior to that point you'll get all the HRV data, just not the pretty color chart/guidance bits. Once you do hit the background data, then you'll get the coloring shown above.
That chart basically has four core values: Low, Unbalanced (Low), Balanced, and Unbalanced (high).

However, there's also a more rare one at the very bottom titled 'Poor', which basically means something is likely a bit non-ideal for you: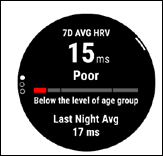 There are a slew of messages that Garmin will then enumerate to you, based on what it thinks is causing the shift in HRV (good or bad). For example, it'll note how a spike in training load is driving it, or lack of sleep might be impacting it.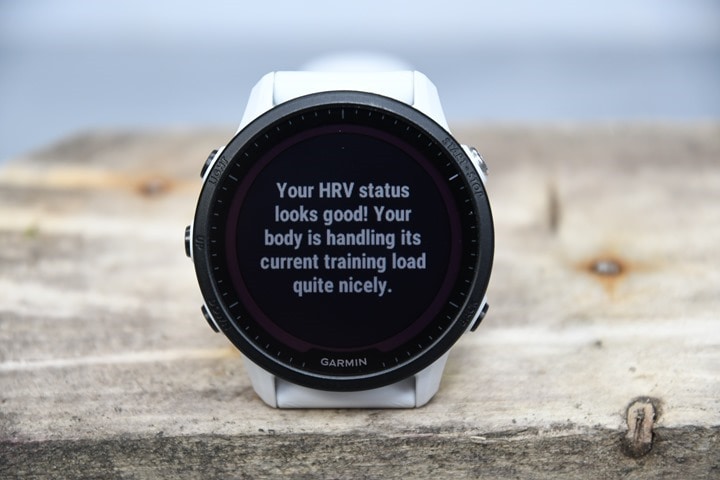 In a long conference call with the FirstBeat team behind this, they noted that these ranges are unique to you, which is why they need the historical data as long as it is before they start giving guidance, and that historical data has a trail of 90 days back that it's comparing to. Further, not only are the ranges unique to you, but so are the widths of the ranges. Meaning, if you're super stable and every night have an average of 50ms (+/- 5ms), then that middle balanced range will be thinner than someone who has more variability.
(Above is a very rough visual comparison between a Polar H10 worn throughout the night and the Garmin FR255. I say 'rough' because to begin, the SDNN isn't exactly the same as what Garmin records as SDRR, as Garmin's is error corrected. Second, the scales aren't the same here. Further, trying to get a chest strap to have good connectivity the entire night isn't actually super easy. So in the same way that sleeping on your side/wrist can impact wrist values, so can movement where the strap might not be perfectly placed at some random point in the morning. Nonetheless, the averages recorded are within 3ms. The Polar's average for the night was 52, while the Garmin FR255 was 49ms (the FR955 on the other wrist was 54). If I can find better ways to get the data out of Garmin's platform, I can look to do other comparisons.)
The idea here though is that a single bad night (of say, drinking), shouldn't plummet your HRV status. Because by and large, that's not how HRV status works in real-life. Simply having low values overnight can mean anything from a heavy training day prior, to poor sleep, to a bit of wine, to too much sun, etc… But it doesn't by itself mean you shouldn't train. In hard training blocks, that requires adding stress. That's the point.  For Garmin (as well as how Fitbit and Oura work, but not Whoop), the longer-term trending is far more important. It'll take 2-3 really bad days to start shifting that HRV Status to a lower category. Which, is how it should be.
Garmin/Firstbeat's Herman Bonner noted that "We're not doing anything with a single night HRV value" in relation to training recommendations, with Elina Lammi, Firstbeat's lead scientist on the HRV feature following up saying "The science is quite strong that you need at least 3-4 values per week before you can say what your body is doing". Much of Firstbeat's work here is based on many years of taking HRV values as part of their higher-end athletic suite that supports HRV tracking.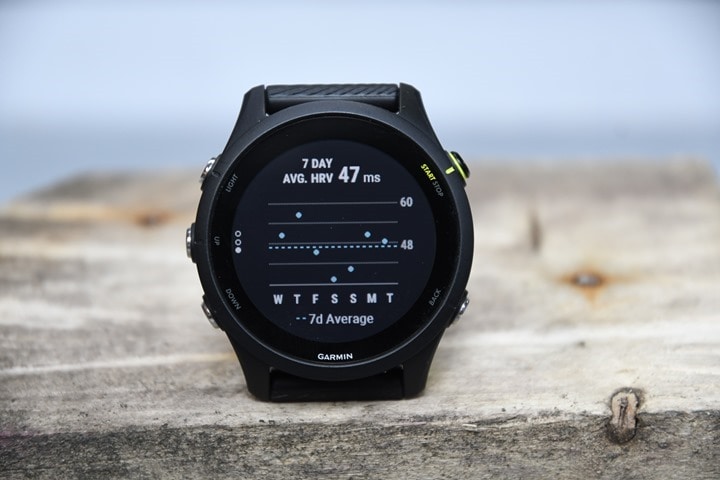 Next, there's the new Acute Load. At first glance, you might think this is just 7-day Load renamed, but that doesn't really cover all the changes under the hood. Yes, it shows your 7-day load, but now, that load burns off dynamically. Previously, if you had a big ride 6 days ago, that load would be factored into your total 7-day load duration as if it just happened yesterday. Versus now, it's weighted to burn-off within a few days, as logical. That's because a week later it's unlikely that big ride is still impacting you. The point of this is to reduce the massive swings that used to occur in the Training Status panel when a big workout from a week ago disappears, making you go instantly from Productive to Unproductive in a matter of seconds.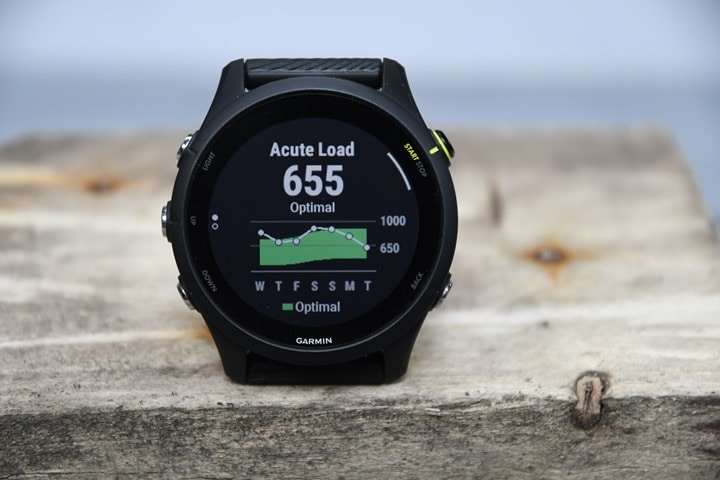 There are also new ranges shown on the Acute Load page, above, which Garmin calls "the tunnel", basically a green range of goodness. You can see the exercise load types as well auto categorized: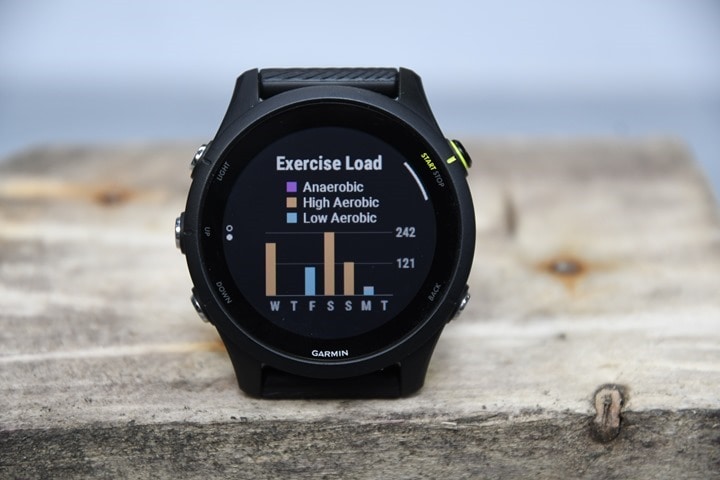 This is then shown in the Load Focus widget for longer durations, some 4 weeks' worth. As you can see, it's displeased about me being above targets. It's been upset about that for a while. This widget/area hasn't changed any from before.
Next, is an easier one – recovery time. This largely hasn't changed from before, but I need to briefly highlight it, because it's now far more important in the new Training Readiness score that I'll talk about momentarily. Recovery time is showing your recovery time based on workouts. This is basically showing your recovery time till your next hard workout, in hours. This can speed up with a good night's sleep, or slow down with crappy sleep or a very stressful day: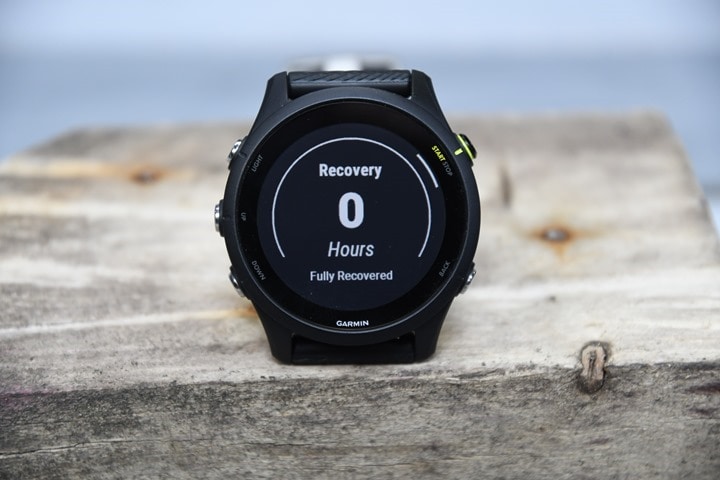 This then gets us to the final area, Training Status. This too has been revamped a bit. Regular Garmin users know this as the place where you're slapped with an 'Unproductive' message. Years of using a Garmin watch have demonstrated that, as much as I hated to admit it, generally speaking when the unit said 'Unproductive' for my training status, there was probably some truth there. Maybe a pebble's worth, or maybe a boulder's worth, but the reality is that Unproductive message was on an imbalance in your training. Either an unhealthy spike, or a lack of certain training intensity zones. And in some ways, that's still the same: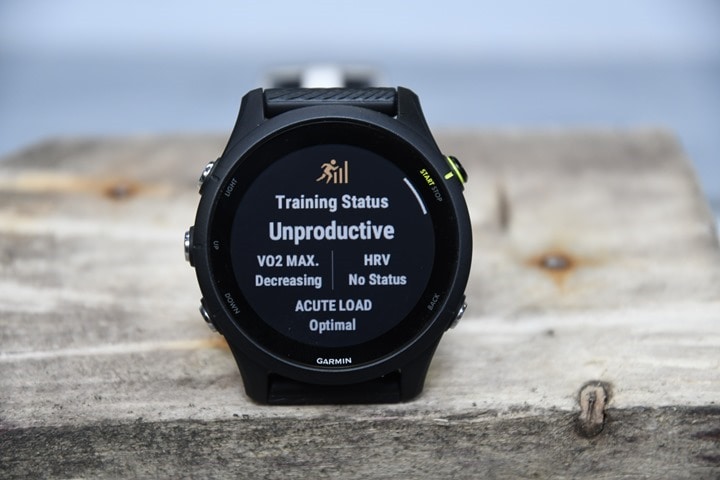 However, now the unproductive is more clear that it's about your training zone focus areas. In my case it initially was unhappy about lack of anaerobic load time. But then a few days later it was unhappy about too high a training load (despite being in the tunnel).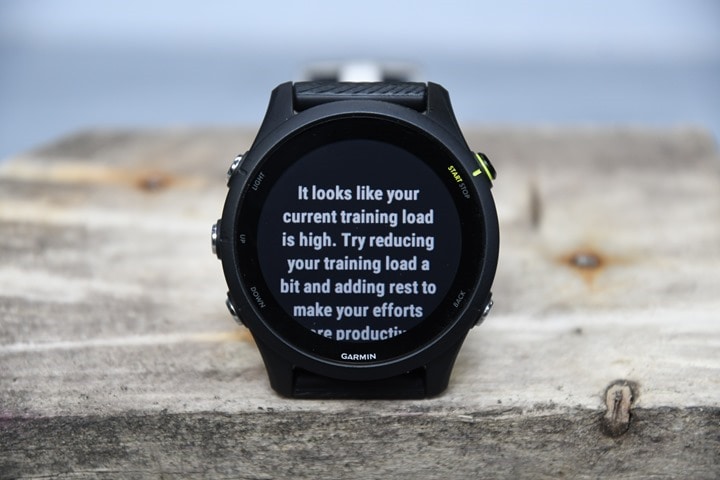 And then in the midst of all that it was unhappy about my decreasing VO2max. However, I think the decreasing VO2Max is actually a new-watch bug (more on that in a second). You can see earlier it lists the three core factors for Training Status: VO2Max, HRV Status, and Acute Load
And a big challenge for me here is that VO2Max score. It doesn't see me trending as stable/increasing. And this I think is actually a bug. Garmin doesn't seem to pull in historical Vo2Max values to a new watch. It seems to rebuild them on a new watch, and it usually takes 4-6 weeks to get those values correct across multiple sports, on multiple workout types (e.g. steady-state, interval, etc…). So when I changed to the FR255/955 a month ago, it basically flat-lined my VO2Max values from 56-58 down to 50 effectively overnight. And thus, it sees that as a decrease (I then went back and looked – and every time over the last 2 years I put on a new watch for testing, my VO2Max dropped for 3-5 weeks until the new watch figured things out again). That's simply wrong. Albeit, it's something that'll probably sort itself out within a week or two. And at least now I can just ignore it and use Training Readiness instead.
Ultimately, setting aside what appears to be a short-term VO2Max quirk and my unproductiveness, Garmin's expansion here into HRV is good progress, especially around the longer-term trending of HRV, and not being focused on day-to-day shifts. But it's also hard to ignore just how good the Training Readiness pieces are (in terms of design) that was just launched on the Forerunner 955. That really helps pull it all together, but I also get that's the carrot to buy up into a higher product. Still, this entire slate is a massive upgrade from the Forerunner 245, and pieces like the revamped Acute Load as well as how daily suggested workouts have been tweaked to account for all these moving training components can't be overlooked.
Multi-Band GPS Satellites Overview: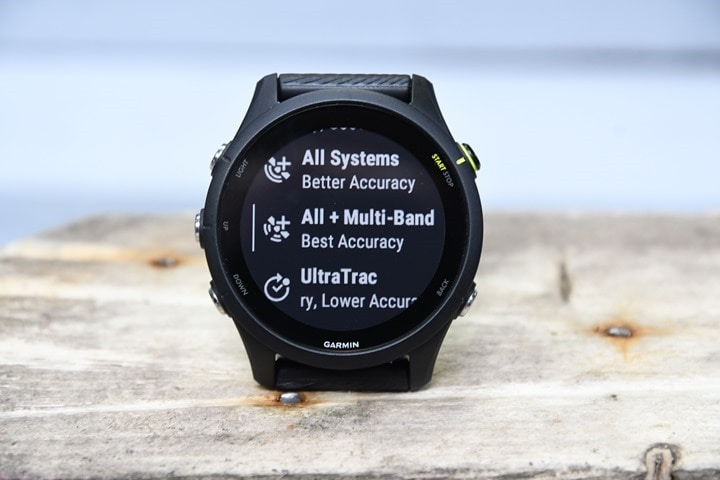 The Forerunner 255 and Forerunner 955 series both add multi-band/dual-frequency GPS, which Garmin first introduced into their lineup with the Fenix 7 & Epix series watches back in January.
First up though, let's explain what multi-band GPS is. At a non-technical level, it's been touted as the holy grail of GPS accuracy. But technically, GPS is the wrong word. That's because GPS is actually a 'brand', whereas this is officially just an umbrella of GNSSs (Global Navigation Satellite System). But we'll set aside the Kleenex argument for the moment. The theory behind dual-frequency GPS is that you can connect across two different frequencies to the satellites, thus if one frequency is having connection or visibility troubles this would mitigate that by providing not just a secondary frequency to validate against (L5), but a frequency that's 10X greater. Thus, instead of perhaps 20-25 satellites, there's now upwards of 60+ satellites your watch can see. And by seeing more satellites in addition to increasing the signal and varying the frequency, it allows your watch to better mitigate signal obstructions and increase accuracy.
Garmin is hardly the first company here in this space. While Garmin did roll-out multi-band GPS to some of their hand-held devices a year ago, the Fenix 7 & Epix were the first Garmin wearables to have this. In any case, the first endurance sports watch to add it was the COROS Vertix 2 last summer, and then more recently Huawei has touted it in their GT 3. In my testing of the COROS Vertix 2, I didn't see holy-grail-like results. It wasn't bad, but it wasn't the promised land either. Of course, the tech is new, and thus we're likely to see (and have seen) firmware updates rapidly that'll improve that. More on that in a minute. In the case of COROS, they're using the MediaTek/Airoha chipset (AG3335M), and Garmin confirmed they are also using Airoha as their supplier for all their units (Fenix 7 Sapphire units/Epix Sapphire/FR255/FR955/Tactix 7). While Garmin won't disclose which exact chipset they're using, it's incredibly likely it's the exact same AG3335M chipset, since practically speaking it's the only public Airoha chipset that matches the specs for what Garmin needs.
In conjunction with the Fenix 7 launch, and carried through to the Forerunner 255 & Forerunner 955, Garmin has revamped the GPS selection process. There's two places you can change satellite things:
Entire watch (System): This is a system-wide setting across all sport profiles, and is considered the default for any sport profiles unless otherwise specified
Per-Sport/Activity Profile: This allows you to increase (or decrease) GPS accuracy on a given sport, likely in exchange for battery life.
So the idea being that you can perhaps use higher-level dual-band accuracy on an openwater swim or a mountain bike ride through difficult terrain, but then go with less-battery-draining options for a road bike ride, which is typically one of the easier things to track GPS-wise.
Next, there's now four GPS settings you can choose from:
GPS Only: This is the base GPS-only option, however, Garmin says they've drastically increased the battery life here compared to the past GPS-only option, and indeed, you can see that in the battery chart.
All Systems: This confusingly named option is dealer's choice between GLONASS and GALILEO, and Garmin is the dealer. As a user you can't choose which one to use, but instead, Garmin is now switching between GPS< GLONASS, GALILEO, BeiDou, and QZSS based on the quality of the satellites from each, determining "which to prioritize"
All Systems + Multi-band: This is the new dual-frequency option that everyone has been waiting for, which combines the All Systems option, and then makes it multi-band across both L1 and L5 satellites. As a result, this burns a boatload more battery, and in theory is the most accurate.
UltraTrac: This setting is for crazy-long adventures, whereby it reduces the GPS update rate significantly. Do not ever use this setting unless you absolutely need it, your GPS tracks won't be pretty. Think of this as the emergency option.
Note that the usual smart-recording or 1-second recording option is still in the settings (and still annoying defaulted to 'Smart Recording'), but that has no bearing on the GPS reception timing/display, it's purely what it writes to the recorded file.
Here's a simple listing of the battery claims on the Forerunner 255, 255S & 255 Music & 255S Music:
GPS-only: Up to 30 hours (26 hours for the FR255S)
All Systems + Multi-band: Up to 16 hours (13 hours for the 255S)
All Systems + Multi-band: + Music: Up to 6.5 hours (5.5 hours for the FR255S Music)
UltraTrac: Not specified by Garmin
Smartwatch (not GPS, just a good place to stick it): 14 days (12 days for FR255S)
I've largely been testing within the multi-band/dual-frequency option, and looking at battery burn rates, they're pretty much exactly on spec. Here's a 2hr ride, where you can see it's trending towards 21 hours in multi-band configuration, so a bit better than Garmin's own estimates, and this is with a power meter connected.

So, now that we've talked about the multi-band GPS, let's actually look at the results of it.
GPS Accuracy:
There's likely no topic that stirs as much discussion and passion as GPS or heart rate accuracy.  A watch could fall apart and give you dire electrical shocks while doing so, but if it shows you on the wrong side of the road?  Oh hell no, bring on the fury of the internet!
GPS accuracy can be looked at in a number of different ways, but I prefer to look at it using a number of devices in real-world scenarios across a vast number of activities.  I use 2-6 other devices at once, trying to get a clear picture of how a given set of devices handles conditions on a certain day.  Conditions include everything from tree/building cover to weather.
Over the years, I've continued to tweak my GPS testing methodology.  For example, I don't place two units next to each other on my wrists, as that can impact signal. Instead, I'll often carry other units by the straps, or attach them to the shoulder straps of my hydration pack or backpack.  Plus, wearing multiple watches on the same wrist is well known to impact optical HR accuracy.
Normally, I'd spend a lot of time showing you chart after chart of perfectly good runs/rides/hikes. But this time, I'm going to save you (and me), a boatload of time. Because frankly, they're all perfect. Nonetheless, if you want to look at data sets, you can. All of these are using multi-band GPS:
– Here's a run around the forest against the COROS Vertix 2. It's boringly spot on.
– And here's an interval run on farm roads, with a few bridges tossed in. This against the COROS Vertix 2, Forerunner 945 LTE, and Polar Pacer Pro. Also, boringly perfect.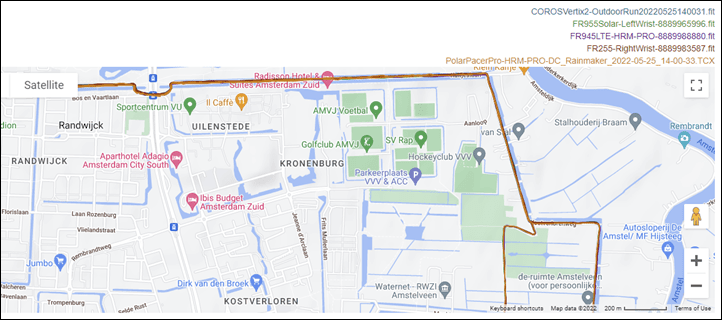 – Here's a run deeper into the forest with big trees and all – This against the COROS Vertix 2 and Forerunner 945 LTE. Also, boringly perfect…except when the COROS Vertix 2 was wandering off-trail somewhere else (there was also a 100m stretch where the Forerunner 255 was a few meters off the trail).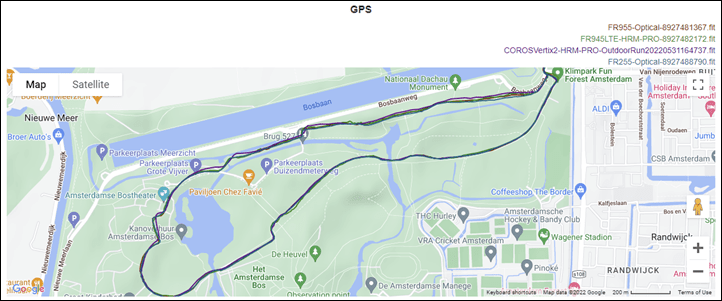 – And here's a 55KM ride complete with tunnels/bridges/buildings, you name it – And again, boringly perfect.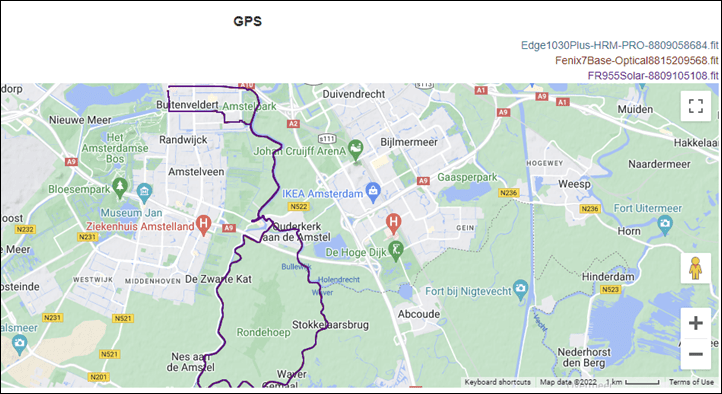 So what do I do when I get bored making perfect GPS tracks? I add buildings. Big. Ass. Buildings. Combine that with a bit of European walkable street design, and we get tiny streets surrounded by the business district – perfect to try and screw up even the most persistent GPS units.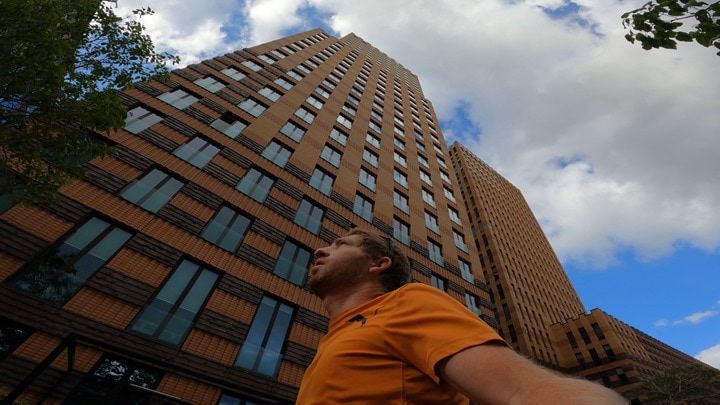 And thus I give you this data set, a 13KM run where I ended up zig-zagging back and forth through the downtown business district, under the overhangs of buildings trying to break things. Plus, I threw at it numerous massive highway overpasses stretching hundreds of meters each (four times), and passed by a windmill, just in case it got distracted with the views. Here's the overview. Ignore that random Polar Pacer Pro line skipping a highway section, that was just me accidentally pausing it.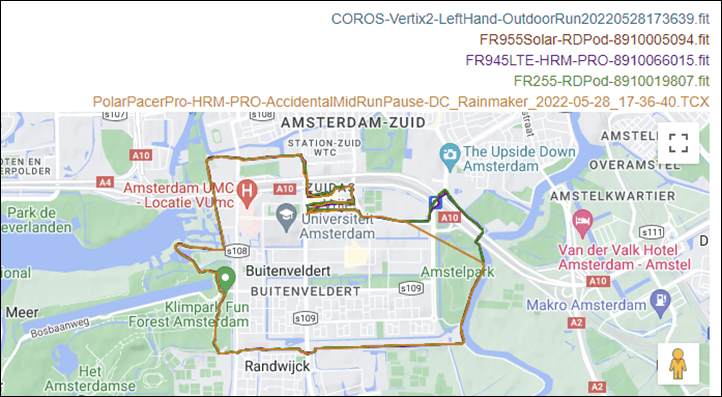 Instead, let's cut to the good part, which are the buildings. First, here's the entire gaggle of watches – the COROS Vertix 2, the Garmin Forerunner 945 LTE, the Polar Pace Pro, plus the FR955 and FR255. I basically swept up and down the streets once, like a wiggle worm: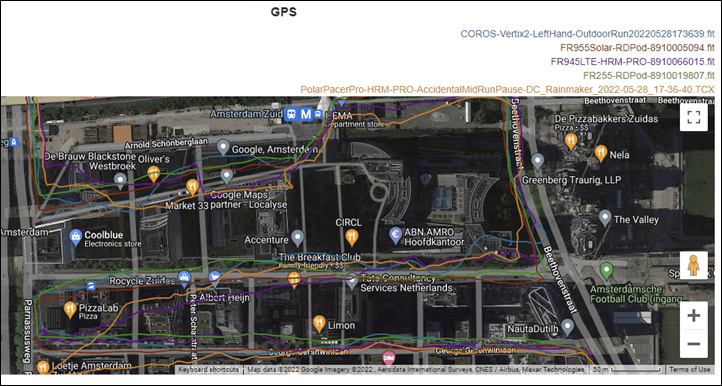 Now, let's remove all the noise, and show just the Forerunner 955 and 255. As you can see, drastically different. The Forerunner 955 was spot-on crazy perfect here, while the Forerunner 255 struggled a little bit more. I'm reasonably confident I had set the FR255 to multi-band, but now am questioning whether or not that got switched back with a firmware update. I mean, it's still better than all of the other watches above, but doesn't match what I'd expect if multi-band was toggled on. I'm going to do this again tomorrow and report back.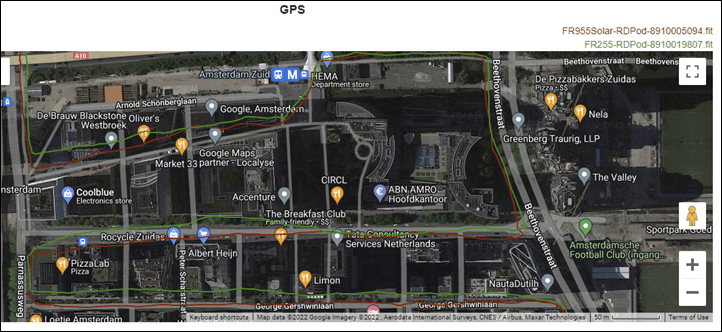 Finally, we've got an openwater swim. Forerunner 955 on the left wrist, Forerunner 255 on the right wrist, and then another GPS atop a swim buoy attached to me. Now while I had set the FR255 to be multi-band the day prior, I have a funny feeling a recent firmware update reverted it back, because later that night I checked again, and it was back to non-multi-band. In any case, here's that data set: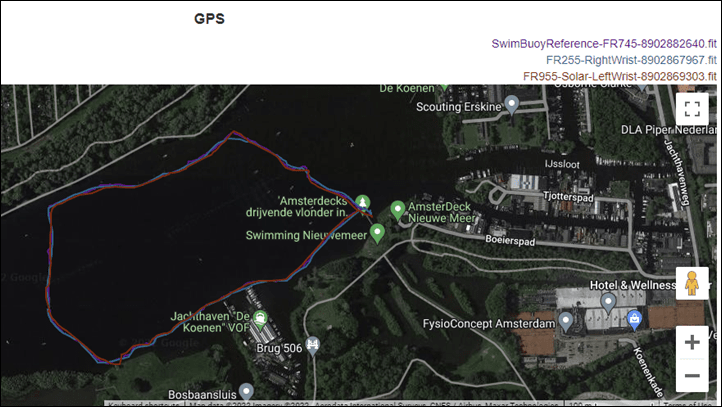 As you can see, it's very very close, but the FR255 seems slightly imperfect, likely because of what I think was the lower GPS configuration (there's no public way that I know of to see which setting was used after the fact). Whereas the FR955 was scary-accurate with the swim-buoy. Like, basically stuck to it, check out how perfect it is around those posts, which is precisely where I same, right up against them. It's crazy.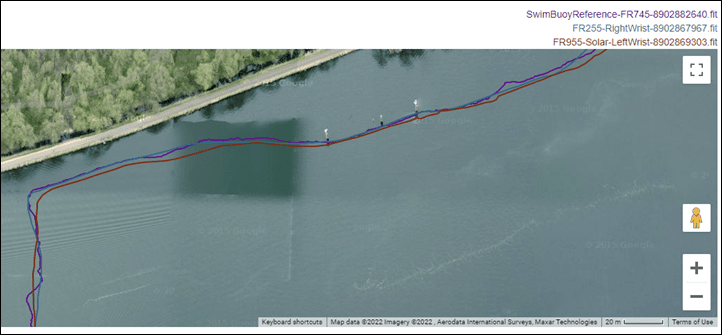 Ultimately, the multi-band option on the Forerunner 955 and Forerunner 255 units are producing some of the best GPS tracks we've ever seen from a GPS device. Which makes sense, because the multi-band Fenix 7 & Epix units from a few months ago using the same GPS chipset are also doing the same. What's most impressive though is that just a few months ago you had to spend double the money to get this level of accuracy, and now, you're starting off at $349 for the Forerunner 255 or $499 for the Forerunner 955.
Of course, there is a trade-off on battery there. It basically halves your battery life. However, in my testing of other units on the 'All Systems' GPS option, the accuracy was nearly identical, even in the buildings of Manhattan. Once I get a breather, I'll try doing some more building tests on the lower-battery burning options and add them in.
(Note: All of the charts in these accuracy portions were created using the DCR Analyzer tool.  It allows you to compare power meters/trainers, heart rate, cadence, speed/pace, running power, GPS tracks, and plenty more. You can use it as well for your own gadget comparisons, more details here.)
Heart Rate Accuracy: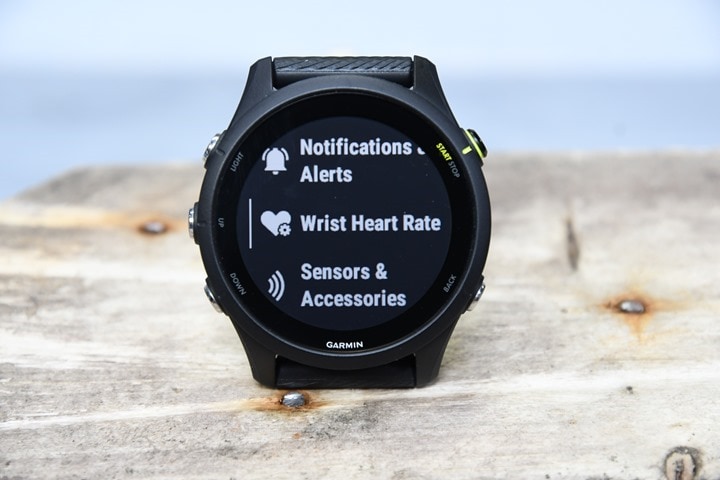 Before we move on to the test results, note that optical HR sensor accuracy is rather varied from individual to individual.  Aspects such as skin color, hair density, and position can impact accuracy.  Position and how the band is worn, are *the most important* pieces.  A unit with an optical HR sensor should be snug.  It doesn't need to leave marks, but you shouldn't be able to slide a finger under the band (at least during workouts).  You can wear it a tiny bit looser the rest of the day.
One of the things that'll help with the Forerunner 255 compared to something like a Fenix 7 is that the Forerunner 255 (or FR955) is lighter. In general, heavier watches will bounce around more, and thus are more challenging to get optical HR accuracy. That said, in my Fenix 7 testing earlier this year, I saw pretty much equal results across the different sizes.
Meanwhile, for HR accuracy testing I'm typically wearing a chest strap (either the Polar H10 or the Garmin HRM-PRO), as well as another optical HR sensor watch on the bicep (mostly the Polar Verity Sense, as well as the Whoop 4.0 band). Note that the numbers you see in the upper right corner of the charts below are *not* the averages, but rather just the exact point my mouse is sitting over.  Note all this data is analyzed using the DCR Analyzer, details here.
We'll start off with something relatively basic to get warmed up, in this case an hour-long relatively steady-state run (you can click on any of these data sets to dig in deeper if you want):

The FR955 and FR255 were virtually identical here, and even out-did the chest strap slightly on the initial minute or two, which, is semi-common to see sometimes. The spike/drop you see towards the end was some sort of chest strap connectivity issue, because it dropped from the Polar/Garmin/COROS secondary recording watches all instantly. Then resumed. You do see one minor blip from the FR255 in green around the 50-minute marker, that's when I was attacked by a goose and was holding my phone on the same wrist as the FR255. More on that another day.
For this next set, my wife dragged me out onto her workout, which was a slate of 20 intervals at 20-seconds hard. This would be one of the more challenging workouts for optical HR sensors to do (or any sensor for that matter).  However, what's interesting here is that the HRM-PRO actually failed low here, while the FR955 and FR255 were correct. I initially believed it was the two watches that failed (which would be super rare), but then a commenter looked at the data versus pace and it didn't add up. From there, I pulled in the Whoop 4.0 data (which won't export, but I can validate it which was worn on the upper arm), and that matches the watch data. In any case, the data:

In any case, we see a bit of latency (about 3-5 seconds) from the FR255/955 compared to the chest strap reference, but that was on both ups and downs, so practically speaking it didn't matter for time in zone. And functionally speaking, nobody is using heart rate to pace 20-second intervals. That's about speed/power, not heart rate (because HR is a lagging indicator in short-burst scenarios). So while it somehow screwed up the easy part, it nailed the hard part.
Let's step it up again, this time with a set of 4×400 and 4×800 intervals, along with some warm-up and cool-down. Between this and the above workout, this composes basically anything most runners would do on the higher intensity side. In other words, the rubber meets the road here. Here's that data set:

I mean, I'm not sure what there's to say here. This is virtually flawless. There's nothing meaningful to complain about here.
Next, here's a TrainerRoad session I did, a slate of intervals there as well, and again, it basically mirrors the Wahoo TICKR, except about 1-2 seconds delayed. Data here:

Finally on indoor rides, here's a set of VO2Max intervals I did, and you can see it's virtually identical to the Garmin HRM-PRO chest strap. The line below that's a bit lower/lagging is the Whoop 4.0 band, though, not terribly off.

Finally for now, here's a couple hour outdoor ride tossed in. Forerunner 955 on the left, and Forerunner 255 on the right. I had a brief pause in the middle there to get some footage (in red), and then it was back to normal riding again. Here's that data set:

So, setting aside me doing footage stuff in red, the rest of the ride actually isn't horrific. I generally wouldn't recommend optical HR for road-riding (or MTB), because you just don't see good results. But this is actually not too bad. It's a bit rougher towards the last 20 minutes or so, again during stop and go city sections, so it wouldn't be my first choice of HR sensor while riding, but, if/when things are steadier, it seems perfectly fine.
I've probably got plenty more workouts I can stick in here (and will), but essentially, things look about the same as we've seen on other Garmin ELEVATE V4 optical HR sensors: Fairly solid. Arguably among the best wrist-based sensors out there, to the point where for my body/wrists/whatever, I can use it pretty reliably on most workout types, including intervals. Like most optical HR sensors, it can have a bad day, but these are few and far between here, and the one time it clearly failed while running was actually an easy part. It nailed every hard interval I threw at it over multiple workouts.
Summary: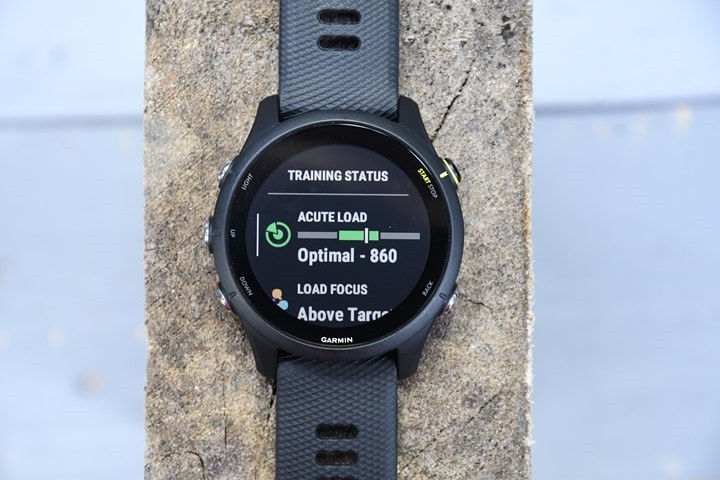 When Garmin released the Instinct 2 series back in February, they staked the ground pretty clearly that they were going to shift to having a lower-priced multisport watch option. That unit, like the Forerunner 255 added full triathlon support, as well as power meters support, and the vast majority of training metrics from the higher-end watches. It was only a matter of time before Garmin made a watch with the bulk of the same features as the Instinct 2, but minus the looks. That watch is the Forerunner 255.
Except, it's not. The FR255 is largely better, and largely cheaper. The Forerunner 255 has highly accurate multi-band GPS whereas the Instinct 2 has old-school not-as-hot GPS. The Forerunner 255 Music is the same price as the base Instinct 2 series, yet the base FR255 non-Music is $50 cheaper than the base Instinct 2. While the Instinct 2 will get many of the new Forerunner 255 features (like HRV Status), there will be some things that don't make the cut. Of course, the Instinct 2 has a solar option, as well as umpteen variants for surfers and tactical and even truck drivers.
Garmin's move here seems pretty well targeted at not just Suunto and Polar, but COROS as well. Suunto and Polar have been floating multisport watches in the $299-$329 range for years, but none of those mid-range entries comes close now to competing with the $349 base Forerunner 255. Not on features, and certainly not on accuracy (HR or GPS). However, COROS can still compete with their $199 Pace 2 multisport watch (and the base Polar Pacer at $199 can also compete in a slightly different market).
The point of all that is that this is the lowest price point we've seen Garmin introduce a full-blown multisport watch, in 16 years. The last time Garmin announced a multisport watch at $349, was the Forerunner 305, which of course didn't really work while swimming (it wasn't waterproofed). For all the talk of increased prices, Garmin has managed to not only go the other way, but add in a boatload of features that work well, and are well thought out. And some of these features (like the dynamic training plans) are really just the beginnings of what Garmin has planned in that realm over the next little while. Interesting times ahead for sure.
With that, thanks for reading!
Found This Post Useful? Support The Site!
Hopefully you found this review useful. At the end of the day, I'm an athlete just like you looking for the most detail possible on a new purchase – so my review is written from the standpoint of how I used the device. The reviews generally take a lot of hours to put together, so it's a fair bit of work (and labor of love). As you probably noticed by looking below, I also take time to answer all the questions posted in the comments – and there's quite a bit of detail in there as well.
If you're shopping for the Garmin Forerunner 255 Music or any other accessory items, please consider using the affiliate links below! As an Amazon Associate I earn from qualifying purchases. It doesn't cost you anything extra, but your purchases help support this website a lot. Even more, if you shop with TPC (The Pro's Closet), you'll save $40 on purchases over $200 with coupon code DCRAIN40! The Pro's Closet has been a long-time partner of the site here - including sponsoring videos like my cargo bike race, as well as just being an awesome Colorado-based company full of good humans. Check them out with the links below and the DCRAIN40 coupon!
Here's a few other variants or sibling products that are worth considering:
And finally, here's a handy list of accessories that work well with this unit (and some that I showed in the review). Given the unit pairs with ANT+ & Bluetooth Smart sensors, you can use just about anything though.
And of course – you can always sign-up to be a DCR Supporter! That gets you an ad-free DCR, access to the DCR Quarantine Corner video series packed with behind the scenes tidbits...and it also makes you awesome. And being awesome is what it's all about!
Thanks for reading! And as always, feel free to post comments or questions in the comments section below, I'll be happy to try and answer them as quickly as possible. And lastly, if you felt this review was useful – I always appreciate feedback in the comments below. Thanks!