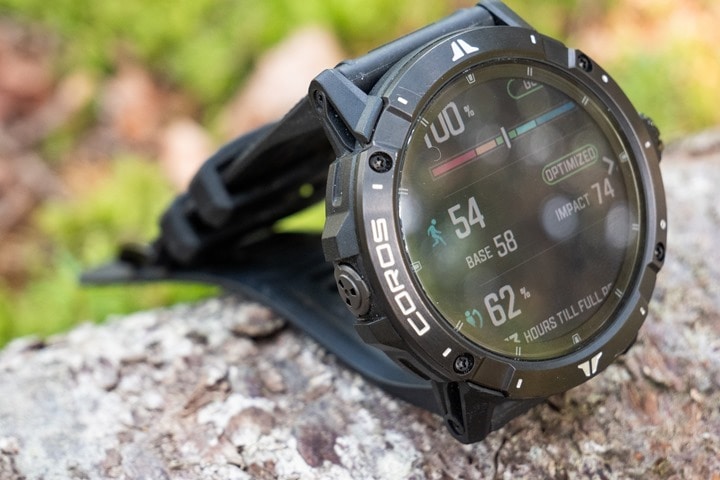 It's been just shy of a year since COROS's last new model hardware release, the Pace 2. And while we've seen the many software updates over the last year, it appears their hardware team has been well-fueled with Mountain Dew & Red Bull. The new VERTIX 2 drops a bombshell of features into their lineup, including full-color topographic mapping, music playback, dual-GNSS functionality (the first sports/fitness watch with it), ECG functionality, longer battery life, and Insta360action cam controls. Plus a larger screen, titanium alloy bezels/case, and even WiFi.
But all that's gonna cost you. The price comes in at a conversation-stopping $699USD. I've been using the watch 24×7 for the last month, including everything from trail runs to openwater swims, bike rides to road runs. Plus day to day usage, including things like music playback. And while the features I outlined in the first paragraph might draw your attention in, I'd really encourage you to read the full review (or at least the next section), as this is a watch that shows lots of future promise, but probably isn't quite as polished or complete as you'd expect for the price.
Still, it does show that promise, and so I'll outline all the pieces that worked super well for me – and then the pieces that were more challenging.
With that, COROS sent over this media loaner unit to poke at. Like all products I review, I don't take any funding (or even allow ads) from companies I review. I'm not a sponsored athlete or ambassador for COROS or any other brand. Thus if you found this review useful, consider becoming a DCR Supporter to help support the site here, which gets you an ad-free DCRAINMAKER.COM, as well as access to supporter-only videos and updates. Plus, it makes you awesome.
What's New (and Removed):
There's a boatload of new features in this watch, but there's also a lot of caveats with many of these new features. Thus, while I'll detail all the goodness first, I'm going to talk about all the catches immediately after that.
– Added maps: Both topo and regular maps, available for anywhere on earth (downloadable free from COROS site via computer)
– Added music: Supports Mp3 files being loaded on the watch via USB cable, for playback with Bluetooth headphones
– Added dual-GNSS functionality: Basically this means dual-frequency GPS, the highest type of consumer GPS available accuracy-wise, in theory considerably beyond what Garmin/Suunto/Polar/etc have today. In practice, read my full review.
– Added ECG functionality: This allows you to see your ECG on the watch, though at present only shows an HRV value.
– Added HRV capture feature: You can manually trigger an HRV data point in the smartphone app, via a 60-second capture timeframe from the watch.
– Added New Optical HR Sensor: They revamped the optical HR sensor inside of it, as part of adding in the ECG sensor. The optical HR sensor package also covers SpO2 (pulse oximeter), which we've seen before in the original COROS Vertix
– Added Insta360 Action Cam Control: You can control the Insta360 One X2 and One R, from the wrist. They'll add support for the Insta360 GO 2 in a later update.
– Increased Battery Life: Up to 140 hours in regular GPS mode, 240 hours in Ultra tracking mode, and 50 hours in dual-GNSS mode. Also, up to 60 days of battery life.
– Added WiFi Support: At present this is just used for firmware updates, but COROS says they'll expand that later.
– Added Widget Glances: This is a direct duplication of Garmin's widget glances feature, which shrinks the widgets to 1/3rd the size, so three can fit per page. Widgets include things like steps, recovery time, sleep time, etc…
– Adds Multi-Pitch Climb Mode: This is useful for climbers to more accurately track their climbs
– Internal Storage of 32GB: This simply means more space for maps and music
– Shifted away from Sony GPS Chipset: COROS won't state who the GPS chipset is, other than confirming it's no longer Sony.
– Removed ANT+ Sensor Support: Simply put, there's no ANT+ support in the device anymore. Either sensors or broadcasting data over ANT+ (like heart rate). More on this a bit lower down.
Normally I wouldn't dive into all the caveats until later in this review. But I know a lot of people just read this section and ignore the review, and while normally I'd say that's probably not a huge deal – in this case, for every feature there are some pretty substantial caveats that I think need to be clarified upfront.
Maps: Yes, there are maps, but there's no turn-by-turn navigation (in any manner), nor any street/trail/lake/mountain/etc names on the map. No labels at all except elevation from the topo maps. Don't get me wrong, having some map data is super useful in tons of scenarios (including my trail runs recently), but this is a very different beast than full mapping with routing as you might see on other watches. There's also a number of other mapping and routing quirks we'll get into later.
Dual-GNSS: I've been testing this a LOT over the last few months, from mountains to dense forests, to cities. And while I think dual GNSS has great promise, at present, the results were just kinda 'Meh'. Certainly, I had some really impressive moments within a given GPS track, but the bulk were "Shrug, no different than anything else" tracks, and some were simply worse than others. Thus, a wash at this point – maybe in time that'll change.
ECG: No, not really. While it technically has the underlying tech to pull off an ECG, it's actually not taking an ECG as it doesn't record that data anywhere. In other words, it just gives you a pretty screen saver that looks like an ECG for 60 seconds. Instead, it takes that time to theoretically record an HRV value. Again, well dive into this later too.
Music: This is purely loading your own MP3's onto the device via computer. There's no music services here. While that might be good for some folks, I don't think that's what most people want in 2021. Now I fully understand this situation is entirely out of COROS's control, and instead lies with the music streaming industry, but nonetheless, it's still a situation.
And then there's one complete removal that's of note for triathletes and cyclists especially:
– No ANT+ anymore: You're no longer able to pair or broadcast ANT+ devices or sensors. No ANT+ power meters or anything else. This is especially notable if you have a smart trainer you might pair to, since most trainers on the market only have a single Bluetooth Smart channel, which will likely be utilized by Zwift/TrainerRoad, etc… According to COROS, this is a hardware decision they made, and thus isn't something that can be done.
Which I know, rock climbers and probably some trail runners won't care. But for many cyclists and triathletes with older power meters or even newer trainers, that immediately kills this watch. In the same way that the lack of ANT+ kills Suunto and Polar watches for many cyclists and triathletes. The simple reality is that most smart trainers and power meters only have a single Bluetooth Smart channel to broadcast your power. And if you want to use an app like Zwift on the trainer, that takes that channel up.
That was no more evident than on my very first workout with the watch, a Zwift ride when I couldn't pair my trainer because the Bluetooth connection was already used by Zwift to control it. That then left my power meter, a pair of Favero pedals. Except, COROS doesn't properly see dual-sided power meters, so it only paired to the left side pedal, which in turn has a slew of data accuracy ramifications.
Don't get me wrong – there's a flotilla of people who have no use for ANT+ at all in 2021 (for example, pairing a simple Bluetooth HR sensor). But there's also a huge number of people in the endurance sports community who do, for a lot of different and very valid use cases. There's good reasons why virtually every endurance sports sensor and bike computer manufacturer will recommend you pair sensors via ANT+ rather than Bluetooth Smart. Whether it be sensor concurrency limitations or standards issues, anything other than heart rate profiles tends to be better on ANT+.
With that, let's start digging into it.
Unboxing & User Interface Tour:
If you'd like a complete unboxing, as well as a very long and detailed user interface tour, simply tap the play button above.
In the video, I go through the vast majority of the user interface, as well as detailed thoughts on each piece as I go through, based on my experience using the watch for a month. Think of it more as educational, than boring.
The Basics: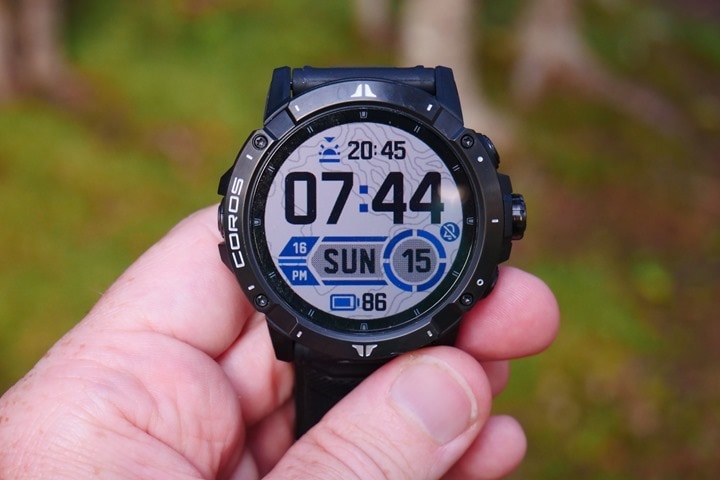 This section will cover all the day-to-day usage aspects of the watch. Everything from things like daily activity tracking to the ECG & HRV functionality, plus stuff like changing the watch face and settings.
To begin, the watch is a touchscreen device, with two buttons and a separate digital crown (which rotates and can be pressed in). All the buttons are on the right side, and on the left side is a barometric altimeter port.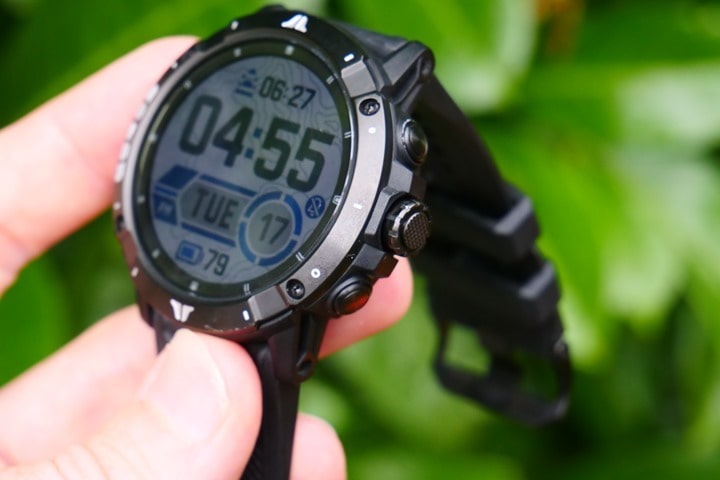 The touchscreen is primarily used outside of workout mode, such as interacting with the widgets. But it can be used to move the map around, which is actually a pretty handy use for it. Meanwhile, the dial is largely used for scrolling up and down, but also zooming in on the map.
I've long found the dial on COROS's wearables unnecessary and annoying, especially during harder workouts when you're trying to get to specific data pages, the last thing I want to deal with is a finicky digital crown. I know COROS sees value in it, but their dial is universally panned by reviewers (myself included). That said, I will offer that it is finally somewhat handy to zoom on the map with. Though, not enough that I wouldn't do with an extra real button or two, like most sports watches.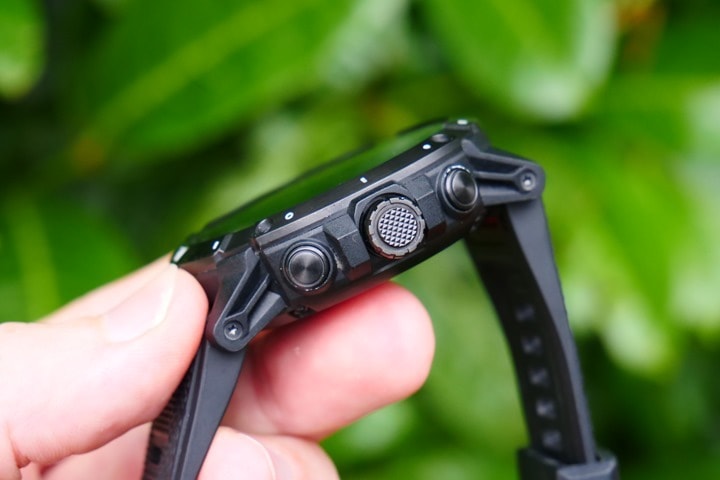 The bands connect using a quick release system, virtually identical in design to that of Garmin's QuickFit system, allowing you to swap the bands out as you see fit: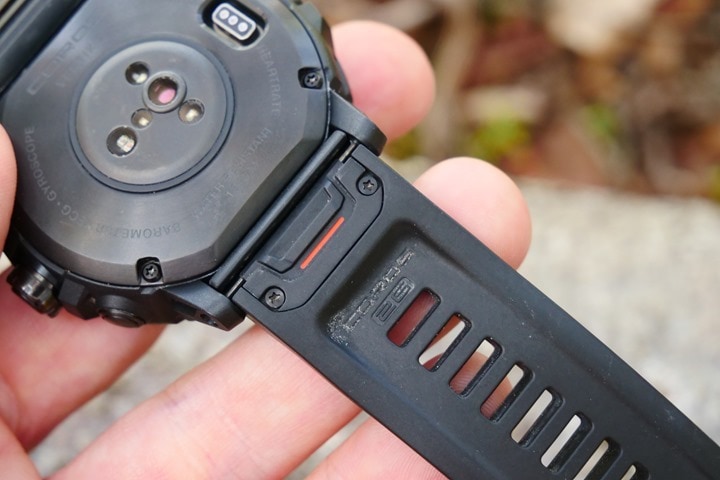 On the back of the watch you'll find the charging port and optical heart rate sensor. The heart rate sensor is the set of LED's and optical sensors that measure your heart rate, blood oxygen levels, and also newly, ECG data.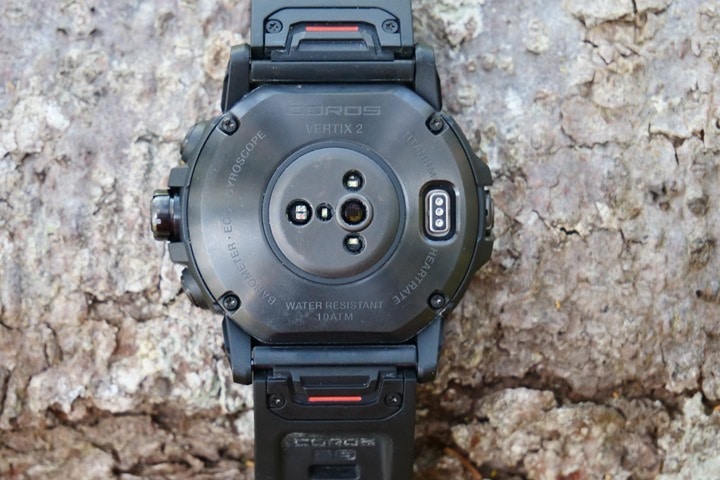 Speaking of which, now is as good a time as any to talk about that ECG. This is an area that COROS has somewhat walked around carefully. It's called out as a feature in the COROS Reviewers Guide, as well as in their launch video: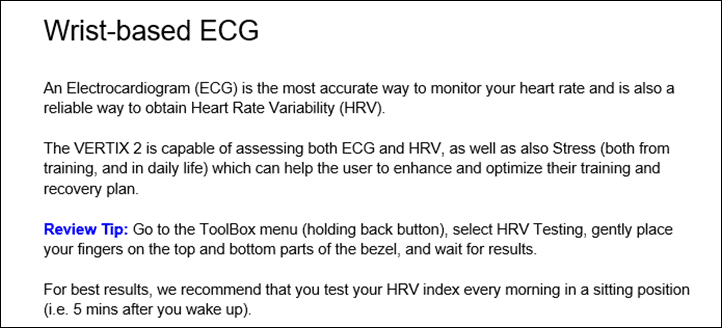 And naturally, COROS is hoping reviewers talk about it. However, you'll also notice there's no mention of it in their official formal press release. And that's likely because it's not real.  Or at least, it's not there. The underlying tech for ECG is likely very well in the watch, and in fact, if you open up the controls menu and go to the now renamed 'HRV Test' you'll see the ECG feature: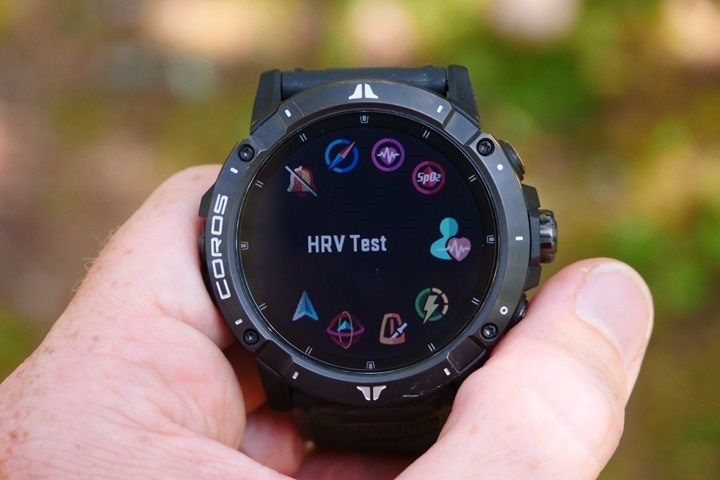 You'll start it by placing your opposite hand on the bezel, just like on an Apple Watch or Samsung Watch.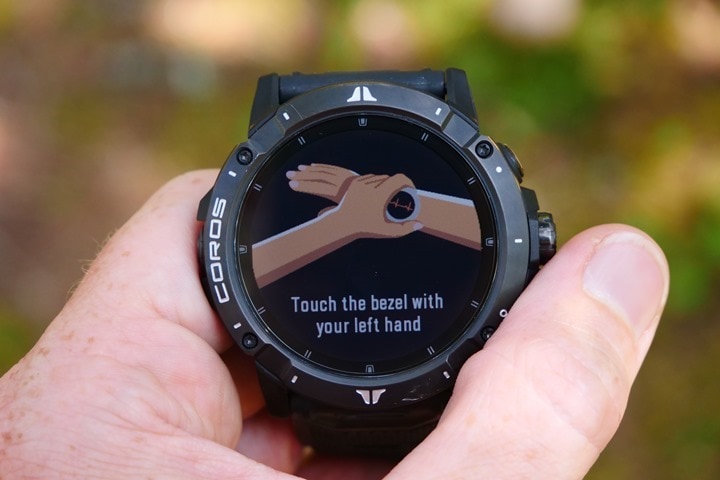 And then it'll start the ECG: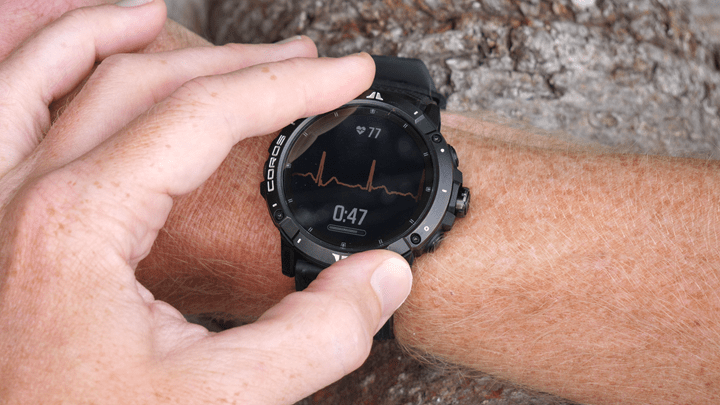 It'll do this for 60 seconds, even providing a nice little thumping feeling, mimicking your heart pumping. Except, at the end of the test, you don't get ECG results to your watch or app like you would on other devices. That's because COROS says they aren't certified as a medical device (the entire point of ECG), and thus there's no data except that pretty moving screen saver of a graph during the data (that you can't save).
Instead, at the end, you're given an HRV value. There's of course zero need for you to hold the bezel for this type of data, so this is mostly just a last minute pivot likely to avoid regulatory issues.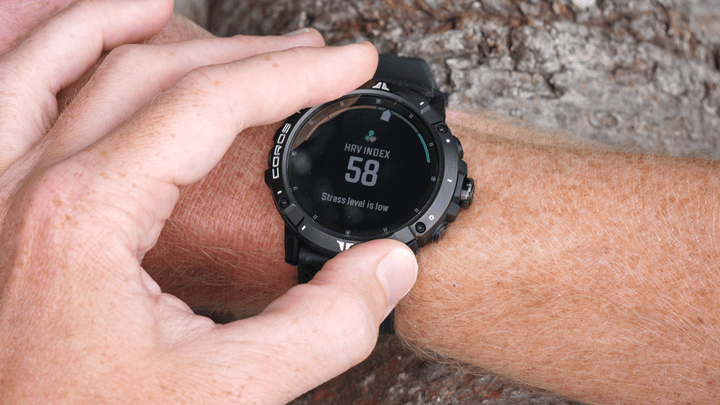 Now, the HRV value does show up on your app after the fact, and you can trend it over time if you'd like. The value is scaled from 0-100, with small snippets of text that accompany a few ranges within that. Here's the official scale, from the COROS reviewer guide:
81-100: Superior, relaxed
51-80: High, under minor physical or mental pressure
21-50: Medium, under medium physical or mental pressure
1-20: Low, under significant physical or mental pressure
Ultimately, I suspect we'll never know if COROS's ECG feature is accurate, as I suspect they won't spend the time or money to have it certified by all the required regulatory bodies. And since it doesn't save any data, we can't even compare it anyway. I guess I find this type of thing frustrating because I know full well they hope reviewers and magazines simply list off ECG and call it done. When in reality, that simply doesn't exist in the product, even if the underlying hardware is capable of it.
Oh, and the HRV data is plottable in the COROS smartphone app: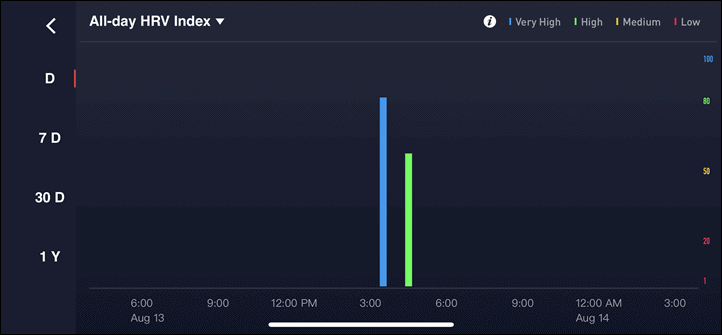 In any case, moving back to the watch face, you've got watch faces you can choose from on the watch, as well as others you can load from the smartphone app.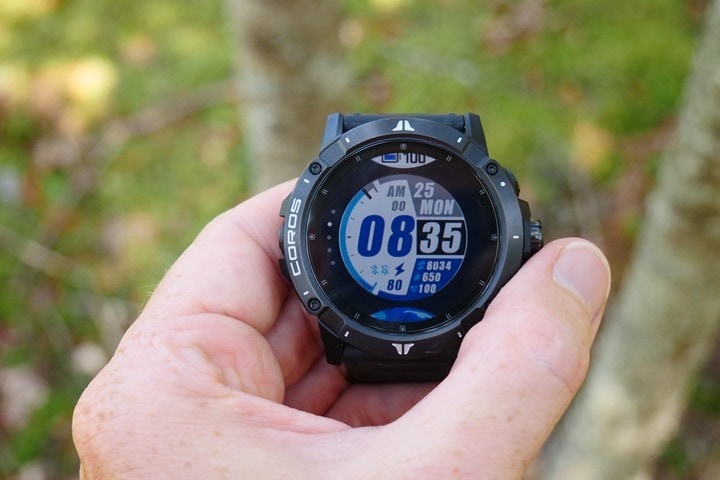 If you scroll down from the watch face using the digital crown, you'll find all the new widget glances. These copy Garmin's Widget Glances feature, which basically consolidates a widget's data from being full screen, to instead taking up about 1/3rd the space. And to be fair, I'd argue this was probably my favorite new feature on the Garmin Fenix 6 when it came out, so I can see why COROS would want to duplicate it. Flattery and all that.
Widget glances include everything from steps to altimeter data, sleep to recovery data. From many of the widget glances you can tap into them to open up more detailed information about that particular data metric. For example, you can see here the sleep one, and then the sleep data expanded out:
Since we're on sleep, let's briefly chat about that. In short, it's not super accurate. At least not the wake-up time piece. The Vertix 2 will incorrectly consider your sleep to 'end' the second you make one step (seen at 5:46AM up above). So if you go to the bathroom in the middle of the night, close a window, or sort out a crying baby – if you take a single step from your bed, it ends the sleep, even if you go back to sleep for 3-4 hours (as is the case in the one above, and virtually all my sleeps). It seems to have slightly more leniency if that step comes in the first few hours of sleep, but zero leniency after about 5 hours of sleep. Its strict 'one step and you're done' policy makes the sleep tracking not terribly useful.
For other metrics, like steps or floors, you'll find those both on the watch itself, as well as later on the COROS smartphone app, which automatically syncs over Bluetooth Smart. You can see here a daily summary of Sunday, showing core stats like exercise time, steps, and my workout listed up top.
Virtually all of these metrics can be plotted over time: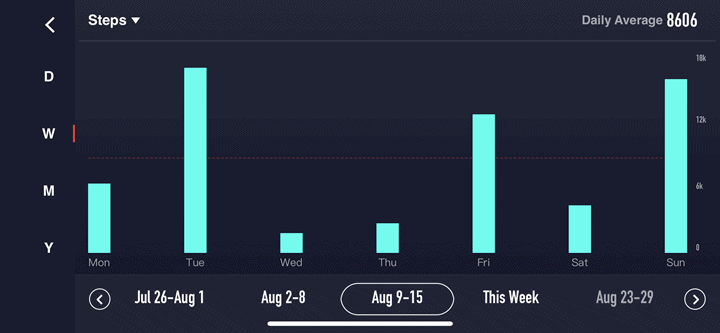 With that Bluetooth Smart connection, you'll also get smartphone notifications from apps you allow. So that includes text messages, Twitter notifications, and the like. You can't respond to these on the watch, but can read them and clear them: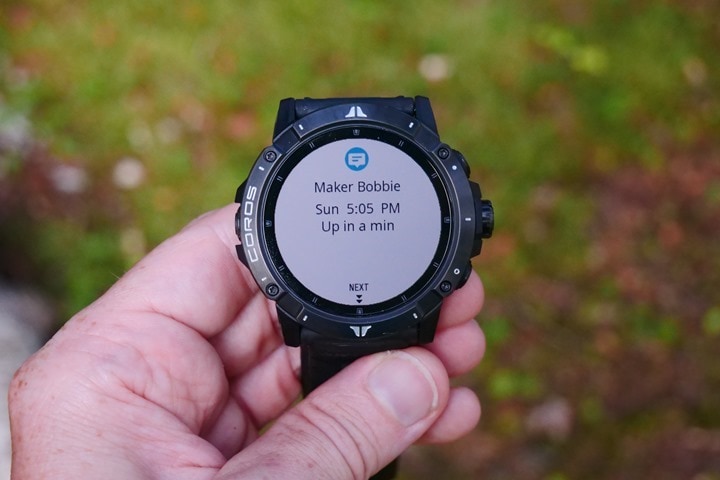 Wrapping things up here, there's the settings menu. Now technically the settings menu sorta has two layers. The first is what they call the Toolbox, which is where lots of features are stashed away. This includes music, the HRV test, SpO2 values, Insta360 action cam control, alarms, the compass, and many more. To access this, you'll hold the lower right button for a brief moment, and you've accessed the controls toolbox: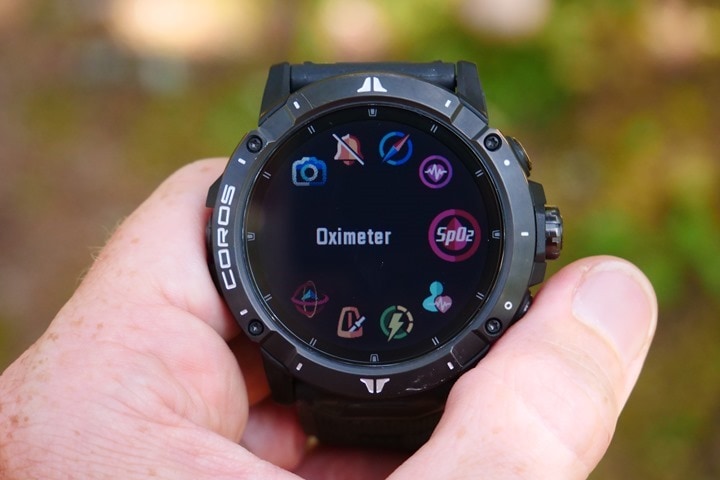 Then, within that you can pull open one of those features/tools, or, you can dive into the actual settings of the watch. This is where you can pair sensors (more on that in the sports section), as well as toggle things like Do Not Disturb mode, how the digital crown rotates (specifically how it goes up or down depending on which direction it rotates), plus tones, auto-lock, and whether it shows metric or statute data.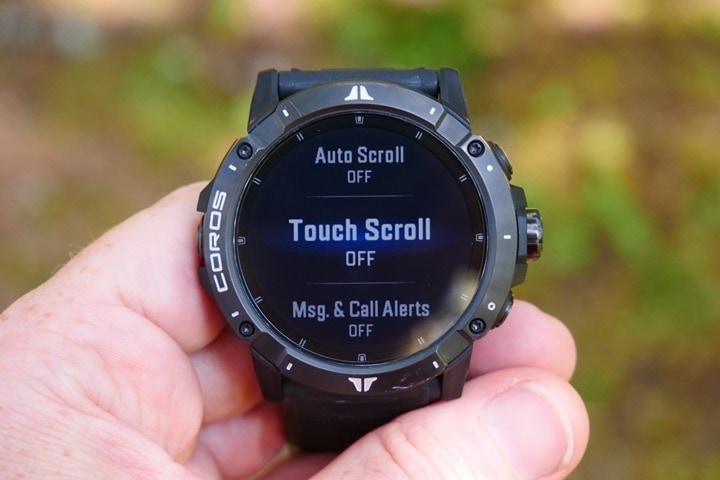 So while many watch settings are stored here, all your sport-specific settings are largely configured via the smartphone app, or on the watch itself in a given sport mode (such as navigation-related features).
Thus, with that, let's head into the sports side.
Sports & Map Usage: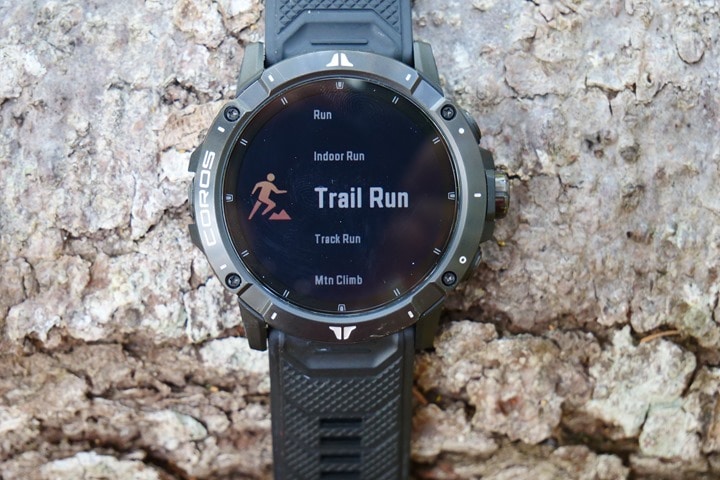 The COROS Vertix 2 has numerous sport modes, covering the majority of endurance sports out there. These modes can be customized from the COROS smartphone app, such as changing data fields or data pages. The sport modes are then available to execute from your watch.
To start a workout you'll tap the digital crown, which accesses the sport menu listing: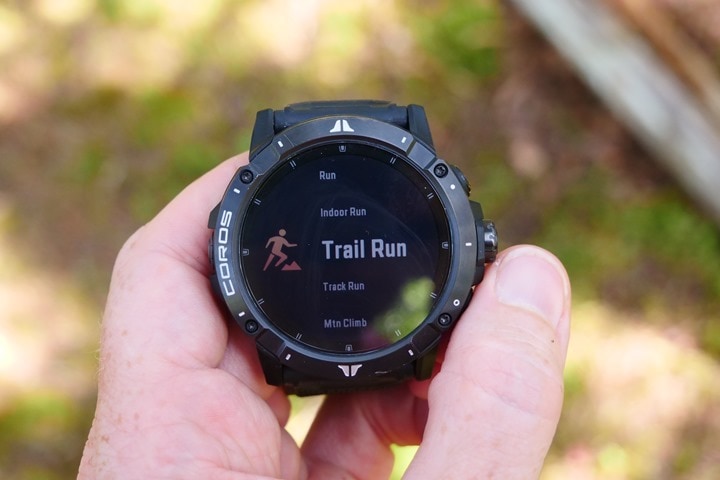 From there you can scroll through till you find the sport of choice. Each sport has different data pages and types, and captures different data. For example, while running you'll get running power, whereas in something like a pool swim you'll get stroke information.
Once on the sport page it'll go off and find satellites, indicating the status at the top. Same goes for getting a lock on your heart rate via the optical heart rate sensor.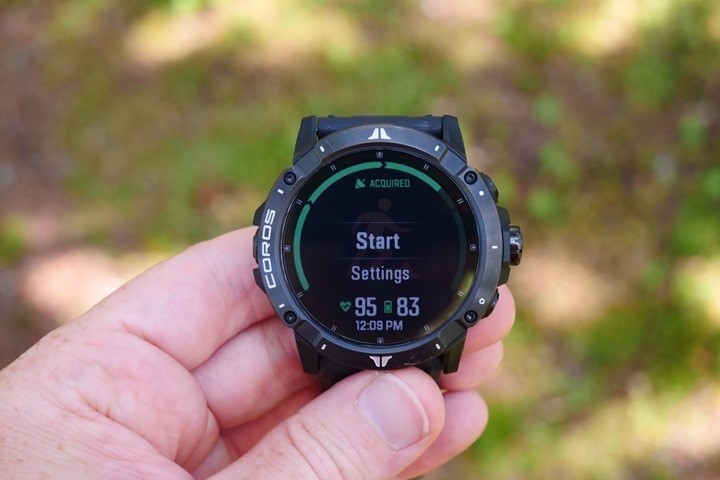 If you've paired up other sensors, then those will automatically connect too. You can pair sensors in the settings menu, though on the Vertix 2 there's no longer support for ANT+ sensors. Only Bluetooth Smart sensors. This includes heart rate sensors, cycling cadence sensors, cycling power meters, and running performance metrics like the COROS POD.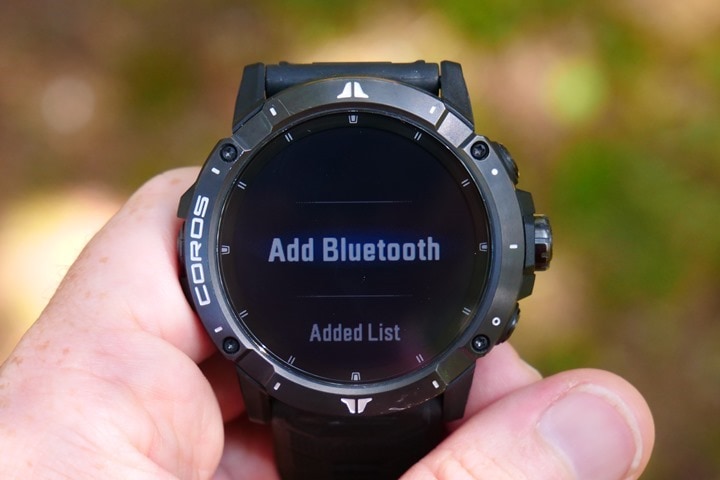 As I outlined earlier, the shift to Bluetooth-only sensors is tricky for cyclists and triathletes. This is because many people have older power meters that are ANT+ only, and even newer dual ANT+/BLE ones aren't properly supported here. For example, I was using the just-released Favero Assioma DUO (Shimano SPD-SL variant), and the COROS Vertix 2 doesn't correctly see both pedals. Which means I need to change settings on the pedals to reduce the data sent to the COROS Vertix 2.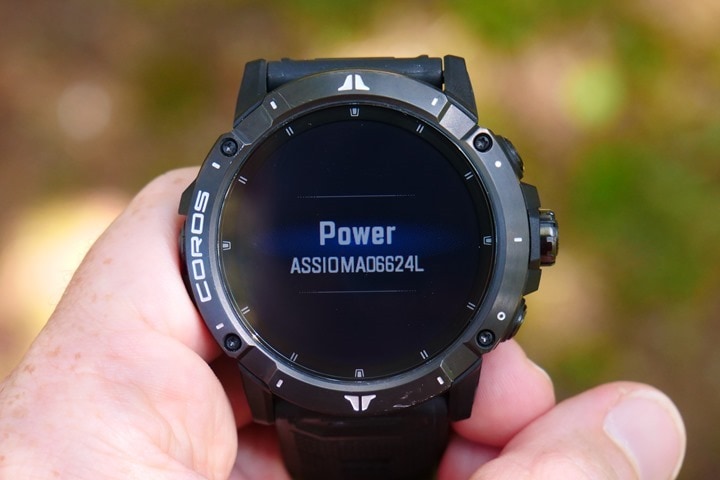 The same is also problematic for smart trainers. In that case, unless you have a recent Wahoo KICKR (2018/2020/CORE), your smart trainer app is probably taking up that Bluetooth Smart channel. As a result, you won't be able to connect to the trainer, since most trainers only support a single Bluetooth device connected, which is likely Zwift/TrainerRoad/Sufferfest/etc…
Unfortunately, COROS confirmed this was a hardware change, and not something they can add in future firmware updates (which means, they're not likely using the Nordic chipsets, which allow a simple license update, such as what we saw Polar do with their sensors a few years back).
Looking at one of the most eagerly anticipated features, the dual-GNSS satellite support, it's not enabled by default. You'll need to dive into the settings on the watch and enable it there. That's because it cuts the battery life down from 140 hours to 50 hours. Which, is still better than most watches on the market.
This dramatically increases the number of satellites the unit can see, which you can handily check out via the GPS status page in the toolbox: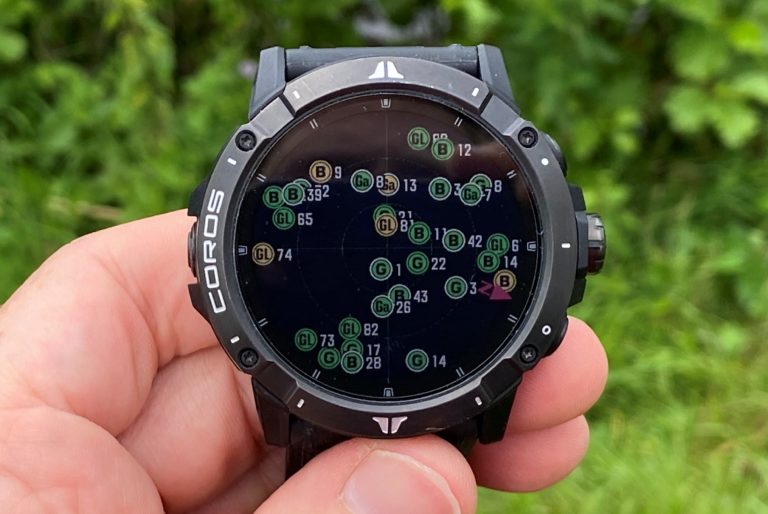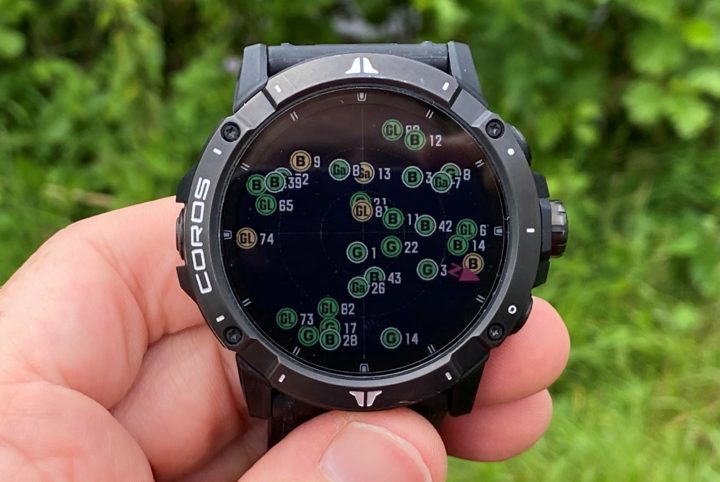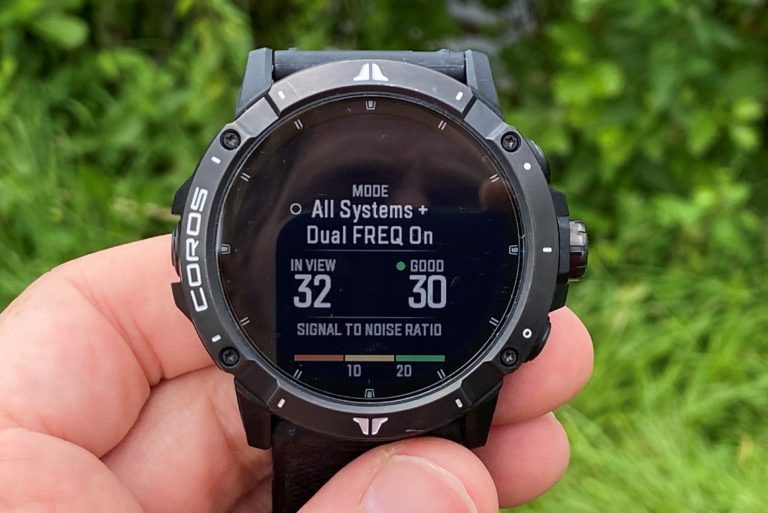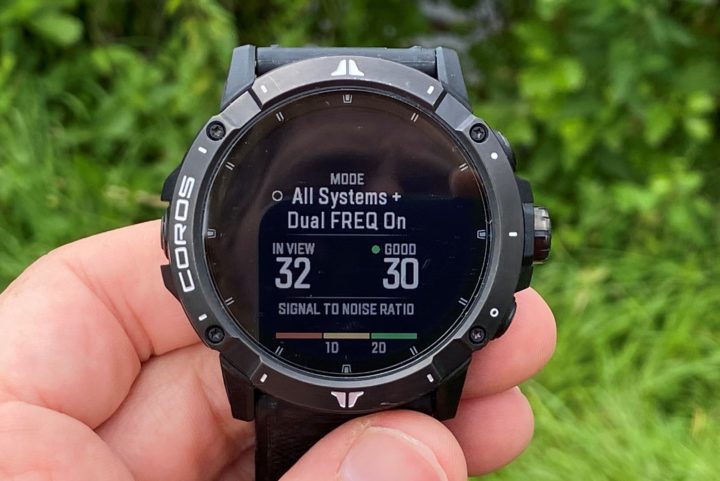 For all of my testing on the Vertix 2 I used the dual-frequency mode, and all of those results are in the standalone accuracy section down below. I strongly encourage you to check those out. Now before we fully leave all this GPS chatter, here are the battery specs for each mode (these are their exact terminologies):
Standard Full GPS (every second) – (GPS/QZSS): 140 Hours
Standard Full GPS (every second) with Music Playing – (GPS/QZSS): 35 Hours
All Systems On (GPS/QZSS+GLONASS+Galileo+BeiDou): 90 Hours
All Systems On with Music Playing (GPS/QZSS+GLONASS+Galileo+BeiDou): 30 Hours
All Systems + Dual Frequency On (GPS/QZSS+GLONASS+Galileo+BeiDou w/ Dual Frequency): 50 Hours
UltraMax (GPS+PDR): 240 Hours
Sliding back to the sport profile, while on the settings page for a sport you can load up a route. This allows you to follow a breadcrumb trail of the route:
It's important to note that loading routes onto a COROS device is mostly cumbersome. You need to first export out the .GPX or .FIT file from another app, as the COROS app itself can't create them. Then from there you'll need to save it to your phone (such as in the Files app if on iOS) After that, crack open the Files app and open the GPX/FIT file with the COROS app, which in turn puts it into your routes library on the app. Finally, you can choose to sync that to the watch. Most other companies just allow Komoot or Strava routes integration, but unfortunately that doesn't exist here. So it's like the 9-step tango instead.
Nonetheless, once all that's done, you'll see details on the route in the app, including an elevation graph.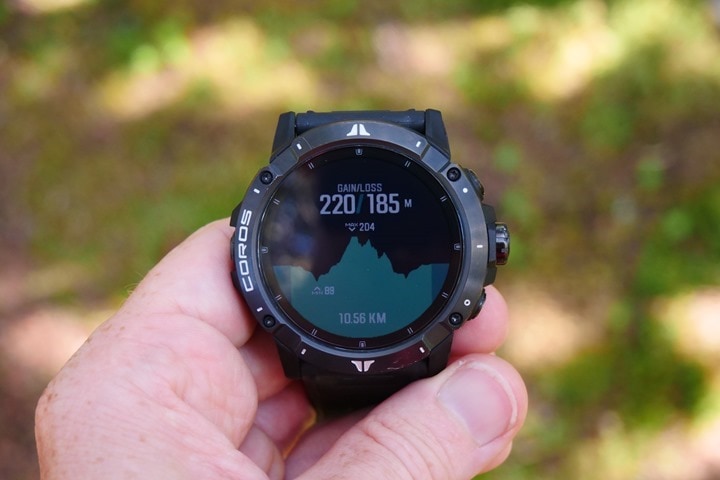 You've got a handful of options within the navigation settings, including:
– Choosing map type displayed: Regular, Topo, Hybrid, or None
– Choosing map orientation: Heading or North
– Choosing to reverse the route: Such as to do the route backwards
– Off-Course Alerts: If you want to be notified when you go rogue
In my case, I used the heading orientation and hybrid for virtually all my navigated runs: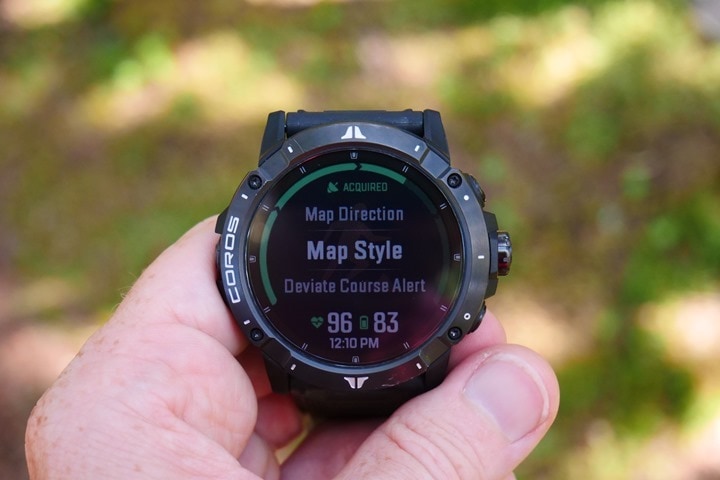 Here's a simple gallery of Hybrid, Landscape-only, and Topo-only. Sorry, I had to take this one inside to see the topo lines (as there's no topography in the Netherlands, so this would force it to the topo lines on the route I loaded with mountains), and thus, it's not quite as colorful with indoor lighting. But you can at least see the differences.
With all that set, we'll get cooking and start running (and navigating). As you press start you'll see data fields on the Vertix 2, as configured in the smartphone app:
Speaking of which, you can use that app to customize up to 6 data pages per sport, and up to 8 data fields per page:
It is notable though that at this time you can't just add a map data field to a sport profile. The map only shows up in your sport profiles if you're actively navigating a route. However, you can at least access it anytime via the toolbox, but that's just a bit more cumbersome to do repeatedly.
If navigating you'll see the route shown, as well as your position on it (and deviation from it, if off-course). On the map itself you'll see things like rivers, ponds, and trails/roads/paths. You won't see any text labels on the map though, so it's more about context than anything.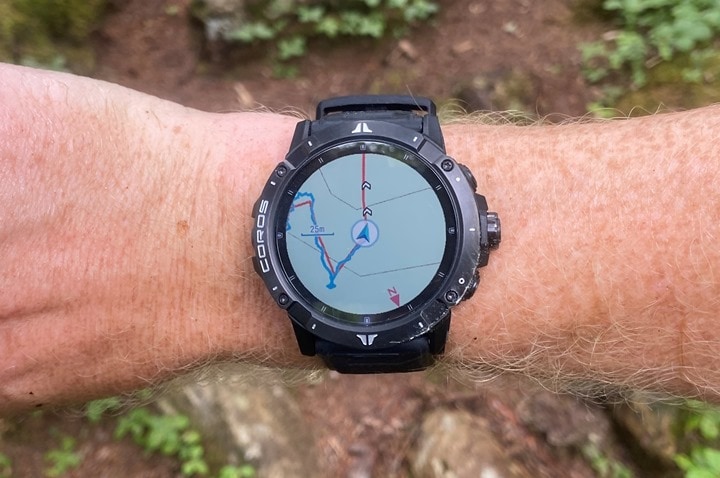 The navigation on the Vertix 2 is purely breadcrumb-based, meaning there's no turn alerts at all, nor turn-by-turn directions. If you go off-course, it'll simply show you the compass direction back to course. This is effectively the most basic level of breadcrumb trail navigation out there, except with a map 'shown' under it.
That said, while it's nowhere near as advanced as Garmin's map-based routing, it's still useful. I've used it repeatedly over the last month while trail running in mountains and forests that I've never been to, to keep myself mostly on track. The single biggest challenge I have with it though is that the map will rotate in circles for 6-8 seconds each time you raise your wrist while running. That's because it's using the compass heading for orientation, so it has to settle before it shows which direction you're actually going.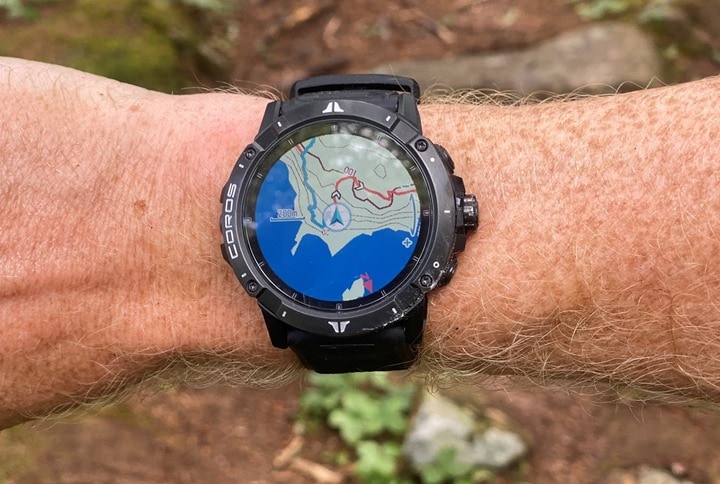 Most other companies are clever enough to apply an algorithm that looks at your correct direction of travel while running, and then blends that with compass data. Else, you get this stabilization scenario that makes the map almost impossible to use at a quick glance. COROS says they're working to correct that, though it won't be there in time for launch.
At present, COROS will pre-load the map and topo data for the region the watch is sold in. If you head outside your region, you can download the other map data for free from COROS's website using a computer. I suspect this is the perfect scenario for potentially leveraging that WiFi in the Vertix 2 down the road (which is otherwise just used for firmware updates).
In terms of sport usage, the Vertix 2 works largely as before. So for example, you've got running power natively from the wrist, with no additional sensors required. I've talked at length about COROS's running power in the past, and have found it just as functional as Stryd's or anyone else's.
There's also structured workout support as well, that was introduced back a year or so ago. And it also carries with it the training load and recovery metrics that were launched a few months ago too (called EvoLab).
You can see these training load details after each workout, though keep in mind that if you're a cyclist you'll need to do a bunch of flat-road running first, to enable the feature. And in fact, there's elements of COROS EvoLab that won't really work on hilly or mountainous terrain.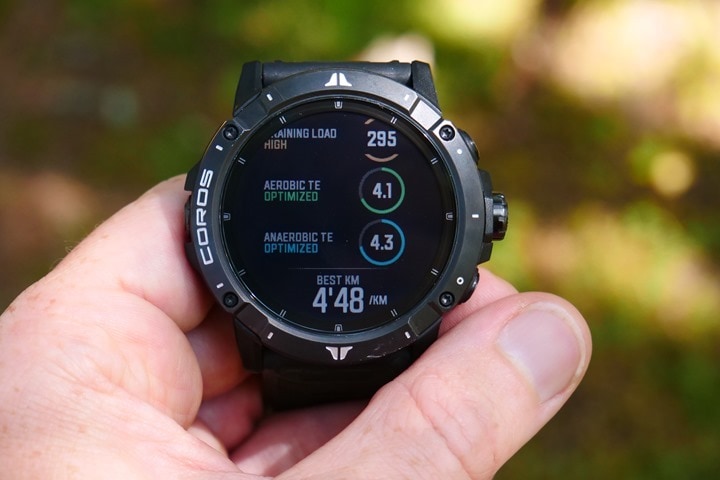 So some elements of many of my recent trail runs in mountain terrain haven't really updated these stats as much as I'd like (such as marathon PR's).
Again, I've gone into much detail in my full EvoLab post, so I won't rehash it all here, since it's all the same. But, here's my summary, which still stands today:
"Overall, it's [EvoLab] a good first step towards things. Most of what we see at this juncture is essentially taking per-workout training load values based on your heart rate, and adding them together to give you a total load picture. On the running side, they're doing a bit more for steady-state and flat runs, to give you some predictive analysis there too.

Again, understanding this is a first step towards things – it's a good start. However, I think one of the challenges with where the running components are specifically is that there's a huge dependency on your initial eligible runs being on flat ground and steady-state (not intervals). For a company that's arguably built the majority of their elite sponsorship, ambassador and influencer base, and marketing efforts around trail running (in the mountains), it's a tricky aspect to mesh. I mean, sure, for me, it's great. I couldn't find a meaningful hill to climb around here if I tried. But for others, they're going to have the inverse problem. And for cyclists, virtually all new metrics here are useless unless they go out and run far more than most pure cyclists will ever consider running."
Now, when it comes to completion of a run, you'll get plenty of summary data on the watch itself. Here's a quick gallery of those:
Of course, all of this information is also then synced to their smartphone app:
And then from there, your workouts can automatically sync to 3rd party apps like Strava, TrainingPeaks, Final Surge, Apple Health, and more. This worked well for me, consistently, without any issues.
Ultimately from a sport mode perspective, for existing COROS Vertix users, the main upgrade piece here is the mapping side of it, when used with routing. I think this is a good start for COROS, and I'm hoping we'll see many of the smaller caveats I've noted closed over the coming months. While the ANT+ gap can't be fixed, the remainder of the feature gaps around routing can be fixed via software updates. Thus, I'm optimistic.
Music & Insta360 Action Cam Control: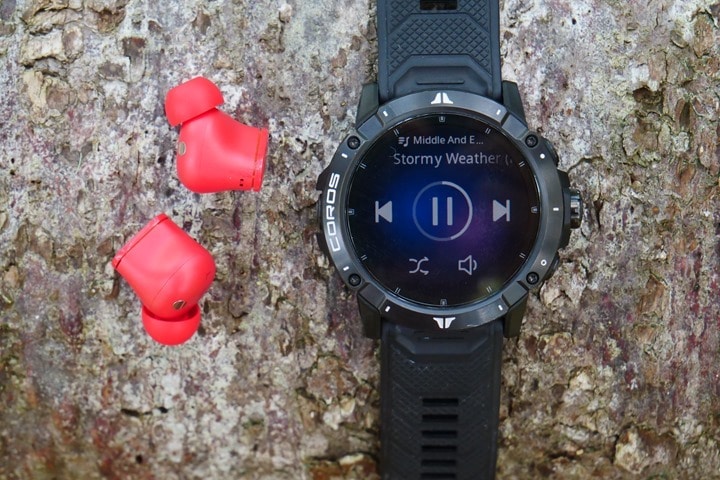 I know, one might question why Music & Insta360 action cam control got bundled together into a section. But realistically, it sorta makes sense in my head. Most videos shot on action cams eventually have music. See? Makes sense – right?
In any event, starting with the music portion. The Vertix 2 is COROS's first watch to support music, and does so when paired to Bluetooth headphones. Headphones are paired via a special headphones menu, somewhat similar to sensors. You can pair multiple Bluetooth headphones, in the event you can't quite decide which headphones are for which days of the week. In my case, I almost exclusively used the Beats Studio buds, which I've been testing the last month or so.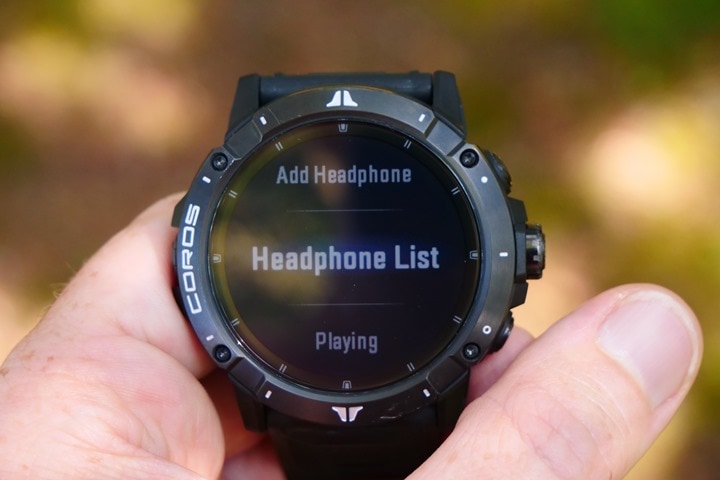 Pairing takes a quick second, and then they're saved for future use. Anytime you power them on, the watch will connect to them in the music section (if not already paired to something else). I didn't have any issues with respect to it trying to take over the connection from my phone or laptop, so that's good.
Insofar as music goes, the Vertix 2 supports loading of MP3 files to the device via USB cable from your computer. You'll simply drag the music into the music folder, and that's it. There doesn't appear to be any categorization of music at this point, rather, it's just a giant pot of music.
With music loaded on the Vertix 2, you'll go into the music menu from the toolbox by holding the lower right button down: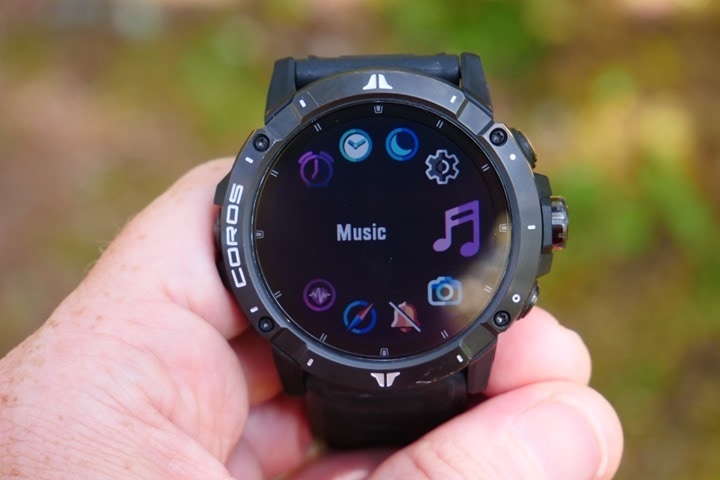 Then you can use the touchscreen to tap to play, skip/back, pause, and change volume. You can also shuffle too, or scroll through tracks:
It's pretty straightforward, with very few options. But, it worked pretty much perfectly for me. I had zero dropouts at any time during my workouts, or just playing during day-to-day usage. Though, dropouts are pretty rare across the devices I've tested from the last year or two, as most wearable makers (both earphone/buds and watches) have figured out how to best communicate with each other.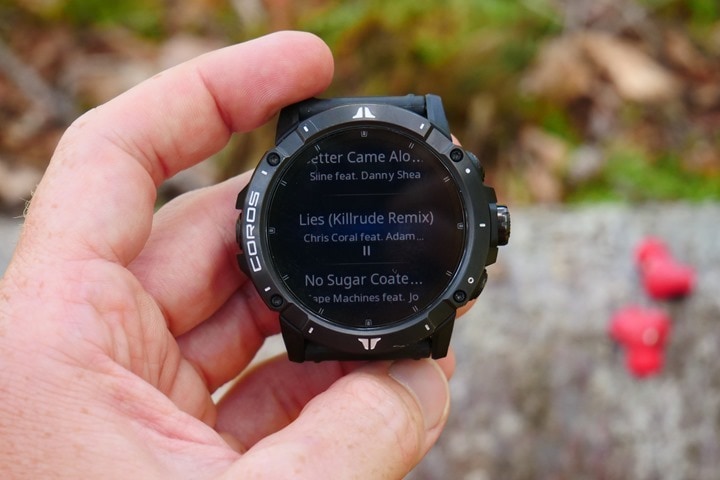 Now of course, there's no Spotify support here, nor any other streaming service like Amazon Music, Apple Music, etc… And in talking to COROS, there's basically no chance of that happening either. The reality of the music streaming industry means that a company like COROS has virtually zero ability to flag the attention of the giant services. For perspective, even a company as big as Fitbit still doesn't have offline Spotify access (just basic Spotify control). The only avenue for companies of COROS's size to get streaming services, like Suunto and Polar have done, is jumping on the Wear OS bandwagon. But of course, that has an entirely different set of challenges (namely battery life), especially for COROS being focused more on the endurance sports side of the equation.
So while there will be a very small (but very vocal) group of people that will be happy with side-loading MP3's like it's 2012 (Motorola Motoactiv anyone?), the vast majority of the population will probably never use this feature due to the inconvenience of having to pull out a computer and manage MP3 files again (which they likely don't own anyway).
Now, for lack of anywhere else to mention it – note that there are no audio alerts related to things like lap splits or pacing or anything else. It sounds like this is on COROS's radar (given it's pretty common for most smartwatches that connect to headphones), but it's not yet there today. Your watch will still beep (and vibrate) when listening to music for laps or off-course warnings, but you probably won't hear the beep. Thankfully the vibration was easily felt.
Moving along, we've got action camera control. At launch COROS is supporting the Insta360 One R & Insta360 One X2, though, they also plan to support the Insta360 GO 2 down the road.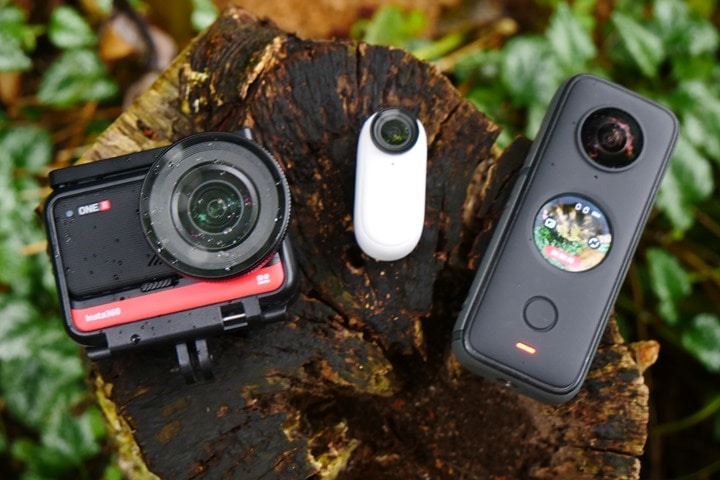 You'll pair up the unit from the Insta360 menu in the COROS Vertix 2 toolbox, while concurrently adding it as a Bluetooth Remote on the Insta360 camera.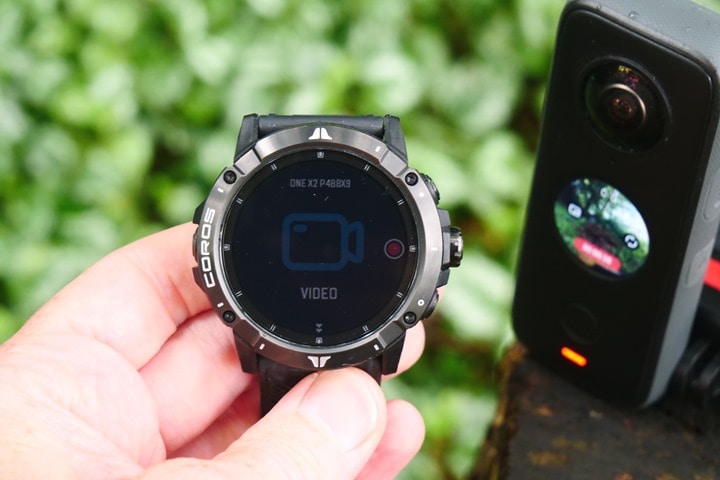 You can use the dial to alternate between photo and video mode, and then pressing the dial will take a photo or start a video. It's pretty straightforward, though, didn't quite seem fully baked when I tried it earlier today with the One X2 (it would start, but not stop the video). Taking photos was no problem.
Still, it's cool to see this type of cross-brand collaboration.
GPS, HR, and Elevation Accuracy: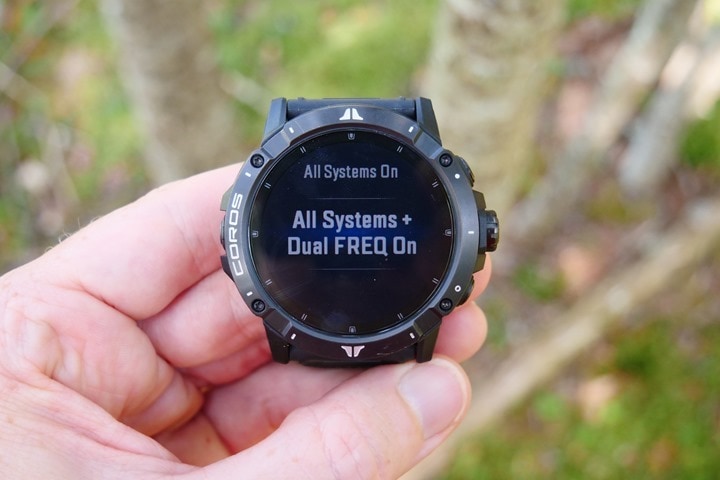 There's likely no topic that stirs as much discussion and passion as GPS or heart rate accuracy.  A watch could fall apart and give you dire electrical shocks while doing so, but if it shows you on the wrong side of the road?  Oh hell no, bring on the fury of the internet!
GPS accuracy can be looked at in a number of different ways, but I prefer to look at it using a number of devices in real-world scenarios across a vast number of activities.  I use 2-6 other devices at once, trying to get a clear picture of how a given set of devices handles conditions on a certain day.  Conditions include everything from tree/building cover to weather.
Over the years, I've continued to tweak my GPS testing methodology.  For example, I don't place two units next to each other on my wrists, as that can impact signal. If I do so, I'll put a thin fabric spacer of about 1"/3cm between them (I didn't do that on any of my COROS Vertix 2 activities however, all workouts only had a single device per wrist).  But often I'll simply carry other units by the straps, or attach them to the shoulder straps of my hydration backpack.  Plus, wearing multiple watches on the same wrist is well known to impact optical HR accuracy.
Meanwhile, for HR accuracy testing I'm typically wearing a chest strap (either the Polar H10 or the Garmin HRM-PRO, but also a bit of Wahoo TICKR/TICKR X too) as well as another optical HR sensor watch on the bicep (mostly a blend of the Polar OH1 Plus & Polar Verity Sense, with a few Whoop 3.0 band sessions tossed in for fun). Note that the numbers you see in the upper right corner are *not* the averages, but rather just the exact point my mouse is sitting over.  Note all this data is analyzed using the DCR Analyzer, details here.
Now I've got a lot of data here, so instead of analyzing every set to death, I'm going to try and call out specific areas of goodness…and concern. You can always click on any of these set links to bring up the actual data and do even more plot peeping.
My goal though in this section is to have you walk away with the general gist of all the data from all these sets (which, to spoil this is essentially that the new optical HR sensor isn't so great, the barometer isn't so good either, and that the GPS can be occasionally very good but is roughly average on the whole. Also, it's a hot mess while openwater swimming.)
Note: For ALL MY COROS VERTIX 2 TESTS, I used the dual-frequency option. Given that's the main selling point, I'm gonna see if it's worth it.
In any case, with that long-winded preface, we'll get right into a mixed road and trail run I did. The first and last roughly 2KM were on roads, and the middle part all trails. This had the Suunto 9 Peak on one wrist, and the COROS Vertix 2 on the other, with a FR945 LTE used as a third data point. Here's that data set, starting with the HR graph:

As you can see with the HR graph, the Suunto 9 Peak (in teal) went a bit crazy out of the gate, while the COROS Vertix 2 undercut things out of the gate. You'll see the chest strap in the middle there (paired to the FR945 LTE for this run) shows a more correct steady build. Things get all back to normal when I pause briefly for a moment for some road construction to clear me across the road. After that, things are largely pretty good, except two points of failure for the COROS Vertix 2 and Suunto 9 Peak. The COROS Vertix 2 incorrectly dropped the HR about 30BPM low for about 45 seconds, while the Suunto 9 Peak did so to a lesser but longer extent a bit later.

Looking at the GPS, at a high level, things initially look good: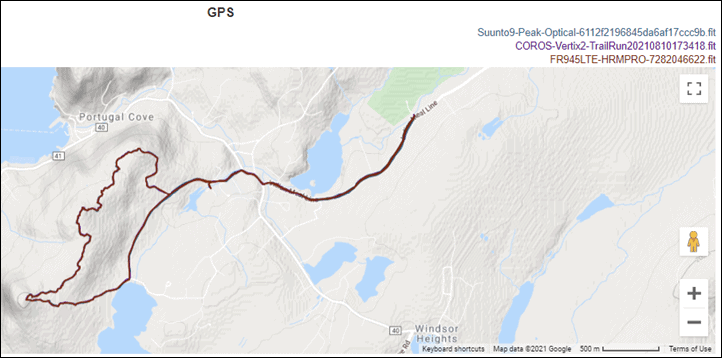 If we zoom into a random road section, you'll see that in general they're all very close. But the Vertix 2 appears slightly closer to being consistently exactly where I ran with respect to each side of the road.

But things get a bit more complicated once I'm in the woods. Once there, you see that the Vertix 2 appears to smooth out many of the tiny twists and turns to a larger degree than the Garmin or Suunto watches. It's hard to see without just opening the sets up (linked above) and scrolling around zoomed in. It makes it easier to see the pattern than a single screenshot can.

In fact, in doing so it would shave off nearly 100m of distance during this wooded section alone. While that's not a massive amount, it's an interesting pattern I noticed repeatedly – that it'd almost do what Apple was/is famous for: Slightly overly smooth jagged corners. You can see how the purple line appears to just casually meander through here with almost no sharp turns. Trust me, there was nothing but sharp turns here.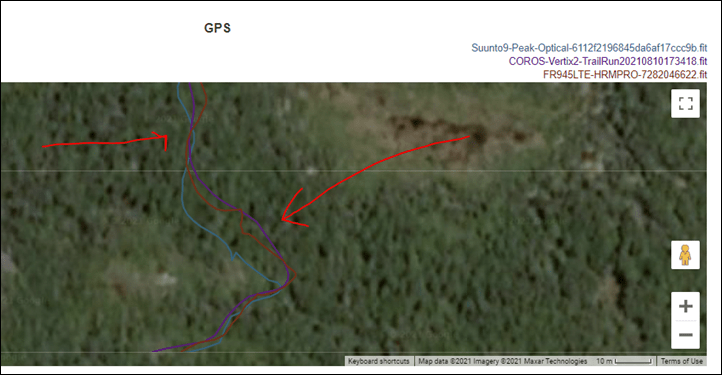 Looking at the elevation on that data set, you can see all the units disagreed using automatic elevation determination (all baro altimeters), though, throughout the run they got closer and closer. While I don't know exactly which one is correct here, keep this behavior in mind for a future set I'll show.

Next, let's look at another blended road + trail combo. Mostly road in this case, through a lot of gravel too. Also, hot as balls. Here's that data set:

If I zoom all the way in, there's no meaningful differences throughout almost the entire run, GPS-wise:

However unfortunately on heart rate, the Vertix 2 did fairly poorly here, repeatedly dropping the HR (note the color changed on this set to teal):

I don't need to zoom in and repeat myself much, it's clearly not good.
Now remember the Vertix 2 has a new optical HR sensor compared to the Vertix 1. So let's go out on a run with those side by side. Vertix 1 on left wrist, Vertix 2 on right wrist, here's that data:

You can see that the Vertix 1 is nearly identical to the chest strap in all but a few seconds. Whereas the Vertix 2 (highlighted in yellow) struggles at the beginning, as well as at various points towards the end of the run. Yes, the Vertix 1 struggles a bit there too towards the end, but less so than the Vertix 2.
So how do these two units compare side by side for GPS then? Ask and you shall receive! At a high level, things look normal.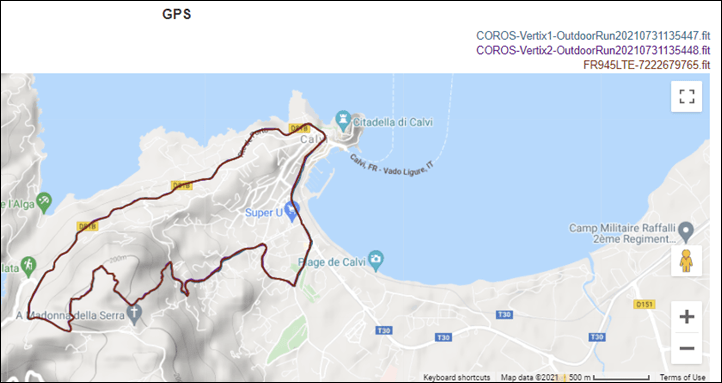 However, as we zoom in towards the *start* of the run, you'll see that while they are close, the Vertix 2 isn't exactly hot stuff. It's off in the small European village buildings just as much as any others (if not more):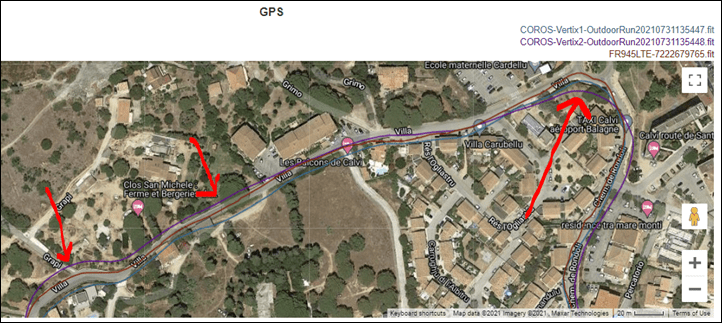 However, as the run progresses and I climb up into the mountains, the three units get very close to each other: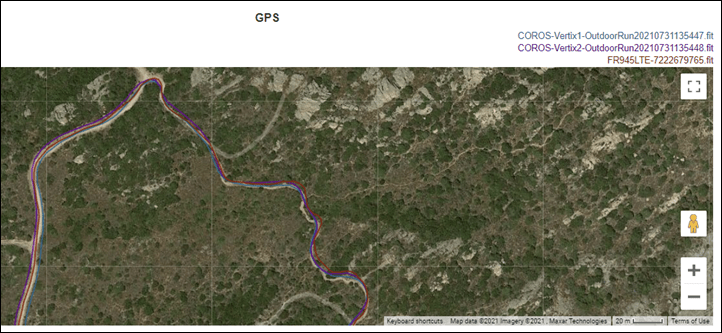 Fast forward about 35 or so minutes later and I've come back down from the mountain to the other side of the village. And it's here we can finally see some of the COROS dual-frequency goodness at work. To anyone looking at these, they'd say they were all roughly the same. However, the COROS Vertix 2 (in purple) correctly nails my change across the road, and sticks the landing on both sidewalk sides. It's super subtle, but from this point on in the run, it's scary-accurate.

And again here a few minutes later, exactly on the right sidewalk.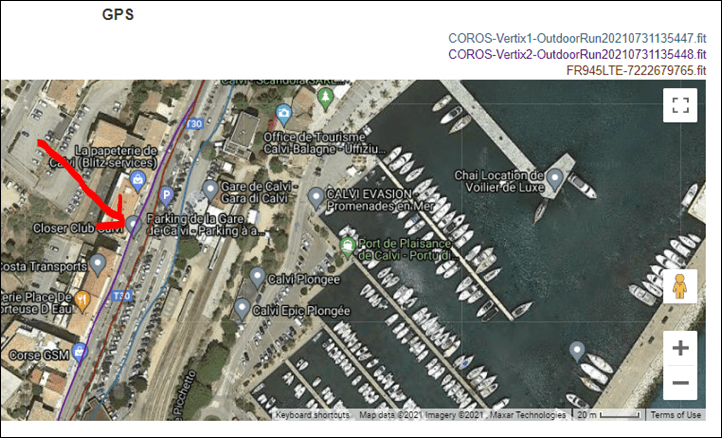 And I know, it's easy for someone (myself included) to look at this and go: "See, the Vertix 2 is the holy grail of GPS, finally!" – but that ignores the first 2/3rds of the run. And this is also a pattern I've seen. It seems to take quite a while for it to really get the solid lock. And to be fair to the FR945 LTE, by the end of the run, it too was exactly on the sidewalk, and in fact, even correctly got me going out into the road for a second to pass some people: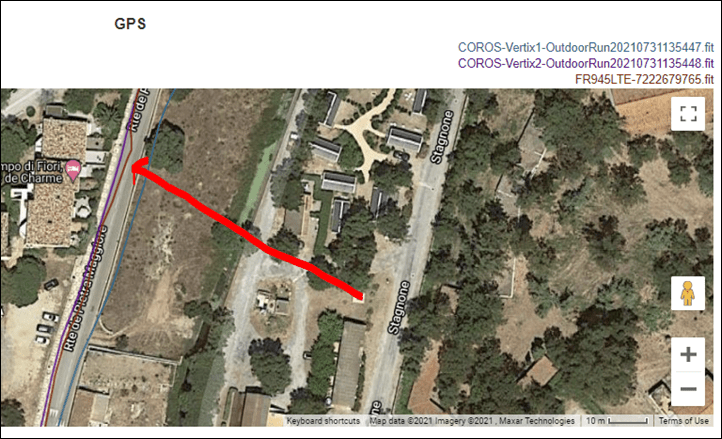 Elevation-wise on that run, the Vertix 1 was the odd duck, not quite keeping up with the gains as fast:

But hold your horses on elevation. Let's look at this trail run I did here up the mountain. This starts at sea level, yet the Vertix 2 doesn't agree with that (despite me essentially starting at the beach a couple of blocks away on flat land). Here's the data, showing the Vertix 2 plotting a 100m starting height:

The other three units all correctly got the starting height. However, over the course of 90 minutes, the Vertix 2 slowly gets back in alignment. However, at the 2-hour marker, you'll see it goes all wonky, undercutting itself. There was nothing unique about that moment. It was just normal trail descending.
From a heart rate standpoint, I'm more concerned with inaccuracies while climbing than descending (as descending can be tricky for many HR sensors and honestly is of less value), and you can see that Vertix 2 struggles a few times here. On the descent, both the COROS Vertix 2 and Garmin Fenix 6 Pro (which was just the optical HR sensor, not paired to the HRM-PRO as the graph says) struggled occasionally.

So what about GPS? Well, again, in short, it's basically a wash. However, one reason I selected this trail was this huge rock face area that I'd cut across. I was curious how it'd handle that, given the mountain blocks a fair bit of signal. And in short, it was basically not much different than the rest (yes, there's four hard to see squiggles of lines across that face):

Now there was a moment in some of the brush coming down, where it seemed like the Vertix 2 was tracking just slightly better than the others. I mean, we're really stretching here, but it seems just *barely* more crispy than the others. And I know, these are impossibly hard tracks to see given the terrain colors. Sorry! Again, you can look at the set and zoom around here.

While I won't go through it in detail, you can look at another GPS track here from Sunday, another trail run this time in much deeper woods along sharper hillsides. In short, the FR945 LTE & Vertix 2 were nearly identical on GPS. On heart rate, the Vertix 2 had one solid HR dropout, but was otherwise the same. For elevation, the Vertix 2 & FR945 matched near identically, while the FR945 LTE drifted.
Instead, I wanted to switch gears to my most recent openwater swim. This was, simply put, not good. You can see below that the FR945LTE on the other wrist is nearly identical to the reference track on the swim buoy. Whereas the Vertix 2 is all over the place, adding nearly 600m of distance to this swim.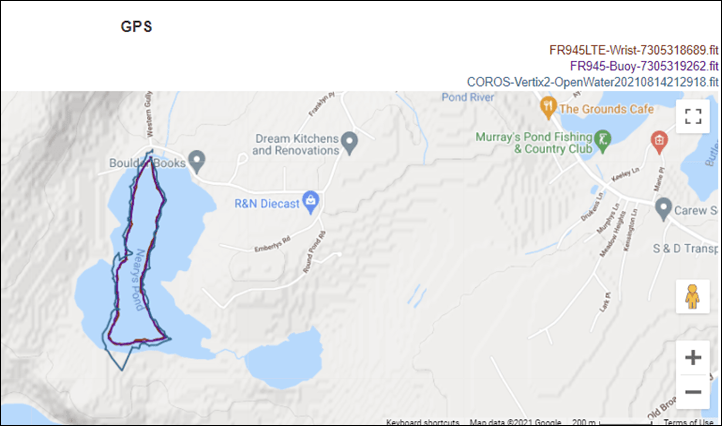 There was nothing special about this swim. I just swam straight across the lake (coming down the right side), then paused for a moment as I often do in swim tests to see how it handles treading water (and the re-acquisition of satellites). Though, things had gone wrong well before then.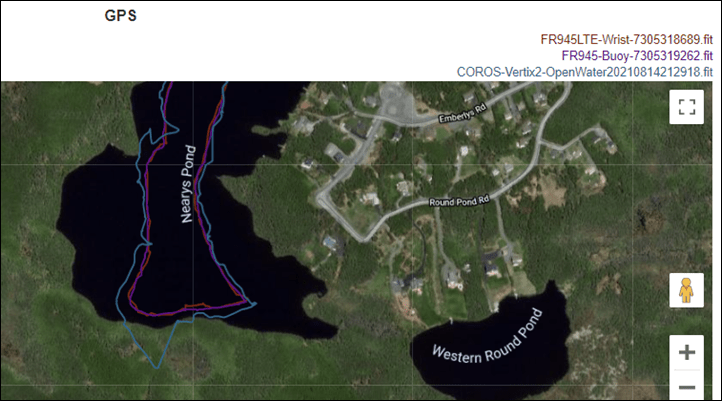 You can see the final distances here (the bottom watch is the swim buoy reference track, a GPS attached to a swim buoy that floats with me):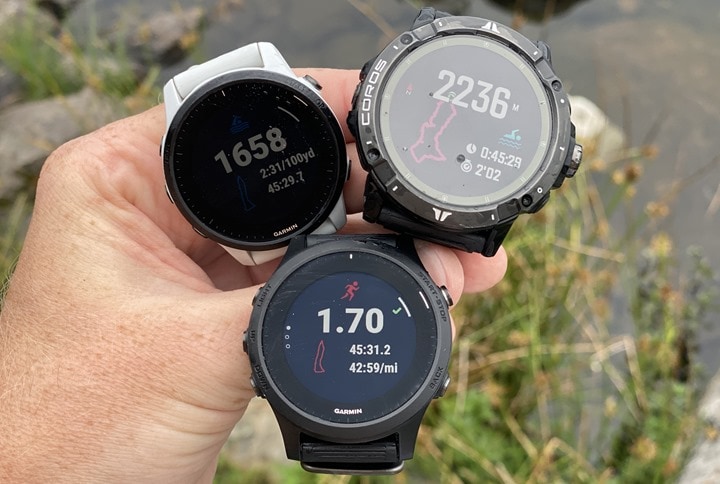 Now I had a slightly better swim a few days prior, but it still struggled with the pause test, and then after that point it cut corners too: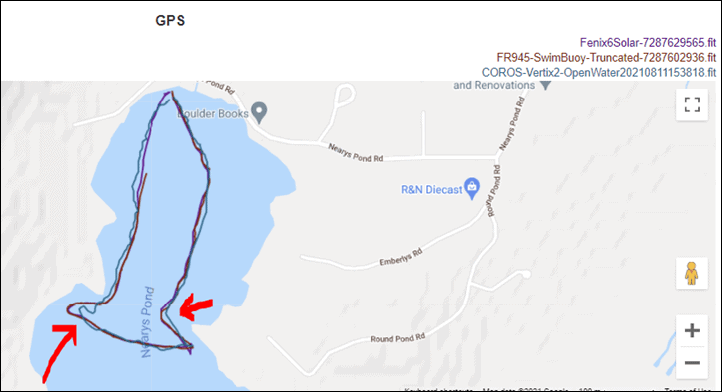 Note that I didn't pay attention to heart rate on any of these openwater swims. Most wearable companies say it's iffy at best, and my results roughly show that. Mind you, for historical/reference purposes, I've been testing the Vertix 1 in openwater swims lately too for a huge comparison post coming out in the next few days – and that scores in the upper tier of watches for open-water swim tracking, alongside Garmin & Apple.
Ultimately, here's my final thoughts on GPS & HR accuracy at this stage. Starting with the easiest, heart rate accuracy is simply not as good as the existing/previous sensor, nor is it as good as their competitors (except the Suunto 9 Peak, which isn't a super high bar to reach accuracy-wise).
From a GPS standpoint, at best I'd say 'meh'. Meaning that for all the hype of dual-frequency GPS, I'm just not seeing it when I look at the big picture. Sure, there are moments within a run where it's like "Woohooo, it's on the right sidewalk!", but for the vast majority of my runs, it's been basically the same as others (both good and bad). There's almost no noticeable difference in any of the hard terrain I threw at it, from cliff-sides to heavily forested…well..forests.
Which isn't to say that COROS might change that down the road. I could see firmware updates making it better (and certainly expect it too). But COROS also seems a bit hesitant on this sensor. While they refused to identify what GPS sensor it is, they would at least confirm it wasn't Sony. They said they were hesitant to confirm which sensor it actually is, as they might change sensor vendors down the road if they find something better (their words, not mine). Most wearable brands I know don't tend to change GPS vendors lightly. It's a huge decision, and typically a long-lasting one. So for them to be on a friends with benefits relationship with this mystery chipset provider might provide insight into why I just didn't see the gains many were hoping for.
Again, it's certainly not bad, it's just no better than anyone else.
(Note: All of the charts in these accuracy portions were created using the DCR Analyzer tool.  It allows you to compare power meters/trainers, heart rate, cadence, speed/pace, GPS tracks, and plenty more. You can use it as well for your own gadget comparisons, more details here.)
Wrap Up: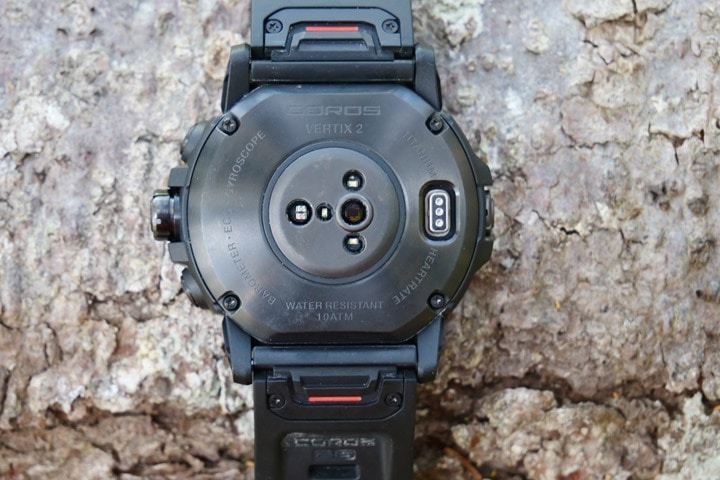 In many ways I'm impressed with the leaps and new features that COROS has managed to pack into the Vertix 2. This is clearly a next-generation product for them, and clearly a significant jump from the Vertix 1. While the navigation features are limited, having the underlying map makes a world of difference for navigation and providing context to where you're going. I continue to argue it's the biggest mistake that Garmin made with the Enduro – the lack of maps seems silly given its target audience.
The problem though for COROS is that for every cool feature on the Vertix 2, there's a list of caveats and exceptions. Things that should be headliner features (maps) are good, but not competitive at $699 when other platforms have so many other map and routing features to make things easy for users – both on the watch and within the app/platform. Other new areas, like the optical HR sensor, simply aren't as accurate as the Vertix 1 for me, with virtually all my data sets over the past month having at least one moderate inaccuracy moment within them. Which isn't to say that the Vertix 2 is a buggy watch in terms of programming, as I don't think it is. I just don't think the underlying components (new HR sensor and new GPS) have had enough time and field testing to really get all the kinks out.
And ultimately, that gets to my core challenge with the Vertix 2. You see, unlike the COROS Pace 2, which stands out as an incredible deal of a watch in terms of features and price (at $199 – easily undercutting the competition), the Vertix 2 is the opposite. In practice, none of the new features (save battery life) are better than the competition, yet the price is equal or greater than the competition. COROS says this is due to component costs, but ultimately, it's just not a sustainable price point given all the caveats. Had this been priced at $499, I think it'd cater to the same mindset as the Pace 2: That of a well-priced offering relative to the competition, even if it's not quite as polished or feature rich.
Ultimately, I like what COROS is doing here – and I really hope that they consider my feedback and likely others as well in their pricing considerations going forward. While I believe they'll solve many of the caveats and gaps I've outlined, that isn't necessarily a guarantee. Nor are the timelines for when that might happen. Though, if there's anything we know about COROS – it's that they easily out-developer virtually every other endurance-focused wearable company except one. So even if this launch didn't quite stick the landing, it probably won't be long until the next one does.
With that – thanks for reading!
Found This Post Useful? Support The Site!
Hopefully you found this review useful. At the end of the day, I'm an athlete just like you looking for the most detail possible on a new purchase – so my review is written from the standpoint of how I used the device. The reviews generally take a lot of hours to put together, so it's a fair bit of work (and labor of love). As you probably noticed by looking below, I also take time to answer all the questions posted in the comments – and there's quite a bit of detail in there as well.
If you're shopping for the COROS Vertix 2 or any other accessory items, please consider using the affiliate links below! As an Amazon Associate I earn from qualifying purchases. It doesn't cost you anything extra, but your purchases help support this website a lot. Even more, if you shop with TPC (The Pro's Closet), you'll save $40 on purchases over $200 with coupon code DCRAIN40! The Pro's Closet has been a long-time partner of the site here - including sponsoring videos like my cargo bike race, as well as just being an awesome Colorado-based company full of good humans. Check them out with the links below and the DCRAIN40 coupon!
And finally, here's a handy list of accessories that work well with this unit (and some that I showed in the review). Given the unit pairs with ANT+ & Bluetooth Smart sensors, you can use just about anything though.
And of course – you can always sign-up to be a DCR Supporter! That gets you an ad-free DCR, access to the DCR Quarantine Corner video series packed with behind the scenes tidbits...and it also makes you awesome. And being awesome is what it's all about!
Thanks for reading! And as always, feel free to post comments or questions in the comments section below, I'll be happy to try and answer them as quickly as possible. And lastly, if you felt this review was useful – I always appreciate feedback in the comments below. Thanks!