Just a super quick post to note that I've published a full unboxing of the COROS VERTIX 2, but more notably a complete user interface tour. In the video I walk through all the pieces of the watch from a feature standpoint, piece by piece and at a slower (but far more detailed) pace than I could within my full review video ('11 New Things to Know'). Because of course, in my user interface videos I throw time (caution) to the wind and just keep digging till I'm done digging.
If you open up the full video above there's chapters in it (along the bottom in the YouTube player), or here's the timestamps for various pieces (with clickable links!):
0:00 Unboxing the Box
3:30 Weight Comparison
5:49 Widgets Explainer
8:23 Toolbox Features
9:47 Music Features
11:40 Insta360 Camera Control
12:47 ECG HRV Feature
13:54 Sport Modes
14:23 Mapping
20:14 Workout History
22:15 Bluetooth Sensor Pairing
23:20 Extra Settings and Options
Now that'll keep ya busy for a while. But, here's one totally random tidbit from COROS that I thought deserved about 18 seconds somewhere in a post: They're planning a desktop platform.
While reading through the COROS Facebook User Group, I stumbled upon the below tidbit. Essentially, people were having trouble with the COROS site and pre-orders yesterday for a short bit if coming from a smartphone. One person remarked it was ironic that you couldn't access the site from a smartphone, while COROS's watch can only be accessed from a smartphone. In any case, COROS responded back:

I'll note that I've always been pretty impressed with COROS's engagement in this Facebook group. Certainly, engagement by companies in various social media platforms is nothing new, but COROS does seem to outline many of their future plans here (usually just smaller tidbits, but still).
As far as a desktop platform, my guess here is this is more in reference to a web platform accessible from desktop (à la Garmin Connect or Polar Flow websites), rather than desktop software. Or at least, I'd hope so. In fact, we've seen little tidbits of that from time to time from COROS, such as their web portal for at least seeing your activity list (nothing is clickable below for more details, it's just a simple list). Same goes for seeing all your products too, as well as the ability to import data into it too.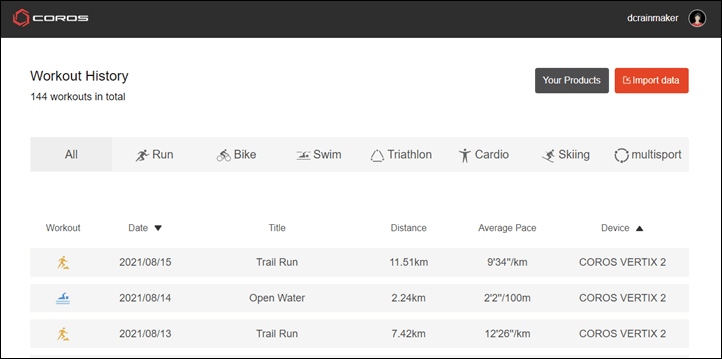 In any case, I thought the snippet above was worth a brief mention somewhere.
With that, back to editing the backlog of videos and posts from the past three weeks of shooting! Coming up next we've got both an Openwater Swim Extravaganza/Shootout, and a Bike Computer Climbing Shootout. And plenty more…
Thanks for reading (and watching)!