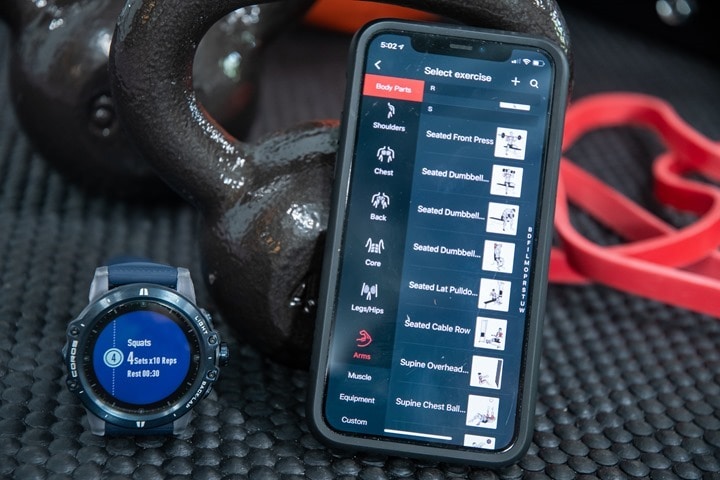 COROS has announced a slate of structured workout features for both inside and outside that'll be pushed to the majority of their watches next week, specifically the VERTIX, APEX, and APEX Pro Series. So basically, everything except the budget-focused PACE.
The new features are divided up into two camps, though they roughly fall under the same umbrella. The first piece is structured workouts for running, cycling, and swimming. Such as creating an interval workout like a coach might do. This allows you to configure specific targets as well as durations, and string them together to form a complete workout.
Whereas on the strength side they've added a large database of specific workout movements and exercises – such as anything from Parallel Bar Dips to Planks to Sit-Ups. These can be strung together as well to form a larger cohesive workout, and then executed on the watch or even shared on the COROS platform (this last bit being particularly unique within the wearables realm actually).
While these features won't hit watches till next week, I've got a bit of an early look at the functions and the details behind them. Things are still beta of course, but the vast majority of it is complete at this point and shows a pretty substantial jump forward for COROS. Not to mention it's nice to see that all but one of their watches gets the update.
Custom Swim/Bike/Run Workouts:
First up is the ability to create custom workouts using the app itself. I see this as a bit of a precursor to accepting 3rd party workouts from apps like TrainingPeaks and others. By ensuring their own stuff is sorted first, they can then deal with the larger aspect of standardized .FIT workout files.
In any case, to begin, you'll start on the app by choosing the 'watch' tab at the bottom right, followed by the 'My Training' option in the center of the page. Training is linked to a specific watch, rather than being generic across the platform (or at least, it's enumerated that way – which also means you can't create workouts if your watch isn't powered and in range). Then, tap to 'Add Training', then hit 'Create Program', where at the bottom you'll choose the sport type.
For this example, I'll choose run. You can give it a name and description, and then tweak the warm-up, run, and cool-down portions. The 'Run' is basically the repeats you want, where each section has a Work and Rest interval. COROS groups those together, but you can still zero out the rest if you want (or vice versa):
Right now the only two parameters for structured run workouts as durations are time and distance, with intensity options of heart rate (based on zones), pace, or none. This is what I'd consider a pretty normal workout offering, whereby more advanced implementations would also include cadence (for cycling you can choose heart rate, speed, and power). Still, for 99% of runners, this is perfectly fine.
When setting the pace, it's a little bit backwards to how a native English speaker would set it. The times are shown 4'00"-3'30", which was confusing at first, as my brain things 3'30"-4'00"/km. I'm sure those are minor things they can sort out. Also, you'll set the number of reps for that set (again, some minor terminology issues here), followed by the rest duration (a rest HR target can also be set as well).
You can both add additional sections, as well as duplicate or delete them: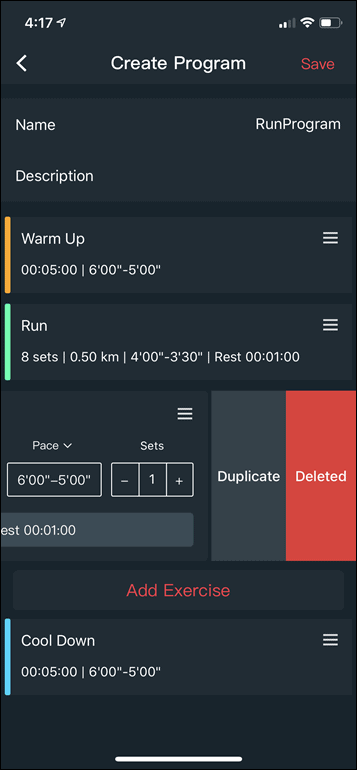 Once you've got your program, you'll be able to tap it and then hit 'Add', which syncs it to the watch.
Now, over on the watch you'll see the workouts listed under a new 'Training' option, which shows all of your structured workouts.
After selecting it, you can immediately start the workout, or you can view the workout. I like the way they present all the steps in this connected bubble thing: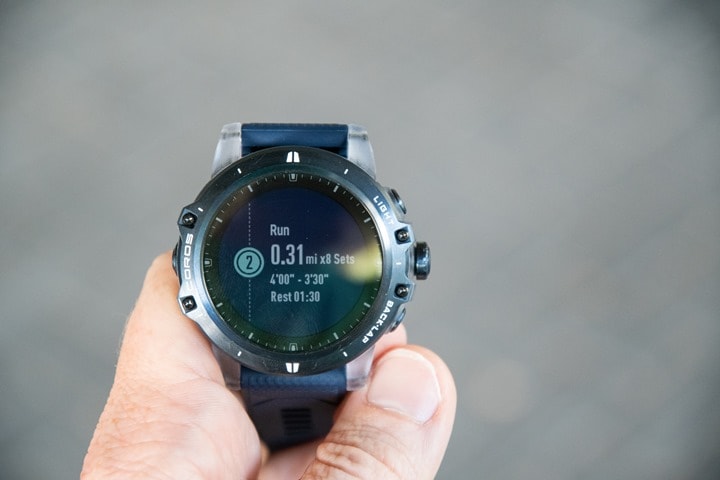 Once started it'll show a new workout page that counts-down the time remaining for that particular segment of the workout: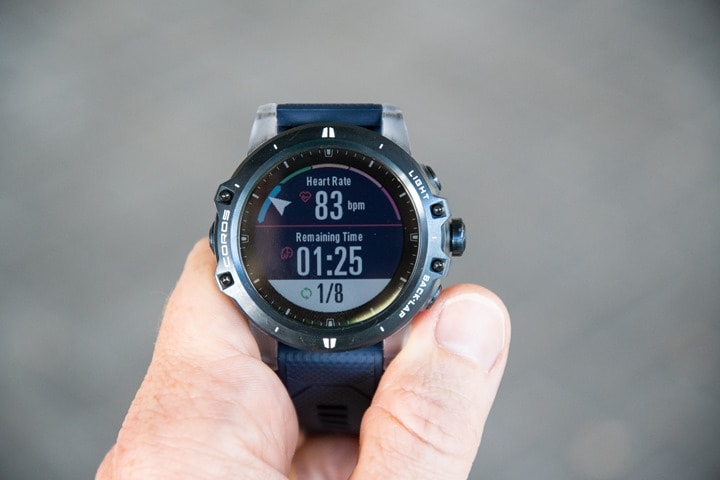 You can fast forward to the next piece of the workout by pressing the lap button, which will then show your current distance/duration target remaining and lap time). On the top you'll see the color-coding showing the exact pace targets. Green is on target, blue is low, and red is too fast: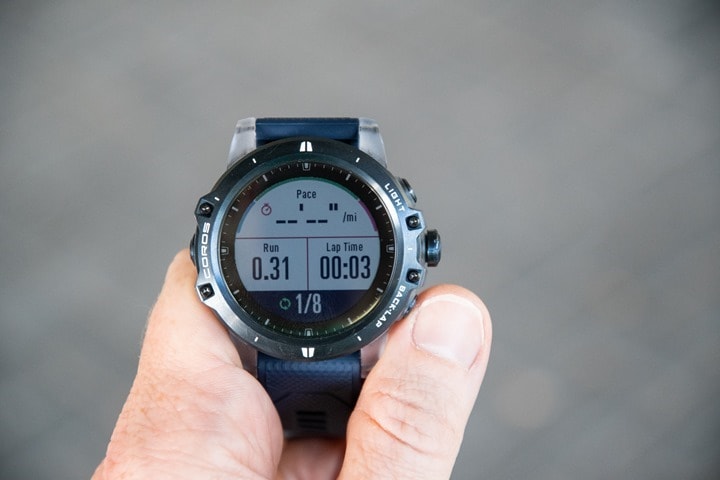 All of it's pretty straightforward to be honest. And again, remember you can skip sections by pressing the lap button. At present, I'm told the completed workouts in beta aren't quite finished to allow export. So I've saved that bit for down the road once ready.
Strength Training:
This is probably where things are a bit more impressive. While most of what we see COROS doing here isn't new per se, they do a pretty solid job of tying it all together into a single cohesive package. It's not perfect yet, but the core elements are there.
First up, is creating a strength workout. Of course, strength training can come in many forms, from core workouts without any gear, to bits of light gear, to heavy gym equipment. Like before, you'll go to add a new training program, except this time choosing strength:
Once that's done, you'll tap 'Add Exercise' to dive into the exercise database, which is sorted by body type. It's…umm…incredibly extensive:
But it's also sortable by muscle groups:
Or even exact equipment you've got (such as ropes, dumbbells, bands, etc…).
Seriously, this is super impressive.
Obviously, COROS likely licensed this database of movements/exercises from someone – but I've never seen anything this detailed anywhere in any other products. For example, you can't filter in Garmin's database anywhere near like this, nor does it have imagery for their strength training (just their yoga/etc bits). Fitbit has imagery, and way back when so did Adidas. But again, nothing to this extent. Once you've selected a given exercise, it'll show more details about it, and then you can add it.
As with before, you can then sync it to the watch, and then pull it up on the watch itself.
Once on the watch it'll give you the name of each step, along with the reps for each one. It doesn't appear at this point to do rep counting however. Nor does it show any of the animations from the app. So for any specific moves, you'll need to know exactly what they were (and you can't access that app menu once the watch has started, so you can't use that as a reference guide).
You'll advance each set by pressing the lap button until completion.
Now, what's cool is that over time, it'll build out which areas of the body you've worked out, and that'll be viewable in the app. Here's an image from COROS on what they'd look like if I actually went to the gym for 6 months. That's an incredibly cool concept: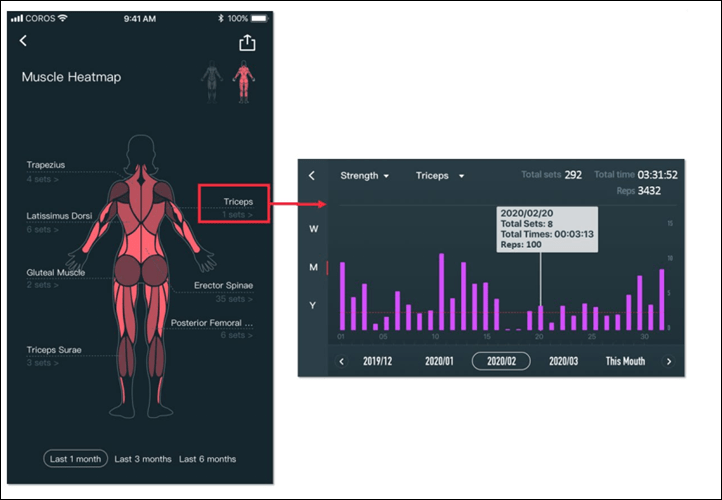 Like I said earlier, the fundamentals of what they're doing are good. There are elements that are clearly better than Garmin here – such as all the app-based filtering of the workout creator. Garmin has absolutely nothing to that level at this point.
Though once it's actually on the watch it's not quite the same. Some of Garmin's more recent watches include animations on the watches of the specific movements (as do Fitbit, Polar, and others). That's super helpful if it's something a bit more complex (or, if you're new in the gym). And the relationship between the watch and the app and being unable to use the app on your phone to double-check poses is a bit weird.
But, once you're done in the gym, then you get back into the app, that kind of long term tracking is incredible – like, super super cool.
Wrap-Up:
As I said back earlier this year when COROS rolled out their running track tracking bits – I like some of these newer ideas they've been focused on. Shifting away from the competitor duplication of years past, to focusing on legit new features that either nobody else is doing, or doing them in a different way that's potentially more appealing. I also really like the fact that they're rolling it out to all but their oldest watch. I presume the limitation there is one of processing power.
The only challenge, as with the running track bits, is that some of these features are a bit 80% there, and need more focus to make them sing. They're close, but they need some of their sponsored athletes to basically tear them apart and really optimize them for the athlete – rather than the engineer. It's a problem many smaller companies have, where they lack a broader test group that's able (or willing) to give critical feedback to smooth out the edges and make it feel like it was designed for them.
But as I said, they aren't far here from that. Not at all.
With that – thanks for reading!