In general, I'm actually not a big treadmill-loving person – despite having way more experience running on treadmills week after week in hotels for years, than I ever want to remember. For the most part, unless it's just above the freezing point and sideways raining – I'm going to run outside. Whether it be hot and sticky, or snowy and icy – I'd rather gear up and explore the great outdoors. Or, explore the great city.
But it's that middle-ground weather of just a few degrees above the freezing point on a dark and windy night with near-frozen rain that I despise running in. And unfortunately for me, that's basically the weather here in the Netherlands for about half the year. I attempt to mitigate that by instead running at lunch when it's usually warmer/brighter, or by simply cycling indoors more during the winter.
In fact, I've had a treadmill for many years. We bought it in Paris to do testing, and even managed to get it underground into the Cave system. But it doesn't get a ton of use. I've tried various apps, with Zwift running coming the closest to being interesting. But even that I bore of quickly. So back in September when Peloton opened up sales for their Tread treadmill (the less expensive of the two), I ordered one to a friend/reader in Germany, and picked it up a couple of weeks later. Yes, I'll explain that in a second.
Frankly, I didn't really know if I'd like it. Sure, a big piece of buying the treadmill was to write a review and do a YouTube review on it. But I also didn't really expect to like the Peloton Bike either – and it's since become a staple in my weekly workout lineup, alongside rides on both Zwift and TrainerRoad. The same goes for my wife, and occasional household visitors. Thus, maybe the Peloton Tread would end up the same.
Now it's worth noting that this is the updated one with the new provisions to protect children and pets. I'll dive into that too more later in this post, especially notable since I have three young daughters (and a small dog). Further, this is the Peloton Tread, and not the more expensive Peloton Tread+. That model is still not back for sale yet. The Peloton Tread costs $2,495, with a $39/month subscription fee.
With that – let's dive into it!
Delivery and Setup Process:
Given the Peloton Treadmill isn't exactly a small item, it's only delivered by Peloton technicians to specific countries. Those technicians arrive and complete the assembly of your treadmill to a location of your choosing. At 290lbs/132KG, it's not something most people tend to want to deal with themselves.
Except, I'm not most people.
Also, I don't live in one of those countries.
I live in the Netherlands, which is devoid of Peloton purchasing ability. However, next door is Germany, where Peloton does deliver. And with the help of a DC Rainmaker reader (thanks Chris!), I'm able to get Peloton goods delivered to his house, a mere couple of minutes over the German border (seriously). So, each time I buy something from Peloton to review, I send it to his house and then rent a kidnapper van for the 2-hour drive from Amsterdam to the border: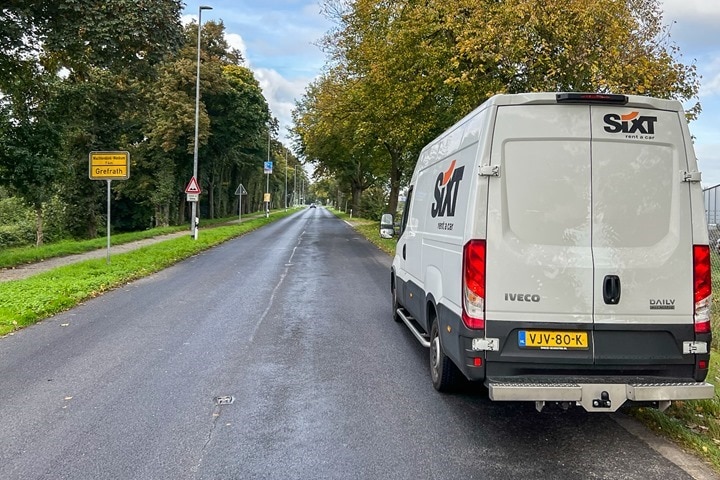 Meanwhile, that morning, I had Peloton deliver it to his garage. They set it up as they always do. He said it took about an hour, and took a few photos. The majority of it was pre-assembled, but they added the screen and then tested it to ensure it worked: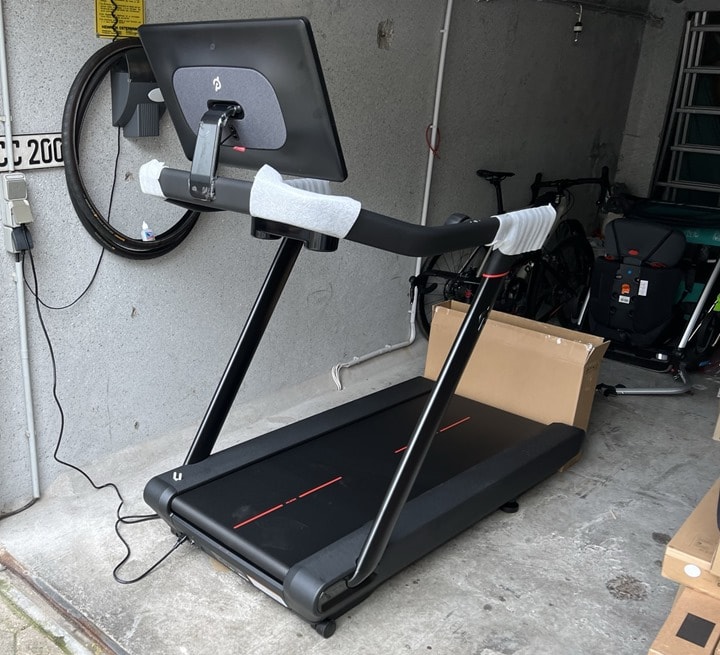 This was actually one of the first days Peloton was delivering treadmills to Germany. As a result, while he said they did everything perfectly fine, they seemed a bit greener at this. No worries, everyone has to have a first time for everything.
About an hour after they left, I arrived and we wrangled it up into my rental van. This wasn't too hard for us, though as runners and cyclists we probably weren't the most graceful pair to watch.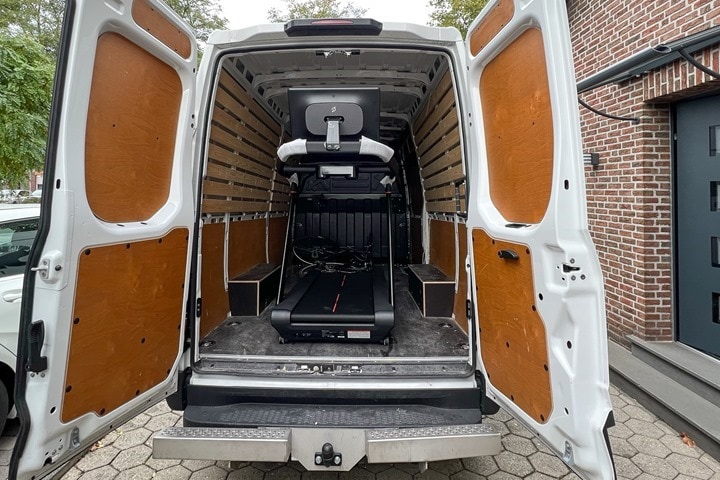 I then drove it back to Amsterdam, where I figured out how to remove it solo from the van. This was also very much not graceful: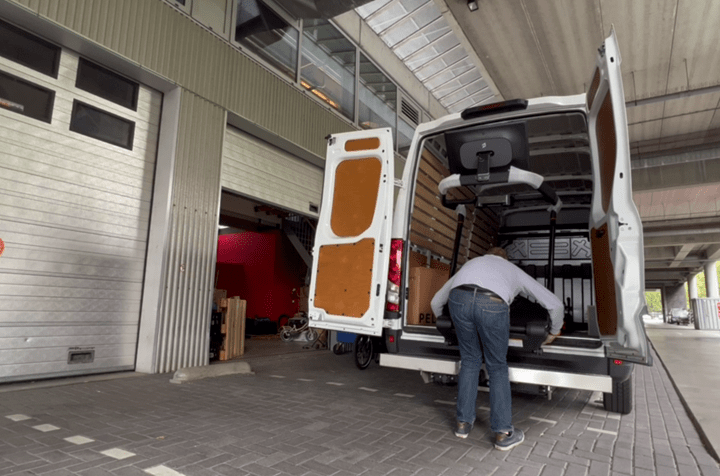 But once out of the van on flat ground, it easily rolled around: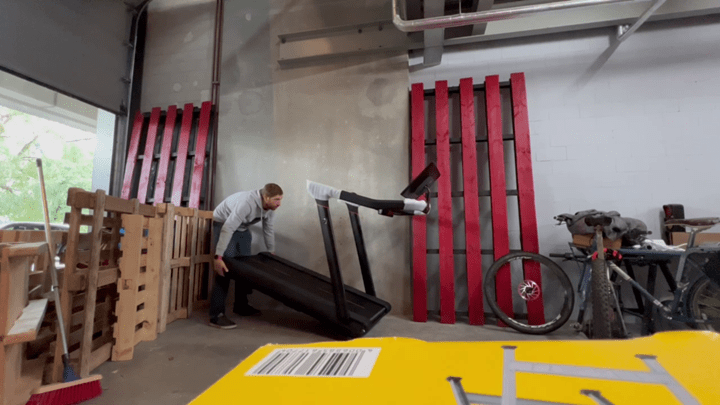 With that, my delivery was complete. I then simply activated the treadmill, which notably takes advantage of your existing Peloton hardware subscription if you already have a Peloton Bike or Bike+. Meaning that if you have a Peloton Bike/Bike+ ($39/month subscription), then the Peloton Tread doesn't cost anything extra to use. All Peloton hardware subscriptions allow numerous users (roughly 20 people), so you can mix and match these two units under a single subscription.
The Tread Hardware: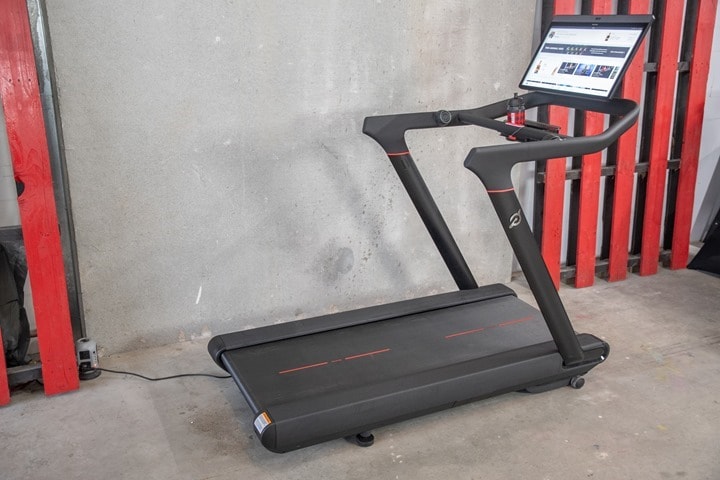 To begin, the Peloton Tread isn't that much different than most treadmills in terms of size and weight. The unit measures 68" long x 33" wide x 62" high (173cm long x 84cm wide x 157cm high), and weighs 290 pounds (132kg). Peloton suggests you have at least 79"/201cm of space behind the treadmill, in case you have a 'bad day' and fly off the back of the treadmill. The step-up height on the Peloton Tread is 8" (20cm).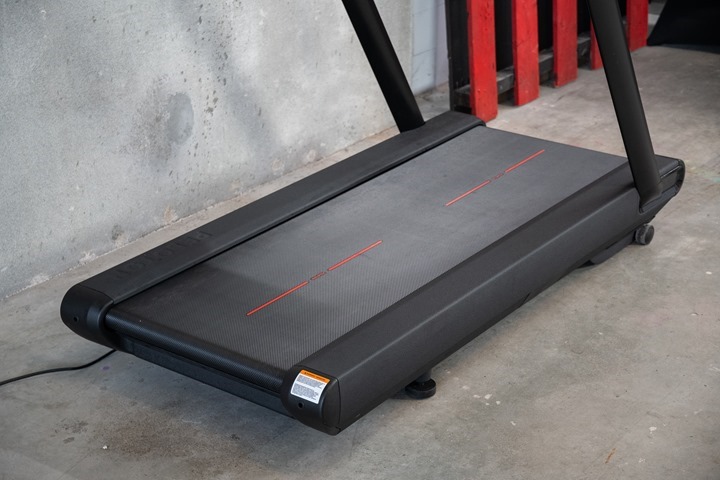 The maximum permitted runner weight on the Peloton Tread is 300lbs/136kg, from a height standpoint, Peloton says it's ideal for 4'11" – 6'4″. I'm 6'2" (188cm) tall, and had no problems running on it. About the only time I felt a bit space constricted was doing some of the high-knee warm-ups by certain instructors, in which case I had to be careful not to karate-knee the front strut.
The unit is powered by a 3 horsepower DC motor, which is relatively quiet until you add a person on top of it. Once a person is on the treadmill thumping along, it sounds basically just as loud as any other treadmill. You can reduce that noise a little bit by adding exercise mats under it, with thicker ones reducing some of the vibrations as well for cases where the treadmill isn't on the lowest floor.
Unlike some treadmills, the Peloton Tread does not fold vertically to save space. Though frankly, on my older non-Peloton treadmill that does fold vertically, I don't find it really saves that much in the grand scheme of things anyway, as it's not like you can just cart most 300lbs+ treadmills and stash them in a closet when not in use.
The Tread has a traditional running belt design, and notably doesn't have any sort of cover over the belt (where a motor would be) towards the front. For example, if you compare this to my other older treadmill, it has a front cover portion, which I routinely clip at least 1-2 times a run. Instead, the Peloton motor is housed internally under the treadmill deck, out of sight without the need for a cover.
From a speed and incline standpoint, the unit goes up to 12.5MPH/20.1KPH (4:48/mile & 2:59/KM). Note that I specifically led here with referencing 12.5MPH, and not something in kilometers. That's because if you're watching English language Tread classes on Peloton (and it's exceptionally likely you will be), then the target speeds are referenced by instructors and displayed in MPH, not KPH. You can still switch your pace metrics over to minutes/kilometer, but not the core speed metric. Still, for most non-US runners, I don't think it matters a ton because most runners don't talk about speed in MPH/KPH (e.g. 12KPH) – they talk about it in pace (e.g. "5 minutes a kilometer"). And I've never heard an instructor mention pace, probably on purpose for this very reason. Thus, it all kinda works out.
Oh, and on the incline side, the unit tops out at 12.5%, which is about 12% higher than you'll ever want to put it. 🙂 There is no negative decline. Notably, while the Tread+ and Tread have the same 12.5MPH top-speed, the Tread+ can go up to 15% incline. We'll talk more about the speed bits later in the review.
Next, we've got the screen – which is undoubtedly the best part of this treadmill. While the treadmill running belt/base portion isn't really meaningfully different than any other treadmill out there, the Peloton display is substantially different than most treadmills. Virtually all interaction with this treadmill goes through this singular display, which is very similar to the existing Peloton Bike+ display. It measures 23.8" diagonally, and is a 1080p.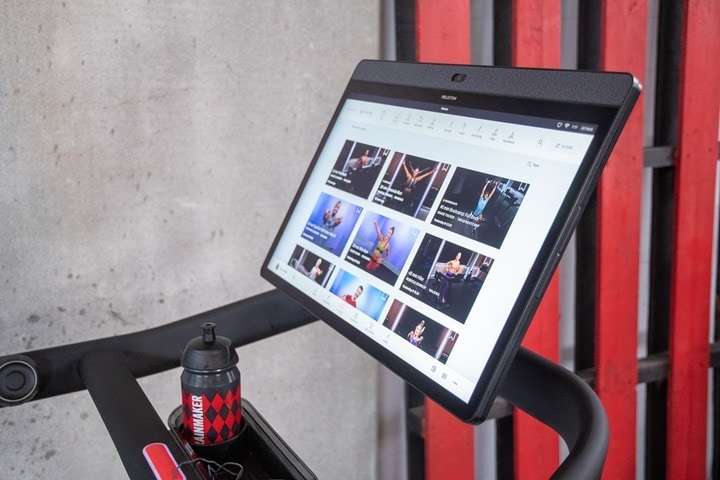 Internal to the display the Peloton Tread is essentially an Android phone (with a 2.5Ghz Qualcomm QCS605 processor, 5GB of RAM and advertises 16GB of storage – though, most of that storage is used up – leaving you about 3-4GB free). In fact, with some creativity, you can sideload any Android apps (more on that in the geek section). This display features 802.11 a/b/g/n/ac 2.4GHz/5GHz, Bluetooth audio connectivity, as well as support for both ANT+ & Bluetooth heart rate straps. If WiFi isn't great where you're installing it, you can use a USB-C Ethernet adapter. The display also has a front-facing 8MP camera, in case you want to do a session with someone else (along with four mics on it). It also has a small privacy cover you can slide over the camera: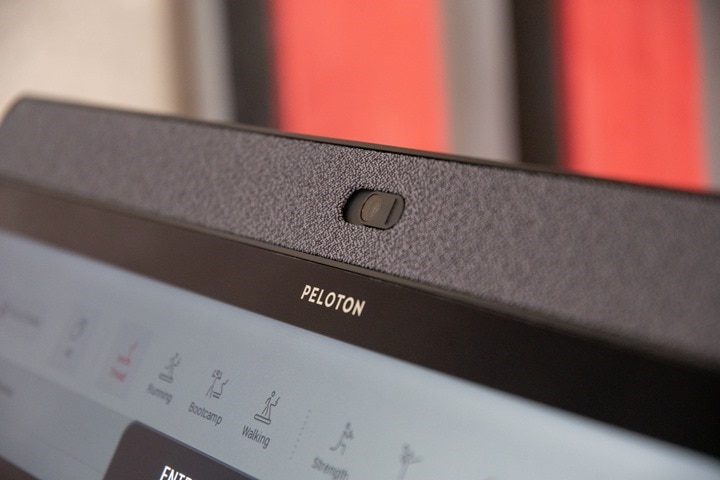 Audio-wise, the unit has front-facing stereo speakers and two rear-facing woofers. I used the speakers the majority of the time in the concrete jungle that is the DCR Cave, and this thing can literally fill an entire warehouse bottom with sound (no, really, the bottom of my studio is a warehouse space). While one could have a discussion about audio quality (which, I found perfectly fine and clear for the purpose), the reality is that once you add your flapping feet atop a moving and noisy belt at full speed intervals – the specifics of the audio quality just aren't meaningful.
Meanwhile, on the back, there's an extra USB-C port for charging your phone or any other USB-C device you need to charge. I suppose you could buy a USB-C fan if you wanted to. the Peloton display itself is also powered by USB-C, which is the cable plugged in. Above that port is a 3.5mm headphone jack, for when you want to tempt the strangulation gods. Also on the back is the power button. The only minor note on the USB-C port, is that the port-hole itself is rather small, and specifically oval. While this may sound trivial, many of my USB-C cables to charge other things won't fit in there, as they are square/rectangular.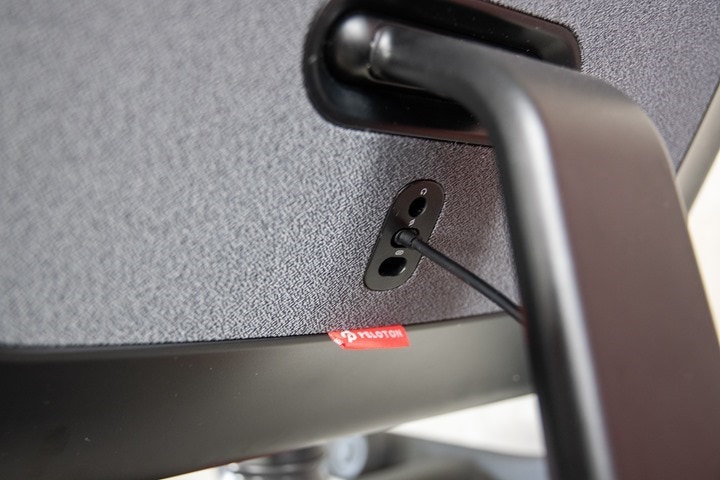 One of the key things about the newer 'Late 2021' Peloton Tread is that the display will probably stay attached to the treadmill now. Hopefully. As I'll dive into in a second, that was a key reason the Tread (not Tread+) was recalled, the front display would wobble and detach mid-run (seriously).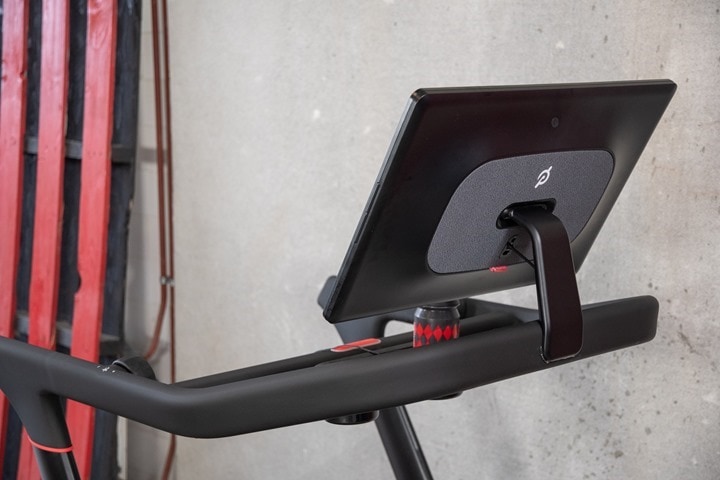 On the right side of the display are up and down buttons, which control the volume: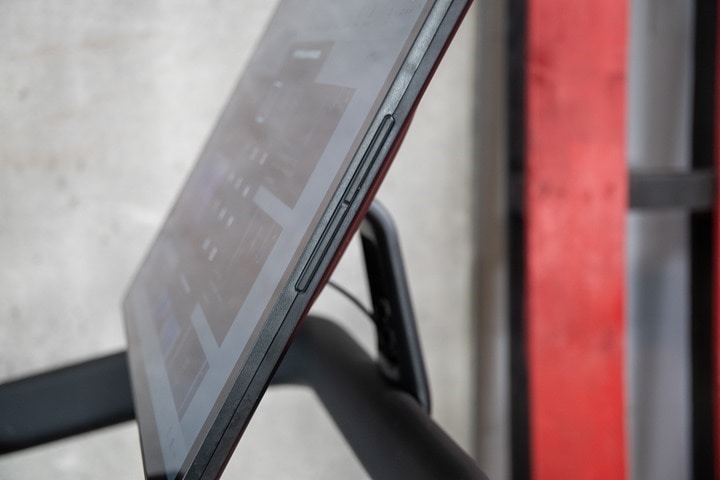 When you tap them though, you'll also get an on-screen prompt to re-balance the audio to be more instructor or music heavy: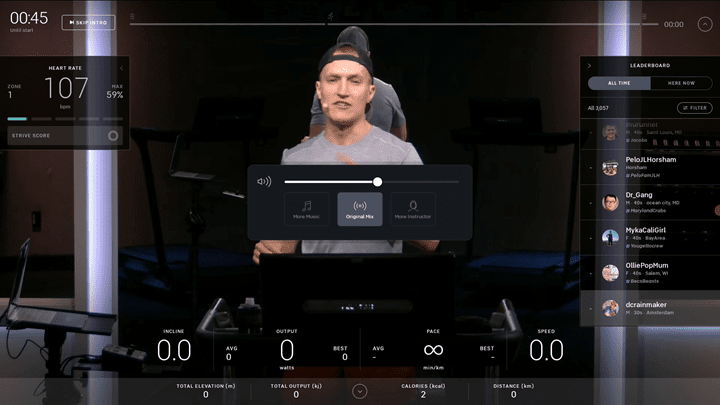 The entire display is held up using the struts and a cross beam support structure. On the right side is your speed control, whereas the left side is your incline control. Both are round rolling dials that increase speed and resistance as you rotate them forward and backwards. Incline jumps in 0.5% increments, whereas speed jumps in 0.1% increments (MPH).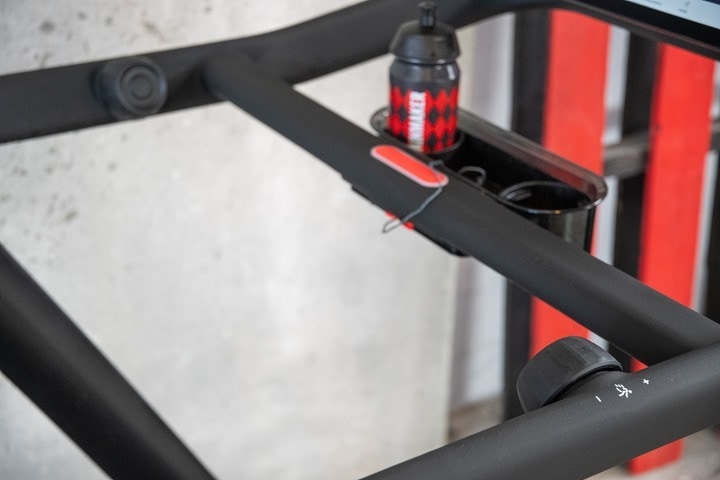 However, inside each dial is also a button. That button is a quick-access control to increase your incline by 1%. So tap it twice for 2%, 5 times for 5%, and so on. Whereas on the speed-side, the treadmill jumps up in 1MPH increments. It also has some quick access bits on the menu screen we'll talk about later.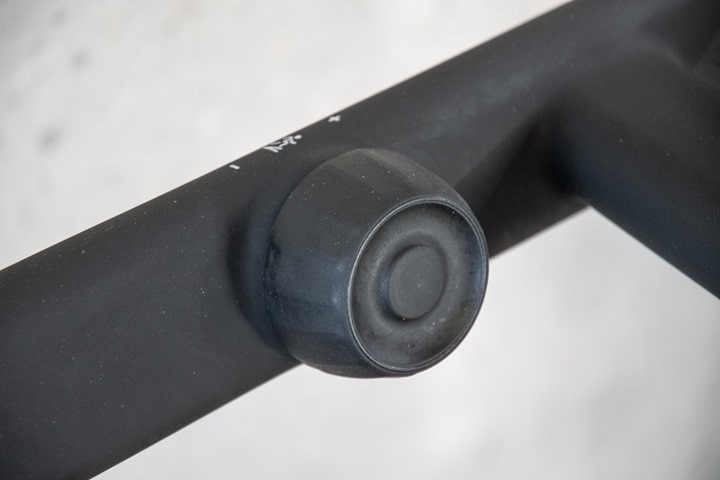 Meanwhile, on the cross-bar are two water bottle holders, and a space to stash gummy bears in between – right behind the 'STOP' button. So you can either hit stop, or just hit more gummy bears. Your choice.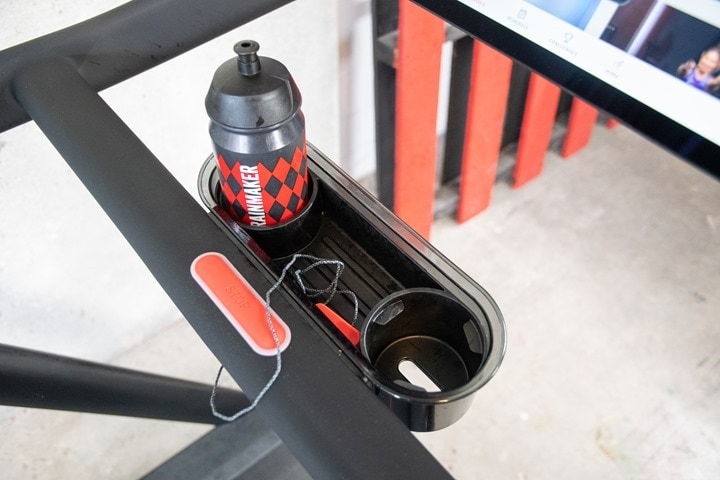 Finally, there are the safety aspects. As you may remember, back in the Spring of 2021, Peloton recalled their Peloton Tread & Tread+ units. But there were actually two slightly different reasons. First was that screens were flying off the Peloton Tread models, and then there were safety incidents with the Tread+, including the death of a child. Peloton ultimately recalled both units. If you've never seen the Peloton Tread+ child incident video (which is *NOT* of the child that died, but a different child that walked away), I'd strongly encourage every person to watch it (even without kids). It's available on the US Consumer Protection Safety Commission's Twitter feed.
What you quickly realize after watching it, is that this isn't a Peloton-specific problem. Rather, it's largely a generic treadmill problem, whereby the weight of a treadmill and strength/grippiness of the belt can easily pull any object in to it. Don't worry, YouTube more than demonstrates this with numerous treadmills over the last decade. And there have been other non-Peloton treadmill deaths as well, notably including Mike Tyson's daughter. In looking at my existing ProForm 1250 treadmill, it'll easily pull an exercise ball+child under as well – though a core challenge with the Peloton Tread+ is the weight is significantly heavier. Still, just like drugs in cycling, this is not just a Peloton (or Lance) problem. It's an industry problem.
Deservedly or not, Peloton as a popular household name was an easier target for lawsuits than relatively unknown treadmill companies. However, the good news out of that is Peloton at least has mitigated portions of it in the newer Tread. And while the lower-cost Tread was not recalled due to the child issues, it was recalled specifically because the front would fall off and could injure someone.
No matter the reason, with the Peloton Tread, there's now a safety lock in place. It does a few things. First, in order to use the Peloton you've got a hardware key that you can physically hide somewhere, so the treadmill won't start without it (this was here before):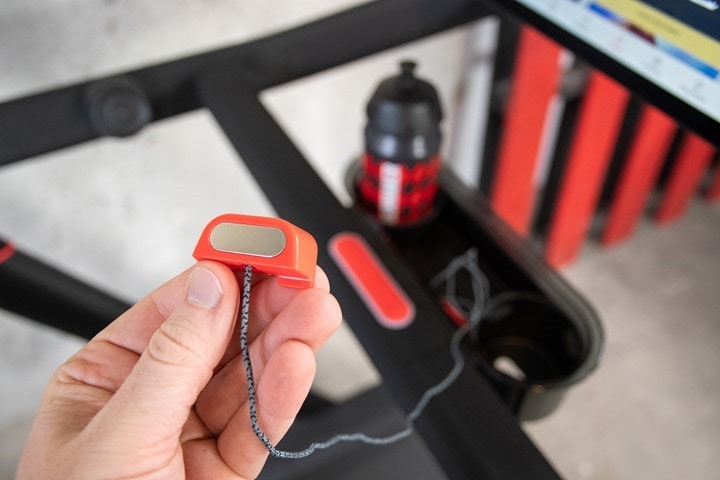 Second, and arguably far more importantly, it's now got a software pin code lock too – called Tread Lock. As a required feature, the pin code lock automatically activates after 45 seconds of you stopping touching the screen outside of a workout. In a workout, if you get off without stopping the treadmill, it'll also activate in about 15 seconds, and then give you a 15-second countdown. Further, if you go into the Peloton settings, or press the Peloton logo button, it'll also require a passcode to get activated again.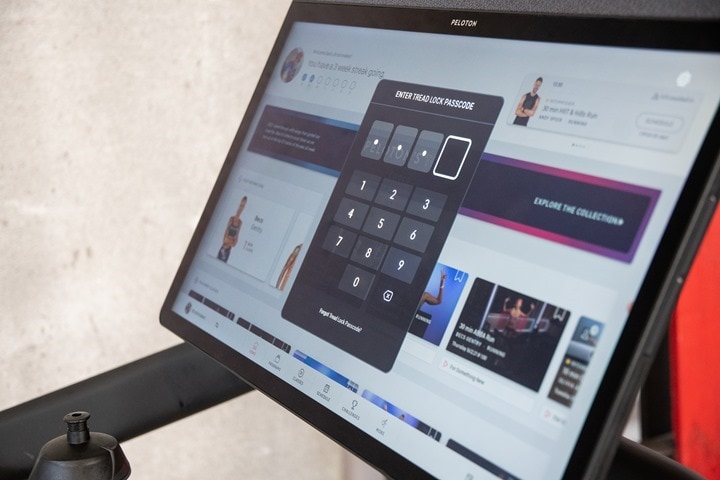 In fact, you can hear the lock engage each time, as a loud click. Interestingly, this has geek ramifications as well, as it basically makes running 3rd party apps on the Peloton treadmills now difficult, as the Peloton Tread will auto-lock within that 45 second period, since it doesn't think you're there anymore.
Finally, you'll notice that every time at the start and ending of a workout the instructors will audibly remind you to ensure you've cleared the area pre-run with no kids/pets around, and post-run that you've taken the key out.
The Peloton Platform Basics: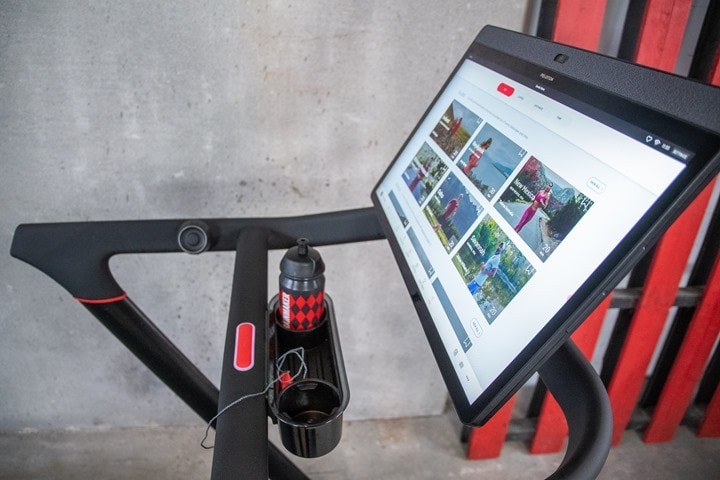 While this review is about the Peloton Tread, the reality is that the Peloton platform is far bigger than just this treadmill (or treadmill running). There's a boatload of different guided sports that your subscription covers. Which as I just implied, does mean you effectively need a subscription. Sure, you can technically use the treadmill without one, but that'd frankly be silly. You'll be heavily overpaying for something that any other treadmill can deliver: Increasing/decreasing speed, plus increasing/decreasing incline. Without a subscription, those are the only two things you can do.
You can do other strength classes directly from the Peloton Tread screen, which Peloton boasts would let you do a "full body workout". And while that's true in theory, in practice it's a little less so. That's because, unlike the Peloton Bike+, the Peloton Tread's screen doesn't rotate. as such, for most ground/floor positions, it'll be an awkward place to view the screen. Still, you've at least got access to the platform on any other device (tablet/phone/TV/etc…) – so the world is your oyster there.
First up though is logging in. You can create numerous profiles here for people in your family (or friends), this means if they visit they can use the Tread without cost.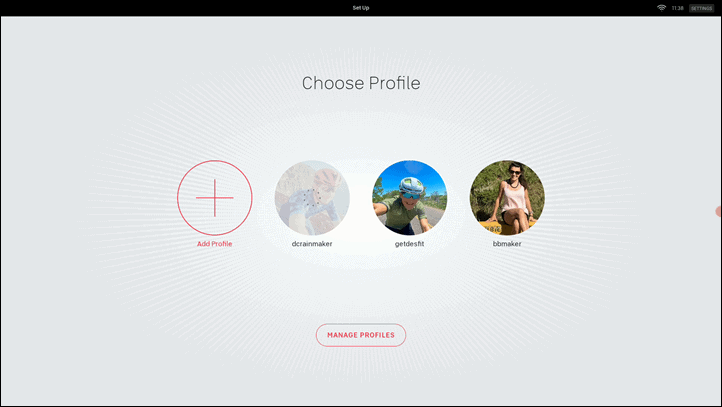 After you've logged in, you'll see your dashboard. On the left side are your recent rides, and in the upper right corner are upcoming or in-progress live classes. Below that, in the middle, are recently recorded classes that you can jump into, as well as your favorite instructors.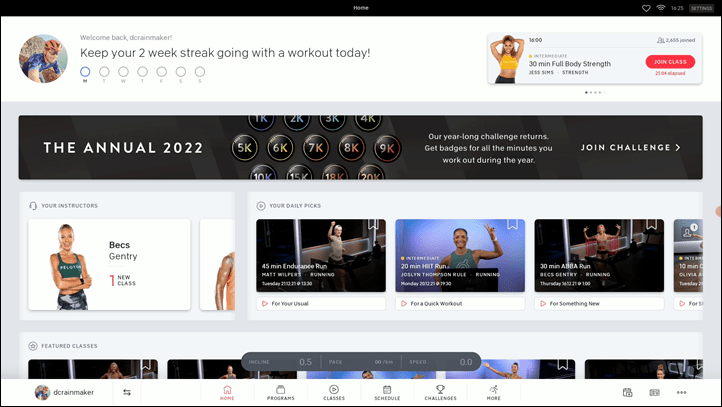 In my case, I'm typically going to tap on my frequent instructors (Matt Wilpers & Becs Gentry) to see what classes of theirs I've missed since my last Tread workout:
As with real life, your preference for a given instructor is going to vary from person to person. Some instructors I can't stand even 6 seconds of. Yet others I can't wait for their next class. And some are in the middle. I specifically like these two instructors as they're more endurance-athlete focused. Becs Gentry was 4th in the Olympic Marathon trials this past year, and Matt Wilpers is an iron-distance triathlon coach. While both are upbeat and entertaining, neither are over the top with never-ending motivational quotes. A bit of encouragement is good, but I prefer a coach/instructor who is also more business than silly.
However, you can also tap on the general 'Classes' button to see all recent classes, ordered in reverse order (so the most recent one is displayed at the top left, ordered from there). You can use a filter to narrow down the instructor, duration, genre, or specific workout targets.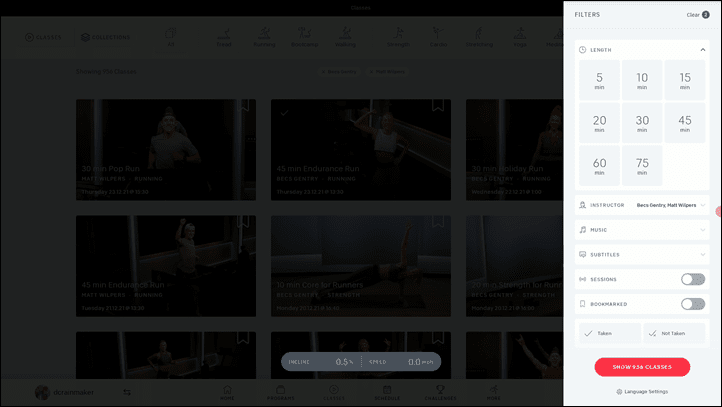 For example, I could filter all workouts from those two, and then I can further filter to just 45 minutes long workouts (of which there are 956 running workouts from them, or 156 that are exactly 45 mins long from them, or some 791 running workouts from anyone that are exactly 45 minutes long).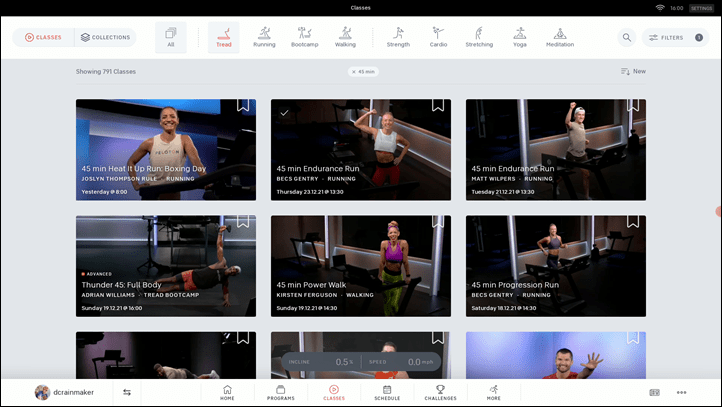 On an average day, there's roughly 5-7 new classes being recorded by a variety of instructors. Workouts range in length from 5 to 75 minutes long. But, you can also create what are called "stacks", and line up multiple workouts to execute in a row. Thus you could do an easier 45-minute workout, and then throw-down a 30-45 minute interval workout after that. The only caveat is depending on the instructor you might have a longer warm-up in there, though cool-downs only tend to be 1-2 minutes long (instead, Peloton wants you to take secondary cool-down classes, which are 5-10 minutes long).
There are also Training Programs, though in the case of the Treadmill, there are only two running-specific ones. This is somewhat silly, as frankly it'd be so trivial to arrange piles of programs for 5K/10K/Half-Marathon training. Yet there's only a 5K and general run program. Anyway, programs are essentially just a collection of classes that are semi-organized to be taken in a certain order and sequence for a set number of weeks.
However, aside from the Peloton app tracking your progress through these classes, there isn't anything in the class itself that references it being part of the program (because the classes are just regular classes cobbled into this menu).
Meanwhile, there are also so-called 'Collections', which are generally organized around a given theme. Sometimes that's musical, sometimes it's not – such as Black History Month or PRIDE month. There are a number of run-focused collections in here.
On the next tab you've got the Schedule. This tab shows the upcoming live (and encore) classes. Encores are basically repeats, except that they've reset the leaderboard. So no, it's not live, but we can pretend it's live at that time. From a running standpoint, there are roughly 5-7 workouts per day that are live across a variety of time zones. Peloton operates two studios, one each in London and New York City. They use those facilities to essentially cover the global time zones through the combination of both very early and late classes. Peloton has gotten far better here in the last year in terms of covering most time zones with live classes, so I'll give them props there.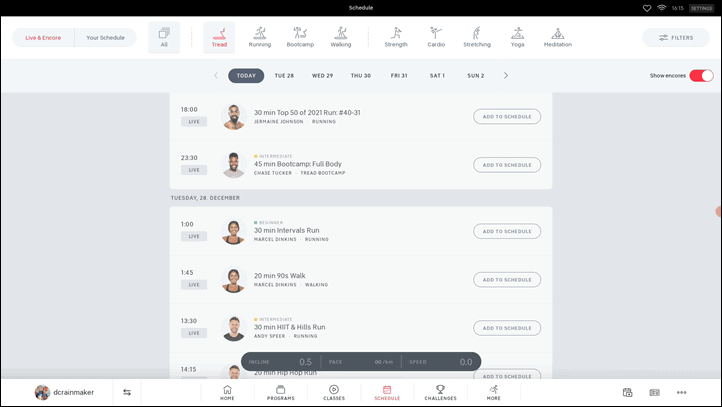 You can tap to add it to your list, where you'll get a reminder prior to the class starting on your phone…or smartwatch. Some folks will only do live classes, while others simply can't partake with their favorite instructors on the times they go live. In my case, for Matt Wilpers both running and cycling, they tend to be just after lunch my time (he records in the NYC studio early mornings), so it actually works out great for me.
Additionally, if you pick a non-live class, you can also schedule it for a specific date/time in the future. In other words, effectively creating a scheduled calendar for yourself.
Moving along on the user interface there are challenges. These let you earn badges for completing various milestones. You can enroll in these, as well as see your friends' status in these challenges. For example, just yesterday I got the enrollment notification for the 2022 challenges. And then you can always dive in and see progress to existing challenges or completed ones.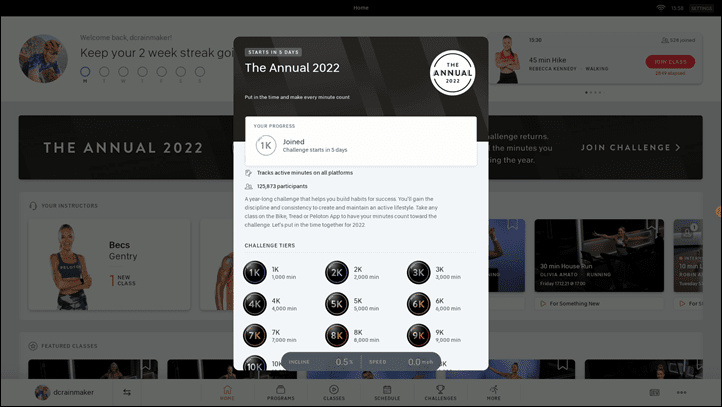 Next, we've got the 'More' tab. That tab is the place Peloton stashes things they hate (or, occasionally pretend to like):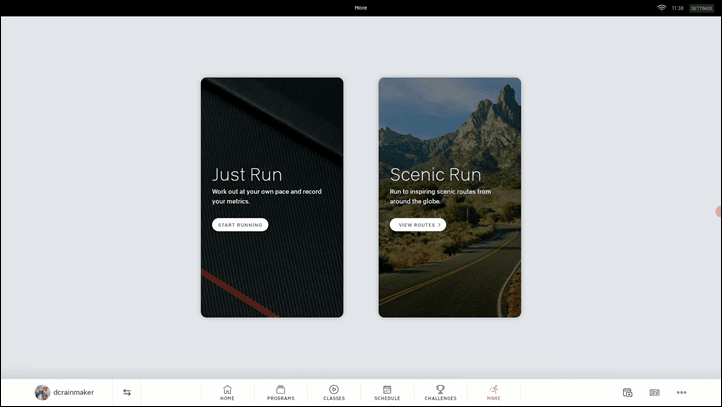 In this, we've got the 'Just Run' option, which is an empty screen that shows your current pace/distance/speed. This is what you see if you don't activate a subscription on a Peloton treadmill: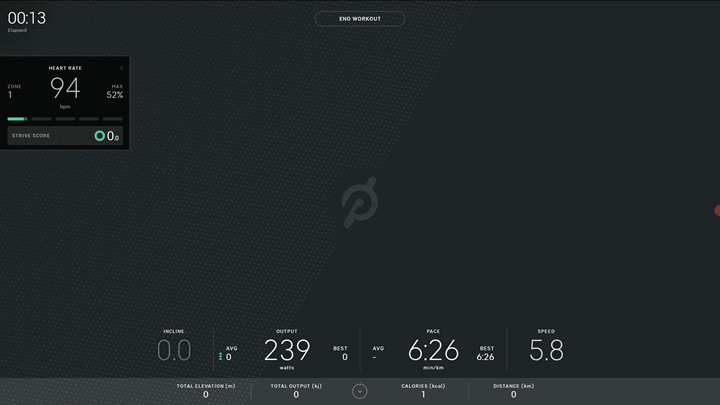 Note that unlike many treadmills from other companies, Peloton doesn't transmit your running pace, distance, or any other metrics out via ANT+ or Bluetooth Smart. Thus you can't natively use the Peloton Tread with platforms like Zwift, as it doesn't send Zwift anything (it doesn't send anyone anything, it's all done wired internally). This would be a silly easy thing for them to do, and would make modes like this appealing for using other training platforms. After all, you did pay $2,500+ for the treadmill, would be nice to use it beyond that if possible.
Within the 'More' tab there's also Scenic Runs. Peloton made a big deal last spring about expanding this and revamping it. And it's true, they did – and the result was fantastic (on both bike and run). The new instructor-led scenic runs were so well produced, in great locales with awesome camera-work. And then…Peloton went back to sleep. Since launch they've only added approximately 2 more instructor-guided runs in Iceland…for a whopping total of six (all of which you see below). That's it.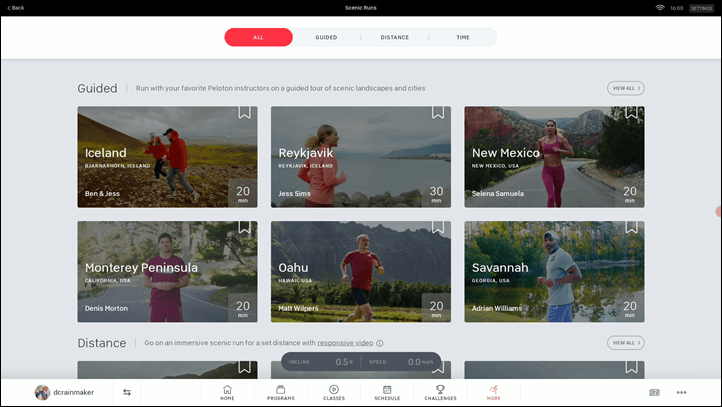 Now technically, there are three categories of Scenic Runs on Peloton:
Guided Classes: These are akin to a normal Peloton class with an instructor & targets, but this time you're running with the instructor outdoors, like going for a run with a coach.
Distance-Based Routes: These are set distance routes, whereby the playback speed varies based on your power output. Other companies have been doing this forever, but it's new to Peloton
Time-Based Routes: These are similar to the previous scenic routes, but supposedly more cinematic
We'll talk more about these in the next section a bit more as I show you how one works.
Finally, we've got various settings, which are accessible by tapping the "…" at the bottom right. There's both a user profile option and a device option, for the most part, the only settings that are meaningful here are the user ones. Whereas the device ones are more Android-tablet-focused things around troubleshooting.
On the user side, these include your gender/weight/location/birthday, as well as preferences like language, units, time/date formats, and more.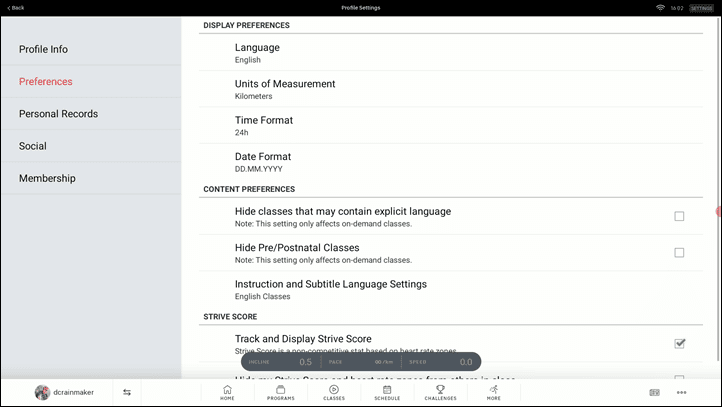 Within this is where you can link up to a handful of other 3rd party platforms, namely Strava and Fitbit for posting workouts. Both of these have to be done on a Peloton Bike/Tread, versus the Peloton app. In fact, if you've got friends that don't have a Bike/Tread, they can use your Bike/Tread just once to establish the Strava/Fitbit authorization, and then it sticks for any subsequent rides on their digital apps. The same is also true of a Peloton store/studio/hotel/etc…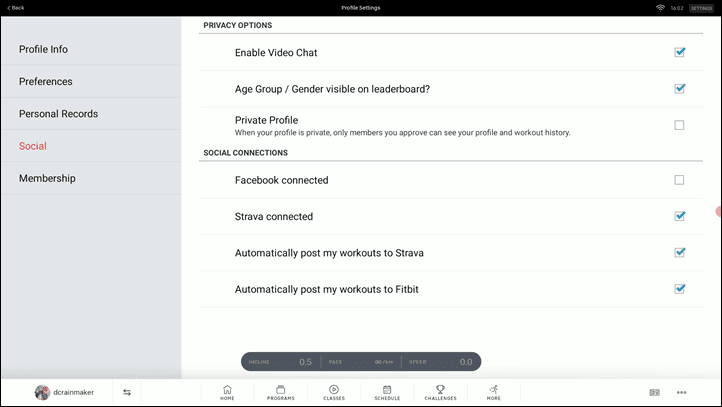 As I've said before, Peloton really needs to step up their game here with other platforms for posting workouts. There's literally no downside to doing so, as all it does is act as free advertising. There's no valid reason Peloton can't have a simple API for posting workouts that 3rd party platforms can leverage, so that you can easily post your workout to platforms like Garmin, TrainingPeaks, and others. After all, they support Fitbit directly. And within your smartphone app, it'll push to Apple Health too. This isn't complex stuff, it's industry standard stuff (the same way Peloton depends on industry standards for heart rate via ANT+ & Bluetooth Smart). And that's before we even look at the countless community apps that want to do more detailed stats and analysis on their own workouts, all of which have to use backdoor hackery today. C'mon Peloton – grow up, every other company has.
With all that set, let's start an actual run.
Running on Tread: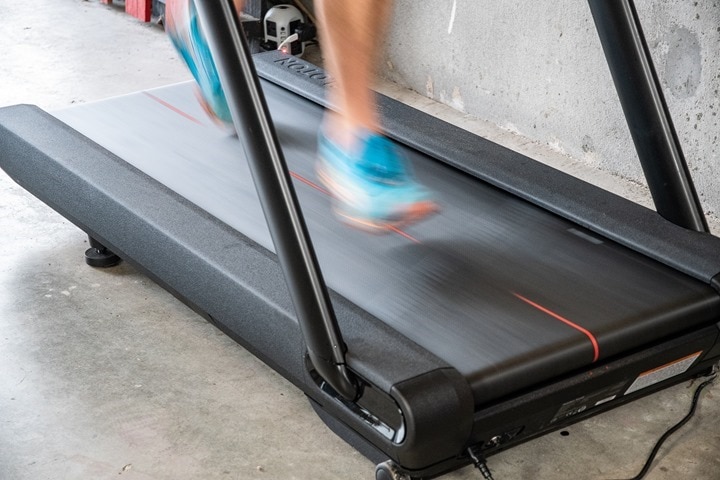 At this point, you've managed to pick a class from the lineup to do. Or, at least, you think you've got one picked out. One handy feature is the ability to see the structure of the class, as well as preview any part of the entire class (obviously, you can't see live classes).  I often use this when I'm poking at unfamiliar instructors. I'll tap a few random times on the video timeline and listen for a few seconds to see if that's my cup of tea or not.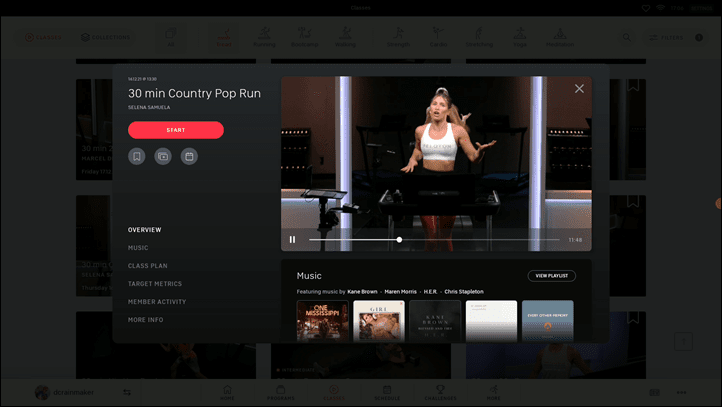 As you scroll down you'll find a complete list of music in the class, as well as the class plan and target metrics. The class plan breaks out sections like warm-up and cool-down, but also shows sections that might be non-running if a bootcamp class. Whereas the Target Metrics show the planned inclines as well as target paces (virtually always a pace range).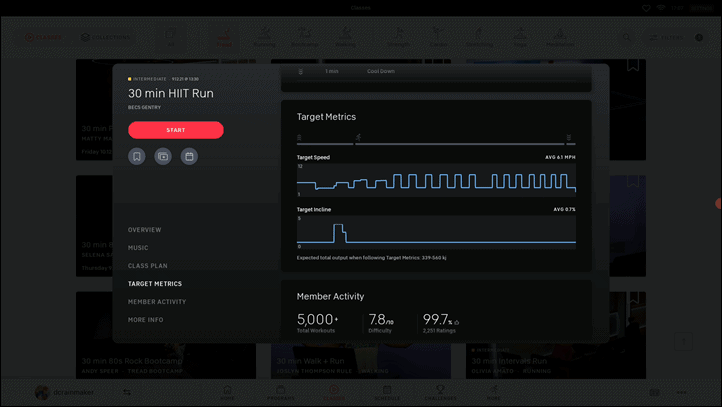 Assuming that workout is your jam, you can tap to start. That actually brings you to another start page, this one where you can pair up any Bluetooth headphones (technically it's any Bluetooth device, so perhaps a giant home surround system). Additionally, you can pair up heart rate straps/sensors. In my case, I've mainly used the speakers, but when not using that, I used the Beats Studio Buds with it without issue.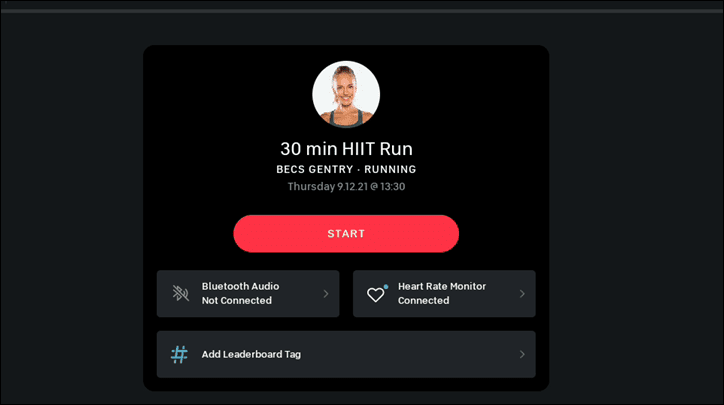 Both Bluetooth headphones and heart rate sensors are saved for future use. The Peloton Tread supports both Bluetooth Smart and ANT+ sensors, and I've used dozens of different sensors between the Tread and the Bike over the last two years, all without issue. For the most part, I've been using the Polar H10 and Garmin HRM-PRO lately with the Peloton Tread. But you can also use the heart rate sensor from watches like a Garmin or recent Polar watch. Unfortunately, Peloton inexplicably doesn't support pairing to an Apple Watch (which would merely require them enabling it on their smartphone app as an Apple Watch app, like other companies do). Nor does the Peloton Tread support GymKit like Peloton's Bike+ does.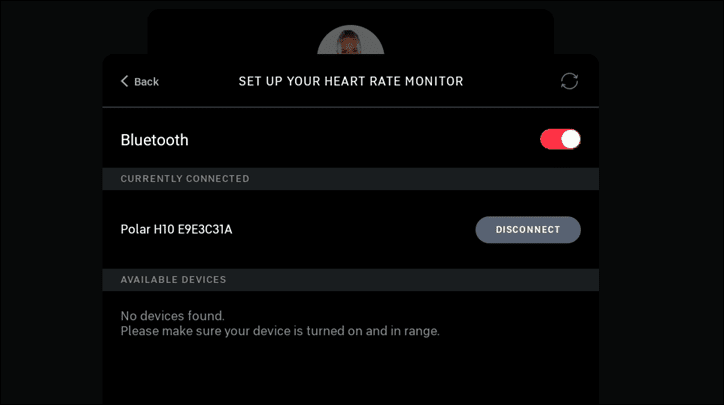 With all those paired up, go ahead and press start. The first 60 seconds of the class are actually a countdown to the class. The instructor uses this time to briefly outline the class, and then give a 15-20 second safety reminder. Then the timer hits 0:00 and your class actually starts (and technically speaking, nothing before this point is recorded – just like nothing after the timer ends is recorded). The instructor will then tell you what pace to start, which is almost always some sort of easy warm-up for a few minutes.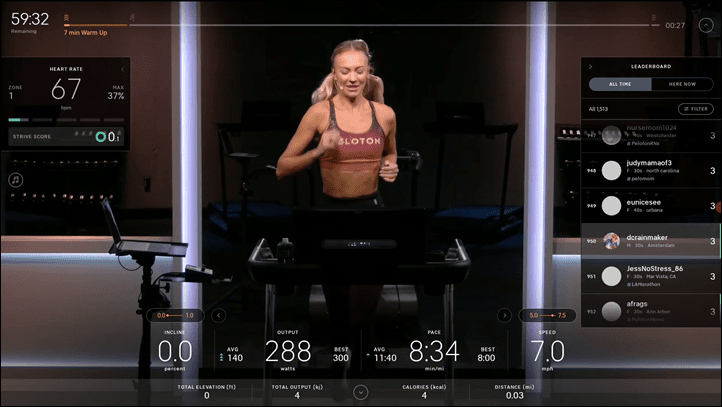 The first thing you'll find is a slew of different data panels on the screen. All of which can be individually turned on/off, or, you can just tap twice in the middle of the screen to clear everything (which I find useful for the scenic runs).
Here's the quick overview of all the data panels:
Left side – Heart rate: Shows your current HR & HR zones
Left side – Feed: shows high-five notifications, where you can get/give high-fives from others in the class
Left side – Music: Will show the current song, and allow you to add it to a Spotify or Apple Music playlist
Top – Timeline: This shows, very broadly, the chunks of the class (warm-up/main chunk/cool-down/etc), it doesn't show intervals
Bottom – Total stats: Along the very bottom are total elevation/distance/output(Kj)/calorie stats
Bottom – Current data metrics: This shows your current incline output (running power), pace, current treadmill speed, as well as avg/best for all.
Right – Leaderboard: This is your current rank against both others in the class and yourself, measured based on total output (kilojoules), you can filter this too.
The little yellow bits above the incline and speed are the current targets given by the instructor.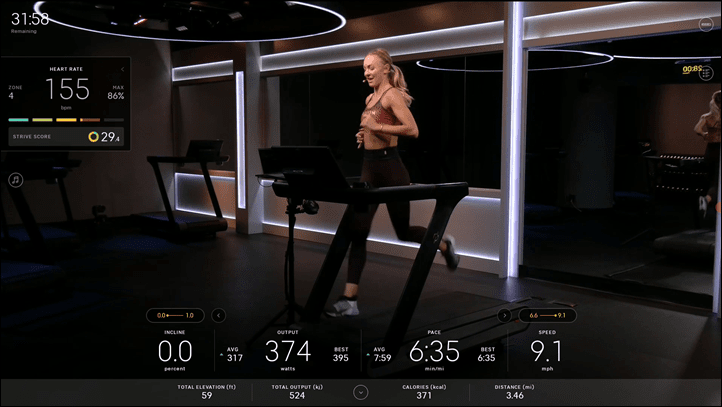 Now that we're up to speed on the running, let's briefly talk about how the treadmill feels under the feet…which….is like a treadmill. which I know sounds pedantic, but in terms of belt-driven treadmills, they largely feel the same as you run (whereas something like a slat-based Peloton Tread+ feels significantly different, for better or worse). So in this case, it's what happens when you change speeds that tends to be a better indication of things. Additionally, how the treadmill handles incline changes in terms of speed.
So, to change your incline, you'll use the roller dial on the left side. Rotating it forward towards the screen increases incline in 0.5% increments, whereas rotating it backwards reduces incline. Up to 12.5% in total, there's no negative/decline. Additionally, in the middle, there's a button. Tap it once to increment in 1% jumps. To remove all incline, just spin the dial backwards quickly. All of this is shown in real-time on the screen. You can also create customizable quick-access incline levels on the screen. This allows you to instantly jump to a given incline value: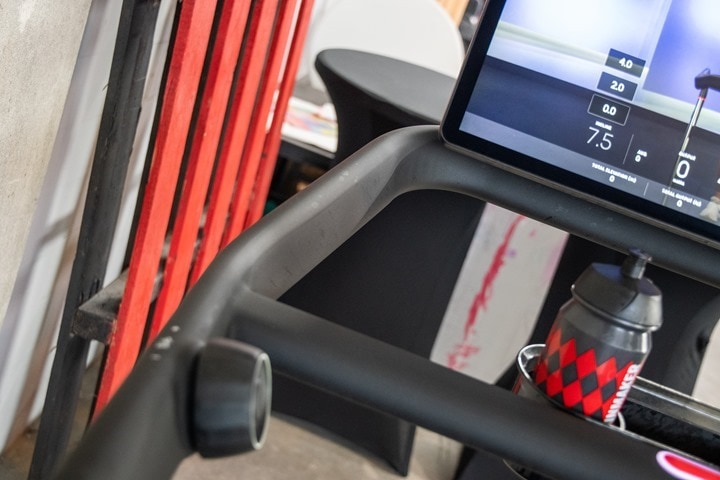 You'll change these by tapping the screen and choosing to customize the presets. The same is true for the speed too. This jumps in 0.1MPH increments when rotating forward/back, and increases in 1MPH jumps with a button press (to the next highest 1MPH level. So tapping it at 6.6MPH goes to 7MPH, then the next bump would be 8MPH). You can also customize these presets too, which in theory is handy if you've got a long set of repeating workouts at drastically different paces.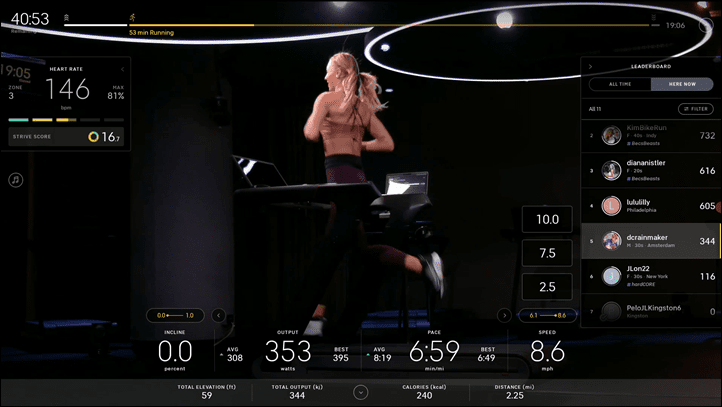 I say 'in theory', because these virtual buttons on the screen are simply too small. When I was doing intervals at 12.5MPH (4:48/mile or 2:59/kilometer), first activating the screen to show the virtual buttons, and then managing to successfully tap that button rarely worked right the first (or 2nd) time. This is a common complaint by many, and unfortunately Peloton hasn't done anything – preferring form over function.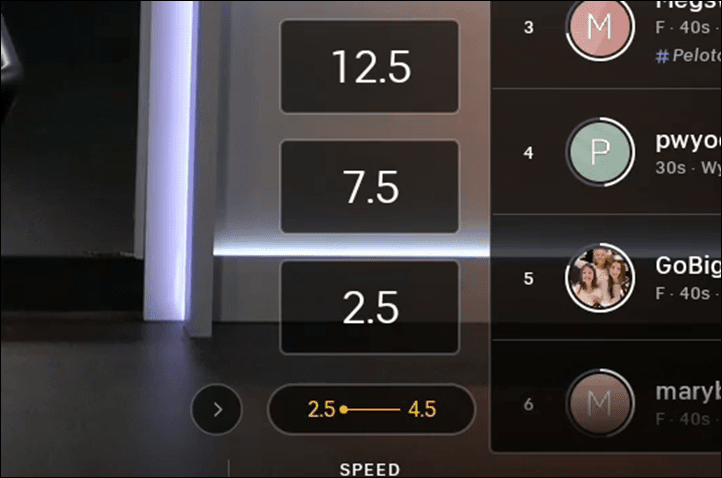 Yet, us runners are a cranky bunch, and this is a dumb UI. Just make the button bigger to tap.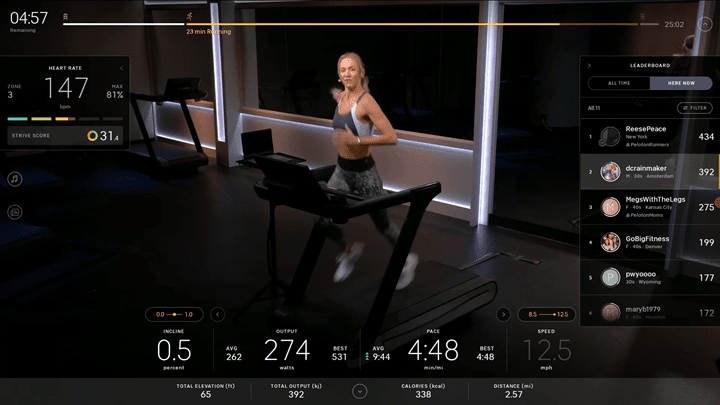 (Note: As I mentioned earlier, even if you switch to metric, the speed will always technically be MPH. However, nowhere in the Peloton UI or instructor's instruction will they say it's Miles Per Hour. Instead, they just refer to it as a speed. And honestly, it's fine. As I said before, as a runner I have no real context of MPH for my running, so I just treat these as levels, rather than some speed-driven data point.)
In terms of speed responsiveness, I'd break things out into two different categories to judge:
Minor increases: For example, going from 6.5MPH to 9MPH. In this case the Peloton Tread responds very quickly, and I have zero issues with this. I used it on a workout tonight, and it was more than fast enough for this.
Major increases: For example, going from a walk/jog of 3-5MPH to a sprint of 11-12.5MPH. I did this in a workout last week for 30-50 second intervals, and frankly, the Peloton Tread was far too slow to pull this off. It took 15+ seconds to ramp up each time, which is basically almost half the interval. It was faster to slow down. The instructor noted to start things a bit ahead of time, which I did each time, but it still fully missed the start each time by a wide margin.
Now granted, while I often do 30×30 intervals on a bike/trainer (30-seconds hard, 30 seconds rest, repeat), I rarely do them in real-life running. There are very few scenarios in training where such workout structure is all that beneficial for more than a few sprints. Meaning, that a dreadfully painful VO2Max cycling workout might be 20-30 sets of 30×30's. But from a running standpoint that's better accomplished with other structures, as generally speaking it's easier to get and sustain your heart rate higher in running than cycling (to the same levels, as in cycling your legs will usually give out before your lungs/heart do).
In any case, as you iterate through a workout, the instructor will change the speed and incline guidance. Instructors vary in how they leverage these, largely dependent on the purpose of the class. For example, most faster-paced interval classes won't do much in the way of incline elevation. Whereas an easier intensity endurance run might play with the incline a little bit to mix it up a bit. These changes are reflected in yellow, at the bottom above your current speed/incline levels:

Note that these don't show on live classes, which continues to be just as silly as it is on the Peloton Bike. After all, the instructors aren't doing this willy-nilly, instead, they're following their own cheat sheet for the class. Meaning all of this is already in a system that should be easily accessible to overlay onto live classes. Hopefully Peloton changes this someday.
Further, even in recorded classes, the Peloton's Treadmill's don't automatically change resistance or incline. All of which you must do manually. Which I know sounds like a 1st world problem, but the simple reality is many other treadmills do this automatically.
Next, you may have noticed Peloton displays 'power' on the Tread. This is a calculated value, shown in watts. Running power isn't new to Peloton, and has been around for a number of years. One of the main pioneers here was Stryd running power meters, which pair up to watches like a Garmin or Apple Watch (and many other brands like Suunto, Polar, and COROS). So it's neat to see it here in sessions: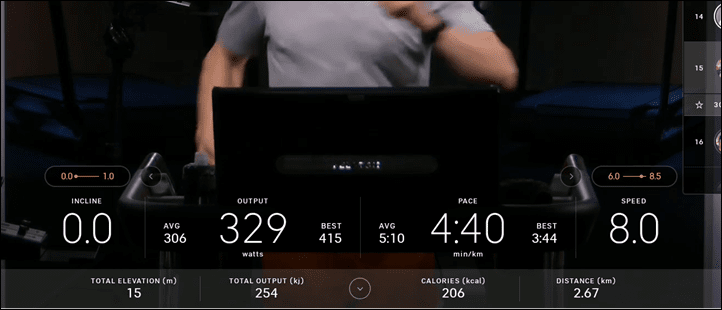 The reason running power can be useful is it's a great way to provide stability across efforts of differing types. Further, it also responds instantly, whereas heart rate has lag as your body catches up. So for example, in a Matt Wilpers run I did this evening, he used running power to have you match two alternating efforts:
Flat Road: In this case a higher speed with zero incline
A hill: Then switched to a lower speed with 4-5% incline
So as a result, I basically had these two differing levels resulting in the same power output (effort), both at ~325-330w:
Interval 1: 0% incline at 8.0MPH
Interval 2: 5% incline at 6.4MPH
Now, where it gets really interesting is overlaying this data atop Stryd data. Which…I'll do in the geek section later in this review. That said, there are no running power zone classes on Peloton in the same way there are cycling power zone classes. This is likely because there are no actual power zones defined in the running side of the platform, whereas there are on the cycling side. There are only heart rate running zones in running.
Switching topics again is the leaderboard. Some people love it, some people hate it. Either way, you can toggle it on/off as you see fit. Essentially it's showing you how you rank in that class compared to others, based on power output. In other words, the harder/faster you run, the higher up the leaderboard you go. This is also valuable for competing against your past PR's (personal records), which are set based on class time/duration. You can see this shown just above/below my name, which indicates my past record at that duration (shown as the workout total of 488kj, but at this point in the workout my PR was 367, right now I'm above that at 426 for this same point):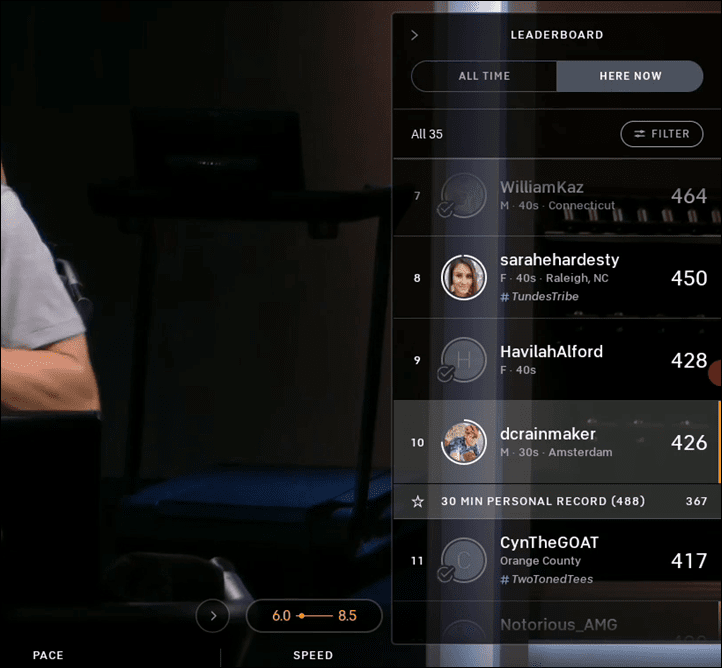 I don't tend to find the leaderboard all that valuable from a competition standpoint in either cycling or running, instead, I find it more interesting from a social standpoint. If in a live class, it's neat knowing that there are 500+ other people suffering right alongside you. And perhaps you get a bit of extra pep from that. Even in recorded classes, you can tap to show others there right now with you (also watching the recording). You can tap on someone and see details about them and their current suffering: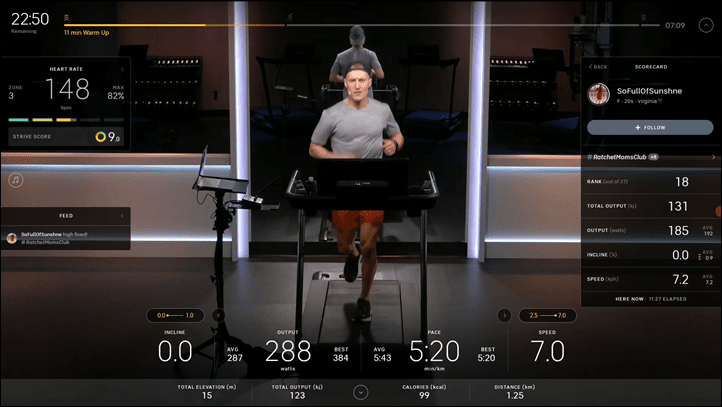 You can tap on someone and give them kudos, which in turn shows up on their screen, where they will give you a high-five back. Or in this case, they gave me a high-five first, and then I saw I was next to them on the leaderboard. I then high-fived them back.
If you're looking at a Scenic Runs class, everything here applies as well (including the leaderboard now, which wasn't the case this past spring). As I alluded to above, I think the Scenic Runs classes are brilliantly filmed, albeit, with such little content there it's a massive missed opportunity. Never mind the fact that it's buried in a place nobody ever looks. I did this Matt Wilpers run as well this evening, as part of a stack of multiple runs back to back. The cinematography was top-rate, and the music absolutely nailed here. It's too bad it was only 20 minutes long, as it was arguably one of the best sessions I've done on Peloton. Not the hardest, nor the easiest. Just one of those feel-good runs where he varied things perfectly, both intensity as well as his overall storyline – plus the music.
There are non-guided scenic runs, which are basically runs that go for set times or durations, but without any instructor alongside them. There's more of these, as they don't have any fancy filming (e.g. no drones/helicopters, b-roll/etc…). It's just a camera set at your level and off you go, like someone recorded it with a GoPro (except, undoubtedly a fancy gimbal setup).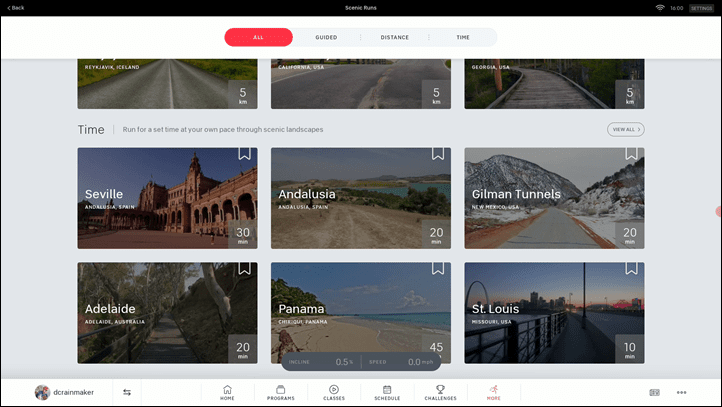 Switching away from Scenic Runs, there are also so-called Bootcamps, which mix-up two sports. In the case of Peloton Tread, it's a running workout mixed with either some strength or body-weight work. There's numerous of these to choose from, with at least one being added daily: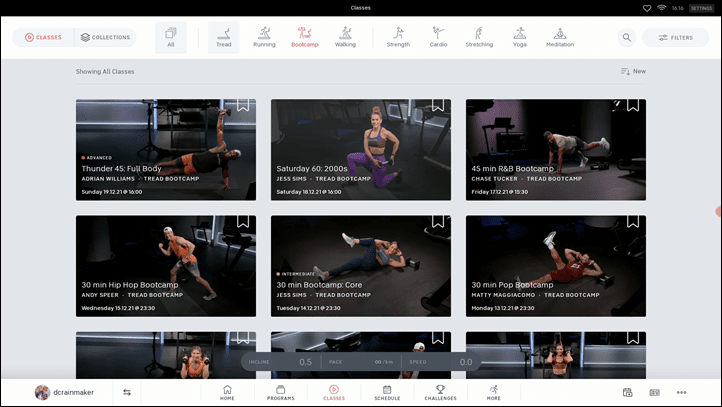 For me as more of a 'runner', I just want my run workout uninterrupted, and then after the run workout I'll stack a strength/stretching/core/whatever workout. I'm just a purist like that. I mean, except for being a triathlete, in which case I preface my runs with rides and swims. But you get the point.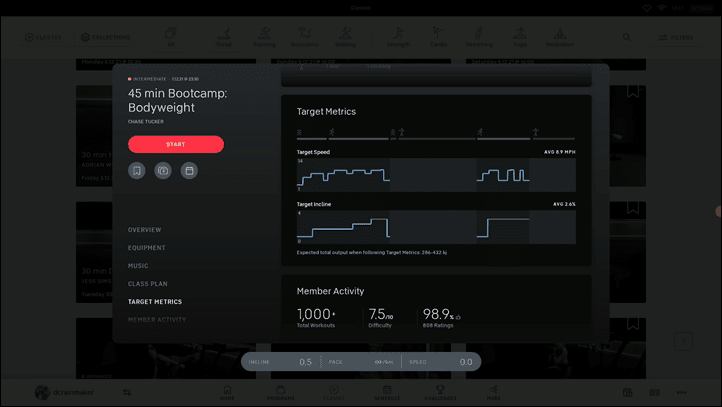 Ok, so with all that deep-dive into 'how' it works, let's step back and talk about 'if' it works. Not technically, but from a 'worth it' standpoint. And surprisingly, yes. For the first time in…well…ever, I'm actually looking forward to doing my next treadmill run. Again, with the weather being absolutely miserable outside right now, I'm not too excited to run in sideways rain. The wind forecast tomorrow is upwards of 72KPH. Seriously.
But I've been astoundingly surprised at how quickly the runs I've done have gone by. And here's the key: None of it was dancing around on a treadmill like some might imagine (though undoubtedly that exists in the Peloton inventory). All of the workouts I did were as straight-up focused and targeted as anything any running coach might prescribe. And that makes sense when you look at the instructors I've selected. They are coaches, and world-class runners. Someone who's running a 2:32 marathon at the Olympic Qualifiers likely has no time for wasted running workouts. Neither does an Ironman coach. All of which appeal to me.
Inversely, it doesn't have to be silent training either. Countless runners listen to music, having a workout that's synced halfway intelligently to the music isn't some crazy thing. It's what runners do – you have a running playlist. Often ones that differ for long runs versus interval workouts. It's simply here that they've found not just a collection of songs to mix and match over your workout, but that are specific to that moment of the workout.
Which like any other training program or platform, in any other sport, doesn't mean you'll love it. It just means I enjoy it, based on right now. My guess is once spring and summer come along, I'll naturally migrate to do the bulk of my runs outdoors. Whereas for the moment, I'll probably do a fair chunk of my runs indoors on the Peloton Tread. Like anything else, seasons change.
Post-Run Details:
Ok, so you've finished up your workout. After that, it'll offer you a few different cooldown workouts. These can be both running workouts, as well as stretching or strength ones. Most Peloton workouts now (across bike and treadmill) end with just 60 seconds of 'cooldown' time allocated on the clock. This is a decrease from past years, which had longer cooldowns built-in. Instead, Peloton wants you to do another separate 5-10 minute workout.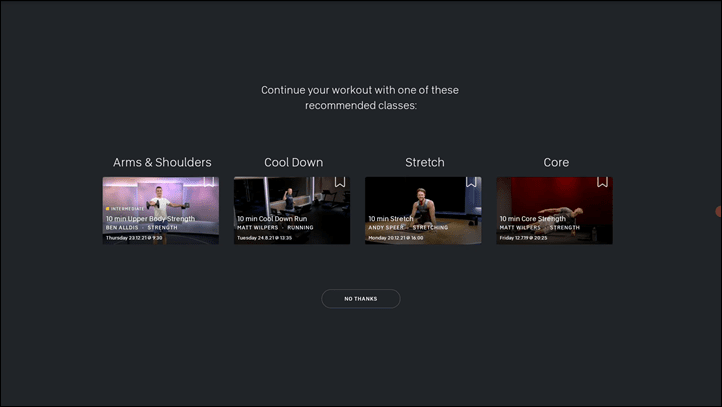 From a coaching standpoint, this is logical in that you get a better main set if your main set workouts are time-constrained to exactly 45 minutes. And thus, your workout is also better, as it's going to be longer than just 3-4 minutes, as it's now 5-10 minutes. But it's more than that, this also allows Peloton to post higher per-member monthly workout numbers on their investor earnings reports for Wall Street. It's a key metric that's reported quarterly, showing the average monthly member workouts. Each additional workout that it convinces you to take, even if just 5 minutes long, increases that.
In any case, whether or not you take that, you can tap to see your workout details, which shows the results of that workout. This includes summary information up top, followed by detailed charts from the workout down below:
You'll notice it shows the targets for that workout, which I find pretty nicely done. You can also see your other Peloton workouts (of all types) along the left side.
If you've set up sync to Strava, it'll do that instantly, usually within about 2 seconds of the workout officially finishing I'll get the Strava new workout notification. This is actually the *ONLY* official way to get a full workout file out of Peloton, which as I noted earlier, is kinda crazy. Here it is over on Strava on my profile.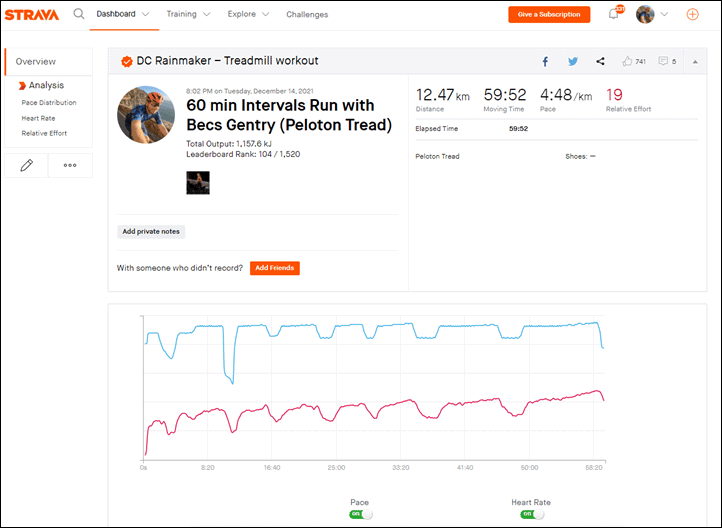 You can also view all of this post-run workout information on the Peloton smartphone app as well, in case you don't have time to gaze at the Peloton treadmill post-run, and need to get on your way to work. Thus, later on, while on a bus/train/plane, you can dive into the details of your stats:
And all of this is true of any other workout types you complete within the Peloton platform, either on the Peloton Tread itself, or on the Peloton apps elsewhere.
For the Geeks:
Now this section is all about some geekery. I'm going to try and be efficient here, as there's a slate of small things that are worth discussing. They are:
A) How Peloton Power numbers compare to Stryd Power
B) How accurate the Peloton treadmill speeds are
C) How to sync workouts to Garmin Connect
D) How to broadcast pace to Zwift
E) How to install apps on your Peloton Tread
Thus, let's dive right into it.
Peloton Power vs Stryd Power
First up, it's notable that there is no accepted standard among sports scientists on what exactly running power is. Seriously, there isn't. That's because there are different places you can measure it, and even within that, the scientific community doesn't agree on what should be the standard. Thus, having tested all running power meters out there, I don't consider any to be 'the one'. Rather, they all have pros and cons, and should be used with a grain of salt.
That said, I was curious how Stryd would compare to Peloton. So for my last two workouts I charged up my Stryd pod and gave things a whirl. And to my surprise, the Peloton and Stryd were near identical when the incline was set to 0%, across a broad range of speeds, with only slightly more disagreement at 9MPH in a light sprint.

However, the second I applied incline to the Peloton Tread, Stryd went out of whack. Why? Well, because Stryd has no way of knowing that I'm going up, since its altimeter isn't triggering. Thus, it just sees me slowing down. As a result, it'll underreport. You can see this quite clearly below on the hill changes where the workout specifically called for reducing the speed to match the previous interval's power output after you applied a higher incline.
Obviously, these results are just me, and just two runs. But though there's no reason to assume they'd differ with more runs given this included sprints up to 12MPH, and incline shifts, and a treadmill is a very static environment. Differences in top-end power during sprints is common across all power meters, running and cycling.
How accurate Peloton speeds are:
Next, how accurate is the belt on the treadmill? For this, I'm using the NPE RUNN, combined with data from Stryd as a footpod, as well as other watches using wrist-based accelerometers (the least accurate method, but hey, another data point). And in my testing across numerous workouts, the Peloton pace/speeds are very accurate in the reporting speeds. Here's an example against both an NPE RUNN (calibrated) and Stryd. As you can see, the Peloton and Stryd were closer, though keep in mind that this workout was very heavy with incline (almost everything at 3-7%, which can impact things).

You see that initially during the warm-up, everything was spot-on.  Then, we got into the sprints, which to be really clear – are really fast – roughly 18KPH (or basically a 5:20/mile or 3:20/kilometer pace). At that point the faster I went, the more difference I got. Though, it seemed like as the treadmill warmed up a bit, things got pretty closer during that last set. Also, ignore the random connectivity drop-outs.
More notably, this is far better in pace/speed stability than my ProForm 1250 treadmill showed, which showed significant variances during top-end speeds in intervals, where it'd oscillate considerably as it tried to lock the pace. The Peloton doesn't seem to show this. It finds the pace and locks very quickly. Also, the NPE RUNN wobbles I think may be due to my non-standard stickers here, I need to find my box of official stickers to probably get better results like I have on the other treadmill.
How to Sync Workouts to Garmin Connect
The best way to sync workouts from Peloton (of any type) to Garmin Connect is using a paid app called SyncMyWorkout. I use this primarily on my Peloton bike workouts. But it works the same way on the Peloton Tread. The setup might sound tricky at first, but essentially it leverages the Strava connection to pull the workouts and post them to Garmin Connect.
The downside here is that there's no official way of doing this, as Peloton doesn't have an API for Garmin to natively pull through. As a result, you have to trust this app with your Peloton and Garmin credentials, though they outline their security protocols there. Still, it might not be everyone's cup of tea.
How to get pace info to Zwift:
As I've mentioned a few times in this review, there's no native broadcasting of pace (or speed or distance) by the Peloton Tread in any wireless format. Instead, it does it all wired. Thus, the only way at this point to get your current pace from Peloton to Zwift is via a 3rd party accessory. Your choices include a running footpod, such as the Zwift Pod (cheapest), or the Stryd running pod (most expensive). Additionally, you can also use the NPE RUNN, which is about $100, but then works across numerous users. I got this successfully set up on the Peloton Tread with no real issues: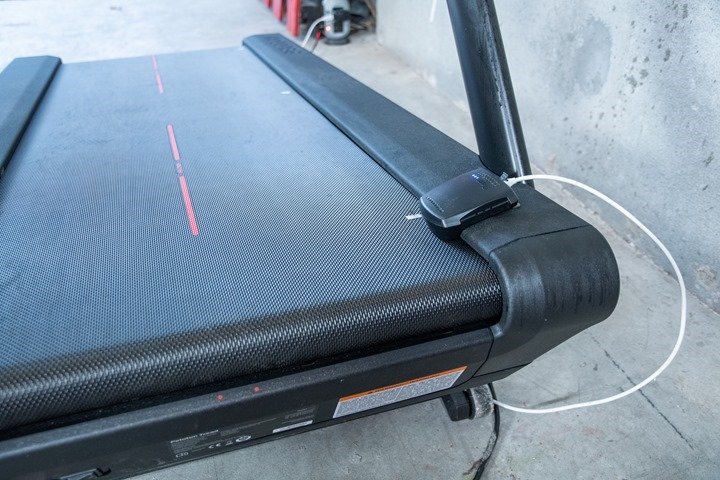 The only caveat is finding the exact spot is a bit tricky. I got it working up here without the mount actually, along with some loops of duct tape. I might try the bottom of the Tread instead as a more permanent location. Or, toy a bit more with the cradle. Either way, point being it works just fine.
And then from there you can see Zwift on an iPad off to my side on the table. Obviously, you could have a better-placed screen anywhere else.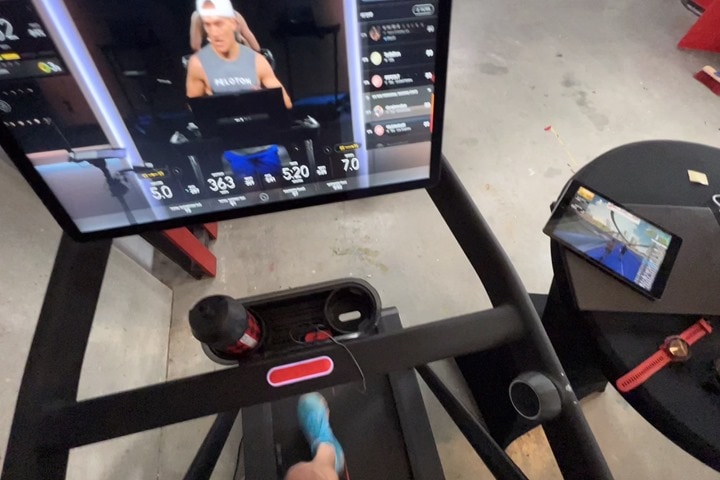 I've written an entire review of the NPE RUNN over here in this post, everything is identical, except that now it's on a different treadmill.
Installing Apps on Peloton Tread:
Next, you can follow my previous instructions for installing apps on the Peloton Tread, however, due to the new child lock features, this isn't super valuable in most cases anymore. For example, while you can install Zwift or Netflix, the treadmill will lock at the latest 45 seconds after starting the app (and if running, it'll lock within 15 seconds after you tap the app). The exception to this rule is apps that write over the screen instead. So that's how all these screenshots are done, using screen recorder apps, which don't take control over the main app, and thus still work by pretending to be in the background. I'm sure more creative Android folks could find a workaround here, but at the moment the Peloton Tread Lock feature is super aggressive in shutting down the treadmill when the Peloton app isn't in the foreground.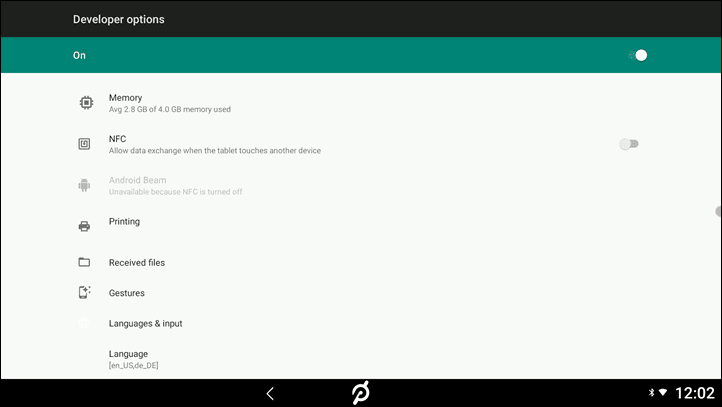 Not to mention that the Peloton Tread actually has less space than my Peloton Bike does, only about 3.1GB of usable space after all is said and done. In fact, while Peloton's site advertises 16GB of storage on the device, the Android tablet itself only enumerates 8.0GB, of which it shows 4.49GB is used by the OS and apps. I'm not sure why there's a difference between what Peloton states and what is shown on my unit.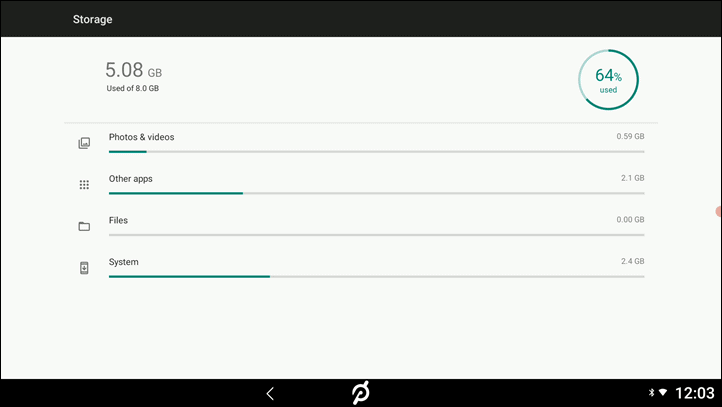 For some applications, that's perfectly fine, but if you've got something video intensive, that's not much. Now, I could see scenarios where perhaps you want to use the Peloton Tread as a secondary display in a fitness room – in that case, it'll work just fine.
Ultimately, if you're a geek looking to find compromise between a fully functional device for your significant other, while being a bit of a techy purchase you can fiddle with for other apps, the Peloton Tread isn't really a great option. Between the lack of broadcasting any data metrics, and the new lockdown aspects with the child-lock, you're really only going to use it for the Peloton platform.
Wrap-Up: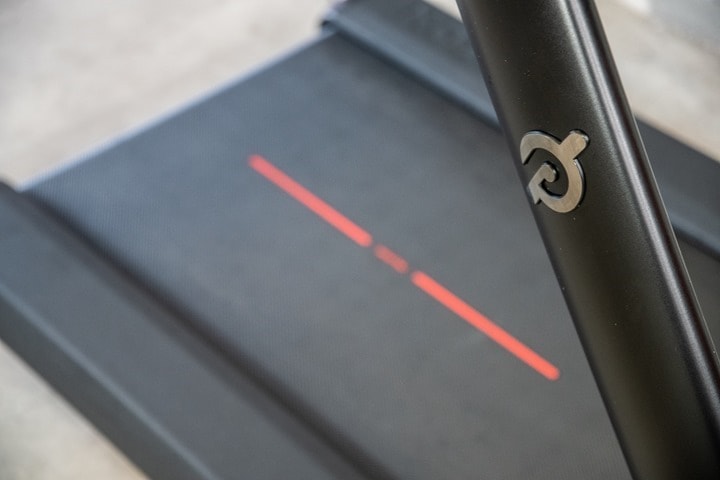 As is often the case, people like to hate on popular products. Usually just because the brand is popular, not because they've tried them or know anything about them. Sometimes that's fanboyism, and sometimes it's the inverse. Either way, it happens to Peloton a lot. Which is ironic because if you look at their customer retention rates, nobody has anything even approaching their levels of stickiness (only 0.82% cancel their hardware subscription each month). That in turn tells you that once you've actually used a Peloton product, there's a 92% chance you're going to like it after 12 months. This isn't rocket science. Yet further, it doesn't mean Peloton is perfect. One only need to look at their legal department's screw-ups to see that.
Setting aside internet echo chambers, if I look at my personal experience with it – I've surprisingly enjoyed it. Today as I write this it's just above freezing, with the canals still covered in ice from the weekend. It's sideways rain again, with a national code yellow weather alert for –16°C windchills. But I know that if I jump on the Tread there are plenty of 45-60 minute runs I can do that are either high intensity or medium intensity endurance-targeted workouts. And you can easily combine multiple workouts to get even longer runs in. And all of my runs thus far have made the time pass quite quickly. And the instructors I'm using are very qualified in what I prefer, the endurance sport side of running.
From a technical standpoint – the lack of speed and incline workout automation (there's none here) is annoying in more complex workouts, which is something that even my near-decade-old lower-cost treadmill easily does. Further, the speed shifts on short 30-second interval workouts are fairly slow. Plus the lack of broadcasting of treadmill pace using fitness standards would be great for those of us that have watches that can integrate with that (or, Peloton could open an API so wearable platforms could sync the data from it – beyond just Strava).
I want to be clear about something: Do not buy the Peloton Tread if you don't plan to use Peloton as your platform. There's simply no reason to do so. While yes, you can install something like Netflix on it with a bit of work, you won't be able to use the treadmill portion anymore due to the newer child protection features. After 45 seconds it'll lock the treadmill. The Peloton app has to be running in the foreground at all times. Sure, you don't need to subscribe to use the basic speed/incline controls, but if you're not going to use Peloton classes, there are just as good of treadmills for far cheaper than this. It'd be the equivalent of buying yourself a business class airline ticket, and then seating yourself in economy.
Still, assuming you want the Peloton classes (which, are quite good), I'd easily recommend a Peloton if it fits your budget. The classes are well made, with a wide variety of instructions to choose from, and the hardware itself is well made – even if it doesn't quite do all the geeky things I want.
With that – thanks for reading!
Found This Post Useful? Support The Site!
Hopefully you found this review useful. At the end of the day, I'm an athlete just like you looking for the most detail possible on a new purchase – so my review is written from the standpoint of how I used the device. The reviews generally take a lot of hours to put together, so it's a fair bit of work (and labor of love). As you probably noticed by looking below, I also take time to answer all the questions posted in the comments – and there's quite a bit of detail in there as well.
If you're shopping for the Peloton Tread or any other accessory items, please consider using the affiliate links below! As an Amazon Associate I earn from qualifying purchases. It doesn't cost you anything extra, but your purchases help support this website a lot. Even more, if you shop with TPC (The Pro's Closet), you'll save $40 on purchases over $200 with coupon code DCRAIN40! The Pro's Closet has been a long-time partner of the site here - including sponsoring videos like my cargo bike race, as well as just being an awesome Colorado-based company full of good humans. Check them out with the links below and the DCRAIN40 coupon!
Here's a few other variants or sibling products that are worth considering:
I've also put together a quick list of some of my favorite or most compatible accessories for this unit:
And of course – you can always sign-up to be a DCR Supporter! That gets you an ad-free DCR, access to the DCR Quarantine Corner video series packed with behind the scenes tidbits...and it also makes you awesome. And being awesome is what it's all about!
Thanks for reading! And as always, feel free to post comments or questions in the comments section below, I'll be happy to try and answer them as quickly as possible. And lastly, if you felt this review was useful – I always appreciate feedback in the comments below. Thanks!