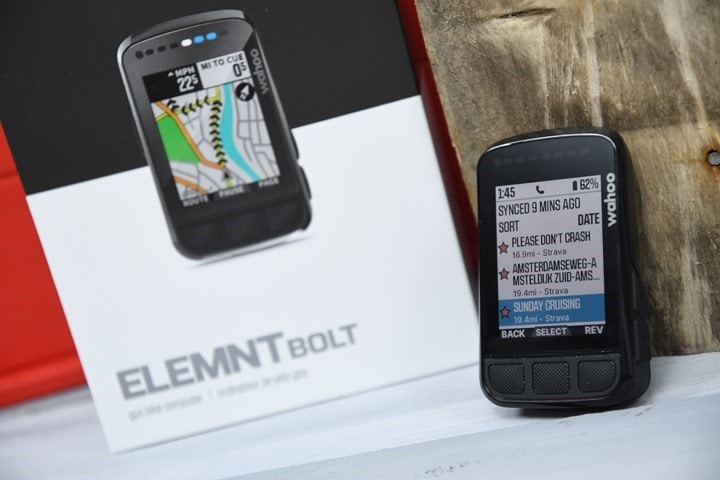 It's been four years since the original Wahoo BOLT was announced, which was arguably Wahoo's most important bike computer in terms of shifting consumers towards their offerings. Designed to be small and easy to use, it garnered many fans. However, it lacked full onboard routable maps, as well as a color screen. Wahoo then fixed that with the Wahoo ROAM two years ago, albeit in a larger and pricier form factor.
But now, the world is righted again, and the new Wahoo BOLT (it doesn't have any different name) includes a full color screen, full maps, and basically, is a mini Wahoo ROAM. All for $279USD (compared to the ROAM's $379). There are almost no new unique features that the ROAM didn't have previously, so if you wanted a cheaper/smaller ROAM, then this is likely for you. Whereas if you were looking for new advanced features from Wahoo, this release doesn't provide that.
Nonetheless, the unit is just as full-featured as that ROAM (actually, more full-featured). It's got full ANT+ & Bluetooth Sensor support, GPS/Galileo/GLONASS connectivity, structured workout support, turn by turn navigation, live tracking, the ability to make Star Wars icons for approaching cars with Varia radar, and phone/text integration. It's also got one hardware feature the Wahoo ROAM doesn't: USB-C charging. Yes folks: We finally got the USB-C!
Now about this point you've noticed the title isn't (yet) "In-Depth Review" – at some point, it'll get there. But today my peoples…today is most definitely not that day. Mostly because try as I might, things simply haven't been usable for me. I have yet to have a single cohesive ride without significant issues. But I'll dive into that later in the 'Caveat' section.
Note that for this review I'm using a media loaner from Wahoo. Once this review is done, I'll get it boxed back up and sent back to them. After which I'll likely go out and buy my own for future use. If you found this review useful, you can use the links at the bottom, or consider becoming a DCR Supporter which makes the site ad-free, while also getting access to a mostly weekly video series behind the scenes of the DCR Cave. And of course, it makes you awesome.
With that, let's get into it.
What's New:
While the BOLT V2 (which, is still technically just called the Wahoo BOLT, not V2), might look roughly similar from the outside, there's actually quite a bit different under the covers. In fact, one could argue it's entirely different under the covers – hell, even the [USB] cover to the covers [internals] is different.
Here's the quick and dirty bulleted list of everything that's different on the new Wahoo BOLT:
– Added full onboard routable mapping (like ROAM)
– Added color display
– Increased colors to 64 colors (from 8 colors on the ROAM)
– Added color-tied data fields (based on HR and power zones)
– Increased internal storage to 16GB (ROAM had 4GB, BOLT had 4GB)
– Added onboard elevation data to map sets (not previously in ROAM due to lack of storage space)
– Have almost all of Europe/North America/Australia maps preloaded (with rest of world available via WiFi download)
– Buttons now pop-up, as opposed to divots (far easier for gloves)
– Switched to USB-C port (generally more durable, also IPX7 waterproof)
– Added faster charging, 5AMP vs 1.5AMP
– Battery door/cap also replaceable, versus previously not (could get torn off previously)
– Added support for more messaging notification apps (WhatsApp, Line, Signal, and Telegram)
– Changed a lot of the user interface fonts (compared to anything prior)
– Added ambient light sensor (in ROAM, previously not in BOLT)
– Increased size slightly, weight went up too, from 61g to 70g (ROAM is 95g, Edge 530 is 79g)
– Battery life stays the same at a claimed 15 hours
Got all that? Good, let's keep moving and crack open that box then.
Digging into the details: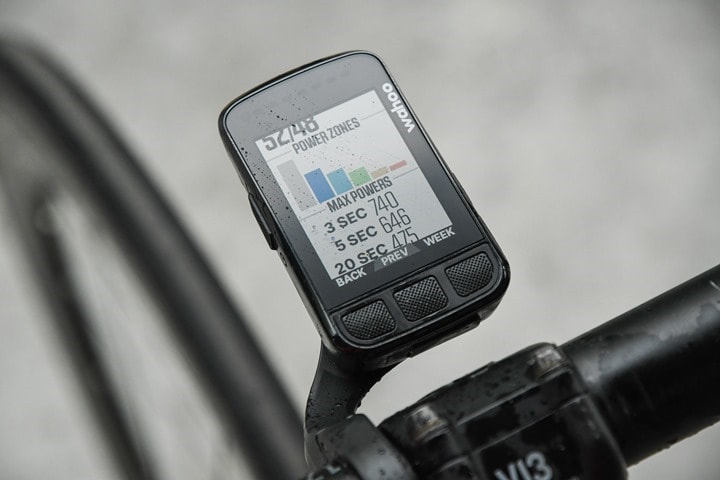 For this post, I'm going to dig into some of the new features and explain them a bit deeper. I also do that within the video up above, if you prefer a more audio-visual experience. Eventually, I'll expand this post out into the normal sections on basics usage and stuff, but not until things settle down a bit with the firmware.
First up is the new full onboard routable maps. This is notable because while the BOLT in the past had "maps", it didn't really have maps. It just had a black and white stencil that it sorta faked overlaying your route atop. Meaning, the data wasn't routable. The BOLT itself didn't know that you were on Main street or 1st Avenue. It just fed you the instructions that were pre-determined in the route file from a mapping provider like Komoot or others. As such, when you went off-route, you didn't get turn by turn instructions. You were instead just told…Good luck.
With the new BOLT though, its just like the ROAM – it'll properly re-route you back. So for example, yesterday a few different places on my route there was construction. As a result, the bike path was closed. While the Dutch are exceptionally good about marking detours for bikes, the BOLT offered a re-route of its own (which, matched the official city re-route). You'll see blue chevrons on the screen indicating the re-route taking you back on course.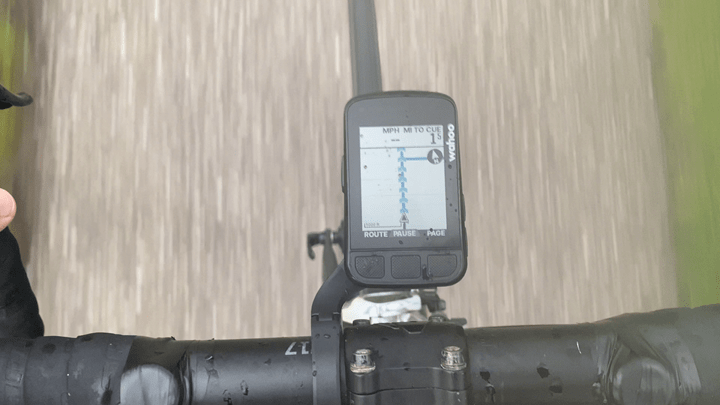 Meanwhile, for normal routing you'll get turn by turn instructions as well, and this is where they use some of the coloring to indicate the upcoming turns: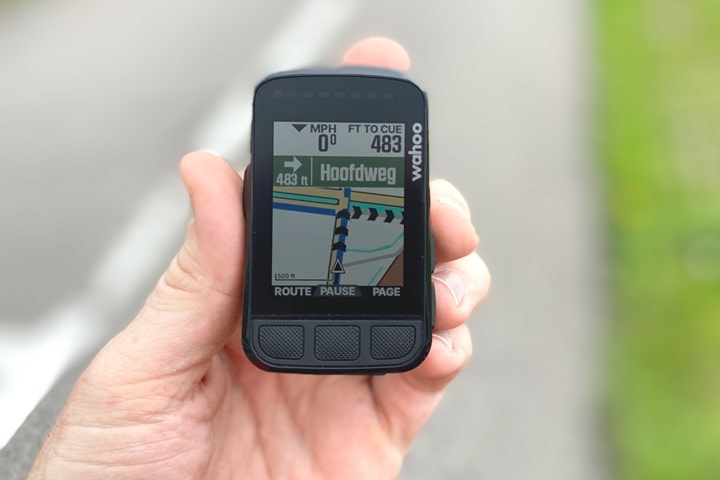 Speaking of which, the coloring on the new BOLT actually exceeds that of the ROAM. The ROAM has 8 colors, but they use various shading to make it look like more colors than it really has. Whereas the BOLT has 64 colors. I know…I know, Retina screens these are not. But then again – that's sorta the point – to conserve battery, and in the case of Wahoo, it's always been about a more minimal look than the more colorful screens from Garmin, or even Hammerhead.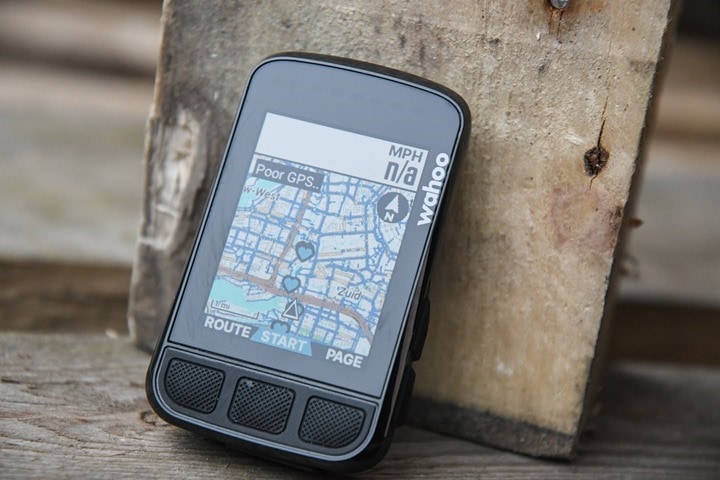 And while you'll see coloring throughout the mapping pages, as well as Strava – the major new area is on data fields now. Certain data fields, notably power and heart rate, have zone coloring. These allow it to match the color-coding that you've specified for your zones, in effect mimicking what Wahoo has historically used the glanceable LED's for on the edge of their devices. First, here's my zones: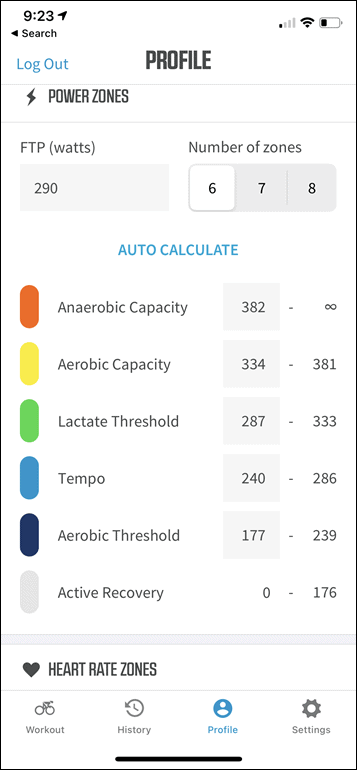 And then you can see this playing out within the power field in blue, and the heart rate in yellow: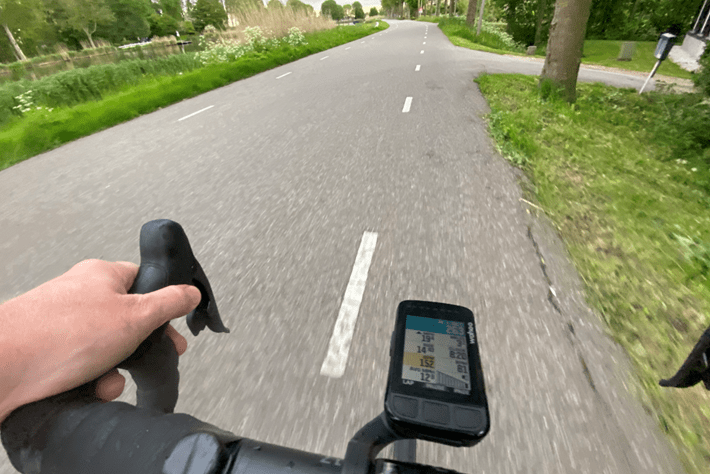 Next, the new BOLT has expanded storage, now 16GB versus the 4GB previously (the ROAM also only has 4GB). That's notable for two reasons. First is that Wahoo now pre-loaded all of Europe/North America/Australia maps, meaning that if you travel, it's far less likely you'd need to add maps to the unit. As a reminder, Wahoo includes all maps globally on their platform, so if you were to travel to somewhere that wasn't pre-loaded, you merely need to use the Wahoo app, which tells the BOLT to connect to WiFi to download them.
However, more interesting than that though is the now included elevation data within the map set. Meaning, previously Wahoo's maps didn't include elevation data in the mapset, which meant that if the mapping provider (e.g. Strava or Komoot or anyone else) didn't provide that elevation data with the route sent to it, you didn't get the elevation data mid-ride, showing how long the climb was or how pancake flat (most of) the Netherlands is. It was more of an issue years ago, as these days virtually all of Wahoo's 3rd party routing apps send the data correctly.
But, this also helps Wahoo's own app, specifically for the 'Take me to' feature, which allows you to enter an address in the app and route one-way to that address. Anyway, I'd love to show this to you – but, I lack any meaningful hills/mountains around here. I might get down to some halfway acceptable hills later this week though, so I'll pull it into my full review then. One minor thing is that while many of the minor tweaks discussed in this post will come to the existing Wahoo ELEMNT lineup, this particular one won't, as it requires substantially more storage space.
Next, there's expanded support for messaging services. This includes now adding in support for WhatsApp, Line, Signal, and Telegram – which is in addition to your previous text messaging support. As a reminder, text messages look like this: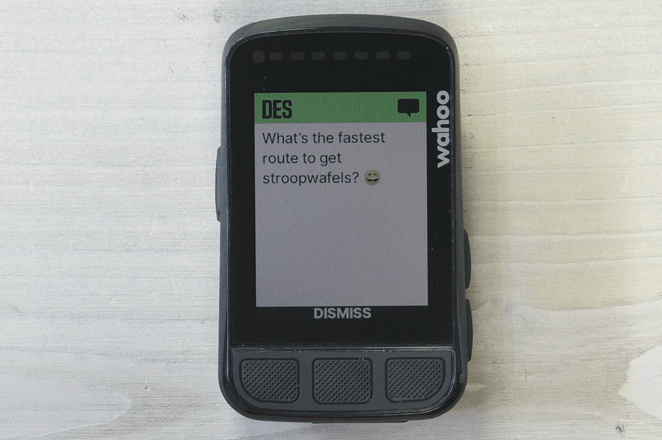 This change will be rolled out to all Wahoo ELEMNT units.
Also, about this point in the post, existing Wahoo users are probably noticing a bunch of tweaks to the fonts and format styling. Wahoo says they "did a lot of research on accessibility of fonts, font sizes, capitalization, and more" and made a slew of changes as a result. These changes aren't planned for the ROAM at this time, since some of them are also tied to the new coloring schemes with the added 64 colors.
Now, let's rip through a bunch of quick hardware changes. First up – my favorite: They USB-C'd all the things! Well played!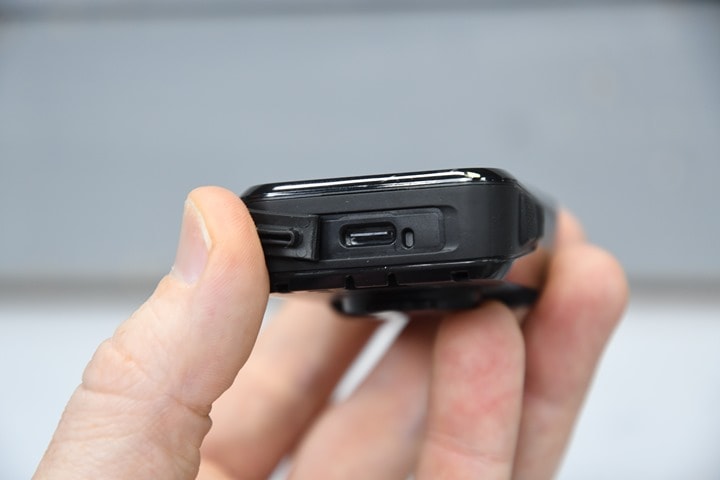 The new charging port is IPX7 waterproof (meaning 30 minutes at 1-meter deep, in case you fall into a canal), and even more importantly supports faster charging, accepting up to 5A of power versus the previous 1.5A. The other benefit of USB-C ports is they tend to be more durable long-term as well.
However, to get to said port, you'll have unknowingly passed another tiny new feature, which is the new battery door/cap. That part is now replaceable, in case it gets ripped off by your 1-year-old in a fit of cracker induced rage. Previously, that was not fixable (though, the port was previously also water resistant too).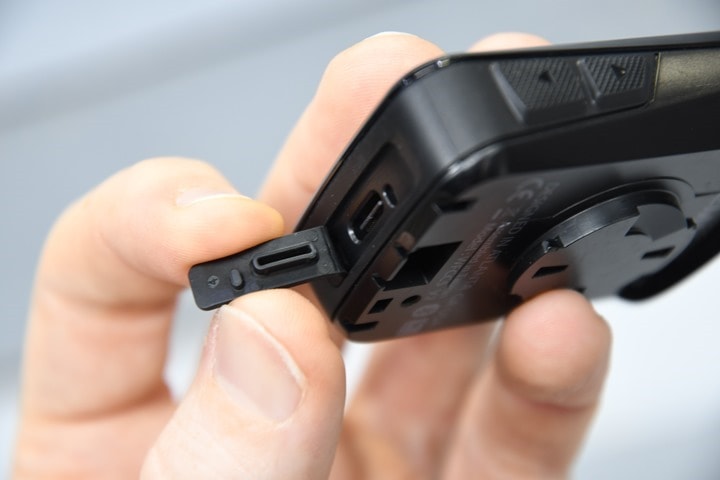 Next, if you look carefully at the front of the unit you'll find the ambient light sensor in the upper left corner. This sensor will automatically turn on the backlight in darker lighting conditions, such as tunnels or at night. In my testing it didn't quite respond as fast as I would have liked – with some tunnels never quite triggering. Though, it's also possible that was just part of the general bundle of issues I was having.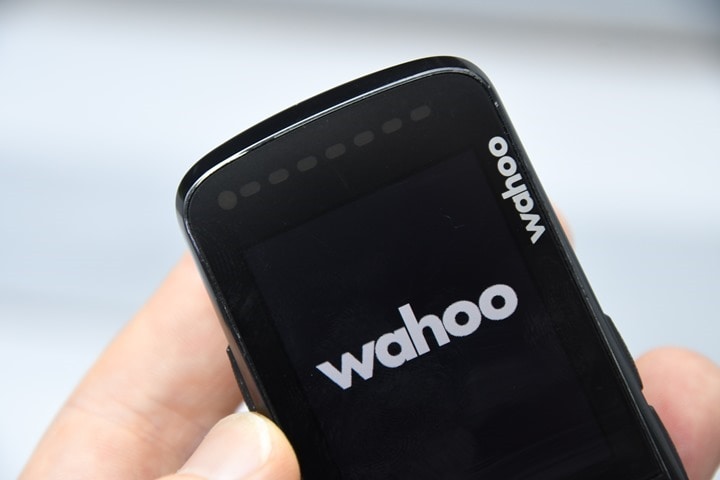 Finally, a quick look at size, here is the Wahoo BOLT V1, V2, and Wahoo ROAM – as well as the Garmin Edge 530: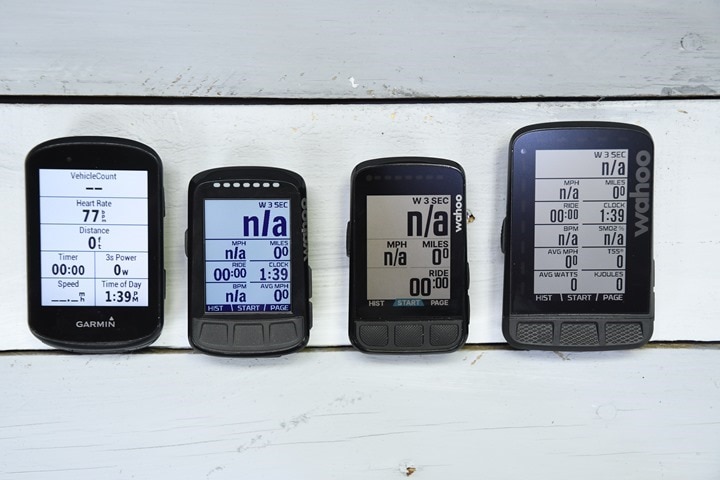 With that larger size, the weight went up slightly as well, from 61g to 70g (for context, the Wahoo ROAM is 95g, and the Garmin Edge 530 is 79g). Here's the old BOLT stacked atop the new BOLT (as the new BOLT is bigger).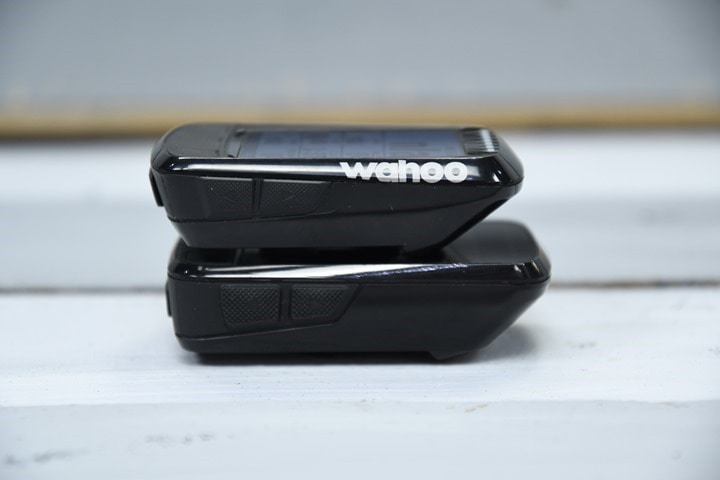 Oh – and for lack of anywhere else to stick it, one question I asked Wahoo is whether or not this unit marks a potential ending point for the firmware of the Wahoo ROAM (or even the existing BOLT), given some of the features are tied to shifts in storage on the new BOLT. They said nope – they still plan to add new features there, even specifically noting "We have a lot of post-launch features…including to back-dated products". They went on to say that as long as the feature isn't dependent on coloring, screen specifics, memory, or other hardware limitations – they'll try and include it in, specifically noting that "very limited feature updates that would fall into that [no-update category]", and that they don't "intend to penalize our customers" for buying their past products.
The Big Caveat: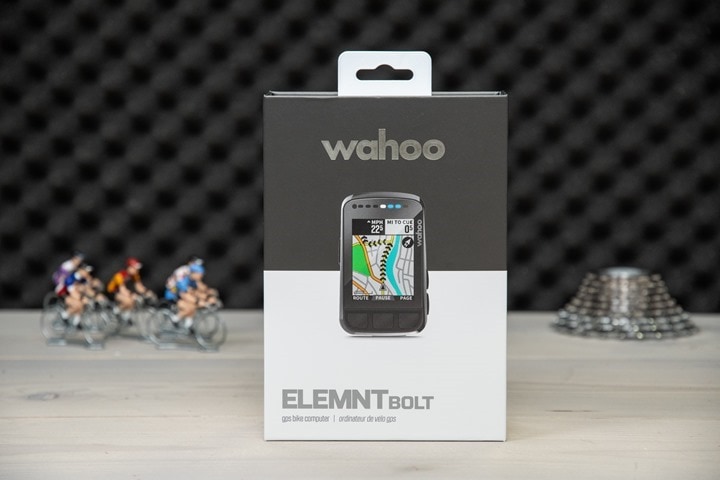 Now at this point, I'd normally have all sorts of nifty sections in this review. But then again, this isn't called an in-depth review. It's a 'review in progress', because, frankly, I can't get the photos and video I need to actually make it a review. I wish I could. For more than a week and a half I've been iterating firmware versions, playing whack-a-mole with issues.
Wahoo's working on things, but I've had one of the worst test experience I've ever had on a GPS unit. Data fields sometimes take 2-3 minutes to update, I've got never-ending crashes, as well as constant sensor dropouts across multiple sensor types (HR, power, cadence, eTAP). I went 6 miles the wrong direction on yesterday's ride because it didn't tell me otherwise, mapping was often minutes behind my actual position (when it, rarely, worked). Chunks of ride files lost, live tracking randomly ending 1-mile into a ride. Today it crashed mid-ride, sensors dropped out again frequently (and spiked in other cases), and map/turn notifications were on average 30-90 seconds delayed. The list goes on and on (seriously, there are endless e-mail threads on it).
In my case, I set things up like a normal user, such as using a Wahoo TICKR HR strap, a single power meter, and simple synced Strava routes.
Wahoo believes the core of my issues may be related to the density of the bike routes and map data in my area (Amsterdam), as stability seems to improve the further away from Amsterdam I get, and then get worse the closer I get back home. Though, even that's not always consistent. However, other folks I know and trust have had essentially flawless experiences, potentially because they ride in places that aren't the world's epicenter for bike paths and bike infrastructure.
Ironically, you'll remember almost exactly three years ago – my choice of hometown ended up delaying the Garmin Edge 520 Plus launch too – for exactly the same reasons (albeit, minus all the crashes, lost ride chunks, and sensor dropouts). It's astounding how close that scenario is to this scenario. But like that one, I don't really know when Wahoo will fix the issue, or who else it might impact. Wahoo is frantically trying to figure it out, and perhaps they'll have a solution this afternoon. Or, it might not be for two months. I just don't know – and I don't think they know either. Else, there wouldn't be a Wahoo engineer parked outside the DCR cave right now off re-riding my yesterday ride with a just-released developer test firmware that might solve at least one of my core issues.
Thus, until I can get a single functional successful ride (hell, indoors or outdoors), it's hard to start truly forming a long-term opinion of the new BOLT.
Update – Friday Evening May 28th: Wahoo's engineers worked through the night to track down the cause of the core density routing issue which was essentially death-spiraling the issue. They then tested it from the DCR Cave, side by side with units on the old firmware and new firmware. The old firmware death spiraled, the new firmware fixed that issue. I then went out for a ride with it, and was able to successfully complete the ride. As well as another ride this afternoon/evening. No routing issues, nor crash issues. Some minor sensor issues for both ANT+ HR (Wahoo TICKR) & ANT+ power (Quarq DZero), that I'll continue to work with them. I'll circle back likely late next week to convert this to a full in-depth review.
Update 2 – June 14th, 2021: There are good days (rides) and bad days (rides). That's where I'm at with the BOLT V2. Last weekend I had a horrendous ride that crashed the unit twice and eventually totally shut off, leaving me in the middle of nowhere without a functional BOLT. This past weekend was mostly good. It got me where I was going, and without major issue. Still, there are lots of minor issues (echoed by tons of people in the comments). Still had sensor dropouts on the heart rate side, still have incorrect elevation data, still have no notifications, and there's still some quirky re-routing choices (not horrible, but kinda weird).
Summary: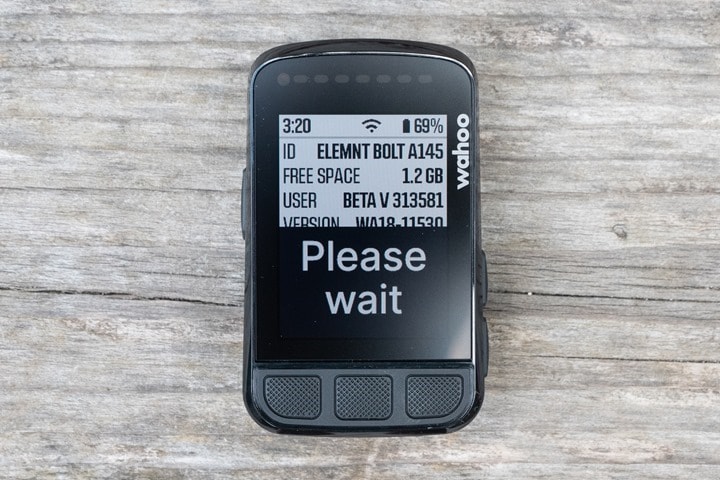 As one might surmise at this juncture, writing a summary section is tricky for me right now. If we temporarily set aside the less than optimal experience I've had thus far, I'd say on paper this is a great option for either existing Wahoo BOLT users that want maps or color, or people who simply wanted to get into the Wahoo ecosystem without the price of the Wahoo ROAM. That's notable for those that may be considering a Wahoo RIVAL watch, and are looking at some of that integration there on the triathlon side.
At the same time, I don't think there's really any reason for existing Wahoo ROAM users to pick up a BOLT V2. Sure, it has a few minor new tweaks, but unless you really wanted the smaller size, it's probably not worth the mostly lateral shift. Similarly, I'm not convinced this is a model that's going to take away any significant sales from the Garmin Edge 530 (at $299), given that it's got a cruise ship full of added features Wahoo doesn't have, and is largely considered pretty stable and dependable these days. But as has been the case for the last 1-2 years, most decisions on Wahoo vs Garmin tend to be more like political discussions than anything. It's the sports tech equivalent of iOS vs Android.
Now as I already beat to death above, I simply don't know when Wahoo will fix the substantial issues I saw (and it sounds like some others saw too). It's entirely plausible the engineer that departed here a few minutes ago with the most recent internal development build will come back without failures, thus passing off the unit to me to ride for a bit and see if I can break it. Or, maybe he won't come back at all – a victim to the routing issues I had. Or, maybe he'll stop at the now open bar terraces and call it done. I don't know. But, when I do know – I'll report back.
With that – thanks for reading!
Found This Post Useful? Support The Site!
Hopefully you found this review useful. At the end of the day, I'm an athlete just like you looking for the most detail possible on a new purchase – so my review is written from the standpoint of how I used the device. The reviews generally take a lot of hours to put together, so it's a fair bit of work (and labor of love). As you probably noticed by looking below, I also take time to answer all the questions posted in the comments – and there's quite a bit of detail in there as well.
If you're shopping for the Wahoo ELEMNT BOLT V2/2021 or any other accessory items, please consider using the affiliate links below! As an Amazon Associate I earn from qualifying purchases. It doesn't cost you anything extra, but your purchases help support this website a lot. Even more, if you shop with TPC (The Pro's Closet), you'll save $40 on purchases over $200 with coupon code DCRAIN40! The Pro's Closet has been a long-time partner of the site here - including sponsoring videos like my cargo bike race, as well as just being an awesome Colorado-based company full of good humans. Check them out with the links below and the DCRAIN40 coupon!
Here's a few other variants or sibling products that are worth considering:
And finally, here's a handy list of accessories that work well with this unit (and some that I showed in the review). Given the unit pairs with ANT+ & Bluetooth Smart sensors, you can use just about anything though.
And of course – you can always sign-up to be a DCR Supporter! That gets you an ad-free DCR, access to the DCR Quarantine Corner video series packed with behind the scenes tidbits...and it also makes you awesome. And being awesome is what it's all about!
Thanks for reading! And as always, feel free to post comments or questions in the comments section below, I'll be happy to try and answer them as quickly as possible. And lastly, if you felt this review was useful – I always appreciate feedback in the comments below. Thanks!