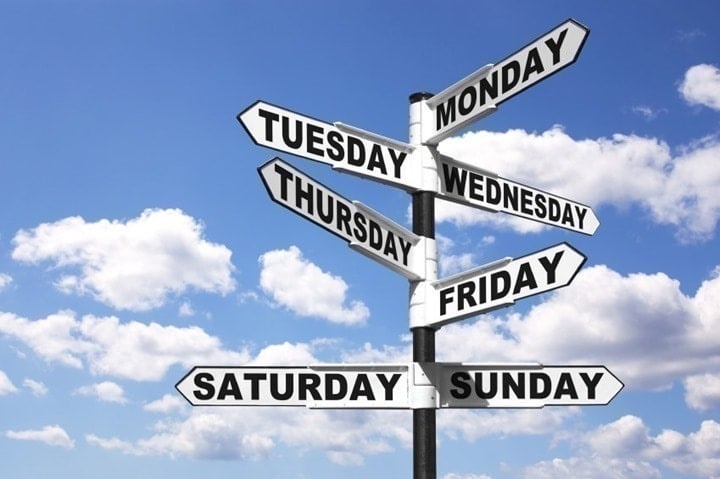 The Week in Review is a collection of both all the goodness I've written during the past week around the internet, as well as a small pile of links I found interesting – generally endurance sports related. I've often wondered what to do with all of the coolness that people write, and while I share a lot of it on Twitter and Facebook, this is a better forum for sending it on to y'all. Most times these different streams don't overlap, so be on the lookout at all these places for good stuff!
So with that, let's get into the action!
Sports Tech Deals:
There's a handful of sports tech deals out there right now:
Product

Sale Price

Amazon

Other site

Sale Notes

Apple AirPods Pro - $50 off!
$249
$197
Amazon
Apple AirPods with Wireless Charging Case - $50 Off!
$149
Amazon
⚡ I use AirPods primarily when I'm travelling just to listen in airports, planes, etc... I don't tend to use these for workouts due to them falling out. Personally, I just use the basic model.
Apple Airpods (2nd Gen) - $30 off
$159
$119
Amazon
I use AirPods primarily when I'm travelling just to listen in airports, planes, etc... I don't tend to use these for workouts due to them falling out.
Apple Watch Series 6 - 40mm RED - $70 off
$399/$499 (cellular)
$329
Amazon
This is a very solid deal on the Apple Watch Series 6.
Fitbit Charge 4 - $50 off!
$149
$99
Amazon
REI
Currently the best deal we've seen to date, matching only the Black Friday deal last fall.
Fitbit Versa 3 - $50 off
$229
$179
Amazon
REI
This is the first time the Versa 3 has been on sale.
Garmin Forerunner 245 - $50 off
$299/$349
$249
Amazon
REI
Both the Forerunner 245 is on sale for $50 off. While not a huge sale, it's actually the lowest we've seen either product priced to date.
Garmin Forerunner 245 Music - $50 off
$299
Amazon
REI
Both the Forerunner 245 Music is sale for $50 off. While not a huge sale, it's actually the lowest we've seen either product priced to date. The FR245 Music supports Spotify, Amazon Music, and other streaming platforms.
Garmin Forerunner 45/45S - $50 off
$199
$149
Amazon
Backcountry
If you're looking for a runners focused watch, this is a pretty good deal, about 25% off. The FR45 basically packs all the features of the previous generation FR235...just now in the FR45 series.
Garmin Forerunner 935
$499
$269
Amazon
⚡ Sure, it's not the latest edition, but the FR935 is the staple of many triathletes and runners, and it still an incredibly solid watch. We saw this a bit lower last summer on Amazon Prime Day ($239) - but beyond that, this is pretty darn low. Also, I say $100-$200 off, because the 'base' price fluctuates a bit these days. Sometimes retail is $399 sometimes $499.
Garmin Forerunner 945 - $50-$80 off
$599/599EUR
$519
Amazon
Backcountry
Not a bad deal, the price seems to fluctuate between $50 off (official Garmin sale price currently), and $75-$80 off (unofficial sale price).
Garmin Instinct - $80 off
$299
$169
Amazon
This is a pretty strong price, though over time the pricing norms have as slowly dipped further and further.
Garmin Vivoactive 4/4S - $80 off
$299
$269
Amazon
This is Garmin's current offering to compete with the Apple Watch series (alongside the Garmin Venu), and this is a good price, though, it does go lower from time to time (not since Black Friday 2020).
Garmin Vivofit Jr. 2 - Incl Disney/Avengers/Star Wars variants ($20 off)
$79
$49
Amazon
These are Garmin's kids activity trackers, and what both of my two oldest daughters wear daily (princess and Disney edition variants).
GoPro Hero 9 Black - $50 off
$399
Amazon
REI
⚡ This is the camera I use for all my daily shooting during sports. Actually, I've bought a few of them. Note that if you're a GoPro Plus Subscriber, then it's a bit cheaper at $349 from GoPro directly, but otherwise, it's $449.
Samsung Galaxy Watch 3 - 43% off
$238
Amazon
This is the lowest price I've seen on the Samsung Galaxy Watch 3, which typically is 'only' on sale for about 30% off.
Suunto 7 Wear OS Watch - $60 off
$399
$339
Amazon
The Suunto 7 floats on and off sale occasionally, but usually not more than 20% off.
DCRAINMAKER.COM Posts in the Past Week:
Here's all the goodness that ended up on the main page this past week
Sunday: Week in Review–March 28th, 2021
Tuesday: Polar Ignite 2 Hands-On: What's New & Different
Wednesday: Suunto adds Komoot Routes Turn by Turn Integration in Latest Update
Wednesday: Tacx & Garmin Increase Tacx App Integration, Plus Training Status Plans
Wednesday: Peloton's $120 Credit & 10X Points for Chase Sapphire Cardholders (US only)
Friday: Review: Bike Mount for DJI Drones to use with Active Track
YouTube Videos This Past Week:
Here's what hit the tubes over on the You of Tube, definitely don't forget to subscribe there to get notified of videos the second they hit!
Stuff I Found Interesting Around The Interwebs:
Here's a not-so-small smattering of all the random things that I stumbled on while doing my civic duty to find the end of the Internet. Also, there's a few things this week that were actually from a week or two ago – I'm just catching up on this list:
1) A deeper look at the Wahoo Speedplay Power Pedals (engineering perspective): For those that know Keith, he's one of the most public power meter developers in the industry, and also behind many sports tech gadgets within the cycling world from a number of companies. Here's his most recent look at the FCC filings from Wahoo, on their recently announced Wahoo Speedplay power meter:
2) ZwiftHub Closing Down: Congrats to Toby (the person behind it) on his new job at Wahoo. Unfortunately, it means at the end of the month, ZwiftHub is no more. Perhaps Zwift will consider acquiring it for a fair rate.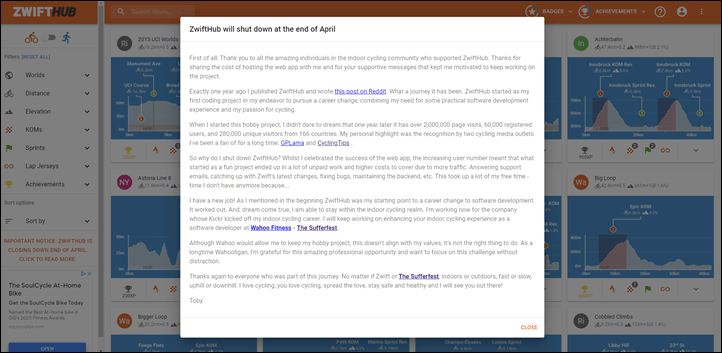 I do think this once again though shows how big a boon it would be for Zwift to actually have a proper/supported API, akin to what Strava has, for people to Create Cool Shit. It's these sorts of projects that should eventually be built into Zwift (or acquired). But as Strava and their 20,000+ apps shows, there's an incredible potential for 3rd party apps to fill in the gaps and increase the community around Zwift.
3) Peloton closes Precor acquisition – shifts focus to Commercial usage: In the grand scheme of sports tech deals, this is one of the bigger ones in recent years, as it will dramatically increase production capability for Peloton. However, when it was announced last December, it didn't mention increasing focus on the commercial side of Peloton – it just mentioned getting gear to 'members sooner. However, the new announcement specifically calls out using Precor to focus on the commercial aspect of Peloton (e.g. hotels/apartments/etc…), which by and large Peloton has treated as the red-headed stepchild over the years. Yet, it's also a great place to introduce people to the Peloton brand with zero marketing cost.
4) A look at the 2021 Chip Shortage: This is a good dive into the semiconductor chip shortage and how it's impacting the industry (including sports tech). While sometimes this will be obvious to you as a consumer, most times it won't be: It'll just mean delayed product launches behind the scenes, or perhaps limited availability without a reason. This is mostly the reason.
5) Casio launches new WearOS watch: Though, perhaps unsurprisingly, without solar capabilities. Given WearOS has the well-earned reputation of being the Cookie Monster of battery burn, the trivial amount of power that solar delivers in most watches probably wouldn't last more than a song on WearOS. Still, good to see more options. Hopefully we'll see Casio find a way to refine what they have sports-wise today, which in my testing of their GBD-H1000 (solar, with FirstBeat Analytics) seemed like a promising vision, but fell pretty far short in reality. For example, there was only one sport mode (running/hiking), which meant if you wanted to use it for a ride – it screwed up all your data.
5) Garmin engineer discussing dual-band GPS implementations: Nothing crazy deep, but some tidbits there for those that are interested.
6) Want a cargo bike emoji? One emoji developer is looking at submitting a cargo bike emoji for consideration, however, he is trying to nail down the design. Give a quick tap on this Twitter vote to help.
#CargoBike #CargoBikeEmoji
1. You may have used or maybe a ❤️(emojis) in your messages?
For transport there is bike emoji, however no cargo bike emoji
So, what cargo bike type/design would best represent ALL cargo bikes with 1⃣ single emoji?
Vote

— David Majarich (@davidmajarich) April 3, 2021
7) Equipping cyclists to identify bad bike intersections: This project equipped 700 cyclists with little beepers that they'd tap when they stumbled upon poor/clumsy bike situations. During the trial some 36,000 situations in Amsterdam were identified, giving city planners areas to consider upgrades for. Looking at the map, I'd definitely agree with most of the larger dots.
Sports Tech Device Firmware Updates This Week:
Each week I quickly highlight some of the new firmware, app, software, and website service updates that I see go out. If you're a sports technology company and release an update – shoot me a quick note (just one-liners are perfect, or Tweet it at me is even better) and I'll make mention of it here. If I don't know about it, I won't be able to post about it. Sound good?  Oh – and if you want to get a head start on things, this page is a great resource for watching Garmin, Wahoo, Polar, and a few other firmware updates.
Garmin Swim 2 Firmware Update: Bug fixes
Garmin Fenix 5 & 5 Plus Series BETA Firmware Update: Bug fixes (including fixing a Physio True-up updating issue)
Suunto 5 Firmware Update: Adds turn by turn with Komoot, supports POI interest/navigation
Suunto 9 Firmware Update: Adds Tour battery mode, turn by turn with Komoot, POI, and Suunto Plus Red Bull app.
(Kinda a quiet week for firmware updates)
—
With that – thanks for reading!