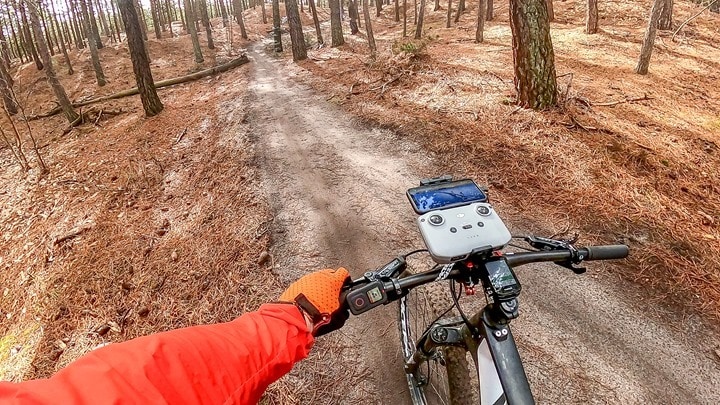 If you're a long-time follower of the site or channel, you know I've got a long history of trying out drones with sports track capabilities. This has gone back almost a decade in fact, with all sorts of drones at varying levels of automated tracking capabilities.
And while tracking is getting better and better, the controller portion of the situation has actually varied a bit over the years. For example, until about 18 months ago, you could use your phone to control most DJI drones (without a controller). Then they stopped doing that, thus increasing the complexity of using their drones for solo-sport recording.
Prior to Skydio (R1 or V2), there was Airdog and Airdog 2. They had a nifty little card-sized remote controller you strapped on your arm. It worked surprisingly well, though the drone didn't have obstacle avoidance. Then there was Skydio R1, which you could get in the air with your phone, and from there it'd use machine learning to track you autonomously. But if it lost you due to a tree in the way, you were up crap-creek. So for the R2 drone they added a nifty sport-friendly remote control as a backup transmission method. I find it fiddly to use, but it does the job.
However, as great as the Skydio drones are for sport (really, they're incredible) – they're not terribly great for non-sport footage or still photography. And it's not so much the quality (which is fine), but rather the lack of all the other features that DJI has that make it a more cohesive non-sport aerial cinematography platform. But with DJI's recent drones requiring the remote controller (plus a phone attached to it), I've had to get pretty darn creative to have a controller on my handlebars.
I've rubber banded remote controls to my handlebars, I even cut out a Wahoo ELEMNT bike computer box one day to use as a little safety shell for it…and then stuck that in my bag, easily accessible. Seriously, I've done all the wonkiness things to make this work. But back in February a DCR reader spotted a solution for me – a ~$20 bike mount for DJI controllers (sorry to whomever it was, I can't seem to find your e-mail/name!):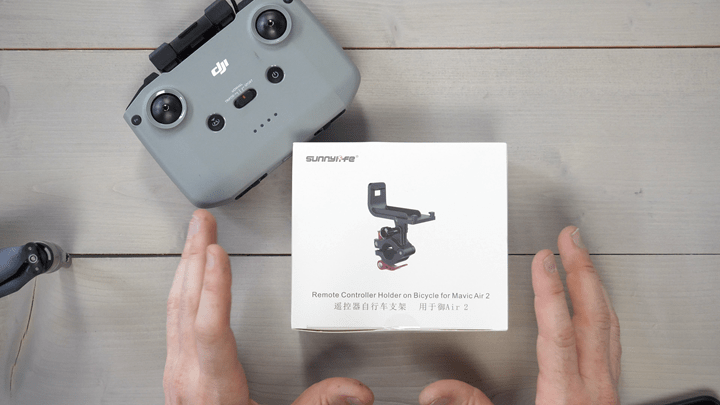 It costs about $18-$25 depending on where in the world you are, and is listed under a dozen different companies.
Thus, I've been giving it a whirl lately. And the below video is my trials and tribulations with that mount:
In short, once I made some modifications to it – it's working great. Interestingly, there are also other variants for other DJI models. In my case, I was using the one for the DJI Mavic Air 2, which shares the same controller as the DJI Mini 2. The other variants use the exact same bike-mount portion (such as for the Mavic 2 Pro/Zoom, etc…), just with different upper-controller clips.
The current list of compatible drones is using the DJI RC-N1 controller seen here:
DJI Mini 2
DJI Mini 3 (with base controller, not newer display-included DJI RC)
DJI Mini SE
DJI Mavic Air 2
DJI Air 2s
DJI Mavic 3/3 Cine
Note that for the newer DJI RC that came out with the DJI Mini 3 Pro, it's both too tall, and lacks the upper edge/clip area. Meaning, it won't fit (not even close). However, you could technically place it atop that, and then strap it in with tape or such. It wouldn't be pretty, but would work in a pinch. I suspect though it won't take long for us to see a slightly updated version for the DJI RC, since weight-wise it's actually less than the normal controller (DJI R1N) plus your phone. And finally, for the DJI RC Pro, that's a beast of a rock in terms of weight and size. I can't foresee any viable mount short of involving screws or something. Juts waaaay to heavy.
Oh, and if you wanted to see how these drones track (pre-mount), check out this video:
In any case – I've got a stack of non-drone things for next week I've been putting the finishing touches on.
With that – have a great weekend everyone!
Found This Post Useful? Support The Site!
Hopefully you found this review useful. At the end of the day, I'm an athlete just like you looking for the most detail possible on a new purchase – so my review is written from the standpoint of how I used the device. The reviews generally take a lot of hours to put together, so it's a fair bit of work (and labor of love). As you probably noticed by looking below, I also take time to answer all the questions posted in the comments – and there's quite a bit of detail in there as well.
If you're shopping for the DJI Drone Controller Bike Mount (DJI RC-N1) or any other accessory items, please consider using the affiliate links below! As an Amazon Associate I earn from qualifying purchases. It doesn't cost you anything extra, but your purchases help support this website a lot. Even more, if you use Backcountry.com or Competitive Cyclist with coupon code DCRAINMAKER, first time users save 15% on applicable products! Or, with TPC (The Pro's Closet), you'll save $40 on purchases over $200 with coupon code DCRAIN40!
Here's a few other variants or sibling products that are worth considering:
And of course – you can always sign-up to be a DCR Supporter! That gets you an ad-free DCR, access to the DCR Quarantine Corner video series packed with behind the scenes tidbits...and it also makes you awesome. And being awesome is what it's all about!
Thanks for reading! And as always, feel free to post comments or questions in the comments section below, I'll be happy to try and answer them as quickly as possible. And lastly, if you felt this review was useful – I always appreciate feedback in the comments below. Thanks!