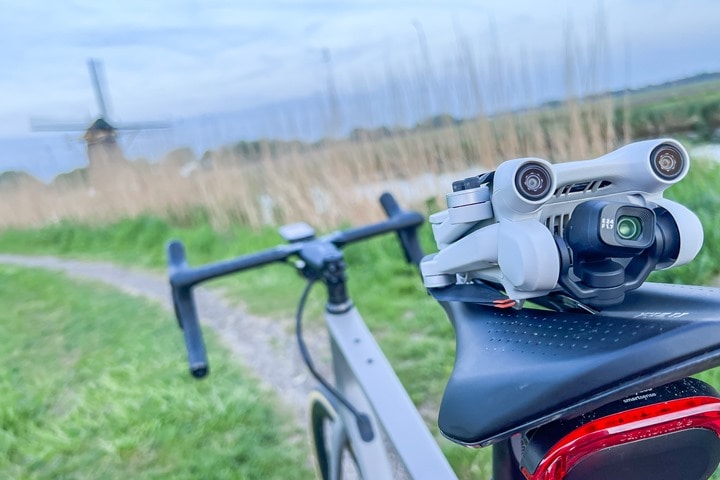 DJI has just announced their newest sub-250g drone, the DJI Mini 3 Pro –and this time, it's a massive step up in functionality and hardware over the previous iterations. It adds 4K/60FPS shooting modes, up to 46 minutes of battery life, a slew of new photo and video modes, and even a new remote control with a built-in display. However, for sports-focused folks, the most notable features are that it now includes DJI's Active Track autonomous follow-me technology, as well as obstacle avoidance sensors on the front, rear, and underside. Coming from the previous iteration having no active track or obstacle avoidance, this is a huge step up.
Of course, the goal of this drone isn't to be at the same level of autonomy as something like the Skydio 2/2 Plus. Instead, it's to be ultra-portable at under 250g (albeit, plus a controller), and also to be more general-purpose for getting non-sports shots if you want. Up till now, they required carrying a DJI drone 3-5x the weight and size. This, finally, changes that.
And at the risk of spoiling you reading this entire review: They finally got it right.
I didn't have to go for any swims to rescue any failed ActiveTrack drones this time, nor climb any trees. It (mostly) just worked. At least within the confines that this device has. But more on that later.
Now, I've been testing a media loaner for a bit now, getting in plenty of shots and testing – enough to understand the pros and cons. As usual, this review isn't sponsored by anyone. No companies get to see what I write or shoot before it publishes. Once I wrap-up with the unit here shortly, I'll get it boxed up and sent back to DJI, and go out and purchase my own through normal retail channels. That's just the way I roll. If you found this review useful, you can use the links at the bottom, or consider becoming a DCR Supporter which makes the site ad-free, while also getting access to a mostly weekly video series behind the scenes of the DCR Cave. And of course, it makes you awesome.
What's New: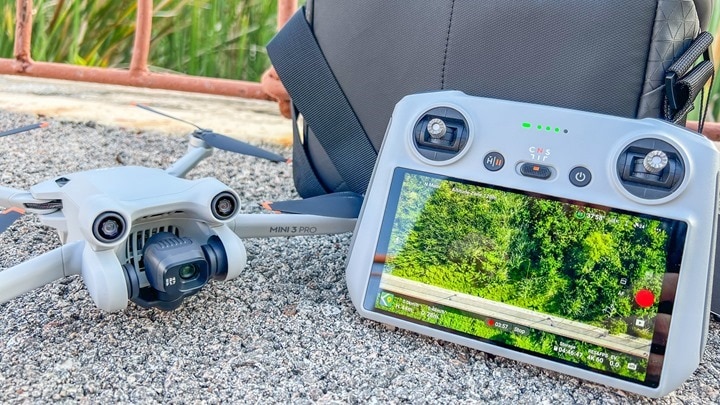 The DJI Mini 3 Pro has a massive slate of new things. The vast majority of features though, we've seen on other drones. Like most companies, this is a feature cascade from previously higher-end units, down to their budget-focused DJI Mini series. However this time, it's the Niagara Falls of feature cascades, with more new features than we've ever seen on a unit.
And even for those hand-me-down features, there's also some legit new items. For example, the new DJI RC is brand new. Sure, it's a lightweight version of the DJI RC Pro, but we're talking a $1,000 DJI RC Pro being nearly matched by a $150 DJI RC. It's astounding. In any case…
Here's the complete list of what's new, compared to the existing DJI Mini 2:
– Added Obstacle Avoidance Sensors
– Added Rotating Gimbal for Vertical Photos/Video
– Added Active Track 4.0 for follow-me situations
– Added 4K/60, and HDR modes for 4K/30 and below
– Added 1080p/120FPS
– Added 48MP photos (including RAW photos)
– Added gimbal tilt range up to 60° upwards (shooting above drone)
– Added FocusShots (including POI and SpotLight)
– Added MasterShots
– Added QuickShot Asteroid (previously had other QuickShots)
– Added D-Cinelike as an option
– Added OcuSync 3.0 with claimed 12KM range in 1080p
– Increased wind resistance speeds
– Increased flight time to 34 mins (or 47 mins with Plus battery)
– Added new DJI RC with built-in screen
– Maintained sub-250g weight with base batteries
Now it's worthwhile noting that the DJI Mini 3 has two different batteries:
– DJI Intelligent Flight Battery: 34 minutes of flight time
– DJI Intelligent Flight Battery Plus: 47 minutes of flight time
The batteries are identical in size/shape/form factor, except the longer-lasting one is simply heavier, thus bringing the total aircraft size from 249g up to 289g. As a result, it goes behind some regulatory options in certain countries in terms of registration and licensing.
Thus, the higher-end battery isn't sold in Europe, due to reasons that don't really make a lot of sense. DJI says that's because it'd push it beyond the 250g classification, and that they didn't want consumer confusion. But that doesn't really hold a lot of water, since in reality so would prop guards, for people that were using those. And for that matter, it's no different than their DJI Air 2S or anything else. If someone wants to add weight, so be it. To be super clear: There's absolutely nothing wrong with using the higher-end batteries in Europe, it's just that DJI won't sell you them here. Which is silly.
From a pricing standpoint, it gets a little bit confusing compared to usual. Normally DJI simply offers the base drone, and then also a drone combo kit with extra accessories. However this time around, they've split those out. There's the base drone with now three different controller options, and then there's the combo kits. Here's how it looks:
DJI Mini 3 Pro with no remote controller: $669 (use your existing DJI RC-N1 controller)
DJI Mini 3 Pro with DJI R1N basic remote controller: $759 (standard issue DJI controller)
DJI Mini 3 Pro with DJI RC remote controller: $909 (new controller with fancy display built-in)
So basically, it's an extra $150 to get the DJI RC over the base controller. Or, $250 extra if you already have an RC-N1. And then atop that, there's new combo kits, which vary depending on where in the world you are – for example, you can't get the Plus kits in Europe. These kits include two extra batteries, the battery charging hub, some extra props, and the carrying bag.
DJI Mini 3 Fly More Combo (Base batteries): $199
DJI Mini 3 Fly More Combo Plus (Bigger Batteries): $249
DJI RC (standalone controller bought later): $309
Thus obviously, if you plan to get the newer DJI RC, it's $60 cheaper to do it as part of the bundle with the drone than later. Phew, got all that? Good, let's get into the details of using it.
Hardware & RC Pro Basics:
I'm not going to waste your time reading a bunch of text, I'm going to just say it upfront: Get the DJI RC edition.
Seriously, it's worth it. And this comes from someone who normally isn't a fan of the fancier controllers DJI makes (DJI Smart Controller or DJI RC Pro). They've historically been heavy and cumbersome. This is not that.
However, now, let's back up. First, is the hardware itself. As noted above, there's a few different editions depending on which controller you have. But ultimately, it's all the same drone. So here's the drone itself all folded up.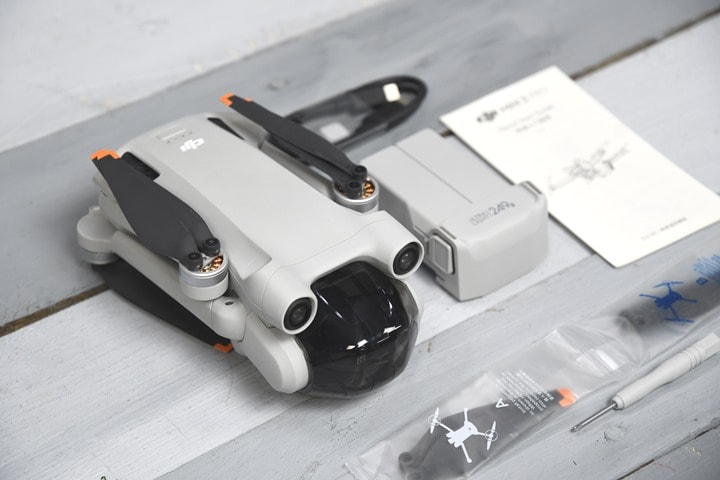 For context, it's bigger than a mouse, but smaller than a shoe: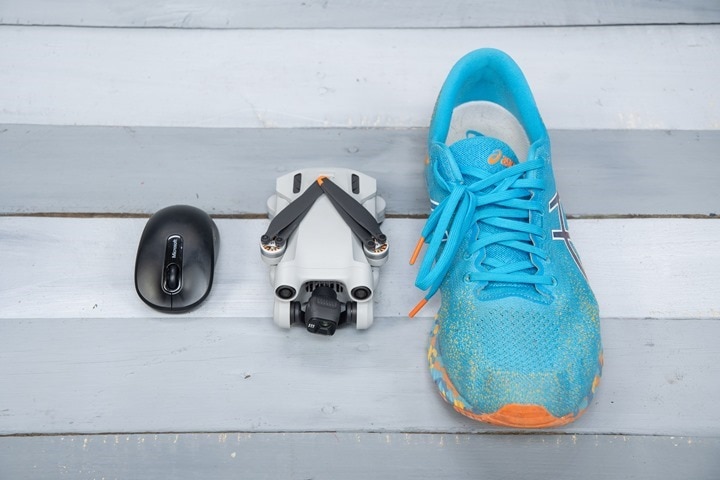 It basically fits precisely in my hand, or easily on my saddle. And more importantly, easily in my jersey pocket.
You'll unfold the drone arms for flying, and then find yourself three sets of sensors for obstacle avoidance on it. First are the frontwards facing sensors: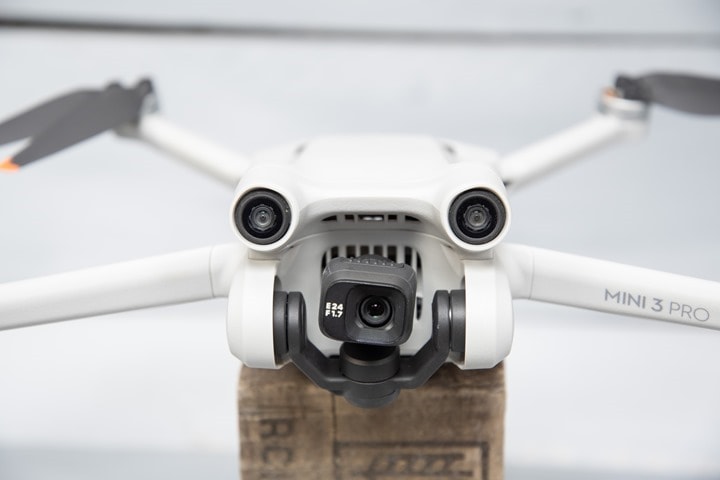 Then on the underside are the downwards facing sensors.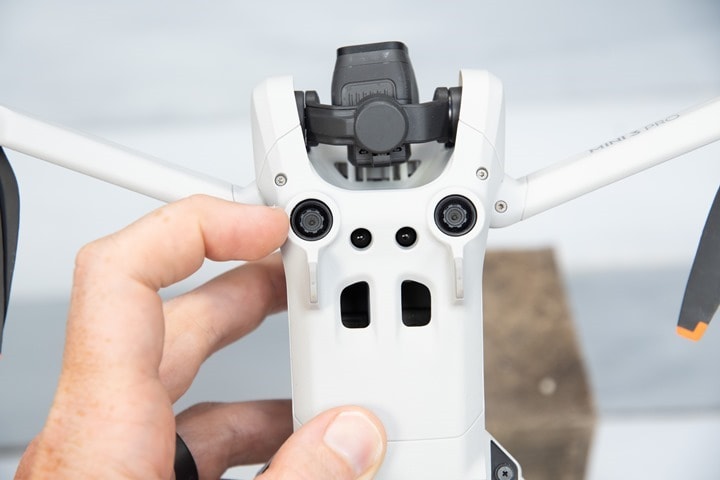 And finally, the rearwards facing sensors: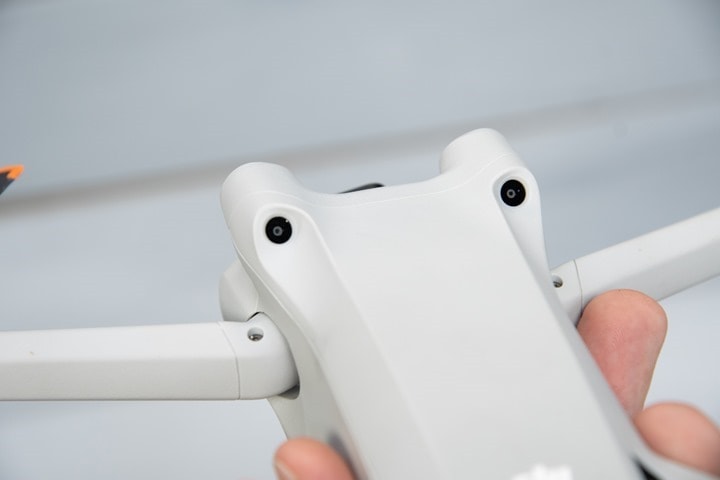 DJI actually had a pretty interesting long-form tidbit they sent over regarding the design of the sensors from their engineers. As you know, I rarely use quotes in my posts/pieces, but this was long enough, and everyone here is geeky enough, that I figured you'd all find the full unedited version interesting:
"The rear-facing sensors are, for the first time, placed toward the front of the drone. But why? As it turns out, this placement came ultimately as a solution to a series of several challenges.

To reduce overall load, the team looked for ways to replace an internal cooling fan, which came in the form of the rear propellers and arms redesigned to feed air into a set of holes in the back. But this novel cooling solution created a tradeoff: the new propeller and arm structure would prevent the rear-facing sensors from seeing with an unobstructed view. If the propellers and rear arms were raised, it would let the rear sensors see clearly, but this would bring the propellers away from the holes, decreasing their cooling ability, which would also shorten battery life. One problem soon became a stack of them.

After several rounds of discussion and redesign, a completely different idea emerged: why not place the rear-facing sensors toward the front of the aircraft? It had never been done before, but the team found that it worked perfectly. They suddenly found that all the problems were solved after we placed the sensors up front, creating a clear FOV for them while preserving the propellers' optimal ability to cool the drone."
I thought that was interesting, and based on my testing (see the Active Track section), the sensors seem pretty solid. Of course, the Mini 3 isn't going to heavily use the rearwards sensors in most ActiveTrack scenarios, since it lacks side sensors (thus, you're likely to follow from behind instead). Still, notable.
Meanwhile, on the back there's the micro-SD card slot, as well as the USB-C port for charging. The battery slides in below it.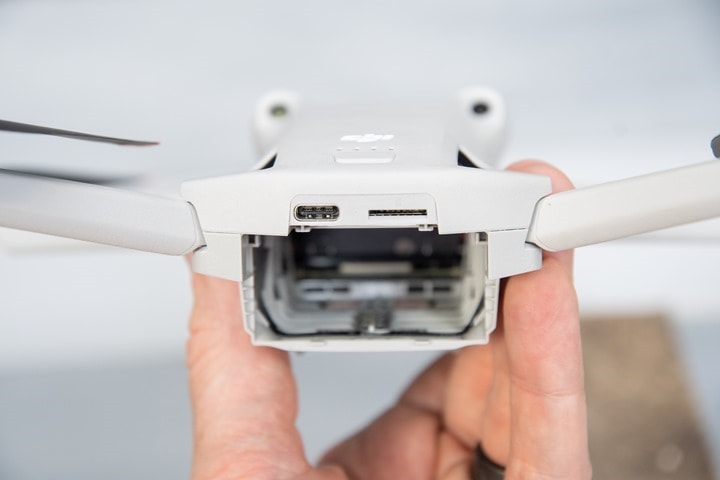 Next, there's the controller. As noted above, there's two options here. First is the stock DJI RC-N1, which requires your phone. And then the second is the DJI RC, which doesn't require your phone at all.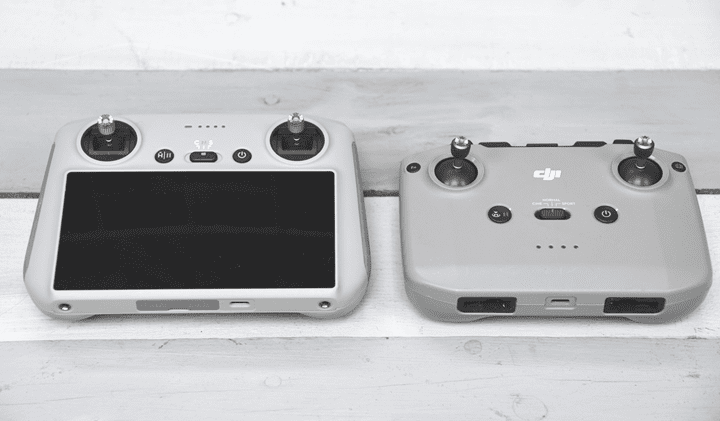 I've used both with the DJI Mini 3, and by far, the DJI RC is my favorite. Size and weight-wise, it's smaller than the base RC+Phone. Plus, I don't have to worry about inbound notifications/etc disrupting my aircraft in the air.
The DJI RC is lighter than the DJI RC Pro. In fact, I probably could do an entire deep-dive there on differences. They both share the same 1080p display, though the DJI RC 'only' has 700 nits of brightness, compared to 1,000 nits on the RC Pro.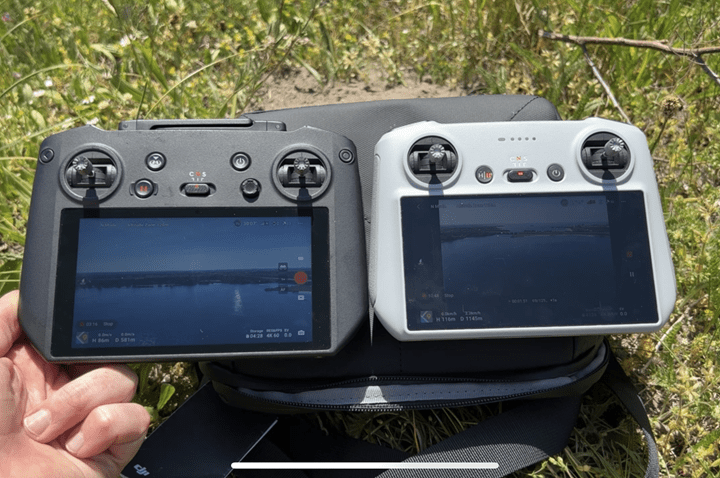 In terms of usable brightness, on a sunny beach day, I found the DJI RC basically the same as my iPhone 13 Pro in terms of viewability/visibility. That's likely because the iPhone 13 Pro on a hot/sunny day will quickly overheat and lessen the display brightness significantly, thus, you're down to the same comparative ranges. And if you're in the shade/clouds/not-hot-beach, then the DJI RC is more than bright enough. Absolutely love it.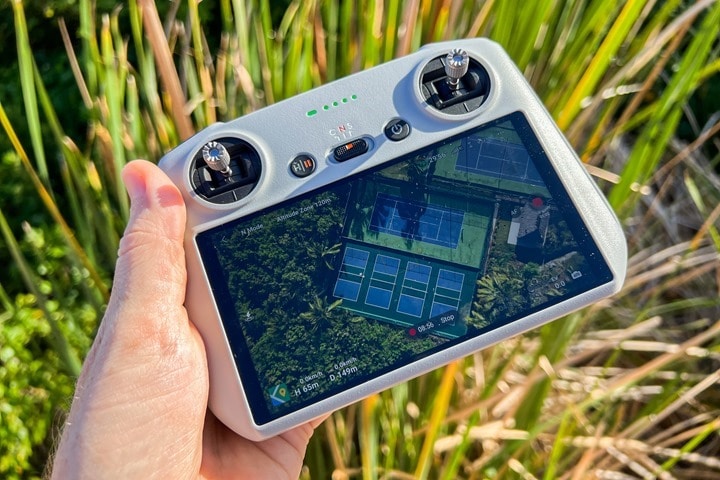 Finally, there's the two battery options. Or, one option if you're in Europe. There's both a standard battery (35 mins), and a Plus battery (47 mins). They're identical in shape/size/etc, only difference is weight. The Plus battery pushes your entire aircraft weight to 289g, over the 250g threshold in certain countries (for licensing/registration). You'll notice the base battery has 249g markings on it, whereas the other Plus battery doesn't.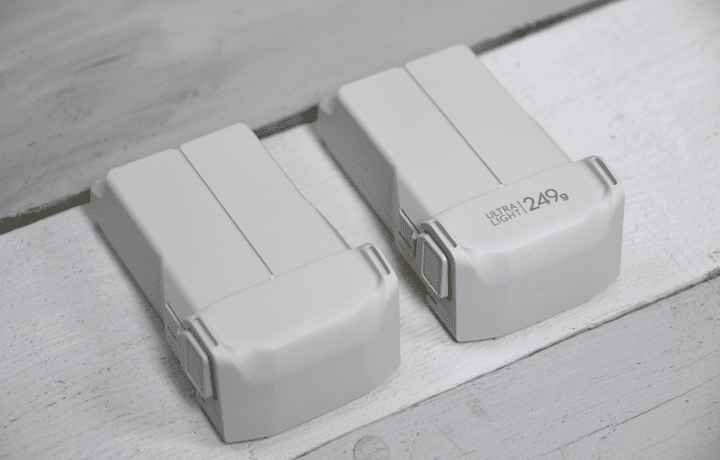 And it's due to that weight which is why DJI isn't selling the Plus battery in Europe, citing simplicity around regulatory bits and the 250g limit. However, that doesn't really hold water in real-life. After all, if I put prop guards on the DJI Mini 3, it pushes it over the weight limit, yet DJI sells those. Plus in Europe, the weight limit is only a limit if you're not licensed. Meaning, if you were to buy any other drone, you'd need licensing/registration anyways. Finally, DJI hasn't gotten CE class markings for the DJI Mini 3 yet, so that's a non-issue too [these are the newish EASA-driven drone classification markings that basically nobody is doing yet.]
So I'm still not clear on why DJI can't just simply sell the larger battery to those that want it, just like it does every other drone heavier than 250g. Especially because, like the DJI RC, it's awesome. I was consistently getting 32-38 mins of flight-time, before landing with 20% battery remaining (in hot Caribbean beach weather too).
In any case, lastly, there's the charging hub. This comes in the Fly More Combo bundle, and allows you to charge up to three batteries.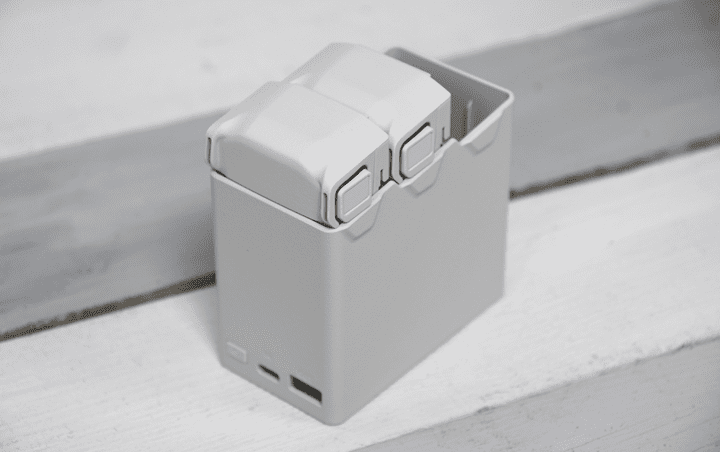 Note that like DJI's other charging hubs, this isn't concurrent. So it's one after another. It takes about an hour with the standard battery, and about 90 mins with the larger battery. It just uses a USB-C port on the side to charge, and has a USB-A port for charging other things (like the controller). It has LEDs on the backside to see battery status. I like that all this stuff easily fits in the single DJI drone bag, and then I can use my laptop charger to charge it all on the road. Finally!
Drone Flying Basics & Features:
For this section, I've put together a massive beginner's guide that takes you through every single piece of the DJI Mini 3 from start to finish. It's nice and evenly paced, and I walk you through all the features out in the real-world, and not behind a desk. So I can show you hands-on with tons of tips and tricks. You can tap to view it above. Also, here's the complete listing of chapters and topics covered:
0:00 Quick Overview & Intro
0:46 Remote Controller & Battery Options
3:05 Drone Hardware (Gimbal, Sensors, Basics)
5:55 Pre-Takeoff Critical Items
8:07 Taking off & Flying Basics
13:08 Obstacle Avoidance/Sensing & APAS
16:08 Video Modes Explainer
22:25 Photo Modes Explainer
25:56 Vertical Shooting Options
27:33 Spotlight & POI Modes
31:58 QuickShots Usage
34:01 MasterShots Feature
36:27 HyperLapse Modes
39:22 Active Track (Follow-Me)
44:34 Sport Mode (Fast Flying)
45:55 Hand-Catching A Drone
47:39 Gallery and Downloading
48:47 Wrap-Up
That'll cover pretty much everything you need to know about virtually every feature, including any thoughts I have like tips/tricks and also caveats to be aware of. Of course, if for some reason you want to get out into the wind, then I've got you covered in a separate video here with 50KPH wind testing. It's a wild ride:
It's fascinating to see how well the aircraft can handle those winds, and even do more advanced features like ActiveTrack within them.
I might later on expand out a photography/video section a bit deeper beyond what I cover in the video, but overall, I found the quality excellent on the DJI Mini 3. Well beyond what I'd typically need or demand from a drone. In terms of video quality, the 4K footage looks super crisp, and it usually handles shadows and highlights pretty well. You can switch into D-Cinelike, but that's only 8-bit, so you won't get the depth you'd probably want for color-grading like you would with 10-bit [Update July 2022: the latest firmware has 10-bit color, astoundingly].
There is the zoom option available to do 2X zoom, but keep in mind that's just a crop – and it certainly looks like it too. It's not optical like you'd have on the Mavic 3 units. The end resultant of a 4K image that's zoomed in 2X, is simply 1080p footage. The aperture is f/1.7 with a focal range of 1m to infinity, and a default field of view of 82.1°, equivalent to a 24mm lens.
Stability-wise of the gimbal and ensuring the camera has a stable platform to shoot from, is the usual DJI perfection. Their gimbals are just so good. In fact, it's not well known, but the DJI Mini 3 gimbal actually has a far greater mechanical range than the controllable range. The gimbal can mechanically rotate -135° both tilt and roll downwards, as well as upwards to 80° and side to side 45°. The controllable range is –90° downwards to 60° upwards. But that extra movement ensures that even at the limits, it can handle movement with no problem.
The new vertical option is great for getting correctly framed imagery, though, it does have some limits. For simple photo and video modes, it shoots everything the same. So if shooting in 4K/60, you can do either horizontal or vertical. Same goes for photography. However, it doesn't work in modes like Active Track, MasterShots, QuickShots, or HyperLapse. As a result, you'll still have to do wonky crops of those if you need something in vertical video/photos.
From a photography standpoint, there's the ability to shoot both JPG/RAW, as well as a new higher 48MP photo mode. Plus the usual timer, AEB, and interval shots. The default JPG/RAW shots are 12MP (4032×3024 4:3), whereas the 48MP shots are 8064×6048. Here's two examples of shots from it (stills), using first the normal landscape perspective: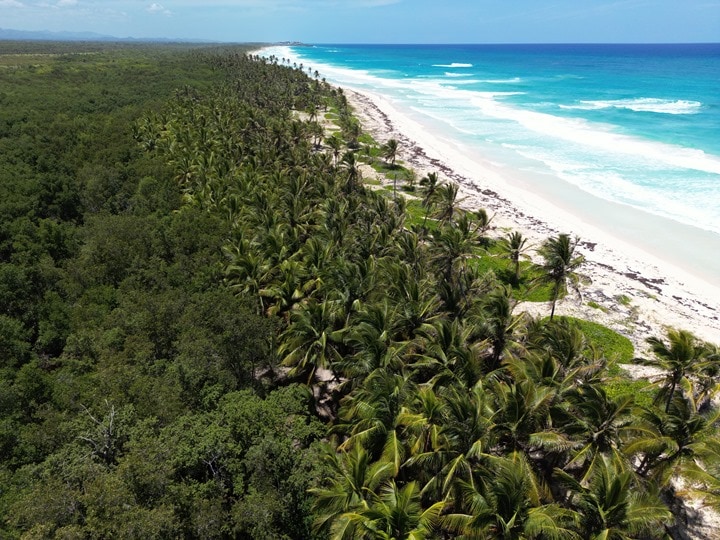 And then shot again in vertical: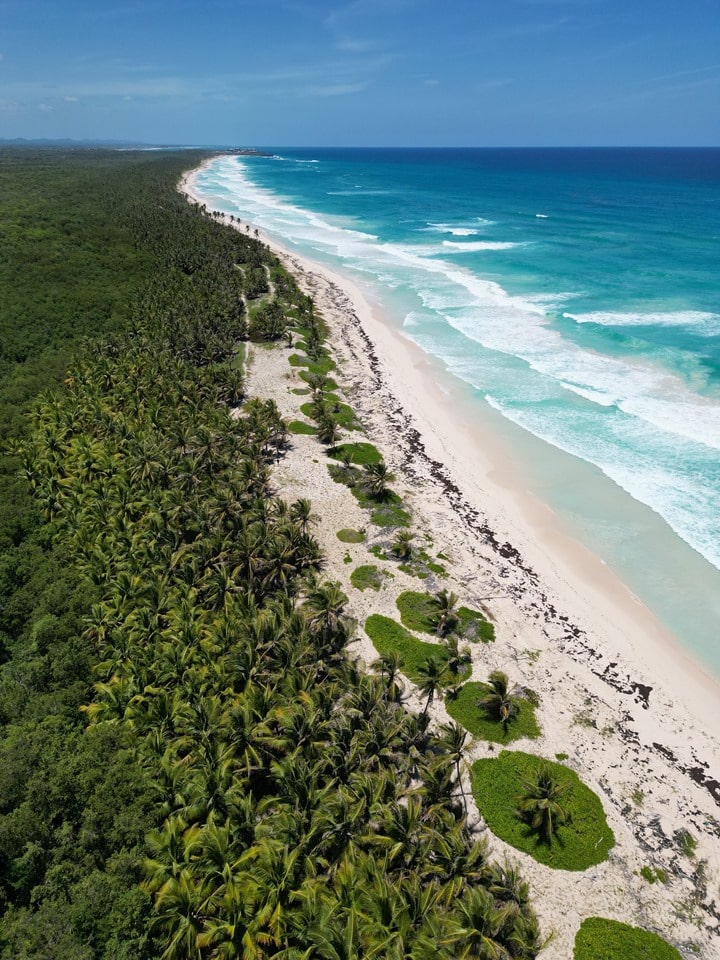 In a sense, they're totally different photos. I've been finding myself taking two sets of photos now, finally able to get the exact shots I want depending on the platform I plan to publish them on.
Here's an entire Dropbox folder full of both JPG/DNG images I took, all unedited straight off the SD card, and most of them back to back shooting in regular mode as well as 48MP mode. Also both some landscape and portrait shots.
Sports Tracking (Active Track):
Now for sports tracking, we're going to utilize a feature called Active Track, which is within DJI's Focus Track suite of features. In the case of the Mini 3 Pro, it's leveraging DJI's Active Track 4.0, which is the same level as found on the DJI Air 2S, but not as high feature-wise as on the newer DJI Mavic 3, which includes Active Track 5.0. The core difference is really that the Mavic 3 has 360° obstacle avoidance, and in turn, has more detailed positioning options to keep the drone at specific relative locations. Practically speaking however, if there's no obstacles, you can accomplish the same thing with the Mini 3.
Now, before we get too deep into it, it's worthwhile noting that you do need one of the controllers to enable/utilize Active Track. This means that if you're going somewhere, you'll likely want to take a controller with you (versus if someone is holding it standing by, then you don't need the controller with you). In my case, for cycling, I use this nifty $20 bike mount for the base controller (RC-N1). There isn't yet a mount for the fancier DJI RC, but I'd imagine it'll only be a few weeks before we see one show up on Amazon or such (they're all just made by no-name OEM 3rd party companies under 20 different brands) [Update: Woot, there's a new metal bike mount for the DJI RC now]. I've got a full review on the previous DJI RC-N1 compatible phone-combo mount here, including with mountain biking.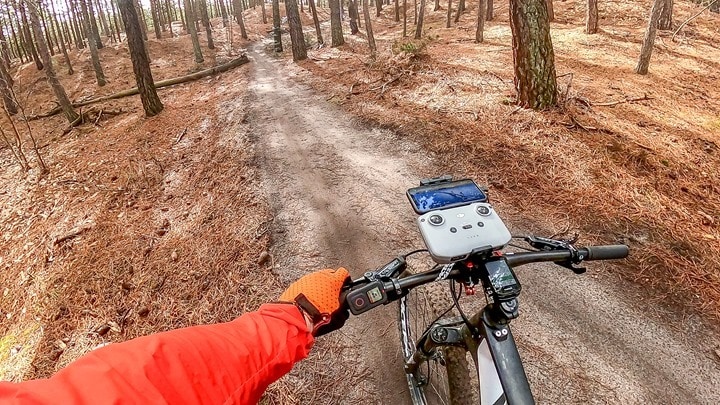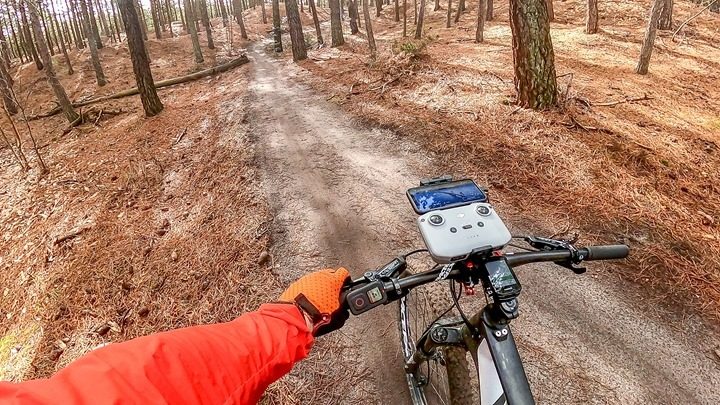 So, to get started here, you'll go ahead and get the drone in the air, and ideally positioned behind you to start. Then, just draw a rectangle around yourself (or, your friend/target).
When you do that, it'll automatically open the Focus Track suite at the bottom, and the left-most option is Active Track. When you tap that, you'll get two additional options:
– Trace: Follows from behind you (safest)
– Parallel: Follows from your side, but you can actually set it anywhere once you get going (risky, because of lack of side obstacle avoidance sensors)
For the DJI Mini 3, you're going to predominantly want to stay in Trace mode – because it's safest and pretty difficult to crash. The aircraft will be facing forwards as it flies, and will use its obstacle avoidance sensors to avoid what it flies towards. Whereas Parallel mode means it's on you to avoid flying into things. That's super easy if you're in a boat, beach, or out in the desert with nothing there. But if you're in the woods, the flight will last seconds before you kill your drone.
In any event, go ahead and tap trace for now, so that it follows from the back to reduce obstacle concerns. Then, tap the green 'Go' button. If you don't tap go, it won't go. Additionally, don't forget to tap to start recording, since it won't do that either.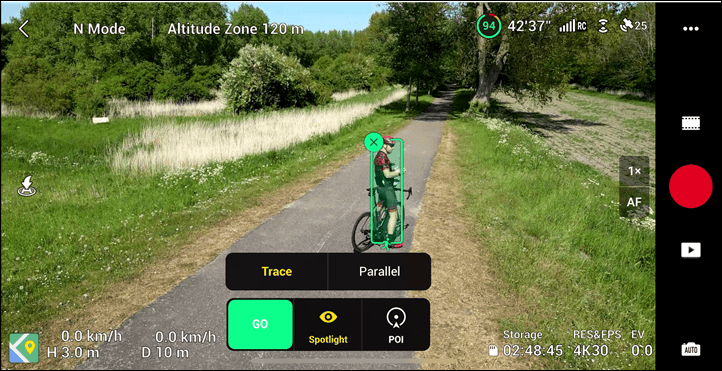 At this point, simply go where you want to go – and it'll follow. As a general rule, you'll want to start the first couple of seconds a little bit slower – especially if you plan any immediate sharp turns. So ideally, you're facing your direction of travel before you begin. It'll find a spot behind you that it likes at the same altitude you set it at. However, you can adjust both the altitude and distance from yourself by using the sticks as normal.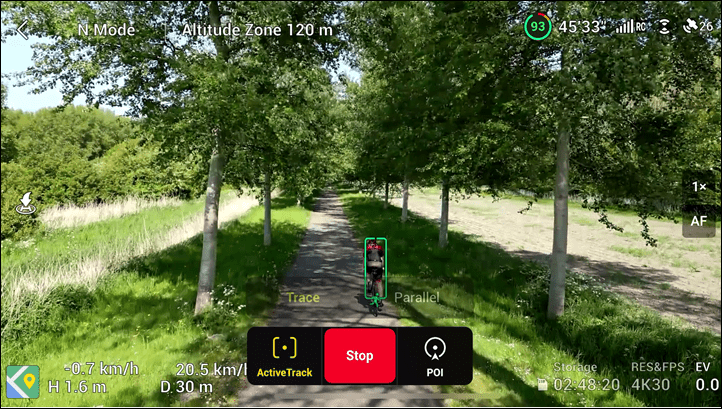 It'll automatically avoid obstacles that it sees in its path, including going up or down as required. Due to the way the sensor's field of view works, it's got a bit more upwards/downwards range to see beyond just straight in front. And the same goes for the side. The front sensors have a 90° vertical field of view, and a 106° horizontal field of view. Whereas the rearward sensors have a 73° vertical field of view and a 56° horizontal field of view. There's then overlap with the downwards sensors as well. Here's an image from DJI showing the front/downwards sensors' field of view.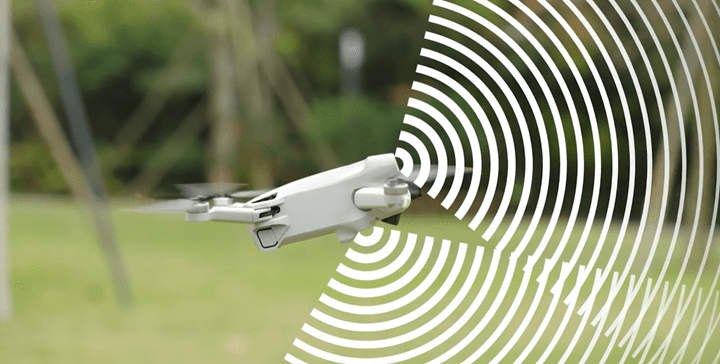 The main thing to be aware of in trace following is if you stop and turn around (such as an out and back). In this case, when you turn around, the unit is going to go backwards at first, as you effectively re-approach it. Once it decides you've changed direction of travel, it's going to try and get behind you. It does this though by backing up and off to the side, in a giant J-Turn out away from you. In theory, it keeps this J-turn totally within the realm of its rearwards obstacle avoidance sensors. But in reality, you'll find that for a chunk of it, it's going to be flying sideways as it tracks you, and effectively in the danger zone. Here's the midpoint of a turn-around where it's now flying sideways tracking me (a risky situation):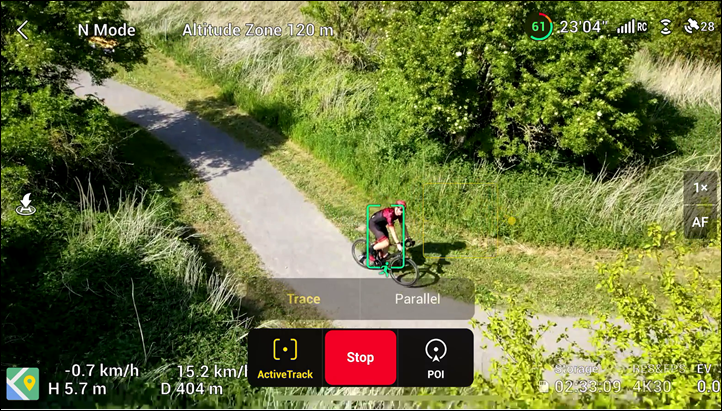 So consider your surroundings when you turn-around, or, simply manually reposition it first if in a tight spot. You can always pause it instantly by pressing the pause icon/button on the controller.
It's worthwhile noting that when in semi-tight spots like trees (as you see in my video at the start of the section – within about 3 meters of trees), the DJI Mini 3 will slow down, likely well below the speed of an efficient cyclist (more to running speed). However, as you get more clearance around the aircraft, it'll allow full-speed action. Here's me doing about 40KPH on my bike on flatlands: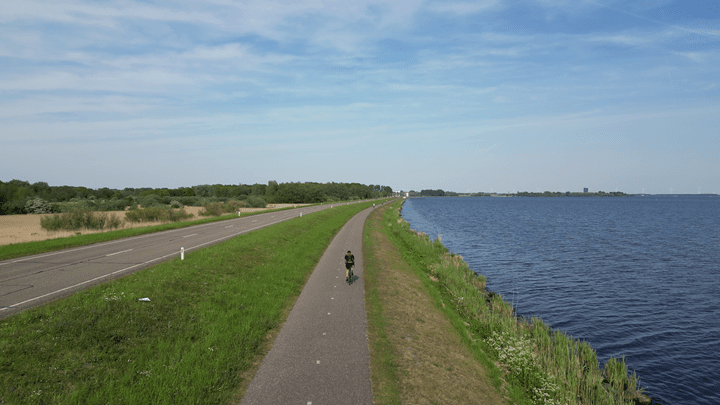 And then back in parallel mode on my side into the headwinds, and it keeping up just fine both in Trace and Parallel modes: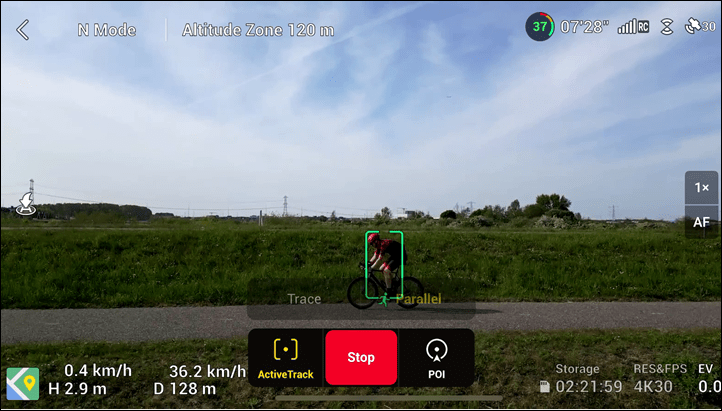 Speaking of that parallel option. This works functionally the same as the trace option, except allows you to track from the side instead. In this mode, it'll warn you that it doesn't have sideways protection, and then simply follow from the side. This works functionally the same as others, but just with the limitation that you should only do this if the coast is clear.
The hidden secret to parallel mode though is that it's also an impromptu 'put the drone any place you want' mode. Once you get moving, you can use the sticks to position the drone to any point around you, and it'll stay oriented in that direction. For example, here I put the drone out in front of me, and it stays there just fine – at least until I turn (then it rotates off to the side):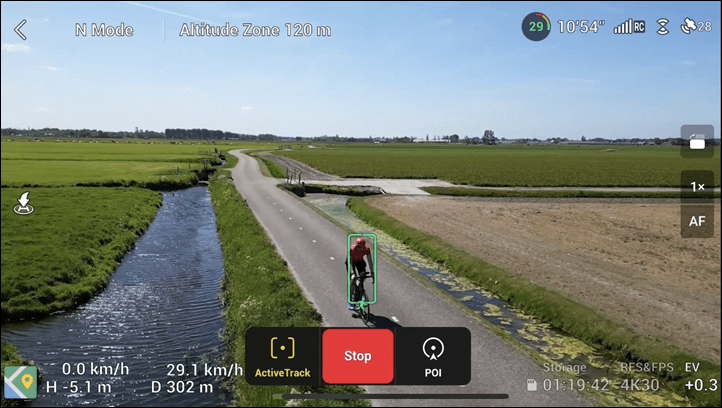 Again, parallel mode is really more ideal for long straightaways. It won't lose you if you turn, but it becomes unpredictable in terms of where it decides to go as you make directional changes.
Beyond the Active Track section, you can use the POI mode (which orbits around you), to actually do Active Track while moving. This works just fine in that scenario, but again, will be flying sideways without sensor protection. But this is totally fine in an ocean/beach/desert without any concern of hitting trees/structures. Check out the end of my wind video up above, and the last 60-80 seconds is an unedited clip of it doing a continuous POI orbit around me, while I pedal down a pier with 50KPH winds.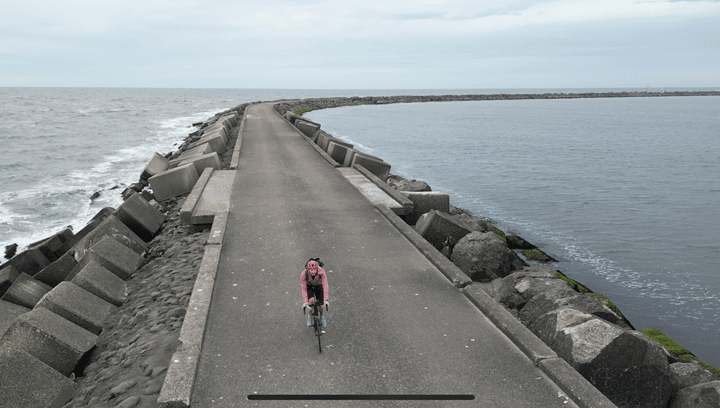 Note that while DJI has a 'Sport' mode in the settings, that's just for flying faster, and has nothing to do with sports or sports tracking. In fact, for our purposes, it's far worse, because it actually turns off all obstacle avoidance sensors, which means our flights are very short-lived.
Finally, I also tested the DJI Mini 3 tracking downhill. This has historically been a challenge for certain DJI drones, as some models won't descend below their starting elevation (which is designed at 0.0 meters). However, as you can see, the Mini 3 does this without issue:
Ultimately, in terms of tracking, during my testing, the DJI Mini 3 Pro only rarely lost me in the trees, when I moved faster than it could keep up with. Or, when I simply outpaced it in tighter scenarios. In more open areas where it could maintain the speeds it wanted, it never lost me in tracking.
Of course, my tracking angle is more limited with the DJI Mini 3 than the Skydio 2 series drones. Meaning, with a Skydio I can confidentially place it just about anywhere in the sky around me, and it'd be exceptionally rare that it'll crash (or lose me). Whereas with the DJI Mini 3, I'd only be confident with tracking from behind, or, if in an obstacle-free environment (beach/farm/water/etc), then from the side.
The challenge with this choice is that DJI easily produces a smoother and higher quality image (that looks better, especially in low-light, where the Skydio 2 series really struggles). But inversely, the Skydio simply handles tracking – even high-speeds in the trees, far better than the DJI Mini 3 Pro. Ultimately, it's going to largely come down to how you use the drone – including the split of time you spend in Active Track versus other features. If you spend 80% of your time tracking sports, then go Skydio. If you spend 80% of your time doing other photo/video, then go DJI. If you're in the middle? Good luck.
Quirks and Bugs:
I've had three specific issues with the DJI Mini 3 Pro during my time in testing, so I figured I'd stick them here in a consolidated area. I'll detail how important or problematic each one is. These are all on the final release firmware that goes to people today, however, as usual, I'd expect DJI to continue to update frequently for at least the first 6-8 months.
1) Range issues with DJI RC: When using the new DJI RC, I'm getting far short of the claimed range of 12,000m for remote control transmission. In my case, I'm consistently seeing dropouts in the 1,000-1,200m range, though I managed to get one flight up to 1,500m today. Now, I'm *NOT* the person who very often (ever?) flies that far away from myself. I just have no reason to. However, the range issues I'd see at 1,000m were in absolutely clear-sky beach conditions with nothing in between. The same goes for the 1,500m today – which was nothing but empty lake in front of me. For myself, these shortages simply don't matter, but to some, they might. [Update July 2022: This continues to be the norm for most people with the DJI RC & Mini 3. Ultimately for me these limitations simply don't matter, but I recognize they might for some. This doesn't appear to be an issue using the DJI RC-N1 controller.]
2) Odd white-out issues: In some flights last week, I've seen odd issues with white-out where it'll randomly create a white-look to the video (final video). This shows both on the controller and the actual video file. It only lasts a few seconds, and seems loosely tied to a specific gimbal angle and other conditions. This does not appear to be tied to the sun-flare type situations though, as I most often saw it when the sun was directly overhead. See in particular the white color of my shirt. DJI investigated a fair bit, and believe it was due to the ISO being at the minimum. The only challenge is that, as you can see below, virtually nothing changed except a very slight angle of gimbal relative to subject. I've never seen this white-out issue on any other DJI drone, or camera for that matter. Hopefully it'll be fixed down the road, as rare as it was for me. [Update: July 2022 – I have not seen this since in tons of flights. So whatever it was, was probably quietly fixed in firmware after I raised it.]
3) Internal Lens Fogging: After about a week of flying, I started having significant internal-lens fogging troubles. While I had been in a humid (Caribbean) location, it never rained on the drone nor got wet. I tried all the usual suspects, but ultimately determined it'd actually fog-up just sitting inside as soon as the camera started recording. DJI was able to confirm that my specific serial number was part of a batch of units that had a manufacturing error, and the company says that's been resolved and that batch has been returned. In the meantime, I simply dismantled my camera assembly to get whatever moisture was trapped in there, and that seemed to resolve it. [Update July 2022: I haven't heard any reports of drones after the first week having this issue, so I think new drone purchases are totally safe.]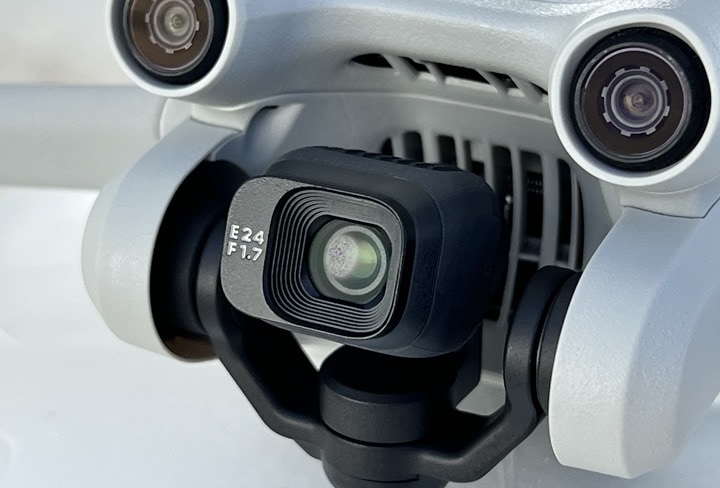 Ultimately, none of these issues are significant show-stoppers for me, assuming that the fogging issue is indeed taken care of (if it's not, that's a massive problem – since it definitely shouldn't happen just by powering on the camera). The same goes for the odd white-balance issues. I haven't seen it pop-up again, but it wouldn't surprise me if that's a very specific combination of a certain scene (e.g. beach) plus certain lighting that triggers it. Hopefully DJI has enough logging information to solve it. And finally, for the DJI RC range issues, that's largely a non-event for me personally since I rarely fly that far away.
Summary: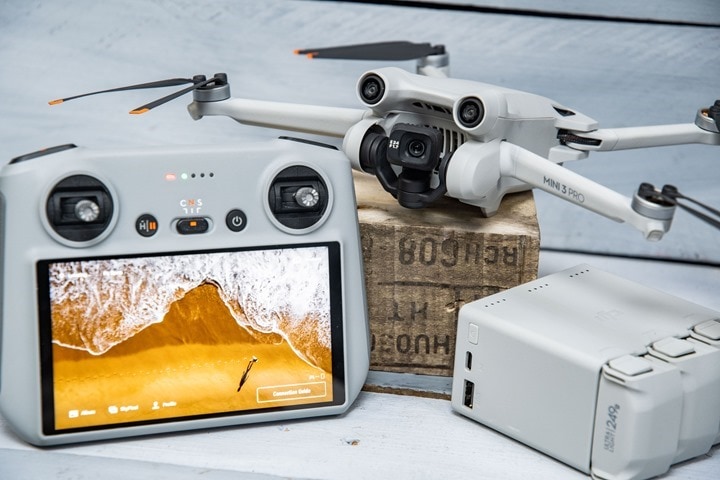 In general, despite all of the drones I have in my inventory (which is basically every consumer DJI & Skydio drone, and then some), I largely continue to use the much-older DJI Mavic Air (original) because of two key features: Ability to fly with just my phone (no controller), and the relatively small size combined with forward/backwards/downwards obstacle avoidance sensors. Despite the newer Air 2, Air 2S, Mavic 3, and many others coming along – I almost always reach for the original Mavic Air when I'm doing sports, since it's lightweight enough to fit in my cycling jersey pocket (or similar).
However, I think the DJI Mini 3 Pro will finally unseat that. It's got roughly equivalent obstacle avoidance capabilities, but has far more advanced Active Track than the Mavic Air originally had). So it's less likely to get lost. More importantly, though, is the Mini 3 Pro is a fraction of the weight. Of course, frustratingly, DJI now requires a remote controller be taken along – whereas the original Mavic Air you could use your phone up to about 100m away (plenty for most solo-sports shots).
I'd love to see DJI get into some sort of beacon or phone-bridge feature like Skydio has, as that would be a game-changer. I continue to wonder why DJI hasn't gone after that area, since it seems like such an easy accessory upsell (a concept DJI relishes in).
But instead, what DJI lacks in that area, they make up in general usability and overall photography/videography quality and features. The new DJI RC is phenomenal. And for those that know me, I don't say that very often. It's just so good, and so lightweight, and basically the same size as the existing DJI controllers that lack a screen. Combine that with DJI's MasterShots for getting a quick reel of automated drone shots, or the 46-minute battery life (if your region permits), and it's an easy choice. The DJI Mavic Air's battery life was realistically 20ish minutes, this is now double that. That's massive.
Ultimately, I'm impressed with the Mini 3 Pro. After what I'd argue was a pretty rough set of unfinished releases between the DJI Action 2 action camera and DJI Mavic 3 drone late in 2021, this is the first product since, and they've absolutely nailed it.
With that, thanks for reading!
Found This Post Useful? Support The Site!
Hopefully you found this review useful. At the end of the day, I'm an athlete just like you looking for the most detail possible on a new purchase – so my review is written from the standpoint of how I used the device. The reviews generally take a lot of hours to put together, so it's a fair bit of work (and labor of love). As you probably noticed by looking below, I also take time to answer all the questions posted in the comments – and there's quite a bit of detail in there as well.
If you're shopping for the DJI Mini 3 Pro with DJI RC or any other accessory items, please consider using the affiliate links below! As an Amazon Associate I earn from qualifying purchases. It doesn't cost you anything extra, but your purchases help support this website a lot. Even more, if you shop with TPC (The Pro's Closet), you'll save $40 on purchases over $200 with coupon code DCRAIN40! The Pro's Closet has been a long-time partner of the site here - including sponsoring videos like my cargo bike race, as well as just being an awesome Colorado-based company full of good humans. Check them out with the links below and the DCRAIN40 coupon!
Here's a few other variants or sibling products that are worth considering:
I've also put together a quick list of some of my favorite or most compatible accessories for this unit:
And of course – you can always sign-up to be a DCR Supporter! That gets you an ad-free DCR, access to the DCR Quarantine Corner video series packed with behind the scenes tidbits...and it also makes you awesome. And being awesome is what it's all about!
Thanks for reading! And as always, feel free to post comments or questions in the comments section below, I'll be happy to try and answer them as quickly as possible. And lastly, if you felt this review was useful – I always appreciate feedback in the comments below. Thanks!