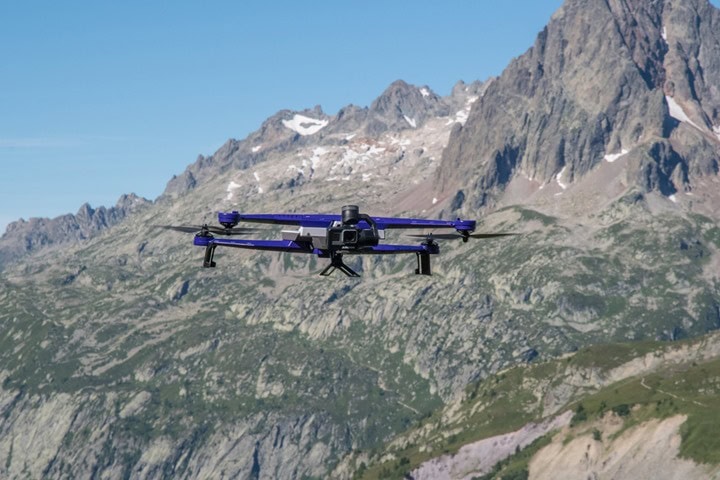 Last week Airdog announced their latest sports-tracking drone, the Airdog ADII.  Years ago the company announced on Kickstarter their first drone, simply called Airdog, which was aimed 100% at the sports tracking market.  It didn't pretend to be a more general drone, but rather was all about capturing yourself doing cool stuff in sports.  I reviewed it here.
With the ADII, their goal was to essentially take that existing unit, add some features and blend it a bit with the more general drone realm.  Meaning that it's still 100% a sports-action drone, but they've added other functions to allow you to get more general/establishing/scenic shots that aren't necessarily focused on you.  This is critical for putting together a good video edit that doesn't quickly get boring.
Over the past weekend I got to test out a near-production unit out in the French Alps, putting it through its paces.  This isn't a review, since the unit won't start shipping until August or so (which is basically this afternoon by Kickstarter standards), but an initial look at the technology.  I'll circle back in August or September with a deeper dive into the product as part of a review…once they start shipping.
If you just want a simple video (including footage), that explains it all – here ya go:
With that, onwards into more textual tech details!
What's New – Software: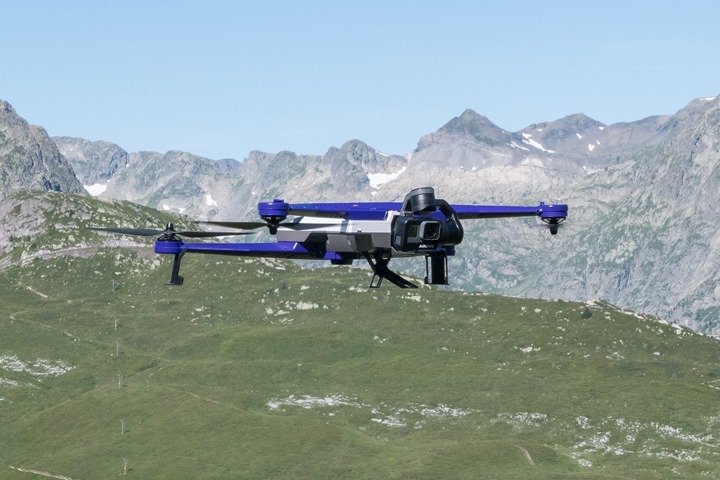 I'm going to largely skip over the Airdog basics in this post.  Mostly because I've covered them at length in the In-Depth review of the first generation unit.  In 7 bullet points, here's what you need to know about Airdog basics:
– Airdog is designed specifically for the sports market to follow/film you, not so much the general drone market
– Airdog works by you wearing a small waterproof transmitter pod (about the size of a deck of cards), which the drone then follows around.  The transmitter pod is called the Airleash
– Both the Airleash and Airdog have barometric altimeters and GPS on them, and communicate continuously wirelessly to know exactly where you are.
– The Airleash has some buttons on it, allowing you to change the position and altitude of the drone, as well as different follow modes
– It has a gimbal stabilized camera platform that holds a GoPro Hero5 Black (that you have to provide)
– The battery life is about 15 minutes per battery, which is a bit on the low-end these days, though easily covers most ski runs or downhill mountain bike runs
– Upon the battery finishing, you can configure the unit to land where you are, or to land back at the start (ideal for watersports, where you want to land it on the beach).
With me so far?  Good.
So what's new on the ADII?  Well, let's dive things into two categories – hardware and software.  First we'll talk software, since that's the piece people will think is more exciting (though, the hardware is significantly changed under the hood too).
First up is the unit now has new scenic modes.  One of the big complaints in the past was that you couldn't get establishing shots or just generic scenery shots around you.  Now you've got that with five new scenic modes:
– Reveal In
– Reveal Out
– Top-down
– 360° Panorama
– Circle Around
These modes can be triggered at any time by pressing the little star button on the Airleash.  They allow you to get shots like this: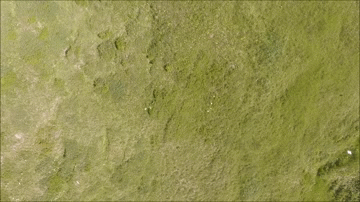 Next, the ADII supports 3D lines.  Previously you could use the line function to force the Airdog to stay on a virtual cable in the air.  This was great for places like tight terrain (such as with trees), wakeboarding parks (where a cable drags you around), or even just creative shooting and shifting of the camera.
But you couldn't control the elevation, nor could you control the orientation of the camera relative to you.  Also, lines were limited to two points.
Those limits are all gone now.  You can create complex lines (via phone or the Airleash) which have multiple points, multiple elevation levels, and even different camera angles. The easiest way to do so is with the Airdog app.
Though, the most accurate way (for elevation data) is with the Airleash itself.
Next, we venture into the realm of sorta-hardware, sorta-software changes.  First, the Airdog ADII will automatically start recording of your GoPro Hero5 for you.  Previously it required you remember to press record prior to take-off.  If you didn't, there was no way to do so in the air remotely.  It'll also change the settings for you so you're in the right mode.
At this point in the beta, that wasn't yet implemented, so I couldn't test that feature.  It sounds like that's coming shortly.
Also of note is in the software side of things you've got far more customizable control of how quickly the gimbal moves and how the unit follows.  These can be customized on a per sport or custom sport basis.
The second blended change is the calibration piece, which you needed to do prior to take-off each time. That's significantly changed now and far easier.  I'll talk about that more in the calibration section.
What's new – Hardware:
Next, we've got the hardware changes.  From the exterior at a few meters away, you'd notice almost no differences.  The most visible of course being the new Airdog camera gimbal, which houses the Hero5 Black: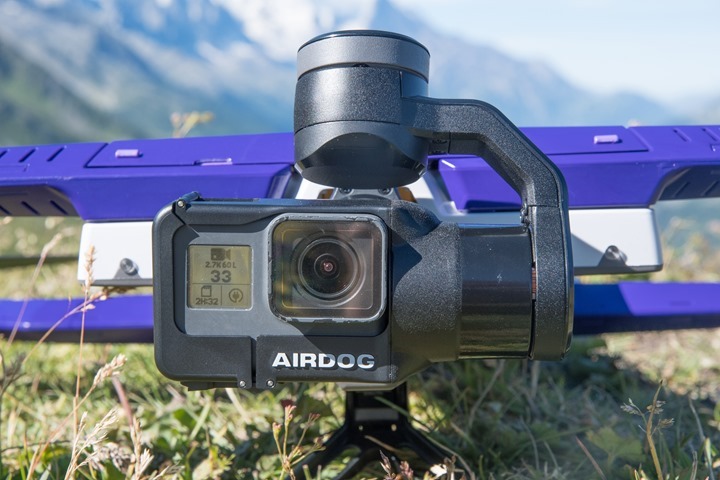 That gimbal is significantly different than the past gimbal, which wasn't all that awesome.  This new gimbal is roughly on-par with DJI's gimbals and seems to (in my testing anyway) provide a much cleaner level of stabilization than the past unit.  Note that it is not removable.
Next, if you look closely at the props and motors, they've now got individual icons for their specific prop.  Since the props on the Airdog are both right-side-up and upside-down, there's actually four different props.  So each one has their own icon etched next to it.  This makes it approximately 6,231 times easier to figure out than it was in the past:
Then, moving onto the landing gear, you'll find it significantly stronger.  This was an area that many of us complained about with the first generation unit, whereby I always had at least one extra landing gear with me when travelling.  And even then I'd break it often.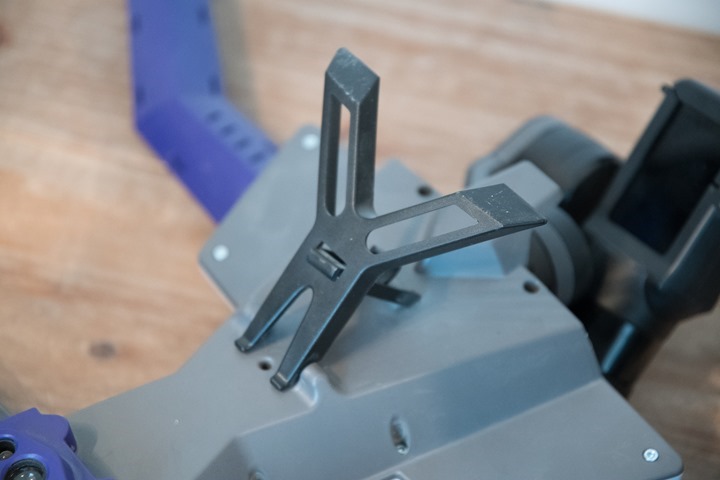 While we're on the underside, you'll notice the downwards facing sensors are updated/different.  They seem a bit more sensitive in my testing (in a good way, meaning, it more quickly sees the ground), but perhaps that's just beta firmware.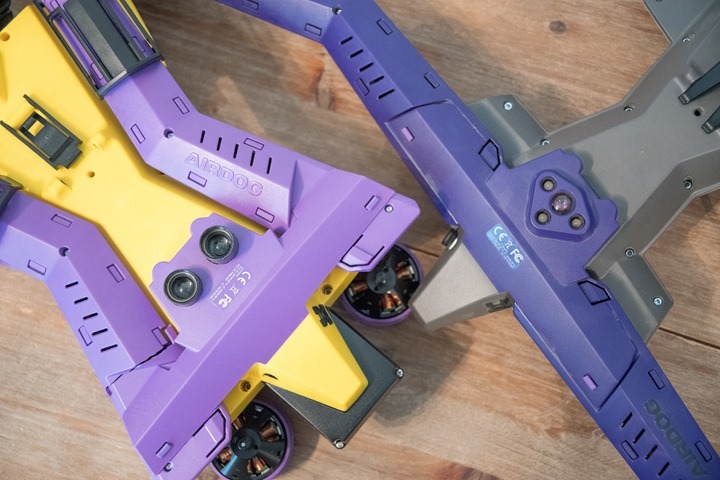 (Old Airdog to left in yellow, new Airdog to right in purple)
And that's where it's probably good to move inside.  The internals of the unit are significantly overhauled. In talking with Airdog, they said about the only thing that's the same is the plastic shell.  Beyond that it's got an all new magnetometer/compass, all new GPS, all new barometric altimeter, as well as new processing chipsets.  All of this with the goal of being more accurate, especially in 3D lines.  That in turn allows you to get closer to things like trees and know it'll stay put and on-line (preemptive note to always be safe here).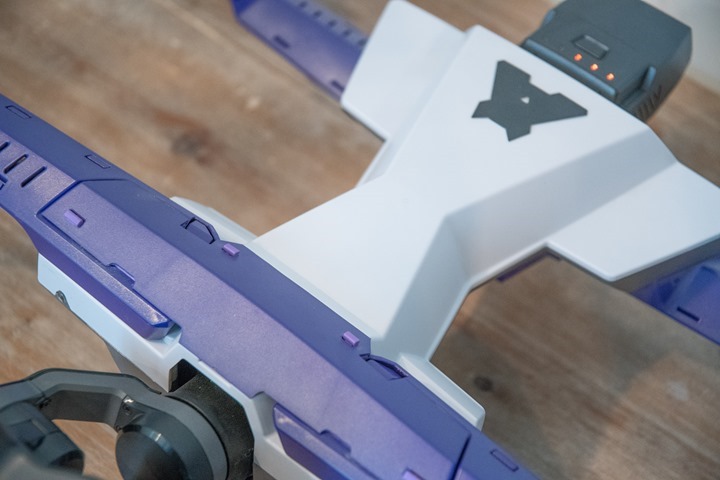 Next, the battery is different, though still compatible with the old batteries.  The new battery shifts the LED lights to the rear, so you can actually see battery status on the battery when inserted into the drone.  Previously you had to remove the battery to see the status.
Old battery to the left below, and new battery to the right.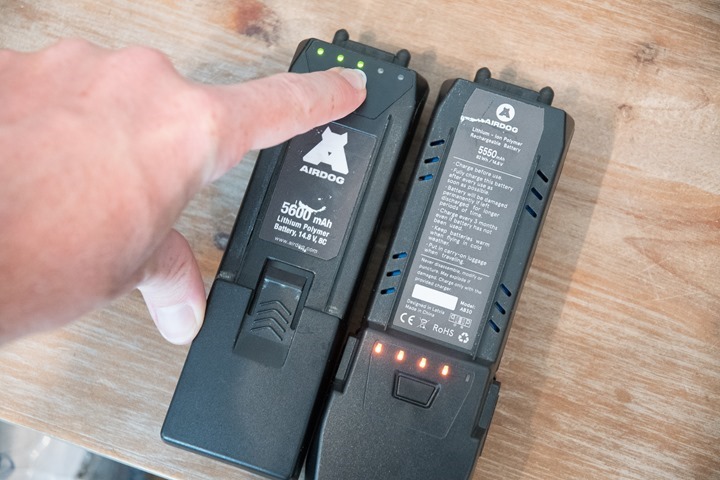 Oh, and lastly, it's sporting a different color scheme now: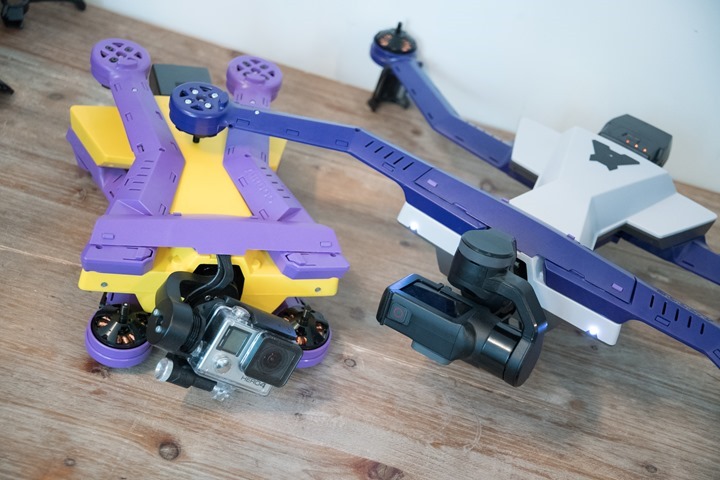 Next, we've got the Airleash, you can see side by side they might look similar, but again, more adjustments the moment you turn them on.
First is that the LCD display is a crapton better.  It's now backlit as well as far brighter/sharper/more contrast.  Basically, it's readable now.  It's so bright it blows out my indoor photo (I show photos of the text in other outdoor shots):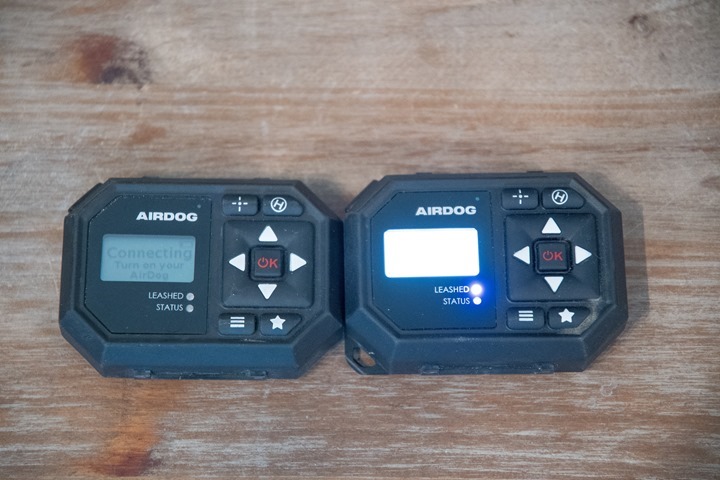 (Old Airleash to left, new Airleash to right)
Then within the Airleash menu you've got access to the new options like creating a 3D line from the Airleash itself.  This allows you to simply walk (sans-drone) from point to point to create a course, setting altitude and camera angles as you go.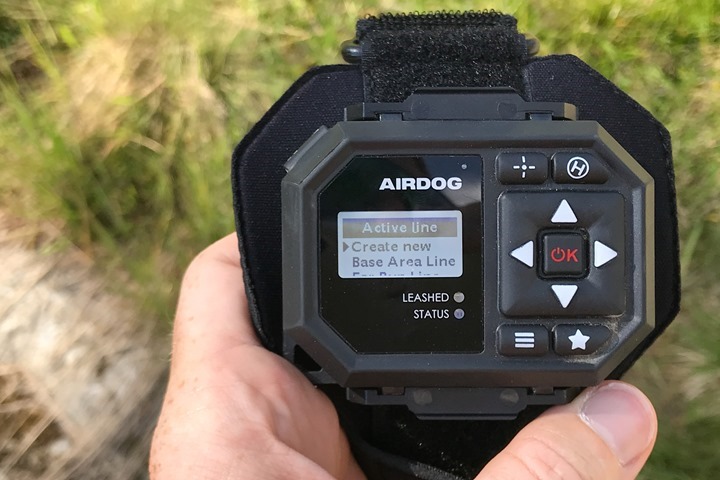 You can also do this from the app instead, simply tapping for a point you want it to fly, and then setting the altitude and camera position too.  Though, the camera position control is a bit funky as it's a numerical scale which corresponds to positions around you.  I'd think given the easy to use UI nature of a phone app, just being able to set the camera angle on a round circle representing the area around you would be ideal.
The star button on the Airleash now functions as a way to get to the scenic flight modes, allowing quick access to those at any time: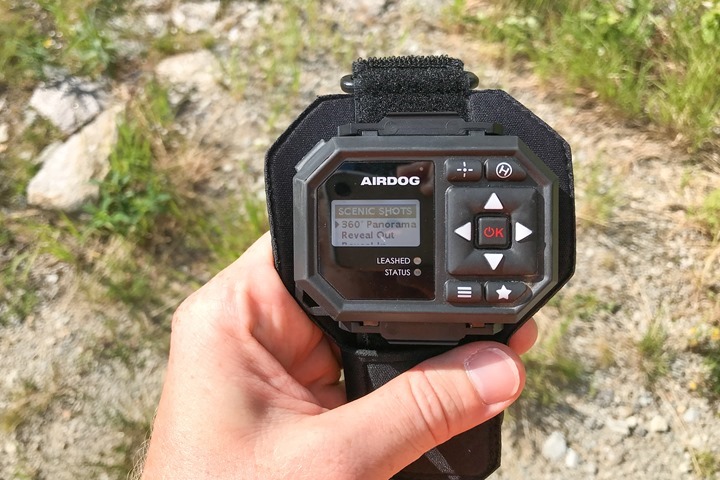 Finally, most notable is the start-up/calibration procedure is now dead-simple.  Sure, not as simple as 'just fly' like on most DJI products, but since there's more complexity to ensuring that the Airleash and Airdog know exactly where they are and everything matches, it's understandable that you'll have to take 60 seconds to complete this.
The new LCD screen walks you through a series of much easier to understand animations, that again, only take about 60 seconds to complete in total.  You only need to do this once every 8 hours, though the company is hoping by the time they ship to get rid of that entirely if you haven't travelled more than a few hundred miles.
Phew, got all that?
Good.
Now, of course there are some disappointments here.  First is size.  The unit isn't any smaller.  In the age of Mavic and Spark, it makes it a tougher sell – especially comparing weight.  Though, as I showed in the video, it still folds up and easily fits into most backpacks.  I used this GoPro Seeker knock-off bag (it's designed for the similarly sized GoPro Karma), and it worked great and held four batteries with ease.  You don't really feel the weight riding, skiing, or even running – but by the same token I'd prefer it be lighter.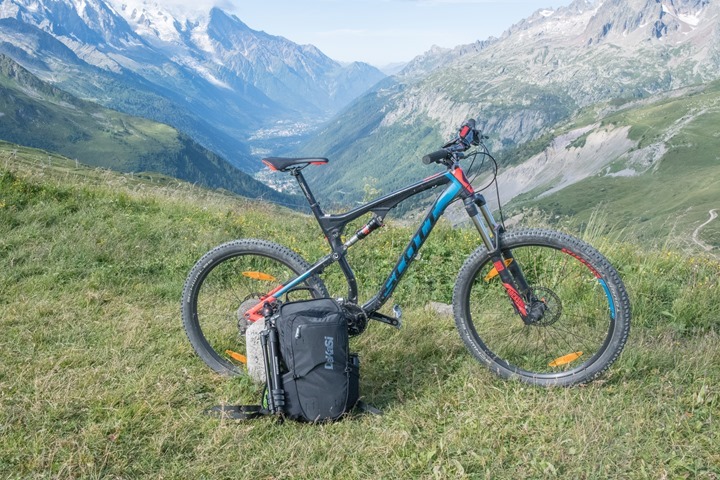 Then on the technical side the unit still lacks forward obstacle avoidance.  If there was anything my heart sank about when I saw the new unit – it was this.  Avoiding obstacles with the Airdog is the single biggest challenge the aircraft has.  While you're skiing, riding, or doing whatever – you're constantly having to be aware of it running into trees, rock cliffs, or even quickly shifting terrain.  It only has downwards depth sensing, and while that can occasionally save you from rising terrain, it doesn't work against trees, cliffs, buildings, and so-on.
Finally, there's the noise.  Airdog claims it's quieter than the original, and perhaps it is.  But either way – it's @#$@# louder than any other consumer drone in the category these days.  Way louder.  Perhaps I've just gotten used to how quiet the Mavic (and now Spark) are in comparison to drones of just a few years ago, but holy cow this is so much louder.
On the flipside, it's also a beast.  It had zero issues in some higher winds I found while out mountain biking, and that's the same that I've seen with the Airdog first generation units.  I made it perform in some really tough conditions – and every time it comes out just fine.
Of course, the drone industry is a really tough market.  With DJI spitting out two or more new consumer drone iterations each year, any company that wants to compete has to have a very unique selling proposition – and has to be updating frequently.  I think Airdog has that, and I think in this case they've added enough new features that new buyers could be enticed over.  It's a harder pitch for existing owners to upgrade given the price point (even at Kickstarter prices).
Test Footage: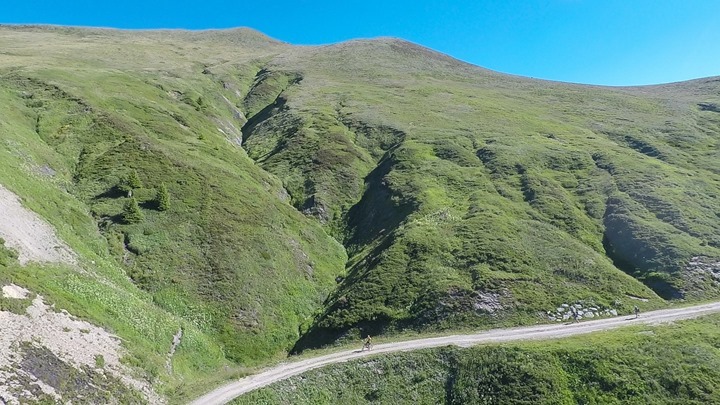 Over the weekend I took the ADII out for a few different test flights.  On one day I focused on following while mountain biking, while another day I did more running focused footage.  And both days I also did generic non-sport pieces like the new scenic modes.
I've compiled this into some test footage, which is unedited from a stabilization standpoint.  Actually, it's also unedited from a color standpoint, because I'm too lazy to try and tweak/color correct.  Keep in mind that your color correction aspects are all related to the settings you use on your GoPro Hero5 Black.  You can certainly use GoPro's ProTune settings and get more control over the final results in post-production.
For the purposes of filming, I shot everything as 2.7K at 60FPS and on Linear mode.  I find this to be the best option for drone footage, as 4K mode on a GoPro unfortunately forces you into the wider slightly fisheye lens look.  Whereas Linear mode is only offered up to 2.7K.  Also, 2.7K gets you the 60FPS, which is handy for slowing drone footage down a bit to get that slow-mo feel (4K is limited on GoPro's to 30FPS).
Finally, I left image stabilization on within the GoPro, as per Airdog's recommendation (GoPro also recommends the same on their drone).  This is an option up to 2.7K on the Hero5 Black.
Phew…got all that?  Good.  Here's some hastily edited sample footage (no corrections of any kind). I've added some longer tracking shots into this set compared to the footage in the overview video:
As you can see – most important is that the gimbal stabilization looks pretty darn good.  Gone are some of the jitters and stuff of the original Airdog that you had to apply stabilization in post.
I'd say some of the default scenic moves need a tiny bit more smoothing in the algorithm (such as when it tilts up), but you can actually customize that yourself in the app already.
You'll also note some really unique moves in there that I did using the new 3D line functionality.  For example, even in its simplest form (just two points), I'm able to get creative with elevation of the drone while it still focuses on me.  This allowed me to do a run segment whereby it climbed over some trees and stuff while I changed altitude in different ways – thus changing the perspective significantly (from 10m to 30m in total actually).
In addition, you'll have noticed some of the new scenic modes in there, where I reveal in/out as well as the 360° sweep.  These can be customized a fair bit more in the settings, should you have the desire to.
I would say that I'd love to have a bit more control/options when it comes to the scenic modes.  Specifically, I'd like to be able to manually control the drone in almost the same way I do in the 'point-down' mode (where I can control all directions/rotations)…but also be able to control the camera orientation.  I wish there was just an option called 'free flight'.  Yes, it'd be clunky…but that's OK.  Most times I'm just wanting to get a simple establishing shot.
Or similarly, I wish I could use the 3D line function (created via phone app) to just let it fly the route without tracking me, keeping the camera pointed at either a set or customizable angle.  Again, allowing me to get some quick establishing shots that I might need.  To me, this would be pretty easy to implement since you could just have an option to set the speed and camera angle (the other pieces they already do today)…and they'd be done.
Airdog ADII vs DJI Mavic: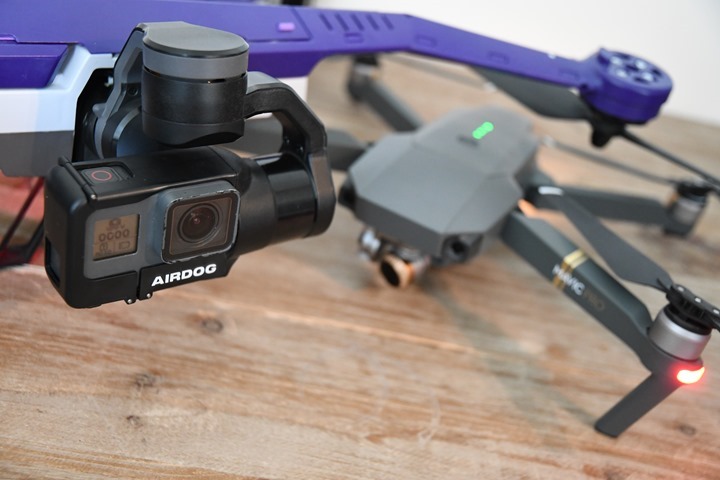 So you may be asking yourself whether it makes sense to consider the Airdog ADII or the DJI Mavic for your next drone.  In some ways that's a super-complex question, yet in other ways it's honestly pretty straight forward.
(Oh, before I go on, note that I'm not including either the Spark or Phantom in this specific comparison.  I'm ignoring the Phantom since it doesn't fold up, and is kinda a pain in the ass to carry in most endurance sports considerations.  And I'm somewhat ignoring the Spark because it doesn't really match the quality of the Airdog.  But that said, you can actually substitute the Active Track functions of the Mavic for the Spark, but it does NOT have remote control follow-me mode like the Mavic does. Mmmkay?  Good.)
So, as I was saying – Mavic vs ADII.  I've included the tech specs down below, for those that want to compare.  But in many ways that actually doesn't tell the story too well.  At the surface technical comparisons may check boxes off your buying requirements, but they don't dive into whether or not one drone sucks at that particular feature.  So here's my suggestions:
You want to do solo sports and record yourself:
Quite frankly, there's no better option than the Airdog ADII here.  Mainly because it can follow *you* and do so dependably and reliably.  For example, in using both the first and second generation Airdogs, I've only had one time where I out-skied it and it returned to home.  That's it.  Whereas when I try and do Active Tracking on DJI's drones, it's rare that in any fast-moving sport I can have it follow me for more than 30-40 seconds (even if that).  It's just not good at it.  And that's largely because it's not following a tracker, but trying to follow you as an object as the camera sees it.  Similarly, while you can use DJI's 'Follow-me' mode with a controller, that's not waterproof and you can't just lock the controls and stick it in your bag either.  Nor will it follow altitude changes.
You want to record scenery/etc, or have good drone pilot friends:
In this case, then the DJI products make a better fit.  Since you can't stream live video to Airdog's remote (though you can pair your GoPro to your phone and somewhat use that), it's not great for just getting general scenic shots.  Of course, the new ADII modes help fill some gaps, but there are still pretty sizable gaps here.  If looking to have friends shoot you while you're doing your sport, you'll want to have them be pretty good pilots.  That's because keeping a fast-moving subject in-frame with some level of cinematic smoothness is actually pretty difficult for a novice.
The DJI options are also better if you want to go further than the 150m or so that the Airdog can fly within range.  While many jurisdictions have additional flight distance laws, most are at least 300-400m or so.  So that's where DJI's superior connectivity/transmission pieces is more useful.
Said differently – if you plan to use a drone mainly for capturing quick selfies, vacation footage, or just your house – then the Airdog is overkill.  Whereas if you want a drone that can truly keep up in sports, then the Airdog is the best option.
And finally, here's the full tech spec comparison:
Function/Feature

Airdog ADII (2nd Gen)
Airdog (1st Gen)
DJI Mavic Pro
Copyright DC Rainmaker - Updated November 22nd, 2018 @ 3:04 pm New Window
Price (non-combo)
$999-$1,199 (Kickstarter Current)
$1,599
$999
Announcement Date
July 11th, 2017
Jun 15th, 2014
Sept 26th, 2016
Shipping Date
August 2017
February 2016
Oct 21st, 2016

Case

Airdog ADII (2nd Gen)
Airdog (1st Gen)
DJI Mavic Pro
Included
No
No
No (In Fly More Combo Yes)
Can store props w/o removal
No
No
Yes

Specs

Airdog ADII (2nd Gen)
Airdog (1st Gen)
DJI Mavic Pro
Weight
2000g
2022g
739g
Folded Dimensions
-
-
H83mm x W83mm x L198mm
Unfolded Dimensions
-
-
-

Basics

Airdog ADII (2nd Gen)
Airdog (1st Gen)
DJI Mavic Pro
Controller
Yes
Yes
Yes
Use only phone as controller
No
No
Yes
Controller Waterproof
Yes
Yes
No
Secondary controller operator
No
no
No
Landing Gear Collapses
Yes
Yes
Yes

Perf

Airdog ADII (2nd Gen)
Airdog (1st Gen)
DJI Mavic Pro
Battery
15 minutes
15 mins actual
25-27 mins actual
Top Speed
44MPH
44MPH
40mph
Max Distance
150m
Variable, but roughly 400-800m
13,000m/8 Miles
Indoor Mode
No
No
Yes

Imagery

Airdog ADII (2nd Gen)
Airdog (1st Gen)
DJI Mavic Pro
Camera Removable
Yes (requires GoPro camera)
Yes (requires GoPro camera)
No
Camera Compatibility
GoPro Hero5 Black
GoPro Hero3/Hero4
N/A
Gimbal/Type
3-axis
2-axis
3-axis
Gimbal Removeable
No
No
No
Max Video Resolution
4K/30FPS with GoPro Hero5 Black
4K/30FPS with GoPro Hero4 Black
4K/30FPS
Max Photo Resolution
12MP (with Hero5 Black)
12MP (with Hero4 Black)
12.3MP
RAW Photo Mode
Yes (with Hero5 Black)
No
YEs
LOG Video Mode (\'Raw\')
ProTune options with GoPro
ProTune options with GoPro
Yes

Sensors

Airdog ADII (2nd Gen)
Airdog (1st Gen)
DJI Mavic Pro
Obstacle avoidance
No
No
Yes
Ground awareness
Yes
Yes
Yes

Features

Airdog ADII (2nd Gen)
Airdog (1st Gen)
DJI Mavic Pro
Follow-me (software - good)
N/A
N/A
Yes
Follow-me (hardware - better)
Yes
Yes
No (sorta via controller Follow-Me)
Cinematic Modes
Yes: Reveal In, Reveal Out, Circle, 360* Pano, Look Down, Look Away
Limited (Circle only)
Tap to Fly, Terrain Following, Tripod Mode, Active Track, Orbit, Selfie, Waypoints (Multiple), Follow-Me

Live Streaming

Airdog ADII (2nd Gen)
Airdog (1st Gen)
DJI Mavic Pro
YouTube
No
No
Yes
Facebook Live
No
No
Yes

Purchase

Airdog ADII (2nd Gen)
Airdog (1st Gen)
DJI Mavic Pro
Amazon
N/A
Link
Link
Backcountry.com
Link
Link
Link
B&H Photo
N/A
Link
Link
Chain Reaction Cycles
Link
Link
Link
Competitive Cyclist
Link
Link
Link
Wiggle
Link
Link
Link

DCRainmaker

Airdog ADII (2nd Gen)
Airdog (1st Gen)
DJI Mavic Pro
Review Link
Link
Link
Link
Finally, I haven't yet included the Staaker sports focused drone in the product comparison database, though you can read my preview post on it from this past winter.
Phew!
Oh, and for lack of anywhere else to put it – a few quick thoughts on current beta stability.  In short, it's very good.  I'd agree with their current timelines of August being reasonable.  Overall in-flight works without issue.  I saw one minor app bug thing that's already been fixed.  I stumbled into issue that killed the gimbal last night, but it turns out that was because they had removed a motor overload failsafe for development testing reasons and forgot to re-enable the safety on the unit they handed off to me.  So I'm not worried about that – doing such things is pretty common for companies.  I'm less confident on the GoPro integration being ready by August, merely because I haven't seen it yet.
But overall, I think they're in a really good spot hardware/software wise.  It's far more stable than any of the original Airdog beta aircraft I used prior to production.
Final Thoughts: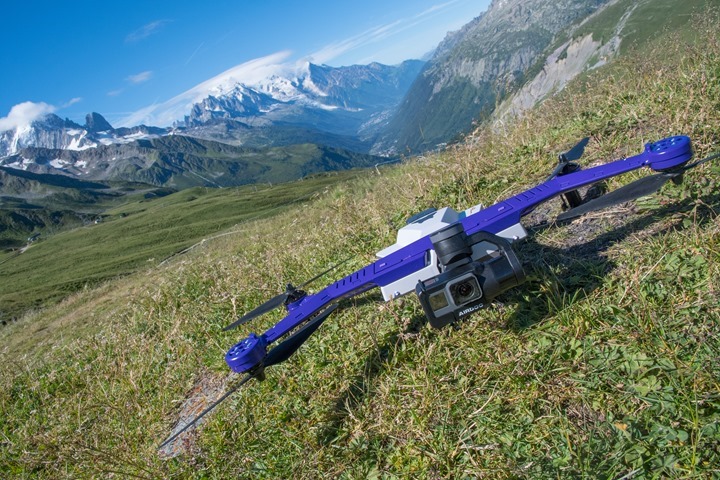 So my core desire here was to figure out whether the ADII could be a viable two birds in one stone solution.  Previously I've said that if you wanted solo sport tracking, there's no better drone than the Airdog.  For all their awesomeness, DJI products just suck in this area.  I've shown it over…and over…and over again.  But the challenge was that previously Airdog sucked in all other ways that DJI excelled at.
And for 98% of consumers, the DJI products were a better option.  I love my DJI Mavic and Spark. Love it.  But I wouldn't use it to do sport tracking, they're just not reliable enough to get the shots you want.  So does the new ADII fill in some of the gaps?
Mostly.
They've done some great work on the software side here to fill in some of these pieces (and some very modest hardware tweaks).  I'm more comfortable saying now that if you primarily want a sports drone, the ADII is where it's at – and you can still use it for a handful of other scenarios outside of sports far easier than you could in the past.
Further, the 3D route functionality is very impressive.  While DJI has routing functionality on the Mavic), you can't get anywhere near the level of control here.  Further, you can't have it automatically focus on you during this.  Instead, you've got to either manually control the camera (impossible while riding a bike down a mountain), or have someone else do it for you (not solo).
My concern does still remain around pricing.  I think it's worth the $999USD price they set for Kickstarter for a certain audience, but I think $1,499 is a really tough sell – especially given they don't include a camera that the Mavic does (or even GoPro does at that price point). And I really wish they had added forward obstacle sensing.
Still, they have done great work with the gimbal, and it's far better than the older gimbal was – which just didn't get the buttery smooth action that DJI has.  And while I wish they had made it smaller, by keeping the outer shell the same, they significantly reduce their manufacturing exposure for delays and such (which impacted the first project).  Hence why they can ship starting as early as August.
With that – thanks for reading, and stay tuned for the full in-depth review this fall.