This afternoon Garmin has announced that it has acquired the cycling aerodynamics focused company Alphamantis.  What's that?  You've never heard of Alphamantis before?  Shame, you've been missing out on some pretty cool stuff.
Alphamantis has actually been around a number of years in the aerodynamic realm.  In fact, I first met with them almost 6 years ago in a dimly lit hotel room where they demonstrated their aerodynamic sensors using a fan borrowed from the front desk.  While I took many photos that September 28th of 2011, I wasn't able to end up using them.  Same goes for the videos too.  However, finally, 6 years later I can give you a small peek at what they were doing way back then.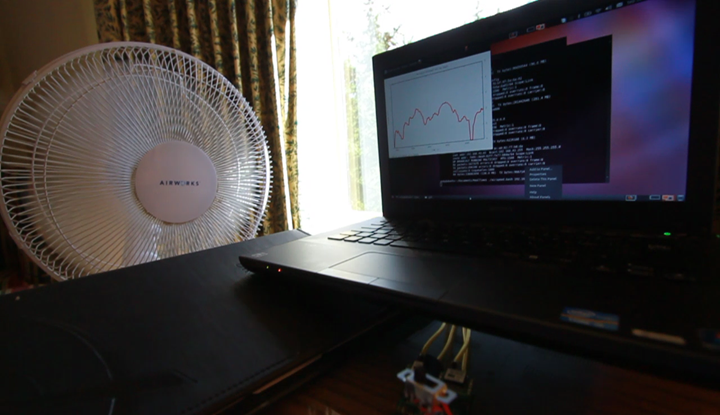 But before we do that, we need to cover some other bits.
While the project above continued to cook along in the background, the company became more public about other efforts, most notably their aero testing and timing platforms.  You may remember back in May of 2013 when, during a trip to California, I tried out the aero testing platform which used indoor velodromes to determine very detailed elements of aerodynamic fit.  The benefit to this over a wind-tunnel is that there the rider is actually going somewhere on a bike, and not stuck in a static spot.  That system is Alphamantis, though the testing done is by individual test facilities licensing the Alphamantis technology.
During my time riding in circles around the track 4 years ago we mostly focused on aero testing a few gizmos and gadgets, rather than my position.  But these days many pro tour teams and individuals (including Team Sky), as well as numerous age group athletes, use the platform to do testing of gear prior to the season.  This service is offered in 10 different velodromes around the world today, and usually include some element of a bike fit too (since that's a critical piece to the aerodynamic puzzle).
But here's the thing: That's not what this acquisition is about.
Instead, it's about that funky little device I saw 6 years ago in that dimly lit Canadian hotel room.  That's what Garmin is after.
(Note: When asked about what happens to the existing Alphamantis customers, Garmin stated: "Our intention is that Garmin will continue to support existing customers on the Track Aero Systems and Timing for the foreseeable future.  We highly value Alphamantis' current relationships and experience working at the highest level of cycling.")
But wait, there's more important backstory.  Remember last summer at Eurobike when Argon 18 announced their aerodynamically packed full of 15 bike sensors concept?  I never ended up writing about it as things got kinda busy.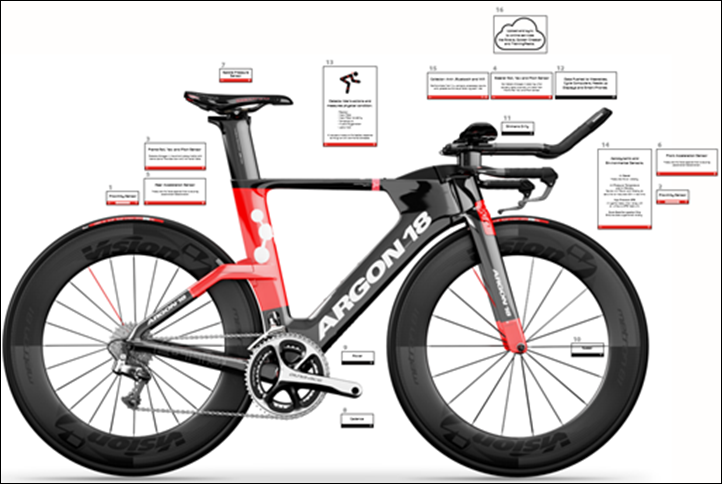 However, tucked away in the front of that was the most important piece of the story – an aerodynamic sensor: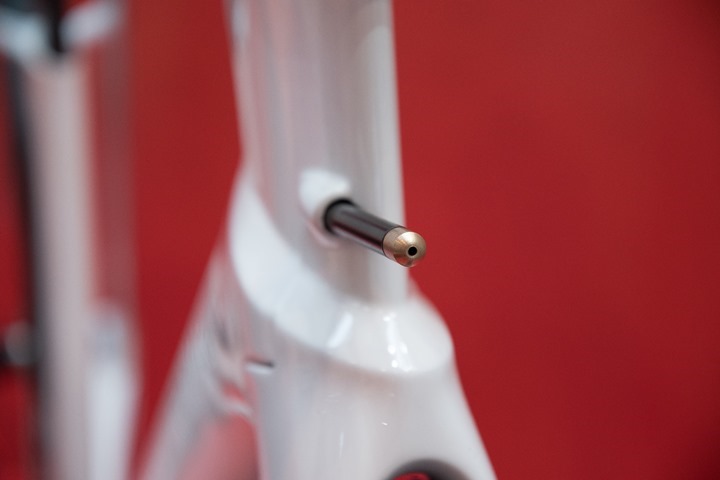 Depending on which bike you were looking at that day, the sensor showed up in two different ways.  One way, the more ideal/concealed manner (above), and then also the then current testing version in a secondary out-front enclosure (below):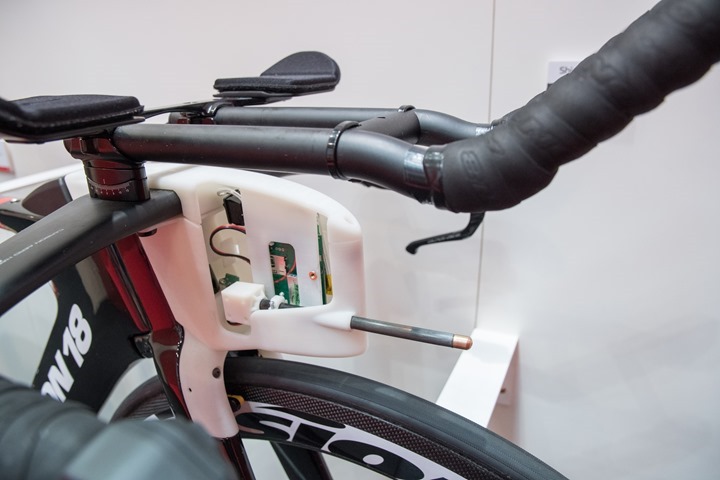 This sensor was designed to measure aerodynamic changes at high fidelity, transmitting that back to a head unit running a Garmin Connect IQ app.  Note on the second line the real-time CDA (aerodynamic drag), and on the 3rd line the wind speed.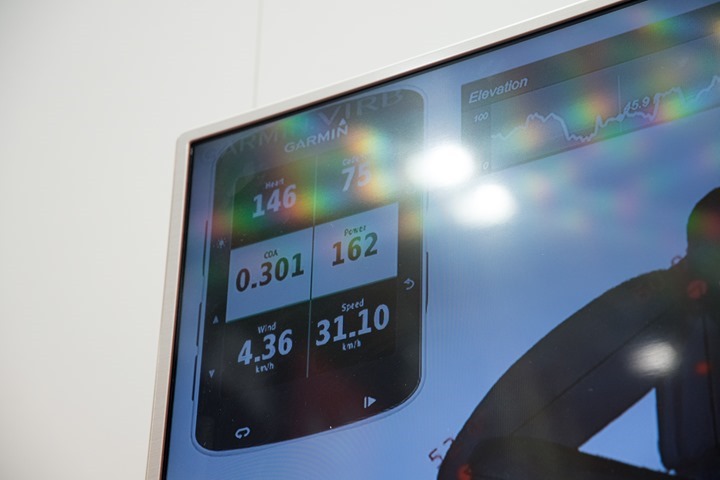 So how does this tie into Argon 18?  Well, the sensor above isn't actually one Alphamantis made.  But that doesn't mean they weren't involved with Argon 18.  The two companies (both located in Quebec) worked together at some levels to make that bike happen, though the details are largely kept pretty quiet by both parties.
Which isn't to say Argon 18 didn't do a ton of work of their own, as they did (whatever Alphamantis' involvement is exactly). There's still a boatload of other sensors, software, and components that were part of that bike shown.  A bike that is actually real and functional, though not yet being sold.  Argon 18 still notes plans to make that happen however.
I noted a month later in my State of Sports Tech keynote that this area was ripe for innovation and consumer interest, even referencing the Argon 18 bike and sensor data (I've set the exact part of that keynote below if you click play – 45 mins and 52 seconds in):
Yet that wasn't the only action Alphamantis aero going on at the time.  While all this was going on, Alphamantis was starting to pitch their new aero sensor to not only coaches, teams, and other cycling brands…but also to investors.
And they had good reason to.  If marketed correctly, an aerodynamic sensor that's easily installed, unobtrusive, and easily understood through simple apps like the Garmin Connect IQ one shown above, could be a major market.
The sensor that Alphamantis was quietly pre-selling appears even smaller than the non-Alphamantis sensor shown on the Argon 18 bike.  You can see it in this provided photo below, next to a standard 9V battery: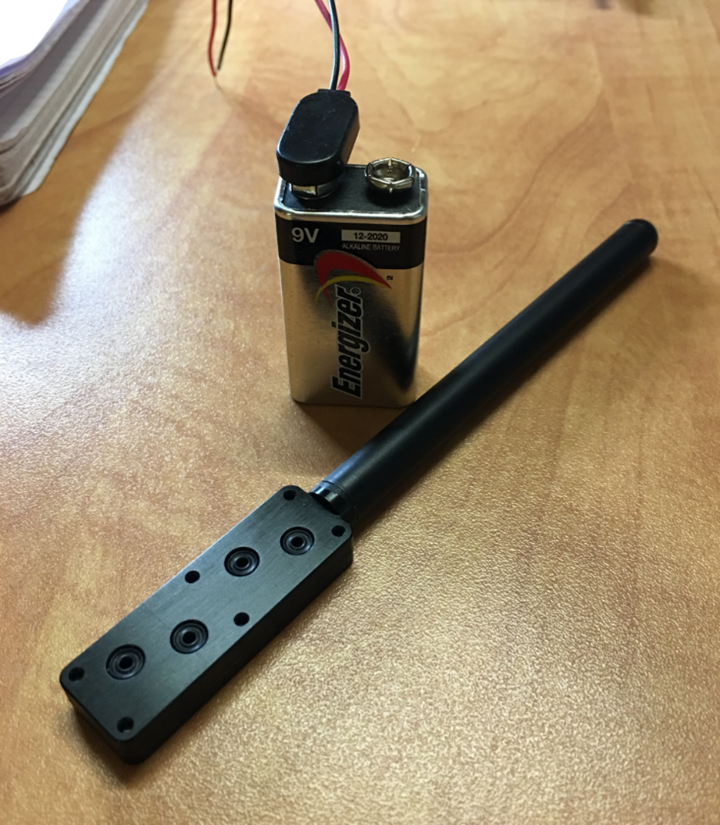 That my friends…that's what Garmin is after.
The market for such a device (again, if priced appropriately) would be huge.  Not only direct to consumers, but also licensed to bike brands such as Trek, Specialized, Argon 18, and more.  Similar to how Quarq offers brands the ability to have 'Quarq/DZero Ready' crank sets, bike manufacturers could do the same.  All of which provides Garmin with an easy selling opportunity.
And not just to sell consumers the AeroSensor (or whatever they end up being called), but also to sell them Garmin devices.  Invariably the idea here would be to ensure that Garmin devices have the most detail from said sensor.  This would likely be in much the same way that Garmin Vector pedals certainly follow all the ANT+ standards for power delivery (so you can use them with other bike computers), but at the same time there are specific functions which only work with Garmin head units (like seated/standing time and other Cycling Dynamics components).
The second question is how this might impact folks like PowerPod.  They've got a sensor already in the market that measures these exact same things (albeit for post-ride analysis), and I've commented repeatedly that them developing a simple Connect IQ app was their best way to expand reach.  While they've hinted in recent weeks that might be imminent, I suspect this will light a fire even more.  Certainly one can debate the quality of data from either device, but until both devices are side by side and testable – it's not really possible to state whether one device is better than the other.  Either way, more choice is always good.
The final question is when consumers might see these devices.  As expected, when asked, both Garmin and Alphamantis declined to provide detail.  Alphamantis employees will remain in Montreal and as of today have become part of Garmin.  This is similar to how when Garmin bought Metrigear (eventually becoming Vector), they remained in California and worked from there as a small team.  Though these days that team spans multiple locales across North America.
If we look at another Garmin acquisition, that of BackTracker (which became Varia Radar), that was announced in January 2015, and they then announced the Varia Radar product that summer.  But that product was very close to being shippable the previous summer, under the initial crowd funding campaign.
The key strength that Garmin brings to the table that Alphamantis doesn't have is primarily manufacturing (and reach of course).  Garmin is the rare unicorn in the sports tech (or even general tech) realm that actually owns their own factories.  This allows them significantly more control compared to most over how a product is produced, the quality of the product, and the costs associated with it.  Thus if Alphamantis was already close to shipping product, then the time between now and when we see a Garmin branded version could be very tight.
Either way – there's definitely some sports tech excitement due down the road.  I certainly wouldn't expect anything at Eurobike or Interbike, since those are just over a month away.  But I suspect that next spring might be ripe for new aero goodness.
With that – thanks for reading!