As you may remember from last week, I'm presenting Wednesday morning at the ANT+ Symposium, which is the annual meeting for all ANT+ companies.  This includes any folks that use ANT+ in their technologies.  The companies you're probably most familiar with are ones like Garmin, Timex, Quarq, CycleOps, etc…
But in reality, there are far more companies that use ANT+ (more than 400 of them) that you've probably never heard of.  Companies like Spantec, Alphamantis, North Pole Engineering, HMM, and so many more.  And it's these other companies that are showing off really cool things.  Things that are going to fundamentally change how sports technology will look in the future.
As you might guess – things have been crazy busy thus far (not withstanding shenanigans with Viking hats, probably a story for another time).  So I wanted to very quickly give you a preview of what's coming down the post-pipeline.  Basically a small tidbit of the stuff that I plan to write about in the coming days.  Some things I have photos of already, and other things you'll get the full photo-montage in the coming days.  With that, let's get started!
Actually, one last thing to note.  Some of the things I'm going to mention don't have official names yet.  In fact, probably the most common phrase I've heard here is "Have you see that thing from company XYZ?".  Where neither party actually knows what it's officially called yet. So just keep that in mind.
O-Synce – Data4Vision Heads up Visor:
I got to go out for a brief morning run (that's actually a funny story in an of itself) and try out their heads-up visor system, Data4Vision.  This is somewhat similar to the 4iiii system, except instead of using LED lights – they display the actual numbers.  They're able to connect to ANT+  speed/cadence/HR sensors and then display it on the heads up display.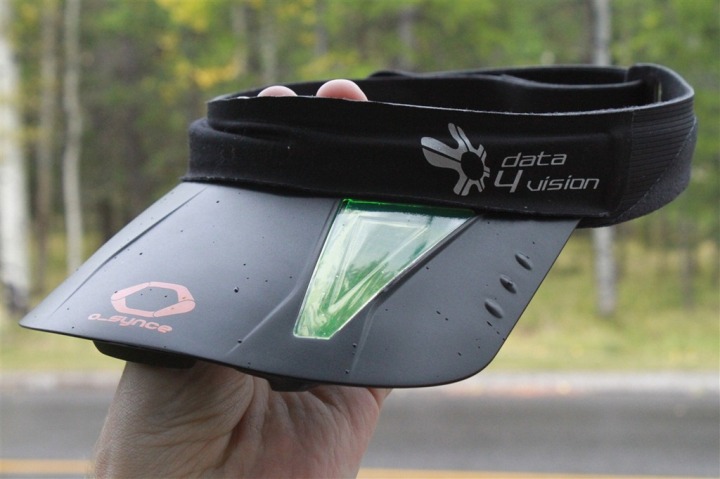 Here's what it actually looks like from the inside.
(Look, self-taken shots are never terribly flattering. Especially with the rain blowing into my eyes.)
Again, far more details on this in the coming days.  Btw, for those curious – it's pronounced O-Science.  Like the letter "O", followed by the word "Science".
Alphamantis – Portable Wind Tunnel:
These guys demo'd to me their aero testing system, which allows you to essentially create your own private wind tunnel testing system.  They have a small tube that would stick out the front of your bike and allow you to measure wind speed and yaw – and then make adjustments.  Much of the concept is then tied into Virtual Elevation (which was discussed in this post).  But in short, they've been doing work that would ultimately allow you or a coach to go to a track or similar and perform very detailed aerodynamic testing.  Really cool stuff – the ability to compare anything from bike fit/position to helmet aerodynamics, to see the differences.  While our initial meeting was in a hotel room with the window blinds closed, they're going to let me talk about it here in full detail – awesome stuff soon!
Simon Fraser University Locomotion Lab – Pacing System/Speed Control:
Out of all the things I've tested during my time hear – this is the one I'm getting the most questions on.  And it's also the one that I'll need to likely explain better in a future post.
In short, their system allows one to remotely control your pace, via changes in run cadence.  In their demonstration system they have super-accurate scientific GPS receiver (accurate within a couple centimeters) that monitors your speed via GPS.  Then wirelessly from across the way they're able to monitor pace (dude with laptop).  Now layer in the control aspect, which is done by shifting your cadence to match an audible metronome-like tone delivered to you via headphones.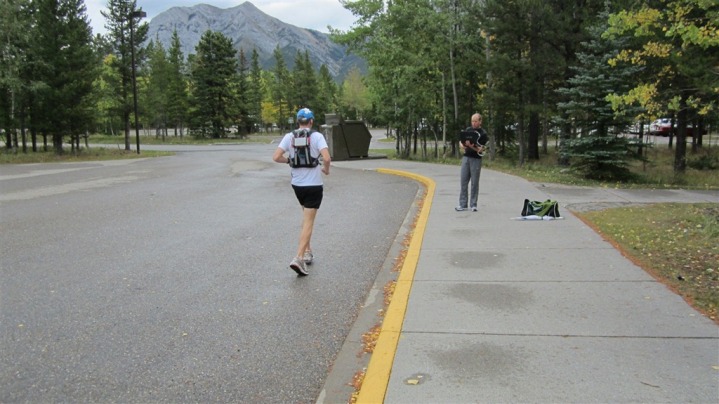 In their demonstration, they were able to have me match paces to run chunks of time at exactly a 7:30/mile pace, then shifted down to a 6:30/mile pace, then to a 5:30/mile pace.  Each time adjusting my cadence via the beeping in my ears to effectively change pace.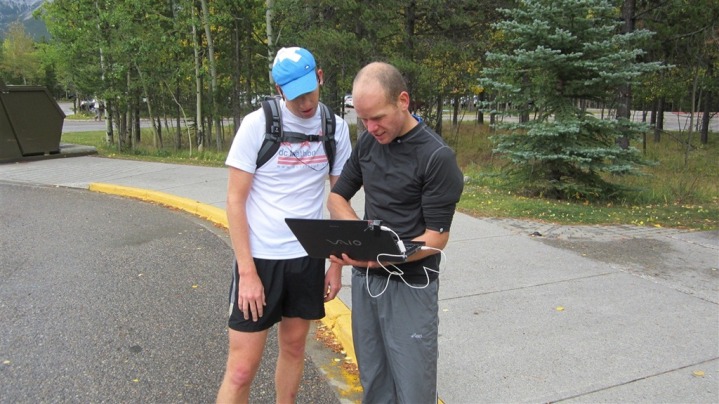 (Note: The cap and backpack are merely for testing purposes, an actual production implementation would be integrated into a normal watch/device)
More on this to come, but some really fascinating research work here that's now ready for broader device integration (the algorithm).
Spantec – Fall Detection:
These guys are working on stuff related to health and wellness via their I-Residence system, primarily around senior care facilities.  Their system (already in use today in Europe) allows one to monitor patients in real-time throughout a facility (building) using an ANT+ mesh network.  This means that they're monitoring things like heart rate and blood glucose levels, wirelessly, 24×7.
But of interest to sports folks is their new ANT+ fall detection profile, which allows them to determine when a person has fallen, and then trigger an ANT+ communication to occur.  This concept though could be potentially expanded to areas like bike crashes – to detect a fall, and then trigger an alert to a phone or watch, which in turn could reach out automatically to emergency contacts if a response isn't given to the device on the person.  Everything in this paragraph would require device companies to add such features.
Timex – Blood Glucose Monitoring, Phone Sync:
We've got a slew of demo's that Timex showed as concept products that they're looking at for future implementation (they aren't in products today).  At the time, they were up onstage, so getting photos would have been awkward (not that that's usually a problem for me).  But Thursday we're going to spend some quality time together and go through all the demo's in living color for y'all.  In the meantime, here's some of the awesomeness they showed:
– Continuous Blood Glucose Level (live data) monitoring to an  ANT+ enabled Timex watch.  The desrire is to bring this to all Timex ANT+ devices going forward, though they haven't finalized when it'll show up.  This is in conjunction with ANT+ blood glucose level monitors made by other companies.
– Data sync with iPhone (with Wahoo Fitness dongle) and Android (Sony Ericsson/HTC ANT+ enabled phones), showing ability to control watch/timer functions on phone via watch (and vice versa).  As a side note, Sony Ericsson announced that all phones going forward will have an ANT+ chip enabled in it.
– Data display from phone to watch.  They showed an incoming phone call on your phone, with the number then being displayed on your watch as a notification.  The idea here being if you had your phone in your back pocket while cycling – you could be aware that someone was calling you simply on your head unit.  You might ignore the call once, but if you're like me, when someone immediately calls back again – it's usually important.  Of course, that's really just the tip of the iceberg here.
Definitely a lot of cool innovation coming out of the Timex camp, looking forward to showing it to you all.
HTC – ANT+ enabled HTC Rhyme:
Lastly, we were shown a live demo with the HTC Rhyme that has the ANT+ chip in it, enabling you to connect any ANT+ sensor to the phone.  The Rhyme runs Android, and should be available very shortly on Verizon (in the US).  Tons more coming on this, with photos.
–
Finally, there's lots more cool stuff – I just simply haven't had the chance to talk in depth with everyone yet.  Soon though!
Thanks all for reading, and look forward to hopefully having my presentation all posted to you to watch on Thursday.  Though that might somewhat depend on bandwidth at the hotel/airport.