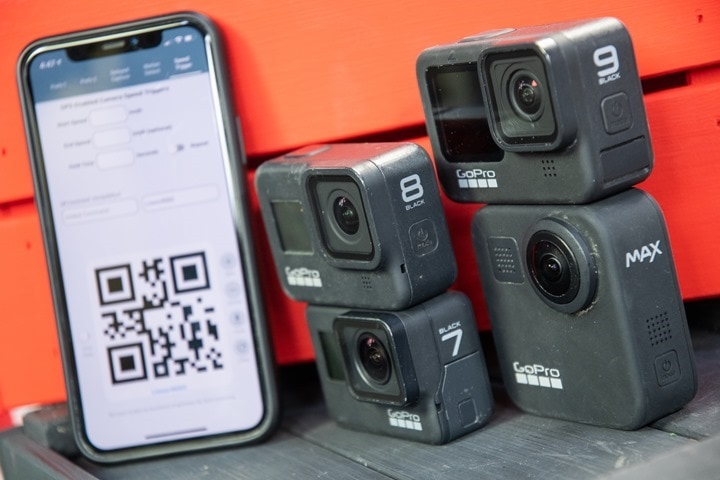 For pretty much the second time in GoPro's history, they just now added camera features to significantly older cameras – in this case, the Hero 7 in particular (the other time was the GoPro webcam mode). You may remember last spring, GoPro announced GoPro Labs, which allowed you to do all sorts of creative things with the GoPro Hero 8 using QR codes, such as sunrise/sunset timers to trigger a camera, motion-triggered activation of recording, and plenty more. It was basically a geek's power tool dream for GoPro tweaking goodness.
Except…it only worked on the GoPro Hero 8. And then when the Hero 9 came along this past fall, it didn't work there anymore. Nor did it work on the GoPro Max.
Well, as of today you can. GoPro has rolled out GoPro Labs firmware for all those cameras: Hero 7 Black, Hero 8 Black, Hero 9 Black, and GoPro Max. Note that you need to manually download these from the GoPro Labs page, and install them manually as well. This won't come to your camera via the normal updates. I'd point out as well that this seems like probably a good time to just have these features go via that channel now instead, and still use QR codes if need be. Just my two cents…

Once you've got the firmware updated, you can point your camera at QR codes you make using the smartphone app or small website. To some, this would seem a bit tedious (and frankly, that's true). But what it gains you is a boatload of flexibility with super-specific tweaks that would be cumbersome or costly for GoPro to add into the user interface menus. Some of course they have since done – like the 'Scheduled Capture' feature of the Hero 9, which started as a GoPro Labs function.
If you're looking for the quick run-down on this feature, hit up my video below to get started:
Now one really weird new change in the last week is on the GoPro app they've removed the ProTune settings configuration. This is about as wonky a choice as I can think of. Instead, GoPro says you can poke at the back of the camera to change settings, flash a GoPro Labs QR code at them, or use the smart remote to enable ProTune. The problem with all of those is multifaceted. The first two don't apply if you can't physically touch the GoPro, or perhaps you can't see the screen itself the way you've mounted it (super common). The last smart remote option doesn't help if you just want to increase exposure one stop, or anything else that's not a predefined setting. I hope GoPro undoes this move, cause it's just such a bizarre change. Heck, even their press release seems to be like 'Umm…we know this sucks, but, here's some non-starter options to distract you.'
I do recognize that only a small fraction of users would utilize ProTune remotely, but ultimately, these are arguably the same GoPro users (or to use a fancy term – 'content creators') that are producing the most well-edited and widely viewed content on social media.
In any case, speaking of GoPro bits, their CEO (Nick Woodman) is speaking at noon US Pacific Time today for a CES keynote. Historically speaking when he's done so they've tipped their hand for various things. Rarely major announcements, but more minor things that make their competitors sigh. Except the GoPro Karma drone. That was pre-announced, then put on life support, and then ultimately killed off, all at CES on successive years. As always, I'll be watching to see what might slide out this year.
With that – thanks for reading!
Found This Post Useful? Support The Site!
At the end of the day, I'm an athlete just like you looking for the most detail possible on a new purchase. These posts generally take a lot of time to put together, so if you're shopping for the GoPro Max, GoPro Hero 8 Black or GoPro Hero 9 Black or any other accessory items, please consider using the affiliate links below! As an Amazon Associate I earn from qualifying purchases. It doesn't cost you anything extra, but your purchases help support this website a lot. Even more, if you shop with TPC (The Pro's Closet), you'll save $40 on purchases over $200 with coupon code DCRAIN40! The Pro's Closet has been a long-time partner of the site here - including sponsoring videos like my cargo bike race, as well as just being an awesome Colorado-based company full of good humans. Check them out with the links below and the DCRAIN40 coupon!
And of course – you can always sign-up to be a DCR Supporter! That gets you an ad-free DCR, access to the DCR Quarantine Corner video series packed with behind the scenes tidbits...and it also makes you awesome. And being awesome is what it's all about!