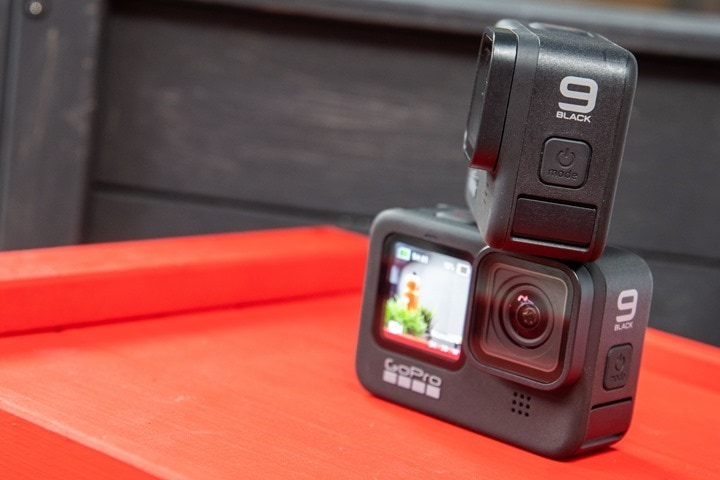 Today GoPro announced the new GoPro Hero 9, which adds a front-facing screen and 5K resolution, though also slightly increases the price. Sorta, kinda, not really…it depends. It's complicated.
While I'm still a few days away from a final written review of the GoPro Hero 9, I've dropped my complete video review over on YouTube already, and it's absolutely packed with details, video, comparisons, and data. Aside from all the usual swim/bike/run/hike/etc testing locales, the cameras even spent the night in my deep freeze. They've been busy.
So, till that final text review hits – here's everything you need to know about the GoPro Hero 9 in one sub-15 minute watch session:
But, if you're still looking for a bit more text, then keep reading.
What's new:
I'd argue that in terms of pure features, the Hero 9 is by far the biggest upgrade to the GoPro Hero series. Though, that doesn't quite mean it'll have the biggest upgrade impact for everyone. For example, I'd also argue that if you had a GoPro Hero 6, the shift to Hero 7 or Hero 8 was by far the most substantial in terms of image quality or stability. It was at that juncture GoPro left the competition in those regards.
Still, the list for today is huge. In case for some odd reason you didn't hit the 'Play' button above (seriously, you should), here's all the newness:
– Added front-facing live preview screen
– Added 5K/30 Video Resolution
– Added 23.6MP Photos
– Increased to 30% longer battery life (on average, some actually far more)
– Improved cold weather battery performance
– Re-introduced removable lens
– Increased rear screen size slightly by 16%
– Introduced HyperSmooth 3.0
– Added Horizon Leveling for Linear mode (was in app last year, now in-camera)
– Added TimeWarp 3.0 with new RealTime option
– Added new livestream outlets including Twitch
– Added Webcam support for both PC & Mac (was previously beta)
– Added Hindsight, which is kinda like TiVo for your GoPro
– Added Scheduled Capture to have camera wake-up and capture a sunrise
– Added Duration Capture to have camera record for specified period of time
– Added new water drain for side microphone to drain water faster
– Changed battery designing to much larger battery, but not backwards compatible
– Increased camera weight from 125g to 159g
– Launching new GoPro Max SuperView Lens Mod with Horizon Lock (lets you rotate camera 360° and lock horizon)
– Hero 9 box is actually a travel case for the camera
– Increased price from $399 to $449 if you don't have a GoPro Subscription (formerly GoPro Plus)
– Decreased price from $399 to $349 if you have a GoPro Subscription (formerly GoPro Plus)
Oh, and yes, the camera is still black in color. Also, the mount stays the same.
Phew. Lots and lots of stuff. Ultimately, while the camera is heavier, I honestly never noticed except when holding them side by side. It's just not a factor in any meaningful way except perhaps if you were head-mounting it, and even then that'd be pretty questionable in terms of noticing after more than a few minutes.
As for the batteries, while it is annoying that the Hero 9 has new batteries, I will say that the claims do hold true. In my hours and hours and hours of testing the Hero 8 and Hero 9 side by side, every time the Hero 8 battery ran out well before the Hero 9 did (both when on identical modes and otherwise). Which ultimately comes down to the battery just being a chunker in comparison to the older ones. Thus at least the battery change was functional in that I got something out of that situation, rather than just change for the sake of change.
But I cover that in the video too.
Until then – enjoy all the footage above, as well as the huge compilation video below, which is honestly more an insight into what I've been up to the last few weeks, with 2-4 action cameras concurrently mounted at all times. It's fine.
Thanks for reading (and watching)!

Found This Post Useful? Support The Site!
Hopefully you found this review useful. At the end of the day, I'm an athlete just like you looking for the most detail possible on a new purchase – so my review is written from the standpoint of how I used the device. The reviews generally take a lot of hours to put together, so it's a fair bit of work (and labor of love). As you probably noticed by looking below, I also take time to answer all the questions posted in the comments – and there's quite a bit of detail in there as well.
If you're shopping for the GoPro Hero 9 Black or any other accessory items, please consider using the affiliate links below! As an Amazon Associate I earn from qualifying purchases. It doesn't cost you anything extra, but your purchases help support this website a lot. Even more, if you use Backcountry.com or Competitive Cyclist with coupon code DCRAINMAKER, first time users save 15% on applicable products!
Here's a few other variants or sibling products that are worth considering:
These are my favorite action cam accessories that I use day in and day out across all the action cams. They just work dependably, and are my go-tos!
And of course – you can always sign-up to be a DCR Supporter! That gets you an ad-free DCR, access to the DCR Quarantine Corner video series packed with behind the scenes tidbits...and it also makes you awesome. And being awesome is what it's all about!
Thanks for reading! And as always, feel free to post comments or questions in the comments section below, I'll be happy to try and answer them as quickly as possible. And lastly, if you felt this review was useful – I always appreciate feedback in the comments below. Thanks!