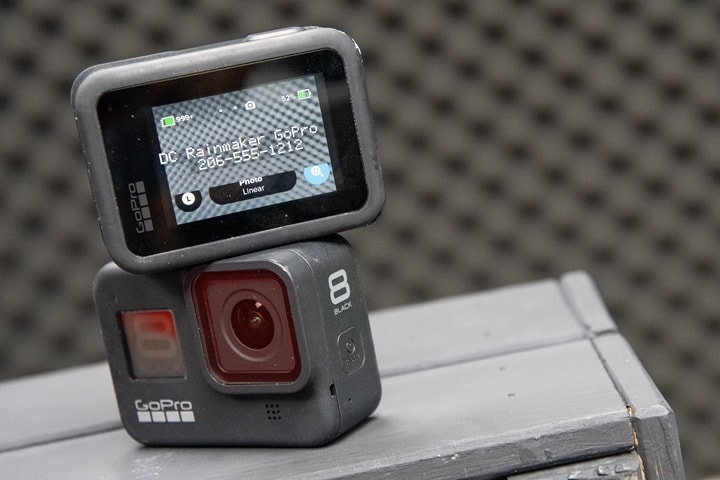 In a move that comes entirely out of left field, GoPro announced a new GoPro Labs feature (hosted on GitHub no less) that lets you tweak the heck out of your Hero 8 Black camera. With it comes the ability to configure settings instantly via QR codes, but more importantly it adds a sweeping set of new features to the camera, most of which are targeted heavily at GoPro geeks, or people that are pushing the limits of GoPro's today.
Which doesn't mean they aren't practical to everyone. In fact, the image you see above is a perfect example of something that could (should) be rolled out to every camera: Customizing the startup screen to show your information in case your camera gets lost (Side note: You know you can do that with any Garmin Edge computer too, right?).
The way GoPro Labs works is that you load a special Hero 8 firmware onto your camera (it only works on the Hero 8). It's quick and easy, just like loading any other GoPro firmware over the last decade if you didn't use the GoPro app (which is to say, you simply unzip a folder onto your microSD card and you're done). Once that happens it unlocks all the new features, as well as gives you flexibility to pretty much tell the camera to do anything you want with a simple QR card.
In simple terms, there's about 12-15 new features that have clearly defined boundaries. However, in reality with enough creativity, you're probably talking about many dozens of new applications and purposes. Here's a quick sampler:
– Can now create owner startup screen
– Can now create motion-triggered recordings/photos
– Can now create Time of Day/Duration trigger (e.g. take a photo at 7AM or 23 hours from now)
– Can create timers to only shoot during daylight hours (such as a construction site time-lapse)
– Added Sunrise and sunset triggers
– Added long time-lapses up to 50 days on a single GoPro battery (such as leaving out in the woods)
– Added Speed-based triggers (such as once you go above 20KPH)
– Can now have GoPro video files up to 12GB in size (versus previous 4GB sizes)
– Can now customize GoPro video/photo file names with camera-specific information
– Can use QR code generator to create a QR code for any GoPro config you can think of that instantly applies when lens is pointed at it
– Added time sync up to 1/100th of a second
– Added ability to have overlays baked into video (such as camera name, date/time, even speed)
– Added ability to have those overlays work in livestreams (including the speed one)
– Added under the hood information for the ReelSteady app (which GoPro bought this past March) to improve stabilization results
Now, the core of most of this comes down to a new QR function that allows the lens to recognize QR codes and, in turn, configure settings. GoPro has put up a few little mini-sites that generate QR codes that the camera will recognize. And no doubt I'm sure behind the scenes there's other mythical Easter egg ones they'll tell us about someday (or not).
Once you point the camera at the code, it instantly changes the setting or applies the new feature. For example, you could point it at your phone with a QR code for a specific camera mode, but you could also just as easily print out a tiny QR code and tape it to the back side of your skiing helmet so that you could have a super quick way (with gloves) to change into specific settings. For example, perhaps put a small sticker on the back left side of my helmet for 1080/240fps slow-mo mode, and then another sticker on the right side for 4K/30/Superview mode. Rather than trying to get to those modes with gloves in the middle of the winter at the top of a run.
Now, given this is a GoPro feature, I figured a video is best here. So below I go through all of these features step by step and give some of the use cases for each.
As always with something like this, these features may or may not ever make it into a GoPro camera. The whole concept started as an internal hackathon that then morphed into this public variant. Additionally, some of these features might not at all be useful to you personally. For example, I have little desire to shoot a 50 day timelapse. Inversely, I have immense desire for 12GB GoPro files and the ability to have my owner information on the camera. That's super-useful to me.
In any case, hit play below to geek-out a bit.
Again, these features are only available on the Hero 8 Black. Frankly, it's pretty rare for GoPro to add meaningful features to their normal cameras (360 cams are a bit different) after launch. Usually we see a few minor things, but nothing that would cross-over into 'of marketing value' in most cases. So I'm optimistic this is a different side of GoPro.
Now, if you have an older GoPro, I suppose the silver lining is that the Hero 8 Black has been discounted $100, down to $299 for a while now. Obviously, with nobody going on vacations or doing group-action things, GoPro needs to find some way to get people to buy their cameras. GoPro historically has always launched a camera in early fall (usually late September). It remains to be seen whether or not that happens this year, but realistically the Hero 8 at $299 is a super-good deal (also note, you can get this bundle for about $320 which includes two additional batteries and an SD card). In any case, almost everything you see me film these days outside from an action standpoint (running, cycling, or skiing), is from a Hero 8.
With that, thanks for reading and have a great weekend!