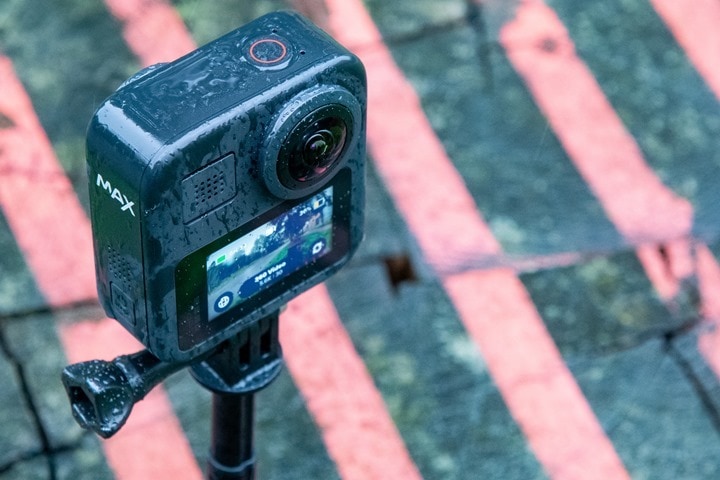 GoPro implies (and even says) that the new Max does everything the Hero series does, but extended "to the Max". Unfortunately, that's not exactly true. Still, despite that, the GoPro Max is a hugely compelling upgrade over the previous generation GoPro Fusion. They've made some major strides in making the product actually usable for day to day users, to the point where it's a very viable option for both 360° and non-360° content alike. In fact, you'll notice in this review that while I shot hundreds of gigabytes of 360° content, ultimately, everything I use is flat non-360° content pulled from that 360° content.
And that's what GoPro has realized with Max: Nobody actually wants to watch 360° content. For whatever reason, it just isn't working today (across the industry). Maybe tomorrow with some technological shift it'll work, but today, people get disoriented and confused. Still, what shooting at 5.6K in 360° gives you is the ability to reframe any portion of that into a more normalized 1080p flat video that you already know and love: But to do that after you shoot. And with Max, GoPro has done a great job at following others in the industry in making that experience incredibly smooth and painless.
I've been using Max now for a bit, and have captured more video and photos than I know what to do with. Still, between that and almost two months on the GoPro Hero 8 Black now – I've got a pretty good understanding what works well, what needs some love, and what you'll need to understand more deeply. Once I'm done with this review, I'll get the Max media loaner units all packed up and shipped back to GoPro, just like I always roll.  If you found this review useful, hit up the links at the bottom. Or send me cookies. Your choice (chocolate chip please).
What's new: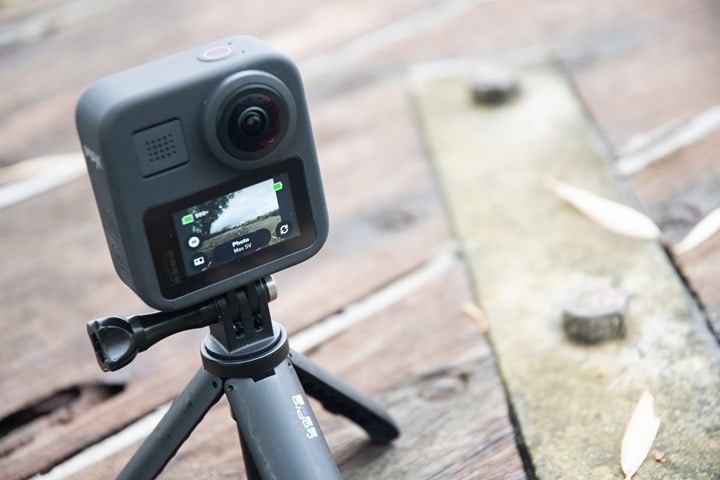 There's a huge pile of newness compared to the GoPro Fusion camera from a few years back. In many ways though, the easiest way to think of things is that the GoPro Max is more akin to a GoPro Hero 7 in terms of new features, with a slight sprinkling of Hero 8 features. For example, the Max includes TimeWarp (launched with Hero 7), but not the more advanced 'Auto' feature found on Hero 8. It includes a watered down variant of quick access capture presets roughly on-par with the Hero 7, but not with the customization and depth of the Hero 8.
If you want all of this distilled down into a relatively efficient video – then look no further than the below, complete with plenty of examples:
Still, all of this is a massive upgrade over the original Fusion, which when it came out kinda felt like old tech in comparison to that year's GoPro products. Here's the complete run-down of what's new and different on the GoPro Max compared to the original GoPro Fusion. Note this list is all about what's changed (good or bad), and less about overall features or how 360° content works per se. We'll get to that. First, here's what's new:
– Added color touchscreen
– Added new Hero 8 mounting system (slight/better difference over Fusion)
– Simplified to single MicroSD card from previous dual SD card fiasco
– Added single-lens Hero mode (to use kinda like a normal GoPro Hero)
– Added Max HyperSmooth for single-lens mode
– Added 'Max SuperView' mode, which is super wide-angle single-lens mode
– Added Shotgun mic via new 6-mic array (upgrade from 4 mics on Fusion)
– Added keyframing into GoPro app for reframing view from 360° footage
– Added horizon leveling into device itself (primarily for single-lens mode)
– Added Max TimeWarp
– Added PowerPano (270° panoramic one-shot photo)
– Added Livestreaming, including at 1080p
– Added GoPro Plus upload capability/protection
– Added GPS integration into GoPro app (can now add telemetry stickers/overlays)
– Added Digital Lens concept (rebranding of existing feature to make it easier to use
– Increased output resolution of 360° content from 5.2K to 5.6K
– Modified lenses so that protective transparent lens caps could be easily added to them
Now, just to round out the list of what's new, here's some downsides that have been *removed* from the GoPro Fusion when comparing it to Max:
– No more Burst photo mode
– No more ProTune higher 120Mbps bitrate (Max is limited to 78Mbps)
– No more night photo mode
– No more RAW photo capture
– No more front status screen
– No more finicky as hell bottom mount
For most people, burst and raw mode aside, you probably won't care a ton about those. The front status screen is a bit of a bummer, but that's been replaced by the hugely awesome back full color preview touchscreen. Ideally I'd loved to have seen the status screen remain (just like it is on the Hero series), but…win some, lose some. Whereas the removal of the other photo modes is more peculiar.
Now – before you decide on Hero 8 vs Max – definitely check out my full comparison at the end of this post. I highlight the 15+ features that are *not* in the GoPro Max that are in the Hero 8. And frankly, those are some pretty important features.
Unboxing: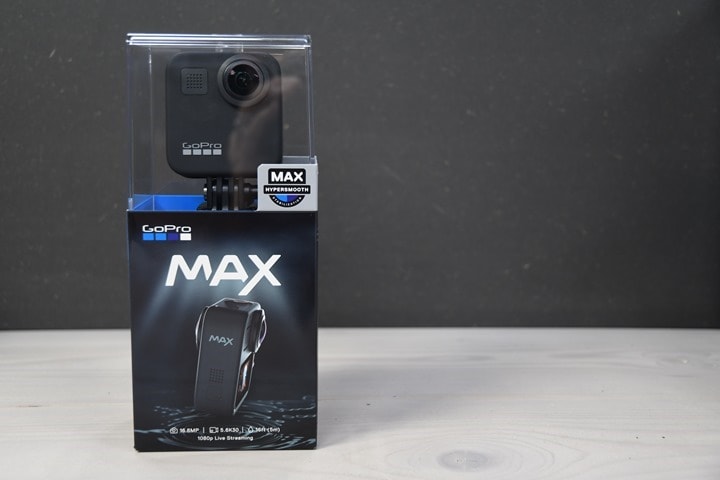 The GoPro Max box looks virtually identical to that of the GoPro Hero 8 Black. Both sport the clear-top window allowing you to see the goods inside. Meanwhile, the side panels have a list of parts on one side and a slate of features on the other.
Crack it open and the bottom will slide out, far more gracefully than the Hero 8 box did for me (where someone seemed to have gone to town with a glue gun for no apparent purpose).
Inside that little white box are all the goods: Charging cable, battery, lens caps, and stickers.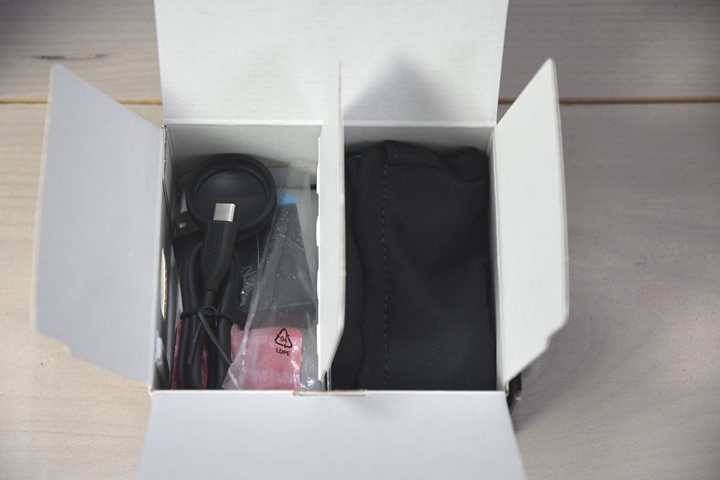 In fact, here's the whole lot of it laid out on the table: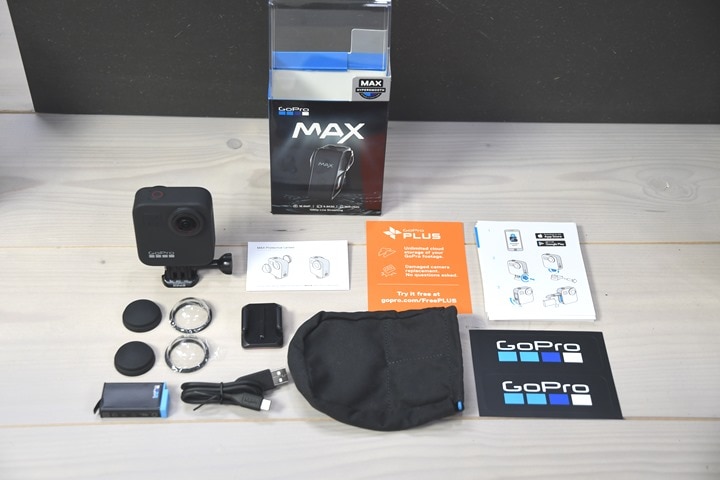 Aside from the camera, you'll find two lens caps, and two lens protectors. The lens protectors were inside the protective carrying bag you see above. The lens protectors are optional, but recommended to avoid scratches on the lenses.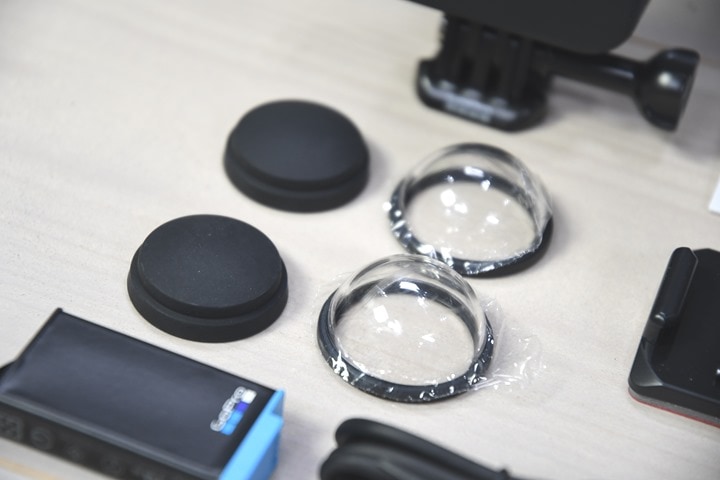 The battery is like an oversized GoPro Hero 8 battery that went to Dairy Queen and stayed for a week. It's different than the Fusion battery.
There's a single sticky mount in there (a flat one), and the USB-C charging cable.
Then there's some paper junk that includes the quick start guide you won't ever read as well as the GoPro Plus bits you should read (50% off accessories!!!).
Finally, because I don't plan to cover it elsewhere, you'll find the MicroSD card slot inside next to the battery. That's also where you charge the camera too. With the GoPro Max now you only need a single MicroSD card, which greatly simplifies the workflow.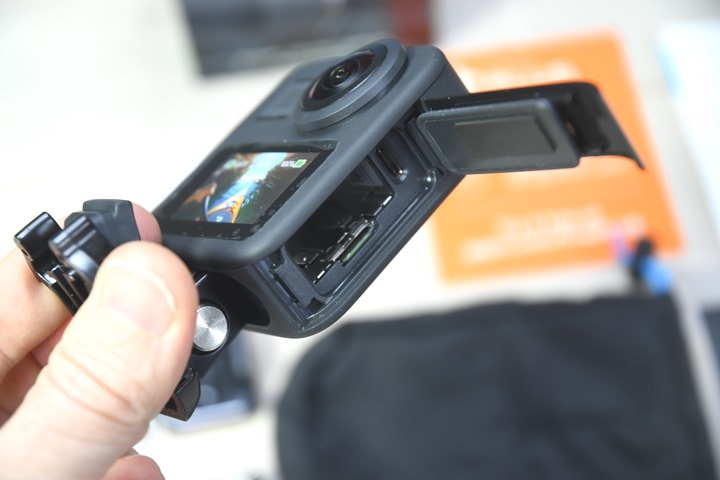 With that, we're ready to start diving into all the features.
Video Functionality and Features:
So the first thing to understand about Max is that there are two core video modes in Max: 'Hero' and '360'. In the case of Hero, you're using a single lens at a time, in roughly the same way as a normal GoPro Hero action cam. This functionality, while common in most other 360° action cams, is actually new to GoPro on the Max.
However, the strength of what GoPro has done here is give you a variety of 'Digital Lenses' for that Hero mode, so you can go with an incredibly wide angle (Max SuperView), or a much more reduced angle 'Narrow'. You've also got 'Linear', which removes that trademark GoPro fisheye look. But first, switching between 'Hero' mode and 360 mode is as simple as toggling the little icon in the lower left corner of virtually every mode on the Max:
And in Hero mode you can switch which lens it uses by tapping the right icon: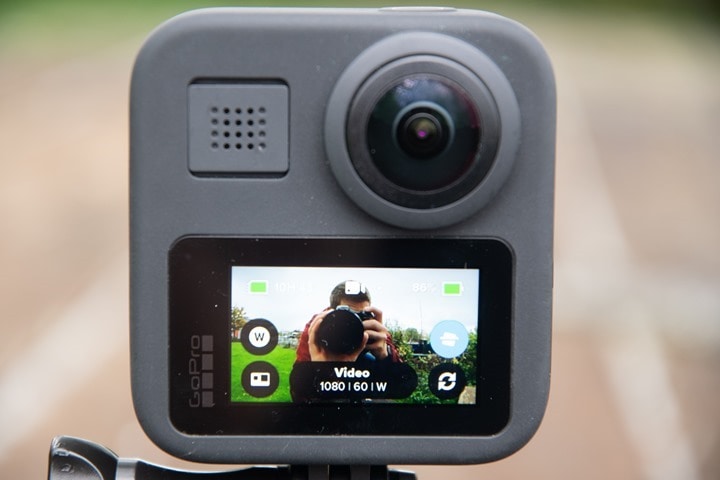 Once you do that you'll see that it displays the capture preset settings – such as 360° 5.6K or 1080p/60. These capture presets are sorta like what's on the Hero 8 Black, except unlike that camera, you can't add your own capture presets with Max. You can customize what's there though, which you can do for each mode: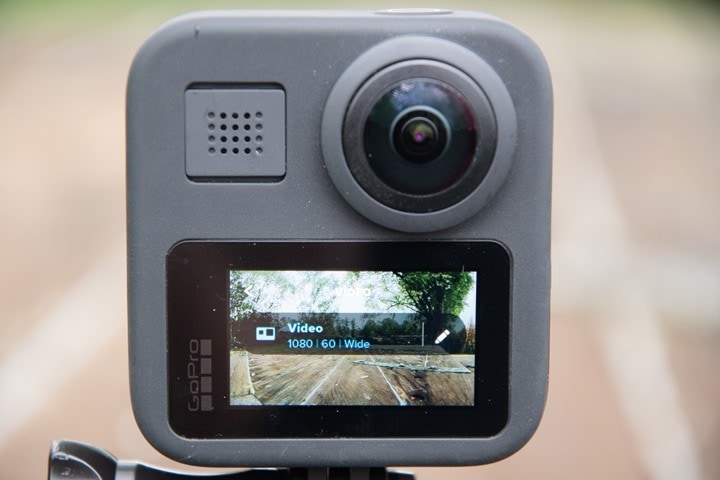 The key thing to remember though is that in Hero mode on Max, your maximum output resolution is 1440p (4:3) at 60FPS. That's well below the 4K/60 that has been offered on GoPro's for years. As such, things simply won't be as sharp. Three's no getting around that. Nor will you have the ability to have as much detail for cropping in later on if you wanted to like on a normal GoPro.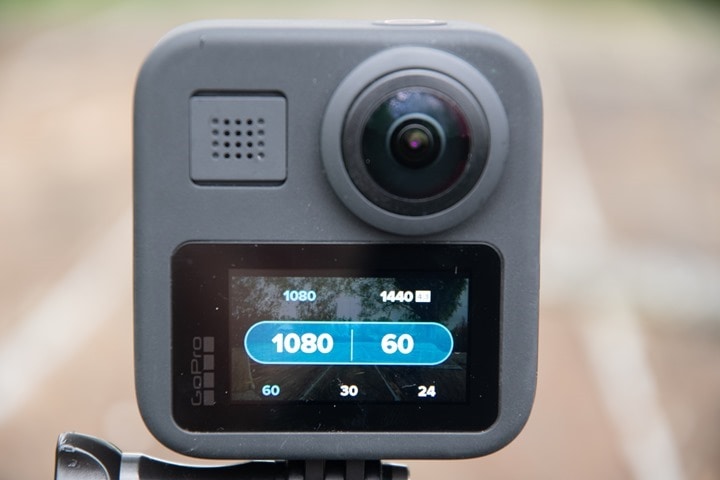 On the flip side, GoPro is using some of that lens overhead to do stabilization and a much wider field of view. For example, the new 'Max SuperView' mode is 27° wider than anything a GoPro Hero 8 Black can do. That's a lot wider. And it's especially noticeable on something like a chest mount for skiing or cycling/mountain biking, as well as inside tight spaces like a car.
I've got a complete comparison video that you can check out here where I demonstrate all the details of this. The road-bike snippet at ~2:00 is especially fascinating to watch as it horizon-levels around my arms.
Similarly, within that single lens Hero mode there's the new 'Max HyperSmooth', which essentially uses aspects of the much wider lenses to create an incredibly smooth recording. It's able to handle far more rotation than a typical GoPro can without hitting the limits of stabilization (remember: Stabilization on most action cams these days is accomplished by essentially having a larger sensor size and then cropping into that for what is actually outputted to you. So imagine two boxes, with the smaller box being suspended inside the bigger box. Your footage is the smaller box, whereas the actual sensor is the larger box.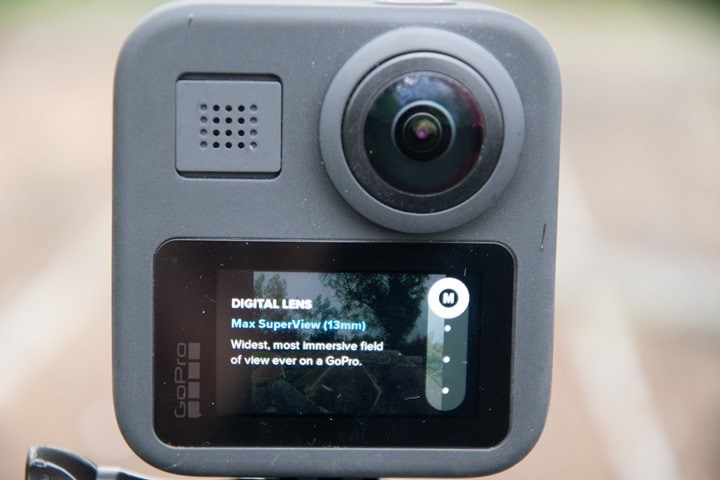 Finally, on single-lens features, there's the new horizon leveling mode. This is super cool to watch in real-time on the back of the display, because you can actually see that the horizon stays level inside the display, despite the fact that the camera is tilted. It's a bit of a mind trip. Again, box in a box capabilities going on here too.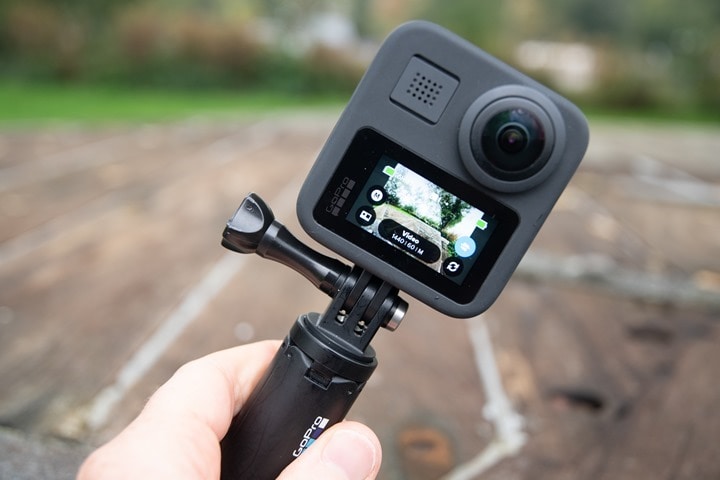 Whereas if I turn it off, you'll see the view would be off-kilter: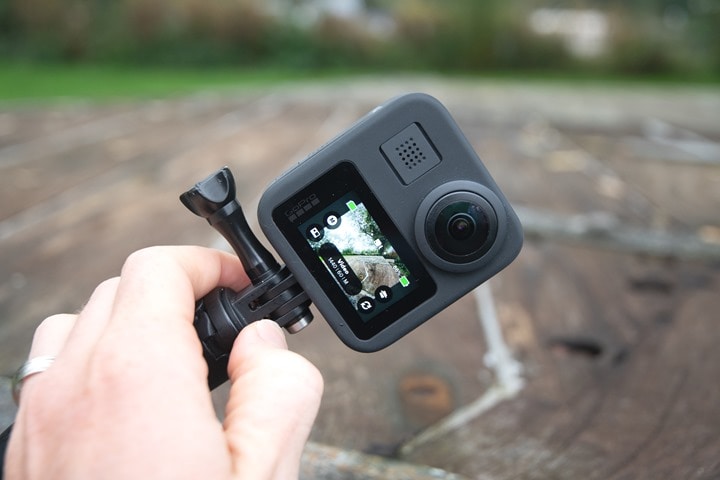 Note that the horizon leveling here is different than the Hero 8 Black, as that's done in software on the GoPro App, whereas in the case of Max it's done on-camera.
So what about 360° content? Well, I actually don't think a lot of people want to view 360° content these days. But, what you'll see most people doing on Max is shooting in 360° content and then reframing it later. But first, to shoot in 360° you'll simply ensure the 360° toggle is set (the little world icon). That'll then show you the 360° 5.6K setting. This is actually a bump up from the 5.2K that the GoPro Fusion shot in. And technically GoPro says they capture at 6K, but once stitching is done you've got an effective 5.6K 360° image. At 5.6K you've only got two frame-rate options: 24/30. There are no lower resolution 360° options, it's 5.6K or nothing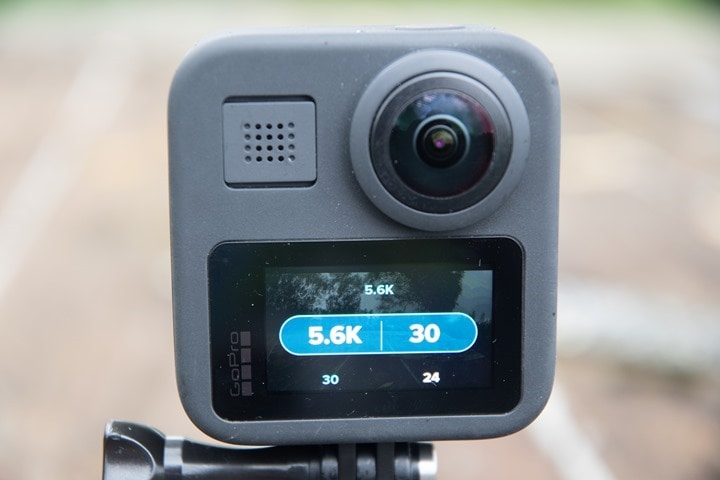 There are a few ProTune options, such as shutter, EV Comp, White Balance, and ISO Min/Max, as well as the color profiles (GoPro or Flat).
And, down below you'll find the audio options. Some of these are new, and includes the ability to record audio in spherical 360° as well as Stereo. You can also toggle how it handles the wind. Of note though is that in 360° mode you can't enable the raw audio recording options like you can in single-lens Hero Mode.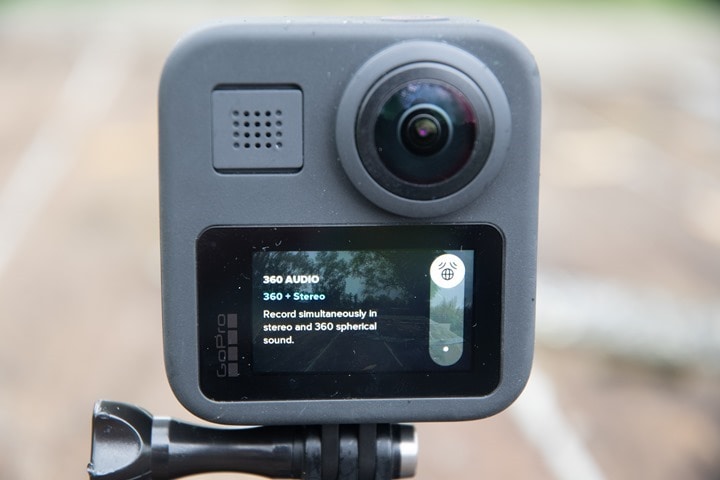 Still, the main thing around the audio here on the Max is the increase from 4 mics to 6 mics, inclusive of a new shotgun mic on the front, which GoPro says is ideal for Vlogging style applications. With the 6 mics you can get full spherical audio as well, and if you look at my main video up top I show an example where I walk around the camera and you can hear (with headphones) exactly where I am in front to the side/behind you. It's pretty cool.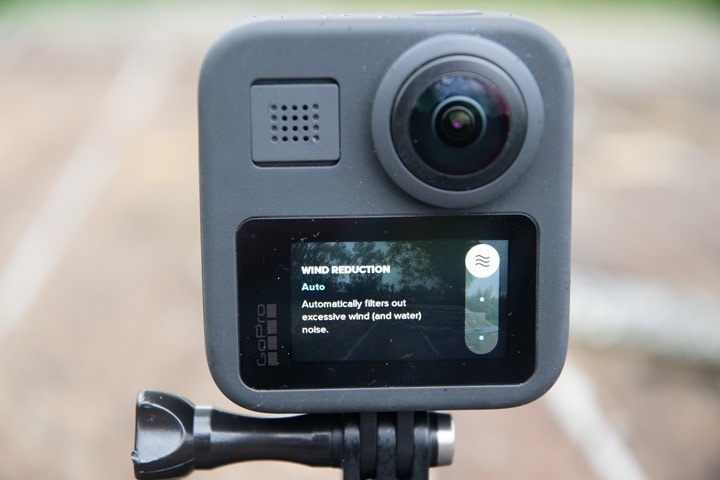 Note that in Hero mode you can enable RAW audio recordings: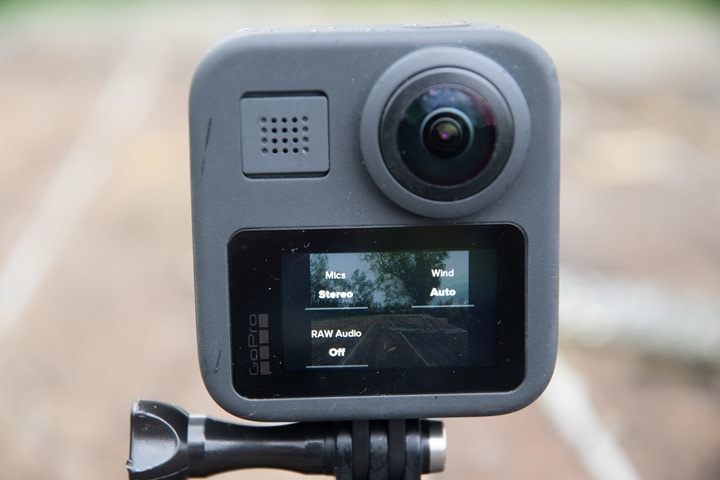 Now a quick 2-second primer on taking 360° footage. The trick to getting everything seamless is distance. You want at least 22in/55cm away from any object, on some sort of selfie stick. GoPro actually makes one for both Fusion and Max (it's the same stick) that is exactly this length so that when hand-held the stick disappears entirely from within the image due to the overlap stitching and offsets. It's cool, and frankly worthwhile if that's your goal.
Now before we leave the footage bit, note that TimeWarp is now part of Max (it wasn't there on Fusion). TimeWarp is GoPro's name for HyperLapse, and are super-stabilized time lapses. You can shoot a TimeWarp in either 360° mode or Hero Mode. And you can choose the exact time duration, or the new Auto option that arrived on the Hero 8 Black.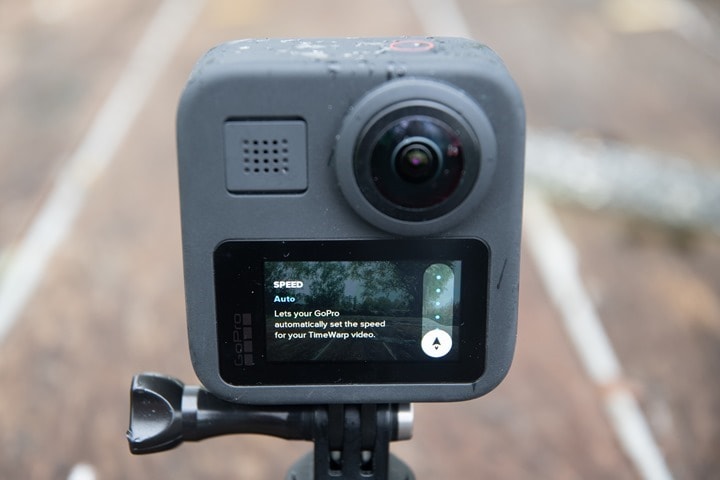 Once you have that 360° footage, you can use the smartphone app to view it, or desktop apps from GoPro. However, if you're using your desktop apps like Final Cut Pro or Premier, you'll need to first process the image. With Max it'll actually pre-stitch the footage on the camera from the two lenses onto that single SD card, but it's still not viewable footage from a standards perspective. This is a bit of a disappointment, as it's something that Garmin did two years ago with the VIRB 360 (at 5.7K no less), and allowed you to take the footage straight from the camera into Final Cut Pro or Premier and edit it there. Note this applies only to 360° footage – regular Hero footage works out of the box anywhere.
If you are doing things on a desktop, the good news is that, unlike Fusion, the processing is super quick. Fusion took forever for me – it was mostly hopeless. Whereas with Max I'm finding that the processing time is roughly double that of the footage duration, even when working with my slowest 2016 MacBook Pro. So a two-minute clip on that computer takes about 4 minutes to process/render out at ProRes 5.6K. On my 5K iMac, it's far faster. It's also taking about the same amount of time to render from 5.6K 360° into a keyframed 1080p HEVC (and a tiny bit longer for ProRes). Oddly, Final Cut Pro X isn't accepting the exported ProRes files from the MacOS GoPro exporter at the moment. I assume that's a minor formatting bug they'll solve shortly.
Now – none of that matters too much if you just want to stay on your phone to do any editing. And in fact, this is where GoPro's made some *massive* leaps forward with Max and the 2019 GoPro app. Of course, while all of these capabilities are app-based, the foundation for that was streamlined hardware on the Max itself (single SD card, HEVC file sizes, etc…). And the single biggest feature is re-framing. Previously GoPro called this OverCapture, but no matter the term du jour, the meaning is the same: Creating a flat file output from 360° content, framed after the fact. You can see below how I can adjust the view of what the camera is looking at.
But most importantly here is the ability to do keyframes within that. Don't worry, this isn't some fancy sounding term. It's really simple. Imagine a 60 second 360° clip as you drive down a road next to the beach with the camera mounted on the hood of the car. Keyframes simply allows you to say that for the first 10 seconds you want the view to be pointed back towards the driver. Then, at the 10-second mark you add a 'keyframe' and simply use your fingers to drag the view to the beach. Then at the 20-second marker you add another keyframe and drag your view to the road ahead. Rinse, repeat, forever.
One of the masters behind GoPro's launch videos, Abe Kislevitz, put together a super solid video on how this works and how fast it is. I can attest that everything he shows in that video is 100% accurate from a…well…everything standpoint. Yes, it's actually that fast, and yes, it's actually that easy.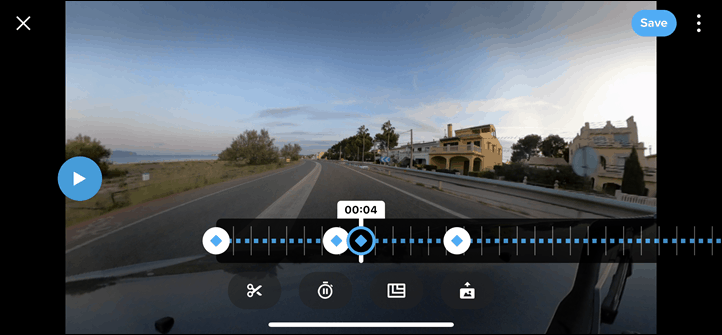 And then from there you can quickly export out that flat 1080p file and upload it to any source you want. For example, here's a silly simple keyframing I did with a TimeWarp on the Max:
It's super powerful, and super easy to use. Which doesn't mean that GoPro invented this. Hardly. In fact, I'd argue that Rylo first, and more recently Insta360, are the ones that really championed making this silly simple to use. Still, no matter who was first, the fact that GoPro has it now is what matters if you're looking to pick up the Max.
Finally, it's worth noting that within single-lens mode, the Max camera now supports using the GPS data for overlays of telemetry 'stickers', things like speed or a mini-map. You can simply drag these on the video and then export them out (max 1080p).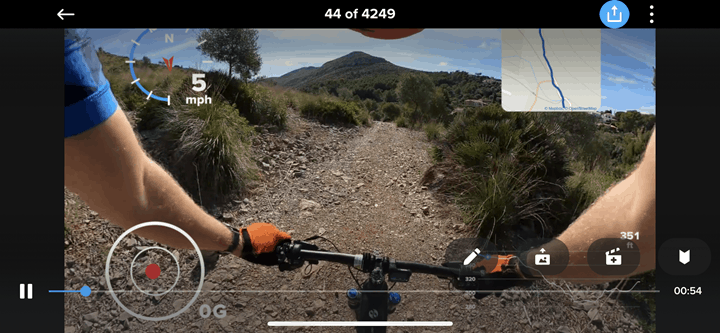 It's quick and efficient, and doesn't require any skill. There still seems to be a bit of lag there, but it's not as bad as in the past.
Now with all those new features covered, what's my overall thoughts on video within the Max? It's good, but it's also underwhelming. There's a lot of cases (as I cover in the comparison section) where they skipped on Hero 8 features that should be in Max. I can kinda forgive them for not offering 4K/30 Linear on a single lens, because I know that technically that's difficult if not impossible with the way they have the lenses.  However, it's harder to forgive the lack of countless little things. For example – why can't I create my own Capture Presets like on the Hero 8 Black? Why is the max framerate so low in 1080p (60FPS vs 240FPS). Why isn't there a low-light mode, or a night lapse mode like on many Hero cameras before this? Why is the waterproofing less than a regular Hero camera (or that the video is uselessly out of focus once underwater)? Let alone all the lack of photo features like RAW/Burst/HDR/etc…
These are all kinda core to why people want the flexibility of Max. They want a regular GoPro but they also want the experience of being able to reframe content. I feel like Max tried to delivery that in marketing, but kinda failed to achieve that in reality. I'm sure some will argue that most people want content on YouTube in 1080p on their smartphone anyway, so why does it matter? Ignoring the fact that only one of my items was resolution based, the reality is that the target market for this camera is the exact people *not* watching in 1080p. They're the people that will always choose 4K anytime they see it – even at Taco Bell.
So while what GoPro does have in Max works exceedingly well from a video standpoint, it's what they don't have that disappoints.
Photo Modes/Changes:
There's essentially only one major photo change, though some minor bits that do add up to a better photo experience. The first piece that makes the entire experience better but isn't photo-specific though is actually just having the screen there. It probably sounds obvious, but when was the last time you used a camera where there was no screen or viewfinder at all? See, that was Fusion.
With Max, you can actually see what you're taking a picture of – and get the framing just right. It's kinda a big thing in my opinion. Now, with that said – there's only one singular new photo feature: PowerPano.
The idea behind this is to give you a 270° photo in one shot, versus a typical pano on a smartphone that stitches a bunch of photos together. Typically that means you get motion blurring artifacts in movement, or repeated placements of a person within the frame. Meaning that if someone is riding a bike across the frame you'll either get a giant person-blur, or you'll get that person in multiple places.
With PowerPano it uses the massive viewing angle of the GoPro Max to shoot a single shot that is a huge pano. To access this, you'll go to photo modes and select the PowerPano option: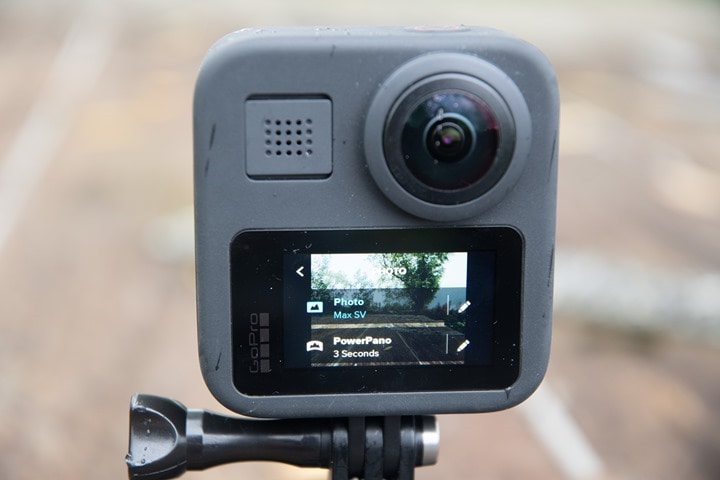 Note in the preview lens just how wide the angle is. Specifically look at my hand, which is just to the right of the camera, and you can see my fingertips already in the lens preview. It's crazy.
Then, simply take a photo. Like this:

Now, compare that to an iPhone 11 Pano, whereby the runners are all cut off due to the motion.

Here's another Pano:

Or this:

Or, this not so good one underwater. GoPro says the Max will produce fuzzy images underwater until they release an underwater case for it, due to the curved nature of the lens. They don't have a timeframe or price for that case. It's in development but frankly doesn't sound anytime near.

Still, for everything else it works OK. I say OK, because honestly it's much lower resolution than you'd expect, and the details just aren't fantastic, as you can see in some of the shots.
Sure, there's no moving aspects to this, which is GoPro's specialty, but that's somewhat an aside here. Of course, there are cases where being able to get that super wide shot while moving that wouldn't at all be possible on a phone.  In that case, we'll have to accept the so-so image quality in exchange for the capability existing at all. Perhaps down the road we'll see improvements here in future cameras.
The only other thing to know about photos is that you've got essentially two photo types you can take:
– Hero Photos: Non-360° photos using a single lens
– 360° Photos: Uses both lenses, and are interactive afterwards from within the GoPro app (and you can re-frame those).
To toggle between the two options simply hit the little Hero/360 option in the lower left corner of the camera menu: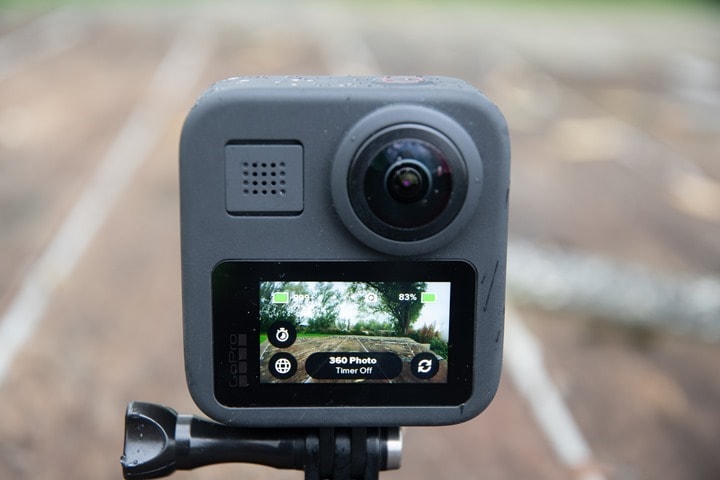 If taking a Hero (flat) photo, then you've got either 'Wide' which replicates a 16mm lens, or 'Max SuperView', which replicates a 13mm lens: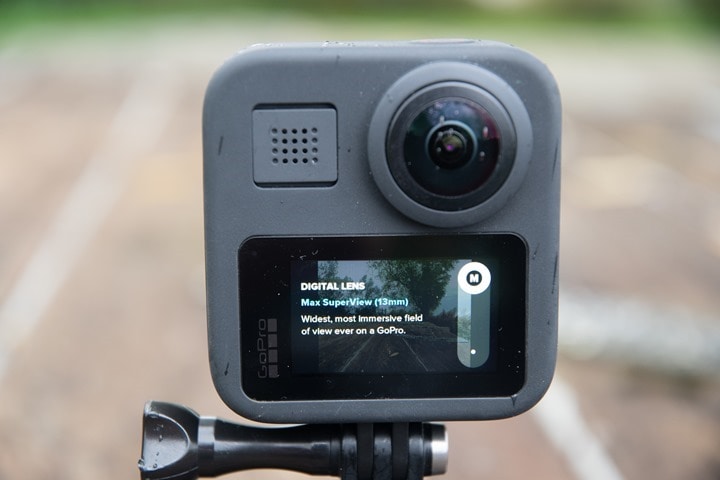 Additionally, down below you have a timer as well as GoPro ProTune options including Shutter, EV Comp, White Balance, ISO Min, ISO Max, Sharpness, and Color. If shooting a time-lapse using photos, you can also configure the interval in increments of 0.5s, 1s, 2s, 5s, 10s, 30s, and 60s.
Going back to the new features though, beyond PowerPano, there are disappointingly no further features from a photo standpoint on Max. It's like the GoPro team did PowerPano, went to the bar and celebrated…and never showed back up for work again.
– Still no photo burst mode (of any time)
– Still no raw photo capture (of any kind, even single lens)
– Still no HDR photos like in the Hero 7/8
– No Linear/Narrow/etc photo options like in Hero 5/6/7/8 (just Wide/SuperWide)
– No Live Burst Photo option like on the Hero 8, perhaps my favorite new feature there
– Only 5.5MP photos versus 12MP photos on the Hero 8 (note that 360° photos are 16MP however)
– No low-light modes
– No NightLapse specific mode like the other GoPro Hero cameras
As you can see, from a photo standpoint it's almost entirely a step backwards. Or, a lot of steps backwards. Still, the PowerPano is super compelling, and if I were to pick one feature I'd probably use most often out of all of those in the aforementioned gap list, I'd probably take PowerPano instead. Though, I really do like the Live Burst (Live Photo) option on the Hero 8 a ton. If I had one ask, it'd be for GoPro to find a way to get that into the Max.
Product Comparison: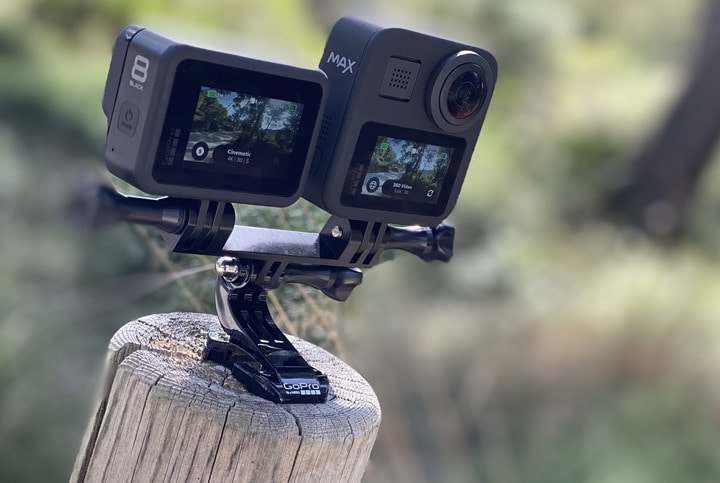 Ok, I've placed the GoPro max into the product comparison tool, allowing you to compare it against the Hero 8 Black as well as any other camera I've reviewed. But in some ways, the product comparison database doesn't do a super well job of handling all the GoPro specific features. I designed the product comparison database to compare against other action cameras, but over time those cameras have largely disappeared leaving GoPro and to a lesser extent Insta360 as the main players in this market.
So before we look at the comparison table, let me just make it a bit easier to understand the difference between a GoPro Hero 8 Black and a GoPro Max. The following are all the features not in a GoPro Max that *are* in the Hero 8:
1) Burst Photo Mode: No
2) HDR Photo Mode: No
3) Low Light Photo Modes: No
4) RAW Photo Mode: No (removed, was on Fusion)
5) Bitrate (Highest Option): 78Mbps on Max vs 100Mbps on Hero 8
6) Waterproofing Spec: 5m on Max vs 10m on Hero 8
7) Maximum Single Lens/Reframed Resolution: 1440p (4:3) on Max vs 4K (4:3) on Hero 8
8) Maximum Frame Rate: 60FPS on Max vs 240FPS on Hero 8
9) Capture Preset Creation: No
10) Compatible with GoPro Mods: No
11) Linear/narrow photo modes: No
12) Live Burst (Live Photos): No
13) Single lens photos: 5.5MP on Max vs 12MP on Hero 8 Black
14) Has wake-on voice: No
15) Can auto-offline content to phone: No (can use GoPro Plus via home/office WiFi, but not via phone like Hero 8 Black
16) Supports automatic Quik Story creation: Nope
Still, there are features that are on the GoPro Max that are *not* on the Hero 8 Black, and some of these are quite notable:
1) Shoots 360° 5.6K Spherical Footage: Yes on Max
2) Can reframe footage after the fact on apps: Yes on Max
3) Has 6 microphones for Spherical audio: Yes (vs 3 mics on Hero 8 Black)
4) Has 270° SuperPano photo mode: Yes on Max
5) Has auto-leveling built-in to camera: Yes on Max (can do a little bit on Hero 8 Black via App)
6) Has Max SuperView mode: Yes on Max (27° wider than a Hero 8 Black)
7) Has Max HyperSmooth: Yes on Max (and it can handle more than the Hero 8 Black)
8) Battery life: 115 Mins on Max vs 78 Mins on Hero 8 Black (1080p60)
9) GoPro Max has an F/2.0 lens versus an F/2.8 on the Hero 8 Black
As you can see, it's not all bad, nor all clear-cut. You really have to understand exactly what you want to use the camera for, before you decide which camera to pick up. Here's the Hero 8 Black and GoPro Max compared side by side within the product comparison tool.
Function/Feature

GoPro Max
GoPro Hero 8 Black
Copyright DC Rainmaker - Updated September 18th, 2021 @ 2:40 pm New Window
Price
$499
$399
Availability
Oct 22nd, 2019
Oct 1st, 2019
WiFi Builtin
Yes (2.4Ghz/5Ghz)
Yes (2.4Ghz/5Ghz)
Bluetooth to Phone
Yes
Yes
Recording Light
Yes
Yes
GPS builtin
Yes
Yes
Altimeter builtin
Yes
Yes
Water Resistant
5m/16ft
10m/33ft
Accellerometer
Yes
Yes
Video Preview Screen
Yes
Yes
Voice Control
Yes
Yes

Battery

GoPro Max
GoPro Hero 8 Black
Recharges via
USB-C
USB-C
Removable battery
Yes
Yes
Recording Time
115mins 1080p60
74mins 4K/30 /// 2hr20m 1080p30
Secondary attached battery
Only via USB-C
Only via USB-C

Storage

GoPro Max
GoPro Hero 8 Black
Storage Card Type
Micro-SD
Micro-SD
Maximum Card Size
256GB (select cards)
256GB (select cards)

Video

GoPro Max
GoPro Hero 8 Black
4K
N/A
24/25/30/60 fps
2.7K
N/A
24/25/30/48/50/60/100/120 fps
1440p
24/25/30/50/60FPS
24/25/30/48/50/60/80/120 fps
1080p
24/25/30/50/60FPS
24/25/30/48/50/60/80/90/120/200/240 fps
Records 360* Video
5.6K/24/25/30FPS
No
Automatic Image Rotation
Yes
Yes (also, portrait mode for video/photo)
Image Stabilization
Yes
Yes - up to 4K60 (Boost varies, max 4K30)
Looping Recordings
Yes
Yes
Timelapse Mode (constructs timelapse video)
Yes
Yes
Travelapse/Hyperlapse Mode
Yes
Yes
Pro Settings Mode
Yes
Yes

Audio

GoPro Max
GoPro Hero 8 Black
Internal Microphone
Yes (6 Mics)
Yes
Supports Bluetooth Microphones
No
No
Pro mode with seperate tracks
Yes
Yes
Custom Modes
No
No

Photo

GoPro Max
GoPro Hero 8 Black
Megapixels
5MP Single Lens, 16MP 360* Photos
12MP
Timelapse Mode (photos on interval)
0.5,1,2,5,10,30,60s
0.5,1,2,5,10,30,60s
Burst Mode
No
Up to 30 photos/second
Continuous Shooting Mode
No
Yes
Concurrent w/video mode
No
No
Records 360* Photo
Yes
No
Pro Settings Mode
Yes
Yes
RAW photo creation support
No
Yes + HDR Modes too

Sports

GoPro Max
GoPro Hero 8 Black
Skiing Mode
No
No
Control from sport computer
No
No
ANT+ Sensor Connectivity
No
No
Bluetooth Sensor Connectivity
no
no
ANT+ Profile Types
No
No
Overlays sport data on recording
Yes
Yes

Phone

GoPro Max
GoPro Hero 8 Black
App platforms available
iOS/Android
iOS/Android
Use as remote control
Yes
Yes
Video preview
Yes
Yes
Transfer video-photos from camera
YEs
YEs
Multi-camera live control/preview
No
No
Live Streaming to Internet
Facebook/YouTube/RTMP
Facebook/YouTube/RTMP

Software

GoPro Max
GoPro Hero 8 Black
App for computer
Windows/Mac
Windows/Mac

Accessory

GoPro Max
GoPro Hero 8 Black
Remote control button/key
No
Yes
Diving case
Future (no pricing/dates yet)
YEs
Mount Type
GoPro compatible mounts
GoPro compatible mounts

Device Connections

GoPro Max
GoPro Hero 8 Black
USB Connector Type
USB-C
USB-C
Micro-HDMI
With adapter
Composite Video
With adapter
Audio 3.5mm Stereo Mic
With adapter
With adapter

Purchase

GoPro Max
GoPro Hero 8 Black
Amazon
Link
Link
REI
Link
Link

DCRainmaker

GoPro Max
GoPro Hero 8 Black
Review Link
Link
Link
Don't forget you can mix and match action cameras within the product comparison tool here.
Summary: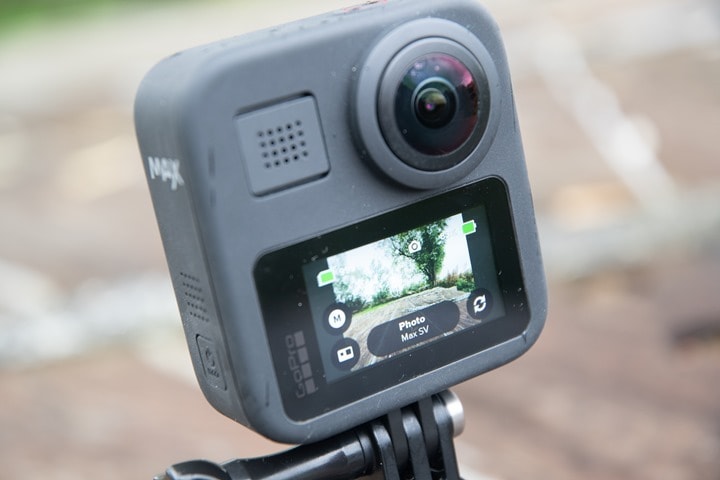 So here's the thing. The Max is an incredible camera if you've never used a GoPro Hero 7 or Hero 8. It's also far more streamlined than the GoPro Fusion ever was. Fusion was a great tool, but the barrier to usage for day to day scenarios was high from a workflow standpoint. For example, it would be impractical to do daily vlogging on Fusion. Whereas it's plausible to be able to pull it off on the Max. The simplification to a single SD card and the ability to re-frame incredibly efficiently with GoPro's smartphone and desktop apps are a huge boon for Max. My head no longer hurts when I think about trying to use the footage. I know the workflow process is quick now.
The problem I have with Max though is all the day to day awesomeness I lose from the Hero 8 Black. I lose things I use daily like Live Burst (Live Photos), as well as the higher resolutions like 2.7K and 4K. I lose the detail in the photos that I see from the Hero 8 Black, including the incredibly well executed dynamic range of that camera. Those are the things that are most important to me in my actual daily usage of a GoPro. But I think those same things actually carry over to folks also using it less frequently but on vacations or around town.
Don't get me wrong: If you understand all the nuances of what I wrote and know where to use the Max for – then go forth. I'll still go out and pick up a Max and use it from time to time. But it's not an everyday camera for me. It's a specific tool that I'd use when I'm trying to get a specific shot. When I'm trying to do something creatively different that will likely take more time to execute than just a normal GoPro. And in all honesty, won't likely have the same end-state quality level as the Hero 8 Black.
In any case – hopefully you found this was interesting, and hopefully you can figure out what camera is best for you. With that – thanks for reading!

Found This Post Useful? Support The Site!
Hopefully you found this review useful. At the end of the day, I'm an athlete just like you looking for the most detail possible on a new purchase – so my review is written from the standpoint of how I used the device. The reviews generally take a lot of hours to put together, so it's a fair bit of work (and labor of love). As you probably noticed by looking below, I also take time to answer all the questions posted in the comments – and there's quite a bit of detail in there as well.
If you're shopping for the GoPro Max or any other accessory items, please consider using the affiliate links below! As an Amazon Associate I earn from qualifying purchases. It doesn't cost you anything extra, but your purchases help support this website a lot. Even more, if you shop with TPC (The Pro's Closet), you'll save $40 on purchases over $200 with coupon code DCRAIN40! The Pro's Closet has been a long-time partner of the site here - including sponsoring videos like my cargo bike race, as well as just being an awesome Colorado-based company full of good humans. Check them out with the links below and the DCRAIN40 coupon!
These are my favorite action cam accessories that I use day in and day out across all the action cams. They just work dependably, and are my go-tos!
And of course – you can always sign-up to be a DCR Supporter! That gets you an ad-free DCR, access to the DCR Quarantine Corner video series packed with behind the scenes tidbits...and it also makes you awesome. And being awesome is what it's all about!
Thanks for reading! And as always, feel free to post comments or questions in the comments section below, I'll be happy to try and answer them as quickly as possible. And lastly, if you felt this review was useful – I always appreciate feedback in the comments below. Thanks!