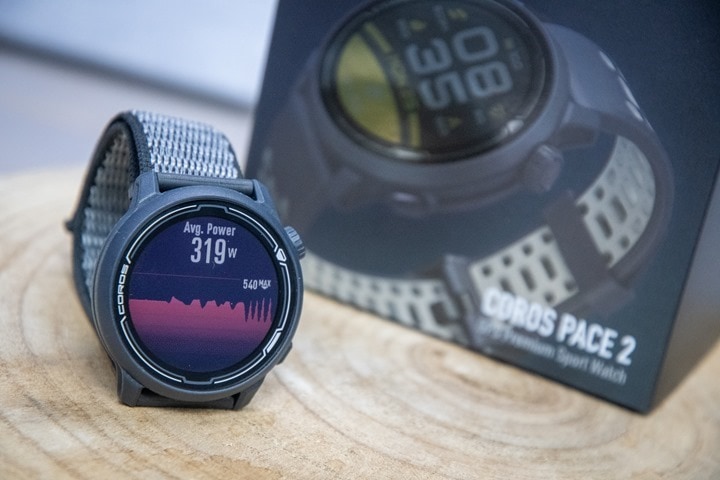 I was perhaps half-way through my first run with the Pace 2 after they enabled running power when I realized what COROS had just done. They'd just made a simplistic choice for people: Buy a Stryd running power meter for $219…or buy the COROS Pace 2 with virtually indistinguishable running power values for $199 – also, for free you get a GPS multisport watch built-in that tracks swims, rides, weightlifting sessions, and countless other features.
In other words – COROS got their groove back.
While COROS began the company making connected helmets, they really got their wearable feet making the original Pace. After that, they shifted to higher-priced watches, though, without really adding in the higher-priced features, like streaming music providers or contactless payments, that justified those prices. With the Pace 2 though, they're back at it – releasing what is arguably a killer watch at a killer price. In other words, they're back doing what they do best: Being an industry disrupter.
But it's not just running power, the unit has numerous other new features – including claims of being the lightest GPS watch in the world (29g), a new night workout mode, new training plans, longer battery life (always been COROS's secret sauce), and plenty more.
I've been testing the COROS Pace 2 since mid-summer across a variety of terrain and I'm just about ready to publish an in-depth review (probably as soon as next week). However, until then, here's a quick look at everything that's new.
What's New: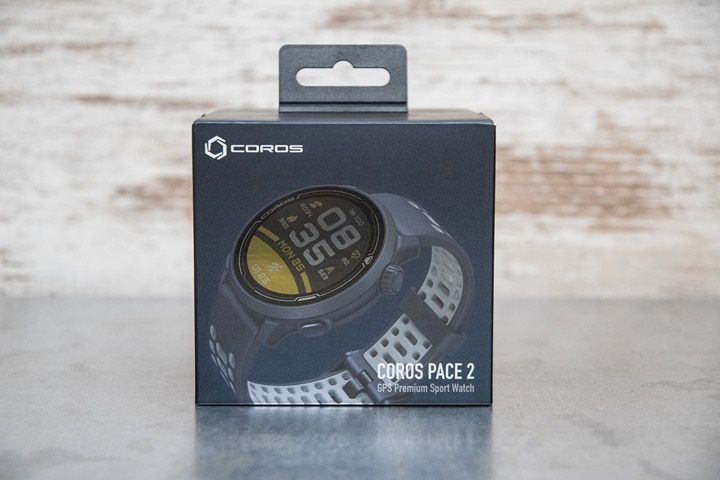 The COROS Pace 2 carries with it almost every feature found on the company's higher-end watches, save a handful of features targeting the high mountains such as an SpO2 sensor (hardware), mountain climb mode, ski mode, and trail running mode. Though realistically, you can use running mode just fine for trail runs.
Still, the fact that a $199 watch has essentially all the same software as those higher-end watches is astonishing. And, before owners of those higher-end VERTIX, APEX, and APEX Pro units worry, yes, you're getting all the same features of the new PACE 2 via software update (in fact, even the original PACE will get wrist power, but not the other features). COROS continues to follow the general model of Apple, Wahoo (and now Hammerhead) with keeping units on essentially the same software version as long as hardware allows for it.
Here's what's new in the Pace 2 specifically:
– Addition of running power without any accessory
– Addition of Stryd running power support with all metrics
– Expanded running power platform support (metrics/integration/etc…)
– Added running power targets to structured workouts
– Addition of training plans
– New night mode for workouts: Automatically enables backlight during workouts between sunrise and sunset
– Increased battery life from 25 hours to 30 hours of GPS on-time in regular mode
– Increased battery life from 50 hours to 60 hours in UltraMax mode
– Reduced standby battery from 30 days to 20 days (but with 24×7 mode with notifications/sleep tracking/HR tracking/etc…)
– Reduced weight from 48g (Pace 1) to 29g (Pace 2)
– Claimed lightest GPS watch in the world at 29g
– Processor capabilities increased by 1.5x
– Storage capacity increased from 16MB to 64MB
– New quick release bands (previous required tools)
– Reduced from 4 buttons to digital dial + button
– Watch size decreases from 46mm to 42mm, but screen size same at 1.2"
And then here's some things that stayed the same:
– Still a full multisport watch with triathlon mode
– Still supports external sensors including ANT+ & Bluetooth Smart sensors
– Still has training plan, structured workouts
– Has magnetic compass
– Has barometric altimeter
– Water-resistance stays at 5ATM (50 meters)
Here's a look at that new nylon strap – which is what I've been wearing with it. I quite like it:
You'll notice the digital dial in there, which replaces some of the dedicated buttons. Digital dials honestly aren't my favorite thing for sports watches, and that's true here as well. I find them super finicky for changing data pages mid-run (and near-impossible while riding), and that carries through to the Pace 2 also. I'll miss the dedicated buttons of the original Pace.
Finally, there's two colors (white or dark navy) available at launch – with either the nylon or silicone band:
Ok, with that, we're going to dive straight into the main bit of newness here – the running power. All the other features already exist on higher-end COROS watches. So while I'll cover this in my final in-depth review, I wanted a standalone section for the newer running power aspects.
Running Power: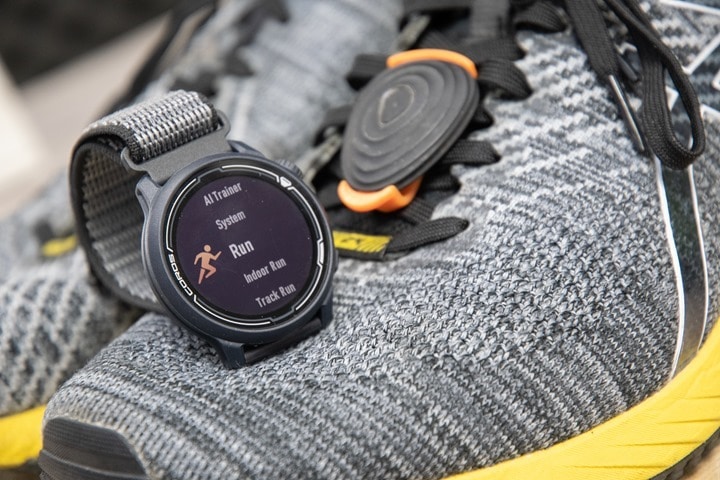 While COROS has implemented running power natively into the COROS Pace 2 (akin to what Polar did with the Polar Vantage), they've also dramatically stepped up their running power support in general, via an increased partnership with Stryd. As part of that, they now support every Stryd running metric when paired with a Stryd pod – from Form Power to Air Power, plus all the running efficiency ones like Ground Contact, L/R Balance, and more. In addition, the COROS Pod gains all but one of these metrics as well.
But if you're looking for the main metric of running power, that doesn't require any pod at all – either COROS Pod or Stryd. You can just use the watch on your wrist like a normal human and it'll give you total power as well as smoothed variants of that (based on the data fields you choose). And you can create structured workouts based on those power targets too.
Now, we'll circle back to the nuances of wrist-only vs Stryd footpod vs COROS Pod in a moment. Until then, let's look at the running power bits on an actual run. To do so, you'll want to ensure you've got the running power data fields configured/enabled on your watch, via the smartphone app. In my case, I configured them similar to how I do my cycling power, with different smoothed variants:
Randomly of note, COROS is removing the 'Running Efficiency' metric and original running power analysis from their app. The other metrics will remain the same (while it adds the new FORM Power metric when paired with either COROS or Stryd pods).
Also – if you're pairing up a Stryd pod, then you'll get to add all the Stryd data fields too, like Air Power. And if using a COROS Pod, then you'll get fields like Vertical Oscillation you can add.
And at that point, you're basically ready to run. So go ahead and choose to start a run and wait for satellite and heart rate lock. Both typically only took a few seconds.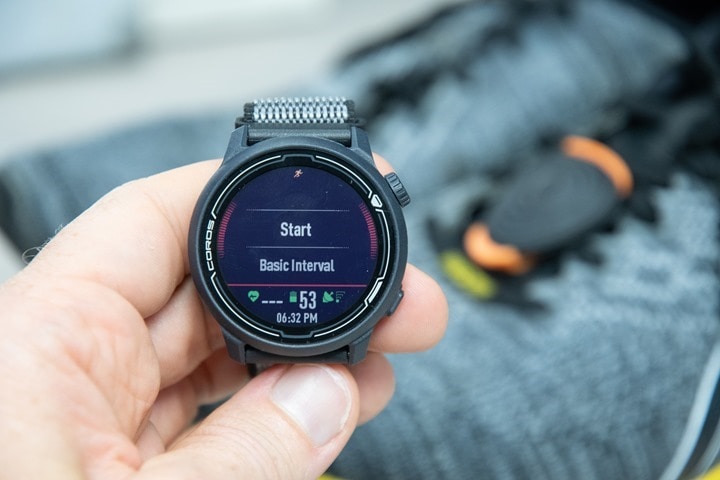 Now, start running. You'll see your running power displayed per your configurations, such as below from my run last night: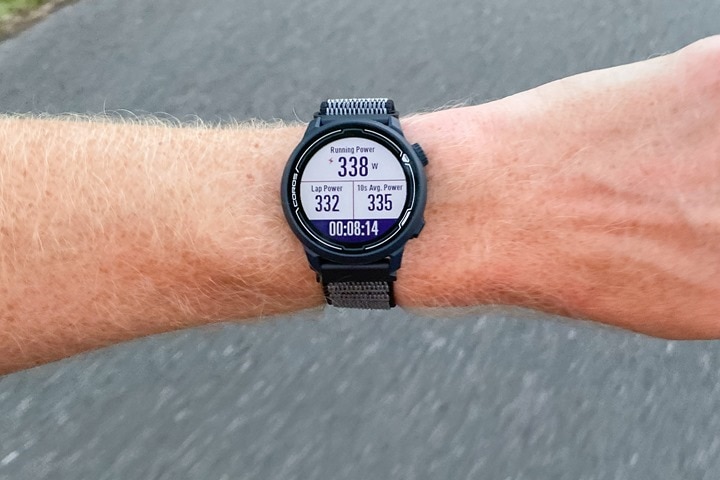 In my case though, for my recent runs I've upped the ante and brought out various comparisons, specifically the following setup:
– Left wrist: COROS Pace 2 with native wrist power
– Right wrist: Polar Grit X with native wrist power
– Foot: Stryd Air footpod for running power
– Chest Strap & Running Shorts: Garmin HRM-TRI & RD-POD for running power
So in essence, I've tracked all four across numerous runs to see how they track. And it's fascinating. The Stryd and COROS Pace units tracked near identically. Some minor differences here and there, but run after run the values shown on the displays were almost scary close.
And after the fact, the data supports that as well. Here's those four plotted from last night's run, which was steady-state for the first 5KM, and then 800m intervals for the next 5KM. The COROS and Stryd are lower down in purple/brown:

Now, as I've pointed out countless times before with running power data – this does not mean COROS & Stryd are right. It just means they agree. As with numerous other running power products on the market, this is not standard for how to measure running power. It might sound like a silly thing, but there really isn't any agreement there from scientists, let alone companies. At this point, it's mostly more about consistency within a given unit than anything else.
Garmin, Polar, RunScribe, and others tend to take a different approach to the data than Stryd (and now COROS). Usually it's noted that if you add the Stryd Form power value to the Stryd power value you get into the same ballpark as Garmin/Polar (though even that is variable). You can see this below by looking at the lowest line that hovers around 100w (Stryd Form Power):

In any event, if we look at another run I did (which includes going up/down some hills), you'll see the COROS & Stryd are again nearly identical, with the COROS data smoothed a bit more. And in fact, I generally found the COROS power data a bit slower to respond than the other units, and you can see that both above and below near some of my surges.

Note that for the image directly above here, I did have Garmin's running power enabled, but forgot to put a new battery in my RD Pod, so it dropped out constantly until it died. Whereas on my earlier run I used the HRM-TRI.
Finally, I've just added in another run – this one on a crazy windy day. Winds were sustained at 30KPH, and gusting to 50KPH. I did this on a track, which is fun for a lot of reasons. First, because the wind was consistently either head-on or tailwind (aligned to the straightaways, making it easy to spot). Second, I was doing 800's, and as you can see, my pacing is rock-on consistent. Variations in power were largely due to gusts (and probably a bit of running form change over time due to the wet surface). Note, the COROS Pace 2 was in track mode (so, still using GPS, but 'locks' to the track shape). The workout was primarily 800's, with 200's easy in between. Then some 200 sprints at the end.
First, here's all four power sources at once (Stryd Air Power, COROS Pace 2 wrist-based power, Polar Grit X power, Garmin Power via HRM-TRI), data set here:
Pretty similar to what we've seen before. Let's go ahead and remove the Garmin/Polar ones, since people most want to see/understand the implication of the wind, and Stryd's Air Power accounting for that.
Looking at the first 1600m, there's virtually no difference whatsoever. That's the warm-up session (I did a warm-up from office to track as well, so this was the on-track warm-up). Remember, each time I looped the track I'd encounter the strong headwind and the strong tailwind, plus the crosswinds at both ends.
These were roughly done at ~6:05/mile (about ~3:45/KM). Nothing crazy, was more focused on keeping them super consistent. And you can see from the speeds, they were. Here's the Stryd Power Center data from the pod showing the blue line of how stable I was:

And here's the data from the Garmin Fenix 6 showing the same stability using the GPS/wrist-based hybrid for pace (despite claims to the contrary, all major vendors use a blend of GPS + wrist-based accelerometers for smoothing pace data).

Again, wind-speed measured a few blocks away at the weather station was ~30KPH sustained, with gusts to 57KPH (I started at ~4PM).
So let's look at the 800's more closely from a power standpoint. I'd start a jog about 10-12 seconds prior to each one, arriving at the line and hitting lap at that point on-pace. Since I was jog/walking 200's in between, it meant that I was alternating whether I'd hit a headwind or a tailwind first for each set.

And what do we see above? Relative consistency, but no specific repeatable differences between them. For example, they both trend relatively similar, but also have unique differences. But those differences don't actually appear related to the wind. Here, let me show you. Below is from Stryd Power Center. On the map to the right I've illustrated the wind direction with the red arrows, and then my running direction around the track with the blue arrows. The little white splotches in the corner are where I started each set of 800m. So I'd always start on a corner, and then either hit headwind or tailwind.

Now, let me add in the grey shading of Air Power to the Stryd chart:

It's hard to see, but it's the grey under the orange bits. Here's the 2nd interval zoomed in on, as we'll use that for comparison:

So let's look at the comparison of just that interval, since there's both similarities and differences there. Note the above/below charts don't precisely match sizing. Also, my annotations aren't perfect to the second because I'm trying to match things up on the map on the track – but they illustrate the gist of it pretty well.
You see that the Stryd seems to spike slightly higher as I start the interval – logical since as I've shown above, the COROS Pace seems slightly more smoothed. Like most people, the first couple seconds I tend to start a touch bit fast and then settle in by 5-8 seconds in. As I hit the first tailwind, both units decrease correctly. And then, as I hit the first strong headwind, both units rise correctly together. So despite a Stryd Air Power factor showing 8% for this 100m section, COROS Pace 2 power matches the power perfectly. In other words, having a wind sensor made no difference there.

Then we hit the section labeled 'Side' above. In this case the two units disagreed. This end of the track is a spot that's semi-protected by a small line of trees/fencing. Stryd believes the wind here was strong at 5-7%. I'm guessing it's misreading that. It was raining outside, and perhaps the sensor hole got some droplets in there. I'm not sure, but I am sure there's no headwind there (as it correctly showed on most other laps). Also, given I was just coming off the headwind, it's unlikely I double-down on power again. If you scroll up to the Garmin/Polar power, neither show the Stryd spike there.
Anyways, onto tailwind section #2, and both are the same. And then into headwind section #2, both rise up, with the COROS actually rising higher a little bit (Stryd reported a wind factor of 8% again for that portion).  Following which you see the Stryd power cut-out quicker than COROS, which takes a few more seconds after I stop to cut-out (again, the smoothing I discussed earlier).
This cycle repeats essentially the same for all of these sets. The exact variations differ, but it seems pretty darn clear there's no meaningful difference in these from an on the run pacing standpoint. Like most running power products, they both are somewhat variable in the actual values second to second.
So what about the 200m sprints? Ask and you shall receive. In this case, I started all of them in the same spot – which was with a sidewind followed by a tailwind. Then 200 easy in between. You can see some moderate variance, namely after the first interval.

You see the slight bit of delay on the COROS Pace 2 power values for Interval #1, though Intervals #2/3 are only about a second behind. Interval #4 (which I ran the fastest of them across the entire interval) was virtually identical in responsiveness. Meaning, COROS appears to smooth less when the change is more sprint-like (whereas an easy roll into an interval means it smooths more).
On intervals #2/3 Stryd spikes quite high above COROS towards the first 1/3rd of each interval. I was curious if Garmin/Polar also did this, and they do to an extent – Garmin more so than Polar (relative to the baseline for the rest of the interval). I'm not really sure what to make of that. And honestly, I'm also not really sure who (if anyone) is using power to pace 200m intervals, as realistically time/pace is a better indicator there given the variability of power over such a short timeframe.

Ultimately, what my windy day at the track showed me is that there was no obvious (or even non-obvious) benefit to an air pressure sensor over what COROS has come up with. In the handful of times they differed (such as on one of the curves) – I don't think the Stryd was correct there anyway. And then inversely, in the case of the 200m sprints, I don't think the air pressure sensor specifically was a notable factor, rather, the fact that algorithms are accounting for accelerations differently.
Now, for comparison COROS put together a pretty detailed chart comparing the different options. I then layered in a few more line items, and added the Polar units to it as well.  I will point out I appreciate that over the years COROS is always astonishingly accurate in their competitor comparison charts, they don't tend to be heavily skewed towards them (nor omitting competitors' features). In other words, I rarely have to take out the red marker and make corrections to it.
Ultimately at this point I'd have a really hard time with digesting why I'd need/want another pod. Sure, there's more metrics to be found – but I feel like with as many years down the road we are on the running power journey, there *still* isn't clear guidance for using those other metrics to train or race faster. At least from a purely metric-driven standpoint.
Stryd has other aspects of their platform that would drive adoption, like their race power calculator platform and sync process, which allows you to put in the course for your race and it basically spits out a running-power driven race plan. That's cool.
Or their entire Stryd Power Center dashboard, which allows you to do more detailed analysis of your runs from a running power standpoint.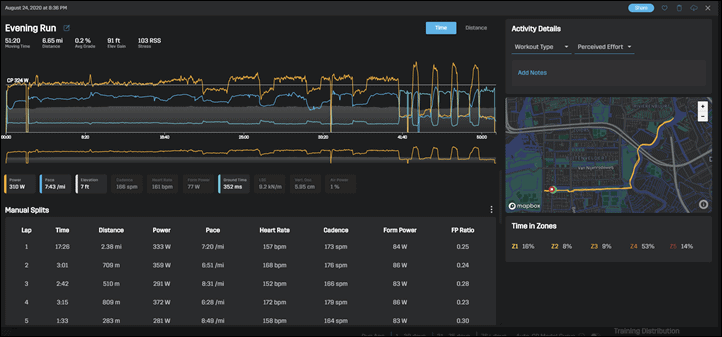 But realistically, most people are going to stay watch-based when it comes to power. Meaning, they probably aren't going back to the Stryd dashboard every day, aside from casual looks. It is notable that upon launch you'll be able to pair a COROS & Stryd account together on the back-end.
In fact, as I got to this point in the post I started to wonder if COROS bought a financial interest in Stryd, or acquired them. Because frankly there's no logical reason why Stryd would agree to all this, as at this point there's very little reason for most people to buy a $219USD Stryd sensor if you've got a COROS watch.
So…I asked.
And COROS says that they do not have any financial interest/stake in Stryd. Further, they said that all of the wrist-based running power work they did was entirely by themselves, as Stryd wasn't even aware of the wrist-based running power coming to COROS units until the day of the dry run broadcast presentation with COROS.  COROS says that the two companies are both smaller, and the synergies of ensuring both products worked well together was the main driver for increased Stryd integration.
Speaking of that integration, if you do decide to add a Stryd pod, you'll find some handy features. First off though, add it through the ANT+ sensors menu like normal, except you'll see Stryd listed once it finds it:
The first thing it'll ask after you select it is for your critical power, which you can find via Stryd's app/site:
By having this data, you'll get correct Stryd power zones natively on the COROS watch – which is a huge deal in terms of how it compares to other competitors. While you can download the Stryd Zones app for a Garmin device via Garmin Connect IQ, this just does it natively.
Next, there are also two additional settings. The first is the ability to change the distance setting to toggle between Stryd and GPS:
And then the second is the calibration factor, which you can adjust as well: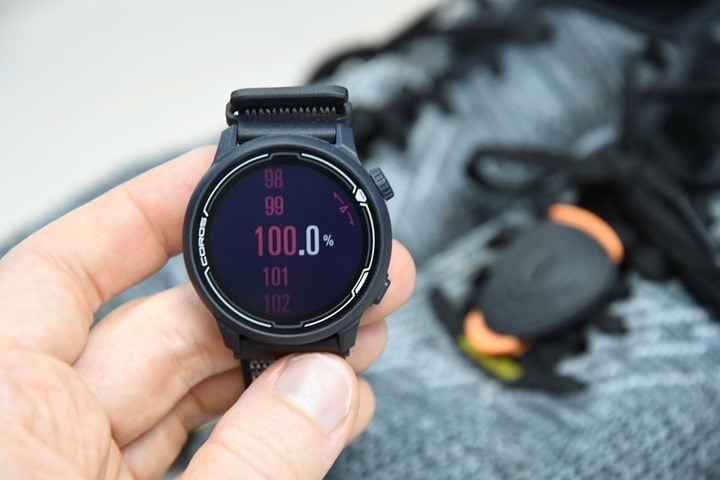 Again, these just re-enforce that if you have a COROS watch and Stryd, you've got a pretty powerful setup.
However, the flip side is that for most people, unless you really really really want Leg Spring Stiffness and Air Power (which, you probably don't), or some of the Stryd platform bits – I think there's very little value to picking up a Stryd sensor for use with a COROS watch. Especially given how impressively close the two values are.
And again, remember, all this running power goodness comes to all existing COROS watches, so if you've got a Stryd already (or if you've got nothing) – then you're in luck!
Training Plans: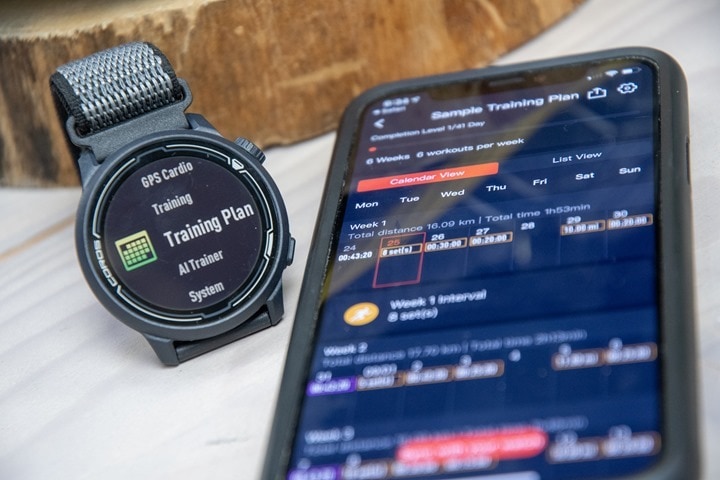 Aside from running power, the other major new feature on the COROS Pace (and again, to other COROS devices now too) is the Training Plan/Calendar feature. This allows you to not only create training plans, but also share them too – even with something as simple as a QR code.
To begin you'll go into the settings of your watch and select training plan. As with the structured/gym workout functionality, this particular placement is a bit wonky because it *requires* you be in range of your watch and your watch be powered on (and Bluetooth happy with your phone). This means its not something a non-COROS user can do.
In any case, hit 'Add Plan', followed by 'Create Plan'. Note though that if someone sent you the URL for the plan (or QR code or pigeon messenger or whatever), then you can simply tap that instead to open up their plan. More on that in a second.
Once you've got a plan created you can add either previously created structured workouts (such as step by step targets, like I showed in the running power section) for running, cycling, swimming, and weightlifting/core/gym. I showed the power of the gym workouts previously here. You can essentially add one of those complex step-by-step workouts, or, you can add a simplistic workout, such as below with a target of 50KM for the ride and a given intensity level. Same goes for a run.
Whereas if you choose from your workout library, then you get far more detailed step by step options.
This is all in the pursuit of adding workouts to a week by week baseline, but not necessarily a given date. See, with the training plan the goal is about making this distributable, rather than personal to you. So you're aligning things to days of the week and week #'s, but the exact start date will vary based on what you choose later.
Also, now is later. Once you've added a pile of workouts to your plan you can go ahead and save it, and then set the start date. After which, you'll sync it to the watch:
Once on the watch you'll go to start a new sport, but instead choose the Training Plan menu:
Then the date, and then the planned workout:
After that it's just like before with structured workouts: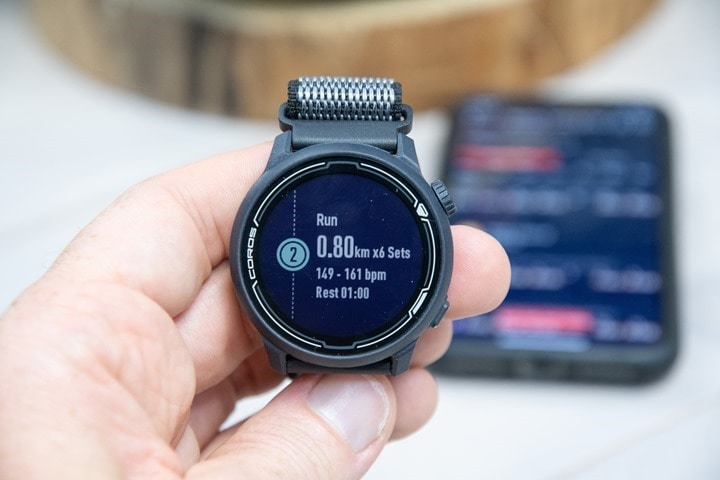 While some companies do allow multiple training programs to run concurrently, COROS does not, only one at a time (frankly, it never ends up well doing multiple anyway). So you can remove a plan if you want via the app.
That in turn allows you to add in other plans from someone else by just scanning the QR code, or, if they e-mailed you the plan URL, that'll work too.  For example, you can see below me loading up someone else's plan, and then adding it to my calendar:
All of this works pretty well, though is occasionally a bit clunky – primarily due to the modal nature of requiring not just your watch, but your watch not be in any active menus (and also be connected). Essentially the same quirks I saw this past spring where a bit more polish would help here. Also, it doesn't import/account for plans from TrainingPeaks or other sources, so that makes it less appealing for now.
Still – I really like the changeability aspect of it, that's something that's fairly hard to do with your own plans and friends. Or just creating a simplistic plan for a family friend.
GPS & Heart Rate Accuracy: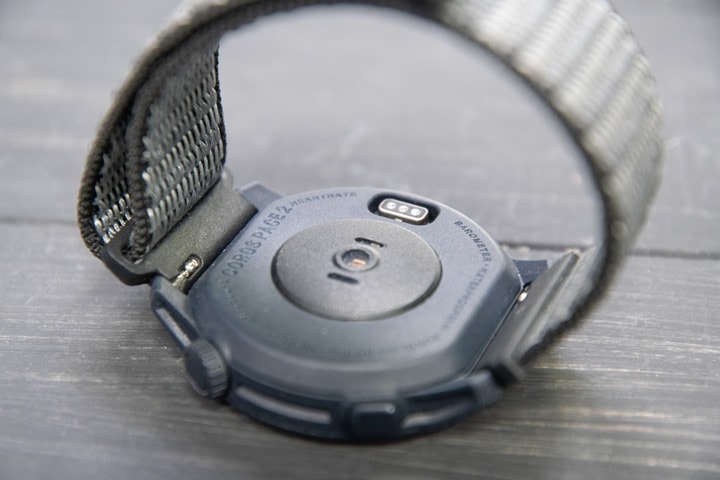 I've got runs and rides stretching back into July on the COROS Pace 2, and overall, it's pretty impressive. Not perfect mind you, but pretty good. In this section I'll take a look at both the heart rate and GPS accuracy compared to other units on the same workout.
So let's dive right into it, starting with last night's run (and then working backwards from there). This run was a simplistic 10KM, but split into two pieces. The first part I was feeling lazy, so just ran nice and steady Z2. But then the second part I was feeling frisky and did 800m interval repeats. Starting with the GPS track, here's what that looked like on this out and back route. Oh, and this is compared against a Polar Grit X, iPhone 11 Pro, and Garmin Fenix 6 Pro. Basically, all higher-end units.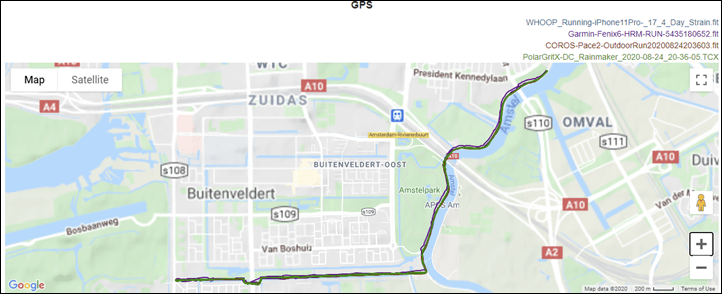 So at a high level, it's hard to tell. You can see some purple spots peeking out from the Garmin Fenix 6, but the others look pretty close. So let's zoom in a bunch. Here you can clearly see that the Garmin Fenix 6 struggles quite a bit after going under this bridge, completely losing the plot and also being a bit offset. The other units are virtually identical on the same path:

Now, technically speaking on last night's run my Fenix 6 Pro was running a public beta firmware version (including public beta GPS firmware). So I suppose that could be a factor, though honestly I kinda doubt it. Who knows. Basically anytime I made a turn, the Garmin doubled or tripled down on it:

But what's important here is that the COROS Pace 2 was rock-steady in its GPS track – easily nailing it, even under massive highways and train tracks like this here:

So, what about the heart rate side of things? After all, this was an interval workout (kinda), so, here's that:

As you can see, the COROS pace in brown gets off to a rather brown crappy start, for the first 6 or so minutes it's horribly off. Heck, even the Whoop 3.0 strap was more accurate, and that takes talent.
However, around the 6-7 minute marker it decided to wake-up and start tracking correctly. Shortly after that the Polar Grit X did its usual HR spike thing. Apparently it was feeling left out in the inaccurate game. But, let's fast forward to the intervals to see how it handled:

As you can see, the Garmin HRM-TRI chest strap responded most quickly (in purple) to the changes, while the Polar and COROS Watches followed the trendline fairly quickly behind it, matching pretty darn closely minus a few Polar quirks. The Whoop strap did what Whoop does best during intervals: Act confused and hide low. I seriously need to start/finish my video on it so I can stop spending money monthly on it. Heck, I'm sure Whoop probably wants that too by now.
Meanwhile, I did four short 30-seconds sprints towards the end of the run. Pretty similar pattern here, with the Garmin chest strap leading the way on responsiveness, but the COROS and Polar optical HR sensors following behind relatively quickly. The only exception though was the 3rd sprint, where the COROS completely missed the boat (similar to the beginning of the run), and basically just flat-lined. The Whoop wasn't horrendous, but wasn't great either.

While the majority of the hard parts of the run were good, there was that initial lock issue that was kinda odd.
Here's another run, this one around the forests south of Amsterdam. There's some solid trees in here, and dense foliage. First, here's the high level: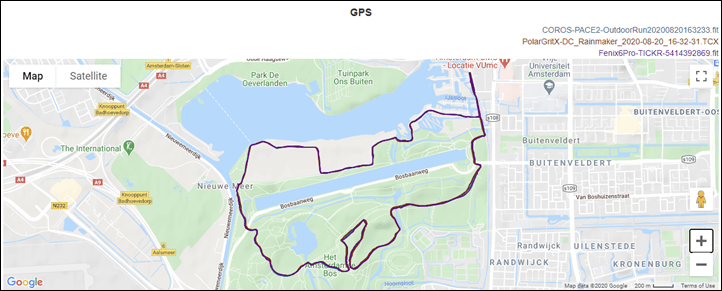 You can see here I am under the trees, and things are pretty much identically the same between the units. The Grit X seems to swing wide a bit more frequently, but the Garmin and COROS units are virtually in lock-step throughout this run.

And then in this more open field area, all the units are basically glued together:

Same goes for other aspects of the run. Frankly, this run was super boring in that everyone agreed:

Speaking of agreement, here's the heart rate graph from this run. It's comparing the COROS Pace 2 against the Polar Grit X, and then a TICKR X HR strap. As you can see, it near perfectly agrees with the TICKR X, save a bit of slowness at the beginning in the first 90 seconds, where you see that delay.

But after that point, it's like the two are buddies the entire time. As for the Polar Grit X? More of the usual optical HR spikes that I've consistently seen from it.
So what about elevation changes? Well, I don't have much elevation around me here in Amsterdam, but I did last month in France. So let's look at a run from back then – this one showing the changes over the route. The starting elevation points of roughly 5-6m are correct, rather than the Grit X assumption of 40m+. Beyond that it's hard to say which unit was correct between the Garmin and COROS, they were mostly within a couple meters at all times, with the Garmin appearing slightly more smooth (I didn't stop), while the COROS appears a bit more blocky going up/down.

But I think most people would find that level of closeness pretty acceptable (between the Garmin/COROS units). Again, I don't have a ton of travel planned right now, given the world situation, so my elevation testing is semi-limited.
And as for the heart rate tracking on that run?

Basically they were pretty close, but the Garmin was a bit more variable in a few locations – notably around the 3:45 marker, which was kinda odd. But from a COROS standpoint it basically mirrored the Wahoo TICKR X.
So ultimately things seem about what I expect for a generally good optical HR sensor. A few stumbles here and there, but when push comes to shove the COROS Pace 2 seems to handle most situations fairly well. And usually if/when it goes wrong, it's super clear it went wrong (like at the start of the workout).
As for GPS accuracy, it's really spot-on. Super good. And that's also what I tend to see from COROS lately. While COROS, Garmin, Suunto, and Polar are all using virtually the same GPS chipset, that doesn't mean they have the same chipset firmware nor does it mean they have the same watch firmware to decide how to handle GPS quirks. Thus why you see differences play out in unique ways.
(Note: All of the charts in these accuracy sections were created using the DCR Analyzer tool.  It allows you to compare power meters/trainers, heart rate, cadence, speed/pace, GPS tracks, and plenty more. You can use it as well, more details here.)
Wrap-Up: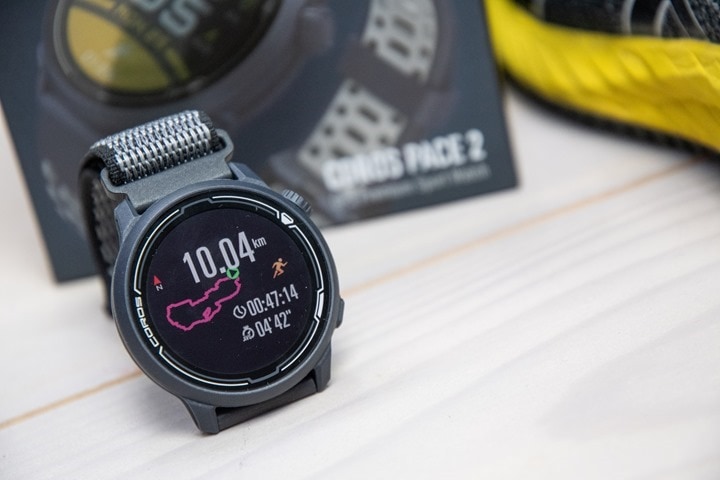 There's no question about it – the COROS Pace 2 is by far the best GPS sports watch for the money out there, especially on the multisport side. Nothing comes close at the $199 price point. Namely because nobody else really makes something in that price range, short of buying discontinued older products.
But the kicker here is that the COROS Pace 2 competes well with most of the $299-$399 multisport offerings from Suunto and Polar, as well as Garmin's previous generation units. It's harder to compare against the newer Garmin units because then you're having to factor in the higher Garmin price, but that accounts for non-sports things like music, contactless payments, etc… Plus of course the piles of sports features you may or may not ever use.
Where COROS lags continues to be the smartphone app. It just lacks the overall polish and usability of the Garmin/Suunto/Polar, and of course COROS doesn't have a web platform either. But if you don't tend to use those and instead sync to Strava or TrainingPeaks, you'll likely never notice. The data goes from your watch straight to those platforms, quietly behind the scenes via COROS App smartphone sync.
Ultimately, the big ticket item here is running power. While I don't think this move by itself will substantially change the course of whether running power as a concept will find mainstream adoption, I do think it might spur on others (cough, Garmin) to just integrate it straight into the wrist like Polar (and now COROS) have done. Until that happens, I don't think we're going to see mainstream adoption. And until then, COROS will now easily hold the title of the best watch with fully native support for running power. Oh, and again – all at just $199.
With that – thanks for reading!

Found This Post Useful? Support The Site!
Hopefully you found this review useful. At the end of the day, I'm an athlete just like you looking for the most detail possible on a new purchase – so my review is written from the standpoint of how I used the device. The reviews generally take a lot of hours to put together, so it's a fair bit of work (and labor of love). As you probably noticed by looking below, I also take time to answer all the questions posted in the comments – and there's quite a bit of detail in there as well.
If you're shopping for the COROS Pace 2 or any other accessory items, please consider using the affiliate links below! As an Amazon Associate I earn from qualifying purchases. It doesn't cost you anything extra, but your purchases help support this website a lot. Even more, if you shop with TPC (The Pro's Closet), you'll save $40 on purchases over $200 with coupon code DCRAIN40! The Pro's Closet has been a long-time partner of the site here - including sponsoring videos like my cargo bike race, as well as just being an awesome Colorado-based company full of good humans. Check them out with the links below and the DCRAIN40 coupon!
And finally, here's a handy list of accessories that work well with this unit (and some that I showed in the review). Given the unit pairs with ANT+ & Bluetooth Smart sensors, you can use just about anything though.
And of course – you can always sign-up to be a DCR Supporter! That gets you an ad-free DCR, access to the DCR Quarantine Corner video series packed with behind the scenes tidbits...and it also makes you awesome. And being awesome is what it's all about!
Thanks for reading! And as always, feel free to post comments or questions in the comments section below, I'll be happy to try and answer them as quickly as possible. And lastly, if you felt this review was useful – I always appreciate feedback in the comments below. Thanks!