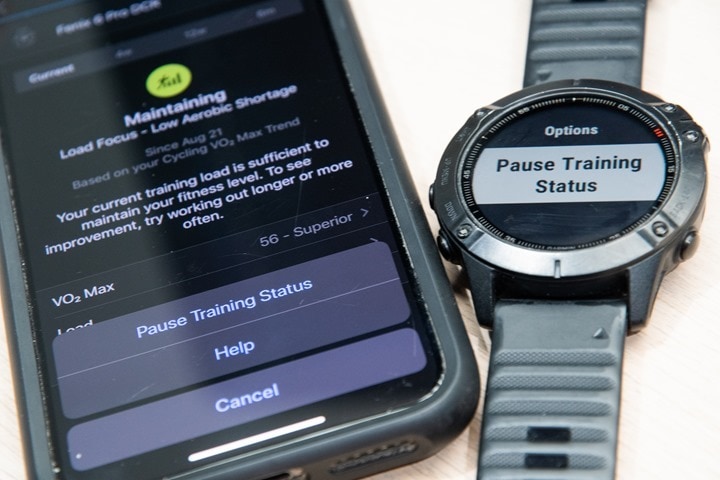 Here's an interesting one for you – Garmin has announced today the ability for you to 'pause' your training status on newer devices. Training status would be bits like the watch telling you that you're overtraining or undertraining, or just being lazy (roughly). This is useful if you go on vacation, get injured/sick, finish your season, become pregnant, or simply want the watch to stop bugging you about your newfound focus on eating tacos over running miles.  And while that's interesting by itself, what's honestly more interesting is *how* Garmin is pulling this off.
See, this feature lights up today, at 7AM US Eastern Time (the same moment as this post). And when it does so, the option will magically become visible on your watch or Edge bike computer (assuming said device is in the magic list). A menu item that wasn't visible yesterday, will now be visible today. And it's really the first time that I can find that Garmin has done this in a large coordinated manner across multiple product lines, with two-way sync via toggles also on smartphones and web, all timed to a specific date/time.
While companies like Fitbit have pulled off this type of thing for years, it's actually super rare in the sports tech world to have firmware features light-up based on a server-side trigger.  In any case, more on that in a minute, let's look at how it works.
How to enable: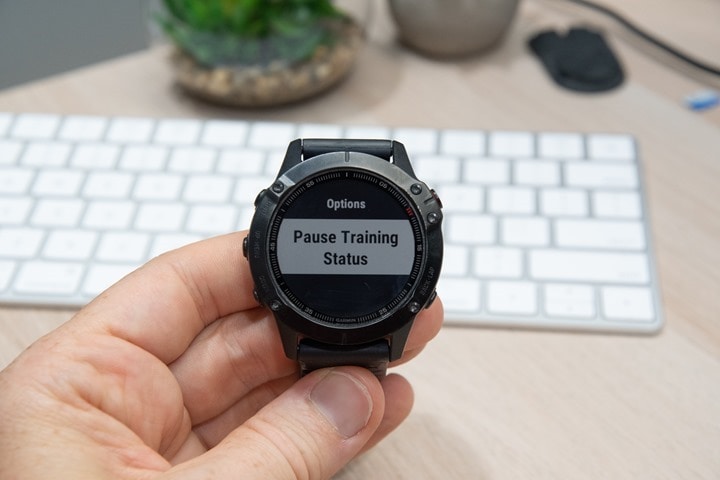 Before we talk about the actual pausing, let's talk about what pausing does. First, it does *NOT* turn off tracking of it. Rather, it just tells Garmin to shut-up telling you about it. It's basically pressing the mute button. And when you press that mute button, the following things occur:
– Training Load Focus isn't shown
– Optimal Training Load ranges aren't shown
– Daily suggested workouts aren't shown anymore (Edge 1030 Plus)
– Training feedback phrases aren't shown for VO2Max changes
– Training feedback phrases aren't shown for Fitness Trends
– Training feedback phrases aren't shown for 7-day load
– Training feedback phrases aren't shown for Recovery Time
But again, those things are still tracked. In fact, you'll still get recovery time estimates, 7-day load, and VO2Max values. You'll just need to dive into the menu to get them.
In terms of which devices the pause supports, it's basically the newer ones. Or more specifically, the newer ones that tend to show training status and training load focus. Specifically the Forerunner 245/245 Music, Forerunner 945, Edge 530, Edge 830, Edge 1030, Edge 1030 Plus, Fenix 6 Series, MARQ Series.
Now, there's three ways to toggle this:
A) On your watch or Edge unit itself
B) On Garmin Connect Mobile smartphone app
C) On Garmin Connect website
In other words, this is one of the rare times you can make a change in any of those three locations and in theory it'll correctly sync to all the other locations. In theory.
Also, I don't have an exact firmware version required list for all the devices above – but my understanding is 'anything somewhat recent' seems to qualify. On the Garmin Connect Mobile app, same applies too. Try not to be on anything stinky old.
[Preemptive note: If you don't see any of the below immediately, ensuring your smartphone app is up to date, perhaps try opening/closing Garmin Connect Mobile, and perhaps try syncing your watch once. My post is publishing at the exact moment this goes live – so it may take some time to filter out to everyone.]
Anyways, on a watch, here's how you do it. First, scroll down to the Training Status widget. If you disabled that, then you can either add it – or just use the smartphone/web option. Then open up that widget:
Next, hold the middle left menu button for a few seconds, and it'll open up a new 'Training Status Options' menu option. Should being the operative word. How the timing of all this works is something I'm interested in seeing. But give it a whirl. And again, failing that there's always GCM to trigger it.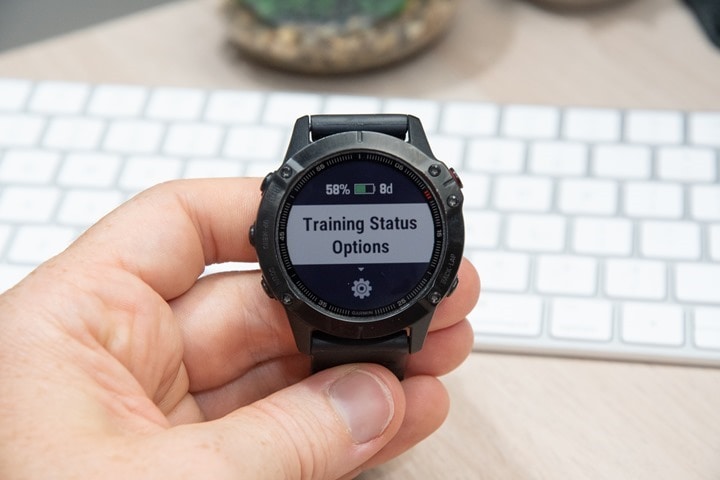 Crack that open and you'll find the 'Pause Training Status' option. Simply press enter again.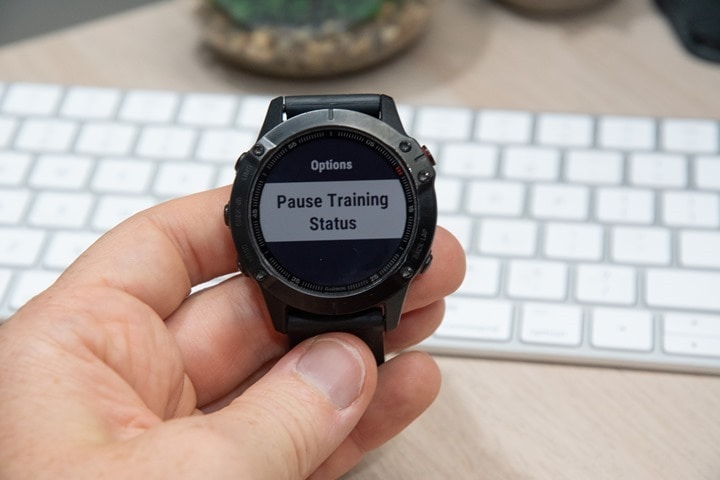 That'll tell you that it's going to stop nagging you about your newfound taco-eating sans-running plan, and that you can re-enable it later.
Once you've done that, you'll see the Training Status showing as 'Paused' in the widget roll: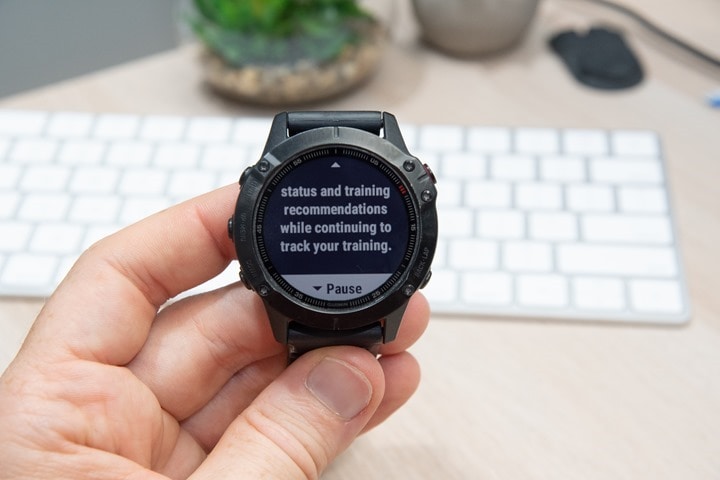 And if you crack it open, it'll show paused, but will show your 7-day load – but gone are the arrows on if your load is going up/down, as well as messages like Productive/Maintaining/Unproductive (scroll back up to see what it looked like).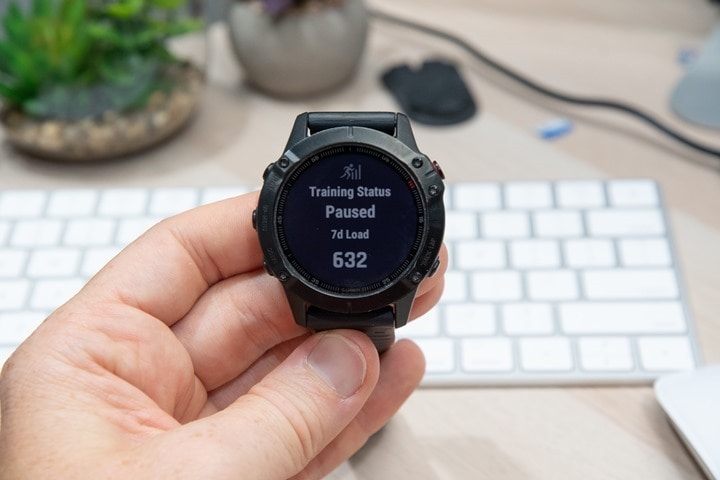 You can still though scroll down and see all your VO2Max stats, Load Total, Recovery hours, and acclimation (heat/elevation), but not the Training Load Focus and suggestions there.
To resume it, simply hold the 'Training Status Options' menu again, and hit Resume. It immediately takes the covers off and shows you what it thinks of your current life situation: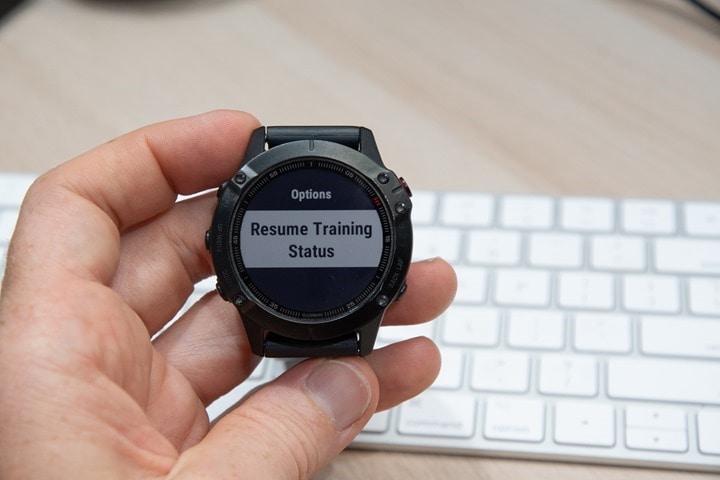 The same option is on the Edge devices. Go to My Stats > Training Status > Then press or enter the main section where it shows the training status, after you open that up you'll see the Hamburger Menu option > Pause Training Status:
And over on Garmin Connect Mobile (iOS/Android) you can get there via the Menu option, then Performance Status > Training Status, and selecting Pause Training Status. Note that Garmin is smart enough here that they *will not show you this option* if your device firmware isn't on a current enough version to support this feature. But they did say that the vast majority of people have updates enabled to automatically install overnight on the devices supported here.
[Pro Tip: I discovered a few minutes ago that the latest Fenix 6 public beta firmware isn't showing as one of the recognized firmware levels, so while it'll work on-device, it won't 'stick' on GCM. My guess is Garmin will probably add the 11.10 firmware to the compatible list about 5 seconds after seeing this post.]
Notable is that it tells me that my older devices that support elements of training status aren't going to follow this. Meaning, my Fenix 5 series device won't get this message, and then a Fenix 6 Pro shown below that's on a much older firmware won't get it either (because I don't have that unit and need to delete it). Once paused it'll show paused.
And just like before you can hit 'Resume Training Status' to start tracking again.
And finally, on Garmin Connect itself it's shown there too. Select reports from the menu, then 'Training Status', then the settings icon on the right and choose 'Pause Training Status'.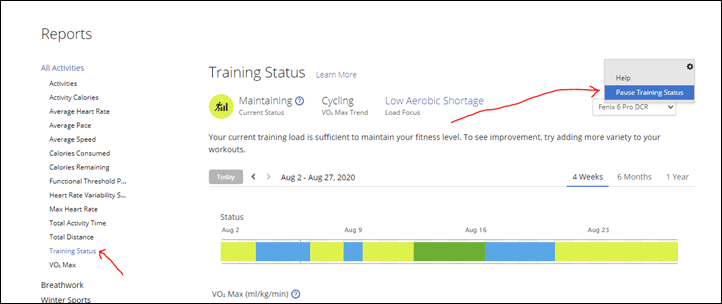 Got all that? Good.
Wrap-Up: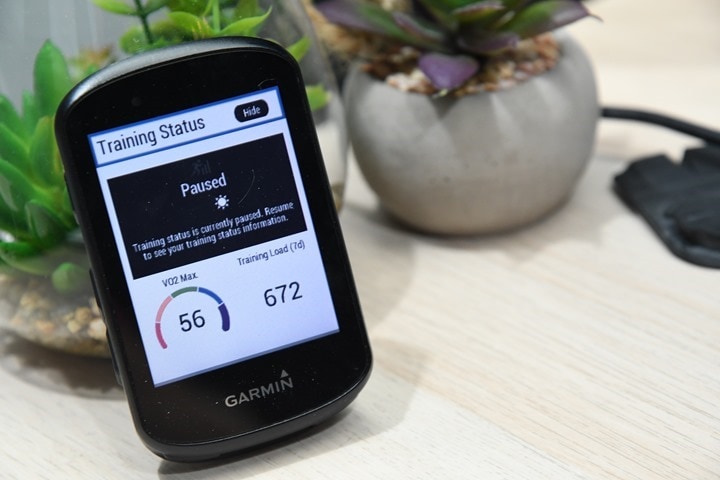 Now to me the fact that this all happens in theory in concert across eight core model types (and nearly 20 variants when you include the umpteen variations of Fenix 6 and MARQ units) – is cool. And more impressive, the fact that they're toggling this magically behind the scenes globally for what is probably a million+ users. The trigger on Garmin Connect/Garmin Connect Mobile should enable this in firmware on your watch upon the next sync, allowing you to see the option on your watch.
As I said before, I'm reasonably sure this is the first time Garmin has enabled a dormant feature based on Garmin Connect toggling looking at whether the software is up to date enough. I asked Garmin whether this was a first, and they weren't 100% sure either. They noted a few times in the past where pieces of this were used, such as the Garmin Forerunner 45 activity profile enablement. But this might be the first time a two-way sync type enablement has occurred. Either way, I think it's notable. And apparently so does Garmin, since they actually prepared a press release for it. But hey, in COVID times, the pickins are slim.
Which makes ya kind wonder – what other hidden features are sitting on our wrists ready to be enabled once the timing is right? I can only assume there's a 'Skip ahead' option that gets 2020 over with.
With that – thanks for reading!