The Week in Review is a collection of both all the goodness I've written during the past week around the internet, as well as a small pile of links I found interesting – generally endurance sports related. I've often wondered what to do with all of the coolness that people write, and while I share a lot of it on Twitter and Facebook, this is a better forum for sending it on to y'all. Most times these different streams don't overlap, so be on the lookout at all these places for good stuff!
So with that, let's get into the action!
DCRAINMAKER.COM Posts in the Past Week:
Here's all the goodness that ended up on the main page this past week:
Sunday: Week in Review–May 19th, 2019
Monday: 5 Random Things I Did This Weekend
Tuesday:  Suunto 5: Everything You Need to Know & First Runs
Friday: Quick App Reviews: Footpath Route Planner (iOS)
I had three slated posts slide due to last minute tweaks from companies. So…you'll likely see the fruit of those labors this week instead. Welcome to my world.
Huge Deals Ending Soon!:
The big sports technology 20% off sale ends Monday, tomorrow!. If you haven't seen the huge post, here's the gist of it (also note: Garmin Vector 3 and 3S has now been added to the list since it launched!):
– 20% off any trainer and most power meters
– 20% off boatloads of other non-sports tech products (like running shoes, Oakley helmets, etc…)
– 30% off most Suunto watches – including Suunto 9
– 20% off all Polar watches (including Polar Vantage series)
– $150 off the Garmin Fenix 5 Plus Series (5S/5/5X Plus)
– $50 off the Garmin inReach Mini (satellite communicator)
– $70 off the Garmin Edge 520 Plus (down to $209!)
– 20% off Saris & CycleOps (trainers and racks)
– $50 off the GoPro Hero 7 Black (down to $349) – this one just on Amazon
Hit up the full list of products and product ideas in the post, including a giant table of them!
And finally below – this one is still around too!
Apple Watch Series 4 – $50 off: This is one of the first times we've seen a sale on the Apple Watch Series 4. While there have been plenty of Series 3 sales (often down to $199), the Series 4 has remained elusively full-priced. Apple typically announces new models in the September timeframe, so I don't expect anything anytime soon.  [Full in-depth review here]
All of these help support the site as well – enjoy!
FIT File Podcast This Week: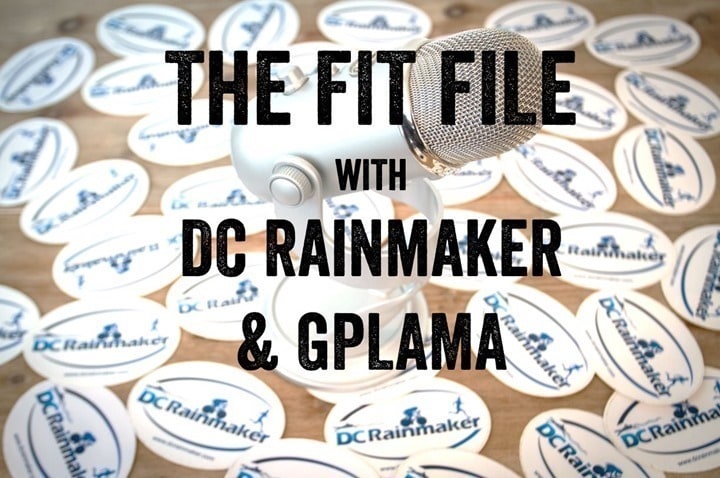 Episode 76 of the podcast is not yet up, though…is recorded.
[We're waiting on confirmation of one thing before we publish – also tied to why one post above didn't publish yet. Hoping it happens soon. Hang tight!]
Listen here, or four options for where to find the podcast:
A) iTunes: If you've got an Apple device, we're there!
B) Google Play Music: Yup, we're here too (and on Google Podcasts app)
C) Spotify: Of course we're on Spotify now – you can even cache it on your wearable too!
D) RSS Feed: Follow along using the direct RSS feed
YouTube Videos This Past Week:
Here's what hit the tubes over on the You of Tube, definitely don't forget to subscribe there to get notified of videos the second they hit!
Stuff that I found interesting around the interwebs:
Here's a not-so-small smattering of all the random things that I stumbled on while doing my civic duty to find the end of the Internet (and in this case, some of these are from the past two weeks…as my backlog is a bit longer):
1) American Airlines removes bike bag fee: Technically you still have to pay the usual suitcase fee, but you no longer have to pay the crazy bike fee. Your move United…your move.
2) CrossFit leaves Facebook & Instagram In a Rage: There are really endless funny comments on that post, it's worth the scroll down. I could add more funnies, but I'll probably upset someone. So, those funnies are worth it.
3) My FirstBeat HRV Summit 2019 Presentation: Also, you'll find some photos and a short interview and other people's presentations. Frankly, the other people's presentations are where the gold is.
4) Google Glass is Back! Though, only for the enterprise. No surprise there, the tech just hasn't found its place yet in the consumer realm. Yes, I know there are companies that have introduced this tech, and yes, I've tried them all. Just isn't ready yet. Be it consumer acceptance or the limitations – too many tradeoffs over other formats. Industrial/enterprise use? Absolutely ready.
5) Making your own gold Apple Watch: Well, that's one way of doing it.
6) Danny Daycare: Countless numbers of you sent this in. Pfft…try it with a cargo bike. 😉
7) Samsung brings Galaxy Watch Active features to older watches: Good to see the company backporting those. Now, if only they'd spend some time on HR accuracy or file exports/partners.
8) Hong Kong Maids Running Ultramarathons: This is cool, super cool (well, the running part, less so the circumstances around some working conditions).
9) Apple acquires asthma monitoring company: Yet another egg in Apple's medical-focused acquisition basket. I'm sure someone has tracked these all somewhere, but the number of health/wellness/medical/etc type companies Apple has acquired will certainly make for an interesting future in the wearables world.
Sports Technology Software/Firmware Updates This Week:
Each week I quickly highlight some of the new firmware, app, software, and website service updates that I see go out. If you're a sports technology company and release an update – shoot me a quick note (just one-liners are perfect, or Tweet it at me is even better) and I'll make mention of it here. If I don't know about it, I won't be able to post about it. Sound good?  Oh – and if you want to get a head start on things, this page is a great resource for watching Garmin and a few other firmware updates.
Garmin Forerunner 45 Firmware Update: A pile of bug fixes
Garmin Edge 520 BETA firmware update: Interesting. Beta firmware update that adds a filter to eliminate power meter spikes coming from a sensor, presumably above a certain non-human threshold (i.e. to get rid of 3,500w spikes)
—
Thanks for reading!