(Preemptive note/reminder: The 20% off trainers/power meters/etc sale ends later today. While mostly targeted at the US, it's certainly not limited there. In any case, hit up the link for all the details. Also, note that I've added a bunch of new items that are on sale that weren't previously there when that post was first published 10 days ago.)
For the first time in a long time, it was a somewhat relaxing weekend around these parts. No major product reviews slated in the coming days that I was crunching to get ready for, or massive international travel or such. Just spring, that's it. With that, here's what I was up to.
1) Built a GPS battery testing 'system'
In an ideal world I'd own a giant plot of land in the middle of nowhere and be able to setup something akin to a miniature chairlift cable system that drags watches through the woods on a cable to test GPS battery life – swinging them as it goes.
But that isn't my reality.
Instead, I bought a $30 turntable on Amazon. Here's roughly its intended purpose. I accidentally bought a really small one. Though it's not a big deal because the allowable weight load is super high (25KG/40lbs), so I can just affix a larger plate to the top of it.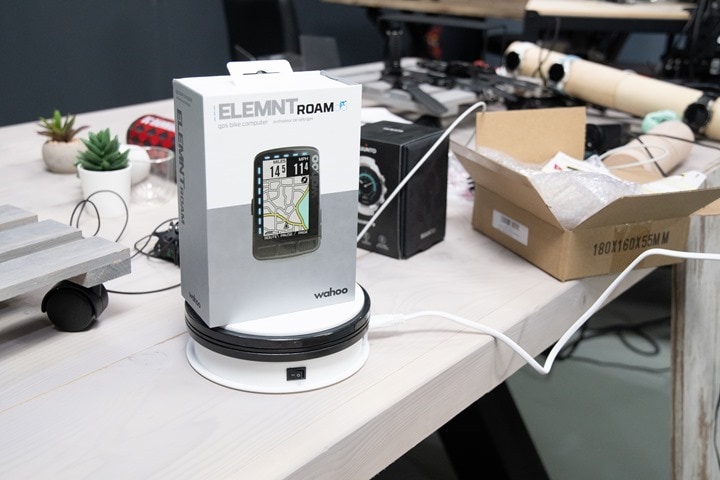 and then used the cardboard box it came in to create bumpers. After which I tilted it up on it's side, added a flipper flap, and then added a bit more black duct tape.
Here's a video of it doing its thing:
V0.1 of the totally stupid looking battery life test 'system' (where system is defined as cardboard, duct tape, toy police car and an oddly small turntable). Four hours into test and seems to pass, keeps units moving and shaking. Full test till battery death after ride tomorrow. pic.twitter.com/B2wsxanINU

— Ray Maker (@dcrainmakerblog) May 24, 2019
Note there are two specific goals this device is doing:
A) Constantly changing position of unit
B) Constantly shaking/vibrating the unit (so sensors and GPS bits don't go into lower power modes)
In addition, there's an ANT+ simulator running on a laptop nearby sending out power meter and HR strap data, simulating sensor connectivity.
However, after some Twitter interactions this weekend, I'm re-thinking things a bit. Someone had suggested a helium balloon, and then an oscillating fan pointed at it, to trigger movement. But I think I can tweak that idea. Instead of a balloon I can simply string up the devices on a clothesline, with one side of the clothes-line connected to the rotating turntable, providing a bit of extra movement. Given the wind is near constant in the Netherlands, the units will probably move more than enough as it is. This has the advantage of being easier to waterproof than the turntable, which is very much not waterproof. More to come (still).
2) Using wearable maps to avoid civilization
Like many people, I end up running many of my same routes over and over again – despite there often being plenty of potential for variety. So on my casual lunch-time run I went ahead and mixed it up some. Not some crazy amount, but just enough to keep things interesting. I started off as I often do, heading into the Bos along the water/lake, and eventually past the fuzzy cows.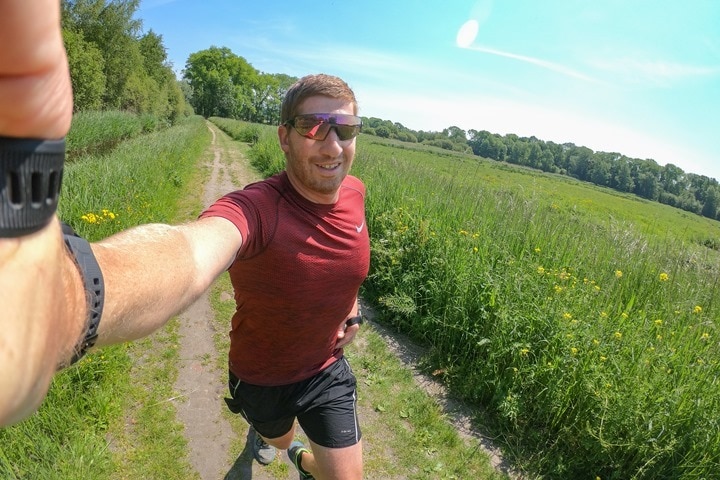 However, once I reached the far end of the rowing basin I decided to just go all random – wandering aimlessly on trails and paths for the few kilometers I had that were roughly paralleling the rowing basin – somewhere off in the woods.  In fact, I actually used the maps on the FR945 (somewhat of a rarity in Amsterdam). But I used them not in the way you'd think. I didn't use them to actively find a trail, bur rather, actively stay away from things.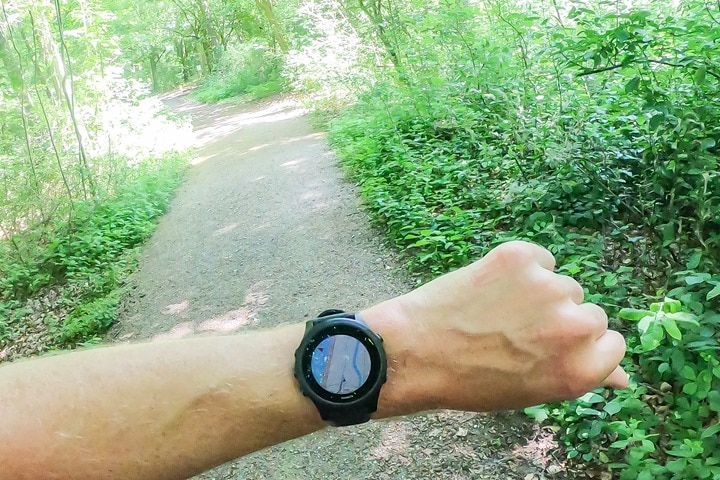 I simply would follow trails that kept me away from the roads and water. There was no route loaded on my watch, I'd just glance at upcoming forks in the trails and quickly decide (without stopping) which of the next sets of trails would keep me in the woods and not exit somewhere. Worked great.
I'll do it again later Monday, this time wandering a bit deeper into the forest. If you don't hear from me again though…then it didn't work. Send help, and check the fuzzy cows first.
Oh – and for fun, here's the set on the DCR Analyzer. Some pretty dramatic differences in accuracy in the woods there between the different units. Surprisingly so actually. Pretty easy to see where I ran from the marked paths (GPS or satellite view). Note that normally I use GPS+GLONASS on the FR945, but I was super low on battery, so I switched to just regular GPS mode to try and squeak through.
But we'll save that track analysis for another time. Most recent firmware on all units.
3) Riding with a DCR Reader in between flights
A week ago I received an e-mail from a reader who was travelling in Germany for work but had a bit of an overnight layover in Amsterdam before heading back to Tampa Saturday afternoon. He asked if I was up for a ride on Saturday morning before his flight.
Deal!
I had plotted a variant of one of my normal routes, but then the Strava Routes CIQ app was being a pain in the ass that morning, and I couldn't get it to load. I continue to state that a routing API needs to be baked into Garmin's Edge/wearable devices just like the new training plan API. In other words, just like Wahoo does it.
In any event, while I mentally knew most of the route, as is often the case I managed to miss one of the farm road turns and then go the wrong way on another. So we made some gigantic crop circles: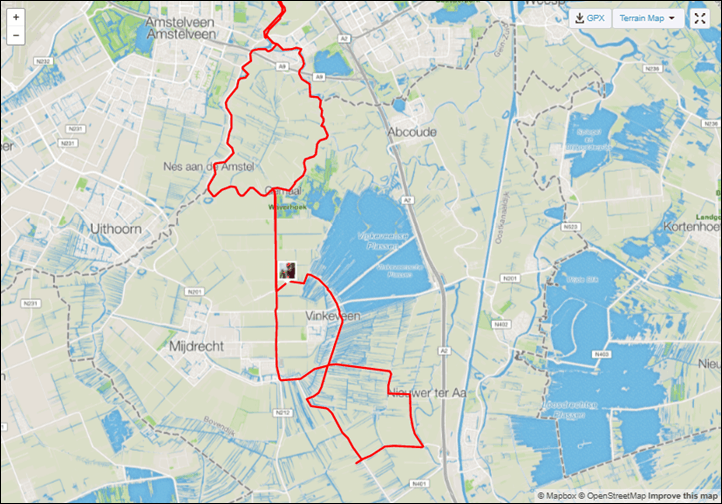 On the bright side, I got to see some pretty farm roads I've never seen before. Oh, and here's a pic of us!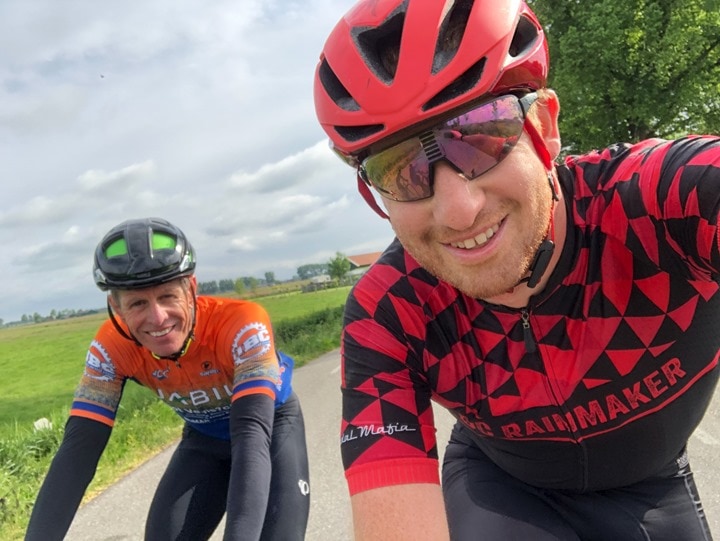 Thanks for the ride! And in general – for folks curious, I'm almost always up for a ride or run if I'm in town. The best time to poke is about a week out (I can't really plan months ahead, I can barely plan tomorrow). See ya around!
4) Let's eat more pancakes
Saturday midday after my road ride I headed out with the family for adventures back in the farmlands. Looking at baby animals and just enjoying plodding along in bikes for 30KM or so.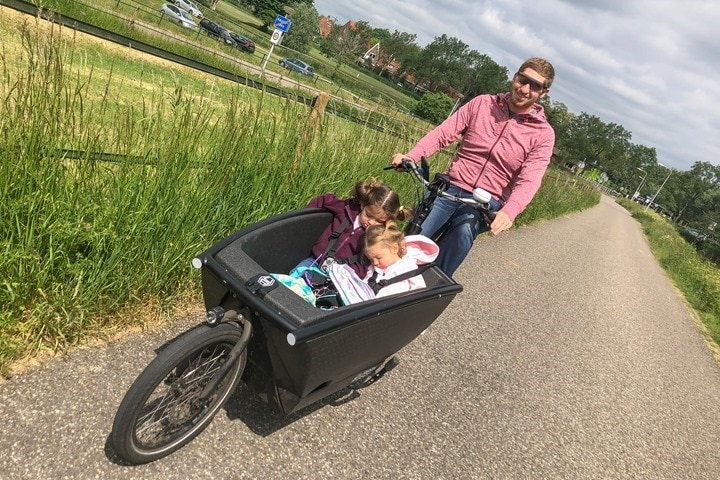 Eventually we ended up at a pancake place I've passed many times before, but never stopped at:
The goat cheese/honey/pecan one was quite good, though the others…well…we've got favorite places elsewhere.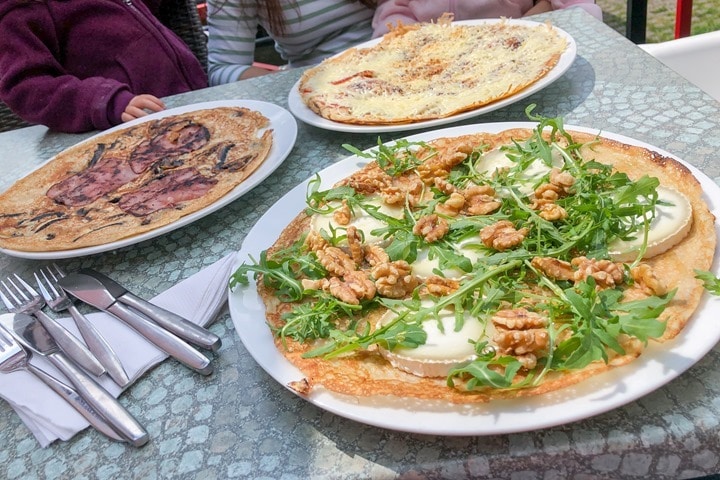 Still, we're all about trying new places out. Can't win if you don't play. Or something like that.
On the way back we passed a windmill fairly close to us, that we often pass on our rides. However, The Peanut spotted something unusual in the grass that I hadn't seen on my multiple passes of this windmill.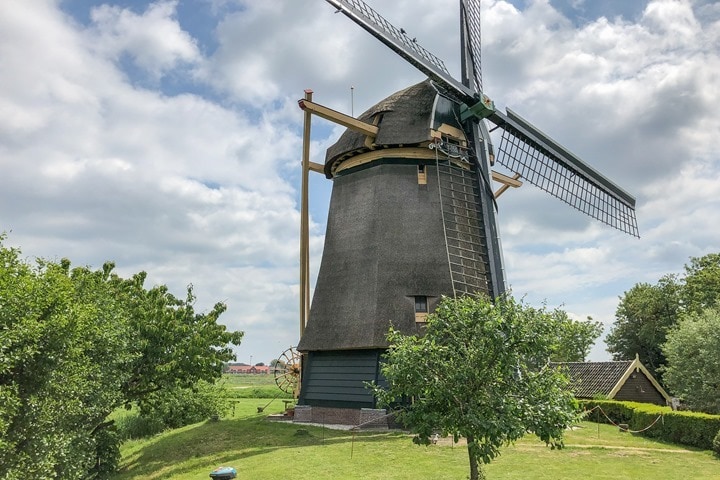 Yup – that's an automatic lawn mower. The industrial equivalent of a Roomba. In fact, the last time I visited Polar, they had one too. Nifty.
5) Distractions via Bike
I'm not sure if it's normal for Dutch families or not, but we often simply go on rides with the kiddos for the sake of rides. In some cases, just to do silly things. For example – yesterday I went to the grocery store with the two peanuts. Sure, we have three groceries within 150m of home. My choice? 15 minutes away by bike.
Why? Because…it wasn't 150 meters away.
The kids love going for a ride, and by late Sunday afternoon the parent in me is ready for a little bit of pedaling calmness that involves them strapped to the bike and not going anywhere.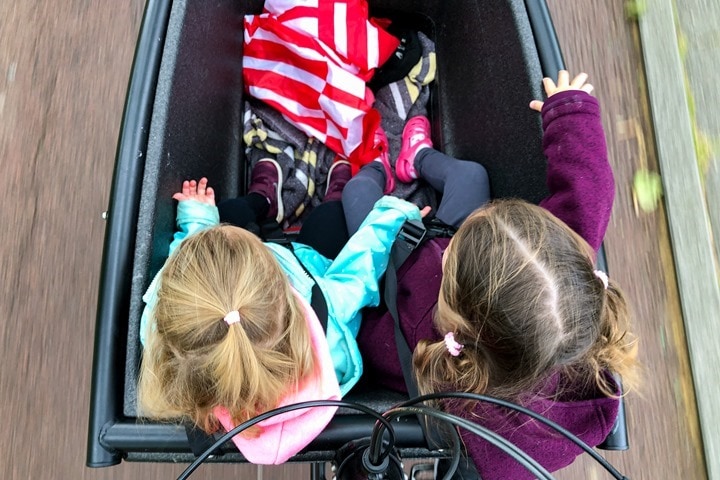 So, grocery store on the other side of the city it was.  On the way back we passed one of the two remaining permanent installations of the IAmsterdam sign. I've known this one was here, but rarely pass it.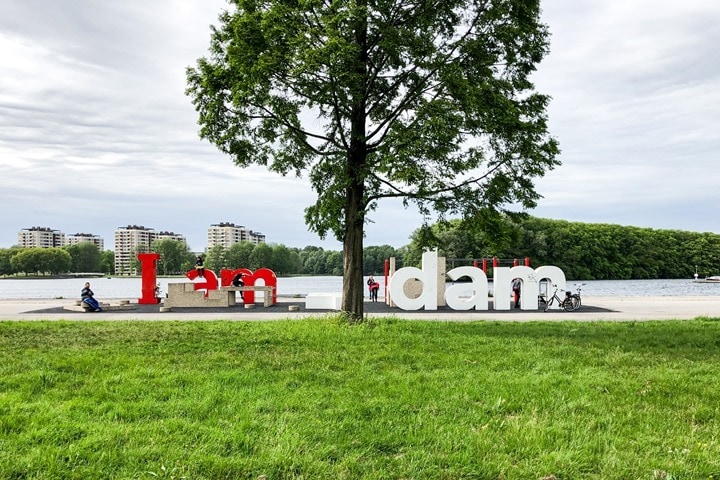 Grocery store was a success. The littlest still had enough energy to effectively herald our arrival into every aisle with a little musical tune. She continued this tune all the way home.
With that – have a great week ahead everyone, and thanks for reading!