As we continue our South African winter relocation, here's the pile of sporty and non-sporty goodness we've been up to this weekend. It was a fairly busy one, so a bunch of things didn't quite make the cut for this '5 Random Things' edition. Nonetheless, here's what did!
1) Cape Town Canal Swim
No better way to kick off Friday morning than jumping into chilly canal water as the sun rises. Actually, it wasn't really that cold. Well, ok, it was for the first 30 seconds, and then it was all fine.
The weekly Friday morning swim is put on by the ATC Multisport, and allows folks to get in roughly an hour-long swim through the canals of the Cape Town waterfront. These canals are surprisingly clean, winding through a blend of fancy retail and gated communities. A stand-up paddleboard shop also puts a few folks in the water on boards in case there are any issues. They've even got a nifty dock to jump in from:
In many ways, it's one of the best scheduled openwater swims I've ever been to. It's got a super clean/new parking garage no more than 30 meters from the plunge point, there's a bike shop that opens up early to serve coffee/treats, and it's got people on boards for safety. They check-in/out swimmers, and have a place for baggage storage.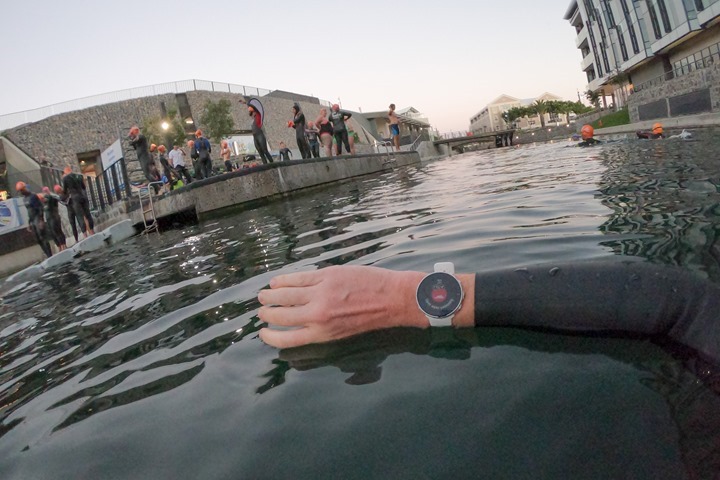 The route is a lollipop, whereby when you get to the candy part of the lollipop you can do extra loops around an island as you see fit until you head back to the start.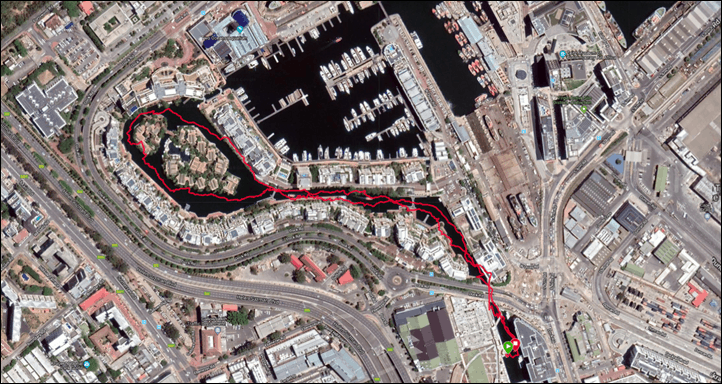 The swimming itself is great. You do it on your own pace (though certainly there's tons of other swimmers to latch onto if you want a specific group or to practice drafting/etc…).
The only downside? As seen above, GPS track accuracy is nearly impossible. Above is with a Garmin FR935 in my swim cap. Whereas below is what it looks like if you add two wrist-based units too (Polar Vantage M on one wrist, COROS APEX on another). Eeks! I don't really blame either unit there (well, ok, c'mon COROS, at least plot more than the start/end points…something…anything), most other GPS units do the same on that swim.

Given there are 4-8 story buildings on both sides of a canal not much bigger than a couple lane road, it's to be expected. Plus add in bridges and other overpass structures and there's little chance of super nice GPS tracks. But, the sunrise and views of table mountain are great.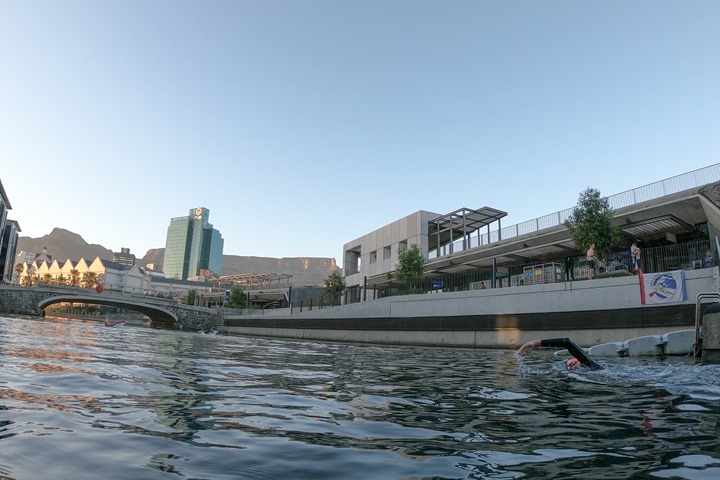 Much appreciated to everyone there for letting me crash your party! Looking forward to making it out again for sure!
2) Off to the beach!
Despite being in South Africa two weeks now, we hadn't been to the beach. At least in the sense of going to sit on the beach and do the beach thing. We had gone to the beach to see the penguins, but that was just a very brief moment. I suppose given our Airbnb has a small plunge pool, it ends up being easier with the little ones.
But this time – it was off to the beach we went! Clifton's 4th beach in this case, which if you go early enough is super easy to find a good free parking spot. Then it's just a few or 232 steps down to the water: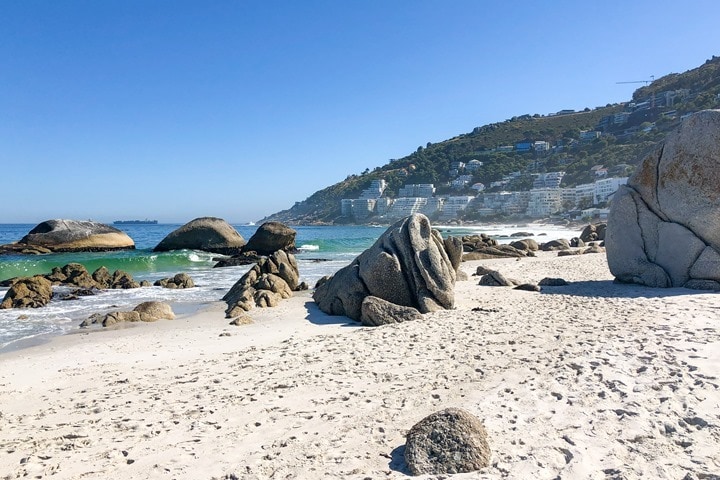 We hung out all morning until it was time to head back for lunch and get the kids down for naps. But they enjoyed playing in the sand and building various sand structures.
Plus, gotta appreciate that it only costs like $10 to get an umbrella and two beach chairs for the entire day. Brilliant!
3) Riding Chapmans Peak
Early Saturday morning I coasted down the hill to a street corner and waited for a group of cyclists to pedal by, where I'd jump on and enjoy a cruise along the coastline through Chapman's Peak. This being one of, if not the, most famed cycling routes in South Africa. On a Saturday morning like this, it was absolutely packed. Here's a few photos I took along the way: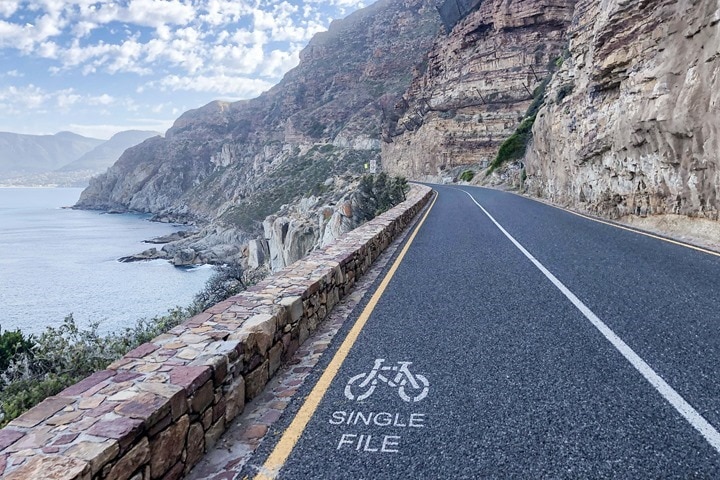 I'd go with the group all the way through the famed route, and then turn around and cruise back solo. It's always impressive though seeing all the runners on this route. While it's 'only' 300m of elevation gain, there's no sidewalks. So you're on the road mixing it up with cars and cyclists, often in the baking sun.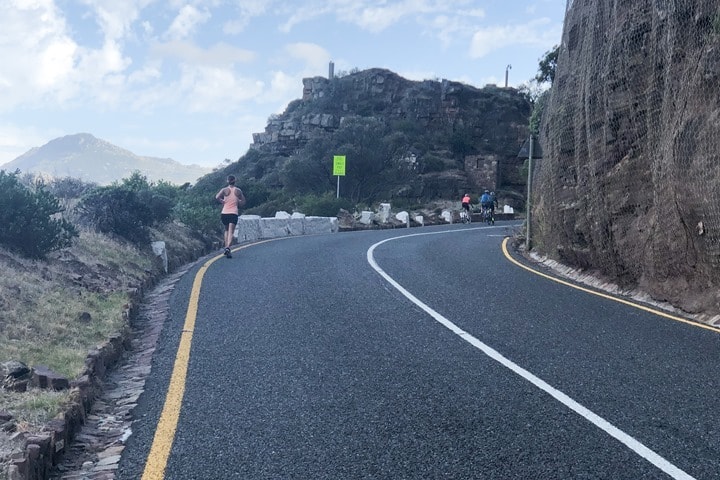 As I was pedaling back up again (effectively doing the climb twice), I noticed my front tire was getting a bit squishy feeling. At low speeds while climbing, this wasn't a huge deal, and I figured once I got to the summit I'd go ahead and swap out the tube.  Except one problem – here's my bike at the summit: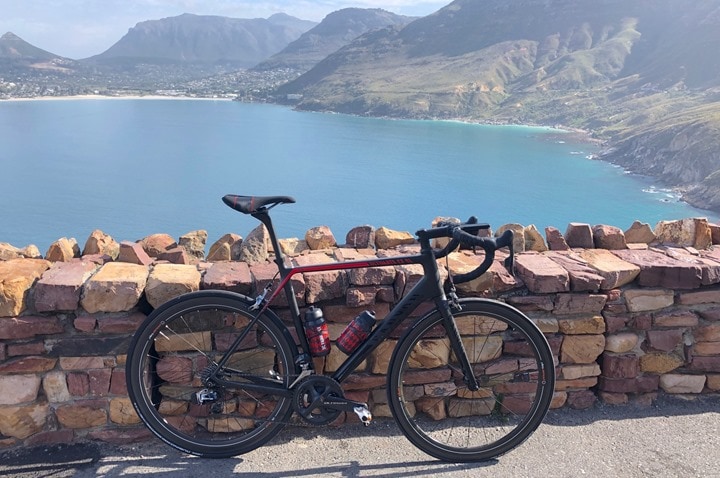 @#$@##
Yes, I forgot my saddlebag on the front porch. I had taken it off to swap out my rear tire and tube a few days prior to new ones. But hadn't yet done the front tire because I was lazy (and in a bit of a rush the first time). Thus, it was all sitting there next to the front door. Leaving me with no tube, nor CO2/pump, nor patch kit. And while there was a gazillion cyclists around, these wheels require longer stems – and nobody at the peak seemed to have deeper wheels. Nor grass. Plus, I always feel bad about asking some other person for bike parts.
I decided to forge on. I descended down the pass on the flat, going at about 6-7MPH (10KPH), to keep from rolling the tire and slipping. Corner too fast and the front wheel slides out from under you, and ya visit the pavement.
I ended up meeting The Girl at the beach at the end of the drive, and then on the way home she jumped out of the car and ran the rest of the way home, getting in a different route for her Saturday run. So it kinda worked out.  I was bummed though, I was really enjoying the ride. Note: My saddle bag is now back on my bike, complete with all parts required.
4) Finding all the Nemos
With Sunday morning full of liquid sunshine, we decided to pack up the kids and head to the aquarium on the Cape Town waterfront. And I'll give full props to the aquarium designers – as immediately upon passing the ticket desk the first exhibit you come upon is titled 'NEMOS' in bright all-caps orange letters. Inside? A gazillion 'Nemos'.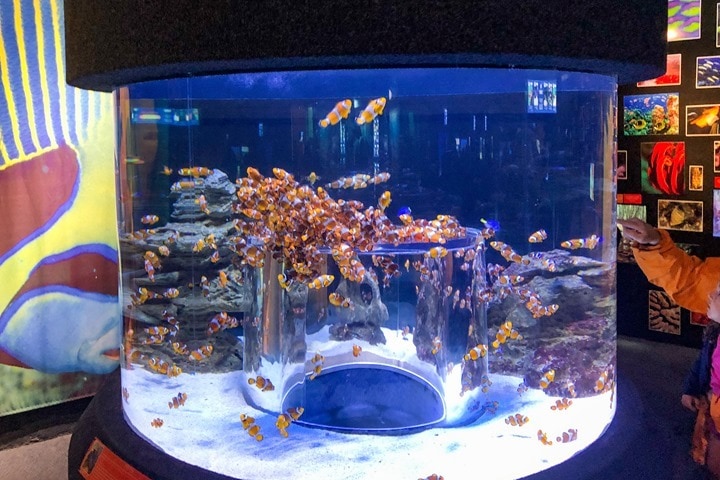 You can even stick your head inside the fishbowl, as The Girl and The Peanut did: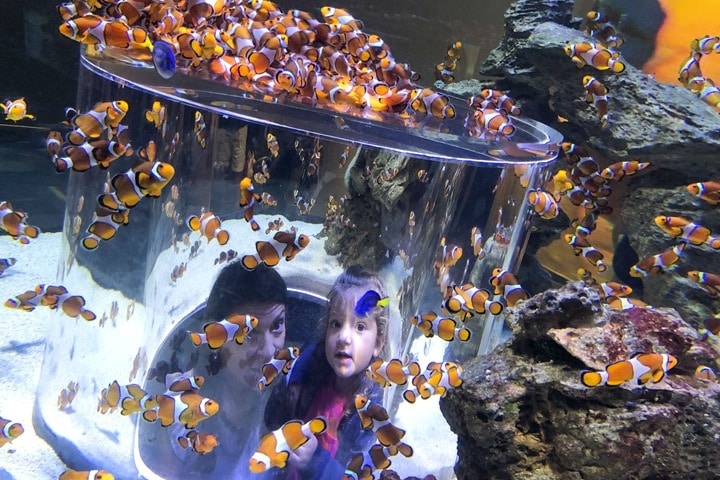 Both the little ones enjoyed wandering around and looking at the fish. Just as they've done at a few other aquariums we've been to, such as last year in Australia, the year prior in California, and of course – Paris too. I'm not sure if Amsterdam has an aquarium, though we do have an annual pass to the zoo. So that's kinda same-same.
The littlest really liked staring at the fish: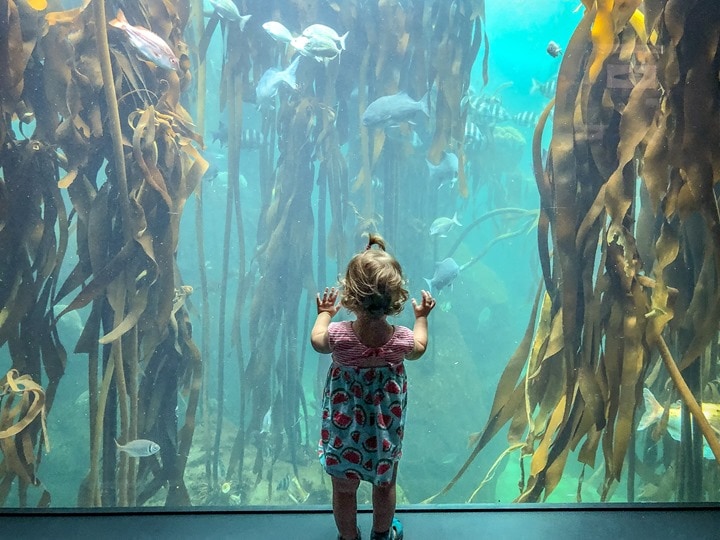 Oh, and there was also stingrays. Both of the kids were skeptical of them, as they damn well should be.
And they had penguins of course, but given we just saw penguins in real-life last week, these didn't quite compare.
5) Sunday Night Trainer Ride
Given we spent the morning indoors with the fish, the next chance for a workout was after the kiddos went to sleep.  No worries, it worked out perfect – as I need to get in rides on the Tacx Flux 2 for that in-depth review. After all, I dragged the darn thing to the southern tip of Africa with me.
So I loaded up Zwift, and then immediately after about 30 seconds of pedaling remembered that the Tacx guys told me to remember to update the firmware. Thus, off I went to do that.
Then it was back to Zwift for an aimless ride. I wasn't off to set any records on this one. Just a simple 40 or so minutes of mindless riding while watching YouTube videos. A casual sprint or two tossed in here and there.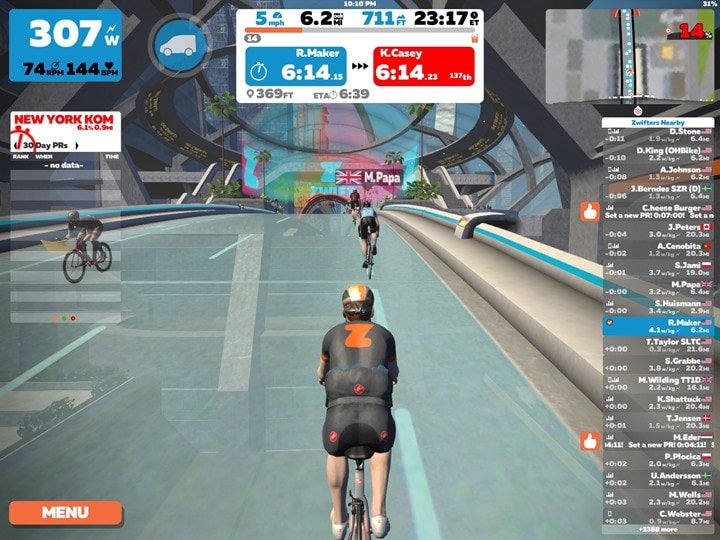 For fun, here's what the data looked like between the PowerTap P2 pedals, Stages LR (dual-sided), and Tacx Flux 2. Calibration was done prior to the ride for all units:

And, to continue the fun, here's what the HR accuracy looked like between a crapton of units: Polar OH-1, Scosche Rhythm 24, COROS APEX, Polar Vantage M, and Garmin HRM-DUAL:

Unsurprisingly, they were all pretty close – except the errors the COROS APEX made. For the most part, it's rare that I see any HR sensor struggle indoors on a bike. Easiest thing there is to get right.
I've been running a slew of HR related tests lately, trying to get this darn much belated R24 review out the door. While the Scosche is mostly good, I will say that the OH-1 continues to impress me (as it did when it first came out). I just desperately wish it did ANT+, as well supported dual BLE connections like the Polar H10 strap does. I think between that and their offline caching they'd have really strong wide appeal with it (though, the strap is a bit funky sometimes).
In any case, more to come. But first, the COROS APEX review tomorrow.
With that – thanks for reading – and have a great week ahead!