All sort of goodness went down this past weekend, including both gadget and not gadget stuff.  The perfect blend!
1) Riding to the shipyards
Friday afternoon I set out for a quick ride to and from the shipyards a bit south of where I am.  It's not a super scenic ride per se, but it's an efficient ride.  It's one of those routes that you can knock out in about 40-45 minutes with minimal stop-lights (only one in my case), and keep your speeds relatively high.  It even has a handful of rollers to keep it interesting.
It goes through the shipyard, which has plenty of interesting ships in dry-dock to look at.  None of which I remembered to take photos of, but Google's satellite provider did: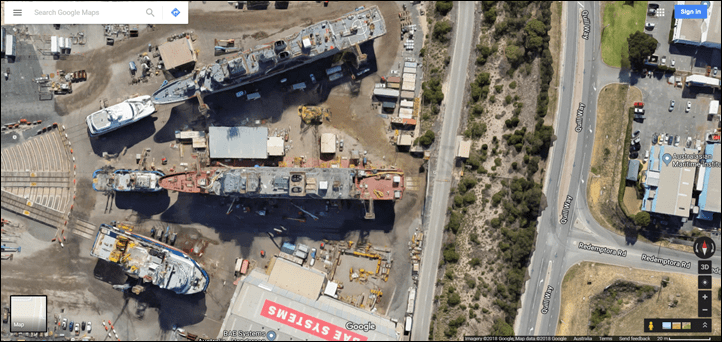 By time I remembered to take a photo, I was on the boring industrial side of the complex, which basically is as exciting as a road can be through non-descript shell buildings:
Of course, the actual purpose of heading out was to get a final ride in on the Karoo with the latest firmware that had been pushed a few hours earlier, so I could include that within my in-depth review I published just after I got back (well, after putting the kids to sleep anyway).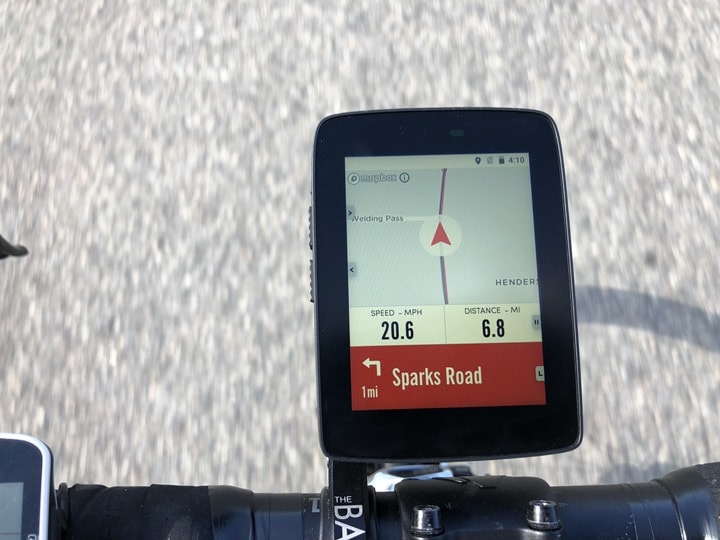 Oh, I did take one non-boring pic on the way back. It's of my head. You're welcome: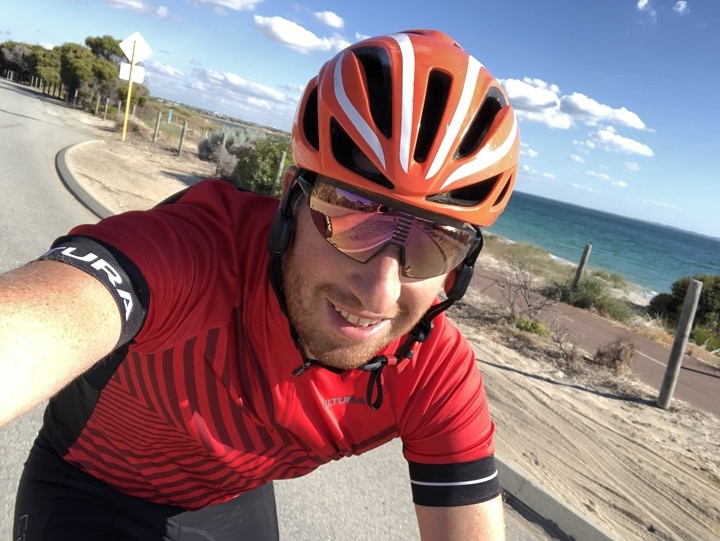 I love this little stretch of roadway and trail near the beach.  It's mostly desolate, with rarely a car going through. It makes it perfect for all sorts video/photo/whatever shoots.  I've recently used it on my DJI Mavic Air videos, my Zwift running outdoors video, my GoPro Fusion sampler and review videos.  You'll probably see it on countless more videos for the next month, because the water looks really pretty in the background and the colors all pop.
2) Spectating the incredible Rottnest Channel Swim
Far too early on Saturday morning I drove up to Cottesloe to check out the Rottnest Channel Swim.  This famed openwater swim race covers 19.7KM (12.2mi) of water between mainland Australia and Rottnest Island (one of my favorite little places).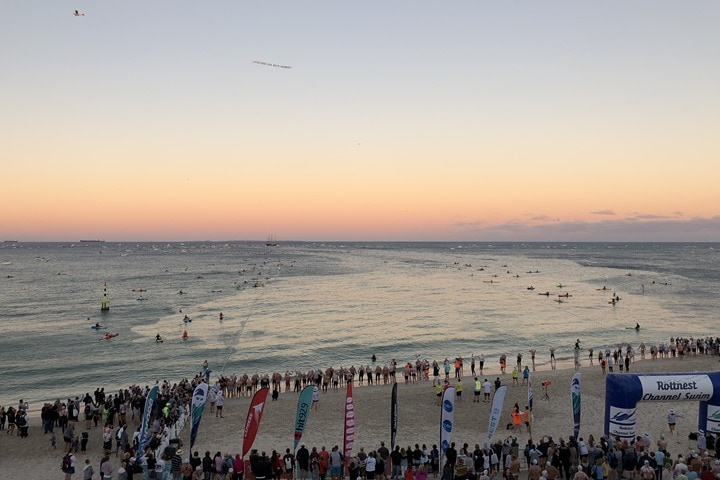 Competitors can do the event solo or in teams, and I met up with Andrew who had done the event three times, including solo.  The first waves head out just after 5:30AM, essentially as soon as the sun rises barely enough.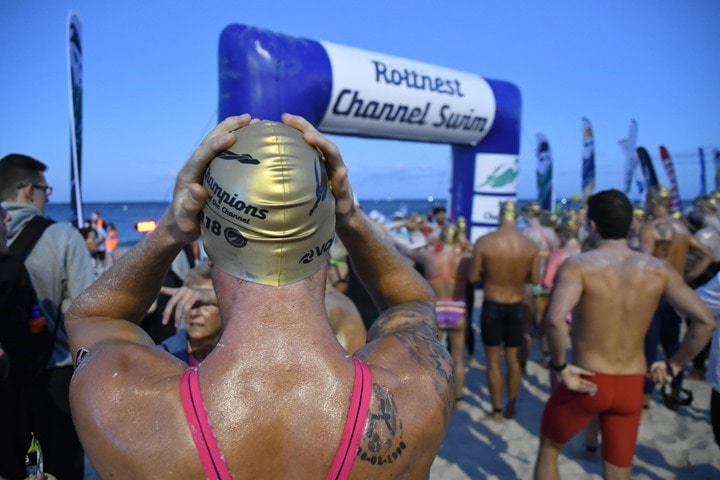 From there subsequent waves in groups of roughly 50 (a guesstimate) head out every 10-15 minutes.
The swimmers meet their required kayaker companions a few hundred meters later.  Many kayakers have unique balloons and flags attached to help their specific swimmer find them.
Then about 1.5KM later they meet their (also required) powered boat, which escorts them across the channel.  It's really an incredible sight: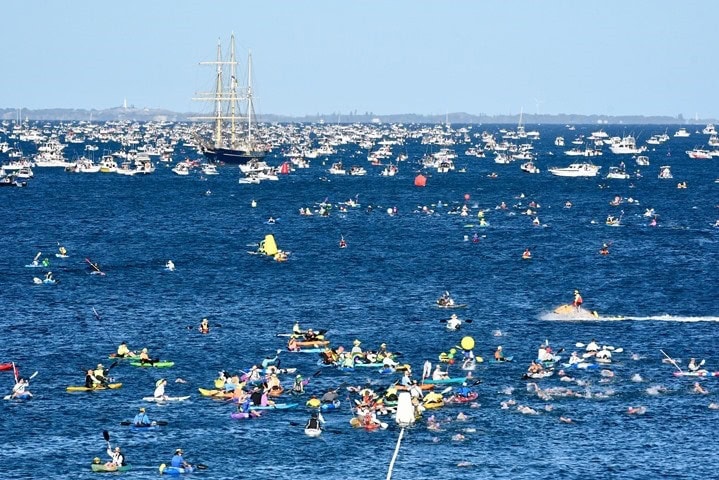 I watched all of the starting waves go off, which lasted till about 8AM.  At that point there was also a shorter 3KM race/swim out (and back) to that pirate-ship looking boat you see.  In fact, I met up with two DCR readers that morning – hope you two did well!!!!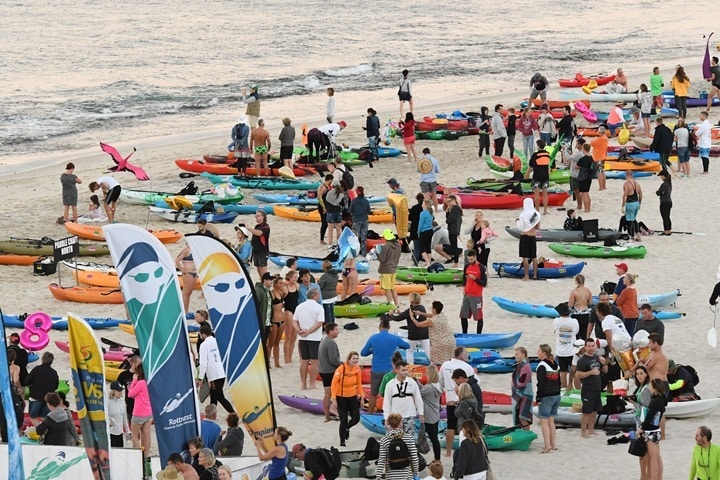 From there the swimmers simply 'kept on swimming' until they reached the island that you see in the distance.  The fastest swimmer of the day (and new record holder) completed it in 3hrs 59mins.  The last official swimmer was 9hrs in total time.  And unfortunately, as was the case yesterday – some wouldn't finish at all.  A 3-4 meter (~12ft) great white shark selected to enter the competition as well, and was seen swimming within the pack.  As such, the race organizers required all swimmers within 1,000m to exit the water and get onto their powered boats (roughly 100 people).  This occurred around the 12KM marker.  Oh, and a boat sorta sank.
Congrats to all those that were able to make it without the visitor interrupting things!
3) Hello Nemo
After spectating the swim I headed back to the house and met up with The Girl to grab the kids.  We then headed back up north to AQWA, which is the regions aquarium. We've been to a few aquariums with The Peanut, and she loves them all equally.  Probably because her favorite movie (well, the only movie she gets to watch) is Finding Dory.  Actually, we also bought Finding Nemo, but she likes Finding Dory, even though she calls Dory…Nemo.  Nemo is also called Nemo, in case you were wondering.
I didn't take too many pics – but they did have this super cool long moving-walkway tunnel thing below the shark/ray tank.  The walkway didn't move fast, but it was kinda the perfect speed to just stand and watch.  Probably taking about 15 minutes (according to the timestamps on my photos). Both the nuts loved it!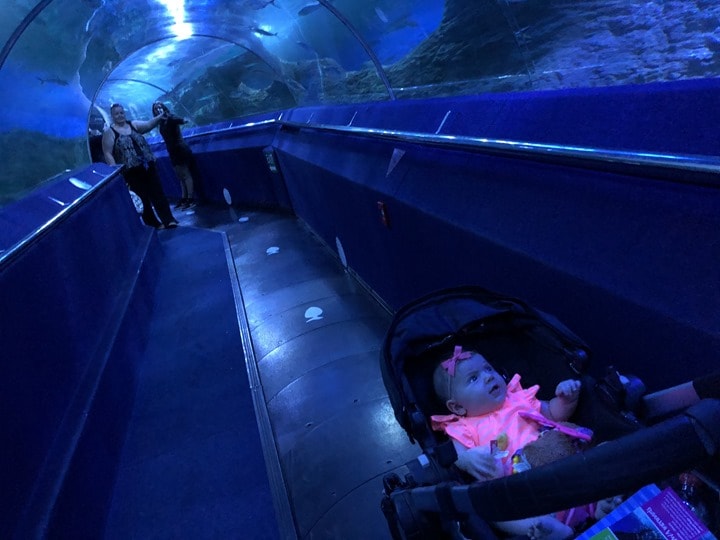 Oh, and we saw the real Nemo and real Dory, to which The Peanut was thrilled about.  She was very much less excited though about the shark mascot walking around. Also, she didn't like the lobsters.
4) Unboxed the Magene Gravat2 Trainer
Technically this happened this morning, but, close enough.  It's still the weekend back in the states.  I did a quick unboxing of things.  This trainer is from the Chinese company Magene, which make an assortment of trainers, including the direct drive Gravat2, and the wheel-on Tempo.  They sent me both, but I'll start with the Gravat2 and see how things go.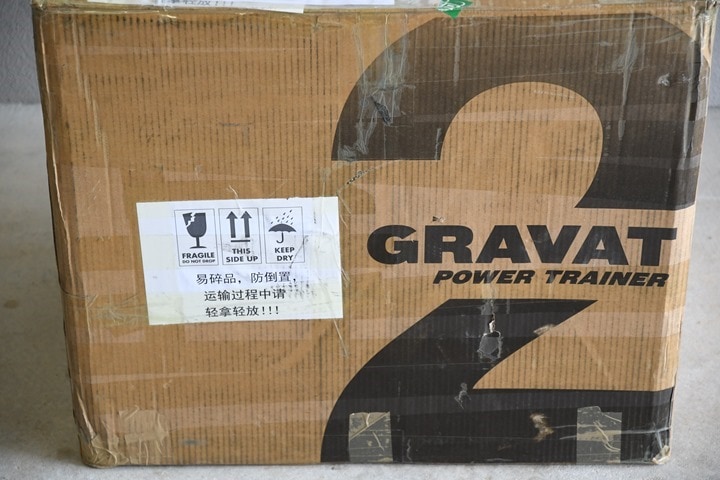 The Gravat2 trainer is roughly in-line spec-wise with the KICKR 2017 trainer, though, at about $300 cheaper (making it roughly $900USD, though it's tricky to procure from Europe/North America).  In case you want the spec sheet, there were five of them included in the box:
There was no manual included, but there were various adapters for thru-axle.  Plus, there was also a Garmin cadence-sensor in a small box in there.
And when I say 'Garmin cadence sensor', I mean, an exact duplicate of Garmin's cadence sensor, except, more functional and with the Magene branding instead of Garmin's. See, unlike Garmin's cadence-only sensor which is only ANT+, this one transmits in dual ANT+ & Bluetooth Smart.
As for the trainer itself, here ya go. It came as a single piece, no tools required for initial assembly (which I appreciate).
It didn't include any manuals in the box (but I found one online), and there were a few stickers that are only in Chinese (though some in English, like the flywheel warning).  I don't know what the below sticker says, but what it should say is: "This trainer has no leg locks, so when you pick it up, it'll instantly and with surprising quickness shut back on your fingers and nearly decapitate them."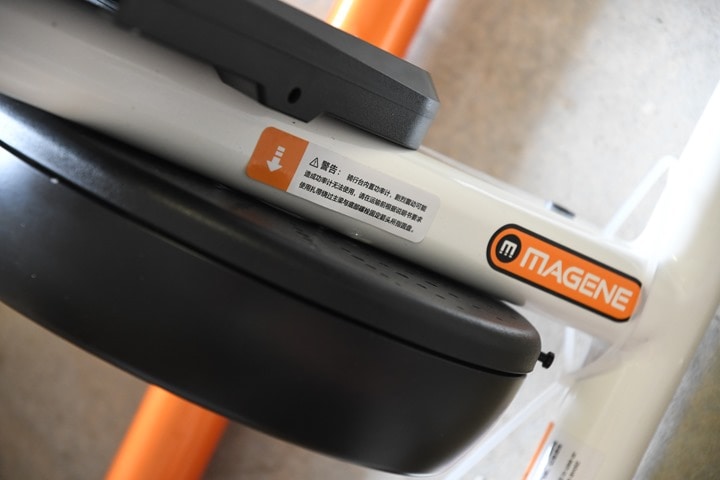 It did include an ANT+ USB stick, which is a nice touch that Wahoo doesn't do (but I believe Tacx still does in some models).  It doesn't include a cassette though, which Wahoo does (but Tacx/Elite/CycleOps don't).  Given that, I've gotta swing over to the bike shop and buy another cassette (my third of the trip).  Thankfully last week I bought the tools to swap it out.  Still, I'm sure the bike shop guy thinks I eat cassettes by now.
So once I pick up one, I'll report back on how things are going.  The key item I'll be looking at is accuracy and noise, as well as feel.  Right now the Elite Direto rates slightly better per specs on accuracy at the same price.  Magene states the Gravat2 is totally silent…so we'll see – that'd be Tacx Neo territory if true.  However, what can't be overlooked is the reality of purchasing a device from a company that has no support chain outside of China.  Still, on paper it looks impressive…more to come!
5) Night run to the Lighthouse
Sunday night after both nuts were in bed, I headed out for a short 40 minute run.  I hadn't done a night run here yet, and aside from winter back in Europe when darkness occurs at 4PM, most of my night runs have largely dissipated since the Peanuts came along.  It's just not super practical fitting it into their schedules.
But last night it just worked out fairly well schedule-wise and off I went.  I didn't have any specific structure for this run planned.  I simply planned to run outbound about 20 minutes, and then back about 20 minutes.  Nuttin' fancy.
That took me along the illuminated path towards town, eventually passing the Ferris wheel: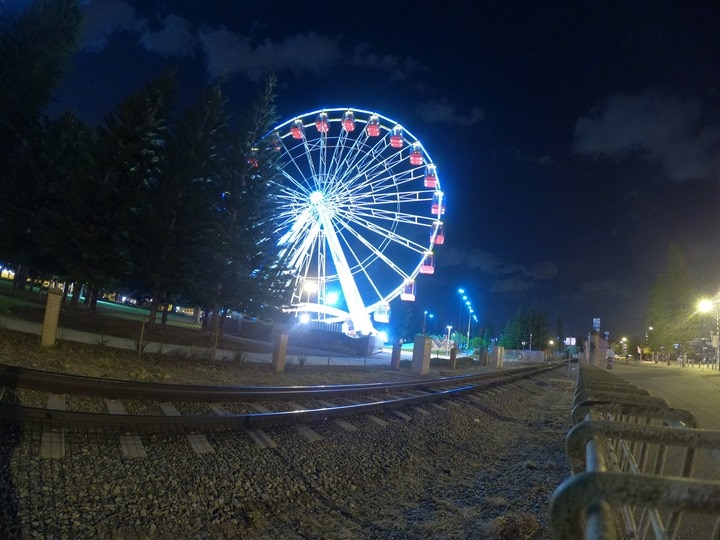 My turnaround point would be the lighthouse, which sits out on a long break wall near the port: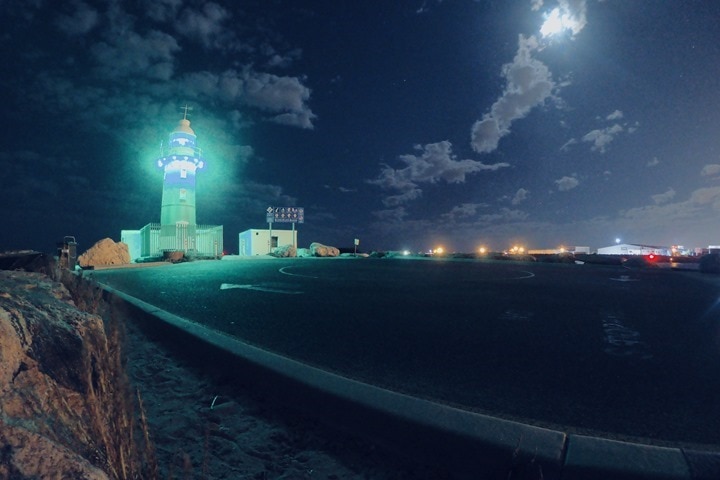 For those wondering, the photo was taken just using a GoPro Hero 6 Black using the default 'night' settings mode. I placed it on a rock and then used voice commands to have it take a photo (to eliminate any shake).  The green comes from the lights on the lighthouse.
After that, I wandered on home.  At one point I saw some beach cruising cyclists up ahead, so I did some fartlek's catching up to them, letting them pass me, and then running to the next railroad track crossing.  And I repeated that until I ran out of railroad track crossings.
As always, from a gadget perspective I was putting the FR645 through its paces, alongside the Suunto Spartan Trainer and a FR935.  Those were in turn paired to a Scosche Rhythm 24 and a Wahoo TICKR X.  You can check out all the data here. If things work out, that might even be the final shipping firmware on that FR645…we'll see very shortly.
It was really the perfect temperature for running.  Warm but not hot, not too much humidity, and a very slight breeze.  I always love late night running in warm weather, reminds me of way back living in DC doing late night runs with The Girl to beat the heat.  Good times!
With that – thanks for reading, and have a great week ahead!