Ok, a bit belated on this '5 Random Things' post – but it's been a whirlwind of a last few days, and I finally have a few minutes to write out some stuff as we complete our last flight of the day back home.  We've had an amazing 5+ weeks in Cape Town, and can't wait to come back next year.  For everyone that helped us out or said hi along the way – huge thanks as well!
1) Up Table Mountain
We kicked off the weekend with a trek up Table Mountain. Though unlike the trek The Girl and I did few days prior, this one took all of four minutes to get to the top.
Given we were with the kiddos and family, using the cable car seemed like a much better plan than forcing them on a multi-hour hike (or more importantly, forcing us to carry them on said hike).  Interestingly, earlier in the week during our hike up we saw some families with young kids attempt it, most with less than ideal success by the looks of things. For example, we watched as a 10-12 year old girl stood on the side of the steep trail puking, likely due to the heat and lack of any shade (or water).
So again, cable car it was for this trip.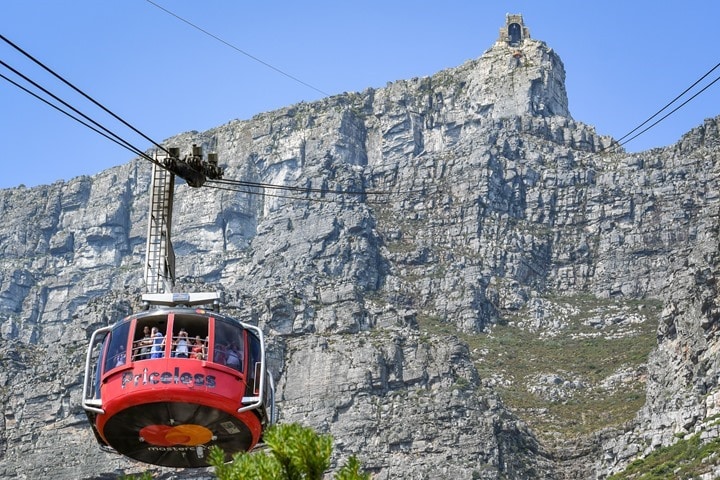 The views were a bit fuzzier this second time unfortunately. Not sure if it was due to a bit of smog, a slight marine layer, or what.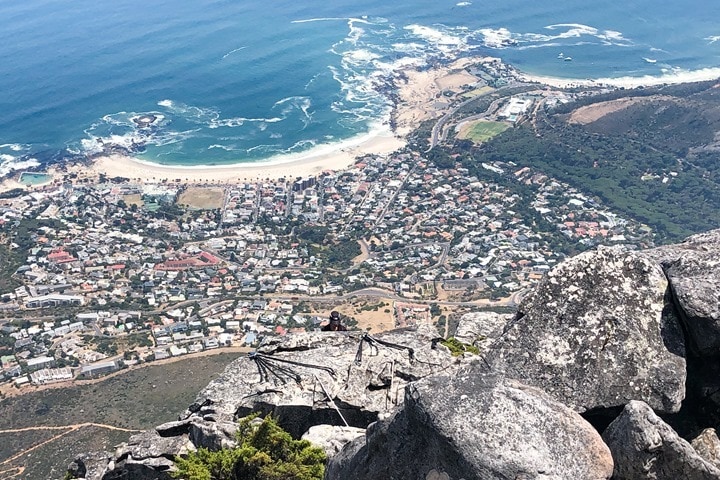 Still, always great to get up there!
Plus, the cable car is a much more efficient way up (and down) than hiking.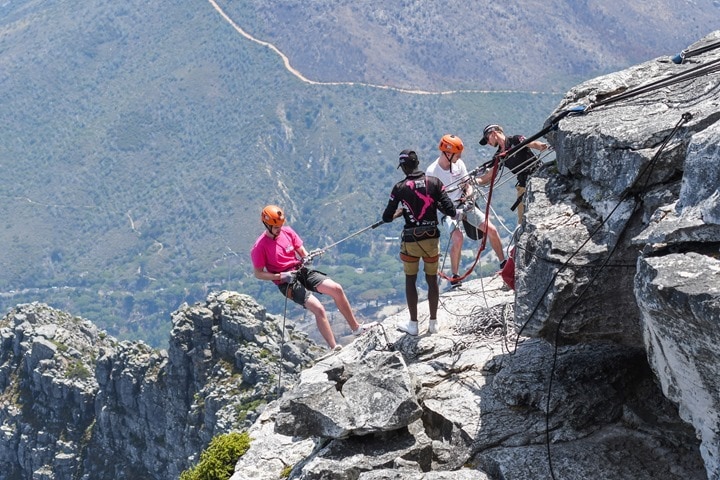 Or climbing, as it may be for some.
2) Riding the Coastline to the Penguins
Early Saturday morning I joined up with some of the guys I've been riding with during my time here for a pretty popular loop around the Cape to Boulders Beach, where the penguins are.  This would serve the purpose of me getting a ride in, but also afterwards meeting up with the family there for a day of beach time.
While not the best weather I've had for a ride – it was pleasant. Foggy, but pleasant. Here's the top of Chapman's Peak: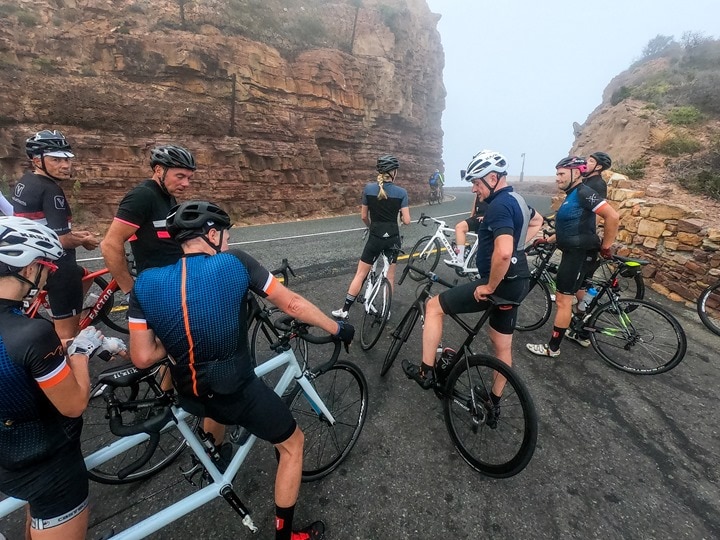 And then, us as we cruise through the appropriately named Misty Cliffs: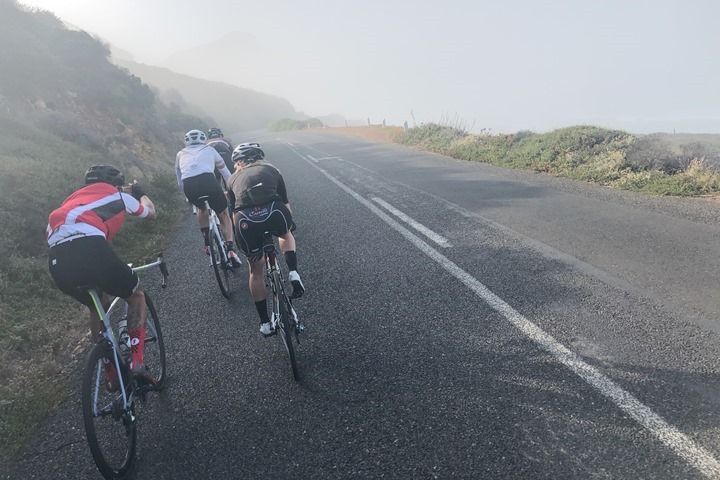 We stopped at a café for coffee, which then turned into breakfast. These folks know how to do it right.  Also, the café was super-bike focused, having all the bike things you'd want.
I thought the racks were a nice touch. Not so much the fact that they had bike racks, as many cafes do – but the fact that the top was lined with mountain bike tires to prevent slippage.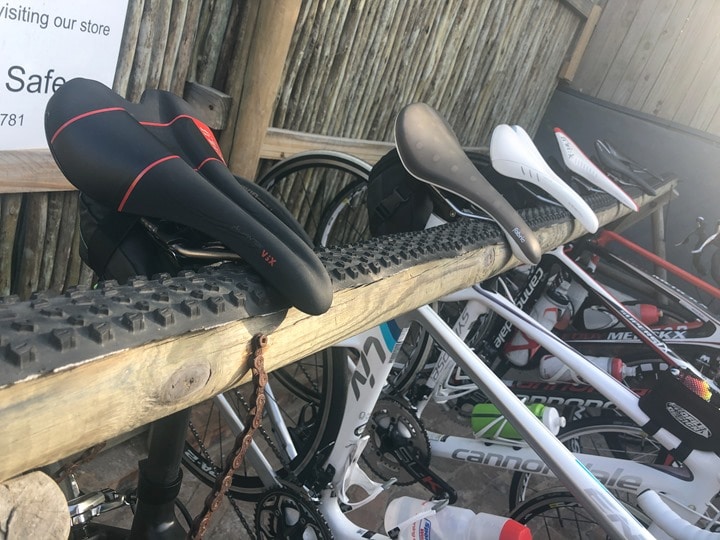 Oh – and a few DCR readers said Hi and we took some selfies! Funny tidbit: This is one of the rare times I've ever actually taken a selfie myself with others. I almost always forget to ask for one with others, after they've asked for one. Maybe I'll get better at remembering.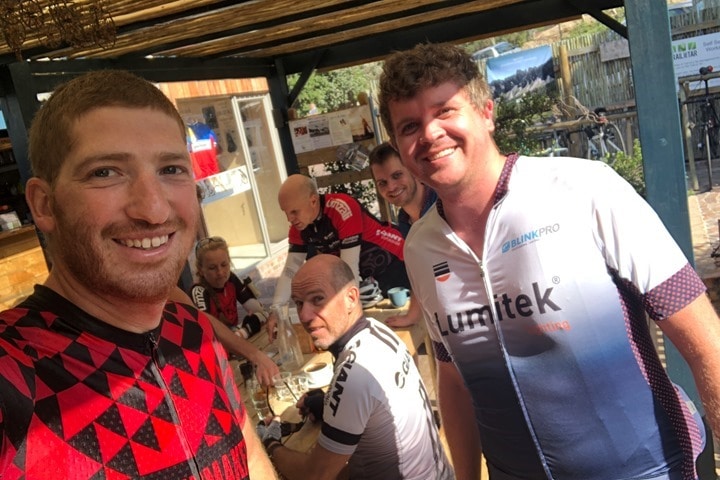 As expected, we ran across some baboons along the way too. I tried to take a photo but was somehow in time-lapse mode on my phone during this moment, so…yeah, this is all I've got (see them up on the road to the left and right):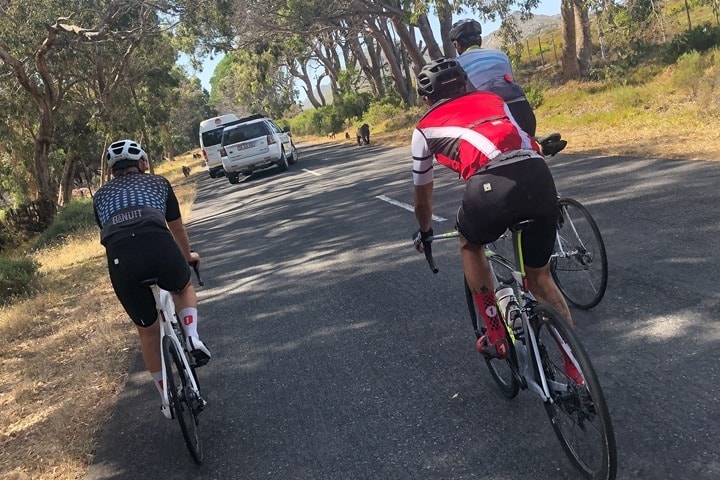 Though, the ostriches were more easily spotted: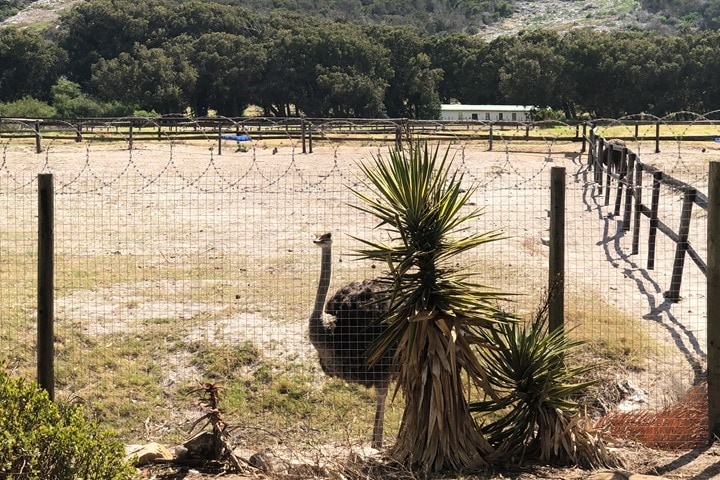 Finally, here's the big penguin: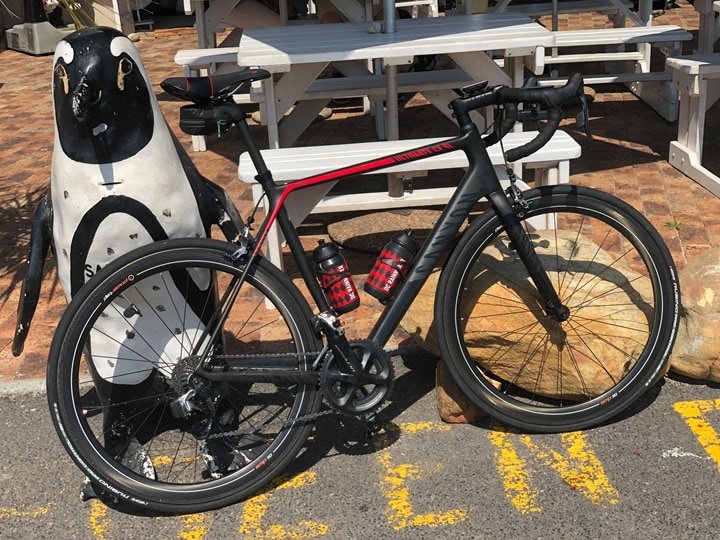 3) Hello Penguin Beach
What, you think I was going to ride to the penguins and not give you a legit penguin picture?
Funny enough, the penguins weren't exactly our purpose going out there. Instead, our friends have a house nearby and we were to join their family for some beach time.  Thus, beach: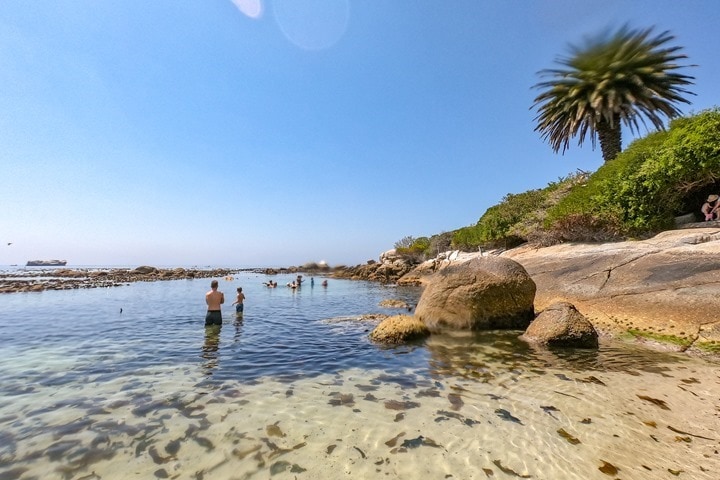 Except, this beach is nearby the penguin beach, so every once in a while some penguins would swim on over and say hi. Here's a non-awesome shot of one: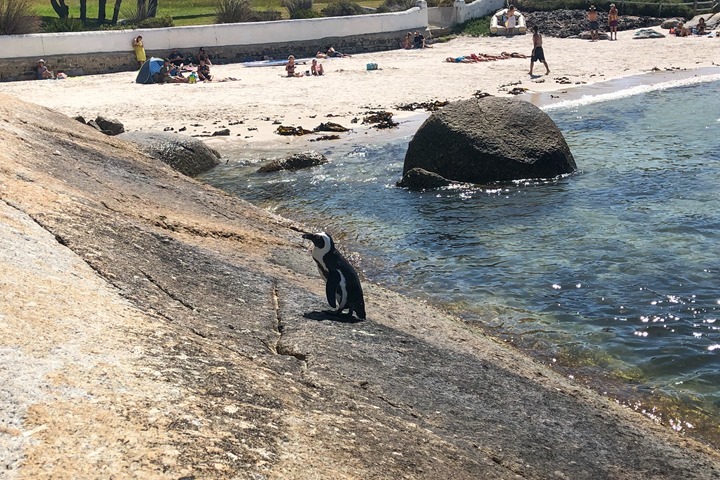 If you want awesome shots, then see my post from a few weeks ago when I went with the intention of taking pretty penguin pics. I succeeded.
4) A Fancy Dinner
On Sunday afternoon The Girl and I left the Peanuts back home with family and escaped for a 24-hour getaway.  We didn't go very far this time though. Instead, we started a mere 10 minutes away at Clifton Beach for some beach-side relaxing: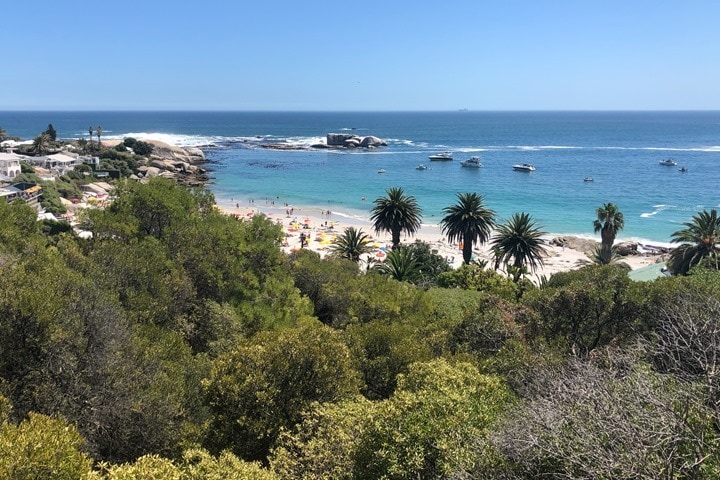 Then we checked in to a small hotel in Constantia (about 20-25 minutes away), before a few minute drive up the hill to La Colombe.  A DCR reader, and newfound friend, knew someone "in", and managed to get us reservations at this super hard to book spot.
I'll admit I was fairly unconvinced pre-meal on how it might turn out. Perhaps because after living in Paris and knowing what fancy trendy French food can be like, I feel like many times it goes down poorly when executed outside of France. Instead, you just end up paying a bunch for blah food.
However, after having a meal there – it's probably one of the best places we've ever eaten out. There were no poorly executed dishes here, and no faux-French stuffiness either.  Here's a mini-gallery:
I'd definitely recommend it, though, I'd also note that most winery-based places in the greater Cape Town area that we visited have incredible food (some on-par with many Paris Michelin star restaurants), and at prices cheaper than the Olive Garden would be.
No, I'm not kidding.
La Colombe aside, it was extremely common for appetizers to be $5-7, and main dishes to be $8-12 at very high-end spots. These same main dishes in NYC or Paris would run you $25-$45, easily.
In any case, our overall Cape Town dining experiences were awesome – and because everything was so inexpensive comparatively.
5) And then a lot of packing:
To be fair, this year wasn't as horrible to pack up as last year in Australia. There were probably a few reasons for that, one being we were here less time. In Australia, it was just shy of three months, whereas this was a bit over 5 weeks.
Also, in Australia last year P2 was much younger (2 months old), so we had a bunch more infant baby type stuff that came along. Whereas this time we didn't have to bring any baby beds or as much baby stuff in general since P1 was also older.
And finally, I didn't quite have as much gear to figure out at the very end.  This year I brought one bike and one trainer, but I handed off the trainer back to Tacx (actually, to Garmin South Africa) – so that eliminated that. Nor did I have to deal with getting 4 trainers back to companies as I did last year at the last minute.
Oh, and as I tweeted the other day – I'm still rockin' the same soft-shell bike case as I have for more than 8 years: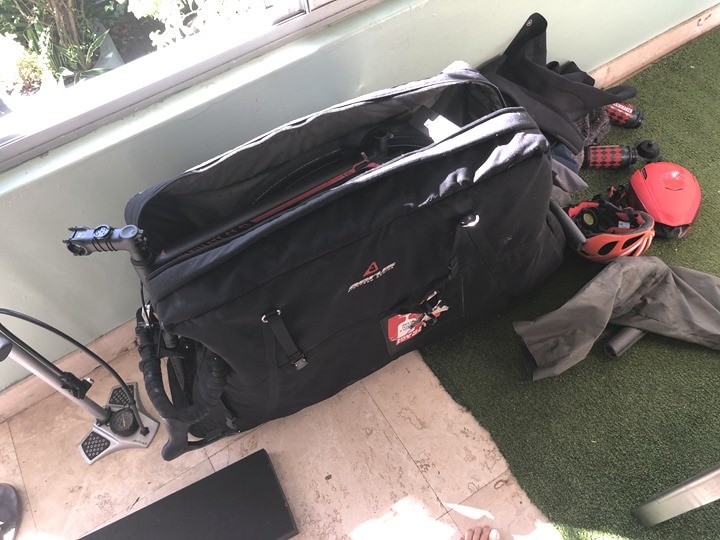 The company has gone out of business, though it sounds like the same bag was sold to someone else and they're making it now, though I don't think it's as good a deal as it was then.
In any case – I've only got a few minutes left in the flight and still have to add in all the photos, so with that – thanks for reading.  And again – thanks to everyone in the Cape Town area that offered ideas, tips, support – and even just 'Hi'!  We'll see ya next year!
Have a great remainder of your week!