With all of the pre-planned Sea Otter announcements taken care of last week, it's time to dive into some of the on-site announcements and tech tidbits.  Most of these are smaller, henceforth why I didn't cover them in dedicated stand-alone posts like some of the other products.  For quick reference, here were some of my other Sea Otter specific sports tech posts that went live:
Hands-on: New $299 AeroPod Aerodynamic Sensor
Hands-on: Quarq TyreWiz Cycling Pressure Sensor
Hands-on: Garmin Edge 520 Plus with Mapping
Garmin Varia RTL510 Radar/Cycling Light In-Depth Review
Garmin Edge 130 In-Depth Review
Also, I recap not only this post, but some tidbits in other topics (namely on heads up displays, but also some general trainer and other gizmo thoughts) in this Sea Otter Recap video I just published, which you can watch here:
In any case, let's dive into this power meter focused post.
SRM Power Meter Pedals: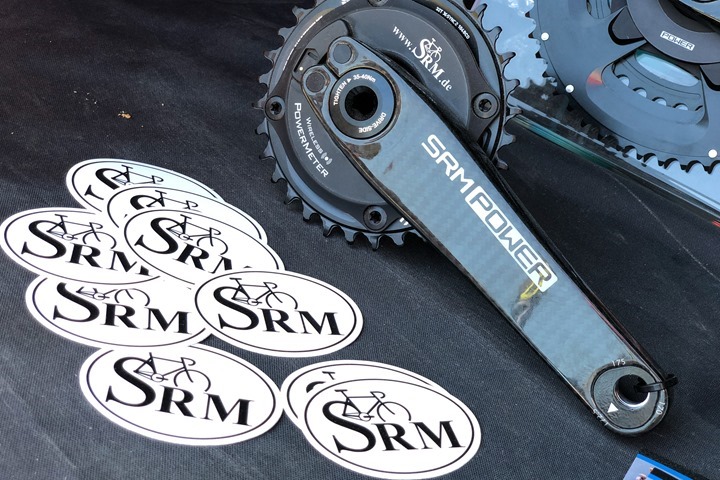 Now, it doesn't take a rocket scientist to know that the picture above is not of an SRM pedal based power meter.  Nope, that photographic award would instead go to the tweet from SRM sponsored athlete Adam Hansen below, which I've embedded:
I rode with these top secret @srmtraining pedals and can now take them home to test them more. Very nice 😀 pic.twitter.com/0N8tR8ThEc

— Adam Hansen (@HansenAdam) March 24, 2018
Instead, my photo is actually of something else I'll get to in a moment. But first, the pedal based power meter.
As you see above, this is clearly a venture between SRM and Look. You'll remember that Look initially developed a pedal based power meter for Polar back 6 years ago.  Then somewhat more recently they diverged and created their own dual ANT+/BLE variant (that virtually nobody bought because they made it so darn difficult to purchase). Both Look variants had dangling pods, just like Garmin Vector 1/2 had.  What's unclear from the tweet above is whether or not the joint venture from SRM/Look did away with the pods or not (if it didn't, it'd be dead in the water in 2018). Given the pods were installed separately in the past, it'd be easy to not include those in a non-bike photo.
Now, getting SRM to agree to anything on record regarding the pedal based power meter was a bit tricky.  But, once I pointed out that their sponsored athlete opened the door to that line of questioning, SRM rep Doug Ryeen agreed to a few on-record notables, which are as follows:
1) SRM can confirm that the pedals seen are theirs
2) They can confirm that they have a few of their athletes using them, including in-competition
3) They expect to see that expand
4) Consumers can expect more information on June 1st, 2018
And with that, that's all they'd agree to on the record.
I think the big questions for any SRM unit will be:
A) Price: It has to be below $1,200 to be remotely competitive, but even then, $1,000 or below is the going rate for pedal based power meters right now
B) Pods: No detachable/dangling pods is a requirement to be competitive, having pods is a deal killer
C) Accuracy: Generally speaking, all of the current generation pedal based power meters are actually accurate (non-accuracy related teething pains aside)
D) Installation: Anything that requires a special tool is a deal killer in this market
E) Battery: Would need to be a minimum 60 hours to be competitive, depending on if it's rechargeable or not
There are of course other questions, things like will it support non-round/oval/osymetric chainrings (PowerTap P1 and shortly Favero do, Garmin does not), and will it be dual ANT+/Bluetooth Smart, etc… All of which will hopefully be answered on June 1st.
Stay tuned!
Oh, as for the other SRM announcements, there's some minor notable items in there. Most of these are minor things that weren't strictly Sea Otter based, but worthy of a mention:
Mountain Bike Origin-based units are available: These are from $2,169 (not including chainrings) and are offered in a rechargeable only variant
Track Bike Origin-based units are available: These are also from $2,169 (no chainrings either), and are ONLY offered in a standard battery setup (like previous SRM units)
SRM Aluminum Crank Arms Coming in late Summer 2018: You'll remember that SRM started doing an in-house carbon crank-arm power meter a year or two ago, as a means to lower the cost for a carbon solution. Starting later this summer they'll ship an aluminum variant of that, which they say will lower the price for their Origin product line of power meters. They couldn't put a specific price on the table though at this point.
Bluetooth Smart compatibility: Finally, given that all existing SRM power meters lack Bluetooth Smart compatibility (useful for apps like Zwift, or Polar/Suunto head units), I asked if anything was in play there. While they are discussing options for a development cycle, it doesn't sound like anything is near term for that.
Phew, there ya have it!
4iiii Podium and New Carbon options: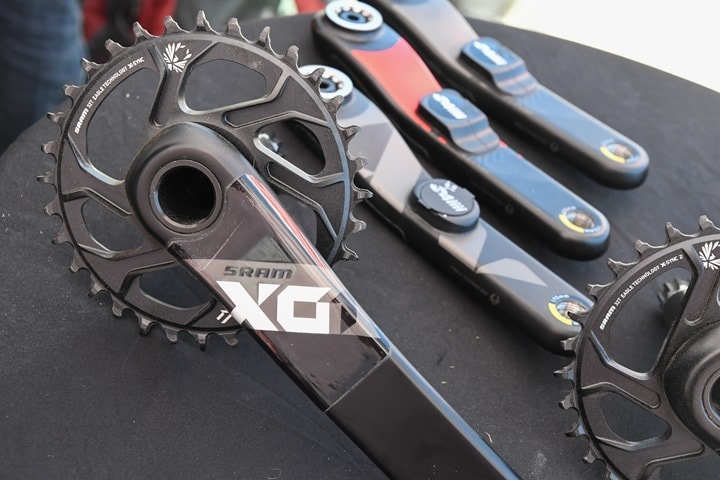 Last fall 4iiii announced their new Podium (it actually has like 98 iiiiiiiiiii's in it, but I refuse to write that each time) power meter lineup, which you'll see being ridden on various UCI WorldTour team bikes.  However, getting it on your own bike has been a bit more challenging, with the company behind in delivery of the units.
However, at Sea Otter they noted that they're getting things back up to speed and units should be flowing again now shortly.  That also applies to recent customer service inquiries, which seemed to be lagging too recently.  The company noted that as of last Monday they had an internal meeting to sort out exactly why things were all hosed up with respect to response time.  While I didn't pose my question until Saturday, I heard from DCR readers on Thurs/Fri that their questions had indeed been finally answered.
In any case, as for new units, they announced compatibility for XX1 and X01 cranksets, for 'factory install' (which is when you send them your crankset and they send it back). Both of these are available immediately, for $399USD. Additionally, they've added support for SRAM RED, FSA SLK LIGHT, and FSA K-FORCE crank arms (all of which are carbon). All of which are for the non-drive side variants, meaning, left only.
With these new units, you can select either rechargeable (Podium line) or coin cell batteries (Precision line), your choice. You can see the slight differences below:
I don't have a specific timeframe for testing a Podium unit, mostly because I don't have a Podium unit to test. Perhaps down the road at some point.
ROTOR INpower Gen 2: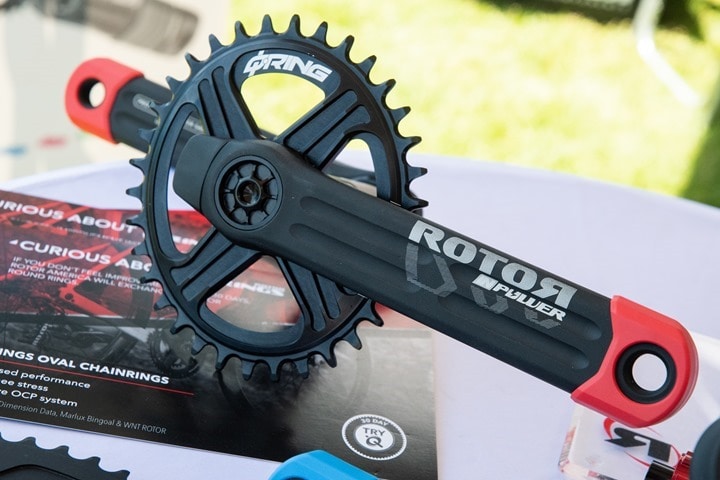 In a lot of ways, ROTOR's announcements weren't terribly different than 4iiii. It had technically previously announced the revised INpower units, but hadn't quite gotten to the spot of announcing some of the extended models for it.  If you turn the way-back machine on, ROTOR's had a few different generations of similarly named products. Everyone wants the Apple model of calling all things the same (Wahoo and GoPro are both guilty of this too).
In the case of ROTOR, it long ago had a left-only unit called INpower, which placed a power meter in the spindle (inside the bottom bracket region). Again, left-only, just like a Stages – but in a different spot.  Then came along 2INpower (actually, there was also another ROTOR dual-sided power meter too, but let's not confuse this story any more than it already is).  2INpower went dual-sided with their measurements, but as part of that, they switched to a different measurement technology provider.  That left the original INpower on the older tech.
All of which is what ROTOR has now rectified.  Both 2INpower and INpower are now using the same sensor tech under the hood, and both are dual ANT+/Bluetooth Smart.  Practically speaking, there's honestly not a significant difference here for most folks (between Gen1 and Gen2), though they noted the antenna is improved. Note: They aren't calling them Gen 1/Gen 2, that's me applying logic to the situation for your benefit.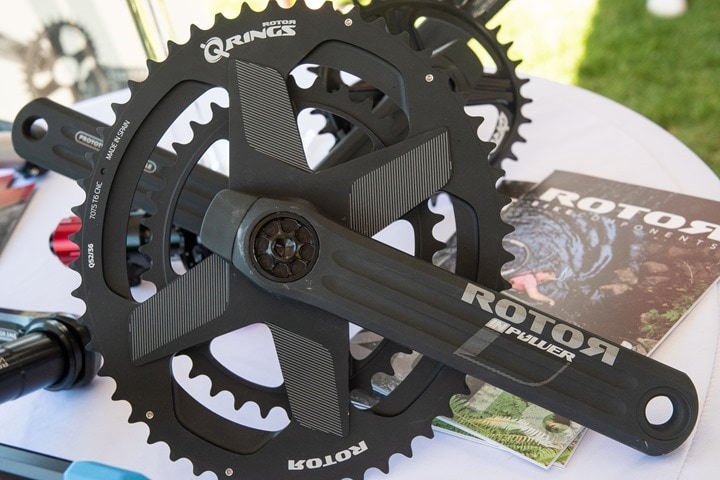 The INpower left-only units run on a single AA battery, getting about 300 hours of battery life per battery. They're also fully IPX7 water resistant compliant.
These will be available on both Road and Mountain varieties, at $799, starting towards the end of May/June for road, and then July for mountain.  While that price is mostly out of range of the rest of the market for a left-only unit, one notable for ROTOR is that their unit is compatible with Q-Rings (oval chainrings), which most other players aren't.  And unlike most other left-only units, they can be paired with the company's OCA & Torque 360 apps to get advanced pedaling metric information.
Cats and Dogs:
Finally, just so ya don't think I'm ignoring everyone else, here's what's up with all the other major power meter players I checked in on:
PowerTap: Nuttin' new at Sea Otter
Verve Infocrank: Nuttin' new at Sea Otter
Stages: Nuttin' new at Sea Otter (Both Gen3 and Stages LR just started shipping a couple months ago)
Quarq: Nuttin' new at Sea Otter
Garmin: Nuttin' new at Sea Otter
Pioneer: Nuttin' new at Sea Otter, but "they're excited for Eurobike and Interbike"
Team Zwatt: Nuttin' new for Sea Otter
Power2Max: Wasn't present at Sea Otter
Favero: Wasn't present at Sea Otter, but, more news to come this week once I finish sifting through all the details.
In related news however, there will be something new for Tuesday – tomorrow (unless you're in Europe, in which case it's technically already today). In any case – 12PM Central European Time (CET), or 6AM US Eastern Time, or…well…you can do the math from there. My YouTube video and post will hit at the same time, so as always, subscribe to YouTube and hit the little notifications bell to be the first to know (or, if nothing happens, then the first to know it was delayed). – [Update: This.]
As for Eurobike, I don't expect this to be a big power meter year for major new models from existing players. I expect we'll see more of what we saw at Sea Otter – which is mostly minor updates, primarily crank arm compatibility type stuff.  The last 1-2 years have seen almost every player announce major refreshes of their units, and at this point there's not likely to be a big push on the redesign front (instead, I expect you'll see minor price shifts).
With that – thanks for reading! And don't worry, should be a solid week of sports tech as I clear through some of the stuff I shot at Sea Otter, including a deeper look at some of the heads up displays on the market, as well as other interesting gizmos I found there.  Plus, I'm looking to kick this Fitbit Versa review out the door, along with perhaps the Suunto 3 Fitness one too.  Though apparently there's some Dutch holiday on Friday that I've been warned results in no work occurring and significant amounts of drinking.
We'll see…