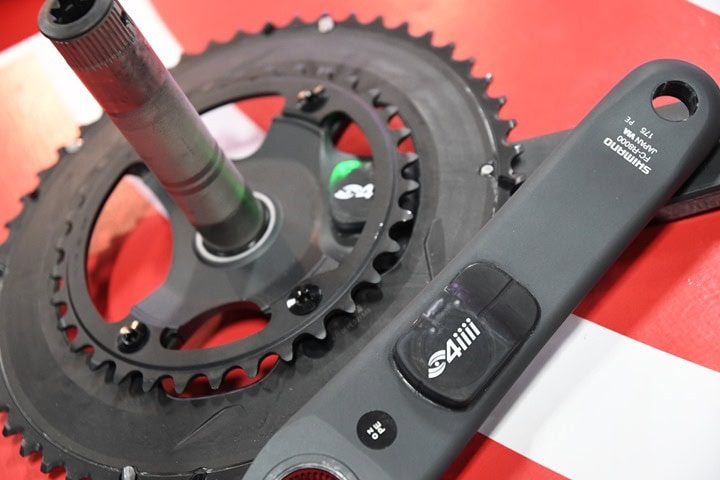 Today at Interbike, 4iiii has announced a new product lineup of power meters, the 4iiii Precision Podiiiium.  But because I can't stand to write Podiiiium throughout this entire article, I'm calling it Podium.  You can thank me later.
The new unit builds on the existing Precision dual sided lineup that's been around for about a year, you may remember my in-depth review of it last winter.  The majority of the changes in Podium aren't related to strain gauges though, but rather compatibility and battery tech.
First, we've got a switch from coin cell to rechargeable battery.  This follows along with the general industry trend towards power meters leveraging rechargeable batteries.  You can see the waterproof micro-USB port seen here on the pods.  This is internally waterproofed and will have a dust cover where those little copper ports are:
The rechargeable battery gets 60 hours of battery life, as compared to 100 hours previously with the CR2032 coin cell batteries.  While I personally prefer the coin cell design, others prefer the rechargeable design.  Totally a case of personal preferences, to each their own.
Next, the biggie here is the availability on the three core Shimano crankset lineups.  Previously the dual Precision offering was only available on the Shimano FC-9000 Dura Ace crankset.  Now it's available on:
– Shimano R9100 Dura-Ace
– Shimano FC-6800 Ultegra
– Shimano FC-8000 Ultegra
Within that, you can do either 'factory install' or 'ride ready'.  Factory install is where you send them your crankset, and they install the 4iiii Precision Podium unit onto it.  Whereas ride ready is when you buy a new crankset from them with everything pre-installed.
Pricing is as follows:
– Shimano FC-8000 Ultegra: $999
– Shimano FC-R9100 Dura-Ace: TBA (announced soon)
– Shimano FC-6800 Ultegra: TBA (announced soon)
Except there's one minor catch: None of these will be available until Q1 2018, but they could slide earlier.  So if you're looking for immediate Podium power meter equipage, you're gonna have to wait till then.  This is largely due to finishing up the rechargeable battery.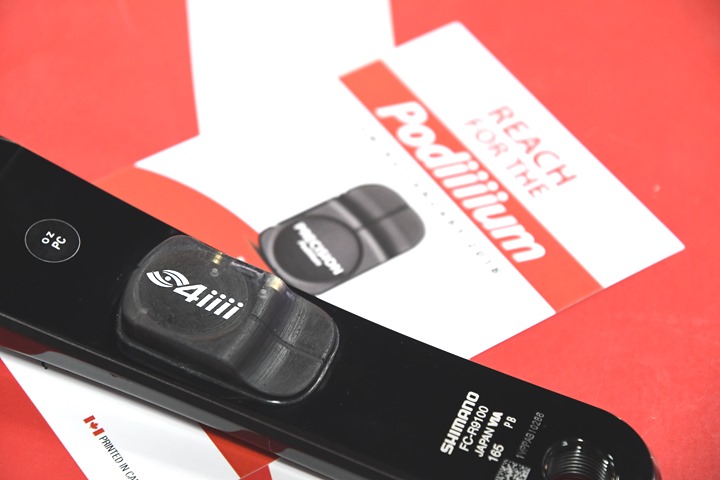 One key benefit here is that they'll be able to upgrade more folks to dual-sided that previously had a single-sided Precision unit.  Meaning that if you have the single-sided variant of one of the cranksets above, you can now go dual-sided with an upgrade kit.  Whereas up till this point, you basically had to have the brand new FC-9000 crankset to do so (which was more rarely available).
The upgrade cost for existing single-sided Precision owners to go dual-sided is $349 (which they note is a limited time offer).
Last but not least, the new Podium units are thinner profile than before, reducing the thickness from 8.2mm to 7.5mm.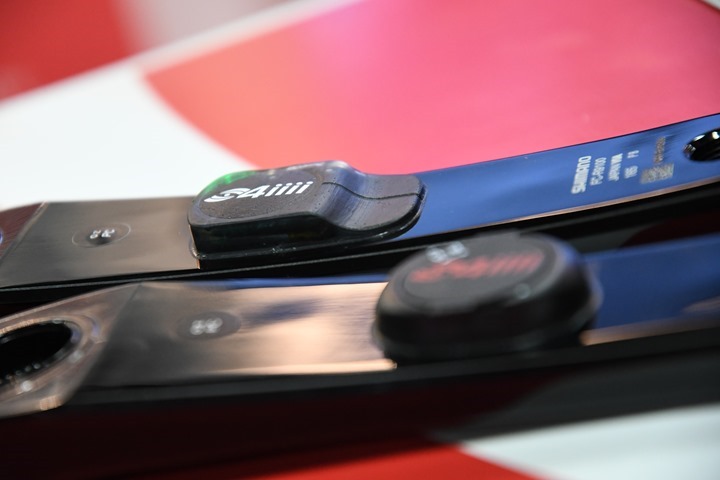 As noted, these new units don't start shipping till next year, so I'll probably circle around that time with a more detailed review to see how things hold up.  Obviously anytime a company uses a micro-USB port on a bike part, I get a bit worried about long-term durability. But there are certainly examples of products in the market already doing so with little issue (such as Favero on their now two-year-old BePro pedals).  Further, with 4iiii headquartered in a place with generally miserably wet, cold and rough winters (Calgary) – I'm more likely to trust they've done the research than a company headquartered in Southern California or something.
But again – that's all things to save for the review.
With that – thanks for reading and stay tuned for plenty more coming up here from Interbike!