Another awesome weekend down in Australia, getting in the swim/bike/run variety that makes this place so easy to love.  Plus of course, some other tidbits.  Here's what I was up to!
1) A quick power meter check ride
Last week I got back my PowerTap G3 hub wheelset after it had to go get serviced.  This is the brand new wheelset that's on my new Canyon bike I built in December.  I had noticed almost immediately on Ride #1 then that something wasn't quite right with the power numbers coming off of it (they were 20-50w high).  But figured I'd give it a ride or two, to see if things settled (rare for a PT hub, but figured what the heck).  Alas, they didn't.  And by time I could deal with that I was in Australia.  So PowerTap worked with the local service center down here and I got my wheel sent off to them.
That worked out perfect timing-wise with testing out the AirHub wheel, which they also had a PowerTap G3 hub I was able to borrow.  Thus, my power meter testing continued on without issue (as that wheelset was accurate).  And within industry circles, the PowerTap hub wheelsets are widely known as tanks that keep on ticking.  They also have the advantage (by most opinions) of zero offsetting, which means they tend to be less easy to screw-up accuracy wise.  I've got two other G3 wheelsets that are rock-solid.
In any event, I got back my wheel late last week and went out for a test ride on Friday: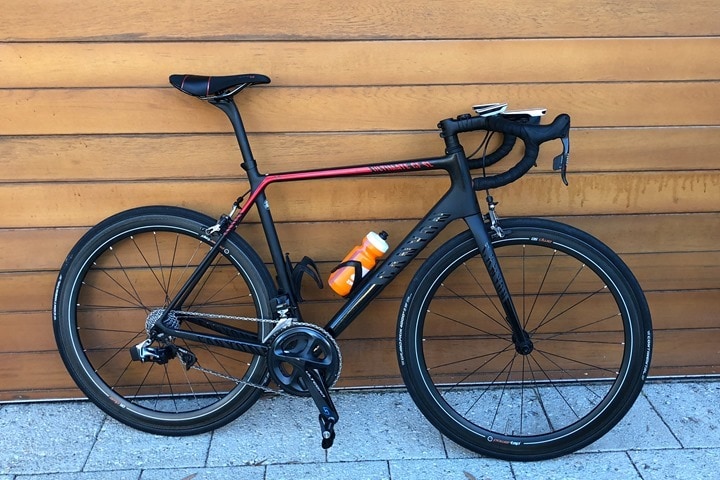 Just a simple 45 or so minute loop to kick the tires so to speak.  Of course, I took some pics along the way.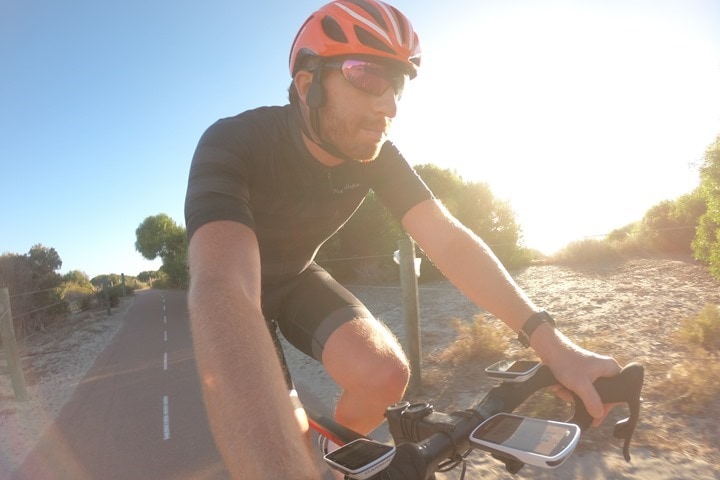 In any case, during the ride it became clear almost immediately that the power was still high.  While I have no doubt the local service folks fixed and validated torque on a test bench, whatever is causing the issue is only happening out on the road.  On the bright side, it's super easy to replicate.  On the downside, unless you had 3-4 other power meters in your stable to cross-reference against, it'd be hard to spot.  In my case, I had both a Stages LR and Vector 3 on the bike.  But in effect I also had the other 'known good' borrowed PowerTap hub.  Plus, a Tacx Neo trainer that the Stages LR and Vector 3 checked out against.  And then I cross-referenced the Vector 3 to a Quarq DZero too.  I could also toss on either the Favero Assioma or PowerTap P1 pedals sitting next to me if I wanted (both solid).  Or another unnamed power meter sitting atop my desk too.
The good news here is that upon getting my e-mail on Friday (which was really Thursday in America), PowerTap decided to ship out a replacement wheel for it, and they want to get back my wheel to investigate.  I think the new wheel will arrive in the next day or two.  Woot!
2) Swimming in shark barriers
Saturday morning we packed up the fam and drove about 40 minutes north to Sorrento Beach, which has the honor of being one of a handful of places nearby with protective shark barriers around it.  Now, we didn't really come to this beach specifically because of shark barriers (as there is a place a mere 5K from here that has them too).  Rather, we came to catch up with one of the original founders of Cycliq (he's since left the company though).  Turns out the beaches here even have gas-powered BBQ's (of sorts) on them, for free!  Woot!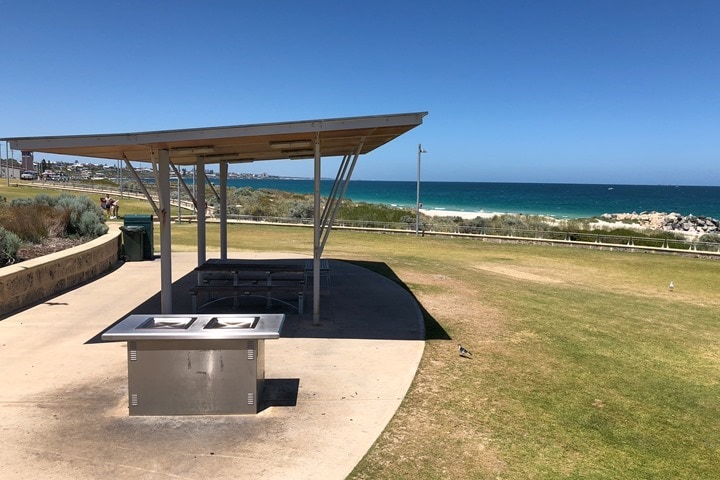 After making some breakfast sandwiches Andrew and I hit up the water for a quick swim.  Quick as in brief, not as in fast.  I'm still working on regaining my 'swim legs'.  Given Andrew has done the nearby and famed 19.7KM Rottnest Channel Swim multiple times, he probably could have swum backwards with one hand faster than me.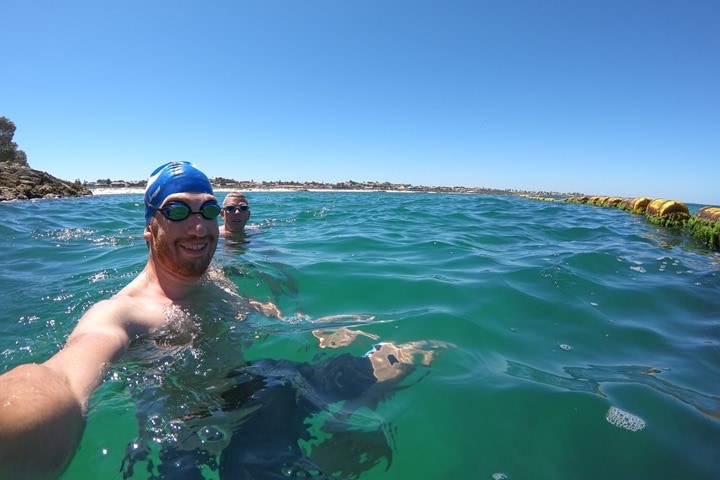 I will say that it was actually kinda nice being on the safe side of the nets.  While I've done openwater swims here, most of them I stay rather close to shore, in barely chest deep water.  And usually only when the water conditions are clear/calm.  I know that statistically speaking it's virtually unheard of for Great Whites to attack in such shallow water (one case exempted).  Whereas the further out you go, the more you become shark bacon.  Luckily for me, my beach is perfectly great for chest deep clear-water swimming – so it's not really an issue.  Still, it'd never have ventured out this far in these waters without the nets.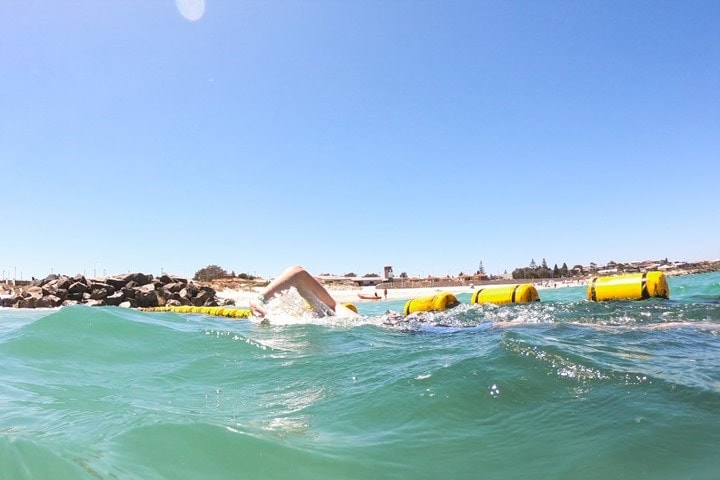 There is a bunch of controversy on shark nets of course.  But the two shark barriers installed here are generally considered quite ecological because they don't enable marine life to get tangled up in them.  Whereas many shark nets installed elsewhere in Australia can't say the same.  Of course, even without shark nets, the reality is that you're still far more likely to get killed in a car or on a bike than by a shark.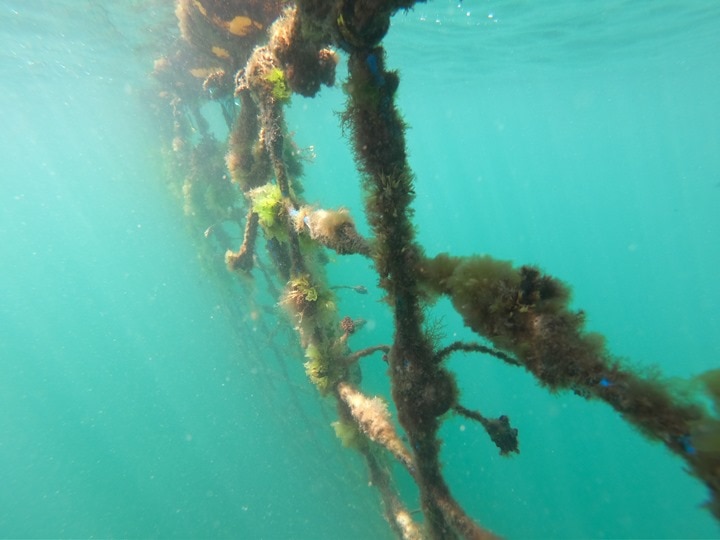 As for the swim itself, it was all fine and dandy.  I didn't bother to put another GPS atop my head or buoy for this quick swim, so you see a minor bit of imperfection on the track with a single data point out beyond the shark net.  As with most openwater swim tracks…win some, lose some.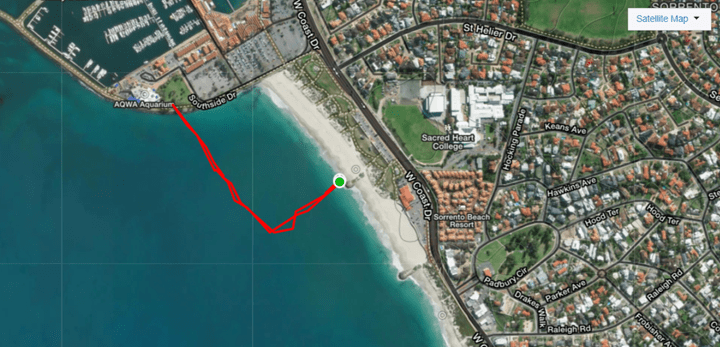 As a side note, it is cool that you can see the nets on the satellite view on Garmin Connect, but not on Strava or even Google Maps natively (despite Garmin Connect in this instance pulling from Google Maps) :

Oh, and want more shark stuff? Here's the time I swam with Great White sharks for real.  Which reminds me of the shark blimp The Girl and I once bought.  You can apparently still buy it.  I'm so buying the Nemo one for The Peanut when we get back home!  Her one and only movie she watches is Finding Dory….which she calls Nemo.
3) Hello Olympic Watching!
As with most of the rest of the world, we took part in significant amounts of Olympic games watching this weekend.  Especially because our timezone here is only 1hr behind PyeongChang – making it virtually perfect for the games.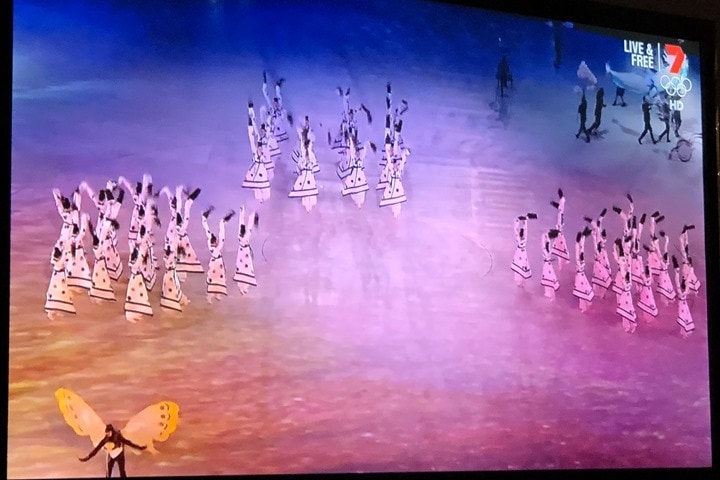 There's pros and cons to the Australian TV Olympic coverage.  It's better than the American TV stuff, but not as good as the Canadian coverage.  It's different than the French coverage, and maybe a touch better in some ways.  Typically with the French coverage of Olympics I find they tend to heavily favor showing preference for French athletes and the events they do well in.  If the sport you want to watch isn't in that bucket, you're out of luck.  In large part, the American coverage is the same…but with more bouncing around and less live unless you stream.  When in Paris, we often watch the BBC Olympic coverage online, since that's pretty thorough.
The Canadian TV coverage is generally awesome – with basically 24×7 wall to wall Olympic coverage, and isn't super-specific to a given athlete (though, things may have changed this year).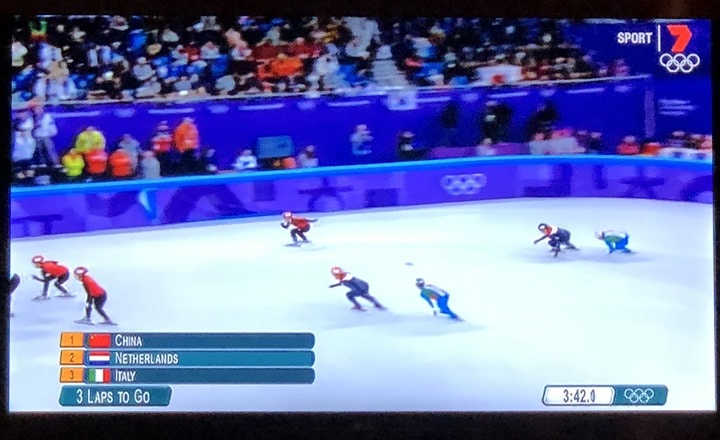 The Australian coverage is kinda a blend.  They tend to do a good job at sticking with an event once they start, even if it's not showing Australians.  But we've also seen some events where the commentators clearly had no experience in that event.  And were merely saying things like "And now Athlete X is in first…he's moved to second…ok, he's in third now."  We watched as they provided zero background/technical/anything details for 35 minutes.  Just simply telling us who was in first/second/third.  Of course, on other events they've had great commentators.
Still, I'm certainly looking forward to consuming many more hours of the Olympics.
4) Shipping and Receiving Adventures
Given I'm in Australia for almost 3 months, that means gear is arriving here for me just as it would normally arrive back home in Europe.  Thus, just as I deal with shipping and receiving and unboxing at home, I do the same dance here…just with an Australian twist.  That twist basically means: It takes longer, it costs more, and it's less predictable.
For about half the packages coming to me, the individual manufacturers are sending them on their dime.  So for example, Stages sent me a box of boxes on Friday.  That included a slightly updated Stages LR unit (final-final production, dual variant), as well as two Stages L units (left-only units).  More on that in another post.
For these packages, I essentially receive a tracking number and just keep an eye on things.  The same is true for this package from Soloshot, with their new Soloshot 3 Optic65 camera.  It's basically a 4K zoom camera setup that goes atop a tripod and tracks you using a little transponder.  It's a bit more ideal for sports like kitesurfing (which is why I need to learn, obviously) or surfing, than it is for something like running.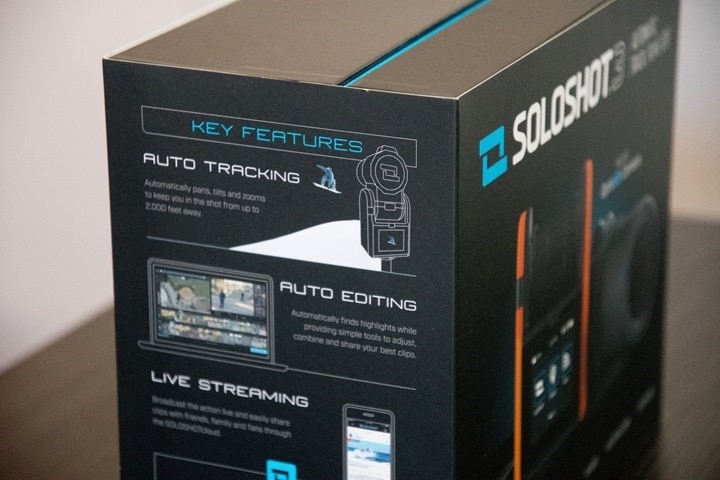 Since the camera is stationary it's more aimed at sports or scenarios that you don't stray very far.  But it would work well in things like skate or bike parks, possibly also around a running track or velodrome.  More on that soon.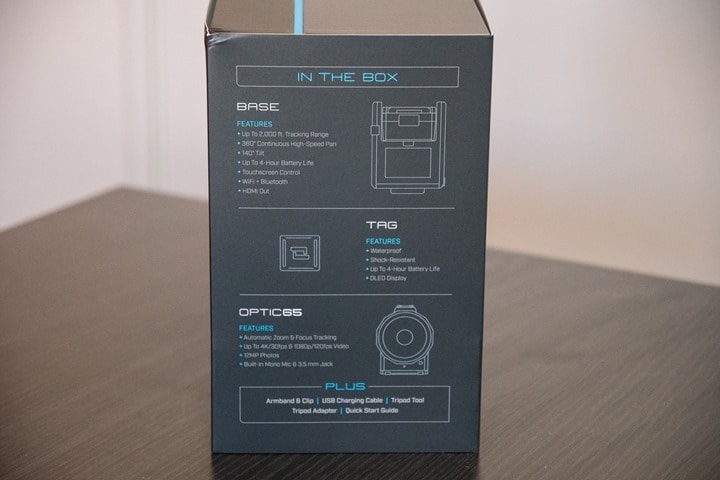 Then there's the boxes that I handle the shipping on, which are things to my US forwarding box.  In that case I bundle stuff up on a roughly weekly basis and then ship it wherever I am.  When I'm home, that's to Europe.  When I'm travelling in the US, I'll ship it there (since it's much cheaper), and now in Australia, I ship it here.
In general, it cost me about $120-$200 a box to send over to Australia.  In Paris, I find most of my forwarding boxes cost about $80-$120.  Obviously, depends on what's in them.  Things that are heavier cost more, as do bulky things.  A small watch, less so (but if the watch is in a fancy box – more so).
Shipping time also varies.  In general, it takes two days to get to Paris from the US for my packages.  So I ship something on Wednesday afternoon, it arrives on Friday morning.  With Australia, I'm finding it's about 3-4 days.  Right now I've got a box that left the US on Friday, and is set to arrive on Wednesday.  That box includes the Amazefit Bip and Amazefit Pace that everyone seems to be talking about.  I ordered both myself to my forwarding box when the Bip came out.  There's also some other random stuff in that box too, including a DJI Mavic Air that I bought (though, you can see my two Mavic Air videos here if you haven't already).
And then there's what I'm finding to be a bit of an Australian delivery 'fudge factor', which I'm finding is a bit like 'Island Time', where sometimes the major carriers (FedEx/DHL/etc…) simply don't deliver your box that day for no particular reason.  Not even an attempted delivery…just a general 'Shrug, mate.'  At least in Paris they faked the delivery attempt.
(Sidebar: As I wrote this exact line above, I received a call from JetBlack, because the delivery carrier for their new WhisperDrive Smart trainer they sent me says I'm not home.  Yet I'm sitting on the deck above the front door looking at the door/driveway.  Point proven.  They're going to call them back to try 'again'.)
In any event…a window into my world.
5) Evening run with The Peanut
Last but not least, I finished up with a simple 10K run with The Peanut.  As it seems like is often the case here, the winds were howling by this time of night.  And as is usually the case, I often go with the headwind for the first half, and then take the tail-wind for the second half.
We ran down to a pier about 5K away: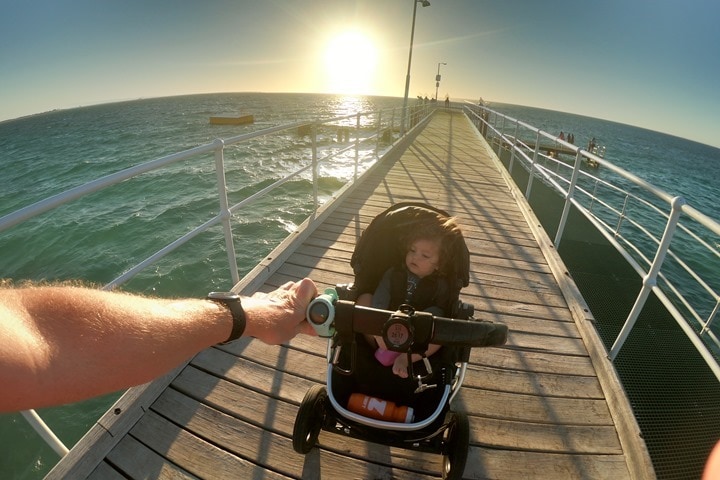 Next to the pier is actually the other shark barrier I was talking about: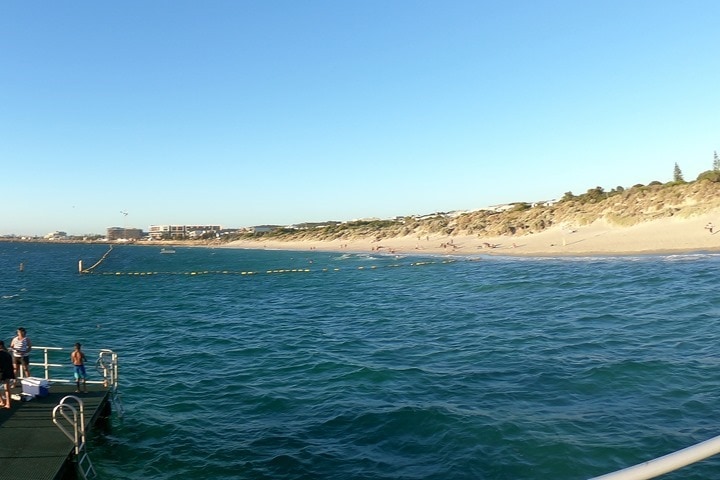 And then after that, we ran back and hit up the swings. Largely because as always, she pointed out every single swing-set she saw along the way, including many she's never seen before.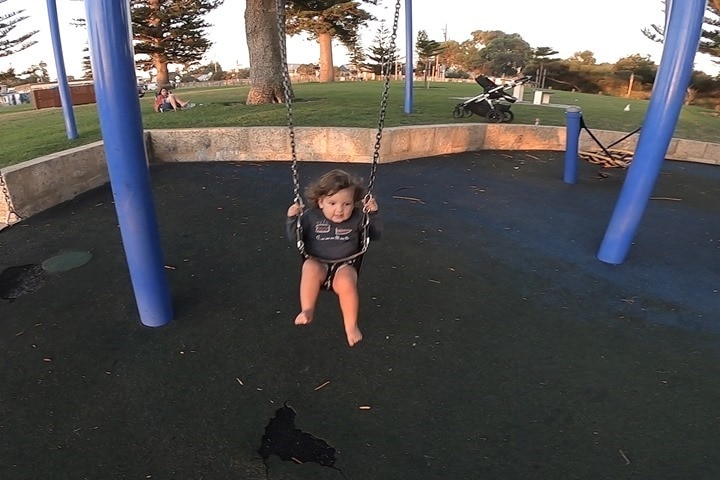 And thus with that – the weekend is complete!  Thanks for reading all!