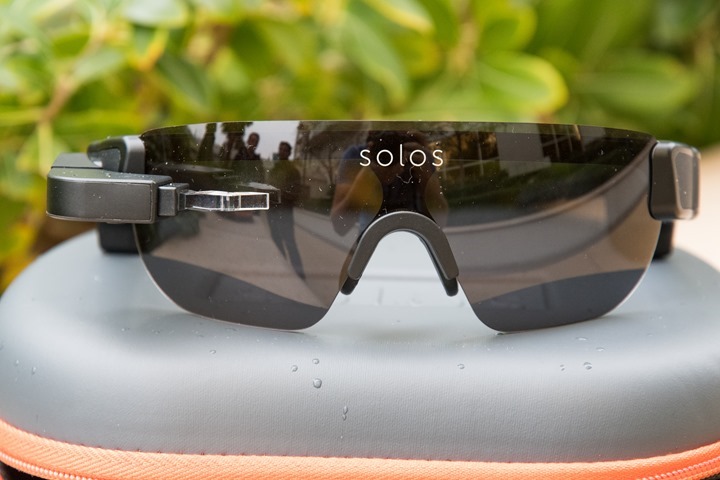 While both Google Glass and Recon Jet have ridden off into the sunset, there are still 2-3 companies working to capture your heads up display glass dollars.  One of them, SOLOS, was back at CES again this year showing off their Gen2 units that that'll start shipping sometime this spring.
SOLOS first started off a few years ago via a successful Kickstarter campaign, and then ultimately transitioned into an Indiegogo campaign for longer term support.  The glasses were used within the Rio 2016 Olympics by some athletes, but didn't reach the majority backers till 2017 – quite a delay from their intended arrival date.  Still, the company did ship a functional product that could legitimately be used by real-world athletes (even pros), something that can't necessarily be said by a lot of crowdfunded sports tech.
Except there was one minor catch: After they fulfilled their crowdfunded orders, they actually didn't ship out to non-crowdfunded folks.  Instead, they paused retail/sales plans and went straight to working on a Gen 2 unit, which is what we've got here.
What's New: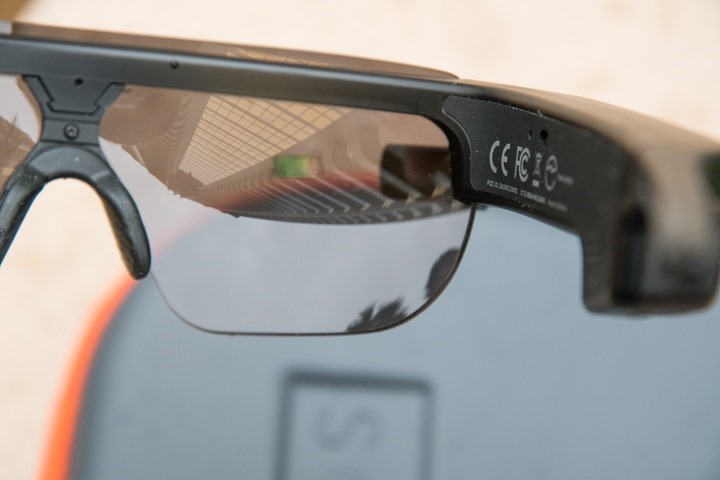 The changes to the Gen2 units are fairly well split between hardware and software updates.  For the hardware updates, the majority aren't hugely obvious at first glance, but rather more evolution than revolution.
For example, the Gen2 units (which weigh 68g) now includes two speakers (one on each side of the glasses), which allows you to listen to music, or the device to give you audio queues.  One can also have a phone conversation (perhaps with a coach in real-time).  Additionally, voice control is possible now for controlling the device.
As part of the microphone and speakers, the company is enabling live chat between riders in a group scenario.  The plan is to allow up to 10 riders to communicate live with each other.
In addition, from a hardware standpoint, you'll see the display arm is now double-hinged, so you can get a more precise location of the display.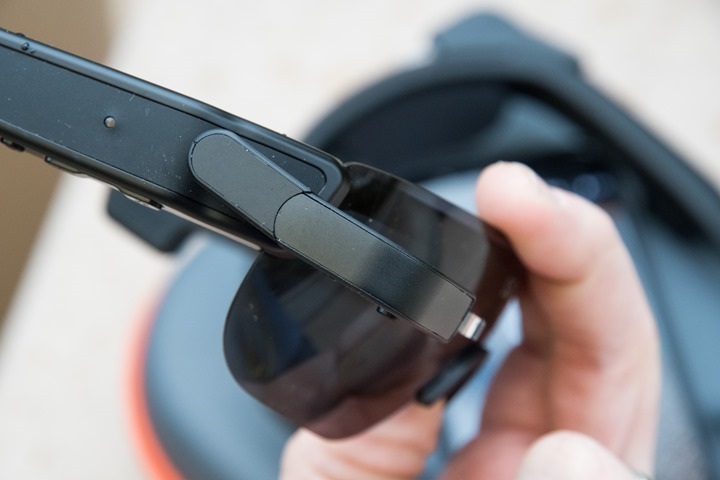 Speaking of that 'display', it's non-view blocking like before.  Instead, the tiny (4mm) high micro-display shows your stats in real-time.  This is different than something like Garmin Varia Vision or the Recon Jet [RIP], which have a larger display platform that can block more view (Garmin less so, Recon more so).  This includes data from ANT+ or Bluetooth Smart sensors, as well as GPS data from your phone (or watch).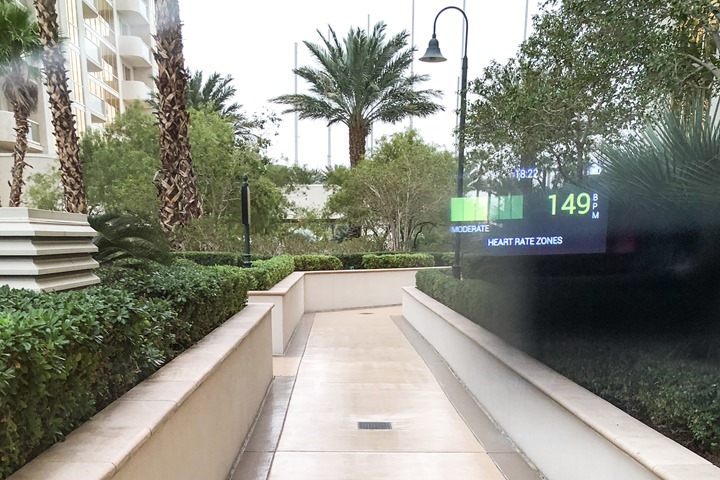 Above is exactly what you see as an athlete. It's a real picture I took behind the hotel.  Taking such pictures of that display to get the focus correct requires the DCR Advanced Sports Tech Photography certification. Else, here's what it looks like if you don't take that course: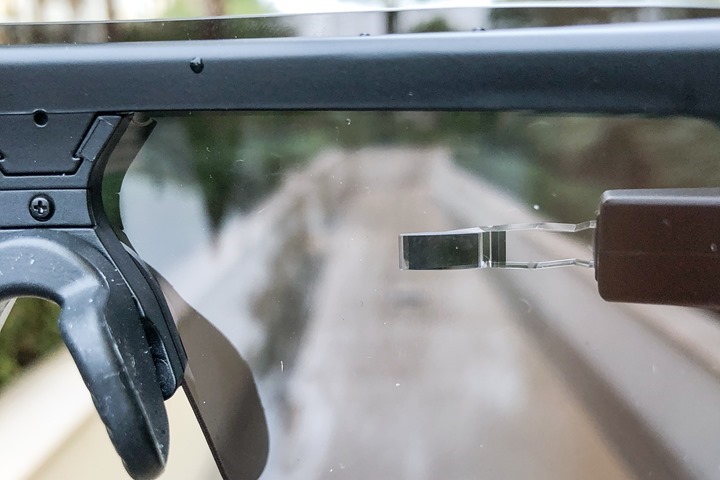 Within Gen2 though they've extended the unit to being used within running now, so you'll see pace, cadence, heart rate, and even running power (as well as time, of course).  I thought it was interesting that running power was specifically called out here in various materials.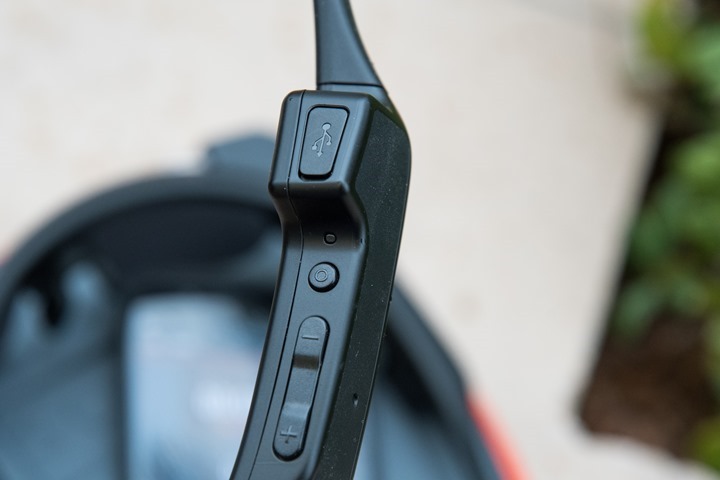 Going forward they're also working on the coaching angle more, with a goal to allow coaches to set performance targets and then the athlete to receive real-time audio and display alerts as they go through the structured workout.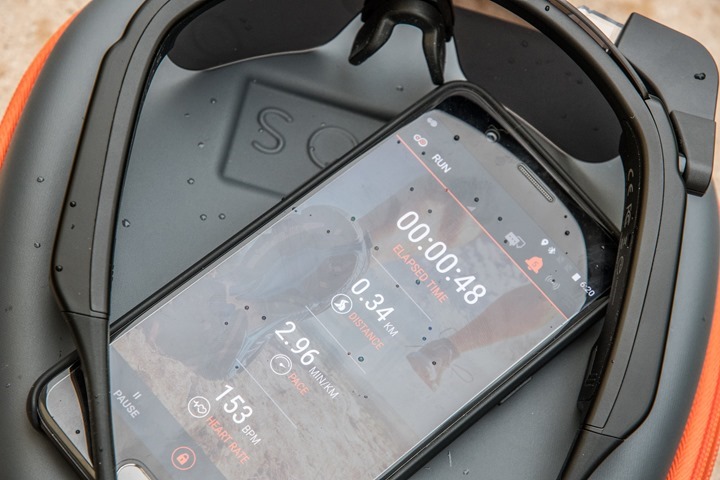 Another area that's new here is the ability to pair to an Android Wear 2.0 device to utilize that for GPS data, using the SOLOS app on Android Wear.  This would then replace the need to have a phone with you.  I got a short demo of this, and it seemed well enough…albeit while sitting still.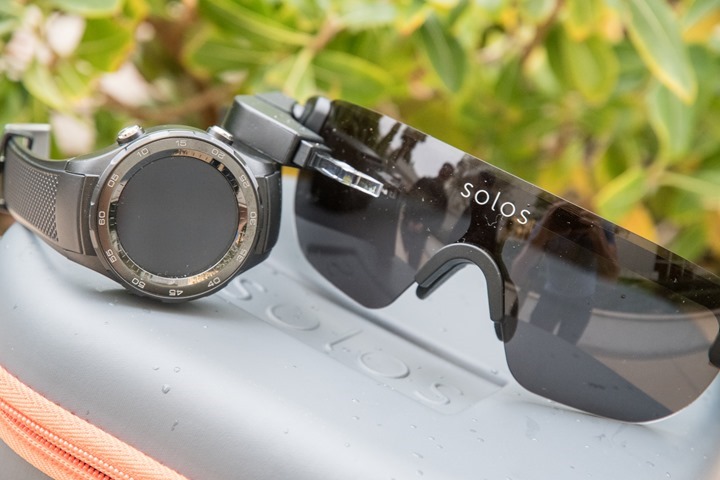 The challenge I see though with the Android Wear adoption is the lack of adopting a platform that actually matters for endurance sports athletes.  Realistically, every indication I saw at CES shows Android Wear on its deathbed (with every company I talked with, even those with AW devices, skeptical about its future).  But that's actually not the issue.  The issue is simply adoption: Apple Watch would have been a far better platform to attach to.
But even better than that, would have been just building a Connect IQ app for Garmin devices.  Solos has to realize their target market is basically Garmin users today.  Sure, there's the occasional Apple Watch wearer, but since Solos is specifically positioning itself as a secondary device, and specifically for endurance athletes (primarily cyclists), the market-share is overwhelmingly Garmin.
And, Garmin even made it easy for them.  It's not well-known, but Varia Vision (Garmin's technically less capable heads up display), is basically just a 'second screen'.  It blindly repeats whatever it's told by a head unit or watch.  But more importantly, that's actually now an established ANT+ standard (Remote Display Device Profile).  Any company can use it, and in fact, others are – such as ProShift.  Solos could allow Garmin users (almost any recent device) to pair directly to the Solos, and then show their information there, ensuring everything matches.
To me – that's the correct market alignment for now.  It gives them the greatest compatibility, along with the 90-95% current market share potential that Garmin has in cycling and running devices.  Usage of Android Wear devices today in endurance sports? My guess is well under 1% or so (To demonstrate this, go through all Shane Miller's Strava stats videos and see if you can find one).
None of which takes away from the work SOLOS has done with the Gen2 device.  I appreciate that instead of rushing into widespread production on a Gen1 device, they decided to make some tweaks to it.  Of course, that might not sit super well with Gen1 buyers.  But in many ways, that's the tech industry – always moving forward.  The Gen2 units are expected to ship here in Q1 2018, for a price of $499USD.
Going forward: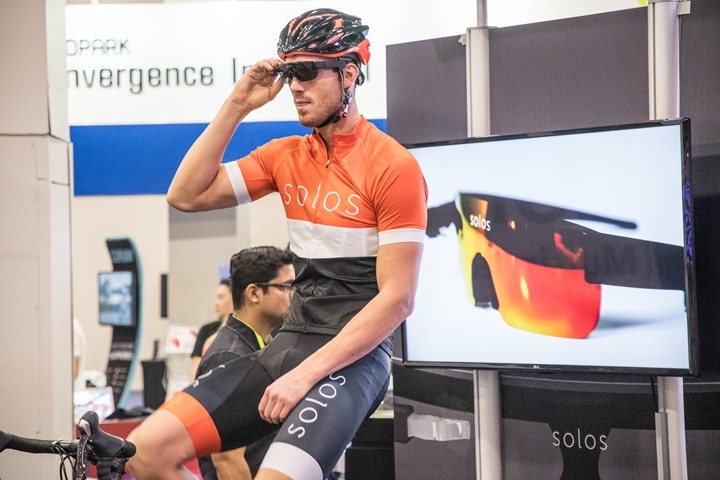 Now the trick for SOLOS going forward will really be the same as for most heads up display companies: Convincing users that a heads up display is worthwhile of the additional cost and logistical overhead.  In many ways, most of these companies aren't yet at the stage (by their own admission) of being able to replace a dedicated cycling computer or running watch.  As such, they've got to find good reason for you to buy their product at a $500 premium, atop of the spend you have for a $250-$600 watch/bike computer.  And all of that ignores the hassle of charging yet one more thing.
And for some, these devices may do that.  Both SOLOS, and its primary competitor Everysight, do offer unique value, at least in terms of keeping your eyes on the road.  And with SOLOS, the audio commands and related could be useful as well once matured a bit more.  Additionally, for those who want music (primarily in running I'd hope), this would fill that gap.
Still, I remain skeptical that this generation of devices (by all manufacturers) is going to be the winning one.  I think these companies will get there – I have no doubt about that.  But it's going to take even lighter and more barely noticeable units, followed by a big jump in software.  Frankly, until these units can 100% replace your bike computer (everything from navigation to workouts to data field selection), it's going to be a really tough sell.
One could look at the pull-back/discontinuation by Intel of the Recon Jet, but I wouldn't blame the product as much there.  That was Intel shutting down anything and everything wearable (the whole and massive wearables division was shut down), and Recon simply happened to be collateral damage. Had the company remained independent, I think we'd have seen a very compelling V2 option, especially considering it already had an HD camera, GPS, and more in their (albeit bulky) V1 device.  Unfortunately, that's a vision we won't ever get to see.
In any case, once SOLOS starts shipping their Gen2 units, I look forward to giving it a poke out on the road and seeing if perhaps this unit will be the one that changes my mind.
With that – thanks for reading!