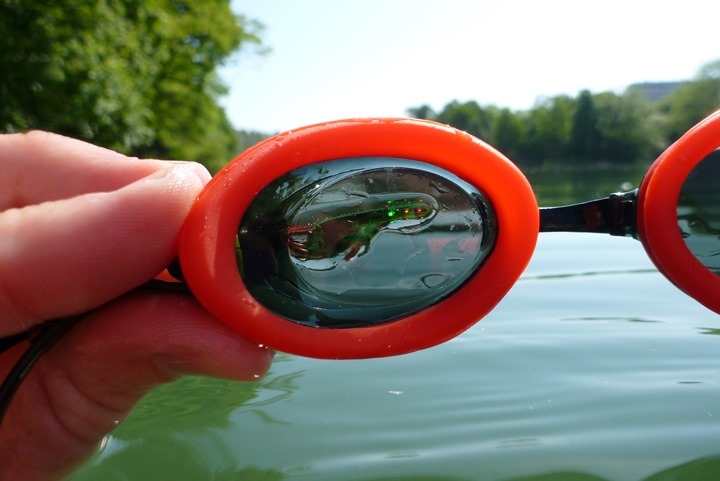 A week or two ago a small company from Utah launched a new swim goggle on Kickstarter that's aimed at openwater swimmers trying to swim straight.  As anyone whose done an openwater swim will tell you that can sometimes be tricky, especially in rougher waters.
The goggles will automatically provide you with left/right directions based on a GPS receiver, and will keep you going in a straight line.  There are a few modes it can operate in, but I'll get into that a bit later.
I reached out to them to see if they had a unit I'd be able to poke at.  They were able to send over a prototype unit for me to go out for a test swim with to get a feel for things.  As my general policy is – I won't put together full posts on Kickstarter (or any other crowd-funded) projects unless I've got a device in hand.  There's simply too many projects these days that are full of marketing garbage and unrealistic timelines, so this is my way of separating those that are rooted in reality versus rainbow-farting pony dust.
So with that intro, let's dive into it…literally.
Unpacking the unit: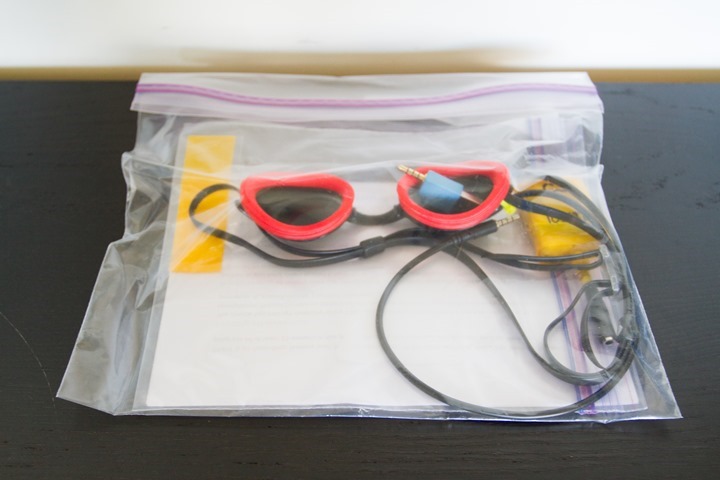 Like most prototype products I receive, the IOLITE looks a bit DIY.  Which, is completely normal.  They are often built in quick prototyping labs with 3D printed elements and oversized electronics that aren't designed for heavy use – but more proving a concept.  Adding water to that is generally frowned upon.  My point being, ignore the fact that the logo is written in a Sharpie and that tape holds it all together.  Trust me, I've received prototype items with less waterproofing hardiness from the likes of Garmin and Polar in the past.  So that's completely normal.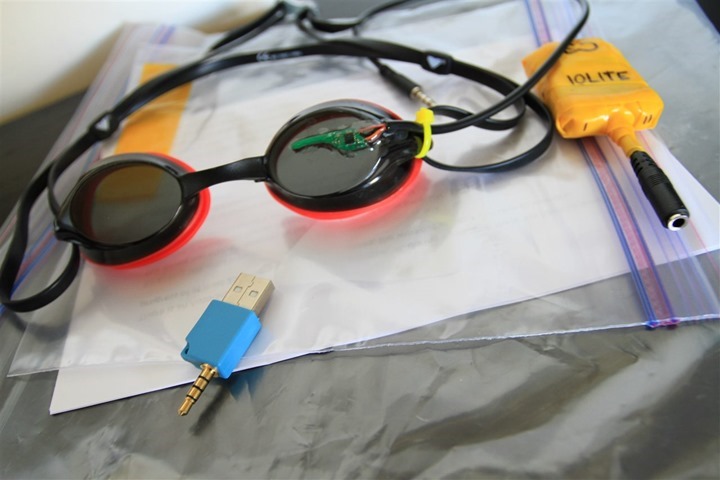 To that end, there's basically three pieces involved:
1) The goggles with the LED display
2) The GPS receiver and controller
3) A small USB adapter for downloading to your computer
The main pod is really the heart of the operation.  It contains the batteries and GPS receiver, along with the electronics required to both track and store your swim data, but also tell the goggles what lights to display.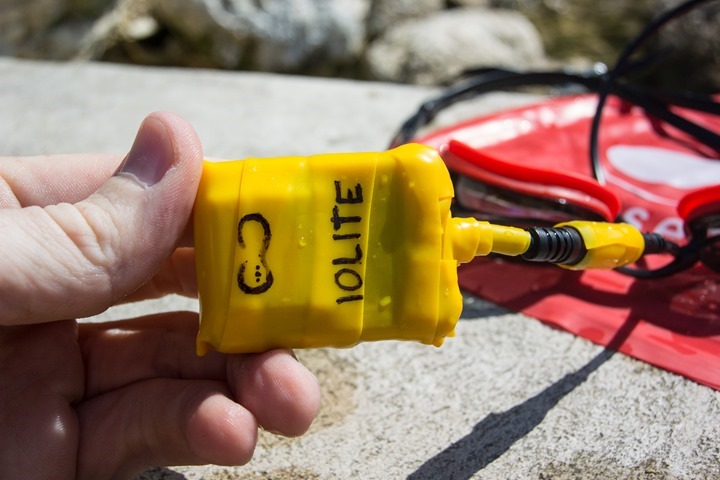 Along the bottom there are two buttons.  One is for powering on, and the other for ending a swim.  I suspect longer term the buttons will perform other operations.  There's also a button on the side for rebooting and resetting the unit.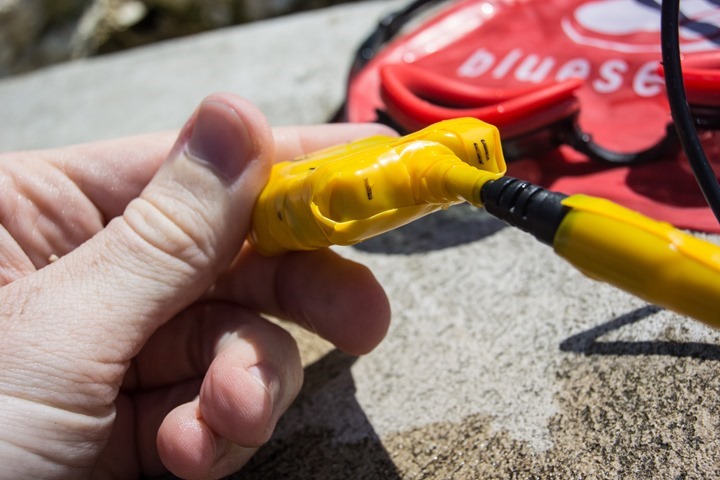 Meanwhile, the goggles have a small LED board mid-way on the lens.  From the front it looks a bit rough, but again, that's the nature of prototyping.  It connects via what looks like a headphone cable to the main pod.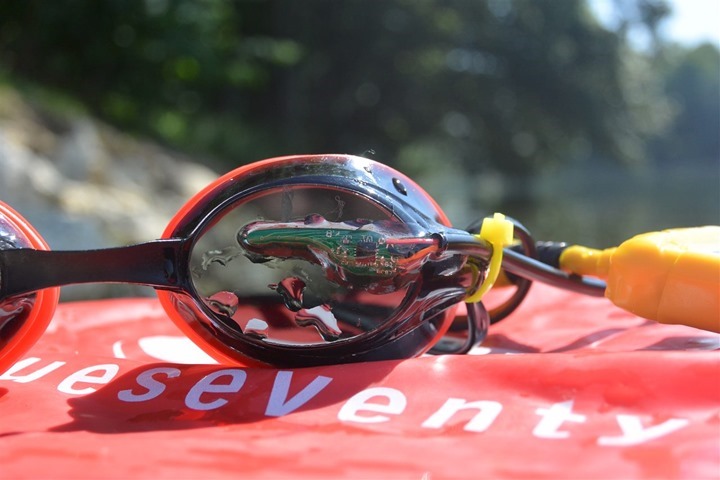 Flipping it around you can see the LED light bar, which is attached to the exterior of the goggle (so, in theory, it could be applied to really any goggle).
With the hardware basics out of the way, let's talk about how you actually use it while swimming.
Use while swimming: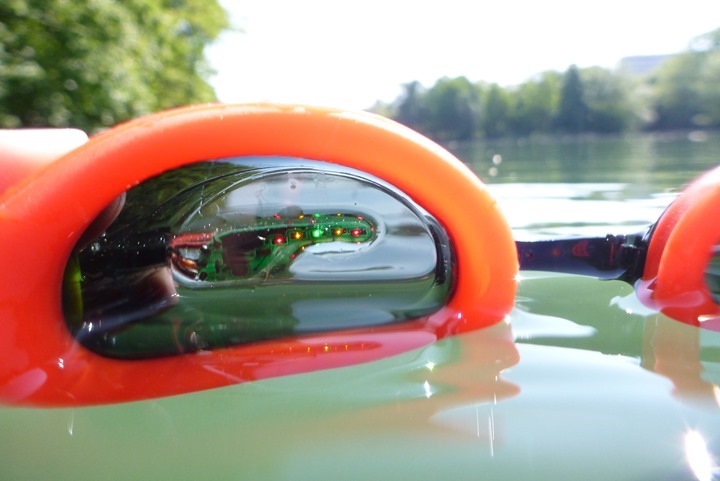 When the unit first powers on it'll find GPS.  In general this takes less than 30 seconds, and it was fairly quick for me.  The light bar above shows the full set of LED's that are contained on the unit.  In general, you'll never see all five LED's during normal swimming operation.
The pod goes under your swim cap in the back, and is connected via a small wire.  Obviously in final production runs this would be much cleaner – but for now it's simple enough: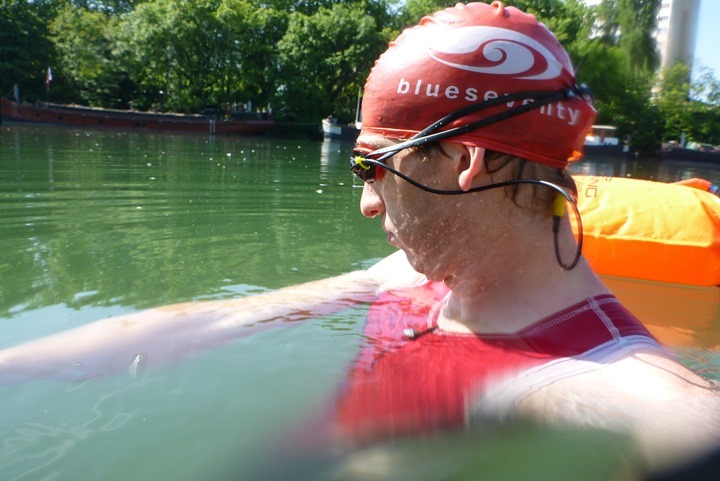 To start you'll press the #1 button, which then begins tracking of your swim.  Just like every other GPS device on the market, it'll record that data for later analysis.
Now the IOLITE has two basic modes.  The first mode allows you to swim freely, and it'll keep you going in a straight line.  Whereas the second mode allows you to pre-plot out a course and follow it.
For my testing, only the first mode was enabled.  The way this mode works is that you start swimming in the direction of your next turn point (be it a buoy, a marker, or simply a building or imaginary spot on the horizon).  It'll track the first 10 meters and once it has established that you're going in any direction for 10-meters, that'll become the direction to keep you going on.  Obviously, this assumes you can swim 10-meters in the same direction.
Once you've done that you'll see a single green LED light on the display.  That makes life is good and you're going straight.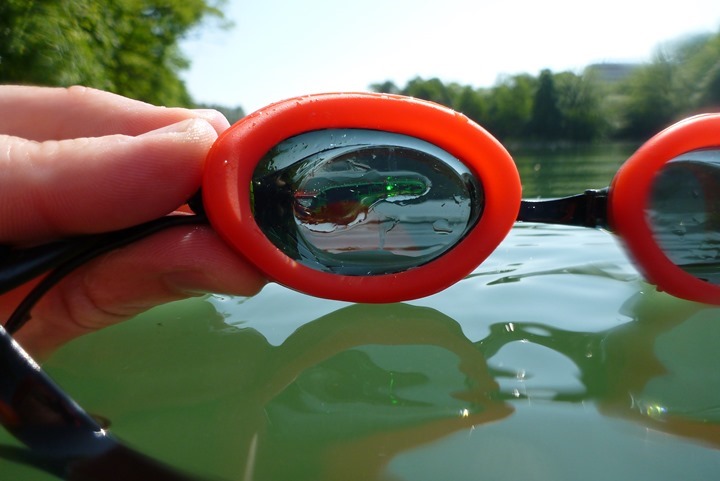 If you start to shift directions a bit you'll get a yellow light displayed.  In the below case you see a yellow light to the right side of the green light.  This tells me that I've gone to the right of the track and that I need to correct back a bit.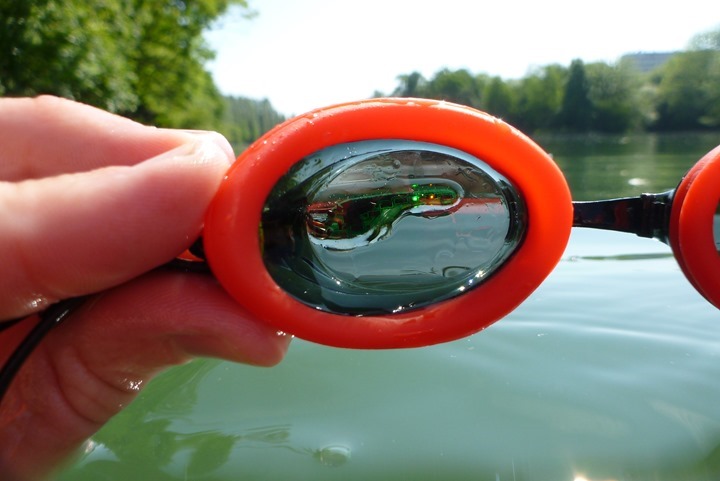 If I continue to go that way, I get the dreaded red light.  This tells me that I'm completely incapable of following directions and should really pay attention.  Or, said differently: Things are getting dire.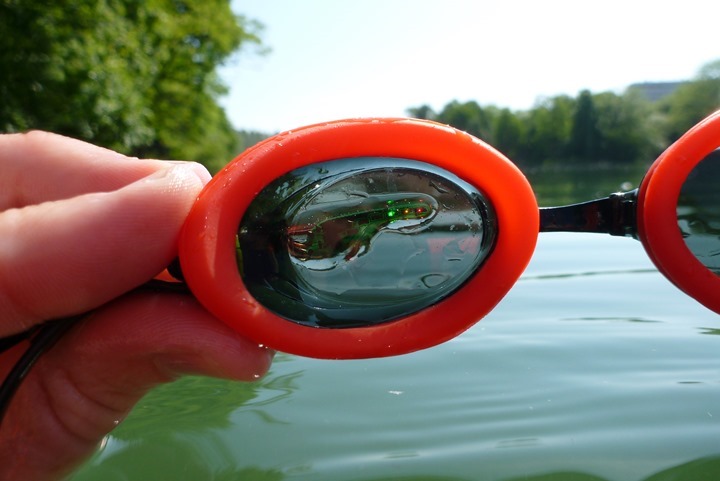 Once I make the correction and get back on track it'll go back to green.  If I over-correct, then it'll simply get me going back the other way.
Now, anytime I'm trying to show wearable eye-focused technology it's a bit difficult to represent what you actually see.  That's because many of these systems are designed to be in your peripheral vision, and thus what I'm showing you here is a few too many inches away.
So underwater what happens is you see in your peripheral vision the green/yellow/red lights and the direction – but they don't require you change focus, nor do they actually block your view.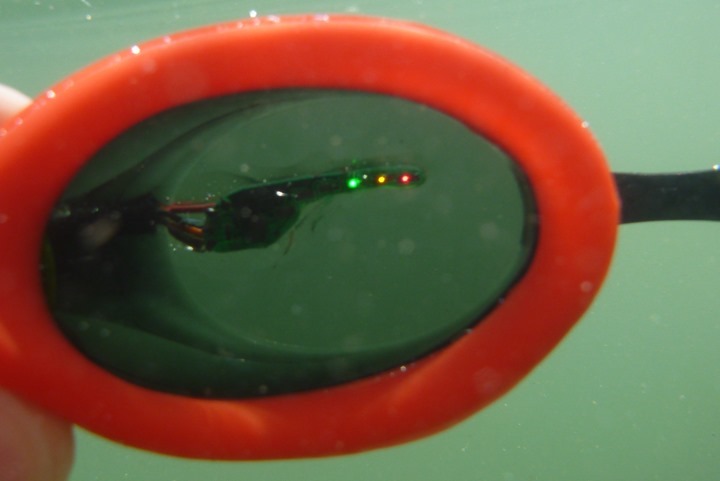 In my testing I swam in a big triangle picking three district points and only using the LED lights to change direction.  In doing so it was actually kinda interesting because the section of the river I was on had a slight bend in it, so even though I slowly crept away from the rivers edge, I was actually going straight (as you'll see in the next section).
In my case, I did sight occasionally – but not to change directions.  Rather, to ensure a boat didn't run me over (thankfully, none came by).  I was impressed by how easy it was to get used to the LED's.
When it comes time to change directions you simply change directions to a new point.  Because it's sudden and distinct the unit picks it up as a purposeful change versus an accidental drift.  Once you do that after 10m it sets its course and calls it good.
Now there is a secondary option, which is to use the software to draw a course on a map that you'd like to follow.  This option is more useful for crossings or other long distance swims that aren't on a marked course.  The reason being that trying to use such markings on a course like an Ironman race would depend on your dots and the buoys actually being in the same place on race day (which is highly unlikely).
Still, for those doing multiple openwater swims across channels, or between distinct and well known points, it's ideal.
Looking at data afterwards: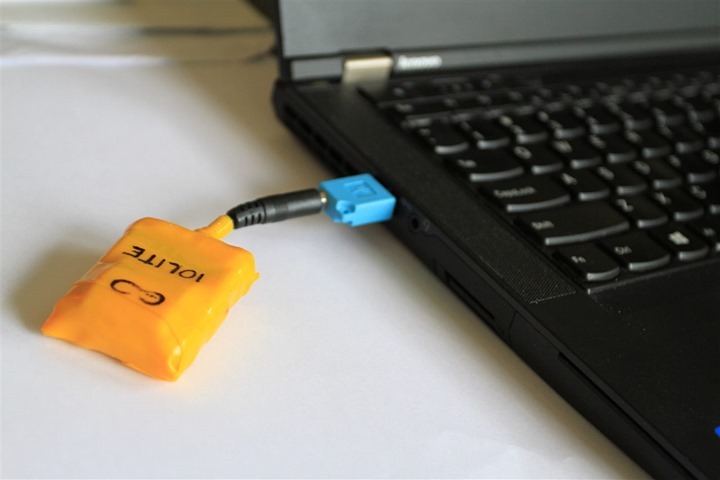 Once back from your swim you can use the included software to evaluate your swim session.  The unit can hold multiple swims, so it's just a matter of ensuring you save at the end of your swim (really just like any other GPS device).
Once that's done the file will open up overlaid on a map.  You can of course change it from satellite to regular map or anything else.  What's cool here though is that with a tool like GPS Visualizer it'll actually show you what LED lights were being displayed at each and every point along the way.  Thus, allowing you to see where you ignored things: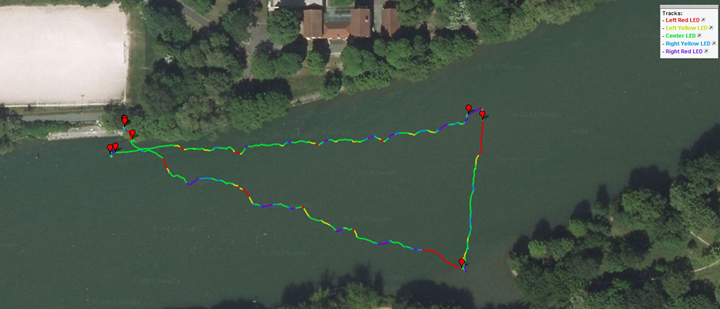 This is shown in a little key, with the different color tracks: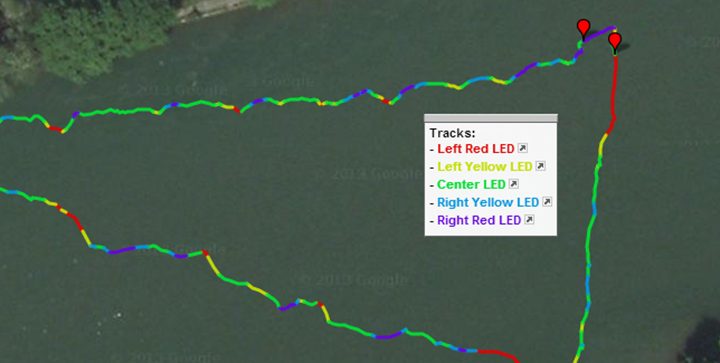 When it's green, it means I was swimming straight.  When it's any other color it means I was making corrections.  You can see how it generally will go from green to yellow to red (if off course to the left).  Or from green to blue to purple (if off course to the right).
In my case, I was sometimes purposefully swimming a bit off-course to see if it would correct and how well it would do in getting me back on track.  For example, look at this little section below (swimming from right to left).  In this case I was mostly on track until I made a turn to the left.  It warned me first with a less-critical alert, and then it went all critical on me.  I then corrected slightly (the mid-point of the the turn), and then it got upset as I overcorrected, ultimately requiring me to re-correct again.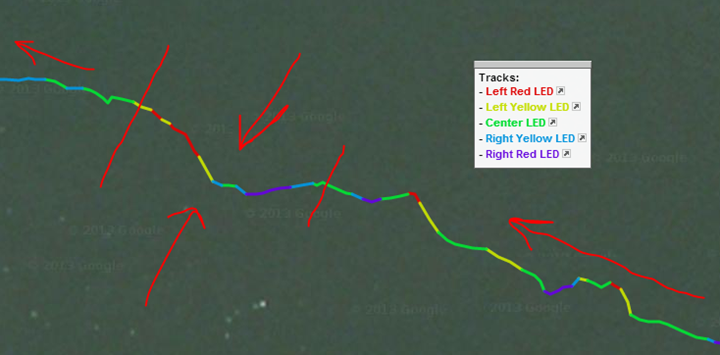 The folks behind the unit said that you do need to be a bit careful the first few times swimming that you don't immediately overcorrect too much with the first yellow warning light, and that you shouldn't be making major changes till you hit the red warning lights.  Still, I found it pretty easy to follow along.
Initial Thoughts: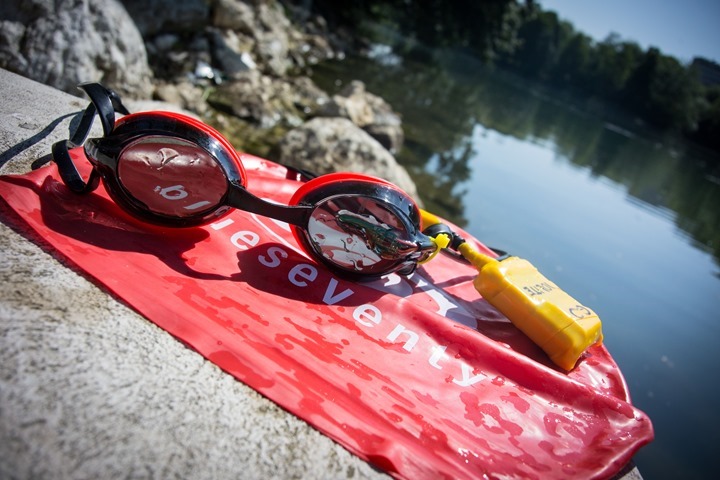 From a pure technology perspective the IOLITE worked very well for a prototype device.  The actual execution of directions and keeping me on course was spot-on, and it was quite easy to use in the water with zero learning curve.  I've got no complaints there.
Obviously, from a hardware standpoint it's too early to tell if there are any flaws there – since it's all prototype hardware.  My only concern I'd have would be ensuring that it's easy to tell the state of recording of the unit itself.  This is an issue that the FINIS Hydro Tracker suffers from, in that it's very difficult to know whether it's actually doing something (and what that something is).  A clear set of LED's with labels (i.e. ON, RECORDING, OFF, etc…) would be key. (Note: The Hydro Tracker doesn't provide any guidance, it's just a GPS on top of your head)
Now, I don't actually think this product is meant to replace sighting.  For example – in a triathlon there are many more factors involved.  Namely, lots of people.  So you're sighting more often for reasons other than directions.  I just don't see this as a case of getting rid of sighting – but rather ensuring that you're going the right direction.  For example, having swam at a particularly rough (heaving seas) 70.3 a few years ago – I'm sure many people (including mine) lost time on attempting to go in a straight line when you couldn't actually see the buoys.  Or, the second swim I did in Saint Malo where between the swells I couldn't actually see where I was going.
But, to that end, I don't actually view this as really a device for most triathletes.  Rather, it's likely more for pure openwater swimmers who are doing multi-mile (or multi-kilometer) swims and want to ensure they're going the right direction.
The only challenge to all of this though is that as the unit is priced right now (even for the early birds) is that I feel it's just too high a barrier to entry for most people who are taking part in that segment of the sport.  After all, this isn't cycling were people are dropping thousands to save a gram or two.  They believe that if they can get through Kickstarter they'll be able to reduce the cost a fair bit and likely go at costs lower than today.  Of course, that's some of the 'sport' of Kickstarter in bringing new products to market.  Do remember that the way Kickstarter works is that unless they reach their funding goal, none of the money is given to them (returned to backers).  At present they have only about 8 days to reach that goal.
With that – thanks for reading, and feel free to drop any questions below.