Since it's Friday, I'll keep it quick and pictorial.
First up is yesterday's announcement from FINIS about their new Hydrotracker GPS unit.  This unit is designed to attach to your swim goggles and hang out on the back of your head and track your swim.  The good ol' swimcap method is back in town!  Except, unlike that method, this one doesn't require the unit to be inside your swim cap – but is rather instead securely attached outside on your goggles.
I've had a unit since December and got the chance to test it out during my daily openwater swims in Bora Bora back in December/January.  The unit is painfully simple to use (on, off), and has a handful of settings that can control recording rate.  Battery life goes upwards of 13 hours, depending on said recording rate.  It can also be used for basic tracking of other sports as well.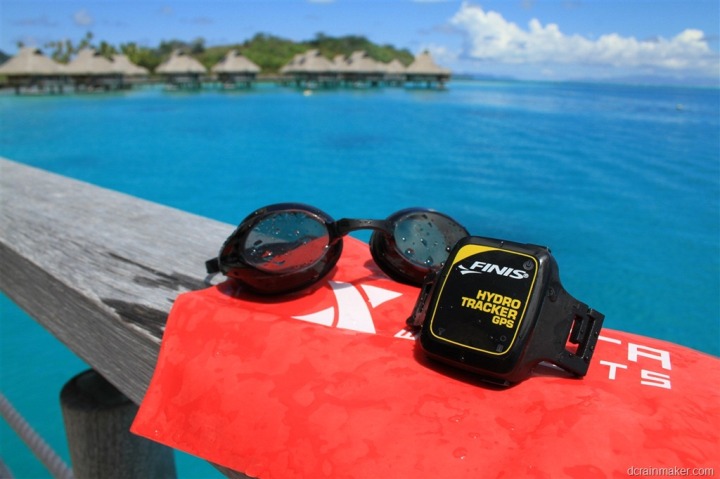 The unit doesn't tie into Swimsense from a stroke standpoint, and merely measures distance and time – so similar to stashing any other GPS in your swim cap.  But it does upload your workout afterwards for viewing, and you can download the GPS track to upload to just about any site (TCX/CSV/KML files).
Now that it's released, I'll go ahead and write-up a full review on it shortly.  In the meantime, I uploaded a slew of pics to a Facebook gallery to view (as a side note, one of the things I'm looking to address with the new blog design is the ability to create quick galleries that are easy to browse).
Next up is a note to any and all Garmin FR910XT owners that yesterday (Thursday) Garmin released the first update to the FR910XT which includes a bunch of fixes to issues that some folks have seen.  This includes a fix to address the pace fluctuation issue, as well as some uploading and shutoff issues.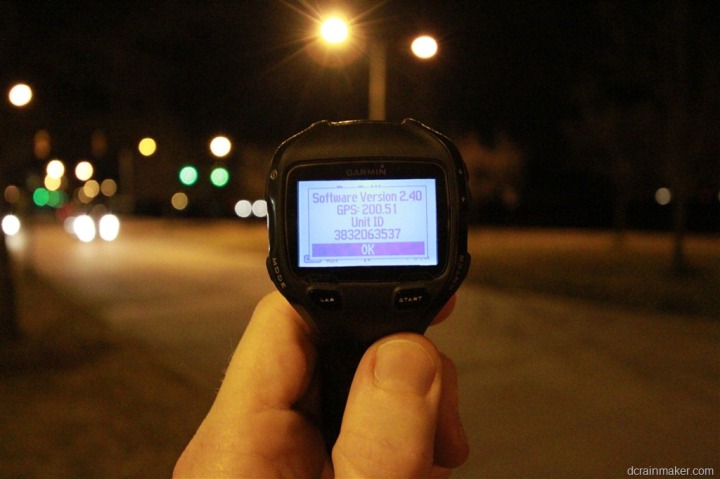 On the pace fluctuation issue – I actually finally figured out how to see the bug just this past weekend (I simply ran a lot slower), so I was able to confirm tonight during a short run that the issue is resolved on my unit after updating.  Hopefully it fixes others!  Note that no new features were added in this update – meaning, no TSS/NP/IF, nor anything else folks might have been hoping for.  These were pretty targeted fixes to squash bugs.
Also of note is that those with Amazon orders have started seeing your units ship, depending on when you ordered (thanks for all who sent in a note!).  They haven't cleared the backlog yet, though, in talking with Garmin the current trend/status is to clear out the remaining FR910XT backlogged orders across all distributors over the next 2-3 weeks.
Speaking of that nighttime run – the weather out here in DC has been awesome this week, at least from a workout standpoint.
My easy 40 minute run on Thursday night was just awesome.  The temperatures were shorts and t-shirt weather, but still cool enough to feel great.  Sorta like those perfect fall running days…except almost spring  And, there was finally no howling wind – making it even better.
It's funny to see though what paces look like after a nice recovery week, compared to just last Saturday at the end of a three-week build.  I was screaming along tonight with what felt like no effort, and the heart rates to show it.  A good feeling.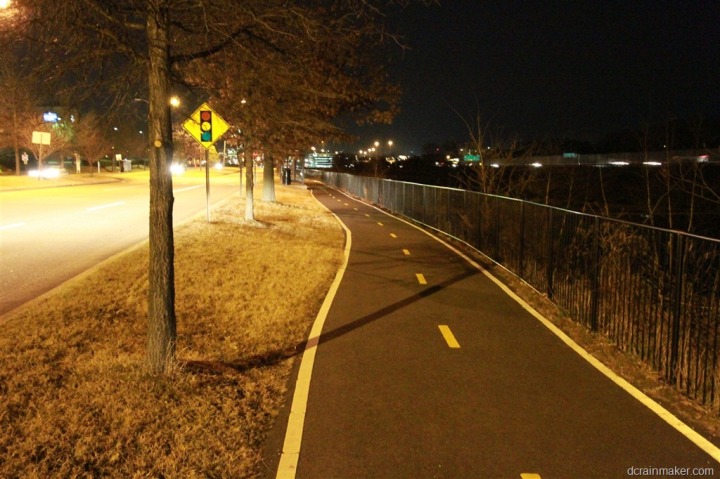 So with that – hope everyone has a great weekend ahead, and thanks for reading!