Somehow, the weather is still fantastic here in Paris in November.  It's cooled down a bit in the last 24 hours, but overall, I can't complain much.  Lots of sun, blue skies, and still largely short sleeve workout weather.
1) Running with the Samsung Gear Sport
Lately, there's a lot of prep work involved in going for a run.  From the 3-4 GPS watches to the 4-6 running footpod doohickies, as well as a GoPro, and sometimes a phone.  All of which I need to double-check are updated and running the latest firmware versions, which in the case of some new products seems to change almost daily.
I started off with getting the Gear Sport unboxed, which occurred on Thursday actually: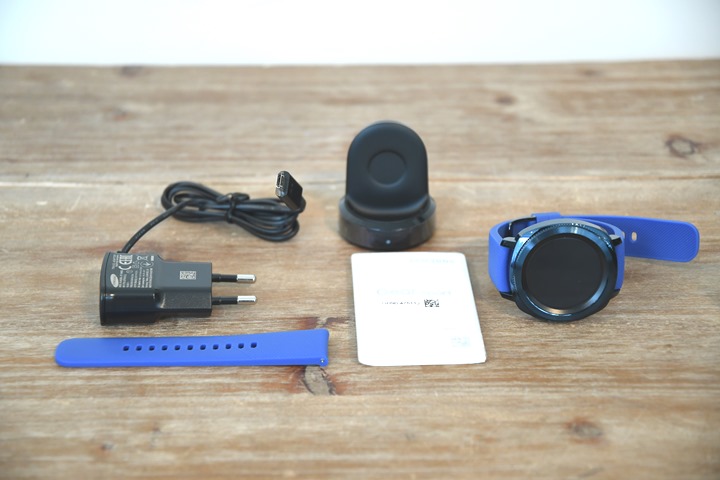 I then spent a bit of time ensuring I had the latest Garmin FR935 firmware and associated running power beta.  Then updated the RunScribe Plus firmware and associated Connect IQ apps.  Then made sure my watches were charged (the Vivoactive 3 was out of juice).  Then made sure the Samsung Gear Sport was seemingly happy, along with the Apple Watch.  All of which had me finally outside and running:
I did about 7.40 miles (about 11.90KM), down to the Eiffel Tower and back.  Nothing fancy, but a few intervals along the way home.
Certainly as I was running along I was watching the various watches.  Only one watch per wrist, with the two Garmins simply being hand-held.  It became clear right away that the Samsung Gear Sport was definitely struggling a bit.  Here's the end resultant: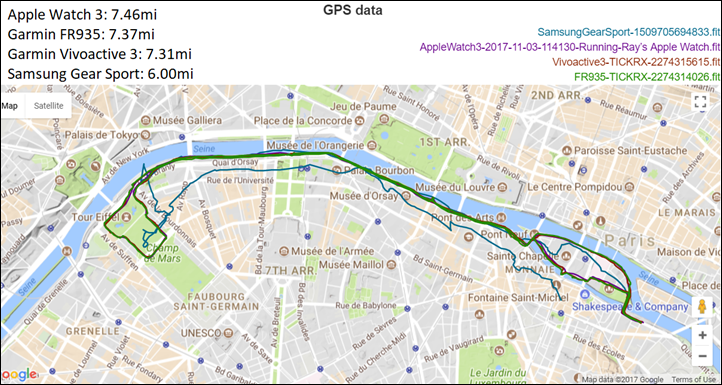 I don't know what's up there.  I didn't see that on cycling activities, and I haven't run again with it (that's tomorrow's plan).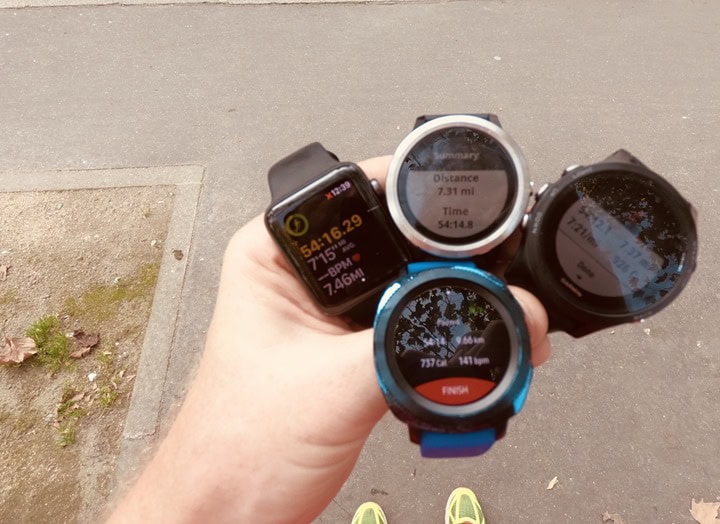 Someone from Samsung has reached out to me since my post on Twitter, so we'll see.
2) Friday Night Live!
Friday evening it was time for another DCR Friday Night Live.  I did it again on YouTube, so if you hit that subscribe button there, you'll get notified when I go live.  You can watch the whole thing here:
Of note though for this post was that I was using a different camera setup this time.  Historically I've used the Mevo livestreaming platform, which generally is stupid-simple to use.  It also has a singular annoyance for me in that I can't set a specific white balance value (beyond 4 preset ones), so the lighting in the DCR Cave always looks like crap.
This time though I changed the tech.  I bought the Elgato Camlink, which allows me to connect my secondary DSLR (Panasonic G7) camera to my laptop, and then stream using software there (in this case the free Game Capture software).  You can see me threading the cable through the Wahoo KICKR desk in case I managed to trip over it so that it wouldn't pull my laptop out (hopefully!).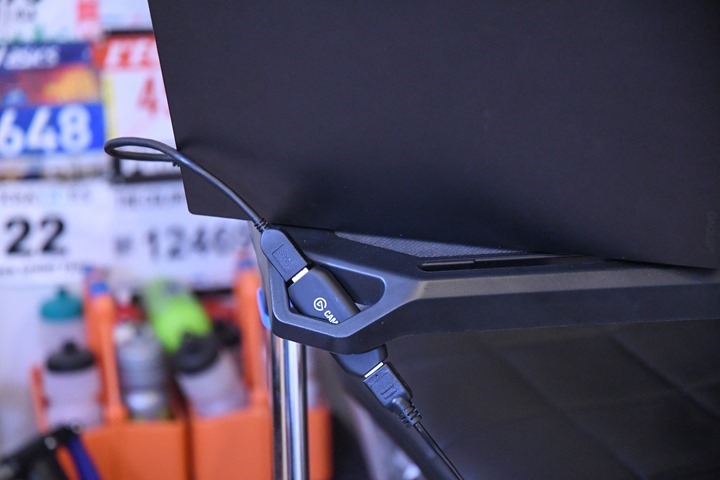 This means I can customize the white balance, and of course generally get a much higher quality picture.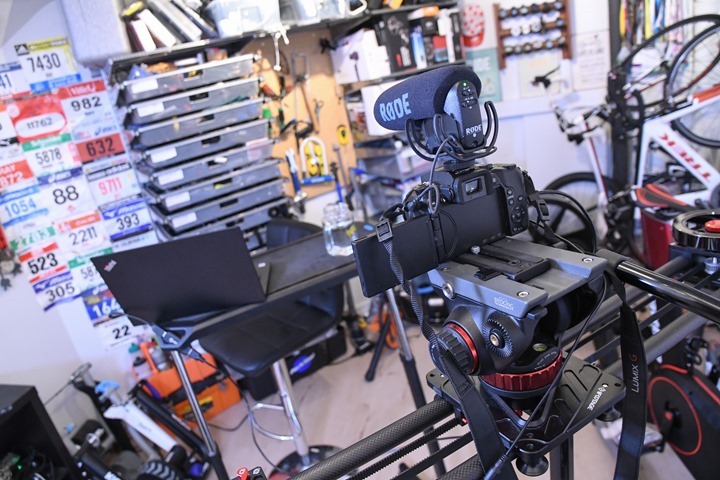 On the audio front, I normally use a Rode SmartLav+ lapel mic, but that connector wouldn't work with my PC.  So instead I grabbed a Rode VideoMic Pro shotgun that I had lying around and hooked that up to the camera.  I'm usually hesitant on using the Rode shotgun mics in the Cave because it echoes too much.  But this turned out surprisingly good, I suspect because it was closer than I usually place it.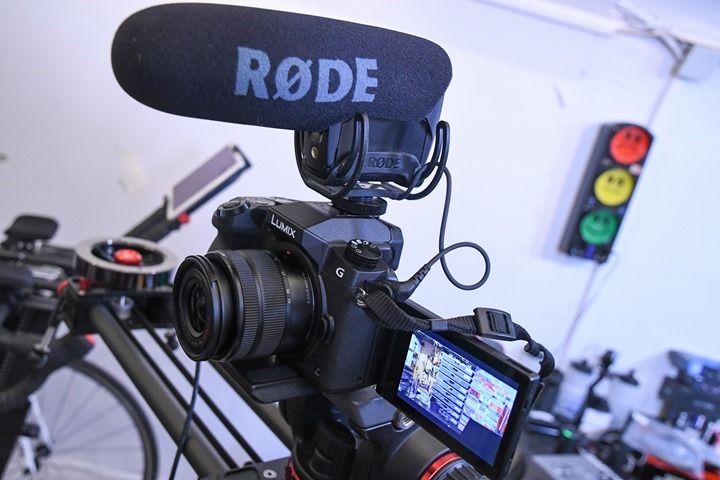 About the only mistake I made was that I forgot to change my laptop's WiFi from the upstairs network to the underground Cave network.  So this meant the connection stuttered a few times.  It's not a fully mesh network yet.  I've gotta follow Tyler's advice (he helped me out at CES this past year on the writing front) and pick up a better WiFi situation.  His review is like mine in crazy depth, well worth the read!
3) Hello Ikea!
Saturday afternoon we headed out of the city to Ikea to pick up a few things for organization.  Also, they have Swedish meatballs.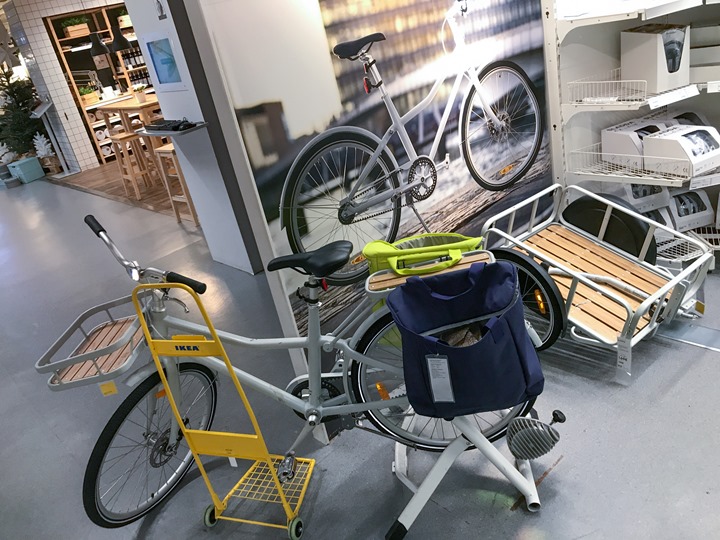 One thing I did find interesting was the wireless charging pads and 'furniture'.  I know these have been around for two years, but it never really mattered much to me.  Now however with an impending iPhone X, it kinda matters to me.  With the cheapest one I could cut a hole in an existing desk…so I'm considering doing that.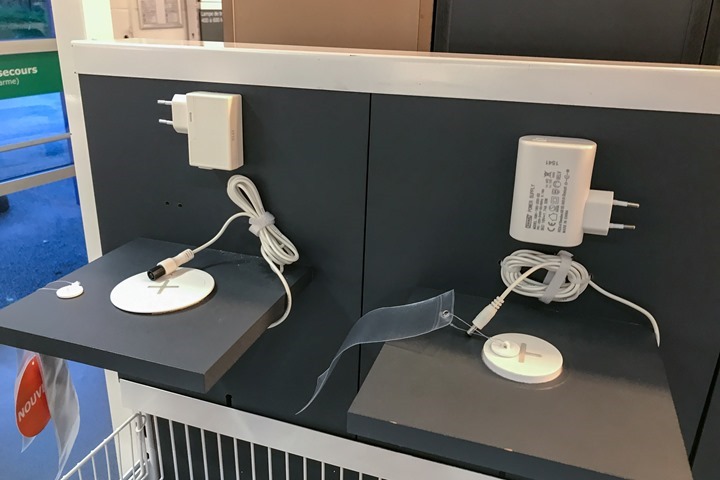 The only thing that's not super clear to me is if there are significant speed differences between the Ikea charging pads and more current models on the market.  Regrettably, the number of reviews comparing Ikea pads to new pads is very…very…slim.
4) Speedy Sunday Cycling Loops
Sunday morning the weather was stunning so out for a ride I went.  Of course, with a slight dip in temps, that meant I had to figure out where my cycling gloves were.  I reached into the bin and somehow managed to pull out these five gloves.  None of which matched.  WTF?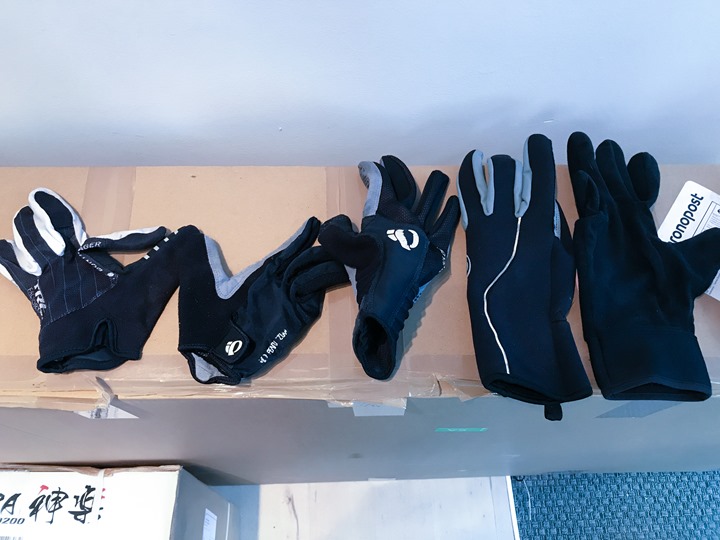 Eventually I found a matching set and headed out.  Interestingly, there was a running race going on near the Eiffel Tower.  At first this was a slight blocker to my planned route out of town, but then it worked out in my favor as they closed highway lanes in both directions but only used one.  It was like having an express lane to myself!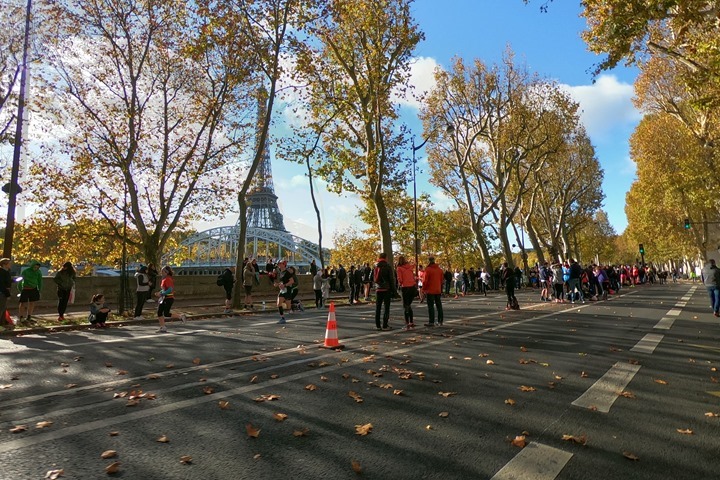 I decided on doing loops at Longchamp.  I'm not entirely sure why, but I was just in a looping mood.  Sometimes I want something consistent and mindless.  With loops, I'd get a continuous workout, and if I got lucky and found some larger groups, I'd could throw down some watts.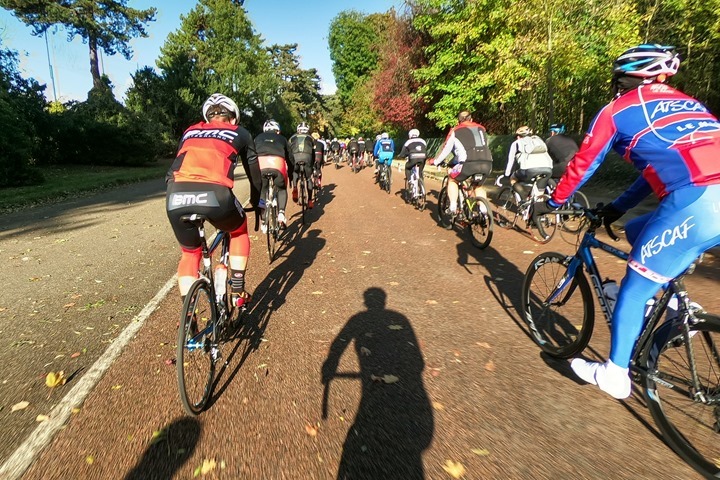 It turned out to be packed, with hundreds of cyclists (my guess is between 200-400 cyclists on the loop at any one point in time).  I was mostly riding with one pack that was 30 cyclists alone.
The only downside is, as usual here, you don't get a ton of teamwork or coordination.  Most people don't take turns pulling, and there's often very little thought to rotating through efficiently.  Thus, like three people end up doing 5-6 minutes pulls, and the pulls are often lopsided.
Still, it was fun and I enjoy getting out on a sunny day and just ripping around and around and around.  I wrapped up by riding back via the Champs-Élysées, mostly because I wanted to run the final Vector 3 units and firmware through a specific section of nasty cobblestones that I know of (not on the Champs-Élysées, but in that general direction).  Since it was the first Sunday of the month, the Champs-Élysées was closed to cars: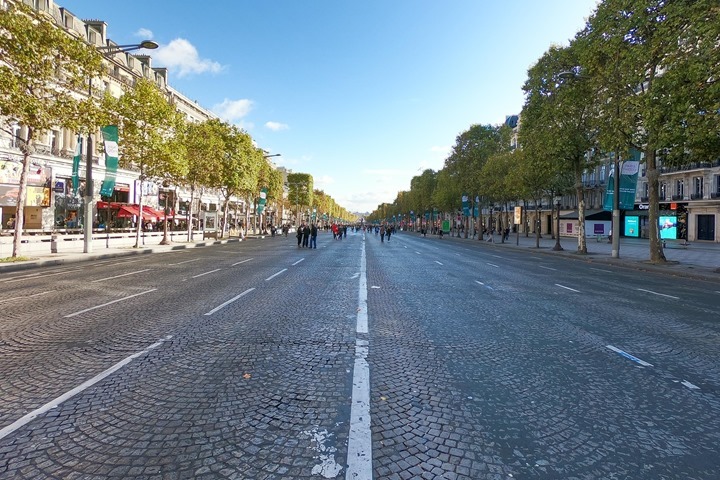 Woot!
5) Lunch across town!
Upon returning from riding, The Peanut awoke from a nap and we set off across town via Metro to our friend's restaurant for lunch.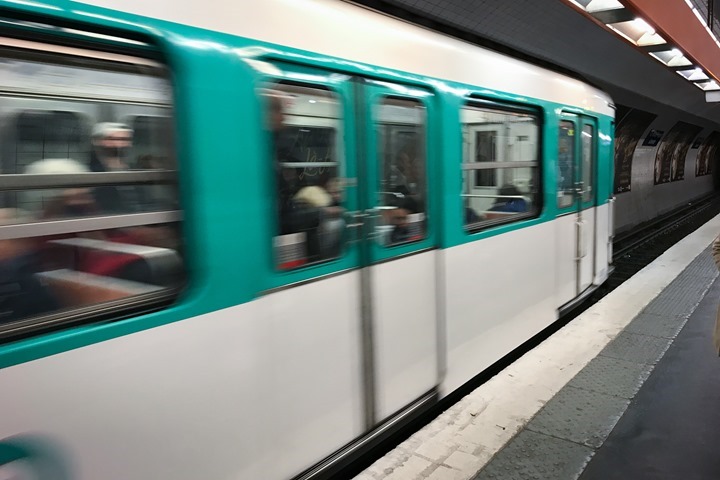 They opened up just under a year ago now, and Zia was packed this Sunday mid-afternoon for brunch food, with a line out the door.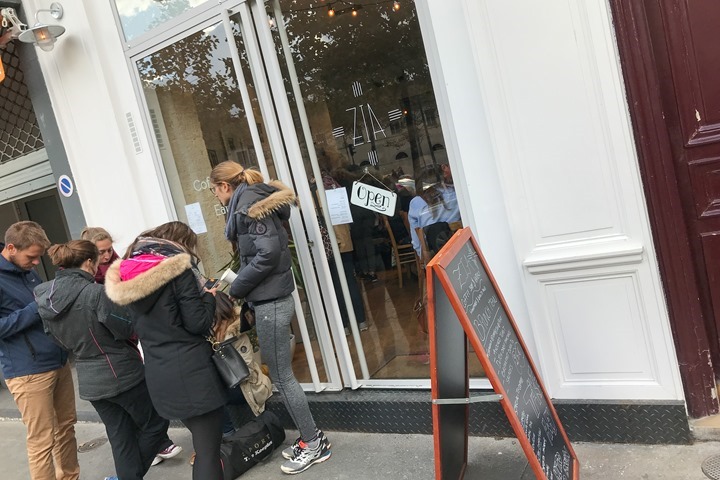 I had the Dutch Baby Pancakes with Fried Chicken (sorry for my bad cell-phone pic), while The Girl had avocado toast.  Meanwhile, The Peanut devoured a pile of scrambled eggs.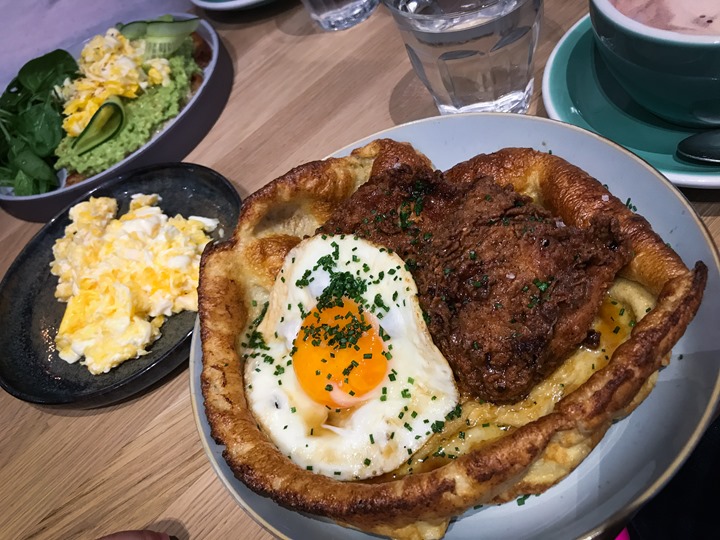 I could eat that fried chicken every day.  Amazeballs.
As an aside, I updated my Paris Restaurant guide listing thingy.  I know a ton of you use it when visiting the city, and we've been hitting a variety of new places since summer that are just incredible and definitely deserved to be added.  As always, my listing is heavily slanted towards where we live and places we've gone to multiple times, but it's also heavily slanted towards awesomeness.
With that – thanks for reading, and have a great week ahead!