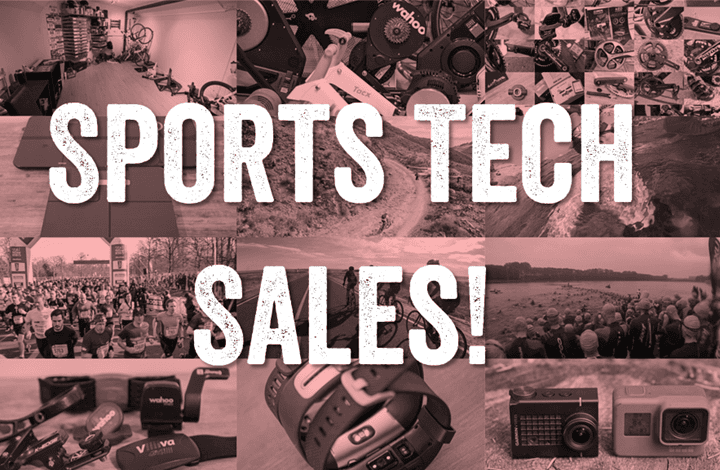 Every once in a while the sports tech sales world syncs up.  Kinda like one of those crazy synchronized spin bike performances (yes, you need to check that out if you haven't).  For whatever reason, today kicked off a wide swath of sales from numerous folks: Garmin, GoPro, Fitbit, TomTom, and Scosche.
So why the sales?  Well, I think we're seeing some of those companies adopt slightly different sales strategies for 2017 – aiming for less 'big bang' type sales, and more frequent smaller sales.  If you look, for example, at these deals, they virtually identically match what was offered over the Black Friday-Christmas sales just two months two.  Like Groundhog Day.  And then there's TomTom, which is basically perpetually putting products on sale.  They've conditioned all of us to never buy their stuff unless it's on sale (to be clear though, the Spark 3 watch series is a great lineup).
None of these products are considered old, and nobody would expect any replacements of these specific products anytime soon.  This is purely drawing in interest in the traditionally quiet February time period.
In any case, here's the listing of active sales over the next few weeks – all of which started earlier today.  Note that different companies have different end dates, with the Scosche sale ending soonest, on Wednesday.
Product

Sale Price

Amazon

Other site

Sale Notes

Apple AirPods with Wireless Charging Case - $50 Off!
$149
Amazon
⚡ I use AirPods primarily when I'm travelling just to listen in airports, planes, etc... I don't tend to use these for workouts due to them falling out. Personally, I just use the basic model.
Apple Airpods (2nd Gen) - $30 off
$159
$119
Amazon
I use AirPods primarily when I'm travelling just to listen in airports, planes, etc... I don't tend to use these for workouts due to them falling out.
Apple Airpods Pro - $30 off!
$249
$219
Amazon
Garmin Edge 130 Plus - 25% off!
$199
$149
Amazon
REI
This is the first time we've seen the Edge 130 Plus on sale. The 'Plus' variant is notable compared to the regular unit for having ClimbPro on it, plus a handful of other tweaks. $149 is a good deal for it.
Garmin Edge 130 Plus Bundle - 20% off!
$199
Amazon
Competitive Cyclist
This is the first time we've seen the Edge 130 Plus on sale. The 'Plus' variant is notable compared to the regular unit for having ClimbPro on it, plus a handful of other tweaks. This bundle includes a heart rate chest strap as well.
Garmin Forerunner 45/45S - $40 off
$199
$160
Amazon
If you're looking for a runners focused watch, this is a pretty good deal, about 20% off. The FR45 basically packs all the features of the previous generation FR235...just now in the FR45 series.
Garmin Forerunner 935
$499
$269
Amazon
⚡ Sure, it's not the latest edition, but the FR935 is the staple of many triathletes and runners, and it still an incredibly solid watch. We saw this a bit lower last summer on Amazon Prime Day ($239) - but beyond that, this is pretty darn low. Also, I say $100-$200 off, because the 'base' price fluctuates a bit these days. Sometimes retail is $399 sometimes $499.
Garmin Instinct - $100 off
$299
$189
Amazon
Sure, the new Solar variants came out last summer with a few new features, but at their core the Instincts are mostly the same. $189 is still a strong price for this watch.
Garmin RVR315 Varia Radar - Save 20%
$120
Amazon
Competitive Cyclist
I believe this is the first sale of the Garmin Varia RVR315 cycling radar. This unit doesn't have a taillight, so it's a bit smaller as a result. Same radar tech though, and compatible with Garmin/Stages/Hammerhead/Wahoo bike computers.
Garmin Vivoactive 4/4S - $100 off
$299
$249
Amazon
This is Garmin's current offering to compete with the Apple Watch series (alongside the Garmin Venu), and this is a good price, though, it does go lower from time to time (not since Black Friday 2020).
GoPro Hero 9 Black - $50 off
$399
Amazon
REI
⚡ This is the camera I use for all my daily shooting during sports. Actually, I've bought a few of them. Note that if you're a GoPro Plus Subscriber, then it's a bit cheaper at $349 from GoPro directly, but otherwise, it's $449.
GoPro Max - $50 off
$499
$449
Amazon
REI
So basically – consider the above some Valentine's Day sales or something.  Just to provide some brief insights on a few of these products:
Garmin: This sale is somewhat modest, though does touch on more of the broader reaching products for them.  The Vivofit 3 being the baseline Garmin activity tracker, whereas the Vivosmart HR+ is their GPS-enabled activity tracker band with full smartphone notifications, music control, etc…. The Vivofit Jr. is the kids variant, which is surprisingly cool (and the feedback I've been getting from parents with kids old enough is also surprisingly strong).  Unfortunately, The Peanut is still a bit too young at 7 months to be using it.  The best deal here, in my opinion, being the Vivosmart HR+.
TomTom: I wrapped up testing of the Spark 3 over the last few weeks, and just need to write up my thoughts and take some pretty pictures.  But overall I'm pretty happy with the usage of it.  The new 24×7 HR pieces added with a firmware update last year are much cleaner now with the updated app.  The optical HR seemed OK at a glance, but I haven't run the numbers through the analyzer yet to dig into any nuanced issues.  More on that in my in-depth review.  Still, the baseline watch especially is really the best deal out there in sports tech at $99.
GoPro: These deals are 'credit' deals, meaning you get back credit at a retailer.  GoPro isn't a fan of straight-up discounts on their products.  Out of the three cams on offer, my favorite here being the Hero5 Black.  It's more or less my day to day action camera, except when I'm shooting something with data overlays (in which case I use the Garmin VIRB Ultra 30).  The reason for siding with GoPro as my daily driver? Simple: Fully waterproofed without a case.  I just don't have to think about it.  Though, from a sports-focused standpoint, the VIRB Ultra 30 pretty much slaughters it in functionality.  In any case, you could pick up that Hero5 Black and then with the $60 credit you'd only be a couple of dollars short in picking up my favorite GoPro 3-way Pole, or three extra Hero5 batteries.  Not too shabby.
Fitbit: The Blaze got some nice updates over the past little while, including legit smartphone notifications (finally!), as well as a pretty solid update on the mobile app side.  Both of which are worth noting.  Of course with the Blaze you're really buying into the Fitbit social ecosystem more than anything else.  Do keep in mind the Fitbit Blaze doesn't have GPS built-in, but rather uses your phone's GPS (which Fitbit cleverly calls 'Connected GPS').  In either case, if you pick up a Fitbit unit, the winner deal here is that accessories are 50% off for both the Blaze and Alta.
Scosche: This is simple – it's $20 off, and remains my 'most favored nation' status for an optical HR sensor.  The fact that it's dual ANT+ & Bluetooth Smart means it works with basically everything out there these days.  And the accuracy is unbeatable from an optical HR standpoint (in part because it's typically strapped on your upper arm).
So there ya go – just a quick bit of coverage on these sales, in case folks are looking to pick things up following the frenzy of the holidays.  And for everyone else, I return you to your normally scheduled postings.  Except, you know, minus any actual schedule.  I mostly just float with the wind.
Oh – and obviously – if you use the linkage above you help support the site and increase your awesomeness.  And everyone wants to be awesome…especially going into a Monday.
Thanks for reading!