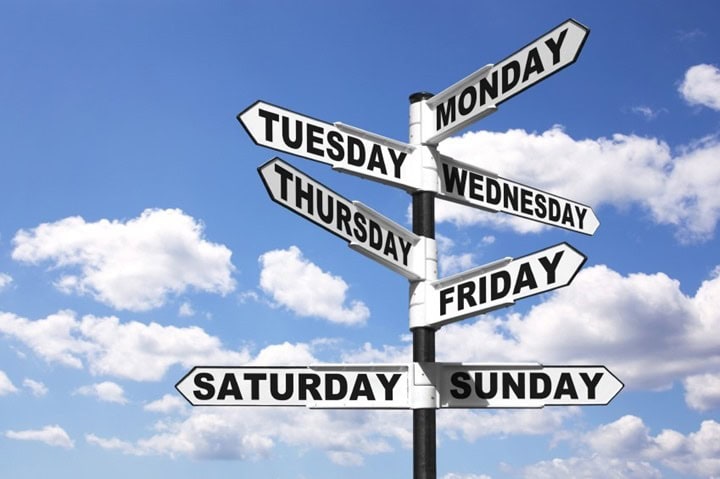 The Week in Review is a collection of both all the goodness I've written during the past week around the internet, as well as a small pile of links I found interesting – generally endurance sports related. I've often wondered what to do with all of the coolness that people write, and while I share a lot of it on Twitter and Facebook, this is a better forum for sending it on to y'all. Most times these different streams don't overlap, so be on the lookout at all these places for good stuff!
So with that, let's get into the action!
DCRainmaker.com posts in the past week:
Here's all the goodness that ended up on the main page of DCRainmaker.com this past week.
Saturday: Week in Review–December 24th, 2016
Monday: The Didn't Get What You Wanted $500 Gadget Giveaway
Monday: 5 Random Things I Did This Weekend
Friday: CycleOps Hammer Trainer In-Depth Review
Sunday: The Didn't Get What You Wanted $500 Gadget Giveaway Winner!
Sports Tech Deals (new ones!)
The fitness companies want you to lose weight. And spend some money.  Albeit, less money than you would have had to last week.  The non-Garmin ones kicked off today, joining Garmin.  Here are all the weight scales
Fitbit Aria WiFi Scale (23% off): Down to $99 from $129 [Clever Training or Amazon]
Garmin Index WiFi Scale (13% off): Down to $129 from $149 [Clever Training or Amazon]
Withings Body Cardio WiFi Scale (40% off): Down to $107 from $179 [Clever Training or Amazon]
Withings Body Composition WiFi Scale (40% off): Down to $77 from $129 [Clever Training or Amazon]
My full WiFi weight scale showdown is here!
Note that in general for weight scales I recommend you pick whichever one you're on already from a platform standpoint.  Given these prices are all fairly similar, it's less of a chore to decide.  Also, note that normally I wouldn't recommend the Garmin one (simply because of price) unless you really wanted the additional metrics, but at this price point, it's probably worth it to not have to deal with the conversion mess of trying to get the Withings and Fitbit data into Garmin Connect.
If you have no loyalties to any of the above brands (meaning, you don't already have a device from them), then I'd likely get the Withings one given the price point and it has the most connectivity to other platforms than any other brand.
While we're on the sales front, Garmin has a bunch of other devices on sale, largely activity trackers in various forms:
Product

Sale Price

Amazon

Other site

Sale Notes

Apple AirPods with Wireless Charging Case - $50 Off!
$149
Amazon
⚡ I use AirPods primarily when I'm travelling just to listen in airports, planes, etc... I don't tend to use these for workouts due to them falling out. Personally, I just use the basic model.
Apple Airpods (2nd Gen) - $30 off
$159
$119
Amazon
I use AirPods primarily when I'm travelling just to listen in airports, planes, etc... I don't tend to use these for workouts due to them falling out.
Apple Airpods Pro - $30 off!
$249
$219
Amazon
Garmin Edge 130 Plus - 25% off!
$199
$149
Amazon
REI
This is the first time we've seen the Edge 130 Plus on sale. The 'Plus' variant is notable compared to the regular unit for having ClimbPro on it, plus a handful of other tweaks. $149 is a good deal for it.
Garmin Edge 130 Plus Bundle - 20% off!
$199
Amazon
Competitive Cyclist
This is the first time we've seen the Edge 130 Plus on sale. The 'Plus' variant is notable compared to the regular unit for having ClimbPro on it, plus a handful of other tweaks. This bundle includes a heart rate chest strap as well.
Garmin Forerunner 935
$499
$269
Amazon
⚡ Sure, it's not the latest edition, but the FR935 is the staple of many triathletes and runners, and it still an incredibly solid watch. We saw this a bit lower last summer on Amazon Prime Day ($239) - but beyond that, this is pretty darn low. Also, I say $100-$200 off, because the 'base' price fluctuates a bit these days. Sometimes retail is $399 sometimes $499.
Garmin Instinct - $100 off
$299
$189
Amazon
Sure, the new Solar variants came out last summer with a few new features, but at their core the Instincts are mostly the same. $189 is still a strong price for this watch.
Garmin RVR315 Varia Radar - Save 20%
$120
Amazon
Competitive Cyclist
I believe this is the first sale of the Garmin Varia RVR315 cycling radar. This unit doesn't have a taillight, so it's a bit smaller as a result. Same radar tech though, and compatible with Garmin/Stages/Hammerhead/Wahoo bike computers.
Garmin Vivoactive 4/4S - $100 off
$299
$249
Amazon
This is Garmin's current offering to compete with the Apple Watch series (alongside the Garmin Venu), and this is a good price, though, it does go lower from time to time (not since Black Friday 2020).
GoPro Hero 9 Black - $50 off
$399
Amazon
REI
⚡ This is the camera I use for all my daily shooting during sports. Actually, I've bought a few of them. Note that if you're a GoPro Plus Subscriber, then it's a bit cheaper at $349 from GoPro directly, but otherwise, it's $449.
GoPro Max - $50 off
$499
$449
Amazon
REI
Finally, note that Garmin permanently dropped the price of their Fenix3 series this past week (all models) by $50.  Though, not substantially.  Given CES is nearly upon us (this week!), I don't think this barely tangible drop is worth it.
YouTube Videos I Published:
Here's some YouTube goodness that I published this past week:
Stuff that I found interesting around the interwebs:
Here's a not-so-small smattering of all the random things that I stumbled on while doing my civic duty to find the end of the Internet.
1) Fitbit has dropped its lawsuit against Jawbone: Not that it really mattered much, Jawbone isn't actually a player in this game anymore.  Sure, they could always announce something this week at CES, but given their current financial predicament, I wouldn't expect the result to be any different.
2) Freezing one's balls off as a sport: Yes, for real – it's not just for polar bear plunges anymore, but rather apparently an actual trainable sport. (via Coach Alan)
3) US looks to create fitness equipment tax deduction: This would be nice and handy.  Kinda reminds me of the fitness equipment annual credit I used to get in my day job.
4) Training log survey: The folks behind the popular (and free) Golden Cheetah are doing a survey to gather feedback on features.  Even if you're not a user today, they're looking for how you use your training platforms as a way to make their platform more user-friendly (it's open-source and free, so no commercial interest here from them).  One of my main critiques (ok, my only critique) of the platform has been the user-friendly aspect, so hopefully this will help!
5) US State Department Races Around The World: This was actually more interesting than I expected it to be, and more impressive too, both in numbers of participants in various countries and the diversity of countries that put on races. (via friends at State)
6) Bike Tech Hack Night (for DC folks): Cool stuff, it's a cycling-focused bike related app/data/gadgets hacking night.  It's being hosted by the annual conference put on by the Transportation Research Board of the National Academies.  Details in the link. (via Eli).
7) Apple yanks Withings products from Apple Store: Maybe it's just me, but this seems like a perfectly reasonable response to getting sued.  If I owned a store, and someone sued me, I certainly wouldn't be keeping their products in there.  Too bad though, because Withings makes great stuff.  That said, I'm not sure this move hurts their wearables sales too much, but probably does impact their weight scale sales. (via Ian)
8) Training Peaks had 40 million uploads in 2016: I thought this stat was randomly interesting, along with knowing it had 25 million in 2015.  Will have to dig around and see if other platforms have shared their total upload stats.
Sports Technology Software/Firmware Updates This Week:
Each week I quickly highlight some of the new firmware, app, software and website service updates that I see go out. If you're a sports technology company and release an update – shoot me a quick note (just one liners are perfect, or Tweet it at me is even better) and I'll make mention of it here. If I don't know about it, I won't be able to post about it. Sound good?  Oh – and if you want to get a head start on things, this page is a great resource for watching Garmin firmware updates.
(I'm not aware of any updates that occurred in the past week for hardware. Seems everyone was – rightly – taking some time off!)
—
Thanks for reading – and Happy New Year!