It's heating up in the city!  Here's what I was up to.
1) Friday Lunch Workouts
There are many holidays in France in May.  It's like a Minesweeper game of holidays. Even days that aren't holidays actually are unofficially holidays.  For example, Friday was the bridge day between the holiday on Thursday and the weekend.  All of which only matter in the context of how busy the city was with folks strolling along.
My brick started indoors with a relatively short bike – about 30 minutes or so.  I slowly rotate through using different trainers, just to keep my memory fresh on feel and such.  I'd been using a number of different TACX units over the winter, though started using the KICKR SNAP about a month ago.  Then swapped to the KICKR for this workout.  With direct-drive trainers, I also somewhat tie it into which bike I'm using (10-speed vs 11-speed cassettes).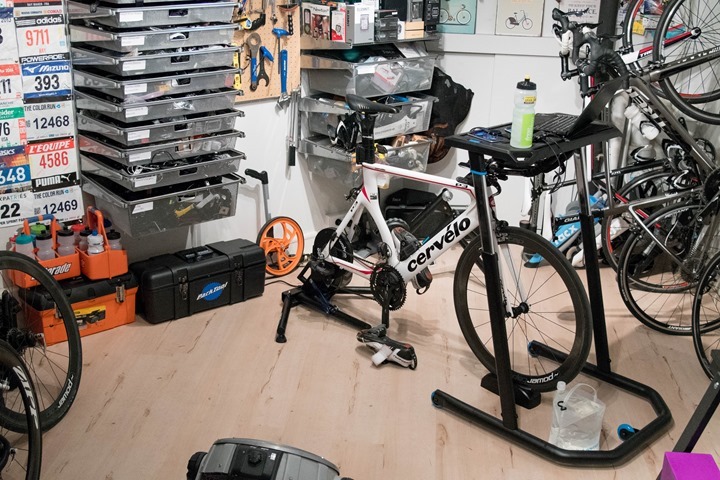 From there I headed outdoors for about an hour of intervals.  It was a pretty warm day for Paris this time of year, which meant between that and the bridge day, the crowds were out in full force.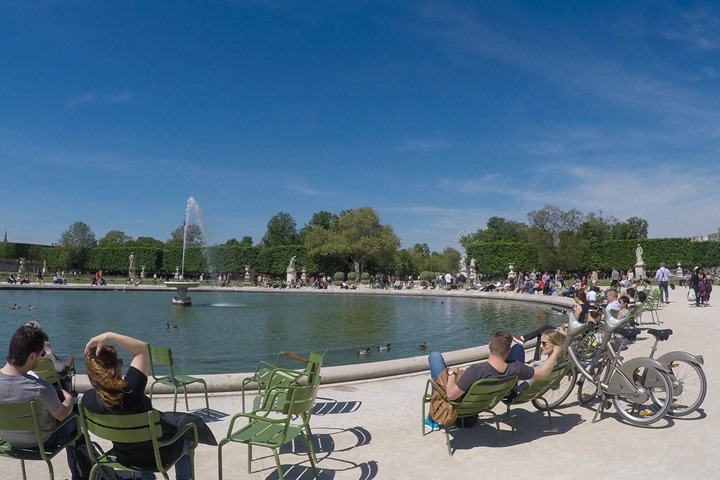 I mixed up a route between doing loops around the Tuileries, and then staying along the river for the to/from sections.
This section of river highway is set to close permanently to traffic later this summer.  Hopefully that's still on schedule!
2) Walking Paris
We've been taking advantage of the rather nice weather the past week or so in going for longer exploratory walks around the city, usually about 5-6 miles.  Friday evening we did a loop through the newly re-opened Les Halles area.  I had hoped the large grass portions would have been opened.  But that didn't appear to be anywhere near the case.  Instead, just the shopping mall structure.
So we continued on and swung through Le Palais Royal.  You'll remember this from last year at the Dine en Blanc.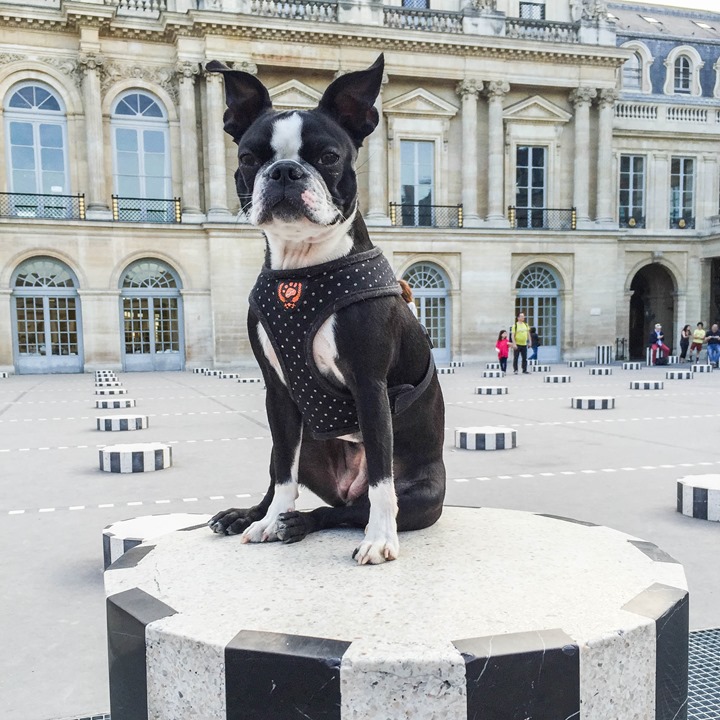 Oh, Lucy was with us.  She seems to enjoy the longer walks.  We bring a little fold-out plastic bowl for her so she has water.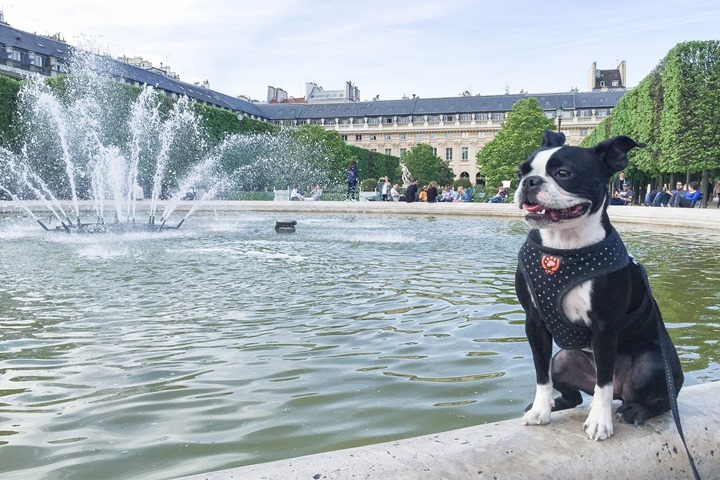 Le Palais Royal is a lot like Luxembourg Gardens (which I'll talk about in a moment), in that most tourists miss it despite being across the street from the Louvre, so it tends to be a bit calmer.  It's a true oasis in the middle of the city.  Another one of our favorites.
3) Things arrive, 25+ days later
This was actually a relatively quiet weekend for technology stuffs.  Partially because the internet at the Studio/Cave crapped out around lunch on Friday, having me work from home instead.  And partially because I've got enough product launches coming up over the next little bit that I'm somewhat busy focused on those, plus two other near-term product reviews (Cycliq Fly12 light/camera, Garmin Vivoactive HR).
However, Saturday afternoon brought a young woman knocking on the window of the Studio.  Most times when young women knock on the expansive glass of the studio, they wish to talk cakes or cupcakes.  A wedding, a birthday party, or the like.  I've gotten used to it.
This time though, it was actually for me.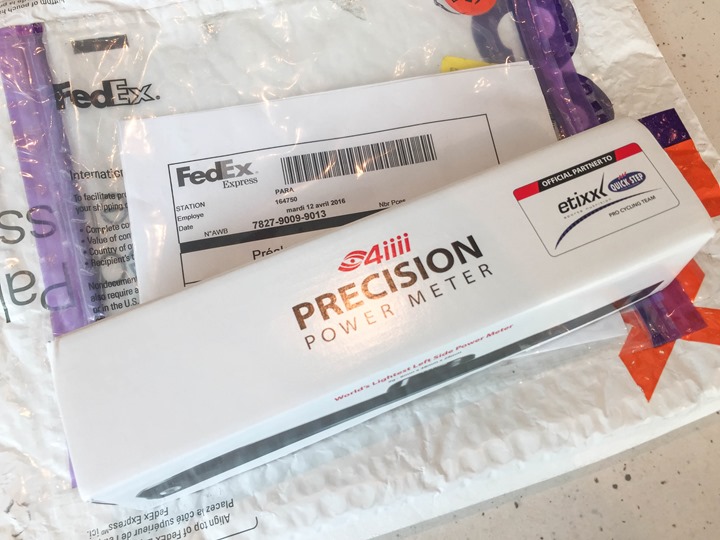 Or rather, it had been for me – nearly a month ago.  You'll remember at Sea Otter that I noted 4iiii has shipped out a package to me with their new $399 crank arm in it.  That was actually done before Sea Otter, designed to arrive before I left for Sea Otter.  Thus enabling me to get everything done before the event (as opposed to at the event).
For whatever reason that early April morning FedEx decided to deliver the package elsewhere in town.  Except, it didn't tell us where that 'elsewhere' was.  Just a single first name ('Floria').  I asked all over creation, but nobody knew who this was.  So I eventually gave up, and 4iiii was set to ship out a new unit on Monday.  Talk about perfect timing.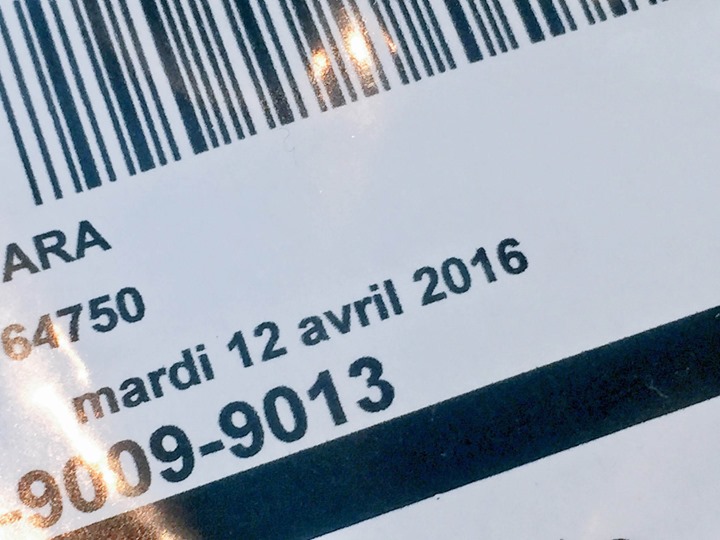 As a funny aside, the UPS man (who is awesome, unlike our FedEx person), is actually the same guy for both our apartment and the studio (it's only 3-4 blocks away).  He's so awesome that he'll not only attempt deliveries numerous times a day if we aren't there initially, but will also try to deliver it to the apartment (or the inverse).  Pretty cool.
4) Luxembourg Gardens
Saturday late afternoon seemed like a great time to continue enjoying the weather up at Luxembourg Gardens, just a short stroll up the hill from us.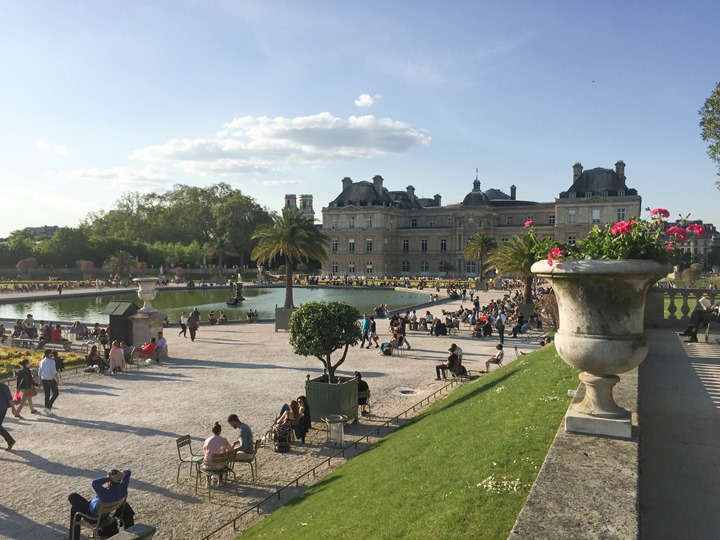 We picked out a spot on the lawn and had a nice picnic with a few friends.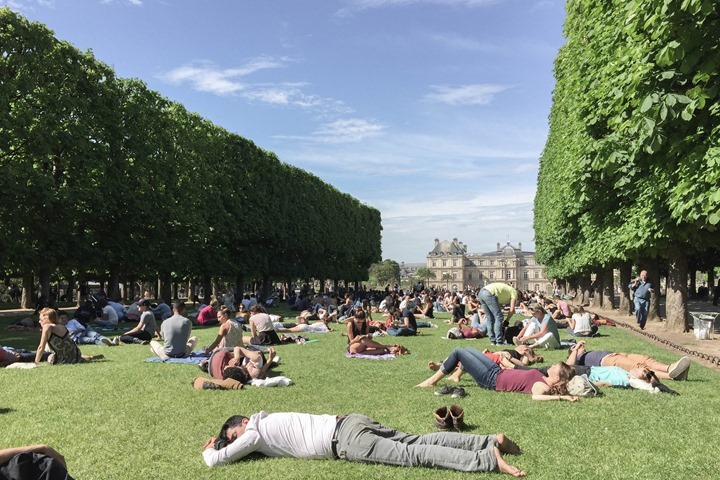 They open and close the lawns depending on the season and condition of the lawns, and thankfully today it was open again.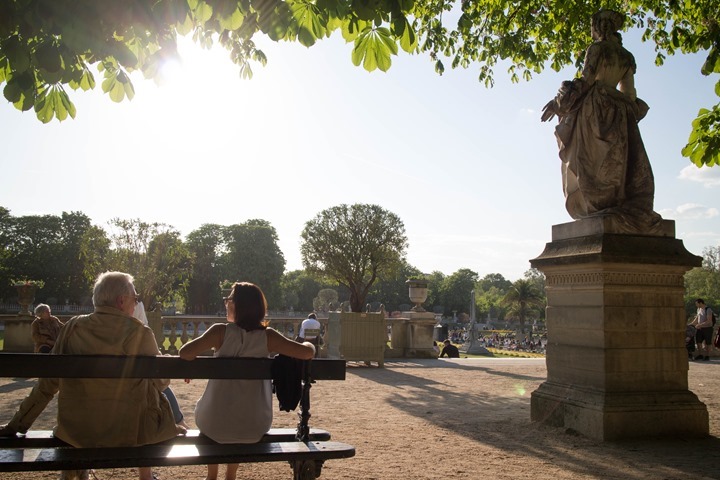 While not always on the radar of many tourists, we think Luxembourg is the best park/gardens in Paris.  So much attention to detail, and so many little hidden areas to check out.  Love it.
5) Swim-Bike-Run Lakeside Brick
Sunday morning we headed out of the city about an hour away to Cergy, where there's a small lake that's great for doing brick workouts from (or, picnics).  I was joining the Expatriés Triathlon club, which I finally became an official member of.  They've got a special hook-up to be able to swim there (normally it's not allowed).
Most folks were doing their own workouts.  First up in my case was a swim.  We ended up going a bit longer than I planned for the swim portion, but that worked out just fine – about 2,200y or so.  I totally forgot my GoPro waterproof case, so I've only got a single swim related photo above water.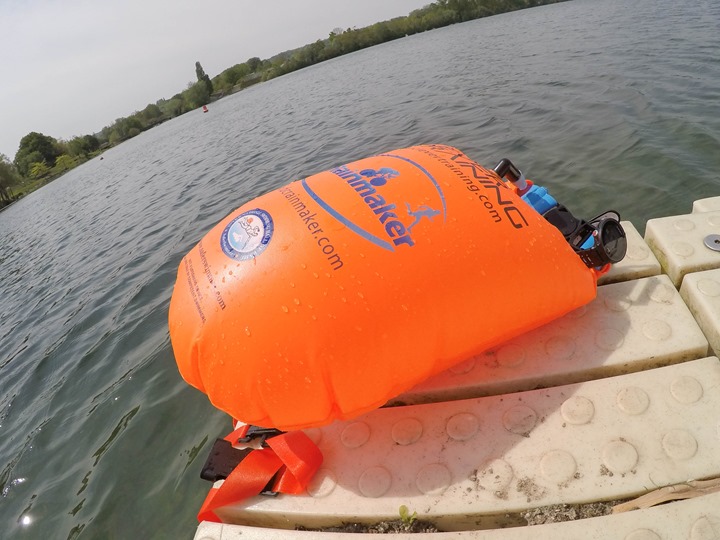 While motor boats aren't a huge concern in this lake (though paddle-boats actually can be later in the day), the swim buoy does make it easy for both people on shore to see me, as well as others in my swim group following along.  Plus, it's just a handy place to store your keys stuff.  Or in my case, stick another GPS on to have as a reference distance track for GPS testing.
After the swim I joined up with another group member and we knocked out a 60km (40mi) loop ride.  The sun was definitely baking things by this point, but the route and scenery were beautiful.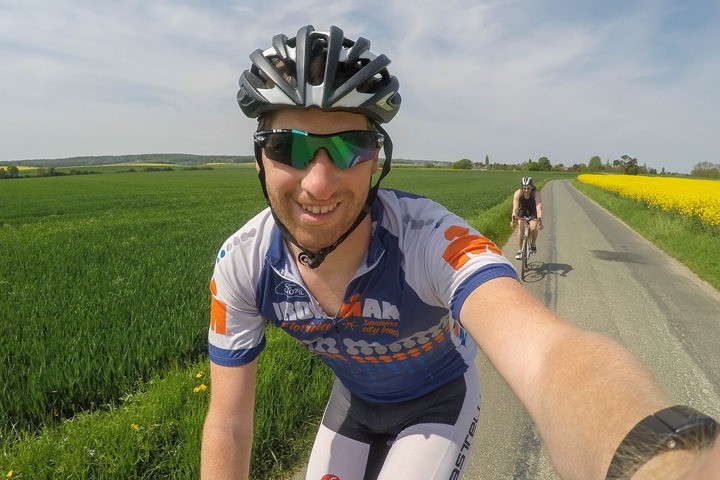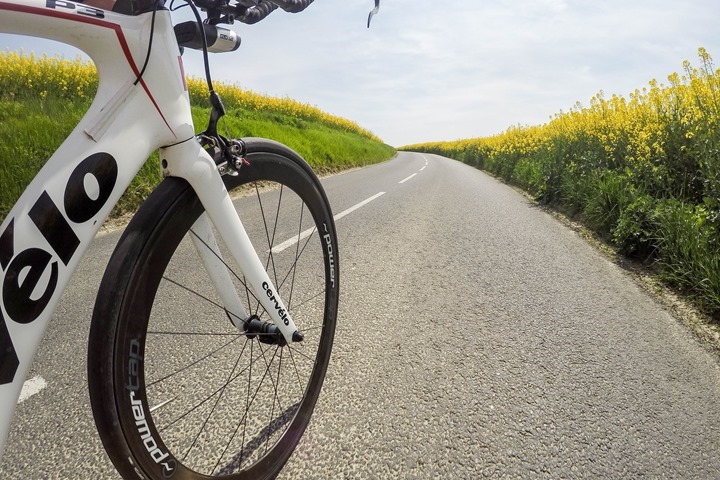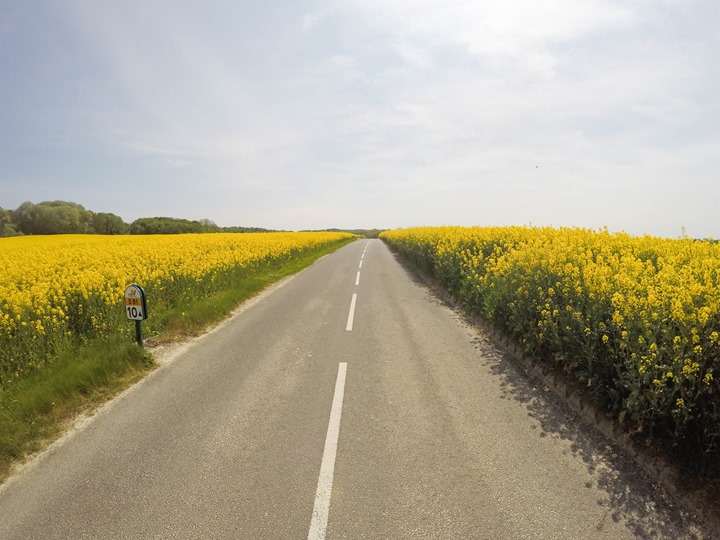 It took us a bit over two hours.  It's a fairly stop-free route (assuming you don't have to backtrack…).  We even swung by the gates of hell: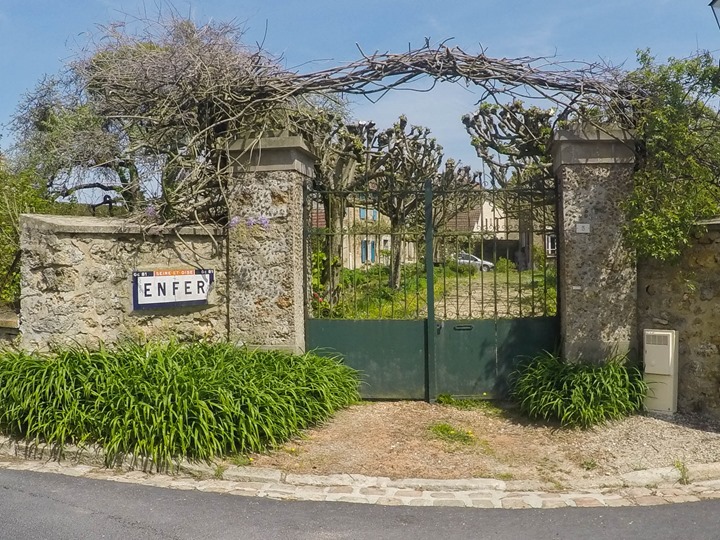 After the ride was over, I headed for a 5K run around the lake.  It's rather quiet once you get away from the parking lot areas, as the bulk of the crowds don't tend to walk too far with their massive BBQ setups.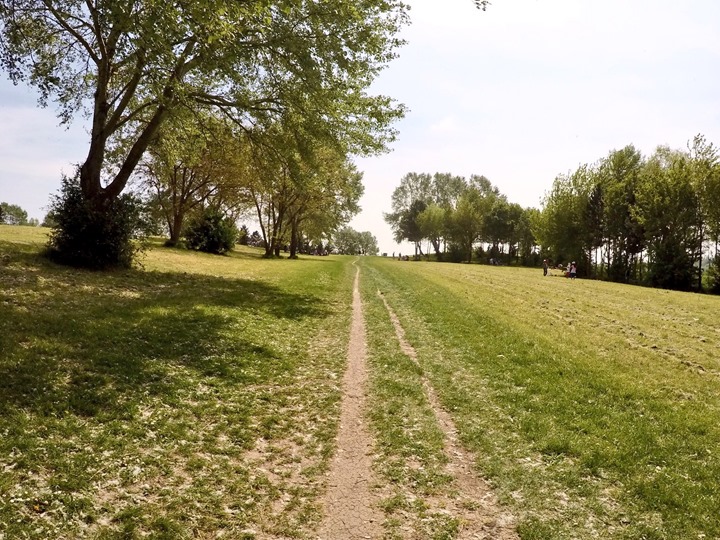 From a pace standpoint some sections were a bit slower, as it's a bit of an uneven trail near the lake edge with large potholes.  I believe there's a larger/flatter walking trail further away from the lake, but it's also a fair bit longer path.  No worries, I like 'adventure'.
We're looking forward to getting back up there again.  Hopefully next time bringing proper picnicking stuff.  Sections of the lake where people were BBQ's were absolutely crazy (in a good way).  Though I suspect we'd walk a bit further to more quiet sections.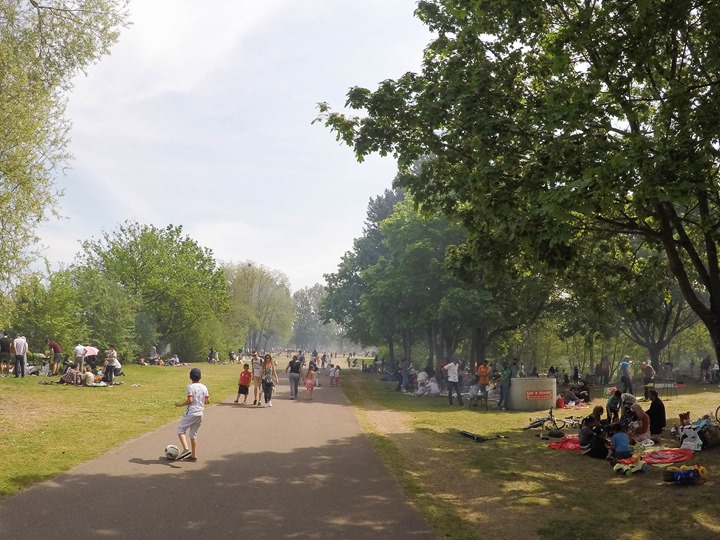 With that – thanks for reading, and hope everyone has a great week ahead!