This past weekend I headed up skiing with my friend David.  We wanted to squeak in one last weekend of skiing before the resorts closed, and we hoped we'd also get some beautiful spring skiing days.
1) Journey to Les Arcs
While there are numerous ski resorts in the French Alps (or elsewhere in France), it may be tough to best Les Arcs in terms of logistics.  To get there you'll take a non-stop TGV (high-speed) train straight from Paris to Bourg-Saint-Maurice.  At which point the resort has a funicular (tram thing) that takes you right to the resort in about 7 minutes.  It's a match made in heaven.
Well, at least if you arrive before 10PM.  If you arrive after that, then you have to take the crazy taxi driver up the mountain pass roads, which takes far longer than 7 minutes.  It also is likely to reduce your lifespan.
The next morning we awoke to mostly overcast skies.  The weatherman had said it'd snow, so I suppose clouds were better than rain/wet snow.  Thankfully, by lunchtime it had opened up a bit: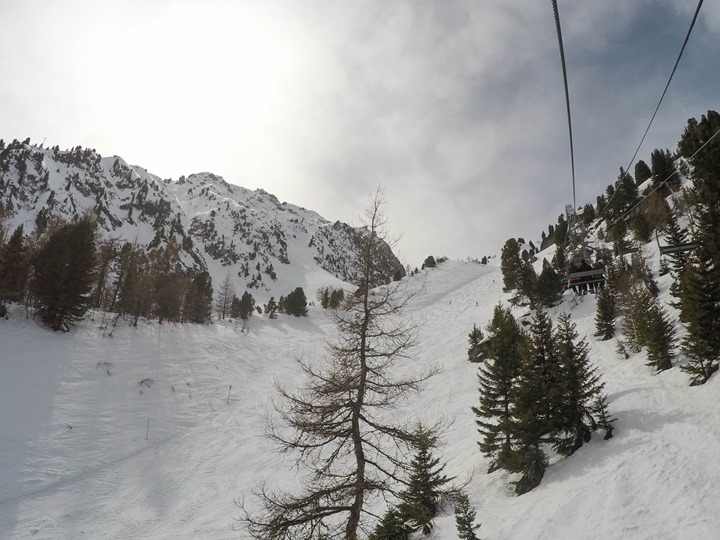 And by later that afternoon we'd be down to t-shirts, as the temperature was up to about 15°C (59°F).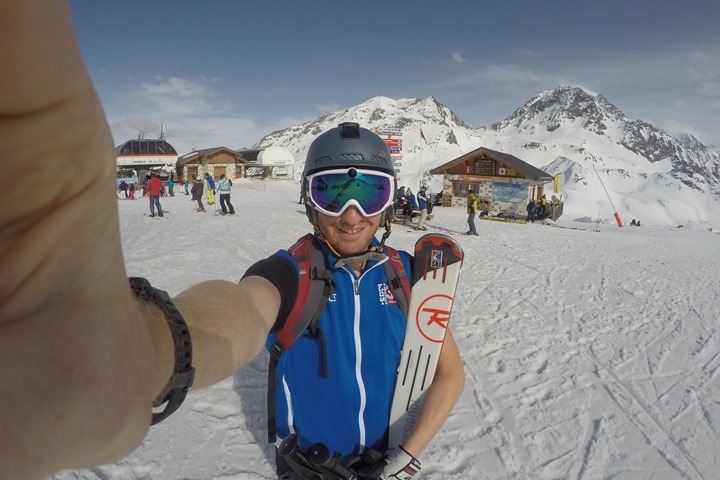 Though, the French didn't seem to be into the t-shirt thing.  They were mostly still in heavy parkas and scarves.  No worries, we rocked the t-shirts anyway.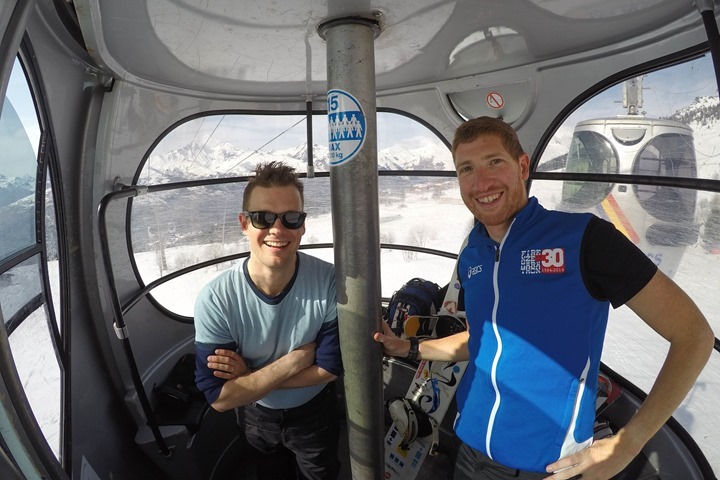 The run from the top of the mountain (Aiguille Rouge) down to the base is one of the longer ski runs in the Europe.  Obviously, we had to try this out.
It was howling up top, and the view fairly poor.  Meanwhile at the base some 6,000ft (~2,000m) of vertical drop later, we found our first lift back up: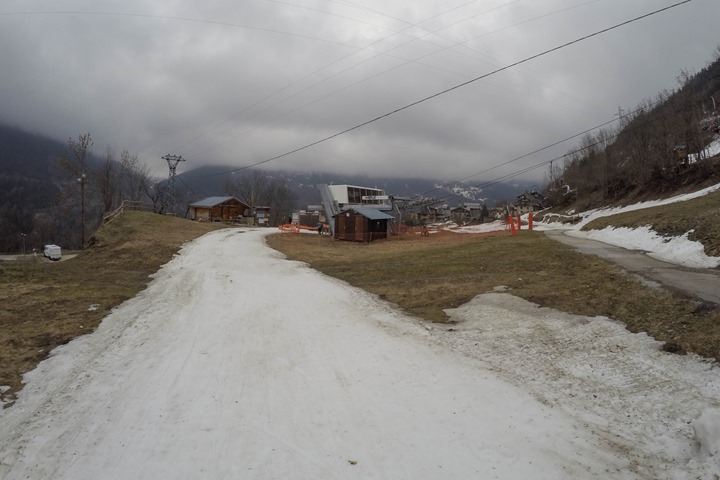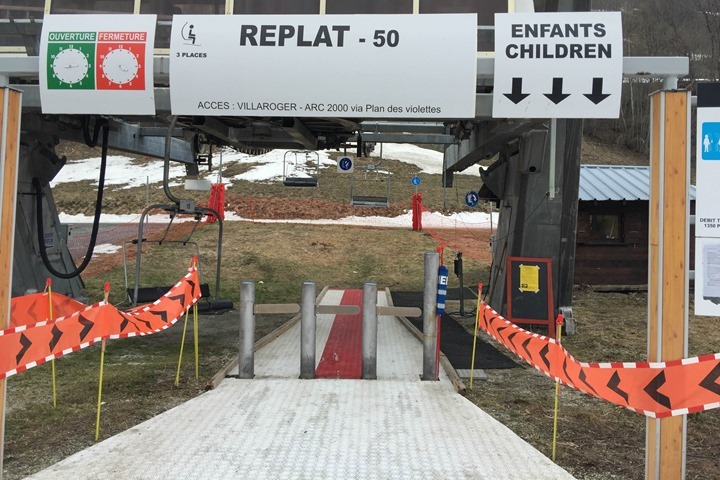 At the end of the day on the last run we swung by l'Arpette, which is kinda like La Folie Douce at Val Thorens.  Except, not as exciting.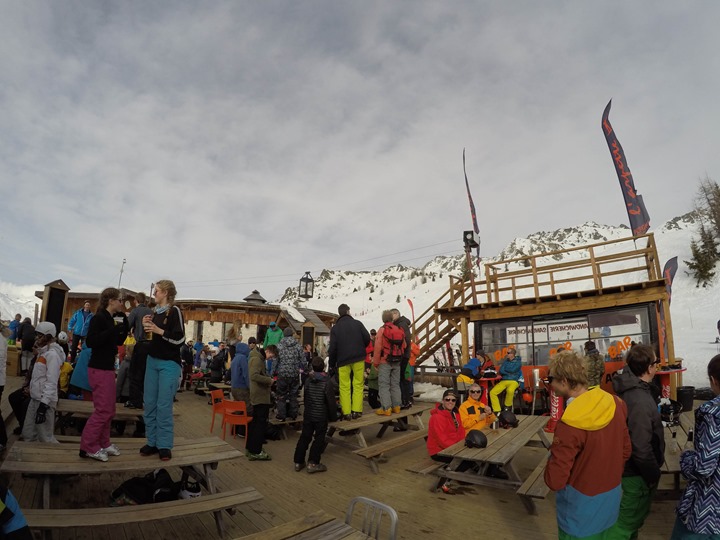 I suspect this time of year the resort has lost much of the younger crowd that makes this type of place pop.  Although, there was one exception – as noted in the cage dancing…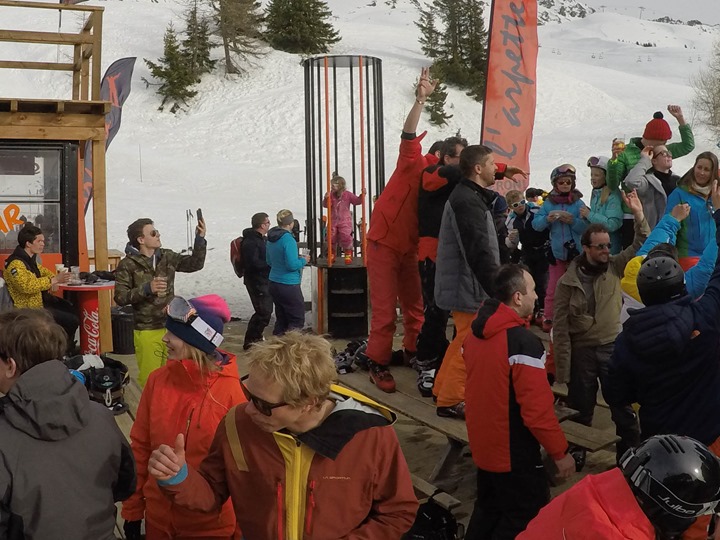 The clientele on the mountain was definitely an even blend of Brits and French, with the odd other nationality (like us) mixed in.  The direct trains from London make it easy for folks there to come down.  And the mountain has everything in French and English.
2) Skiing at La Plagne
With the first day at Les Arc in the books, we decided to jump over to La Plagne for Saturday.  The two resorts are connected by a massive double-decker tram/gondola that spans over a valley far below.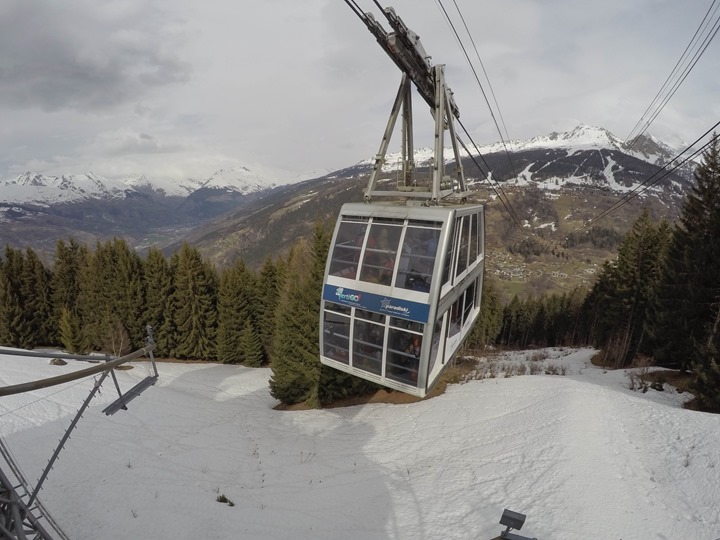 In fact, on the lower level of the tram there's even a viewing window, for those that want to…well…feel queasy: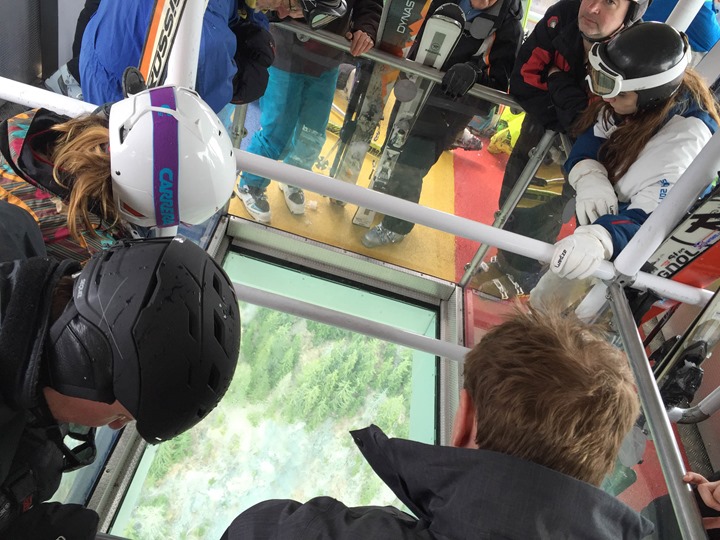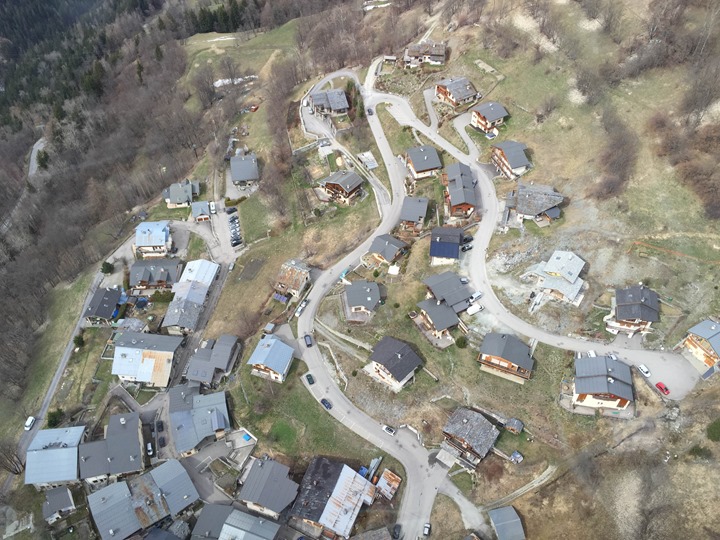 Much like the morning of our first day, we spent most of Saturday in flat-lit overcast conditions.  In such conditions it's natural to stop and get some hot chocolate and coffee: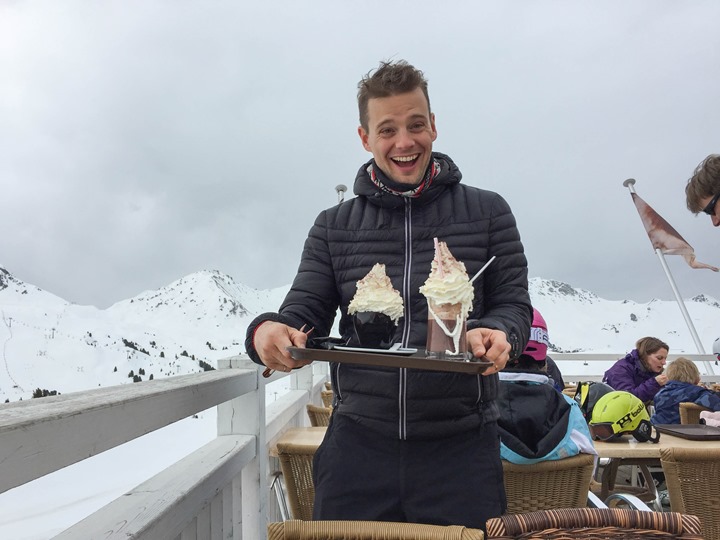 Yes, there's officially more cream than hot chocolate.  And for better or worse, the cream was far better than the liquid in the cup.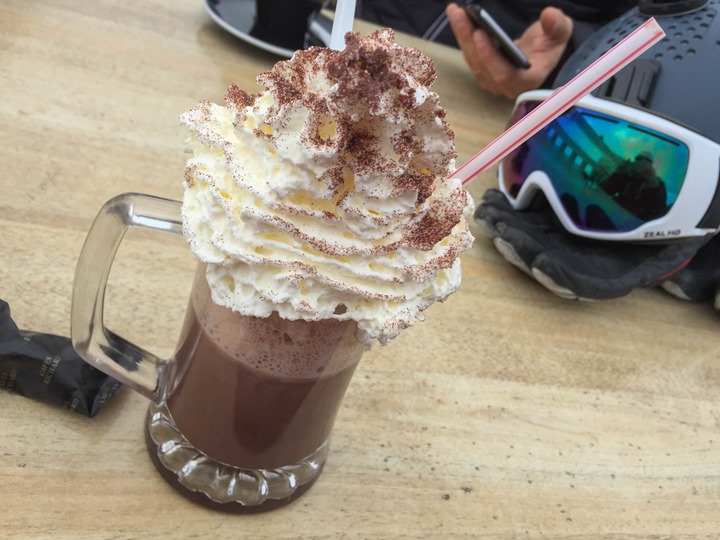 Saturday is change-over day in France at the resorts.  Most folks go for weeklong stays, which means they all leave and arrive on Saturday.  As a result, the hills are empty of people.  Perfect!
Unfortunately the winds really kicked up and many chairlifts were closed down.  But we managed to find one old and slow one near the edge of the resort that stayed open.  Since it was hard to get to, we pretty much had the hill to ourselves.  And even better – a sun spot appeared above just this one run.  Seriously – there was no sun as far as we could see at other mountains/resorts…just us and just this one run.
Eventually though we had to get heading back to catch the last tram to cross the valley between the two resorts.  Definitely not a bad day skiing though!
3) Testing out the DJI Phantom 4 Active Track mode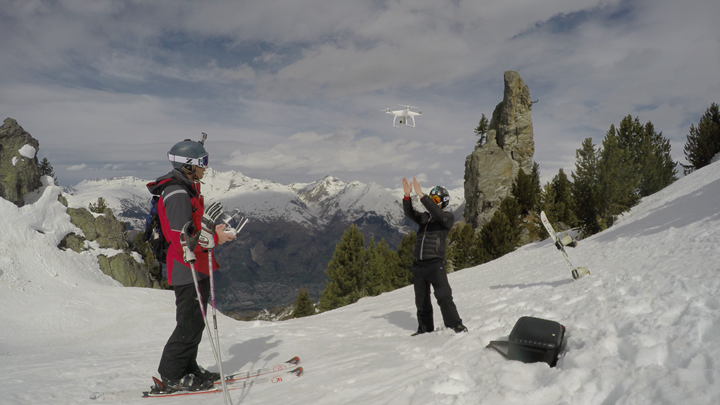 The weather was definitely not as cooperative as we'd have hoped.  Not that it was bad per se, but just not great for video.  With ski videos, you really need either blue sky conditions, or some sort of epic terrain/jumps/etc to make it pop.  Otherwise, they mostly just look boring and flat.
We had some good sun on the first day in the afternoon, but didn't take the drone that day as the weather looked better the following day.  The weatherman was wrong.
On Monday though things finally broke.  While the winds were high (upwards of 50-60KPH along the ridges), it was slightly less down below, and the P4 is able to handle a fair bit of wind without issue.  So we found a spot away from people that looked to be pretty solid in terms of scenery.
We wanted to test out the new Phantom 4 Active Track mode, which is able to recognize you as an individual and then follow you around (all while theoretically avoiding objects).  Here's how it looks from the control display: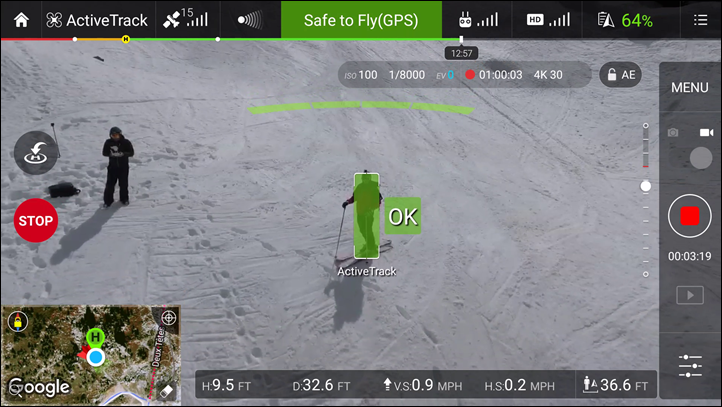 And, a photo from the Phantom 4 during one of the tracking runs: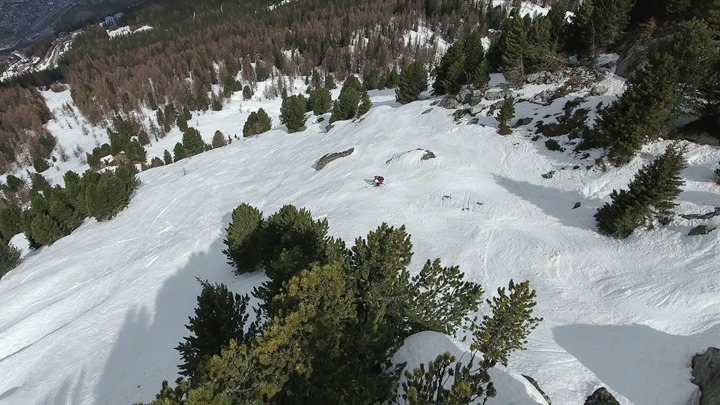 I've got a dedicated post coming up on it, but the gist of it is that it's both incredibly impressive and unimpressive at the same time.  Meaning, at times it's amazing how well it'll track an object (me) that otherwise looks like a dot.  Yet at other times it fails miserably when I'm free and clear right in front of it.  Said differently: It gets the hard stuff right, but fumbles on the easy stuff.  Still, it's a good start.
Update! Here's a video I put together explaining how it works:
4) Testing out the 360Fly Action Cam
We brought along the 360Fly action cam, which shoots 360° video.  I've toyed with a number of 360° action cams, and this seems to be the smallest thus far.  The unit is waterproof and can be mounted to their included mounts, or using an adapter to a GoPro mount.
With the weather being overcast much of the time, we saved most of our uses for when it was sunny.  That's because the video quality in overcast conditions isn't terribly awesome.
We tested out a few spots, including on the helmet: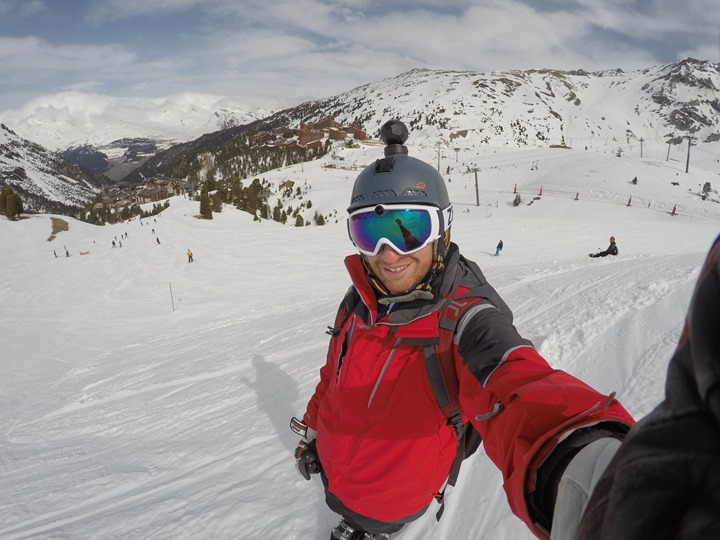 On the end of a selfie-stick, on the ground next to a ski jump, and finally on the tip of my ski.  Having much experience with the ski-tip location, it's really not a case of if it'll fall off, but rather when.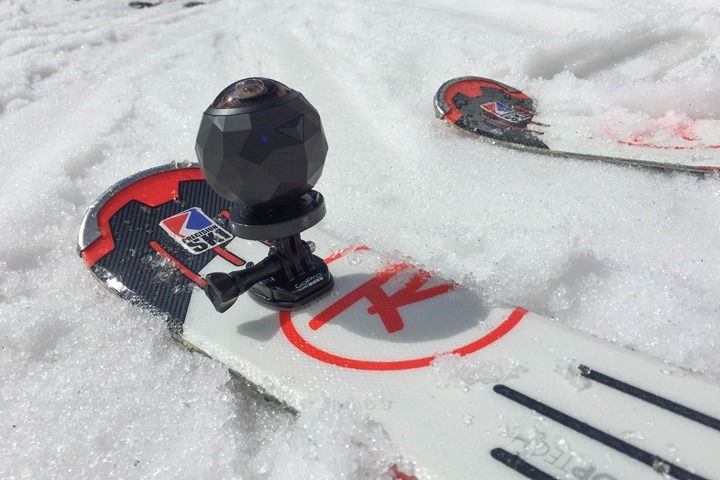 (In case you wonder why I used the GoPro adapter instead of the flat mount from the 360Fly, it's because I know the mounts are going to fall off, and I'd rather waste the ubiquitous GoPro sticky mounts than the rare 360Fly ones.)
In general, if I can make it more than a few turns before an action cam falls off my ski tip – I consider that a success.  The challenge is actually the rubber sticky mount (any of them) just doesn't have enough gripping power once the vibrations start.  If I owned these skis, then I'd rough up the surface a bit and epoxy/cement it on.  But these were rentals.
Here's a photo I captured from the unit: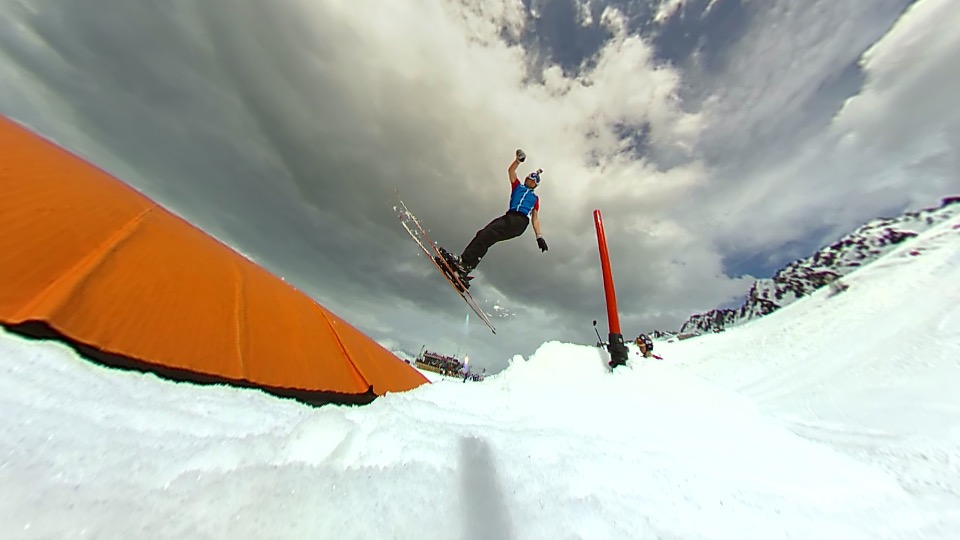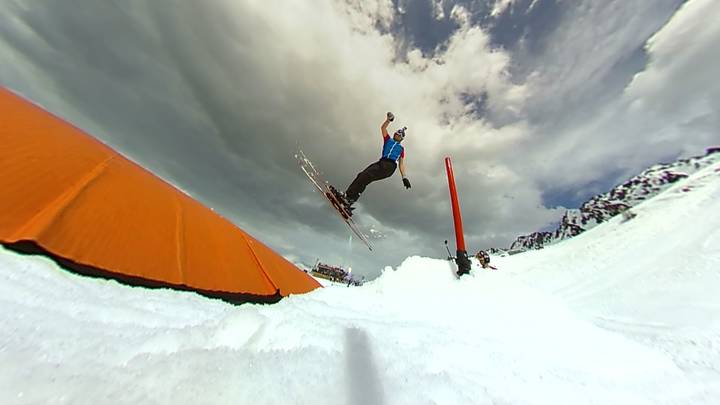 And here's the video from that (you can rotate using their player):
Here's a fun ski-tip video I shot on the last run of the day.  I had been waiting for the sun to cooperate, and to apply me…err…third sticky mount to my skis.  You can see I was super-hesitant with it initially, keeping the ski off the ground a bit to reduce vibrations.   At one point the screw was slightly less so I had to tighten it as it tilted down.  After that I started again and put more pressure onto it, before it finally popped off.
I've got a more in-depth review coming up shortly.  It's interesting stuff, but unfortunately the video quality is rather low.  Especially compared to their upcoming 4K version, as well as other entrants onto the market that are advertising 4K capabilities (i.e. Nikon).
5) Let there be food!
What? You thought we wouldn't be covering food? After all, that's a key part of any '5 Random Things' post, especially one that has a French focus!
In our case, food came either via lunch on the hillside, or cooked at the little itty-bitty apartment kitchen.  Our first day's lunch was probably the best.  After that things went down-hill (which is somewhat unusual for French ski resorts).  The first lunch was Italian (only a few kilometers from the border), and a very well done fresh pasta dish: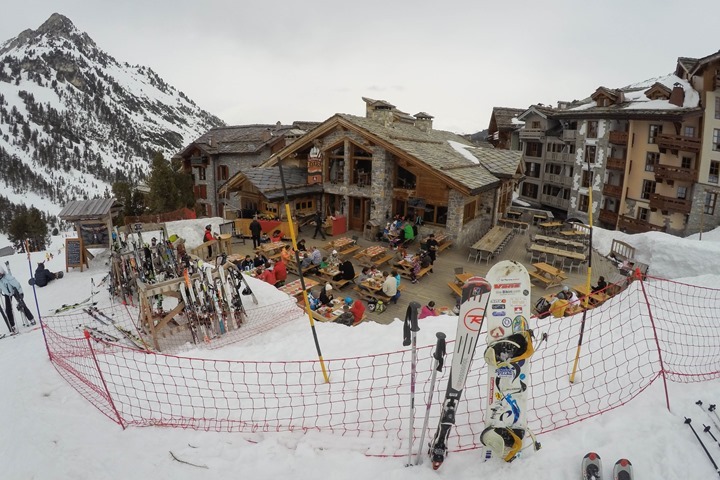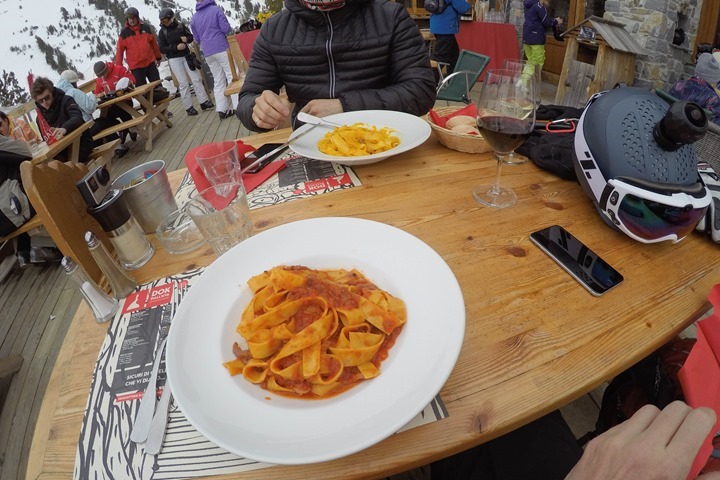 After that, the lunch meals aren't worth discussing.  However, our dinners were pretty solid. With our little kitchenette we managed to cook dinner each night and save a bundle over the usual high priced (and generally poor quality) resort area food.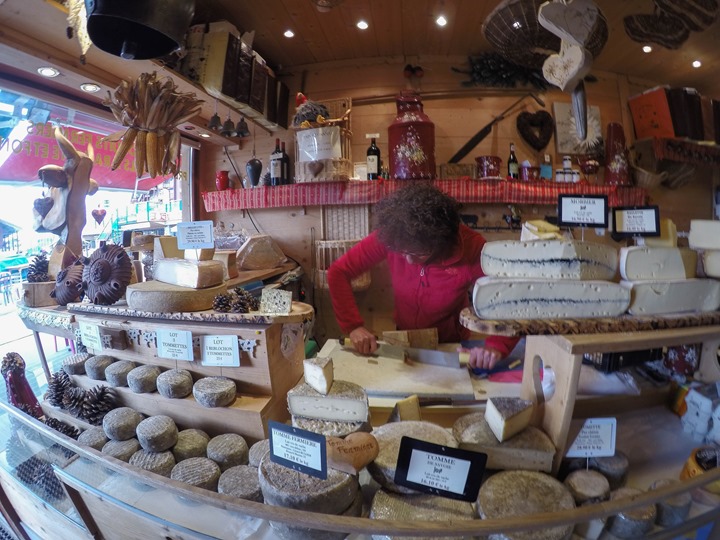 The highlight would have been the raclette machine we rented on the last night.  A mere 10EUR each for that massive pile of meat, cheese, potatoes…and rental of the raclette machine.  Boom!  Perfect way to end the trip.
Our Ski Routes!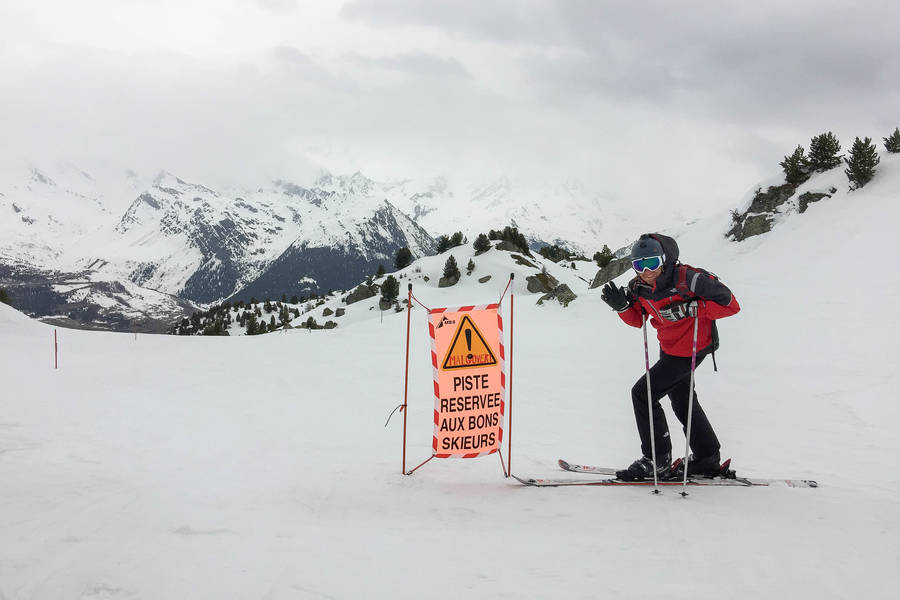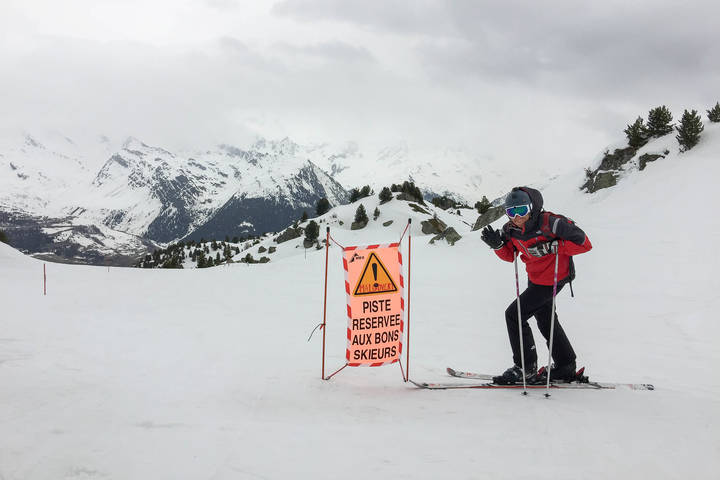 Want to see our ski routes?  No problem, here's the tracks from each day:
Day 1 Spring Skiing – Les Arcs
Day 2 Spring Skiing – La Plagne
Day 3 Spring Skiing – Les Arcs & The Wind
Day 4 Spring Skiing – Les Arcs, Pillows, and Drones
I used the Garmin Fenix3 in ski/snowboard mode. Love that feature for skiing. Just works, and don't have to think about it.  From there they simply sync'd to Strava.
Interestingly, a reader that works with an app called Fluri Ski used my Strava activities to generate up these overlays directly onto the ski resort map.  Super cool.  The Strava connectivity is apparently in the works for release soon.
This is a fair bit cooler than your regular satellite/topo/etc map because you can see the actual ski runs and lifts, versus just generic mapping.  This would be super-cool if this was built-in to Garmin Connect when you uploaded an activity using ski-mode.
With that, thanks for reading!